Purchases made through links earn us a small commission, at no extra cost to you.
The Larch Valley hike near Lake Louise has been something Mike and I have been talking about doing for years, so this fall we finally decided to make it happen.
Wow, had we been missing out all this time!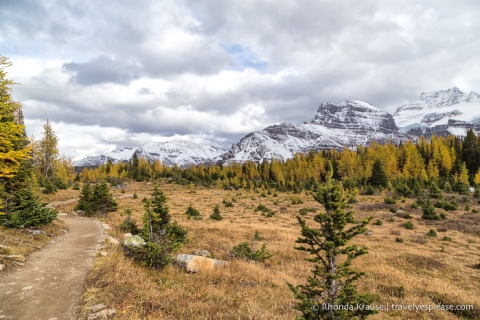 The Lake Louise area is a special place any time of year, but it shines just a little brighter when the larch trees are decked out in their fall colours.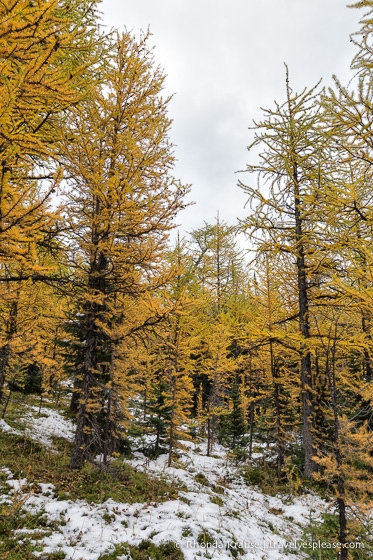 In autumn, larch tree needles turn a brilliant golden yellow before they fall to the ground in preparation for the winter. It's quite the sight to see, especially against a backdrop of rugged mountain peaks and white glaciers.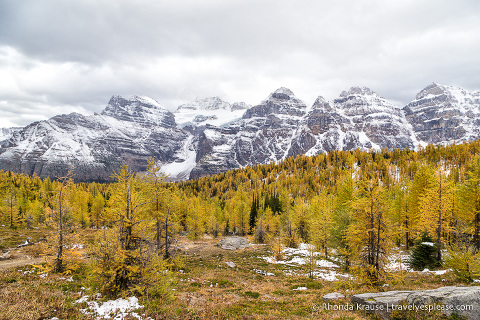 While there are many great places to see the larch trees in Banff National Park, the most well known is probably Larch Valley.
We decided the Larch Valley hike would be best for us since it was not far from to the village of Lake Louise, where we were staying. We were starting our hike late in the day (around 4 pm), so we wanted something that would only take a few hours and wasn't too difficult. Plus, I'm a huge fan of Moraine Lake, where the trail starts.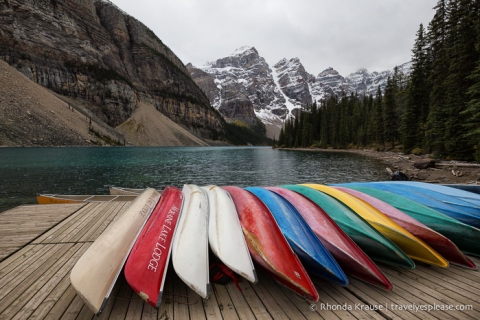 Over the next 3.5 hours we enjoyed spectacular mountain vistas, peaceful alpine meadows, fresh mountain air, sparkling lakes, and of course, the fiery colours of the larch trees. Oh, and I can't forget about the great people we met!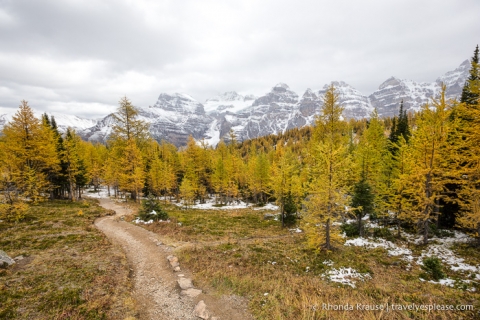 Here's a short recount of our hike to Larch Valley and a look at some (okay, a lot) of the beautiful scenes along the way!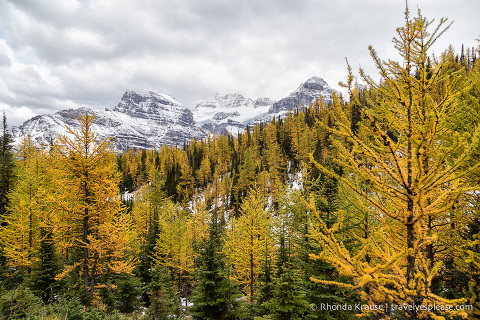 The Larch Valley Hike– Our Experience Hiking Larch Valley Trail
Our hike to Larch Valley started along the shoreline of Moraine Lake, one of Banff's most beloved lakes.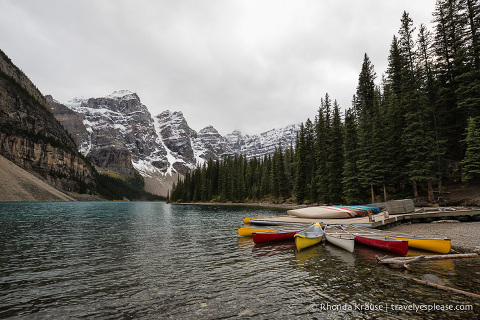 At the trailhead there was a warning sign that bears were in the area, so as a safety precaution, hikers were required to travel in groups of four or more. There were rangers further up the trailhead turning back people who were not with a larger group.
We had no problem forming a group of four. It's a popular hike so there were already some people waiting for another person to join them.
After some quick introductions, we set off with our new friends for the day towards Larch Valley.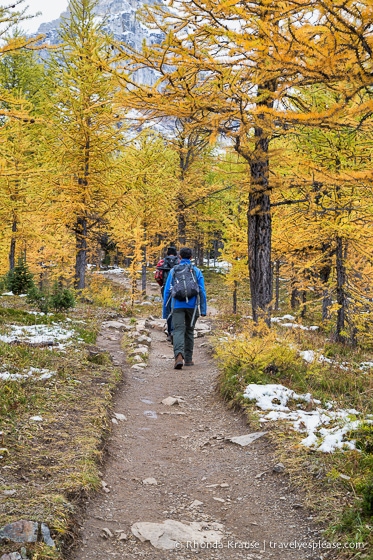 The hike started by passing through a densely forested area, which every so often thinned out just enough for us to get a glimpse of the glacial blue waters of Moraine Lake.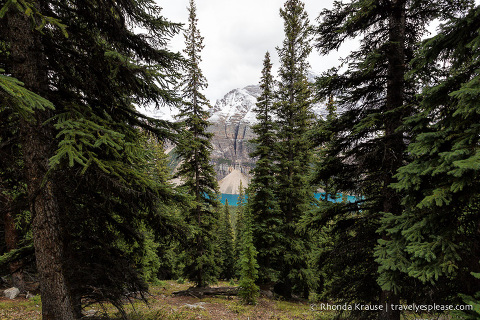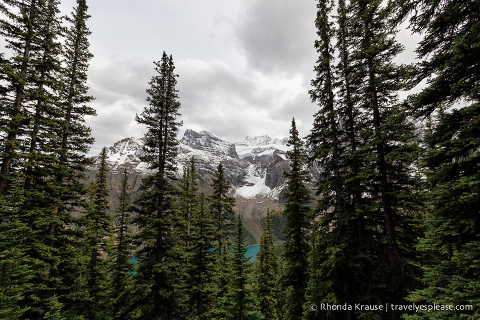 The path ascended quickly up into higher altitudes, along numerous lengthy switchbacks. This was the most challenging part of the hike, especially since our group was moving at a quick pace.
Although I had to really push myself to keep up with the group, it all was worth it when the first larch tree came into view.
As we got higher and higher, more larch trees started to appear. Soon our pace slowed down, as we all couldn't help but take photo after photo of these beautiful trees.
Continuing a little further up the path, it wasn't long until the forest opened up and we found ourselves standing in Larch Valley.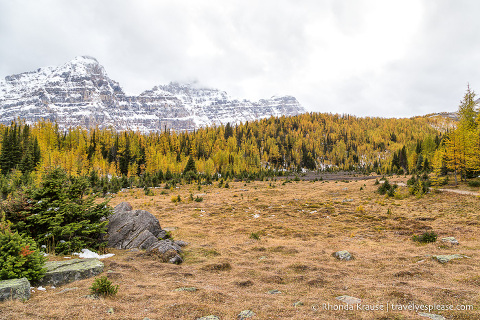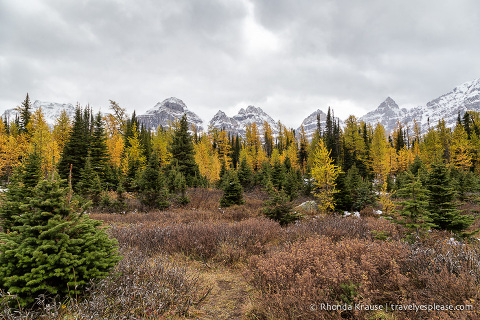 The famous Ten Peaks served as the perfect background for layers upon layers of vibrant larch trees. I didn't really know where to focus my attention because there were so many great views!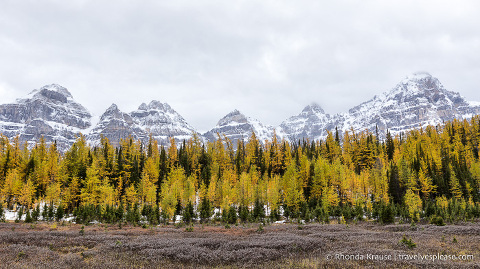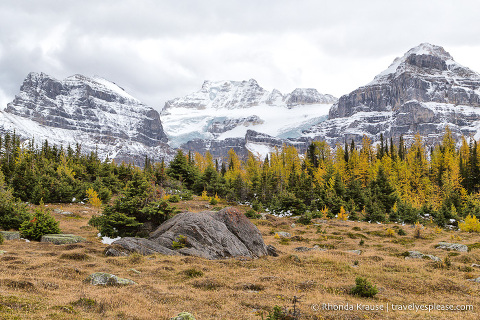 This is the point in the hike where some people decide to turn around, but our group carried on through the meadow and up a little higher towards Sentinel Pass.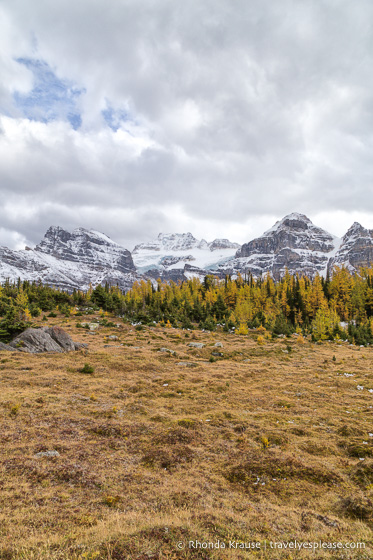 As the trail led closely past some larch, I reached out to feel their needles. I was surprised at how soft and delicate they were, not at all sharp and prickly.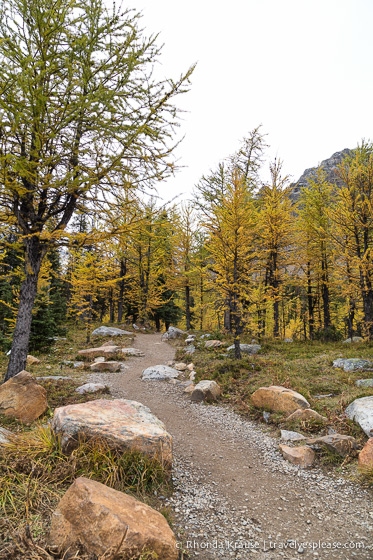 Moving out of the Larch Valley, we were greeted with wonderful views first of Mount Temple, then Pinnacle Mountain.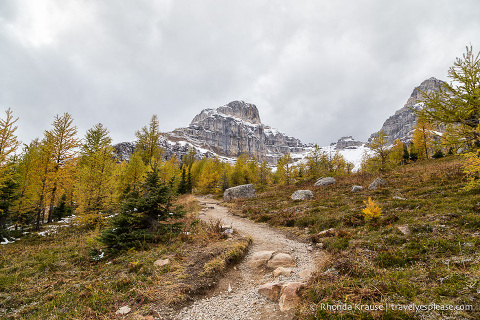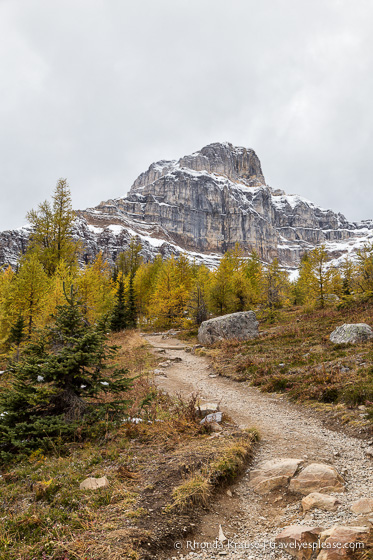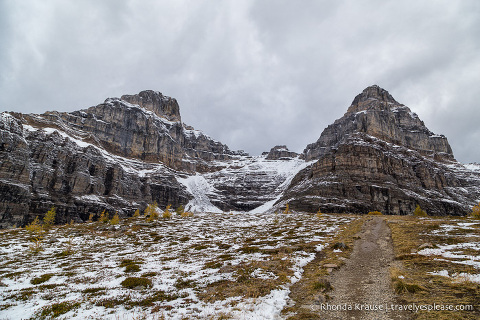 As we made it up over the last little hill, one of the Minnestimma Lakes came into view. The other lake was just ahead, hidden behind a small ridge at the base of Sentinel Pass.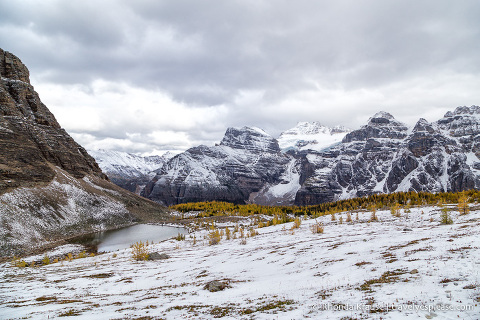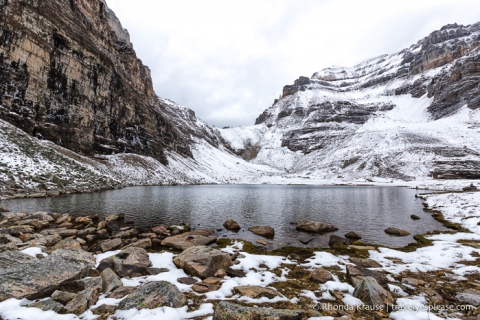 I would have loved to carry on up Sentinel Pass, but the weather had become colder the higher up we got. It also started to rain a little bit and we were worried about losing sunlight.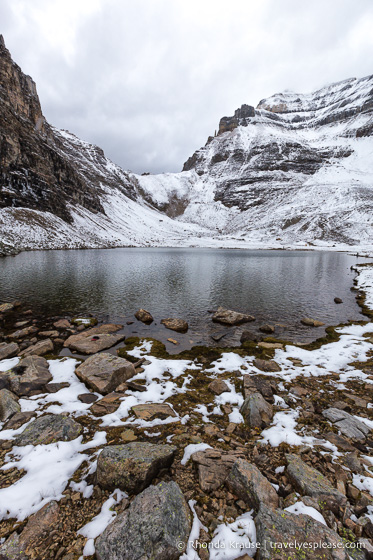 So off we went back down the mountain, once again passing through the golden Larch Valley and down the trail of switchbacks. We were the last group off the trail that day, so had the wonderful scenery all to ourselves!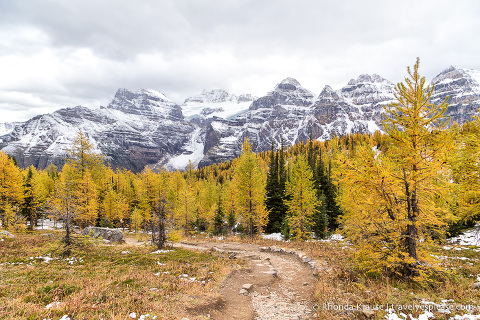 Back at the trailhead, we all raved about how fun the hike was. Before saying our goodbyes, we exchanged emails and took a group photo in front of the sign where we all met.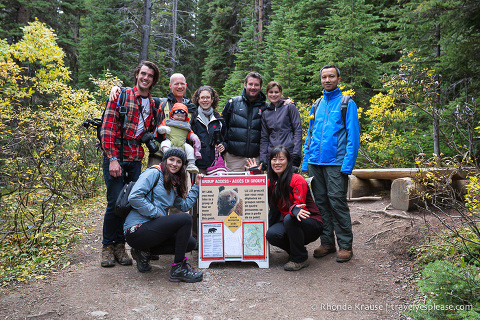 It's not likely we'll cross paths again, but it was great to be able to meet people from all over the world and share a common memory of a wonderful hike in Banff National Park!
More Photos of Larch Valley
Here are a few more photos I took during our autumn hike on Larch Valley Trail.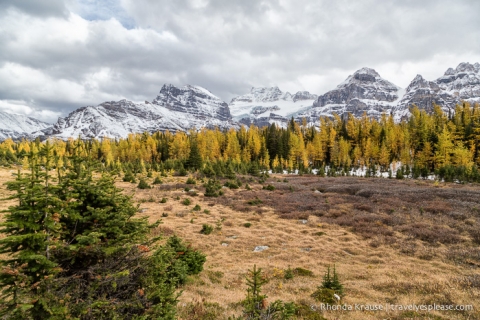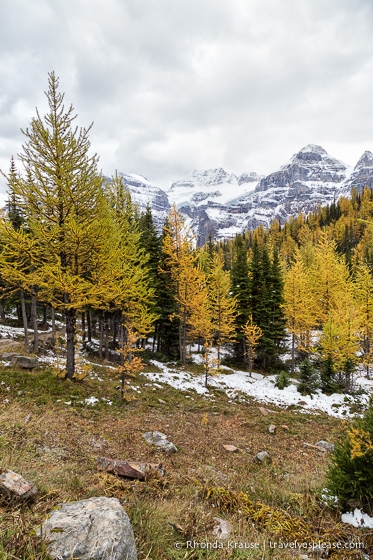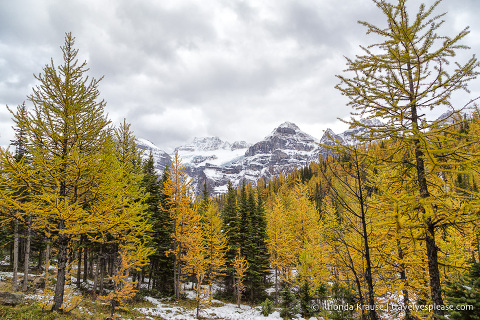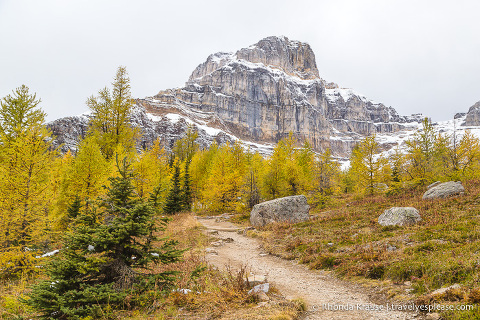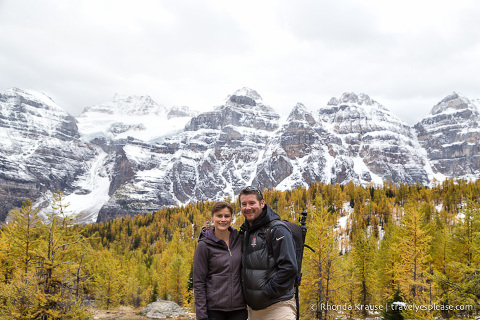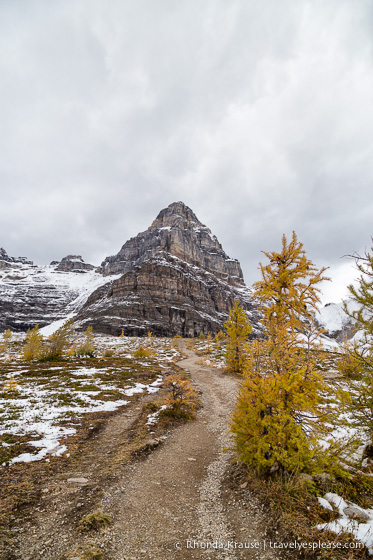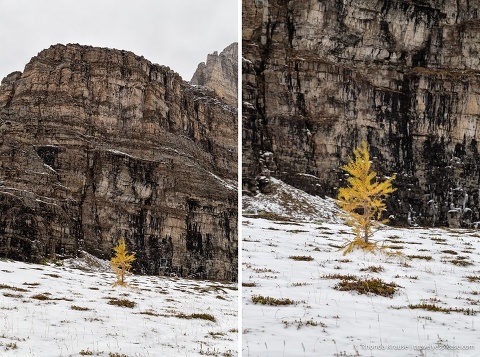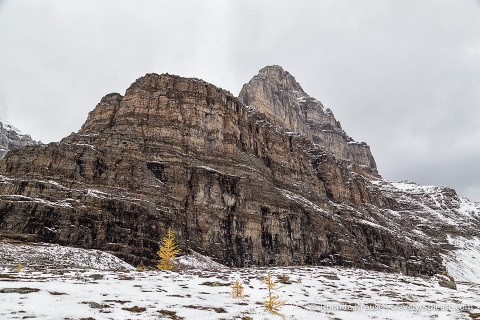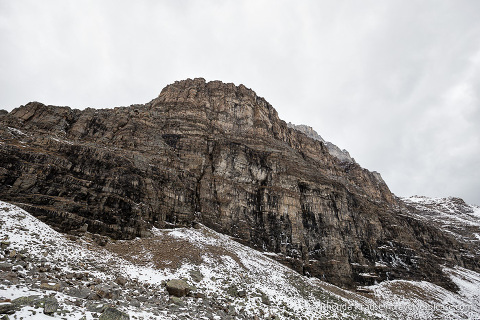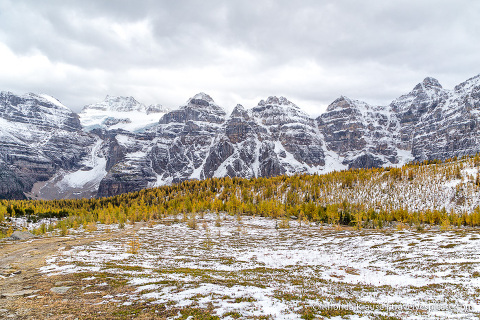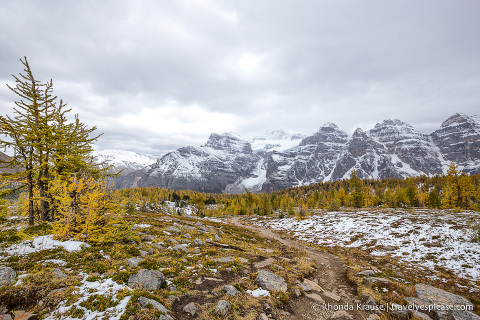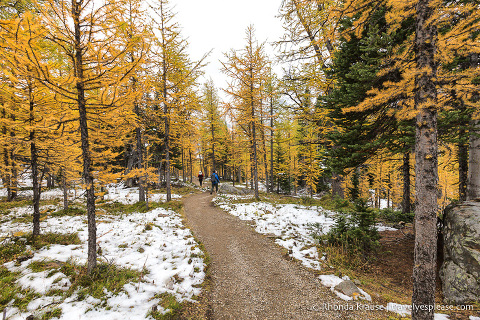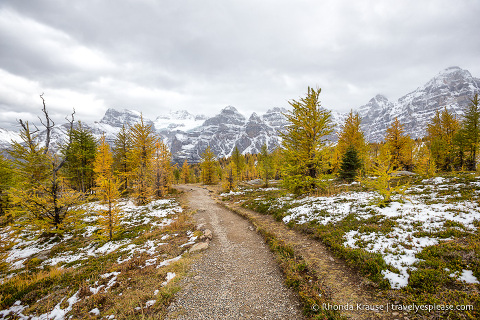 Tips for Hiking Larch Valley Trail
Larch Valley Trail Details: The Larch Valley hike is rated moderate. It's 4.3 km one way to Larch Valley/Minnestimma Lakes, with a 535 m elevation gain. The hike takes about 3.5-4 hours round trip.
The Larch Valley trailhead is at the Moraine Lake parking lot, near the canoe rentals. Moraine Lake is 14 km from the village of Lake Louise.
Best Time to Hike: Typically, the best time to hike Larch Valley is the last two weeks of September when the larch needles are a vibrant shade of golden yellow. We did the hike on the 18th of September and I thought the colours were perfect!
Larch Valley is a popular hike and can be quite crowded on weekends. Try to go on a weekday or later in the afternoon.
Getting There and the Moraine Lake Shuttle: Starting in 2023, Moraine Lake Road is closed to private vehicles year round so the only way to get to the Larch Valley trailhead is to take the Parks Canada shuttle or another form of public transportation. Information about shuttles to Moraine Lake, including price, routes, schedules and how to make reservations, can be found on the PARKS CANADA WEBSITE. Reservations for the shuttle are required and can be made through the PARKS CANADA RESERVATION SERVICE.
Weather: The weather can change quickly in the mountains, as we experienced up by Minnestimma Lakes. Dress in layers as a precaution.
Safety: Before doing the Larch Valley hike, educate yourself on bear safety. Hike in groups of at least four, make noise on the trail so that you don't surprise a bear, and carry bear spray making sure it is easily accessible.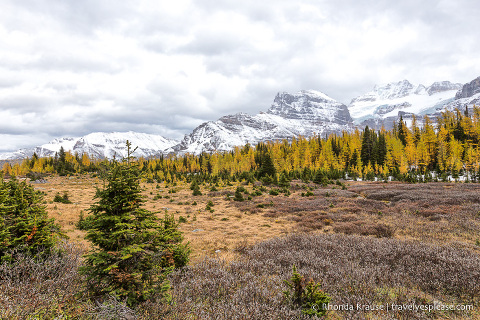 Accommodations in Lake Louise
For your convenience, here is a list of hotels in Lake Louise. Please consider booking your Lake Louise accommodations through the included link. It costs nothing extra and helps support this website. Thank you!
More Canadian Rockies Destinations and Travel Guides