Purchases made through links earn us a small commission, at no extra cost to you.
It was our quest for new adventures in Lake Louise that led us try horseback riding for the first time, going all the way up to the historic Plain of Six Glaciers Tea House nestled high in the Canadian Rocky Mountains.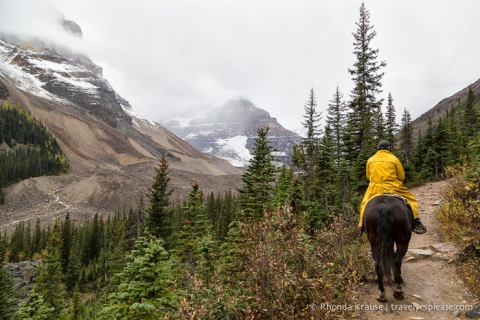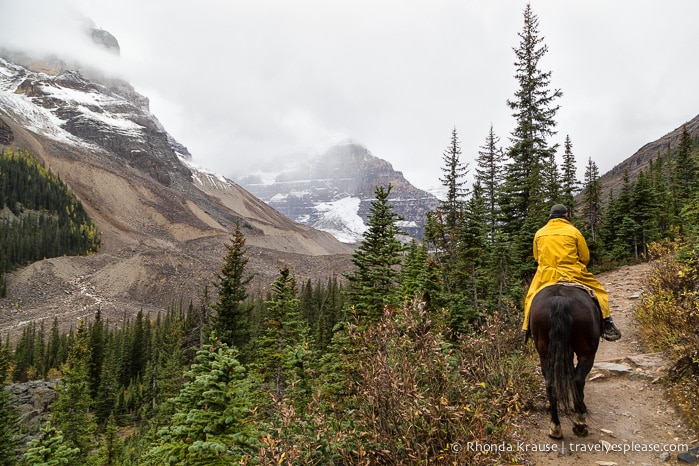 Neither one of us had been on a horse before. I had always been a bit afraid of them, untrusting. Yet secretly, I wanted to try riding one. Whenever I saw someone riding a horse in a movie, (or more honestly, an episode of the Bachelor), I thought it looked so peaceful. Especially when travelling in front of a backdrop of beautiful scenery.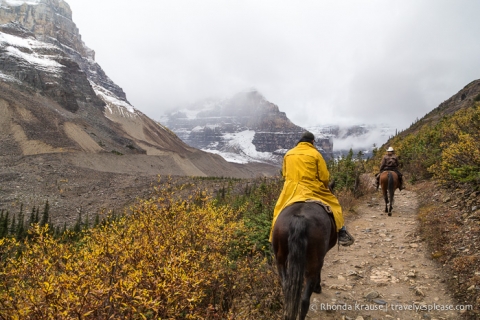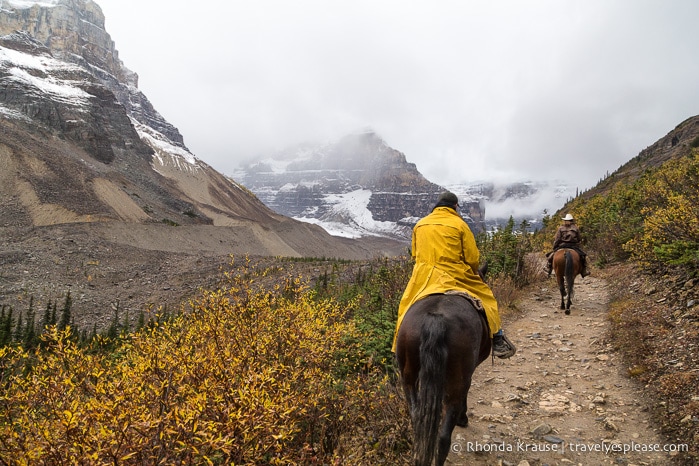 For that reason, I couldn't think of a better place to have tried horseback riding for the first time than in lovely Lake Louise. The scenery is world class- soaring mountains, pristine forests, ancient glaciers and shimmering green-blue lakes.
Visiting Lake Louise is a special experience no matter how you choose to spend your time here, but something about seeing it on horseback took it over the top. We left with a newfound appreciation of Lake Louise, a place we visit regularly, and a desire to break from our usual routine and explore new facets of this wonderful location.
The Plain of Six Glaciers Tea House Horseback Ride
The horseback ride to the Plain of Six Glaciers Tea House is truly a unique activity, one that has been selected by the Canadian Tourism Commission as a Canadian Signature Experience.
Riding through the forest and up into the heart of the mountains made me feel like I had gone back in time, to the days when explorers first mapped out the Rocky Mountains. I felt like a legitimate cowgirl, discovering new and exciting frontiers!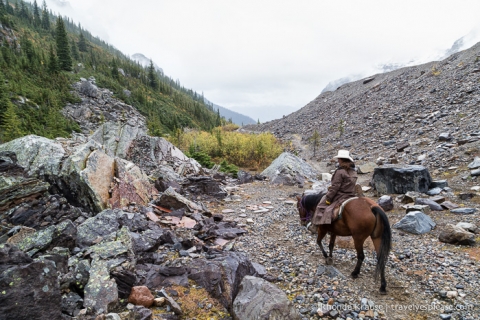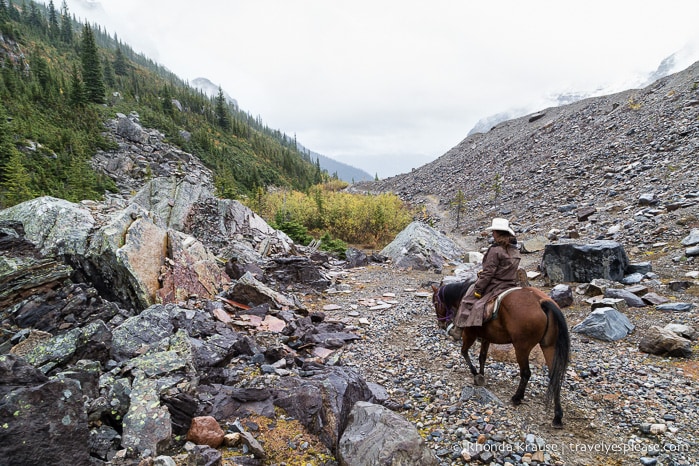 In a way, we were discovering new lands. Mike and I had never ventured beyond the main shore of Lake Louise, so we had no idea what awaited us at the far end of the lake.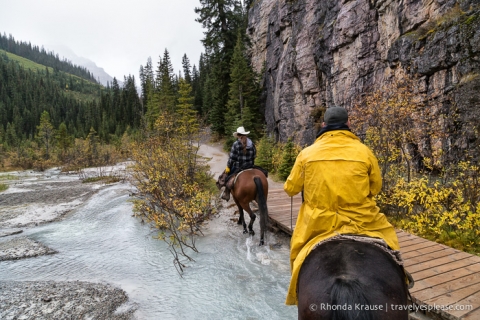 Turns out, some of the most incredible landscapes were hidden behind the mountains we had gazed adoringly at from the shores of Lake Louise, for so many years.
We passed by steep rock faces, hanging glaciers and even traversed across large avalanche paths on our way to the historic Plain of Six Glaciers Tea House.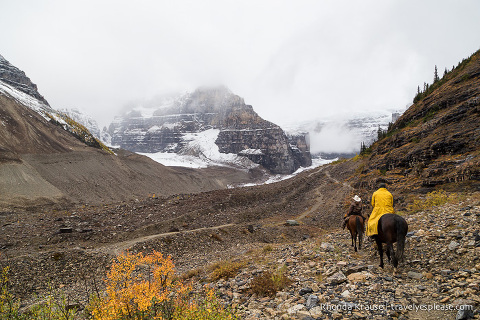 It was an incredible trail ride, one that we will remember for years to come! Here's a brief outline of our horseback trip and a look at some of the sights we saw during our Plain of Six Glaciers Tea House Ride.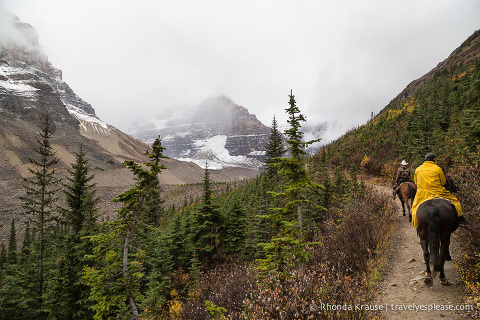 Our Horseback Ride to the Plain of Six Glaciers Tea House
Our horseback adventure in Lake Louise started at Brewster Stables, where we were warmly welcomed by the staff of Brewster Adventures.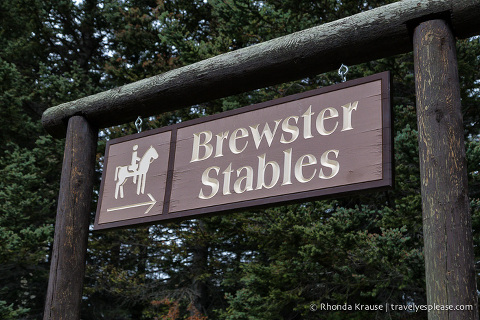 There was a light mist coming down, so we were given long slickers to wear to keep us dry.
Once we were all outfitted for rain, our small group of four was taken over to the stable where we met our horse for the day. My horse was named Rocky and Mike's was Chocolate.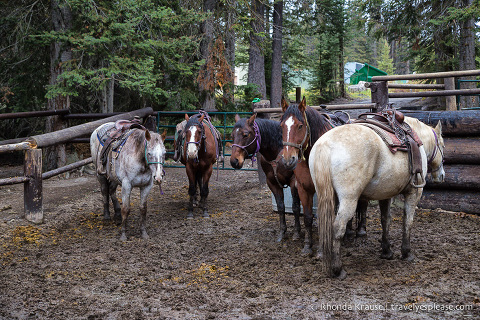 The staff had us walk up a small platform so that we could easily get onto our horse when it was brought over to us. Once comfortably on our horses, we were given a brief one-on-one lesson on how to use the reins to handle the horse. And then we were off!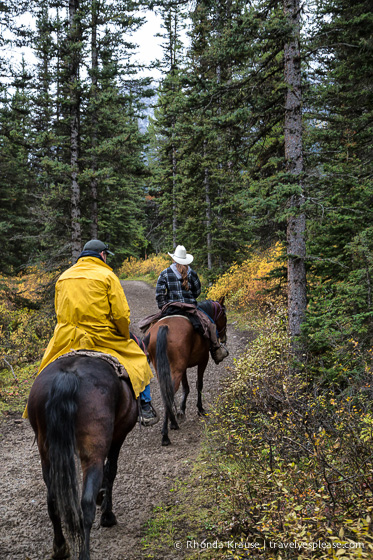 I was a little nervous at first, since I had never been on a horse before, but quickly relaxed once I saw how well the horses were trained. Rocky and Chocolate faithfully followed behind our guide and responded well when we had to give them a little direction.
The first part of our ride took us through a forested area near the shore of Lake Louise. The trail was densely surrounded by trees, so we didn't get much of a view of Lake Louise. Once we came to the end of the lake, the trail opened up and we had wonderful vantage point of Lake Louise and the elegant Chateau.
After taking a few quick photos, we continued up the trail, enjoying the colourful fall foliage that lined the path. We even got to see some golden larch trees higher up on the mountainside.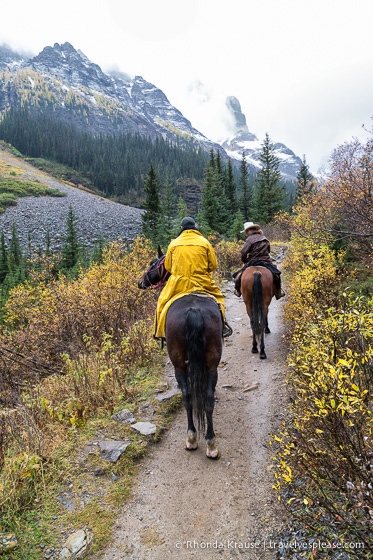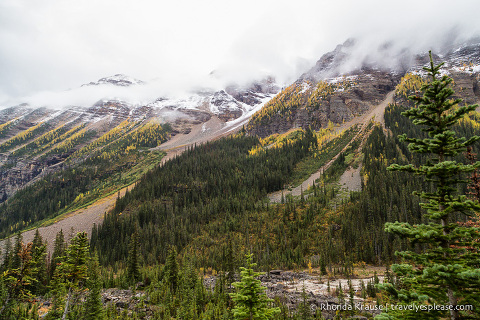 As our horses trotted along towards the base of Victoria Glacier, we passed by numerous glacial fields where we could see a clear path of rocks deposited by the glaciers.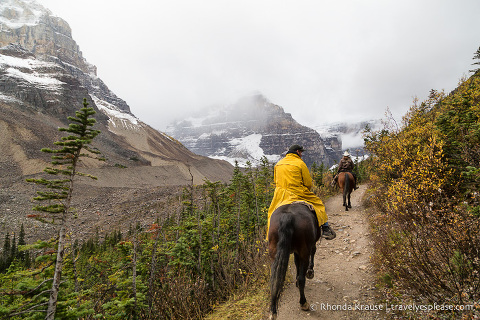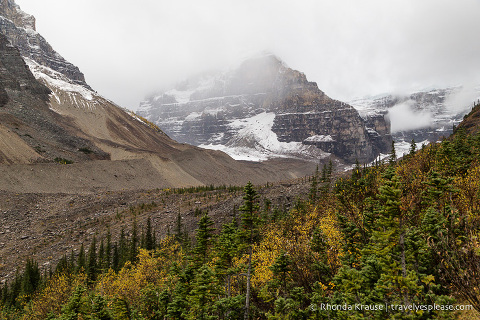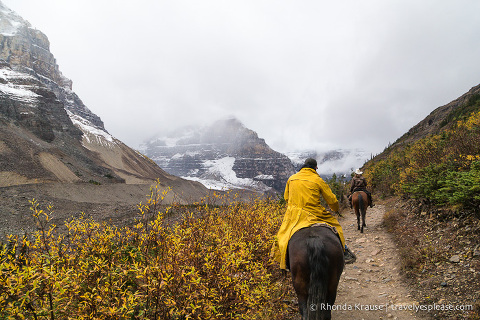 Next, we travelled across a large avalanche path where we could see six other glaciers: Lower Victoria, Upper Victoria, Aberdeen, Lefroy, Upper Lefroy and Popes.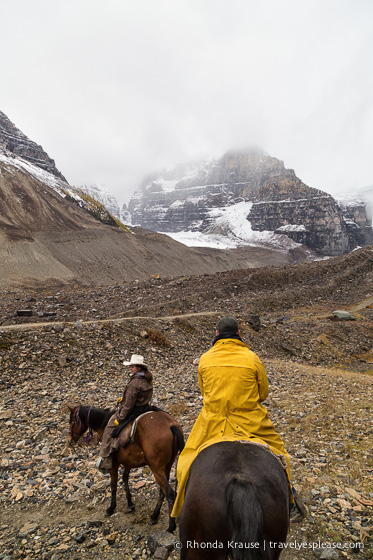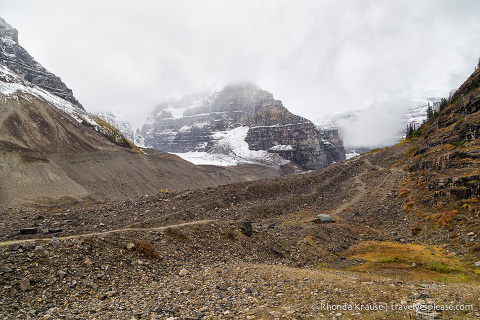 I was amazed at the amount of rock and sediment left behind from the constant "flow" of the glaciers. Some of the boulders were huge!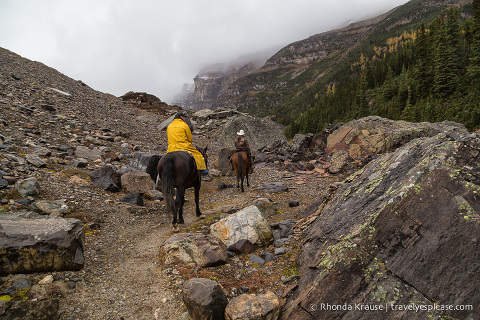 During this trail ride, we really got a sense of how powerful glaciers are. To be able to carve out such a dramatic landscape is incredible!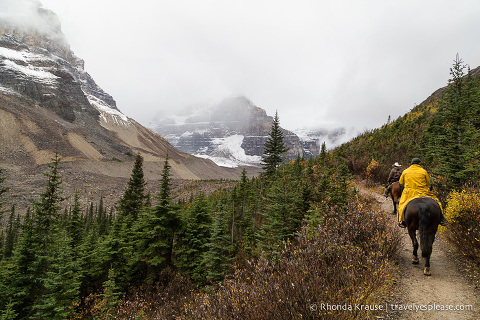 For the final leg of our ride to the Plain of Six Glaciers Tea House, the trail hugged a gigantic pile of moraine. I swear I even saw a fossil of a spiral-shaped shell in one of the rocks!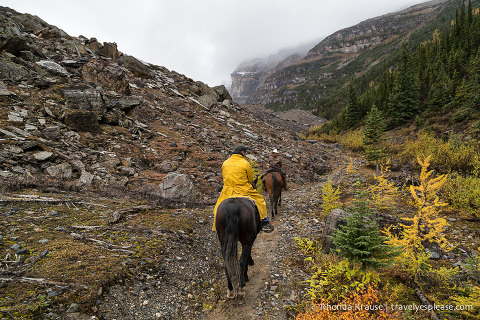 There was one last steep climb up the trail and then we finally arrived to the teahouse, at 7,000 ft.
It was a pleasure to take a rest in such a historic building. Swiss guides built the Plain of Six Glaciers Teahouse in 1924, as a rest stop for mountaineers.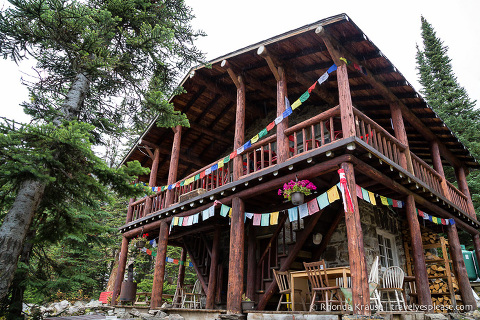 The teahouse offers a variety of homemade treats and light meals, all cooked with propane stoves because there is no electricity. We each had a hot chocolate and some scones- warm and delicious!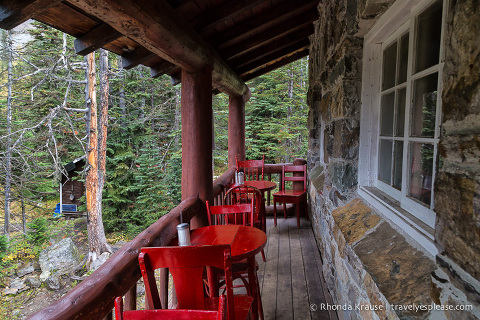 Because of the tea house's remote location, goods are flown in by helicopter at the beginning of the season. Additional supplies are brought up by horseback as needed. The staff also have to hike in and out for their shift, but at least not everyday! There are some additional cabins they can use as sleeping quarters.
We had about 30 minutes to enjoy the tea house before we had to begin our ride back down to Lake Louise. The route was the same as on the way up, but the views were surprisingly different.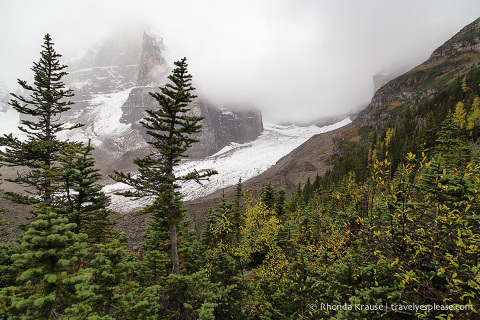 My favourite view was when we came over a ridge of moraine and could see Lake Louise off in the distance. It was such a remarkable and serene sight, I could have stared at it for hours.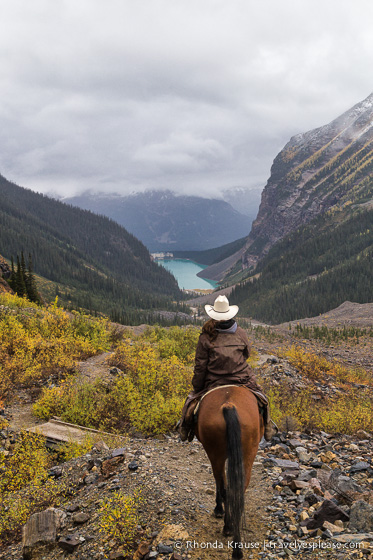 As we descended in elevation, Lake Louise came more and more into view, until we once again found ourselves back at the shoreline. This was the first time I noticed that the roof of the Chateau almost perfectly matches the colour of the glacial waters!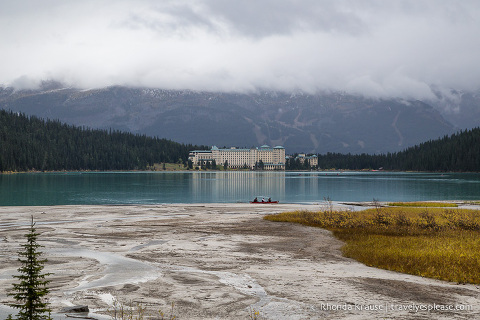 When we returned to Brewster Stables, Mike and I realized just how much of Lake Louise we've yet to explore. This experience reminded us not only of the importance of trying new things, but in seeing a familiar destination from a new perspective.
Final Thoughts About the Plain of Six Glaciers Trail Ride
We very much enjoyed our horseback ride to the Plain of Six Glaciers Tea House and would definitely recommend it to anyone looking for a unique experience in Lake Louise.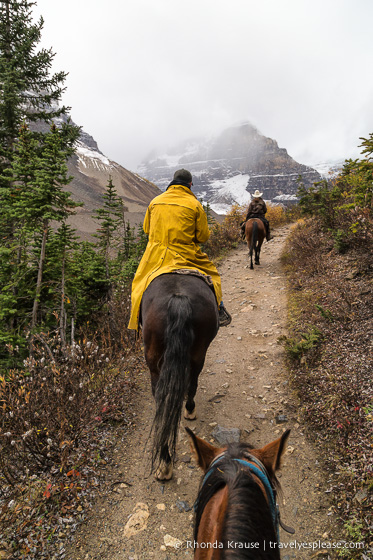 Rocky and Chocolate were well trained and responsive to the reins, allowing me to get over most of my long-held fear of horses. Our guide also frequently looked back, making sure we weren't having any difficulty. There was one horse that was a bit of a rascal (he liked to stop and eat the leaves along the trail), but our guide helped his rider get him back on track.
I was surprised at just how relaxing riding a horse was. It was a very peaceful experience, especially on a misty autumn morning. The only downfall was that our knees got quite sore by the end of it. When I got off the horse I had a hard time walking until my knees loosened up.
I'm sure this won't be the last time I ride a horse. It was a fun way to explore and enjoy the scenery, sore knees and all!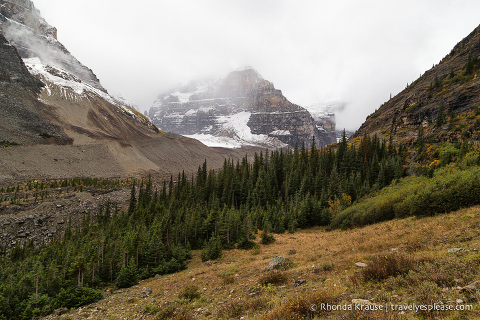 Tips for Doing the Plain Of Six Glaciers Horseback Ride
Our trail ride was guided by Brewster Adventures. It began at Brewster Stables, which is on your left when facing the driveway into Fairmont Chateau Lake Louise. Park in main the lot across from the stables and walk over.
The Plain of Six Glaciers horseback ride operates in the summer (typically starting July 1st). The tour takes roughly 4 hours.
The Plain of Six Glaciers Tea House is generally open from mid/late June until early-October (Canadian Thanksgiving), weather permitting. Hours of operation are from 9:00 am- 5:00 pm (confirm current hours here). Cash is preferred and an additional fee is charged for processing credit card payments.
Weather can change quickly in the mountains, so dress in layers.
Information was updated January 2022, but can change without notice. Please confirm directly with service providers.
Accommodations in Lake Louise
For your convenience, here is a list of hotels in Lake Louise. Please consider booking your Lake Louise accommodations through the included link. It costs nothing extra and helps support this website. Thank you!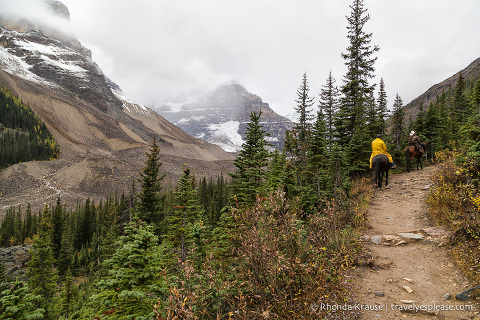 We'd like to thank Banff Lake Louise Tourism for hosting us in order to bring you this story. As always we speak the whole truth and nothing but the truth!
More Canadian Rockies Destinations and Travel Guides