Purchases made through links earn us a small commission, at no extra cost to you.
Excitedly, Mike and I climb up Rockpile Trail, weaving our way around huge boulders of glacial moraine so prominent that the nearby Moraine Lake was named after the debris.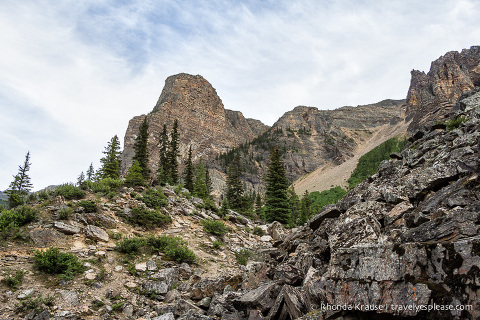 Walking a little faster than normal, we are anxious to see the famous lake that graced the back of Canada's $20 bills during our childhood.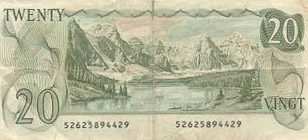 A short 300 metre hike over the imposing pile of moraine, deposited by Wenkchemna Glacier many years ago, and the classic "Twenty Dollar" view is ours to enjoy.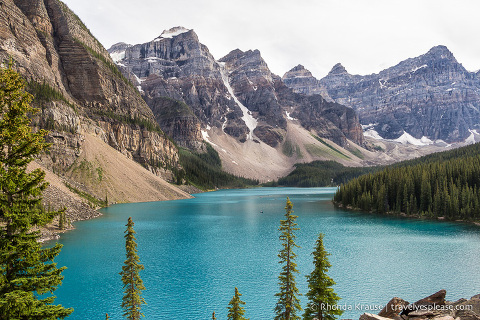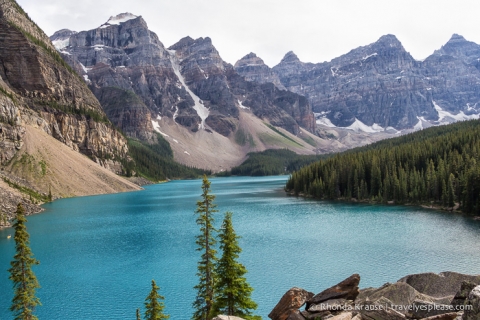 Moraine Lake and the Valley of the Ten Peaks
Moraine Lake is, understandably, one of the most photographed locations in all of Canada. In this one visit alone I took 137 photos! I couldn't help myself- the iridescent blue-green colour of the lake was captivating.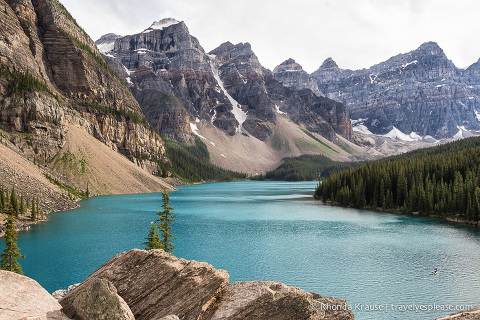 Moraine Lake's distinct colour is caused by the refraction of light coming off the rock flour deposited in the lake. Being glacially fed, Moraine Lake is at its bluest in June and July when the lake has reached its crest after the first heavy meltwater of the year.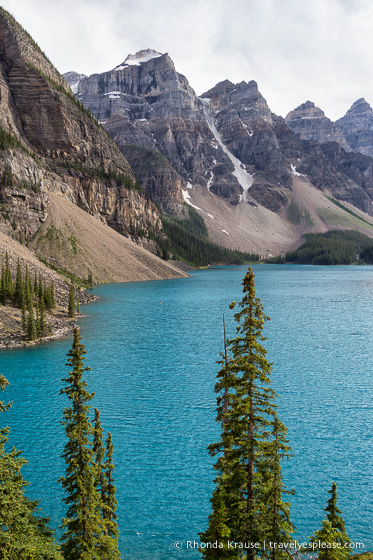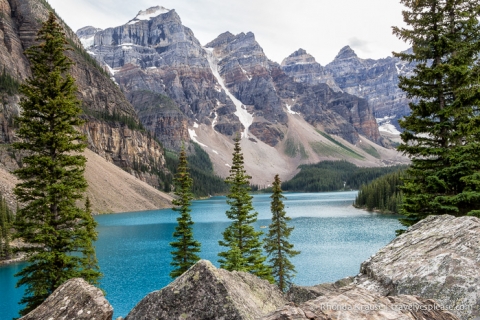 Moraine Lake is nestled in the Valley of the Ten Peaks, named after the rugged mountains framing the pristine lake. These ten mountains were originally named by Samuel Allen, one of the first non-native explorers to visit the area. He named them in the Stoney First Nation language after the numerals one to ten. Today, all but the three of the peaks have been renamed in honour of noteworthy individuals, including Allen himself.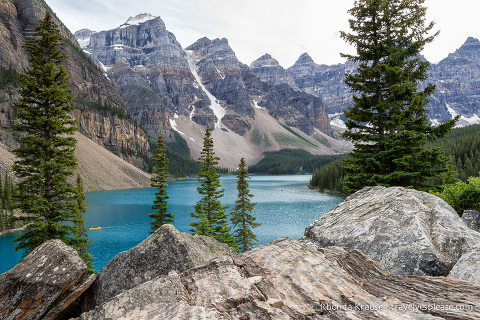 The ten peaks, from east to west, are: Mt. Fay, Mt. Little, Mt. Bowlen, Mt. Tonsa, Mt. Perren, Mt. Allen, Mt. Tuzo, Deltaform Mountain, Neptuak Mountain and Wenkchemna Peak.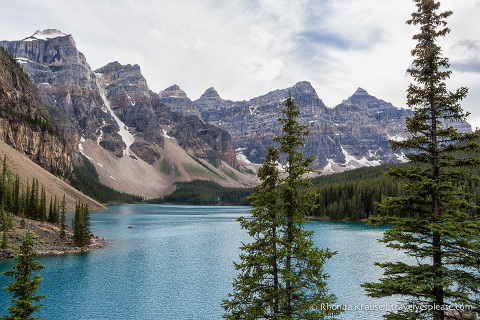 Rockpile Trail not only offers perfect views of Moraine Lake and the Valley of Ten Peaks, but is a great place to view small (and very cute) wildlife. Pikas, marmots and chipmunks all make their home in and around the pile of moraine.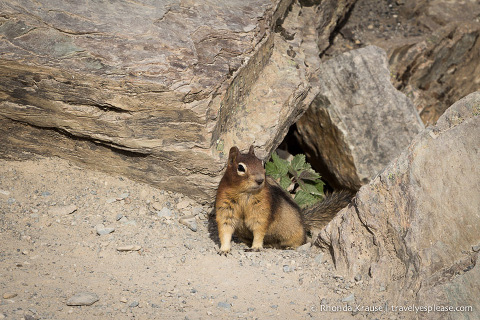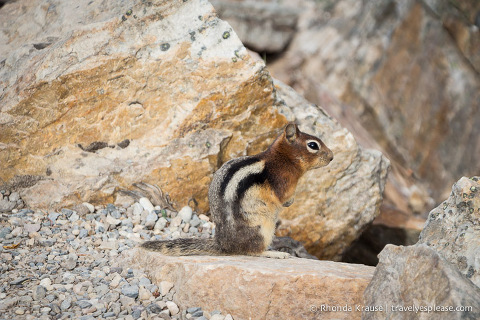 We met some friendly chipmunks who would come right up to your hand, clearly not afraid of humans. I think they were expecting us to give them food.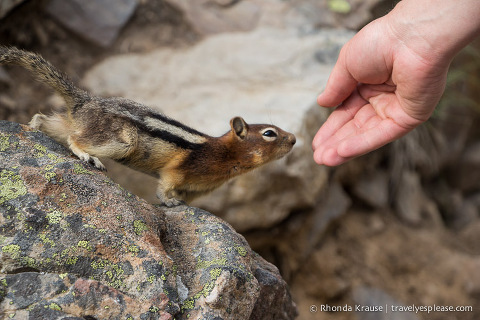 I know I am going to sound like a park ranger here, but please, do not feed the wildlife. It's not safe or healthy for wild animals to become dependent on artificial food sources and lose their natural fear of humans (just looking out for my furry forest friends!)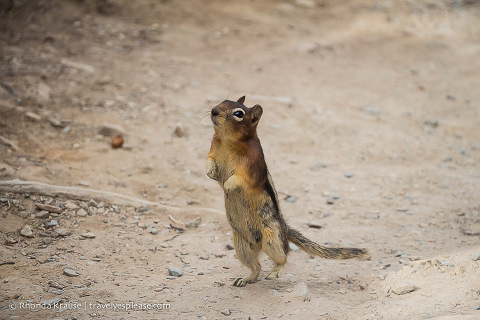 Mike and I both loved visiting Moraine Lake and I'm sure we will be back again and again. We'd like to go kayaking on Moraine Lake and hike some of the trails (especially Larch Valley) that begin at Moraine Lake Lodge.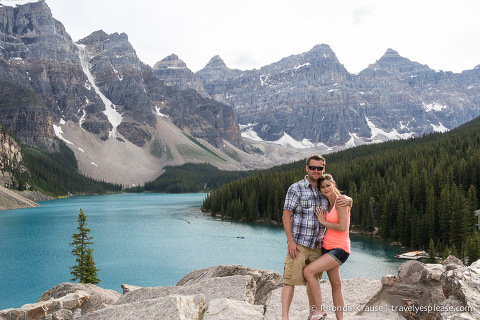 Reflecting on our visit, I'd have to agree with Walter Wilcox, the explorer who named Moraine Lake, when he wrote that "no scene had ever given me an equal impression of inspiring solitude and rugged grandeur."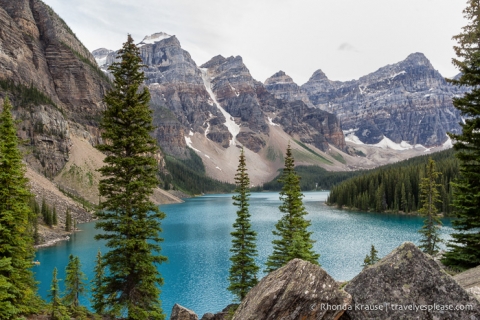 Tips for Visiting Moraine Lake
Location: Moraine Lake is 14 km outside Lake Louise Village, at the end of Moraine Lake Road.
Best Time to Visit: Moraine Lake can only be visited in the summer. Plan to arrive early in the morning or late in the afternoon (after 5:00 pm) to avoid the crowds. We suggest going later since in the last few years Moraine Lake has become very popular in the morning.
Moraine Lake road is closed to all vehicles from early October to early June due to large snowfalls and the potential for avalanches.
Getting There and the Moraine Lake Shuttle: Starting in 2023, Moraine Lake Road is closed to private vehicles year round so the only way to get there is to take the Parks Canada shuttle or another form of public transportation. Information about shuttles to Moraine Lake, including price, routes, schedules and how to make reservations, can be found on the PARKS CANADA WEBSITE. Reservations for the shuttle are required and can be made through the Parks Canada reservation service.
Accommodations: Accommodations at the lake can be found at Moraine Lake Lodge. There isn't a campground.
Canoe Rentals: The canoe dock is open for rentals from 9:30 am-5:00 pm (mid-June to mid-September). Confirm hours and prices directly with Moraine Lake Lodge HERE.
More Tips: Keep in mind that the weather can change rapidly so come prepared with appropriate clothing.
After visiting Moraine Lake, you should definitely make the short trip (about 14 km) up to Lake Louise, another awe inspiring lake. Unlike Moraine Lake, Lake Louise is accessible year round. If you are looking for some ideas on what to do at Lake Louise, visit our post Romantic Lake Louise- Our Favourite Activities for Romance.
Information was updated February 2023, but can change without notice. Please confirm directly with service providers.
More Banff National Park Attractions and Travel Guides