Purchases made through links earn us a small commission, at no extra cost to you.
In Saint-Étienne-du-Mont, a church in Paris near the Pantheon, you'll find a beautiful shrine dedicated to Sainte-Geneviève, the patroness of Paris.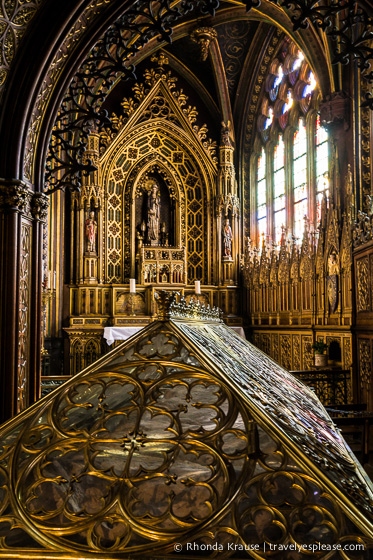 The remarkable golden reliquary you see here was used to hold the remains of Sainte-Geneviève, along with many important relics. The citizens of Paris would parade the relics from the church to Notre-Dame and back, believing that this procession would ward off catastrophes. However in 1793, the relics were destroyed by revolutionaries and the body of Sainte-Geneviève was burned. The tomb of Sainte-Geneviève was the only thing to survive.
More Paris Attractions and Travel Guides