Purchases made through links earn us a small commission, at no extra cost to you.
A common question I get from my readers is "Where Should I Stay in Paris?" There are so many wonderful neighbourhoods in Paris, each with a distinctive atmosphere, that deciding where to stay in Paris can be a dilemma.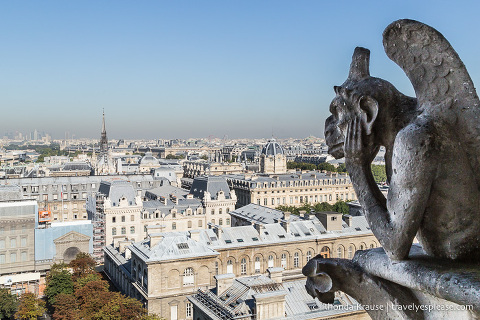 While budget is often a deciding factor, I try not to let that limit me too much because some of Paris' best neighbourhoods are also the most expensive. If you can afford to stay in central Paris, do it. It's the perfect way to experience the culture, beauty and joie de vivre Paris is envied for.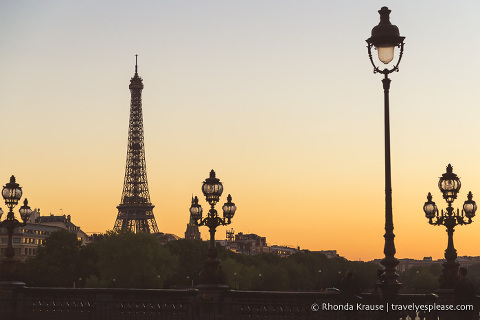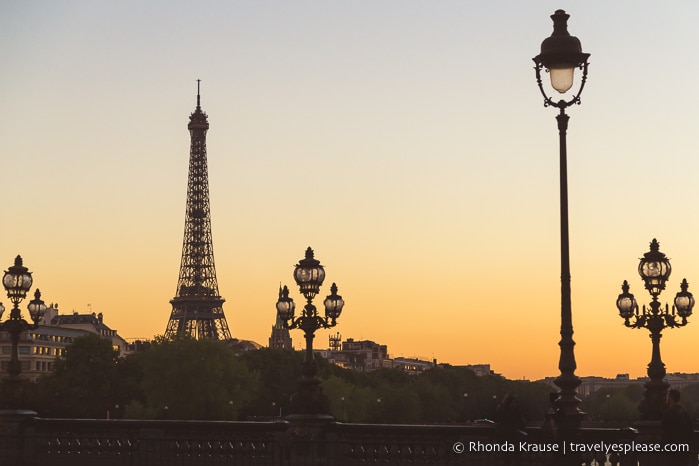 The good news is that no matter which Paris neighbourhood you stay in, you'll have easy access to Paris' top tourist attractions. Paris is well served by the metro and regional trains meaning nothing is out of reach.
Where to Stay in Paris- The Best Neighbourhoods in Paris for Travellers
I put together this neighbourhood guide to Paris to help you decide which districts of Paris are best suited to your tastes. Below you'll find a description of what I think are the best Paris neighbourhoods for travellers, along with some points of interest in each area.
For this guide I've sometimes narrowed it down to smaller quarters, while other times feature entire districts, known as arrondissements. On a map, the arrondissements of Paris are abbreviated as 2e, 3e etc. The first, or premier one, is abbreviated as 1er.
I've also specified if the neighbourhood is on the Left Bank of Seine (south of the river) or the Right Bank (north of the river).
So without further ado, here are some of the best areas to stay in Paris for travellers. I hope this neighbourhood guide helps you choose where to stay in Paris!
Note: All links will open in a new window for your convenience.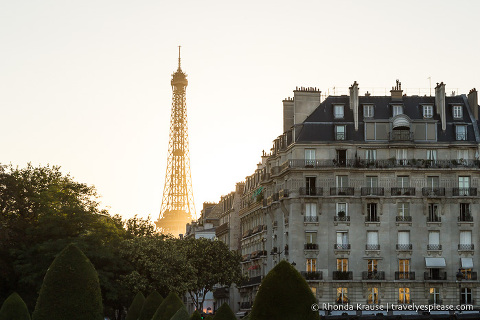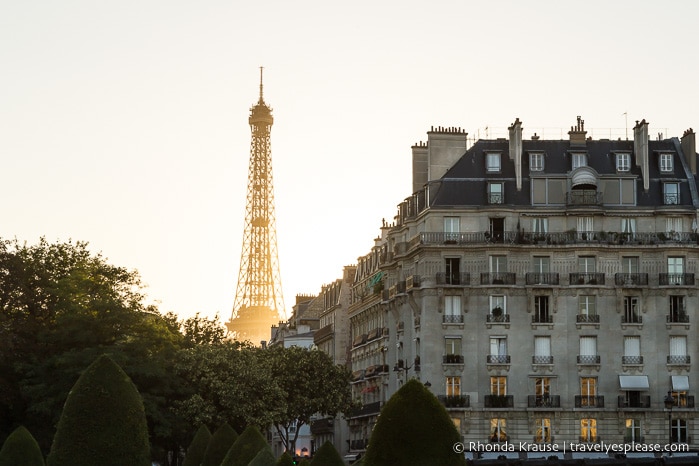 Latin Quarter
Left Bank, 5th arrondissement
The Latin Quarter is where we stayed during our 4 day trip to Paris. It's traditionally the intellectual area of Paris, having been home to universities since medieval times.
By the 1920's, the Latin Quarter was the heart of Parisian café culture and is still buzzing with activity today. A student-dominated neighbourhood, the Latin Quarter has a young, lively atmosphere filled with shops, bistros and cafes.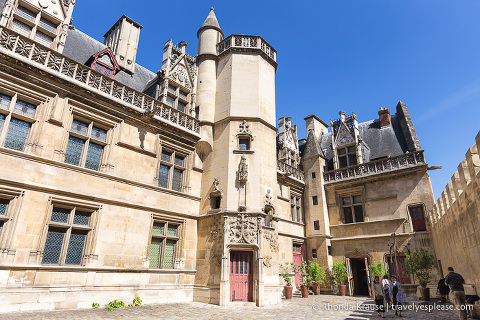 Places of Interest in the Latin Quarter
Place St-Michel- The main student quarters and home to an 1860 fountain of Saint Michael with some dragons.
Panthéon- Built by Louis XV in 1758, this grand building is the resting place of highly regarded French citizens including Voltaire, Rousseau and Victor Hugo.
St-Etienne du Mont- An interesting little church which contains the golden tomb of Sainte-Geneviève, patroness of Paris.
La Sorbonne- France's most famous university.
Eglise St-Séverin- Church originating from the 13th century but rebuilt in the 15th. Sculptures of gargoyles can be seen on the roof.
Musée de Cluny (Musée National du Moyen Age)- Small museum sitting on top of 2nd century baths. Inside is a collection of medieval art, including the Lady and the Unicorn tapestries.
Nearby: St-Germain-des-Pres to the west, Île de la Cité and Île St-Louis to the north.
Check prices, reviews and availability for hotels in the Latin Quarter.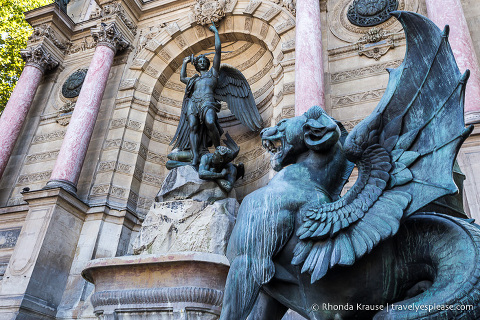 St-Germain-des-Prés and the 6th Arrondissement
Left Bank
Much like the Latin Quarter, St-Germain-des-Prés has a long-standing café culture with an intellectual, posh-bohemian vibe. As the stomping grounds of writers such as Hemingway and Fitzgerald, this Paris neighbourhood has a rich literary history.
St-Germain-des-Prés is home to bookstores and antique shops, but further south into the 6th arrondissement you'll find expensive designer boutiques, making it one of the most upscale, fashionable districts of Paris.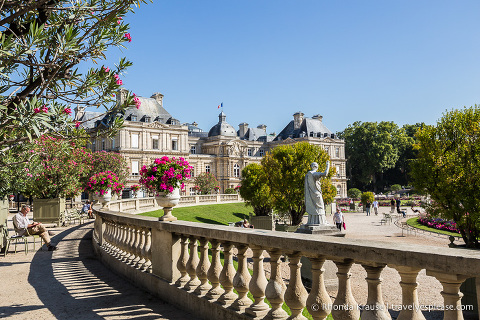 Places of Interest in St-Germain-des-Prés and the 6th Arrondissement
Luxembourg Gardens and Palace- A large, well-groomed garden popular with locals and tourists alike. It's overlooked by a palace built for Henry IV's widow, now home to the French Senate.
Eglise St-Sulpice- The second largest church in Paris and home to one of the world's biggest organs. The church has a brass meridian line across the floor, part of a gnomon used to indicate the equinoxes and solstices. St- Sulpice was also featured in the novel The Da Vinci Code.
Eglise St-Germain-des-Prés- The oldest church in Paris, dating back to the 6th century. Here you can visit the tomb of French philosopher René Descartes.
Les Deux Magots- Café known for being a gathering place of artists and intellectuals. Famous past patrons include Pablo Picasso, Simone de Beauvoir, Jean-Paul Sartre and Ernest Hemingway.
Café de Flore- One of Paris' oldest coffee shops, also popular with famous French writers and philosophers.
Nearby: Louvre Museum across the river to the north, Île de la Cité to the north-east, Latin Quarter to the east.
Check prices, reviews and availability for hotels in St-Germain-des-Prés and the 6th arrondissement.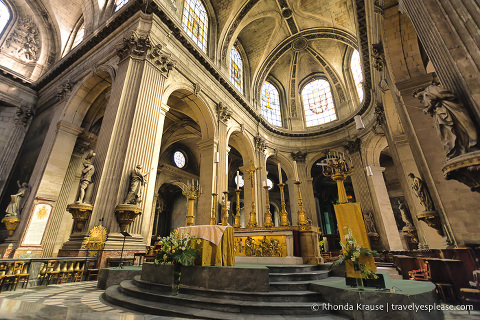 The Islands- Île de la Cité and Île St-Louis
1st and 4th arrondissements
There is not a huge selection of hotels on the islands, but if you do stay here you'll have easy access to both sides of the river and some of Paris' most historically impressive sites.
Île de la Cité is the soul and founding place of Paris while Île St-Louis is an envied residential area of 17th century mansions, narrow streets and small art galleries. Both islands are enjoyable places to wander around, even though they attract a lot of visitors.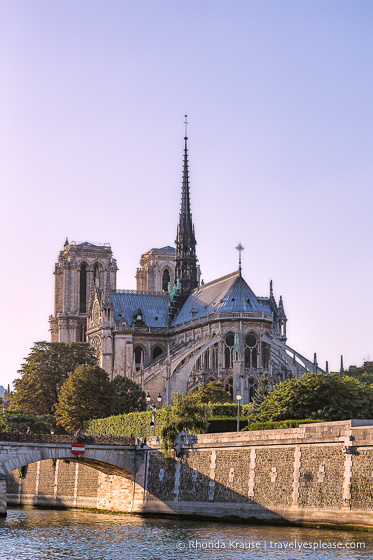 Places of Interest on Paris' Islands
Notre-Dame Cathedral– Paris' most famous cathedral known for its rooftop gargoyles.
La Conciergerie– A medieval palace turned prison during the French Revolution. Marie Antoinette was held here before her execution by guillotine.
Sainte-Chapelle- A tiny church made almost entirely of stained-glass windows.
Marché aux Fleurs- A flower market.
Nearby: St-Germain-des-Prés and the Latin Quarter to the south, the Louvre to the west, and the Marais to the north.
Check prices, reviews and availability for hotels on Île St-Louis.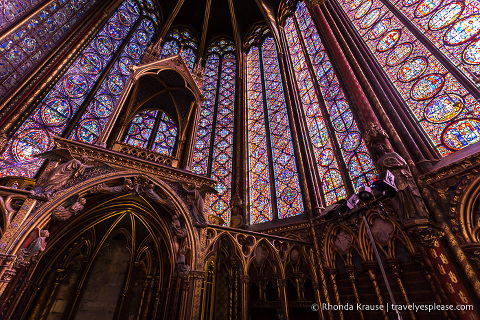 Le Marais
Right Bank, 3rd and 4th arrondissements
Before the French Revolution, Marais was popular with wealthy aristocrats who lived in stylish mansions called hôtels. Nobility abandoned the area after the Revolution, but many historic buildings remain.
Today's Marais is a chic neighbourhood of art galleries, museums, stylish boutiques, trendy cafés, and exciting nightlife. It also is a centre for Paris' Jewish and LGBT communities.
This is one neighbourhood of Paris that I regret not spending more time in. We were there so briefly that I didn't even take a picture!
Places of Interest in Le Marais
Hôtel de Ville- Paris' City Hall.
Place des Vosges- Paris' oldest square, which also has a reputation for being the most attractive. Many famous artists and writers, including Victor Hugo, chose to live around it.
Maison de Victor Hugo- Victor Hugo's home from 1832-1848, now a museum dedicated to his life and work.
Museé Carnavalet- A Renaissance palace and museum chronicling the history of Paris.
Musée Picasso- Art gallery showcasing the works of Pablo Picasso.
Hôtel de Sens- A 15th century palace once home to archbishops. It is now a fine arts library.
Hôtel de Sully- Built between 1625 and 1630, this mansion and orangery was at one time a private residence. It's now home to the Centre des Monuments Nationaux. The building is closed to the public but you can visit the walled garden.
Nearby: The Pompidou Centre to the west, the islands to the south, Place de la Bastille and the Bastille Opera House to the east.
Check prices, reviews and availability for hotels in Le Marais.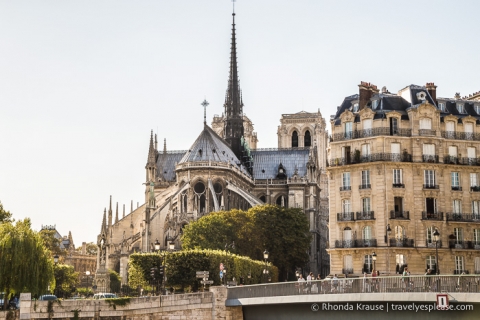 The 1st Arrondissement
Right Bank
The 1st arrondissement is one of the oldest and smallest in Paris. Many business and administration buildings are located here, but it's also the location of Paris' most famous museum and the west end of Île de la Cité.
Places of Interest in the 1st Arrondissement
Musée du Louvre- Paris' former royal palace is now one of the world's largest museums. Highlights include the Mona Lisa, Venus de Milo and Nike, the Winged Victory of Samothrace.
Arc de Triomphe du Carrousel- Triumphal arch at the entrance of the Tuileries garden. It was completed in 1808 and commemorates some of Napoleon's military victories. Not to be confused with the more famous and larger Arc de Triomphe de l'Étoile on the Champs-Elysées.
Jardin des Tuileries- A statue garden that stretches from the Louvre to Place de la Concorde.
Palais-Royal- Former royal palace completed in 1639 which now contains the Ministry of Culture and Constitutional Council.
The Ritz Hotel Paris- Ranked as one of the most luxurious hotels in the world, the Ritz Paris has hosted royalty, writers, movie stars and politicians.
Nearby: Place de la Concorde and Champs-Elysées to the west, Marais and the islands to the east.
Check prices, reviews and availability for hotels in the 1st arrondissement.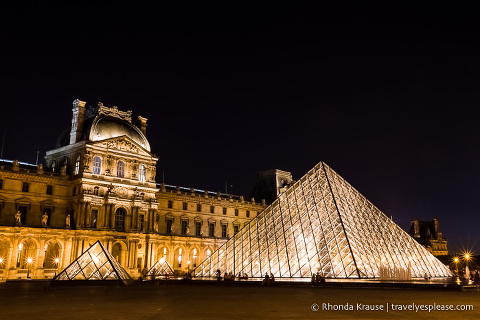 Champs-Elysées
Right Bank, 8th arrondissement
The 8th arrondissement is centered on the Champs-Elysées, a 2 km avenue lined with luxury boutiques, upscale shops, and theatres. Champs-Elysées is a Paris neighbourhood that I personally don't find that interesting, but it's a convenient place to base yourself if you love to shop.
Places of Interest in the 8th Arrondissement
Arc de Triomphe- Triumphal arch at the western end of the Champs-Elysées honouring French soldiers who fought in the Revolutionary and Napoleonic Wars. The Tomb of the Unknown Soldier (WWI) is also here.
Grand Palais- A palace built for the Universal Exposition of 1900. It's still used as an exhibition hall and museum.
Hôtel de Crillion– Luxury hotel in a palace commissioned by King Louis XV in 1758. It's one of two identical palaces on the Place de la Concorde.
Place de la Concorde- The largest public square in Paris. During the French Revolution many notable people were guillotined here. The square is now decorated with two fountains, statues representing French cities, and an Egyptian obelisk.
Église de la Madeleine– A church that resembles a large Roman temple. Just north of Place de la Concorde.
Nearby: The Tuileries and Louvre to the east, Les Invalides across the river to the south.
Check prices, reviews and availability for hotels near Champs-Elysées.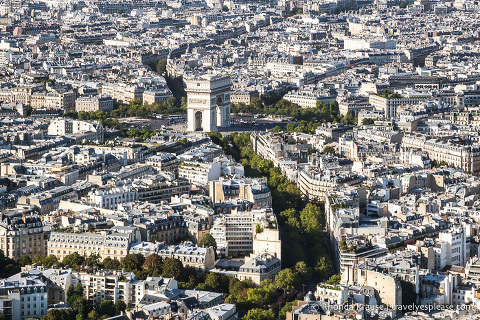 9th Arrondissement
Right Bank
The 9th arrondissement is a neighbourhood in Paris where you can enjoy culture, architecture, as well as department store shopping.
Places of Interest in the 9th Arrondissement
Palais Garnier– An opulent, gilded opera house. It's home of the Paris Opera and primarily used for their ballets.
Galeries Lafayette- The flagship location of an upmarket French department store chain.
Printemps- French department store.
Nearby: Montmartre to the north, Tuileries to the south.
Check prices, reviews and availability for hotels in the 9th arrondissement.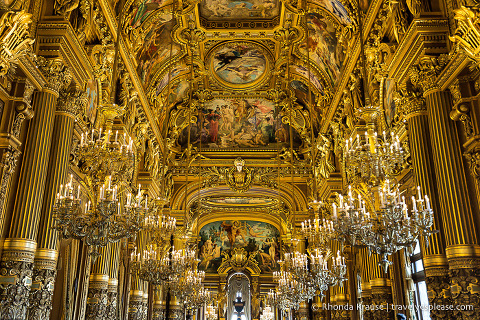 Montmartre
Right Bank, 18th arrondissement
Montmartre is the furthest away from the Seine of the Paris neighbourhoods I've mentioned and has a whole different atmosphere from the rest of the city.
This hilly neighbourhood has been a hub for artists since the 1880's and in many ways still feels like the small village it used to be before joining Paris in 1860. Here you'll find old windmills, narrow houses and cabarets reminiscent of the 19th century. It's a pleasure to get lost on the steep streets of Montmartre!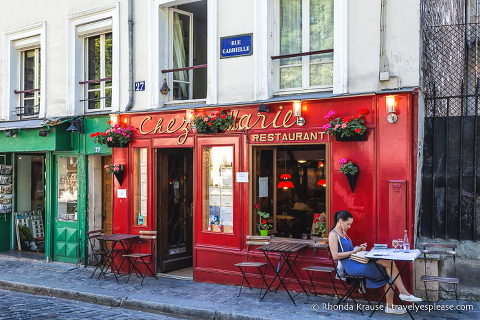 Places of Interest in Montmartre
Sacré Coeur Basilica– This imposing white church built on Paris' highest hill is one of the city's most noticeable landmarks.
Place du Tertre- Touristy square with artists selling their paintings.
Lapin Agile- Cabaret that once was a favourite of Picasso.
Moulin de la Galette- Windmill built in 1622. It is also known as Blute-fin and is no longer running.
Moulin Radet- Windmill built in 1717 that is now a restaurant called Le Moulin de la Galette.
Nearby: Moulin Rouge cabaret to the south in the red-light district of Pigalle.
Check prices, reviews and availability for hotels in Montmartre.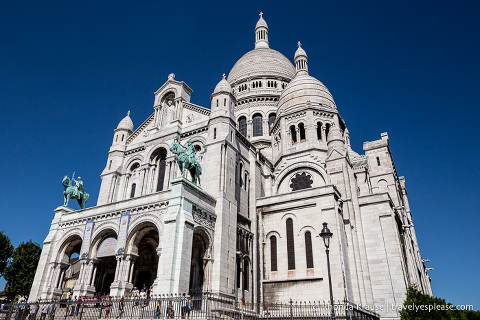 7th Arrondissement
Left Bank
The 7th arrondissement is home to Paris' most iconic landmark, notable museums, large parks and esplanades, foreign embassies and national government buildings.
The residential area of Faubourg Saint-Germain is affluent and prestigious, having been popular with French nobility since the 17th century.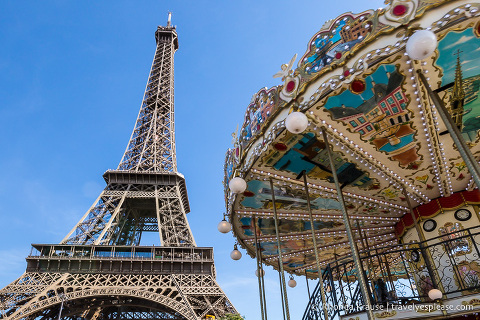 Points of Interest in the 7th Arrondissement
Eiffel Tower- The world's most recognizable structure and defining image of Paris.
Hôtel des Invalides- A complex of buildings dedicated to France's military history. Les Invalides includes the Musée de l'Armée (Army Museum) and the gold-domed church where Napoleon's tomb is displayed.
Champs de Mars- A long park stretching from the Eiffel Tower to the École Militaire. It's a popular place to have a picnic.
Musée d'Orsay- Museum located in a former train station built for the 1900 exposition. It showcases art created from 1848-1914 but a highlight is the large ornate clock in the central hall.
Musée Rodin- Museum dedicated to the works of sculptor August Rodin. Many of the sculptures are on display in the garden, including The Thinker.
Nearby: Jardins du Trocadero across the river from the Eiffel Tower, Pont Alexandre III, Grand Palais and Place de la Concorde across the river to the north.
Check prices, reviews and availability for hotels in the 7th arrondissement.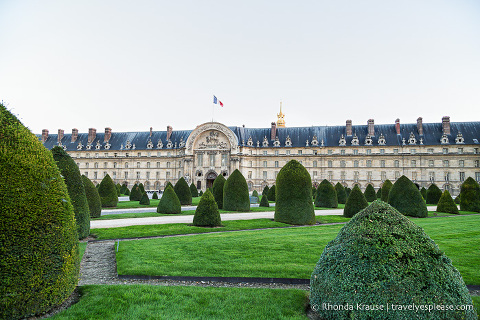 Still Can't Decide Where to Stay in Paris?
I know, that was a lot of information and there's something enticing about each of these neighbourhoods in Paris. To narrow down where to stay in Paris, think about what type of experience you want.
If you want to be surrounded by an artistic, bohemian atmosphere, then Montmartre is a great choice.
If you enjoy café culture, literature and history then St-Germain-des-Prés or the Latin Quarter would be a good fit.
History buffs will enjoy the islands and being close to some of Paris' most interesting sites.
If you appreciate historic architecture and museums but also enjoy a lively, trendy atmosphere, then base yourself in Marais.
If all you want to do is shop till you drop, then the Champs-Elysées or 9th arrondissement would be convenient.
And lastly, the 7th arrondissement is perfect for those who want to be in walking distance from the Eiffel Tower and other notable museums.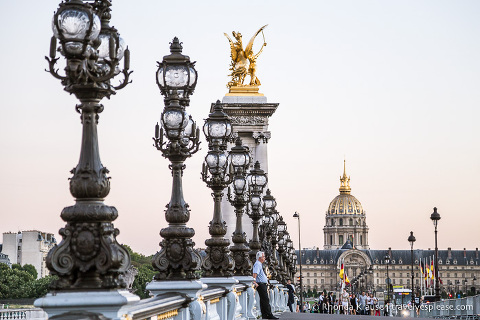 My Favourite Paris Neighbourhood to Stay In
My personal favourite area to stay in Paris is the Latin Quarter. I loved being near the Seine River, Île de la Cité and St-Germain-des-Prés. Having an RER station so close made it easy to get there direct from the airport, and to do a day trip to the Palace of Versailles. When choosing where to stay in Paris, I wanted a neighbourhood that was well connected to public transportation and close to many of the attractions we wanted to see, to help us make the most of Mike's first trip to Paris.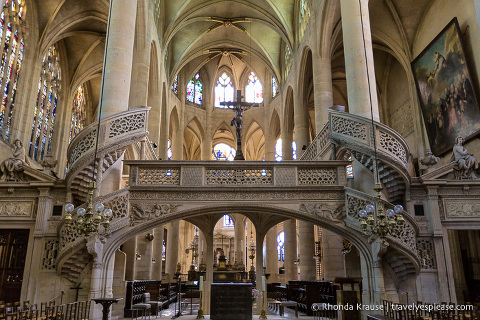 Accommodations in Paris
If you'd like to browse the entire city for accommodations, here is a list of hotels in Paris. Please consider booking your Paris accommodations through the included link. It costs nothing extra and helps support this website. Thank you!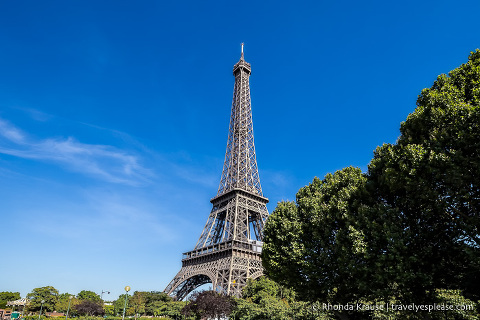 More Paris Attractions and Travel Guides