Purchases made through links earn us a small commission, at no extra cost to you.
UPDATE: In June 2020 the Wall for Peace was dismantled and moved to Avenue de Breteuil in the 15th arrondissement. We haven't visited the new location.
At the end of Parc du Champ de Mars, in the shadow of the Eiffel Tower, stands the Wall for Peace. Made from steel and glass, the monument features the word "Peace" etched in forty-nine languages and eighteen different alphabets.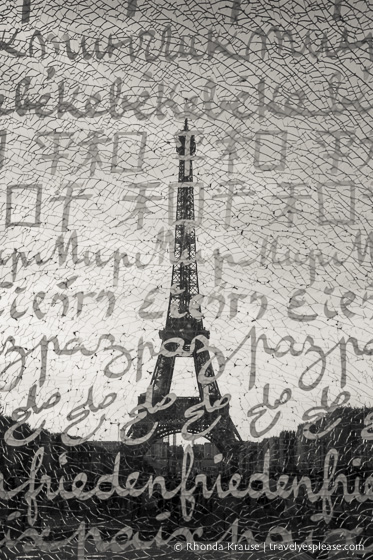 The Wall for Peace was designed by artist Clara Halter and architect Jean-Michel Wilmotte, who were inspired by the Wailing Wall in Jerusalem. The monument, known as Le Mur pour la Paix in French, is very modern and stylish in appearance with a central glass structure surrounded by 32 steel columns. It measures 16.40 m long, 13.80 m wide and 9 m high.
The Wall for Peace was symbolically erected in 2000 across from the Ecole Militaire, in an area where soldiers from the school used to train. Just like the Wailing Wall in Jerusalem, visitors can put messages of peace in the cracks of the wall.
I took this photo while looking through the glass of the Wall for Peace and it turned out to be the most unique picture of the Eiffel Tower I took during our four days in Paris.
More Paris Attractions and Travel Guides