Purchases made through links earn us a small commission, at no extra cost to you.
Crowning the top of Montmartre Hill, Paris' highest point, is Sacré Coeur Basilica. This prominent location makes Sacré Coeur Basilica one of the most noticeable landmarks in Paris, easily visible from the top of the Eiffel Tower.
This imposing basilica will surely make you gasp when it first hovers into view. The beaming white stones have managed to withstand harmful effects of weathering and pollution because travertine constantly exudes calcite, acting like a bleacher to keep the stones chalk-white.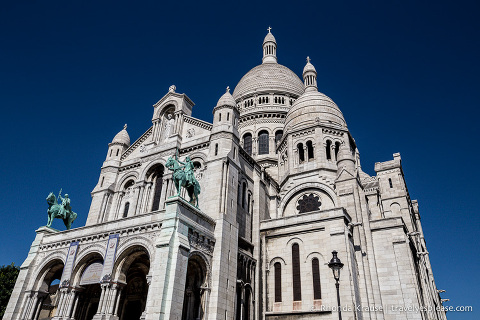 Construction of the basilica began in 1875 and was paid for entirely by donations as a way to thank God for freeing Paris from Prussian invaders in 1870. The inside is richly decorated with colourful mosaics and houses the great bell "La Savoyarde".
More Paris Attractions and Travel Guides