Purchases made through links earn us a small commission, at no extra cost to you.
There are numerous reasons to love Paris- one being its exquisite architecture. Even with so many beautiful buildings in Paris, inside and out, there is one that rises to the top in my mind.
The Palais Garnier is a dazzling building, frequently called an architectural masterpiece. The gilded, extravagant interior will make you feel as if you are in the richest of royal palaces, rather than an opera house.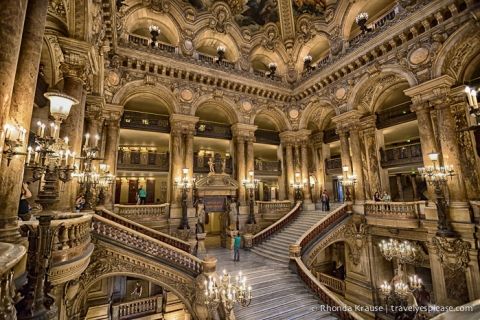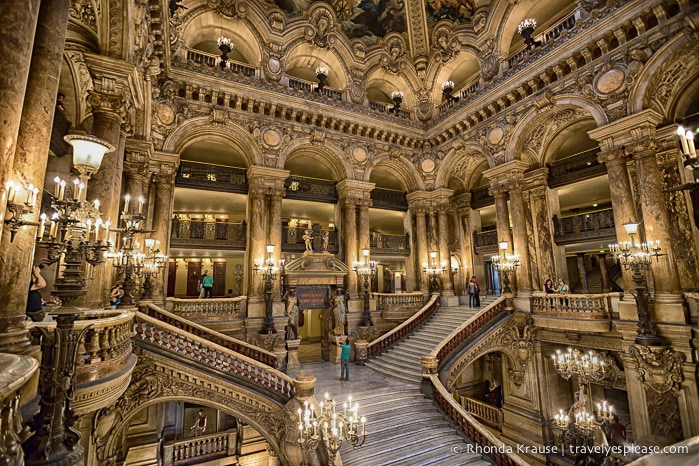 If you're in Paris for a few days, I'd recommend finding some time to visit Palais Garnier. You can tour the building during the day or attend a performance in the evening.
We weren't able to attend a show, but did do a self-guided tour of Palais Garnier during the day. Here are some photos from our visit inside Palais Garnier and the story behind one of Paris' most elegant buildings.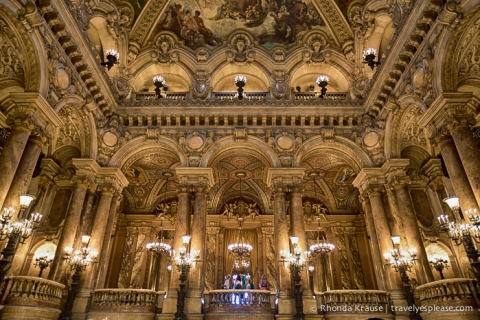 History of Palais Garnier
The idea to build a new opera house was part of Napoleon III's grand urban renewal plan for Paris.
In 1860, a competition was held to choose the architect who would build the new opera house. Out of 171 proposals, it was the design of a 35-year-old unknown, and relatively inexperienced, architect that was unanimously chosen to become Paris' new opera house.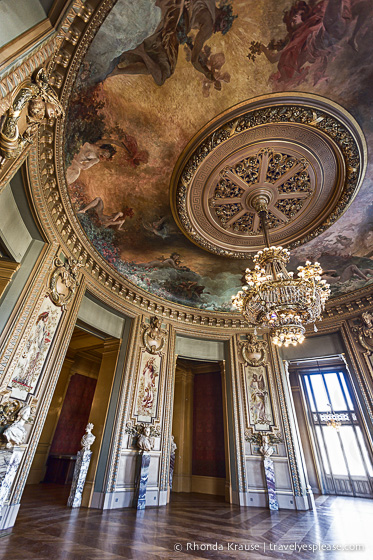 In 1861, architect Charles Garnier began construction on the prestigious building for the Paris Opera. Garnier hired France's finest craftsmen, sculptors and painters to bring to life his exuberant design.
The opera house was bold and opulent, fit for a king (or in this case, an emperor). Garnier made sure to include a protected entrance on the side of the building to shield Napoleon III from assassination attempts.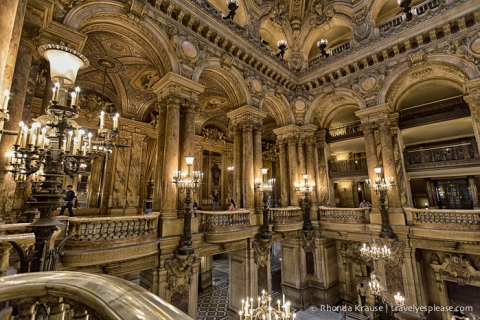 Even the avenue leading to Palais Garnier was redesigned with the Emperor in mind. The Avenue de l'Opera was built so that the Emperor and Empress could quickly travel directly from their residence in the Tuileries Palace to the new theatre.
Unfortunately, Napoleon III would never get to enjoy the opera house. His declaration of war on Prussia in 1870 briefly halted construction and led to his eventual exile in England, where he died in 1873.
Construction of Palais Garnier continued under the newly proclaimed Third Republic. However, Garnier was asked to remove all imperial emblems before the New Government of National Defence requisitioned the building.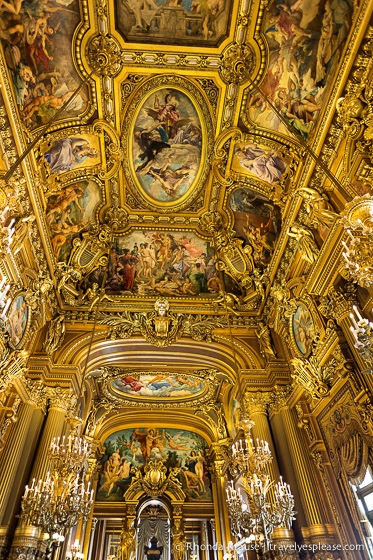 When Palais Garnier was finally finished in 1875, it was enthusiastically praised. The opera house was even hailed as one of the most grandiose Italian-style theatres in the world. At the time of its completion, the theatre boasted 2,156 seats and the world's biggest stage.
On January 5, 1875 Garnier's masterpiece was inaugurated by Marshal Mac-Mahon, the President of the Republic. Although the Garnier is no longer Paris' main opera house (Opera Bastille has assumed that role) it still is a popular venue for performances of opera and dance.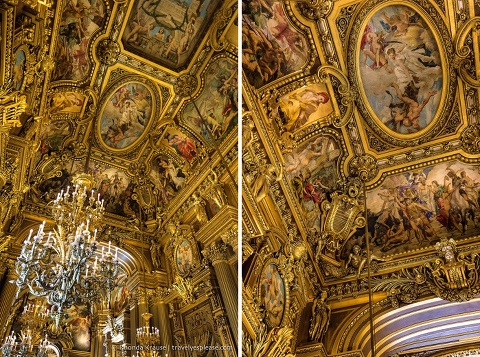 Highlights of Our Tour of Palais Garnier
While I thought every aspect of Palais Garnier was exquisite, there are two areas which really impressed- the Grand Staircase and the Grand Foyer.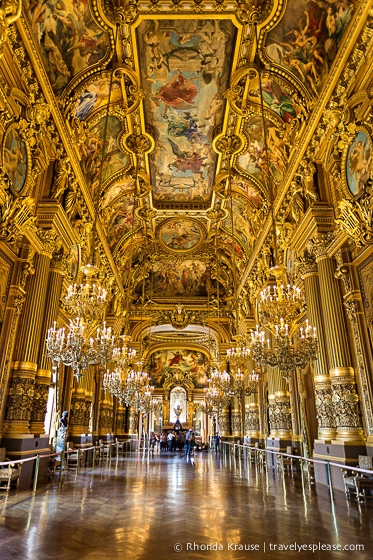 The Grand Staircase
Charles Garnier said it best when he proclaimed, "The opera is the staircase".
Upon entering Palais Garnier, the Grand Staircase will immediately command your attention. Built of white marble from Seravezza, Italy, the staircase is as luxurious as the material used to build it. The onyx balustrade is built on a base of green marble from Sweden and all 128 balusters were crafted out of antique red marble.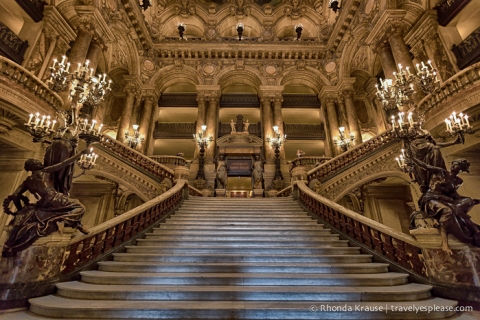 The Grand Staircase is flanked by 30 large columns, each one made out of a single piece of marble. Let your eye follow the columns up to the ceiling and you will be met with a marvelous fresco painted by Isidore Pils.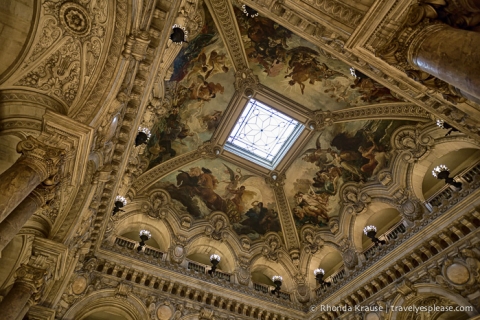 The Grand Foyer
The Grand Foyer was a place where people could stroll and chat before performances, no doubt in admiration of the gold that decorates nearly the entire room!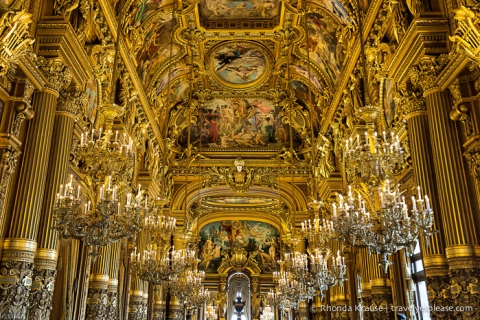 In the centre of all the gold and glitter, is an impressive ceiling fresco painted by Paul Baudry, who was summoned from Rome by Garnier. The central painting is an allegory of Music. On each side are smaller paintings in oval frames, one representing Comedy, the other Tragedy.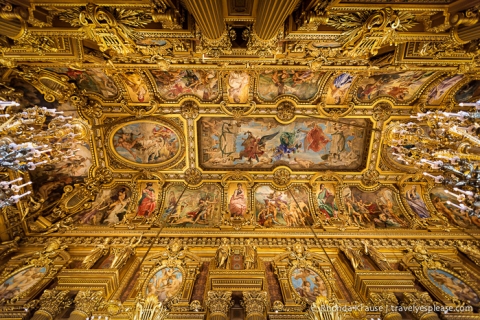 In many ways, the Grand Foyer reminded me of the Hall of Mirrors at the Palace of Versailles, except I thought it was far more stunning and definitely more pleasant to visit (no mobs of people to push through!)
Final Thoughts on Our Visit to Palais Garnier
As a lover of palaces and architecture, Palais Garnier had me smiling from ear to ear, that is when my mouth wasn't hanging open in astonishment! If Palais Garnier isn't on your list of places to see in Paris, it really should be. I thought it was the most beautiful building we visited during our 4 days in Paris.
Tips for Visiting Palais Garnier
Location: Palais Garnier is on the corner of Rue Scribe & Rue Auber.
Getting There: To reach Palais Garnier by metro, take lines 3, 7, or 8 and get off at the Opera station.
Admission/Public Areas: Admission tickets give access to the Opera Library-Museum, Rotonde des Abonnés, Bassin de la Pythie, Grand Staircase, Grand Foyer, Avant-Foyer, Salons de la lune et du soleil, Rotonde du Glacier and tapestries. The admission ticket is also valid for any temporary exhibitions. Access to the auditorium may be restricted or forbidden at times for technical or artistic reasons.
Tickets: Here is a trusted site where you can buy digital tickets for Palais Garnier and have them immediately delivered to your smartphone:
Tours: Guided tours of Palais Garnier are available in English and last 90 minutes. Tours typically run once a day at a scheduled time.
Opening Hours: Visiting hours are 10:00 am- 5:00 pm, except on matinee performance days and other exceptional closing dates. Confirm current operating hours here.
Accommodations: For your convenience, here is a list of hotels near the Garnier Opera. Please consider booking your Paris accommodations through the included link. It costs nothing extra and helps support this website. Thank you!
Information was updated January 2022, but can change without notice. Please confirm directly with service providers.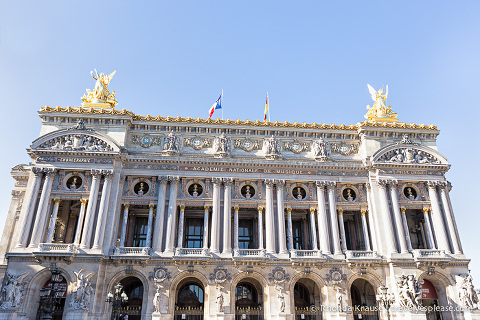 More Paris Attractions and Travel Guides