A few years ago I wanted to do a trip to Yellowstone National Park, as it's one of the most geologically interesting and wildlife-rich areas in the United States. The problem was, Yellowstone is extremely popular and trying to plan a trip a few months in advance meant that accommodations and campsites were all booked up.
That's why I started considering an organized, small group tour of Yellowstone. I could choose a date not too far in the future and know that my accommodations, transportation, and activities were all taken care of. I could just sit back and enjoy a stress-free trip, knowing that I'd be taken to all the best places to see in Yellowstone National Park.
Since I prefer to travel independently, I'm very picky when it comes to joining an organized tour. I don't want to be on a huge coach with 50+ people, be rushed through places of interest, and given more time to shop and eat than take part in local activities.
So when Grand American Adventures invited me to experience the first outing of their Yellowstone and Teton In-Depth tour, I carefully considered their itinerary and travel style.
National parks as special as Yellowstone and Grand Teton deserve to be experienced, not simply seen. For me to do a guided tour of Yellowstone and Grand Teton, it had to be one that would be thorough, yet flexible and relaxed, with outdoor adventures and other unique experiences I maybe hadn't previously considered.
In a leap of faith, I decided to end my 11 year ban on organized tours and give Grand American Adventures a try, hoping that their new in-depth tour style would allow me to experience the best of Yellowstone and Grand Teton National Parks in 5 days.
About Grand American Adventures' In-Depth Tours
Grand American Adventures' In-Depth tours are designed for people who have limited vacation time, or who want to travel shorter distances, but still desire an immersive, small-group travel experience.
The In-Depth tours are a maximum of 13 passengers and include a mix of adventure, nature, and local culture. The tours allow travellers to get a deeper understanding of the destination by having local specialist guides (experts in wildlife and geology, for example), and spending more time in fewer places.
My Yellowstone and Grand Teton In-Depth Tour
My Yellowstone and Teton In-Depth tour with Grand American Adventures was a very small group- just three of us, plus our guide. It was nice to be able to spread out and have our own space in the 15-seat minibus.
The tour started and ended in the town of Jackson and over 5 days we explored Wyoming's national parks (3 days in Yellowstone and 2 days in Grand Teton). We saw plenty of wildlife, learned about the local history, ecology, and geology, and enjoyed some outdoor activities.
Throughout the trip, our guide organized picnic lunches for us. While other guides may choose to do restaurant lunches instead, I really liked the simplicity and convenience of being able to pull over at a scenic location and enjoy a healthy meal surrounded by nature.
Even though the itinerary was packed with sites and unique experiences, there was still room for flexibility and input from the group, plus a bit of free time too.
Here's a look at the main attractions in Yellowstone and Grand Teton National Parks that I saw on my in-depth tour with Grand American Adventures. Keep in mind that this is based on my personal experience and could change slightly depending on tour guide and group preferences, as well as customer feedback.
Before I share how I spent 5 days in Yellowstone and Grand Teton, here's a brief background about Yellowstone National Park.
About Yellowstone National Park- History, Geography, Geology, Biology
Yellowstone was the first national park in the United States (and the world), established in 1872 by President Ulysses S. Grant. It spans about 8,991 square kilometres with 96% of the park in Wyoming, 3% in Montana, and 1% in Idaho. Its boundaries protect a variety of ecosystems including grasslands, desert, riparian, alpine, forest, and thermal.
The landscape of Yellowstone was shaped by three major volcanic eruptions that took place 2.1 million, 1.3 million, and 630,000 years ago. The park is centered over the Yellowstone Caldera, one of the world's largest at about 72 x 48 km. The magma chamber below this caldera and supervolcano is responsible for continuing geothermal activity in the park.
Yellowstone National Park has the largest concentration of geothermal features in the world (about 10,000 altogether), including hot springs, mudpots, fumaroles, and two-thirds of the world's geysers (more than 500).
Besides geothermal activity, Yellowstone is also known for its wildlife. Bears, wolves, pronghorns, and herds of free-ranging bison and elk all roam the park.
Yellowstone National Park has been designated a U.S. Biosphere Reserve and a UNESCO World Heritage Site.
Yellowstone National Park- Main Attractions
Here are some things to do and top places to visit in Yellowstone National Park in 3 days!
Mud Volcano Area
The Mud Volcano area has a 1 km trail that loops past a collection of bubbling mudpots, hot springs, and fumaroles.
Walking clockwise on the path, one of the first features I encountered was Mud Geyser. Mud Geyser was very active in the late 1800s, erupting every few hours. By 1927 eruptions no longer occurred, but you can still see active steam vents.
As I walked up Cooking Hill, I could smell sulphur wafting over from the aptly named Sizzling Basin and Churning Caldron. In one corner of Churning Caldron the water was aggressively bubbling up, an indication of just how hot these acidic pools are.
Passing by Sour Lake, the trail started going downhill towards Grizzly Fumarole. A fumarole is a vent in the Earth's surface that emits steam and volcanic gases. There wasn't much action happening that was visible to the eye, but if you listened closely you could hear steam hissing below the surface.
Next up I came to Mud Volcano, a large pool of boiling, steaming mud.
The last feature of the Mud Volcano area was Dragon's Mouth Spring. Once I saw it, or more precisely heard it, I thought it was perfectly named. The steam and gases exploding through the water in hidden caverns made a rumbling sound like a dragon growling.
As interesting as the Mud Volcano area was, it was just an appetizer for all the incredible geothermal features in Yellowstone yet to come.
Grand Canyon of the Yellowstone
Carved by the Yellowstone River to a depth of 366 metres (1,200 feet) in places, the Grand Canyon of the Yellowstone is one of the most impressive landscapes in the park. In fact, the colour of this eroded canyon is what inspired the name Yellowstone.
There's a nice view of the canyon and Lower Yellowstone Falls from Artist Point, but it gets very busy with tourists. Thankfully, my guide knew of an offshoot from the Ribbon Lake Trail, just a few feet from main gathering area, that offered fantastic views of the canyon with no other people around. It felt like a secret spot just for us!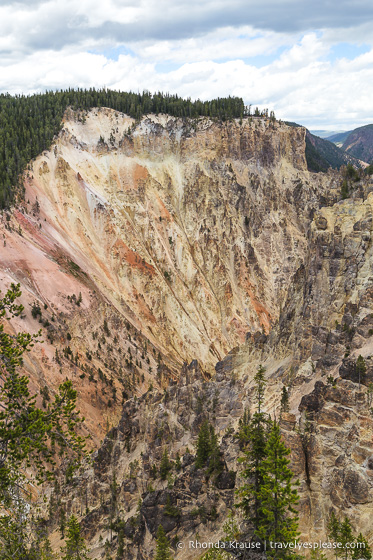 Norris Geyser Basin
The Norris Geyser Basin is the hottest and most changeable thermal area in Yellowstone. There are 3.6 kilometers of trails passing by scalding hot springs, acidic geysers, and hissing steam vents.
I walked the entirety of Back Basin, a forested area where the geothermal features are quite spread out, and quickly explored a portion of Porcelain Basin, an open area where the geothermal features are more densely packed.
The main attraction of Back Basin is Steamboat Geyser, the world's tallest active geyser. When it has a major eruption it can shoot water more than 91 metres (300 feet), but it also has frequent minor eruptions of 3-13 metres (10-40 feet).
Steamboat Geyser had a major eruption 2 weeks before I visited, but at least I still got to see it shooting up smaller explosions of water.
Walking around Back Basin, I really got a sense of just how active the earth is below Yellowstone. It truly feels alive, full of pungent smells, sounds, and movement.
Since there were few people at the far end of Back Basin, I could easily hear water flowing and bubbling beneath the surface. As remarkable as the thermal activity was above ground, I could only imagine how intense it must be below my feet.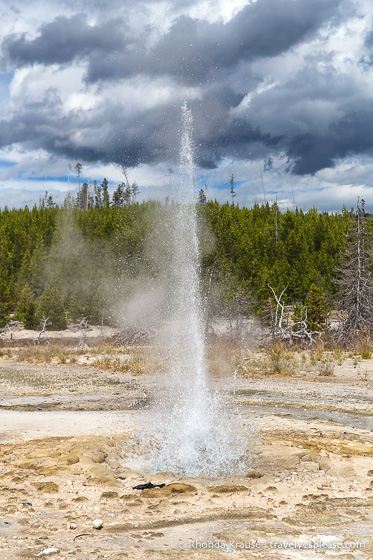 Once I got to Porcelain Basin, I encountered a large open area of steam vents, springs, and geysers, the land white from mineral deposits. It was such an interesting landscape that Porcelain Basin would be a place I'd return to in the future to explore further.
Grand Prismatic Spring
Grand Prismatic Spring was the place I was most looking forward to visiting in Yellowstone National Park and it did not disappoint.
Grand Prismatic Spring was as colourful and striking as it looked in photos, especially when viewed from the hillside overlook. I probably could have stared at it all afternoon, if given the opportunity!
The spring has bright bands of orange, yellow, and green outlining the deep blue water. This rainbow ring of colours is caused by different species of thermophile (heat-loving bacteria) living in the water. The microbial mats around the edge of the spring change colour depending on the temperature of the runoff, since different bacteria thrive at different temperatures.
Another interesting fact about Grand Prismatic Spring is that it's the third largest hot spring in the world (largest in the United States), with a diameter of almost 113 metres (370 feet). It also is deeper than a 10 story building at 49 metres (160 feet).
Grand Prismatic Spring was my favourite feature in Yellowstone National Park and one of the most beautiful natural wonders I've ever seen.
Lamar Valley (Guided Wildlife Tour)
Our group spent nearly a full day with a professional wildlife tracker visiting areas of Yellowstone known for animal sightings.
Much of our time was spent in and around the Lamar Valley, a beautiful area well-known for the abundance of wildlife that passes through it.
While we weren't lucky enough to spot a wolf, we did see an impressive amount of other wildlife in Yellowstone. We saw a grizzly bear and two cubs, mountain goats and two kids, osprey, bison, elk, mule deer, pronghorns, ground squirrels, bald eagle, trumpeter swan, sandhill crane, bighorn sheep, pika, and chipmunks.
The most exciting moment was at the very end of our wildlife tour when we spotted a cinnamon black bear and her two cubs. They were laying down, resting in the trees not far from a roadside pullout. The mama bear eventually sat up and her two cubs quickly latched on to feed.
While they were too far to get a good picture, we had an amazing view through the scopes our guide set up. It was such a touching moment, a scene I doubt I'll ever see again. Watching this mama bear nurture her two cubs was unforgettable. It almost felt like I was watching a Planet Earth documentary, but no, they were right there in front of me. Absolutely incredible!
It was great having a specialist wildlife guide because he knew all the best spots for animal sightings. He brought two scopes and some binoculars which helped us spot wildlife you couldn't see from the road. Even though some animals we saw were really far away, with the scopes we could see them clear and up close.
Old Faithful
Old Faithful is the most famous geyser in Yellowstone National Park and each day thousands of people gather to watch it erupt.
Just as its name suggests, Old Faithful reliably erupts every 60-110 minutes. The predicted eruption times are posted in the visitor centre, so you know how long you have to wait for the next "show".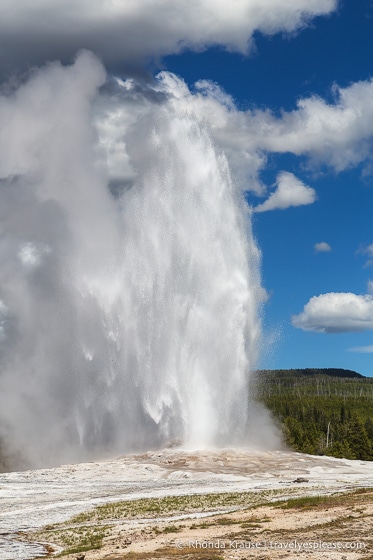 Naturalist staff can predict the eruptions of Old Faithful with 90% confidence within a 10 minute variation. If the previous eruption lasts less than 2.5 minutes, there will be a 60 minute interval, and if the eruption is longer than 2.5 minutes, there will be a 90 minute interval.
Currently Old Faithful erupts around 17 times a day, for a duration of 1.5 to 5 minutes. Depending on the length of the eruption, as much as 8,400 gallons of water can be expelled from Old Faithful. The average height of Old Faithful's eruptions is 40 metres (130 feet).
Seeing Old Faithful erupt was an exciting experience, and the anticipation leading up to it was intoxicating. Every so often a small blast of water would shoot up, leaving us holding our breath for the big explosion. Once it did erupt, it was as sensational as I'd imagined!
Mammoth Hot Springs (Guided Geology Tour)
I had no idea what to expect from Mammoth Hot Springs as I'd never seen a photo, so I was shocked and in awe when I first saw them.
Mammoth Hot Springs are unique from other springs in Yellowstone because of its large travertine terraces. These terraces were created over thousands of years as hot water from the spring surfaced then cooled, depositing calcium carbonate.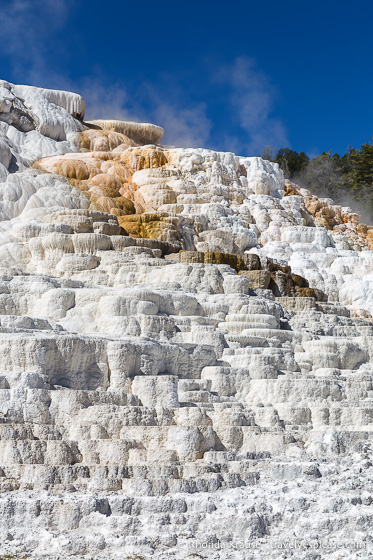 Our group's geology guide took us down a nature trail near the back of the hot springs where there were no other tourists. As she told us about the geology and ever-changing appearance of Mammoth Hot Springs, I watched water trickle over the edges, falling from one terrace to another.
At one point on the trail, our guide told us to cup our ears towards the springs so we could hear the movement of the thermal waters. It's amazing what you can hear when not surrounded by hordes of tourists!
After our little hike, we walked on the boardwalk past Liberty Cap, a dormant hot spring cone, on the way to the main viewing area of Mammoth Hot Springs.
From here I could see the mineral deposits of the terraces up close. They reminded me of a frozen waterfall, with snow-white icicles dangling off rocky ledges.
I was grateful to explore Mammoth Hot Springs with a geology expert because she explained theories and concepts in a way that was easy to understand. Not only that, but her passion for Yellowstone and its fascinating geology was contagious. It reminded me of that time in my childhood when I wanted to be a geologist.
I'm glad my tour of Yellowstone ended on a high note with a visit to Mammoth Hot Springs. They are a standout attraction in a park filled with astonishing natural wonders!
About Grand Teton National Park- History, Geography, Geology, Biology
Grand Teton National Park is in northwestern Wyoming, just south of Yellowstone and the John D. Rockefeller Jr. Memorial Parkway. It's a relatively small park at 310,000 acres, and its territory encompasses the Teton Mountain Range and Jackson Hole valley.
The park was established in 1929, named for Grand Teton, the tallest mountain in the 64 km long Teton Range. In 1950, the park was expanded to include land in Jackson Hole that was bought and donated for conservation by John D. Rockefeller Jr.
Grand Teton National Park has many glacier formed lakes, a few small receding glaciers, Lodgepole pine forests, sagebrush flats, wet meadows, and some of the oldest rocks in North America, dating 2.7 billion years.
Sixty-one species of mammals and 300 species of birds have been documented in Grand Teton National Park. The most common wildlife sighting in the park is elk, whose migration route from the National Elk Refuge to Yellowstone National Park passes through Grand Teton.
Grand Teton National Park- Main Attractions
Here are some things to do and top places to visit in Grand Teton National Park in 2 days!
Antelope Flats Bike Tour
Included in our tour was a leisurely guided bike ride through Antelope Flats. It was a beautiful place to go for a ride, especially since we had perfect, clear views of the Teton Range.
Our guide took us down mostly flat, dirt and paved roads, passing by sagebrush flats and the historic homesteads on Mormon Row.
Along the way, our guide would stop to tell us about the local area and point out wildlife in the fields. We got up-close views of a male pronghorn and even had a mule deer run across the road right in front of us!
Mormon Row Historic District
Mormon Row is not much more than a couple of barns and old farm houses, but they sure are photogenic!
In the 1890's, Mormon homesteaders from Idaho established a small community in the area because of the fertile soil, wind shelter by Blacktail Butte, and access to the Gros Ventre River. They dug ditches by hand and with horses to funnel water to their fields and irrigate their crops.
Of the remaining homestead buildings, the most famous are the two Moulton barns built by John and T.A. Moulton. While I enjoyed photographing both, T.A. Moulton's barn is especially attractive with the Teton Range in the background.
Mormon Row was added to the National Register of Historic Places in 1997 as a Historic District.
Sunset Ecology Tour
Even though we had already done a wildlife tour in Yellowstone, we did another one in Grand Teton National Park.
During our sunset ecology tour, our specialist guide drove us around to locations known for animal sightings. With our binoculars in hand, we searched for wildlife in the distance. It didn't take long to find pronghorn and bison, which were pretty close to the road, but everything else was more elusive.
We did spot a moose briefly before it hid away in the trees, and also got a quick look at a beaver. The only interesting bird we saw was a red-tailed hawk, perched at the top of a tree watching the bison and pronghorn graze.
Jenny Lake Ferry
Jenny Lake is one of the glacially formed lakes at the base of the Teton Range.
In the morning, we took a short shuttle boat ride across Jenny Lake to access Cascade Canyon and the area's hiking trails. I decided to do the short hike to Hidden Falls and Inspiration Point, while the rest of my group chose to walk along the lake.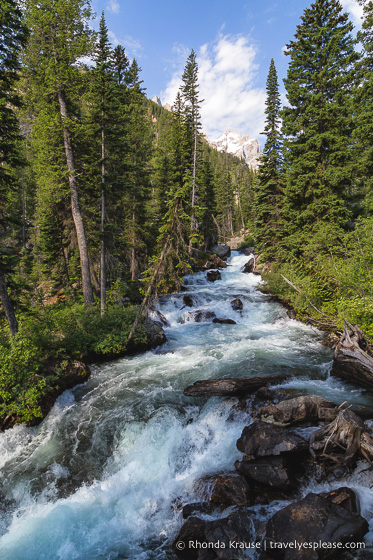 Jenny Lake was so pretty, with incredible views of the Tetons, that I wished I had more time here. I would have loved to rent a kayak and paddle around the lake for a few hours.
Did This Independent Traveller Enjoy an Organized Tour of Yellowstone?
My Review of Grand American Adventures' Yellowstone and Grand Teton In-Depth Tour
On all my trips I want to experience a destination in-depth, actively exploring and enjoying experiences, versus passively seeing sights. I want to always come home with plenty of cherished memories, photos, and interesting stories to tell.
In the past, whenever I've done an organized tour I've returned home unsatisfied with the experience. The groups were big, the itinerary was "cookie-cutter", and we spent such little time in each destination. I was shown the obvious highlights but was craving a deeper experience.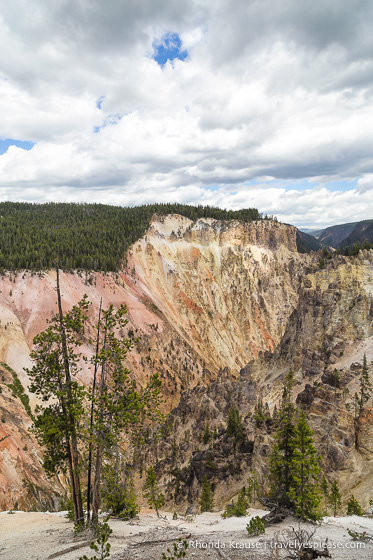 What appealed to me about Grand American Adventures and their In-Depth tours, was the small group size (max of 13), and that the itineraries offered access to unique experiences that would have been hard for me to have on my own.
For the Yellowstone and Teton In-Depth trip, it would have required some time and research for me to arrange a day with a professional wildlife tracker, as well as a geology guide. I probably wouldn't have even thought about these if I was planning an independent trip. That for me was the biggest benefit of this tour- having experiences that I would have missed out on had I gone alone.
Even though this was a shorter trip than I'm used to (only 5 days), I didn't feel rushed or that I missed out on any essential experiences. That's important to me when choosing a tour company because even though I only have a few days to dedicate to a trip, I still want an itinerary that won't leave me feeling short-changed or wishing I had visited independently.
Overall, I really enjoyed this tour. We visited all the main sites in Yellowstone and Grand Teton National Parks I was hoping to see, but also got off the tourist trail in places thanks to the local knowledge of our guides. I definitely learned far more about the parks' geology and wildlife than I would have if I visited on my own.
I also appreciated that our guide consulted the group on decisions such as where to eat supper each night and what to see/do after we visited the places listed on the trip dossier.
In addition to the flexibility offered by a small group tour, I liked that the group size made it easy to get know other travellers. Soon I felt like I was travelling with friends instead of strangers.
Since it was the first run of the tour, I suspect there will be some logistical changes based on customer and tour leader input, but the sites and specialist guides included on the trip were top-notch so I'd see no reason to change the core of the itinerary.
However, there are a few things you should know before you go on this tour. One is that it involves a lot of driving, and therefore a few early mornings. Some of that can't be avoided based on the size of the parks (Yellowstone is huge) and how slow traffic moves, but changing the location of some of the accommodations would help shorten drive time.
Also, even though there is technically WiFi available in the bus, it didn't work the majority of the trip because cell coverage is very limited in the park. When we were in a place with a cell tower, the network was usually overloaded and it was hard to connect. I actually didn't mind the lack of WiFi because I enjoy disconnecting while I'm out sightseeing, but for some people this may be an issue. There was WiFi at our accommodations so it's not like you'll be offline for the entire trip.
I'm glad that my tour with Grand American Adventures was a rewarding experience full of active discovery. The trip had full days but at a relaxed pace, which is a balance I strive for when travelling independently.
Even though I most certainly got a comprehensive trip to Yellowstone National Park, I still would go back for more. That's not because I missed out on anything by being on a guided tour, but because Yellowstone is that incredible. It's without a doubt the most interesting, diverse, national park I've ever visited!
Pictures of Yellowstone National Park
Whenever I look at my photos of Yellowstone National Park, it reminds me of how much I loved this part of Wyoming. Here are a few more pictures from my 3 days in Yellowstone for you to enjoy!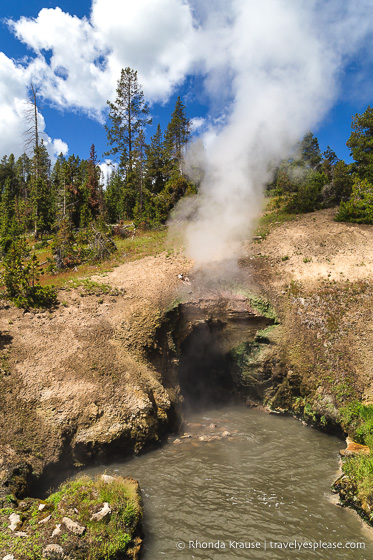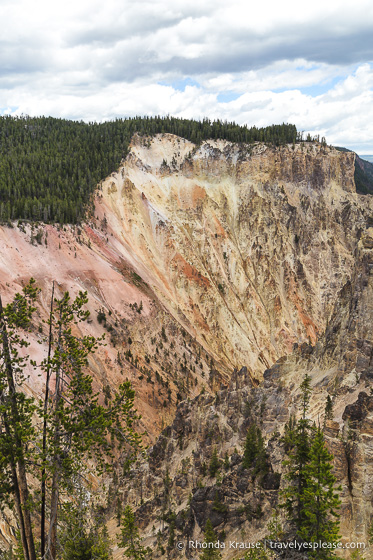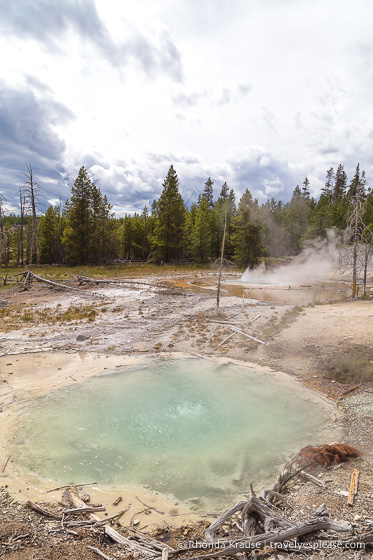 Tips for Visiting Yellowstone and Grand Teton National Parks
Entrance fees to Yellowstone National Park are $35 for a private vehicle. The park pass is good for 7 days. The same fee applies for Grand Teton National Park.
The most popular months to visit Yellowstone are June, July, and August. July and August are the only months when all facilities, services, and roads are open.
For summer trips, you will need to book hotels and campsites very far in advance. Even the first-come, first-served campgrounds fill by early morning. Don't expect to find accommodation in the park last minute. As an alternative, you can stay in nearby towns outside the park, or book an organized tour where accommodations are already taken care of.
Travel times in Yellowstone can be longer than anticipated because of heavy traffic and wildlife jams. One day we got caught in a jam for 1 hour and 20 minutes! Please, if you see wildlife don't leave your car in the middle of the road and run off to take a picture!
To make the most of a summer trip to Yellowstone, arrive early and stay late. The park entrances start to get lined up around 9:00 am. Also, try to avoid visiting the main attractions during peak hours (10:00 am- 3:00 pm). Even though Yellowstone can get incredibly busy, most people don't venture too far away from the main areas. Sometimes even walking a few feet onto a side trail will leave the crowd behind.
Most of Yellowstone National Park is closed during the winter and the only way to visit is by snowmobile or snowcoach. Roads re-open to cars in mid-April.
Grand Teton National Park is open year-round, but there are road closures in the winter limiting access to some areas.
There are campgrounds and lodging options in Grand Teton National Park, but you can also find good accommodations nearby in Jackson.
Accommodations Near Yellowstone and Grand Teton National Parks
For your convenience, here is a list of hotels near Yellowstone and Grand Teton National Parks. Please consider booking your Wyoming accommodations through the included link. It costs nothing extra and helps support this website. Thank you!
I was hosted by Grand American Adventures in order to bring you this story. As always, I only speak the truth and hosts have no editorial influence on articles.