Purchases made through links earn us a small commission, at no extra cost to you.
Gazing over the Black Hills of South Dakota are the faces of four American presidents, sculpted in stone on the face of Mount Rushmore.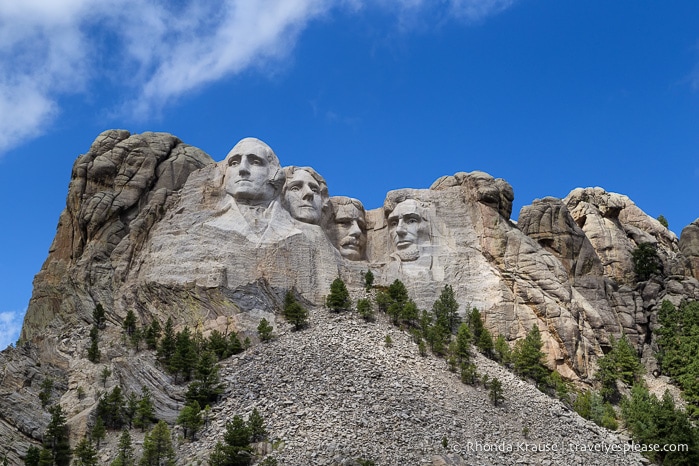 George Washington, Thomas Jefferson, Theodore Roosevelt and Abraham Lincoln. Each made significant contributions to the United States, helping shape the nation from its founding, growth, development and preservation.
These four presidents may be long gone, but they're immortalized here at Mount Rushmore. Generations later, people are still inspired to visit what not only is an incredible piece of art, but a monument to liberty, a "Shrine of Democracy" and a reminder of the great things that can be accomplished from dreaming big.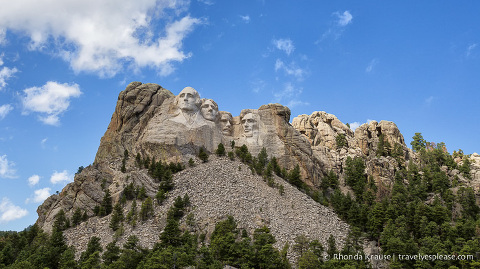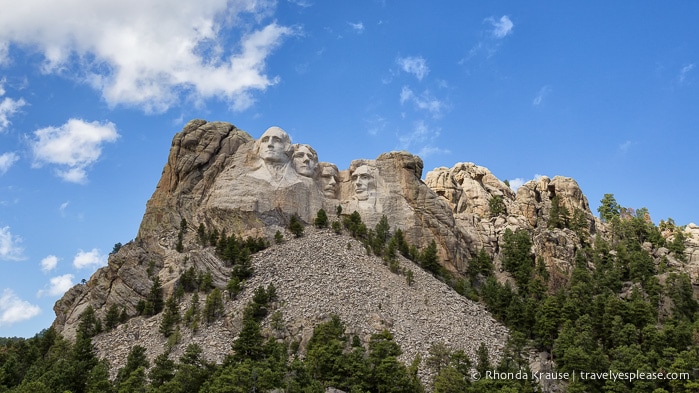 Before we share our experience visiting Mount Rushmore, here's a brief history of the monument.
History of Mount Rushmore National Memorial
The idea to carve a mountain in the Black Hills was put forth by Doane Robinson, a state historian of South Dakota who was hoping to increase tourism to the area.
Robinson contacted sculptor Gutzon Borglum, and after a few meetings the concept and location for the project was chosen. Mount Rushmore would be carved with the faces of four American presidents, selected by Borglum himself.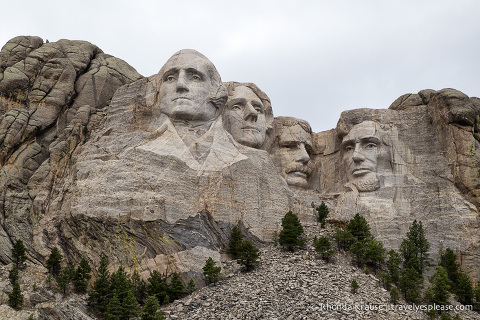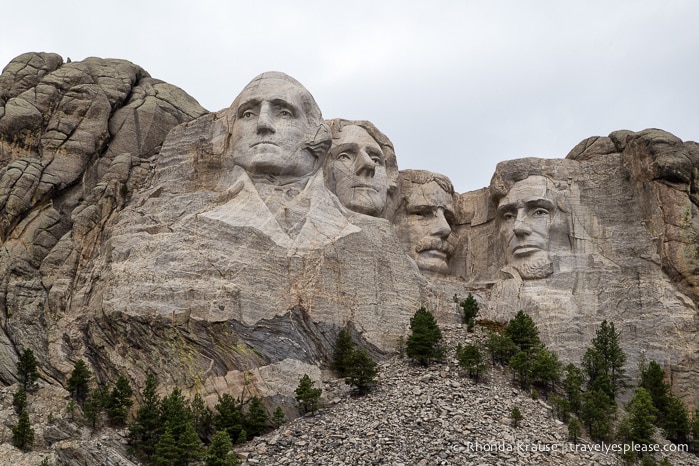 Work on the Mount Rushmore National Memorial began in 1927, but not without opposition from many groups, including environmentalists and Native Americans.
Gutzon Borglum led the project until his death in March 1941. His son Lincoln took over construction, seeing Mount Rushmore National Memorial to completion in October 1941.
Mount Rushmore has gone on to become an iconic symbol of the United States, being listed on the National Register of Historic Places and attracting nearly 3 million visitors each year.
Presidents on Mount Rushmore- Why They Were Chosen
After arriving at the monument, one of the first things I wondered was why were these presidents chosen for Mount Rushmore? (Okay, that's actually the second thing I wondered- the first was who are the two presidents in the middle?)
Here are a few of the reasons why they were chosen, moving from left to right on the monument.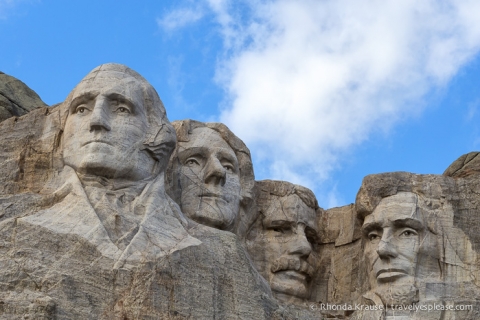 George Washington was chosen because he was a leader of the Revolutionary War, a founding father of the United States, and the country's first president. Fittingly, he was the first to be carved on Mount Rushmore.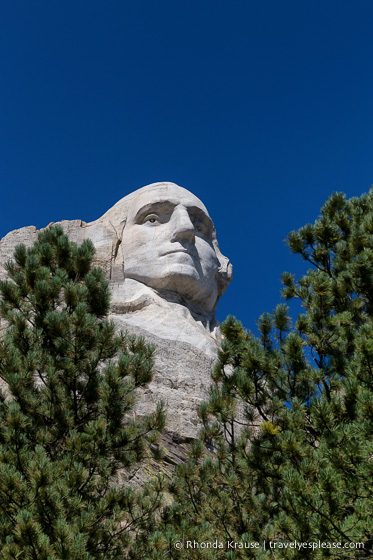 Thomas Jefferson was selected because he helped grow the country, purchasing the Louisiana Territory from France and expanding into the west. He also was honored for being an author of the Declaration of Independence.
Theodore Roosevelt was chosen because of his contributions to the country's economic growth and role in creating the National Park System.
Abraham Lincoln was honored on Mount Rushmore for abolishing slavery and working to preserve the United States after the Civil War.
So there you have it, the four presidents chosen to represent the first 130 years of American history!
Visiting Mount Rushmore- Our Experience
Our visit to Mount Rushmore began with a walk under the flags of the 56 US states and territories, flying proudly in the wind, lining the way to the Grand View Terrace.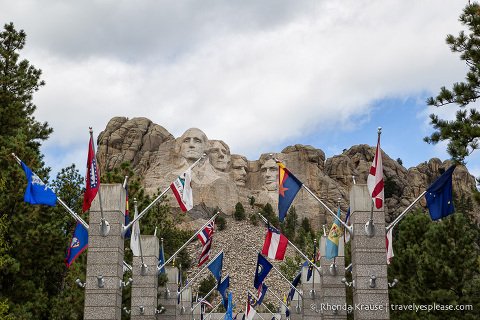 Even though I'm Canadian, I could sense how patriotic it must feel to be surrounded by these flags when you get your first glimpse of those four great American presidents, beautifully chiseled into Mount Rushmore.
The closer we got to the viewing terrace, the more and more impressed I became with the monument in front of me.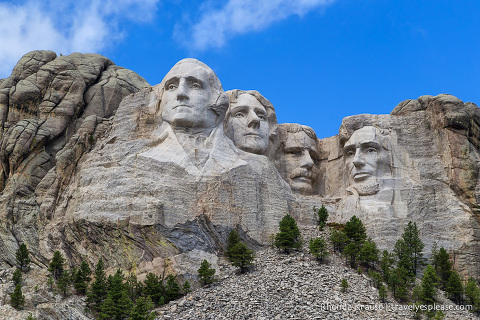 These gigantic, 18 meter (60-foot) tall sculptures are strikingly similar in appearance to the presidents they depict. From Lincoln's chiseled cheekbones, to Roosevelt's spectacles and Washington's distinctive 18th century hairstyle, I was amazed at the resemblance.
Not only that, somehow these sturdy granite heads manage to exude life and feeling. It's all in the eyes! From afar, I could not believe how realistic they looked. I was especially transfixed by Lincoln's eyes- it was as though he was staring right into my soul.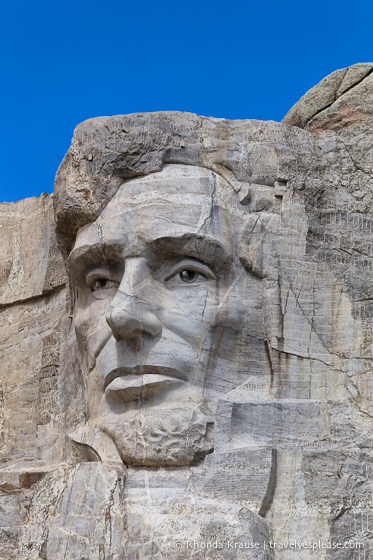 As we started our walk along the Presidential Trail, I kept wondering how the sculptor managed to create such lifelike eyes. Once we got up close, we could see how it was done. There's a slender piece of rock left attached inside the eyehole, making it look like a pupil. Genius!
Continuing along the forested Presidential Trail, we got to experience some unique perspectives of the monument. You definitely don't want to skip the short hike! It's a great opportunity to see this masterpiece up close.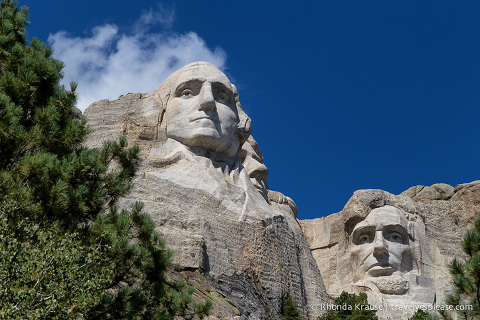 About halfway into our walk the clouds parted, revealing a vibrant, blue sky. Once the sun came out, its warm rays perfectly highlighted each president!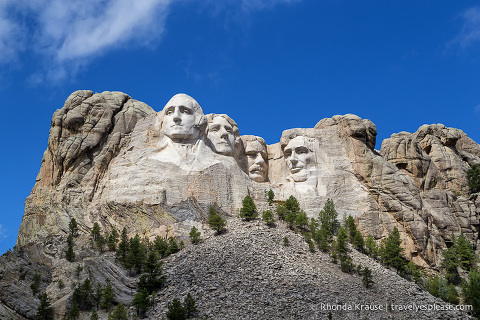 Final Thoughts on Our Trip to Mount Rushmore
Mount Rushmore was above and beyond what I had imagined it would be like. The sculptures were way bigger than I expected and definitely far more realistic! It was a wonderful combination of artistry, nature, and patriotism.
I was glad there was a trail we could walk on to get a close look at the sculptures, while enjoying some nature along the way. It wouldn't have been very fun to just drive in, see the monument and then leave!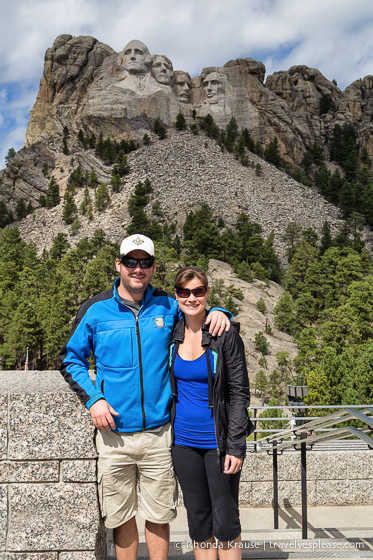 Seeing how we really enjoyed visiting Mount Rushmore, on our last day in the Black Hills we impulsively decided to return for the nightly lighting ceremony. There's a video played in the outdoor amphitheatre that shares the making of the monument, a flag lowering ceremony and a salute to veterans. We got there a little bit late to enjoy the full ceremony, but made it just in time for the grand finale- the lighting of Mount Rushmore!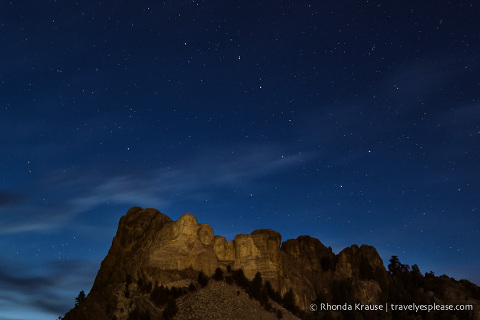 Fun Facts About Mount Rushmore
400 people worked with Gutzon Borglum on the sculpting of Mount Rushmore.
The presidents were initially going to be depicted with a torso, but lack of funding forced construction to end after the heads were complete.
Mount Rushmore was carved using dynamite and "honeycombing", a process where workers drill holes close together to remove small pieces of rock by hand.
450,000 tons of rock was removed to create the carved heads.
Roosevelt's face was the last to be carved on Mount Rushmore.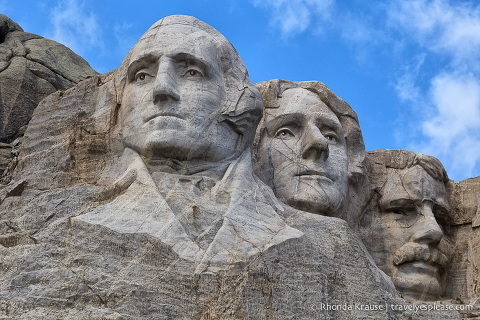 Tips for Visiting Mount Rushmore
Location: Mount Rushmore is located at 13000 Highway 244 in Keystone, South Dakota.
The nearest airport to Mount Rushmore is in Rapid City 56 km (35 mi) away.
Opening Hours: The grounds at Mount Rushmore are open every day of the year, but the information and visitor centers, gift shop and café are closed December 25th.
Hours for the memorial grounds are from 5:00 am- 11:00 pm (early March to end of September), and until 9:00 pm in the winter. The information and visitor centers, along with the gift shop, open at 8:00 am and their closing times vary throughout the year. Confirm current hours here.
Admission Fee: There is no entrance fee for Mount Rushmore National Memorial, but there is a charge to park your vehicle.
The parking fee at Mount Rushmore is $10.00/vehicle and the pass is valid for the remainder of the calendar year. Parking for extra long vehicles and those with trailers is extremely limited.
Walking Trail: The Presidential Trail at Mount Rushmore is almost 1 km (0.6 mi) long and has 422 stairs.
Self-Guided Tour of Mount Rushmore: Audio guides and multimedia tour units are available for rent. At each designated tour stop in the park, the devices present interesting stories and facts about Mount Rushmore.
Sculptor's Studio: The Sculptor's Studio is open from late May- September only. Here you can see carving tools, plaster models and exhibits about Gutzon Borglum and his vision for Mount Rushmore.
Restaurants: There is food available at Mount Rushmore in Carver's Café and the Memorial Team Ice Cream shop. Thomas Jefferson is credited with popularizing ice cream in the U.S. Apparently, his recipe was the first recorded by an American and you can try it here!
Mount Rushmore Illumination: The Evening Lighting Ceremony takes place nightly from late May to September 30. The sculptures are illuminated every night from sunset until 9:00 or 11:00 pm, depending on the season.
*Information was updated January 2022, but can change without notice. Please confirm directly with service providers.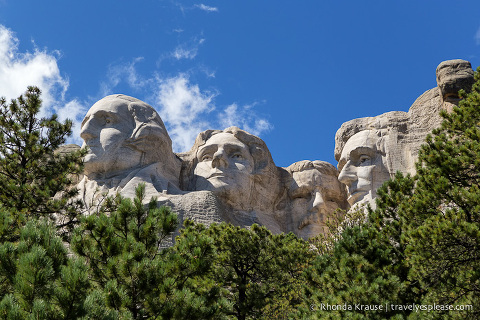 Accommodations Near Mount Rushmore
There are a lot of communities nearby where you can find lodging and campgrounds. Keystone is the closest, at only 3 miles from Mount Rushmore. Hill City, Custer and Rapid City are also good options.
We stayed further away, just outside of the Black Hills, at Spearfish. We chose this because accommodations were cheaper and it was a shorter drive from Canada. Plus it was convenient for exploring Devils Tower National Monument and the historic gold rush town of Deadwood, along with Mount Rushmore and the Black Hills. Spearfish was about 1.5 hours from Mount Rushmore.
For your convenience, here is a list of hotels in Keystone, Hill City, Custer, and Rapid City. If you don't mind a bit of a drive, here are some hotels in Spearfish and Deadwood.
Please consider booking your Mount Rushmore accommodations through the included link. It costs nothing extra and helps support this website. Thank you!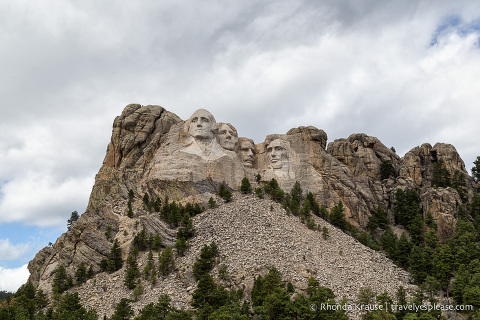 More United States Destinations and Travel Guides