Purchases made through links earn us a small commission, at no extra cost to you.
Germany definitely has no shortage of endearing, lovable medieval towns and Bamberg is no exception.
Barely touched in World War II (only 4.6% destroyed), Bamberg offers authentic beauty and charm. I was shocked that this World Heritage Site was not mentioned in our guidebook. Luckily, I didn't rely heavily on that silly book when planning our trip to Europe, otherwise we would have missed out on this architectural gem.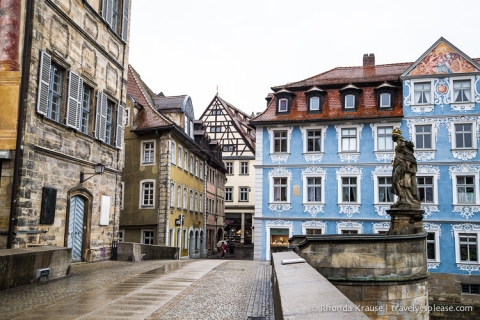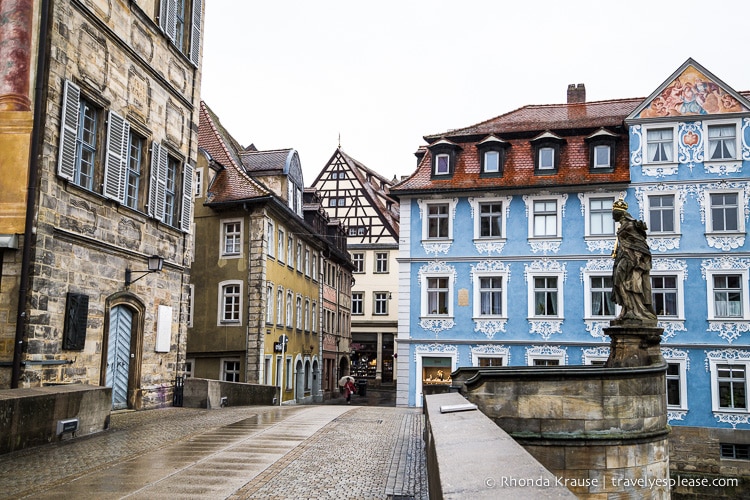 Having spent the night in Nuremberg, we made sure to wake up early so we could make the most of our day trip to Bamberg. We arrived before 9:00 am, when the narrow, medieval streets were still quiet and empty. This was my favourite part of the day because it felt like we had the town all to ourselves.
We didn't have much of a plan for our visit to Bamberg and simply began to wander. We easily found the Old Town Hall, spanning the Regnitz River, but after that promptly got lost among Bamberg's seven hills, rivers and twisty streets.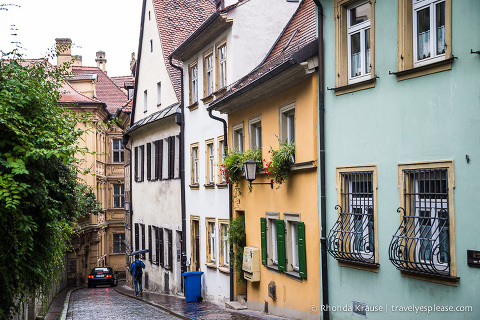 Being lost wasn't so bad because we got to see things I'm sure most visitors to the town don't get to. We found a palace down by the river and visited St. Stephen's church, high on a hill.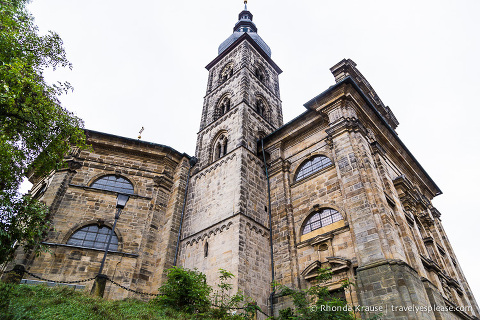 We strolled in the rain down cobblestone streets and past colourful buildings until we came to the popular part of town, the Bergstadt. Unfortunately, we no longer had the town to ourselves- tour buses had arrived, delivering travellers eager to see Bamberg's famous Cathedral and try Bamberg's notorious smoked beer.
Day Trip to Bamberg- Our Self-Guided Walking Tour
Bamberg's historic centre is compact and easily walkable, making it perfect for a day trip. Even without a plan, we discovered many great places to see in Bamberg on a day trip. Here's a look at what we saw during our self-guided walking tour of Bamberg.
Bamberg Cathedral (Bamberger Dom)
The cathedral in Bamberg has experienced a lot of bad luck and a few facelifts over the years. Bamberg's first cathedral was founded by Heinrich II, consecrated in 1021, and then burned to the ground 69 years later. The cathedral was rebuilt by Bishop Otto I from 1102-1139, but once again was destroyed by fire in 1185. Construction began again on a new, larger cathedral, consecrated in 1237 and still standing today.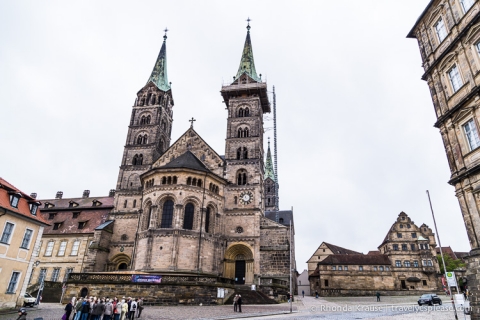 The cathedral received a baroque facelift in the 17th century, but those furnishings were removed in the 1800's to be replaced with a neo-romanesque interior, which is largely what you can see today.
The most significant work of art in the Cathedral is The Bamberg Horseman. It's unknown who the rider is supposed to portray but some say it could be Stephan of Hungary (Heinrich II's brother-in-law), Constantine the Great, Konrad III or even one of the three Wise Men.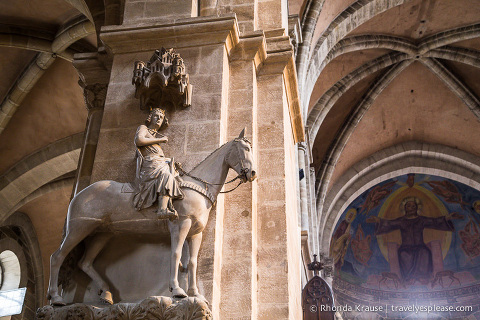 Another important part of the Cathedral is The Tomb of the Saintly Imperial Couple. This double tomb of Heinrich II and his consort Cunigunde has been a place of remembrance for many centuries. The slab on top shows the imperial couple while the side panels are decorated with scenes from their lives.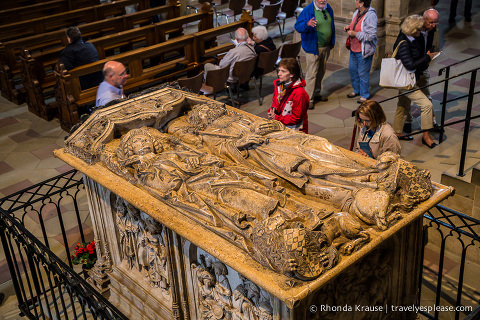 The choir stalls date back to around 1380 and feature wooden carvings of many prophets, apostles and saints.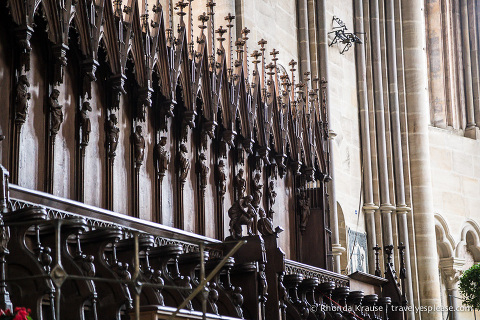 The Prince's Portal (facing Cathedral Square) is only used for certain services, just as in the Middle Ages. Above the door on the tympanum, is the scene of the Last Judgement. To the right of Christ are the smiling faces of the blessed, to the left are the distorted faces of the damned being led off by the Devil to hell.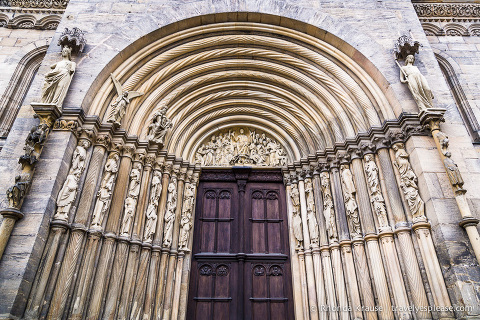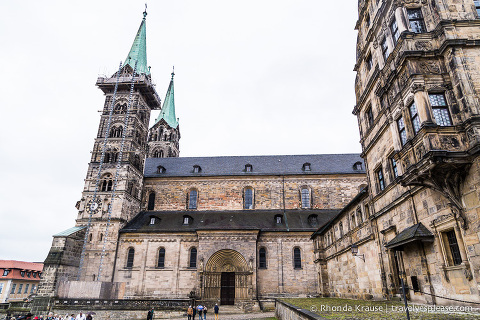 Alte Hofhaltung (Old Court)
Across from the Prince's Portal of the Cathedral is the Alte Hofhaltung. The Old Court was initially a fort. A palace was later added and it became the bishops' residence in the 16th and 17th centuries. Today it is now Bamberg's main museum.
We didn't visit the museum, instead just stepped inside the courtyard and admired the flower trimmed wooden balconies. It was just like what I pictured when I thought about German buildings!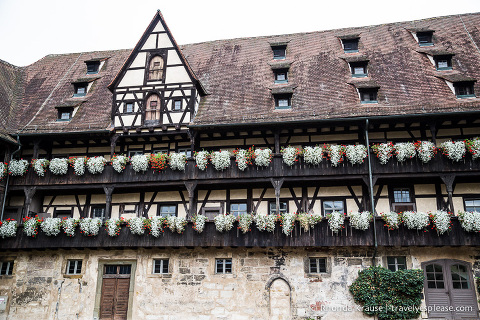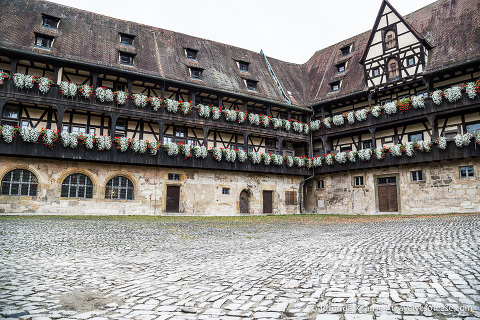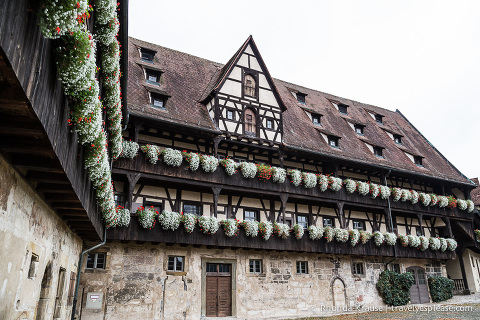 The Schlenkerla
The Schlenkerla is one of Bamberg's famous breweries. This historical tavern serves Bamberg's specialty, smokebeer, still being tapped according to old tradition- directly from the wooden barrel.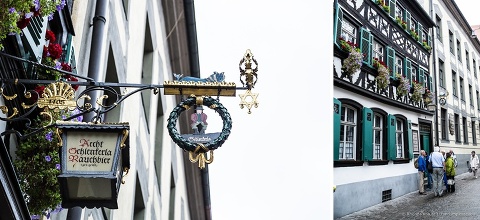 We can't give our opinion on this place and its beer because we didn't bother trying to go in. There were big tour groups constantly coming in and out and I am always leery of restaurants/pubs that tour companies take people to. In my past experience on tours, these places are often not the best places in town to eat. Who knows…the Schlenkerla could have been the exception, but we just were not in the mood for dealing with crowds of people.
Altes Rathaus (Old Town Hall)
For me, the Old Town Hall was the highlight of Bamberg. I loved the look of this building! One part is painted with a beautiful baroque fresco and the other side is a half-timbered building. It's easy to see why this is the most photographed location in Bamberg.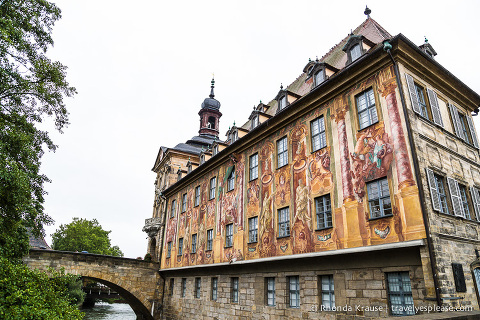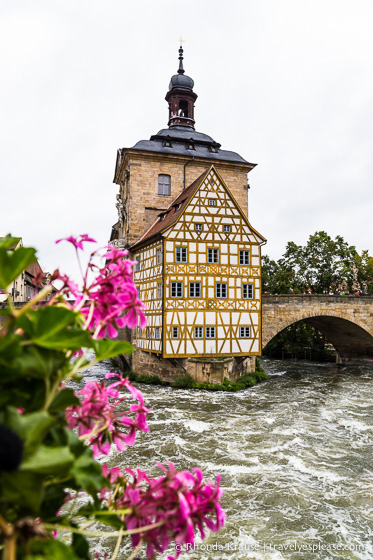 The Altes Rathaus is built like an island in the middle of the Regnitz River, accessible by bridges from each side. It stands between the north-east bank where the ordinary tradespeople lived and the south-west bank where the bishops ruled.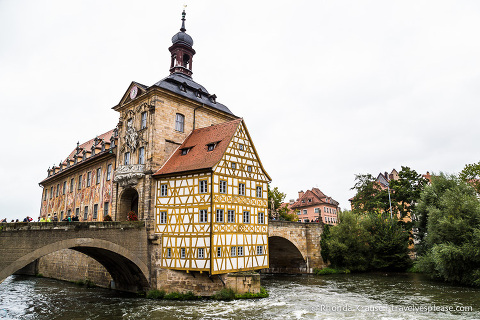 Klein Venedig ("Little Venice")
On our way back to the train station, we took a little detour to walk through an area of town called "Little Venice". One side of the river is lined with a group of colourful, picturesque fishermen's houses from the 19th century. We were lucky to enjoy a relaxing walk through a pretty area of town, unspoiled by the tour bus crowds.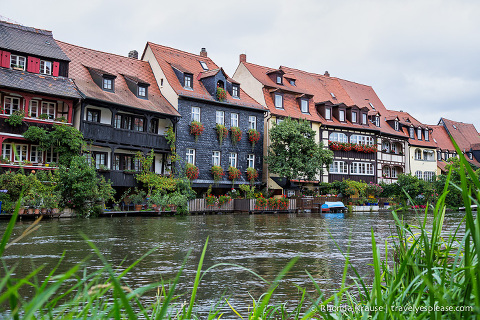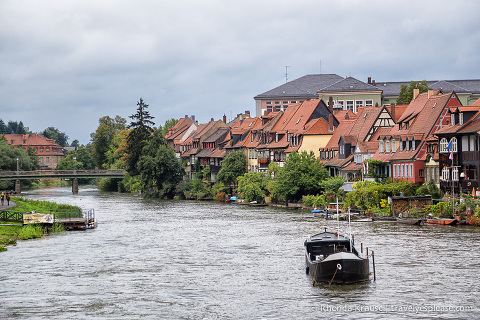 Final Thoughts About Our Day Trip to Bamberg
Our short time in Bamberg was somewhat spoiled by the rain, but not enough that we weren't able to still enjoy our day. We don't say this very often, but a day trip to Bamberg was enough for us. We arrived between 8:30 and 9:00 am and started walking back to the train station at 2:00 pm. This gave enough time for us to walk around town, see the main sights and few things off the tourist trail, plus enjoy a nice lunch. Had we been interested in visiting museums and churches, then more time would have been needed.
Bamberg was the first medieval town we visited on our trip to Europe, so of course we found it very beautiful. However, we wouldn't put it at the top of our list of favourites. We much preferred the look and feeling of Rothenburg ob der Tauber. Even Regensburg might rank higher for us. Nothing against Bamberg at all- it's a great town and most definitely worth visiting on a trip to Bavaria. It just didn't stand out as much at the end of our trip as it did at the beginning.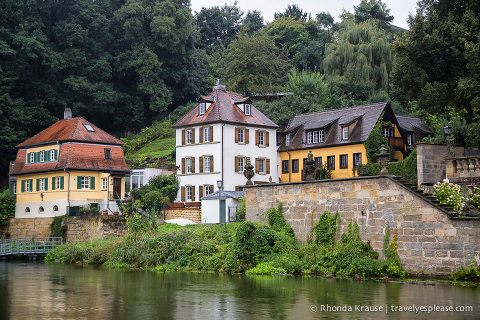 Tips for Visiting Bamberg
Getting to Bamberg from Nuremberg: Bamberg is easily seen as a day trip from Nuremberg. It's about a 40 minute train ride and trains leave and return to Nuremberg every hour. When we visited in September, the last train was scheduled to depart Bamberg at 10:36 pm. It was a longer walk from the train station to Bamberg's Old Town than we expected, but doable.
Bamberg Cathedral: Bamberg Cathedral is open daily but the time varies depending on the day of the week and time of year. Current hours are listed here. Visitors are not permitted to enter the cathedral during services.
Guided tours of Bamberg Cathedral are available and take approximately one hour. Tour times and prices can be found here.
Old Court: The Alte Hofhaltung (Old Court) and the Historical Museum of Bamberg is open April-November 10:00 am-5:00 pm (closed Mondays). It is only open for special exhibitions from November-April. Confirm current hours and admission fees here.
Sightseeing in Bamberg: There are signs around town explaining what all the different sites are, but unfortunately they are only written in German.
Information was updated February 2022, but can change without notice. Please confirm directly with service providers.
Tours in Bamberg
Here is a trusted site where you can book tours and tickets for activities in Bamberg.
Accommodations in Bamberg
For your convenience, here is a list of hotels in Bamberg. Please consider booking your Bamberg accommodations through the included link. It costs you nothing extra and helps support this website. Thank you!
More Germany Destinations and Travel Guides