Purchases made through links earn us a small commission, at no extra cost to you.
The energy in Munich during Oktoberfest is palpable- everyone is buzzing with excitement. Carnival rides, traditional food, music, and of course, beer, attract millions of people from all over the world eager to experience this famous festival.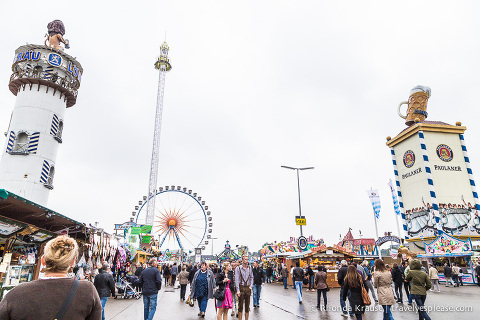 Oktoberfest is so much more than just the world's largest folk festival. It's a celebration with historic roots, a festival steeped in tradition.
What makes Oktoberfest so special is that attendees really embrace the culture and history of this celebration. It seems like almost everyone is dressed in traditional Bavarian clothing- Dirndls for the women and Lederhosen for the men. Traditions dating back to the festival's early years, such as the parade, are still observed at today's modern celebration.
History and Traditions of Oktoberfest
Today's grand festivities first began with the wedding of Bavarian Crown Prince Ludwig (later King Ludwig I) to princess Therese of Saxe-Hildburghausen on October 12, 1810.
A parade took place to mark the occasion and festivities celebrating the happy event were held on the fields in front of the city gates. There were a couple of carousels and some beer stands for the public to enjoy. In honor of the new Crown Princess, these fields were named Theresienwiese ("Theresa's meadow"), a name that is still in use today.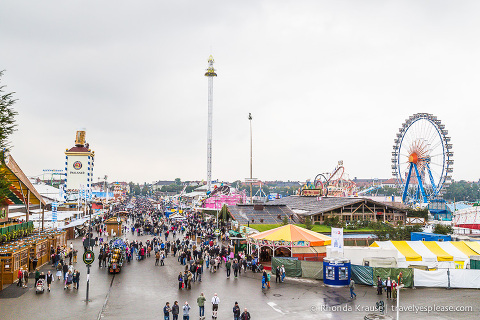 The wedding celebration ended with a large public horse race. The event was so much fun that the people decided to repeat the event at the same time the following year, marking the birth of the "October-festivals".
Eventually, the festival was prolonged and moved ahead to September to take advantage of the better weather and longer daylight hours. It also grew in size, with the first beer tents appearing in 1896.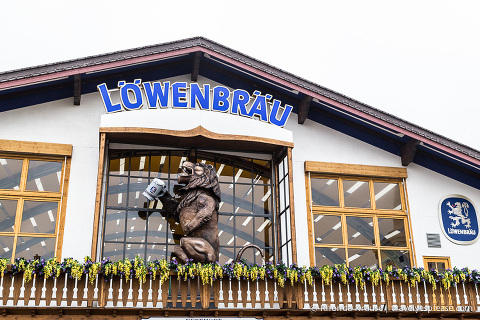 The horse races no longer take place but other traditions continue on, including the parade, which remains an important component of Oktoberfest.
The first Tent Owner and Brewery Parade took place in 1887 and has been an annual event ever since. About a thousand people take part in the parade. Wearing traditional costumes, they follow behind the Münchner Kindl, the Munich coat-of-arms, and walk from the centre of Munich, to the Oktoberfest grounds kicking off the festival.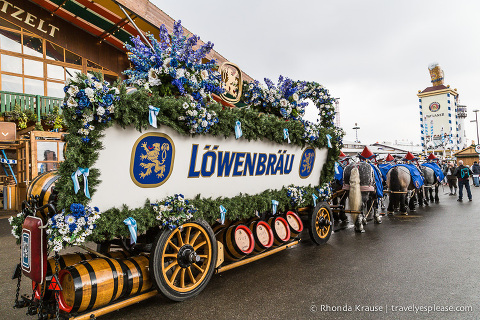 There is also a Traditional Costume Parade, which began in 1850. On the first Sunday of the festival, thousands of people in traditional costumes walk from Maximilian Street, through the centre of Munich, arriving at the festival site.
The evolution of Oktoberfest has also brought about new traditions to the modern festival. Mayor Thomas Wimmer first started the well-known tradition of tapping the first beer keg in the 1950s. The mayor taps the keg at exactly 12 o'clock noon and calls out "O'zapft is!", which means the keg has been tapped. The first beer is given to the Minister-President of the State of Bavaria, then the party begins!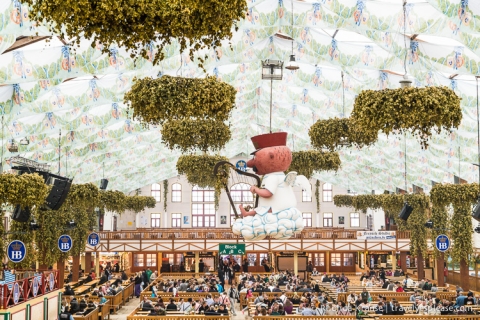 Attending Oktoberfest- Our Oktoberfest Experience
I wasn't sure if I would enjoy Oktoberfest since I'm not a fan of large crowds and I don't drink beer. But it turned out to be a really fun time!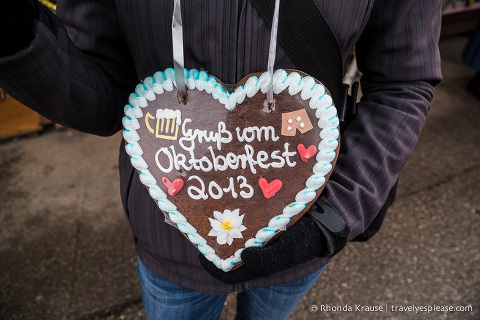 We got to the festival grounds first thing in the morning, before the beer tents were even open. We had some breakfast, a delicious chocolate crepe for me and a big Weisswurst (white sausage) for Mike. Then we headed off to to the beer tents.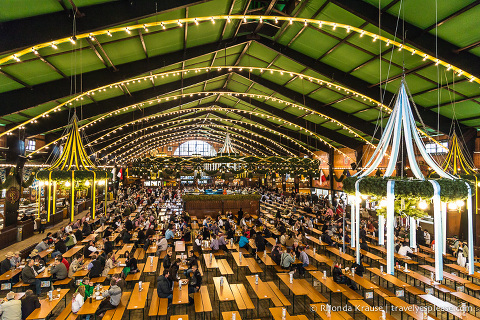 We decided to try out the Augustiner tent first. Since we got there so early, we were able to get a table, but soon the tent started to fill up. We hung out there until the rain stopped and then headed out to explore the festival grounds.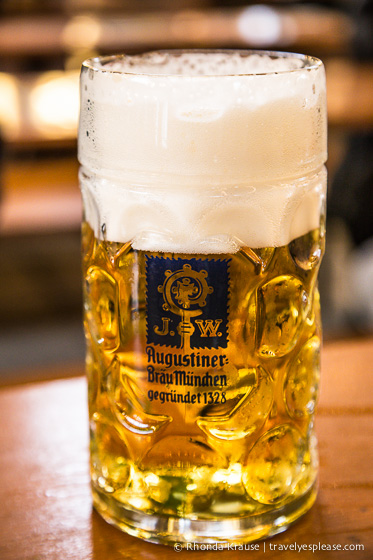 Soon I found myself indulging in gingerbread, experiencing the thrill of a roller coaster, going round in circles for what felt like forever on some crazy ride, then sitting on the curb with my head between my knees while my world spun out of control.
I was the most sober person at Oktoberfest and also the sickest. I blame the gingerbread, laced with two years worth of preservatives. In hindsight, I'm wondering if those gingerbread hearts they sell are even edible at all?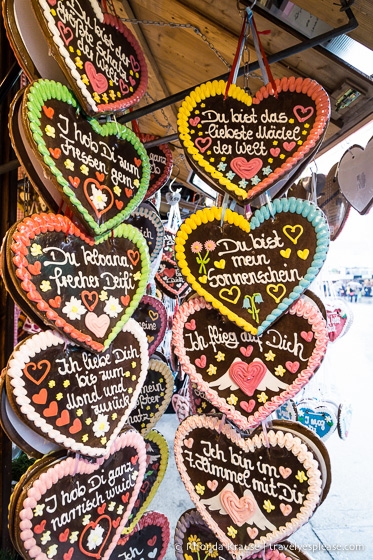 After recovering in the hotel room for the afternoon, we headed back to the festival to check out the evening festivities. The party was really in full swing now!
The beer tents were overflowing with thousands upon thousands of people. Everyone was in great spirits, standing on the tables, joyously singing along together to the music (Angels by Robbie Williams, of all things). I have honestly never seen anything like it. It was hard not to smile being in such a friendly, fun atmosphere.
Would We Go to Oktoberfest Again?
I do think that Oktoberfest is something everyone should experience at least once in their lifetime. I'm not big into festivals and carnivals, but I appreciated the tradition behind the event and was able to have a good time. I would go again if I was in Bavaria, but I wouldn't make a special trip just to attend Oktoberfest.
Mike, on the other hand, loved it and I'm pretty sure he would make it an annual trip if I would agree to it!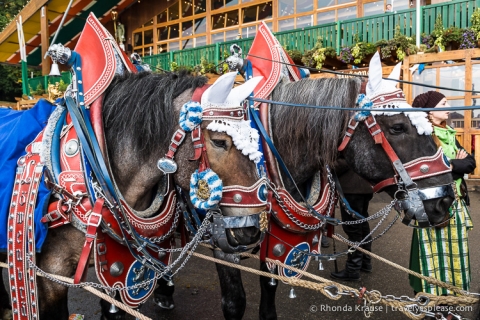 Oktoberfest Facts and Figures
Only certain beers are allowed to be served at Oktoberfest. They must be brewed within Munich's city limits, conform to the Reinheitsgebot regulations ("German Beer Purity Law") and have approximately 6% alcohol by volume. According to this criteria, only six breweries can produce Oktoberfest Beer: Augustiner-Bräu, Hacker-Pschorr-Bräu, Löwenbräu, Paulaner, Spatenbräu and Staatliches Hofbräu-München.
There are 14 large beer tents, six of which have indoor seating for 6,000+ people.
Over 6 million people from all over the world attend Oktoberfest each year.
In 2019, the festival served over 7.3 million litres of beer.
Oktoberfest has been cancelled 26 times in its history because of disease, war and inflation.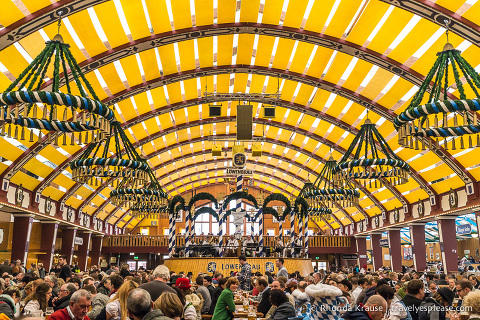 Tips for Attending Oktoberfest
Oktoberfest is held in Munich. It begins in late September and ends on the first Sunday in October.
Oktoberfest 2021 has been cancelled. Octoberfest 2022 is scheduled for September 17- October 3.
The official opening ceremonies take place in the Schottenhamel tent, where the mayor taps the first keg at noon.
On opening day, beer is served from 12:00 pm until 10:30 pm.
Mondays to Fridays, the tents serve beer from 10:00 am to 10:30 pm. On Saturdays and Sundays beer is served from 9:00 am to 10:30 pm.
It's free to enter the festival grounds and beer tents.
You don't need a reservation to enjoy the beer tents, but you will have to come early to get a seat. When the tents reach capacity, you won't be allowed in. On weekends, tents are often full before 11:00 am. During the week, tents are usually open until afternoon.
If you'd like to reserve a table, you have to contact the respective beer tent well in advance.
Beer prices for Oktoberfest 2019 ranged from €10.80 to €11.80 for 1 litre, depending which tent you visit.
For those of you who don't like the rowdy partying, you'll be happy to know that the beer tents have to play quiet music until 6:00 pm.
Family Days are every Tuesday until 7:00 pm. There are ride discounts and other sales.
Hotel prices skyrocket during Oktoberfest and book up months in advance.
*Information was updated September 2021, but can change without notice. Please confirm directly with service providers.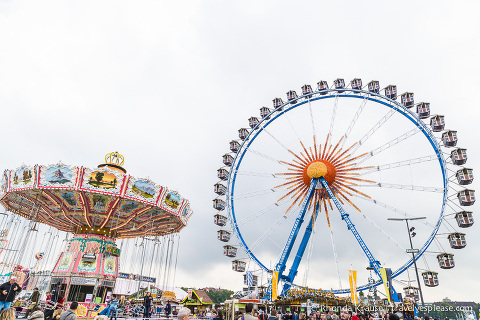 Accommodations in Munich
For your convenience, here is a list of hotels in Munich. Please consider booking your Munich accommodations through the included link. It costs nothing extra and helps support this website. Thank you!
More Germany Destinations and Travel Guides