Purchases made through links earn us a small commission, at no extra cost to you.
Our favourite stop along Germany's "Romantic Road" was Rothenburg ob der Tauber. Historic, enchanting and unchanged throughout the centuries, Rothenburg just might be the most beautiful medieval town in Germany.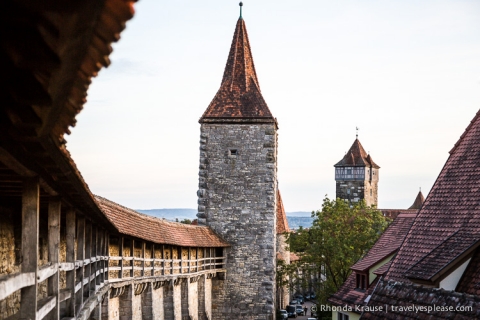 We were so charmed during our one day in Rothenburg ob der Tauber that we wish we had stayed longer. To help you make the most of a short visit, here are some interesting things to do in Rothenburg to experience the town's medieval magnetism and learn about the history of Rothenburg ob der Tauber.
About Rothenburg ob der Tauber
Rothenburg is named in part after its location on a plateau overlooking the Tauber River. Rothenburg ob der Tauber means "Red fortress above the Tauber" in German.
During the middle ages, Rothenburg was a Free Imperial City and the second largest city in Germany with a population of 6,000 residents. Reduced to poverty during the 30 Years War, Rothenburg was no longer a significant city and growth stalled, thus preserving its 17th-century state. Today Rothenburg is known world wide as being Germany's best preserved medieval walled town.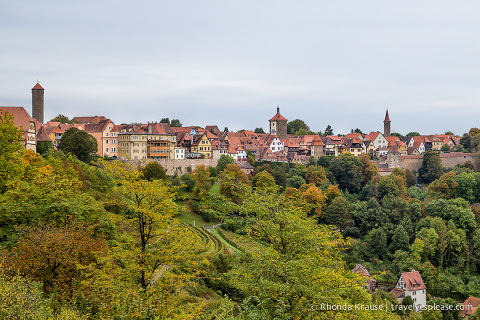 One Day in Rothenburg- Our Visit to Rothenburg ob der Tauber
We only had one day in Rothenburg and when it came time to leave, we did not want to go. It's one of those places where we felt like we didn't really see or do anything specific, but enjoyed just walking around the town taking in the sights.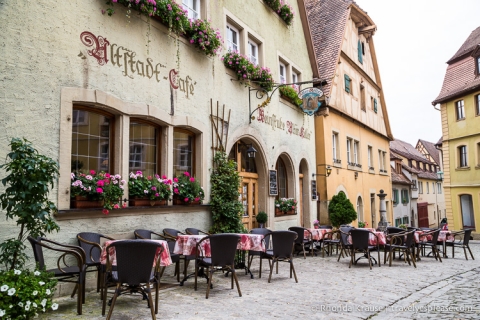 We recommend you not visit Rothenburg on a day-trip and instead spend the night. The town is besieged with tour groups during the day, somewhat taking away from the town's charms. Our favourite time to explore Rothenburg was at night and before 9:00 am, when the town is still sleepy and peaceful.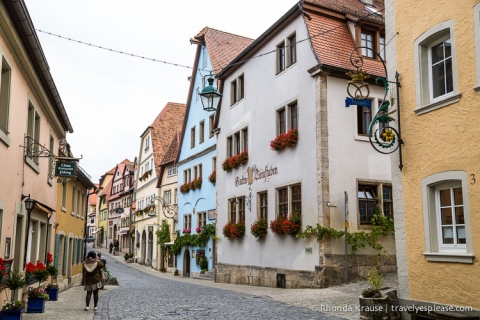 What to See and Do in Rothenburg ob der Tauber
The medieval town of Rothenburg is itself the main attraction, with its colourful houses, cobblestone lanes, and pretty squares. Yet, we found some specific things to do in Rothenburg to best experience the medieval atmosphere the town is famous for.
Here's a look at some of our favourite places to visit in Rothenburg, plus an experience that will make you feel like you are really living in medieval times. Afterwards, we share an interesting story about how Rothenburg survived WWII.
Medieval Wall
The first thing we did after checking into our hotel was walk the town wall. At 1.5 miles, the medieval wall completely encircles the town's historic centre, giving you a great view of Rothenburg's half-timbered architecture. I felt like I had gone back in time while walking the wall and did not want to come down!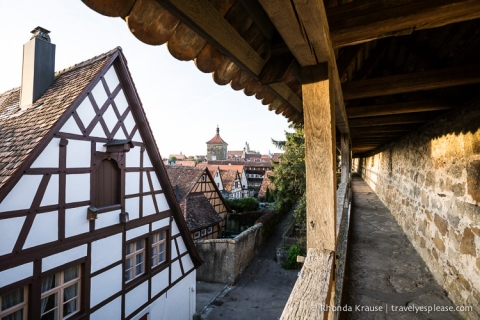 As you walk the wall you will see stones engraved with names of people from all over the world. These are people who "bought" a portion of the wall, as a way to raise money to help rebuild Rothenburg after World War II.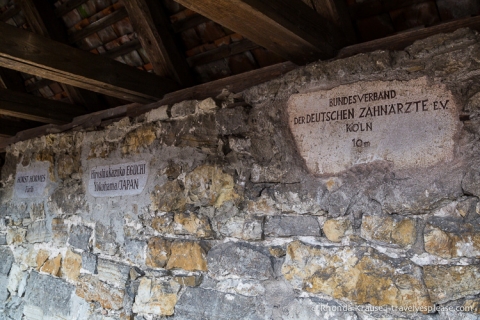 About 40% of the town was damaged in the war (a very small portion compared to other German towns). Nine of the watchtowers and over 2,000 feet (610 m) of the wall sustained damage. Amazingly, the centre of the Altstadt, or old town, went largely unscathed (more on this later).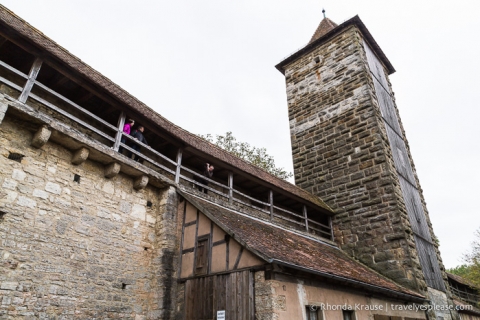 Gerlachschmiede (Old Forge)
Looking down from the town wall near the Rödor Gate, you will see what I think is Rothenburg's cutest building, the Gerlachschmiede. The house today is the 1951 reconstruction of the original building, destroyed in 1945 during the war.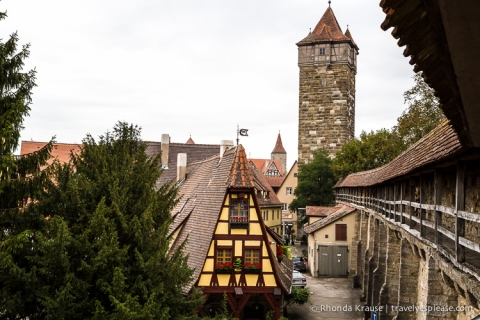 An interesting detail on the house is the coat of arms. The crowned serpent was created by the legendary blacksmith, Georg Gerlach himself. The forge closed in 1967 and is now privately owned.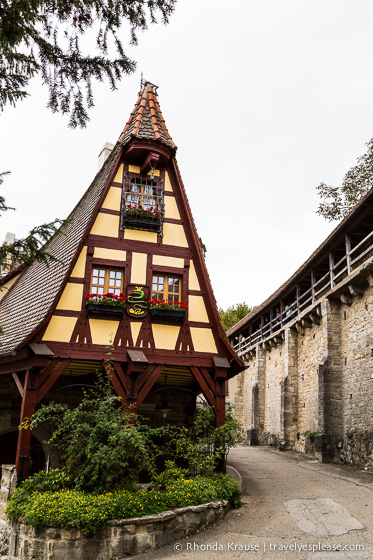 Plönlein ("Little Square")
I am betting that this is the most photographed location in Rothenburg. It's instantly recognizable from all the postcards in the souvenir shops. In fact, it's a place that I had specifically searched out because I had seen so many photographs of it and wanted to capture one of my own.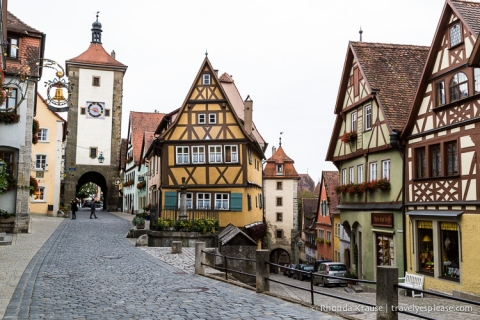 The photogenic, narrow, half-timbered building is framed by the Kobolzell Gate and the higher Siebers Tower which secured entrance to Rothenburg.
Burg Gate and Garden
The Rothenburg Imperial Castle was located in what is today called the Castle Garden. An earthquake destroyed the castle in 1356 and the stones of the ruins were used to build the city walls.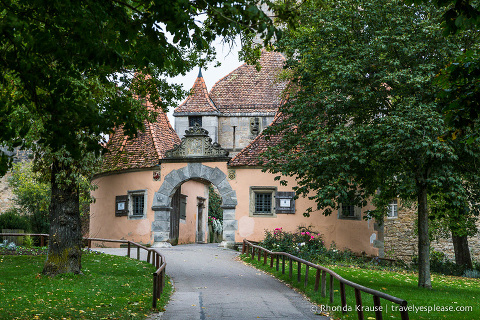 The garden is very beautiful and the outer path along the garden wall offers outstanding views of the valley surrounding Rothenburg.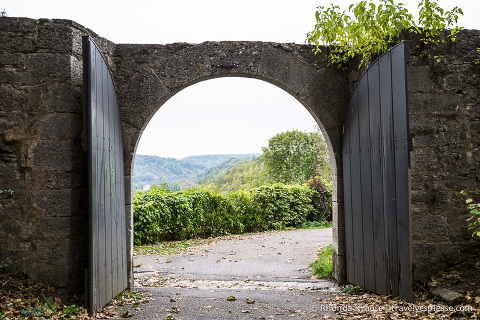 As you leave the gardens and enter under the gate to the Herrngasse, you will see a mask on the wall of the Burgtor gate, which was used to pour hot tar onto attackers.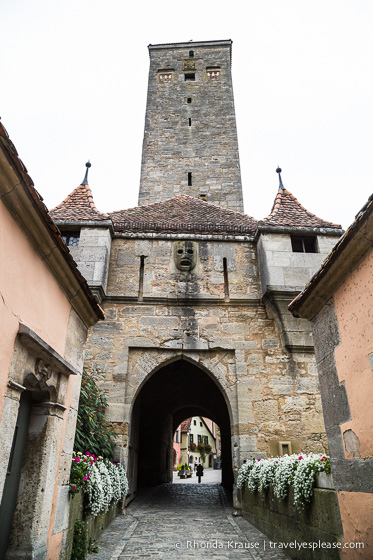 Inside the gate is a small door within a door, known as the Eye of the Needle, which only afforded enough room for one person to pass through, preventing enemies from sneaking in.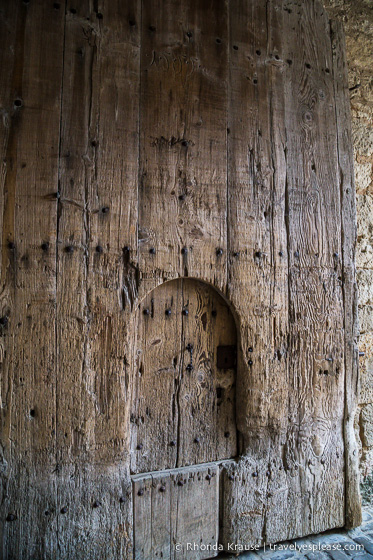 Night Watchman's Tour
This was by far our favourite walking tour we have ever been on! The guide, Hans Georg Baumgartner, is in character as Rothenburg's Night Watchman, wearing a cape and carrying around a lantern. He takes you around town telling captivating stories about daily life in Rothenburg during the Middle Ages, how the town had escaped sieges, invasions and pillage throughout most its history, and its decline during the 30 Years War. He even sang us a watchman's chant warning townspeople about the risk of fire.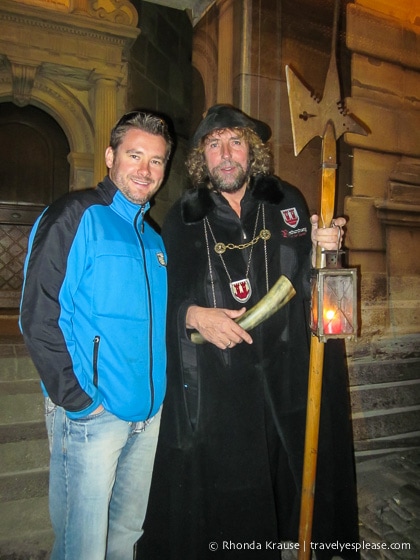 The Night Watchman's job was not a popular, glorious job. In medieval Europe there was only one job that was looked upon as less desirable- the Executioner. As unpopular as the Night Watchman's job was, it was also the most important. He protected the city by keeping out looters and other unwanted people and watching for fire.
The guide was not only incredibly knowledgeable about Rothenburg's history, he was such a captivating storyteller and funny too. I was enthralled the entire time!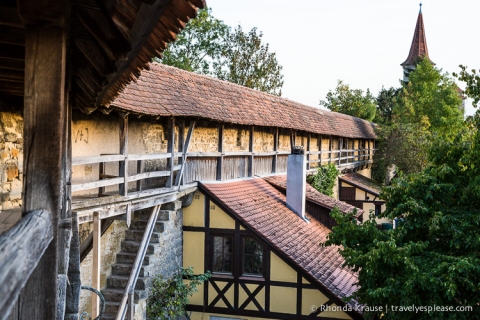 Surviving World War II
On the Night Watchman's tour, we learned of an interesting story why Rothenburg was spared complete destruction during the second world war. The reason why the city was only 40% destroyed is a story so unlikely that one could easily misinterpret it as fiction.
Rothenburg was bombed by Allied forces on March 31, 1945. However, it was an overcast day and the entire medieval city was not visible from the air. The allied forces were able to destroy 40% of the city, including 306 houses, six public buildings, nine of the town's ancient towers and more than 2,000 feet of the historic wall. Yet, much of the historic centre endured.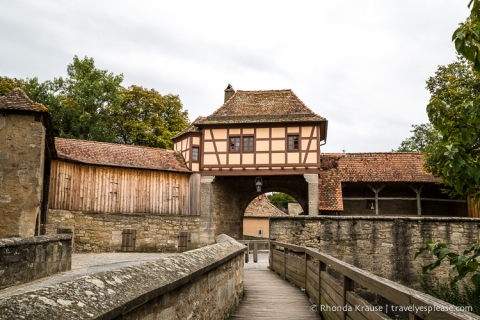 After the bombing campaign ended, the Allied Army was scheduled to invade and destroy the city. However, these plans were thwarted by Assistant Secretary of War, General John McCloy.
McCloy had a fondness for Rothenburg, because his mother had once visited the city. She brought back a painting of Rothenburg which hung in the living room and was always telling McCloy stories about how wonderful the city is. It was this love for Rothenburg that led McCloy to instruct General Jacob L. Devers to negotiate with the Germans rather than continue to bomb.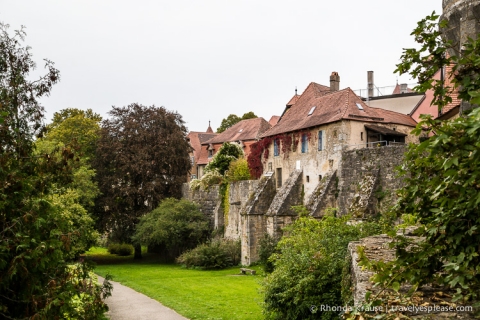 The night before the scheduled invasion, American General Devers met with the Nazi officer in charge of defending the city. They negotiated until it was agreed that German soldiers would leave the city in return for an American guarantee that the city would be spared further bombing. McCloy was later named a patron and honorary citizen of Rothenburg in gratitude.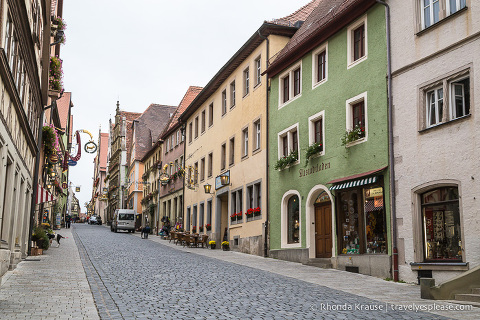 Final Thoughts on Our Visit to Rothenburg
Our visit to Rothenburg ob der Tauber was a definite highlight from our 5 week trip to Europe. I loved feeling like I had been transported to another time and place, so different than my life back home.
I am glad we spent the night, since that's when I really felt the medieval atmosphere of the town come to life. Night or day, it was easy to see why Rothenburg is one of the top places to visit in Bavaria.
Rothenburg ob der Tauber was an absolute joy to visit and I would love to spend more time here if I'm ever back in Germany.
Tips for Visiting Rothenburg ob der Tauber
The Night Watchman's tour begins at 8:00 pm everyday, from early April to late December (no tour December 24). There is a tour in German at 9:30 pm. The Night Watchman's tour is approximately one hour long. Meeting point is at the market square in front of the town hall. The cost is 9 euro for adults, 4.50 euro for students, kids under 12 years old are free. Confirm current times and prices here.
There is another town in Germany called Rothenburg. I've heard of people going there by mistake, thinking it was Rothenburg ob der Tauber, the town featured in this post.
Information was updated February 2022, but can change without notice. Please confirm directly with service providers.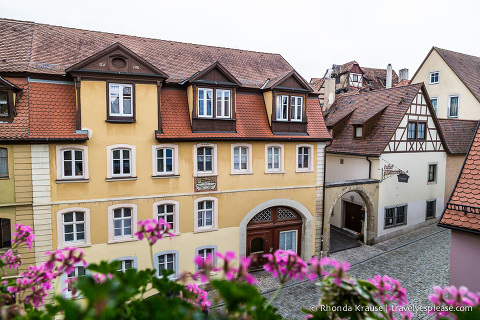 Accommodations in Rothenburg ob der Tauber
For your convenience, here is a list of hotels in Rothenburg ob der Tauber. Please consider booking your Rothenburg accommodations through the included link. It costs nothing extra and helps to support this website. Thank you!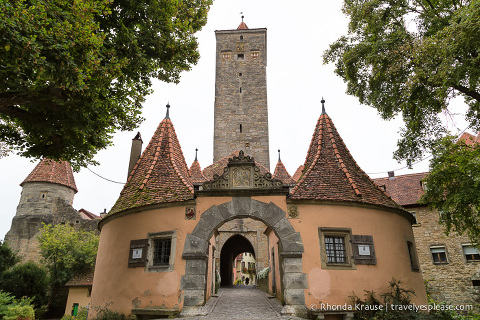 More Germany Destinations and Travel Guides