Purchases made through links earn us a small commission, at no extra cost to you.
Perhaps no other region we visited during our 5 weeks in Europe had a more romantic atmosphere than Bavaria in Germany. From fairy-tale castles, idyllic villages, and unspoilt countryside, there were plenty of lovely places to visit in Bavaria during our honeymoon.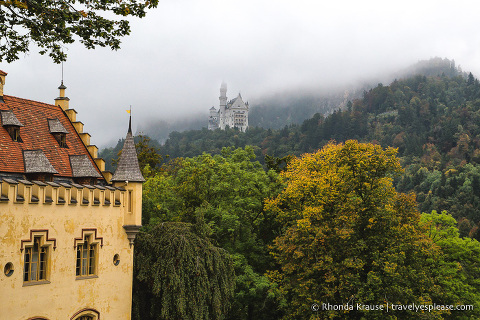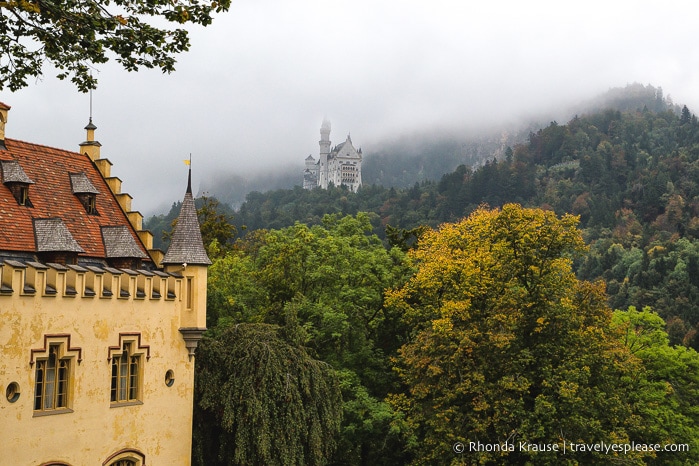 In addition to Bavaria's more romantic locations, the state is also home to many important historical sites and one of the world's most famous festivals. With so many things to see and do in Bavaria, it's no wonder Bavaria is a top destination in Germany for travellers.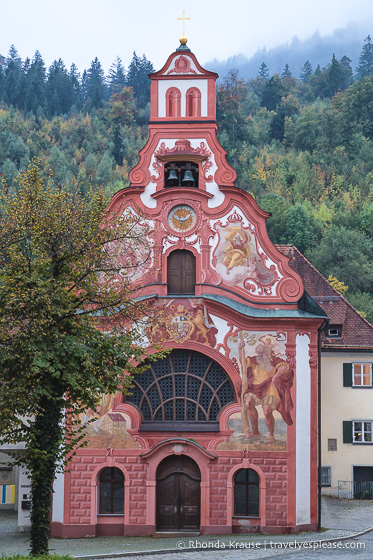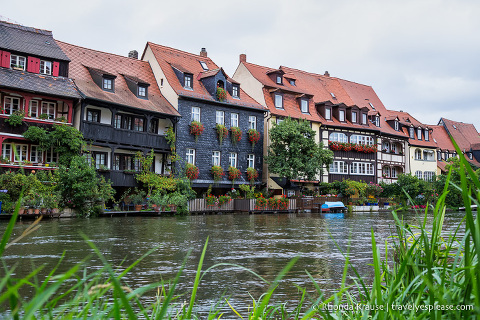 Best Places to Visit in Bavaria- Our Bavaria Travel Guide
Even though we got to experience many tourist attractions in Bavaria, it was impossible to do everything I wanted. Nevertheless, the places we did get to see were wonderful, giving us a great introduction to the state, yet leaving us with plenty to explore on a future trip to Bavaria.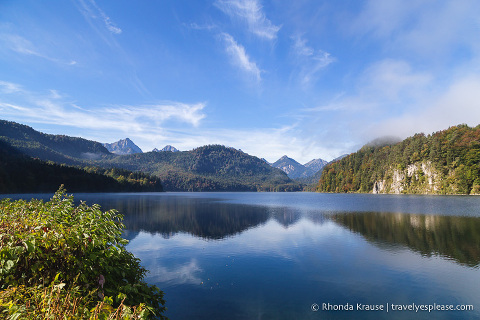 Of course, these are not all the places to see in Bavaria, just a collection of our personal favourites from the region.
Here's a look at what we think are some of the best places to visit in Bavaria. We hope our picks help you plan your own perfect trip to Bavaria!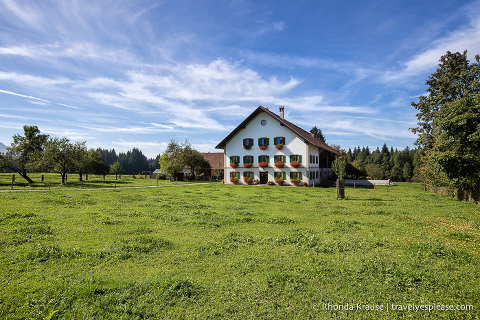 Rothenburg ob der Tauber
Rothenburg ob der Tauber is a top destination on Germany's Romantic Road, a tourist route which passes through several historic cities and medieval towns in southern Bavaria.
Rothenburg ob der Tauber is famous for its attractive and charming Old Town, which is still enclosed by the medieval wall that once protected the city from invaders.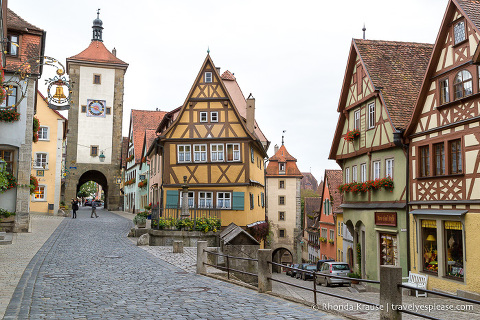 We had a lovely day in Rothenburg walking on the stone wall, visiting the town gates, admiring the half-timbered houses, and enjoying the view over the valley.
As beautiful as Rothenburg is, the highlight of our visit was the Night Watchman's Tour, a walking tour with a costumed guide who told engaging stories about Rothenburg during the Middle Ages. It was by-far the best walking tour we did in Europe!
Read more: Rothenburg- An Enchanting Medieval Town
Regensburg
Bavaria has no shortage of well-preserved medieval towns, but what makes Regensburg stand out is its artistic touches. The historic centre of town is decorated with murals, clock towers, wrought iron signs, and colourful facades.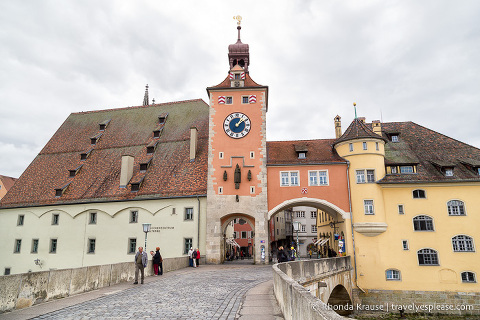 Besides the obvious curb appeal, other reasons to visit Regensburg include St. Peter's Cathedral and its Gothic architecture, Germany's oldest vaulted stone bridge, a torture chamber straight out of the Dark Ages in the Old Town Hall, and a historic sausage kitchen that's been serving homemade sausages for almost 900 years.
Read more: Discovering Regensburg- A Walk Through the Old Town
Bamberg
Bamberg was lucky to avoid the devastating damage that other towns in Germany experienced in World War II, so it retains much of its original beauty.
It was a pleasure to wander Bamberg's narrow streets, especially in "Little Venice", an area where fisherman's houses from the 19th century line the riverbank.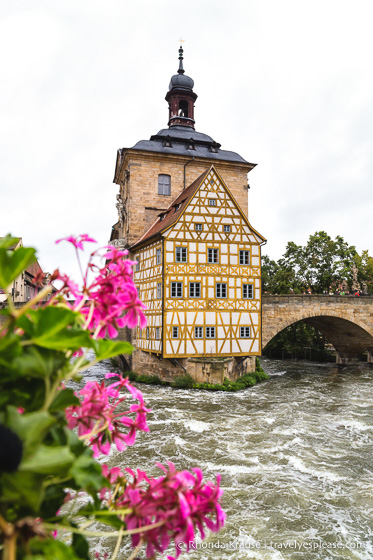 My favourite building in Bamberg is the Old Town Hall, a half-timbered construction standing in the middle of the Regnitz River.
Other notable places to visit in Bamberg include the Old Court (a palace turned museum), the Bamberg Cathedral, and the Schlenkerla brew pub, famous for its smoked beer.
Read more: Bamberg- A Bavarian Treasure
Nuremberg Castle
Overlooking Nuremberg's Old Town is Nuremberg Castle, one of the most important medieval Imperial castles. The castle was central to the Holy Roman Empire as it was home to emperors, the courts, and the Imperial Diet.
Today the castle is a pretty collection of fortified buildings with red window shutters and flower boxes, making it look more like a cute village rather than an imposing castle.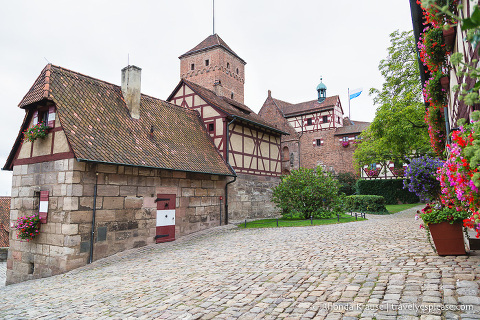 Some highlights of our visit to Nuremberg Castle include the Sinwell Tower and Deep Well, the Emperor's living room and coats of arms painted on the ceiling, and the medieval armour and weaponry on display in the museum.
Read more: Nuremberg Castle- Guide and Photo Tour
Neuschwanstein Castle
Neuschwanstein Castle is the most famous castle in Bavaria. Its romantic architecture and dreamy location has been featured in countless photographs, movies, and even was the inspiration for Disney's Sleeping Beauty Castle.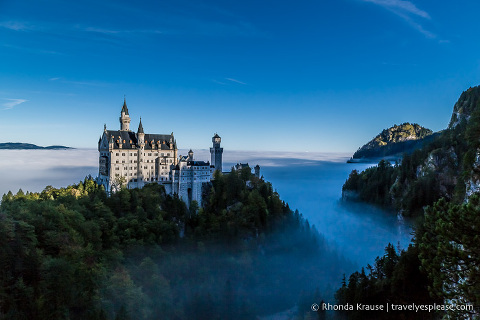 During our tour of Neuschwanstein Castle, we heard tales of its fantastical creator, "Mad" King Ludwig II, visited some formal and residential rooms, and admired the exquisitely decorated concert hall.
The most memorable part of our visit was viewing Neuschwanstein from the Marienbrücke, the bridge where all those classic photos of the castle were taken from. I only had a few minutes to snap a picture before the castle disappeared behind rapidly rising fog.
Read more: Neuschwanstein Castle- The Theatrical Creation of "Mad" King Ludwig
Hohenschwangau Castle
Located in a tiny village at the bottom of the hill from Neuschwanstein is Hohenschwangau Castle, the childhood home of King Ludwig II.
Inspired by the neo-Gothic Tudor style of English castles, Hohenschwangau may lack drama on the outside, but is definitely showy on the inside. The bedrooms are brightly decorated with rich colours, one of them even featuring a starry sky on the ceiling.
Read more: Hohenschwangau Castle- Childhood Home of King Ludwig II of Bavaria
Pilgrimage Church of Wies
While we can tire of visiting churches, one that made a lasting impression was the Pilgrimage Church of Wies near the town of Steingaden.
Surrounded by green meadows backed by forested hills, the Wieskirche's location almost upstages the church itself, until you go in, that is.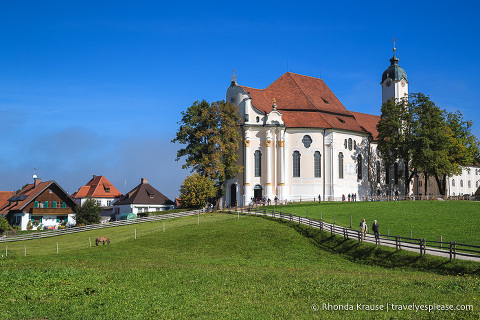 Bright and airy, the interior of the Wieskirche is considered one of the finest examples of Rococo design. It features colourful ceiling frescoes, elegant columns, and a golden altar displaying a wooden figure of the Scourged Saviour. It was well worth the short detour off the Romantic Road.
Read more: Bavaria's Wieskirche- A Harmony of Landscape and Architecture
Munich During Oktoberfest
Munich is a city that offers fascinating stories and a lively energy, especially during Oktoberfest, the world's largest public festival.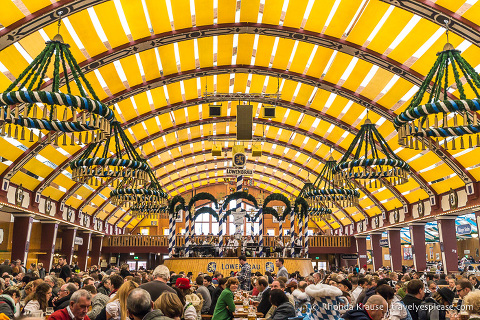 Oktoberfest is a grand celebration featuring beer tents, carnival rides, parades, and traditional food and music. Not only is the festival a great party, it's a fun way to experience a bit of the culture and long-standing traditions of Bavaria.
Read more: Oktoberfest- History, Traditions and Tips for Attending
Dachau Concentration Camp Memorial
Visiting Dachau is understandably not as enjoyable as other places to see in Bavaria (nor should it be), yet it's the most important location because it serves as a reminder of what can happen when people don't practice compassion, acceptance, and love.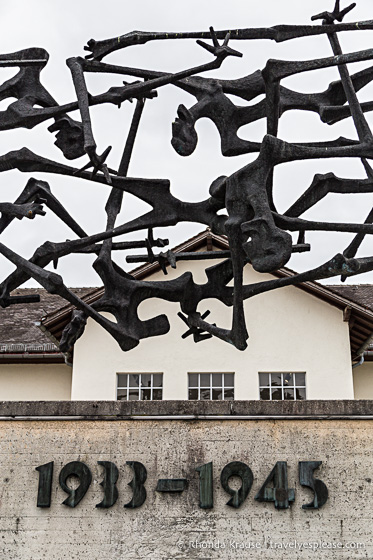 Dachau was a horrific place where Hitler and the Nazis imprisoned, tortured, and killed thousands of people during World War II. Today, the former concentration camp exposes the brutal treatment prisoners experienced, while serving as a memorial to the victims.
Read more: Dachau Concentration Camp Memorial Tour
Würzburg Residence
The Würzburg Residence is an opulent Baroque palace that once was home to the Würzburg prince-bishops.
The interior design is regal and luxurious, with large tapestries, gilded stucco, a grand staircase, and the largest ceiling fresco ever painted.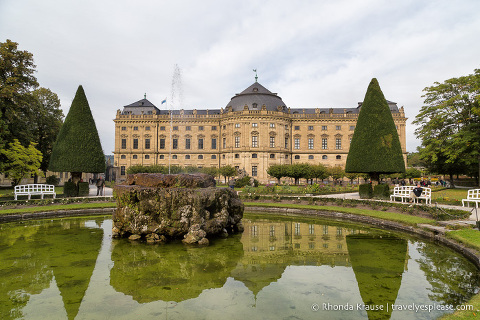 The palace's garden is a thing of beauty as well, with fountains, trimmed hedges, and stone sculptures decorating the grounds.
Read more: Visiting the Würzburg Residence
Final Thoughts About Our Trip to Bavaria
We had such a fun time sightseeing in Bavaria! From romantic castles, medieval towns, a joyous festival, and UNESCO World Heritage Sites, we felt like we experienced the best of Bavaria.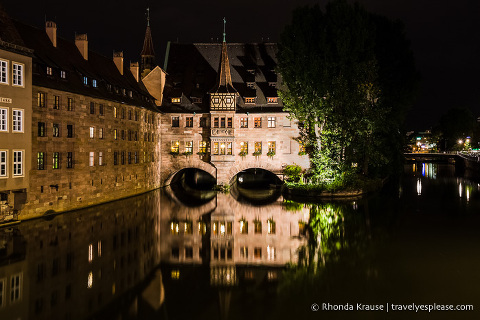 With so many great places to see in Bavaria, it can be hard to narrow down where to visit if you're short on time. If I had to pick my favourite tourist attractions in Bavaria, I'd go with Rothenburg ob der Tauber, Neuschwanstein and Hohenschwangau Castles, and Nuremberg Castle.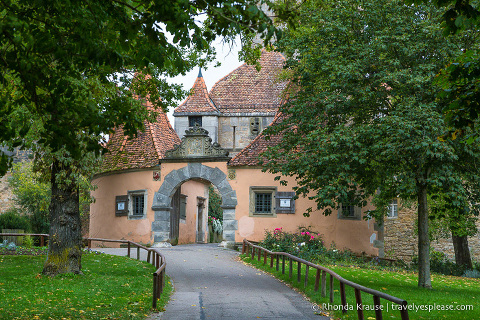 Tips for Visiting Bavaria
Location: The state of Bavaria is located in southeastern Germany. It's bordered by the Czech Republic (Czechia) and Austria.
Getting Around: We travelled by train between Nuremberg, Bamberg, Regensburg, and Munich. We decided to rent a car in Munich to drive to the castles in Hohenschwangau, then along the Romantic Road to Würzburg.
Bavaria Itinerary: Our Bavaria itinerary consisted of 2 nights in Nuremberg (from which we visited Bamberg on a day trip), 1 night in Regensburg, 3 nights in Munich (did a day trip to Dachau), 1 night in Füssen (near Neuschwanstein Castle), 1 night in Rothenburg ob der Tauber, and 1 night in Würzburg. In total, that gave us 9 days in Bavaria.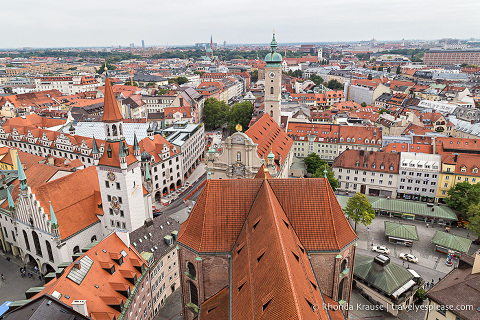 Accommodations in Bavaria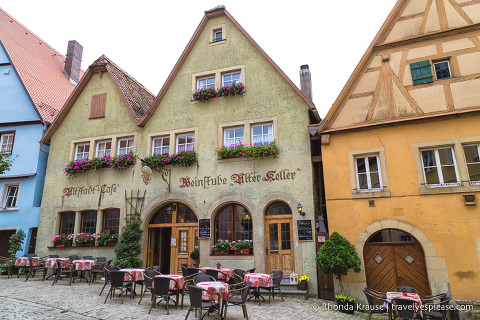 More Germany Destinations and Travel Guides