Flipping through a brochure offering excursions from Prague, I came to a listing for the UNESCO Heritage Site, Kutna Hora.
"Silver mining town…former Royal Mint…15th century stone fountain…" Sounds alright, but I wasn't sold yet.
Reading on further I came to this: "You also will visit one of the most interesting burial grounds in the world- the Sedlec Ossuary."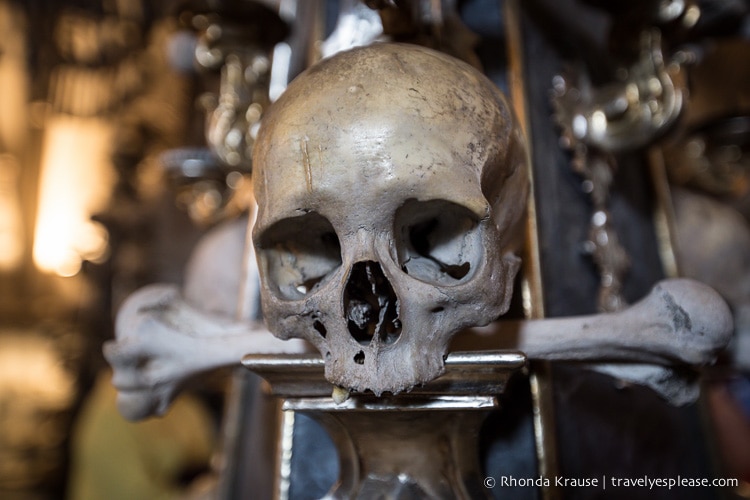 Immediately my interest piqued. Maybe it's a little weird, but I sometimes like to explore cemeteries when I travel. Even go on organized tours of them, like we did in New Orleans. I've visited burial grounds in Athens, Hallstatt and Salzburg, to name a few. While each of these were unique in their own way, they could not even compare to unusualness of the Sedlec Ossuary.
The "Bone Church" or "Church of Bones" is remarkable and incredibly strange, all at the same time. In this small chapel there are no colourful ceiling frescos, wooden pews, or stained glass windows. The interior of the chapel is artistically decorated with human bones- over 40,000 of them!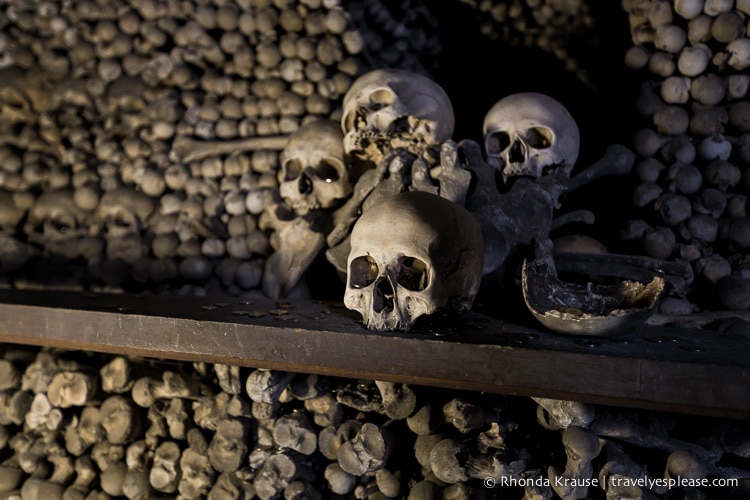 The most striking piece in the church is a huge chandelier made entirely from bones. At least one of every type of human bone was used to create its haunting design.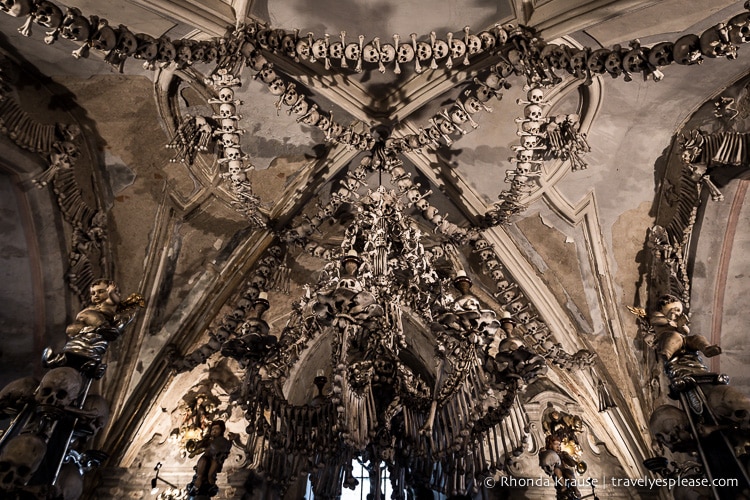 Just how did all those bones get there anyways?
In 1278, the King of Bohemia sent Henry, the abbot of the Cistercian Monastery to Jerusalem. While there, Henry had gathered some dirt from Golgotha. When he returned to Sedlec, he scattered the dirt over the abbey cemetery. Word soon spread and Sedlec quickly became a very desirable place to be buried.
After the Plague and Hussite Wars, thousands of people were buried here, leading to the cemetery being enlarged. Around 1400, a Gothic church was built in the middle of the cemetery. The lower chapel was to be used as an ossuary for the mass graves unearthed during construction and those that were demolished to make room for new burials.
Why were the bones arranged like this?
The bones remained in the lower chapel until 1870 when the noble Schwarzenberg family arranged for the heaps of bones to be put in order. A woodcarver by the name of Frantisek Rint was appointed the job and his macabre creation is what we see today.
Rint's fascinating arrangement of human bones has made Sedlec Ossuary one of the most visited tourist attractions in the Czech Republic. Each year over 200,000 visitors come to see this exceptional chapel.
Final Thoughts About the Sedlec Ossuary Church of Bones
I really enjoyed visiting the Church of Bones, as it was definitely not a typical European chapel. I thought it was more artistic than creepy and couldn't help but appreciate the creativity that went into the design. It was well worth a day trip from Prague!
Tips for Visiting Sedlec Ossuary Bone Church
The ossuary is located beneath the Cemetery Church of All Saints in Sedlec, a suburb of Kutna Hora. (Zamecka 284 03, Kutna Hora, Czech Republic).
Hours are as follows: 8:00 am – 6:00 pm (9:00 am on Sundays) from April to September. October to March 9:00 am -5:00 pm and November to February 9:00 am- 4:00 pm.
Admission is 50 CZK for adults and 30 CZK for students and children.
Kutna Hora is a one hour drive from Prague. There are plenty of tour companies offering excursions from Prague. Alternatively, you can take the train.
* Information was correct at the time of publishing but can change without notice. Please confirm costs and times directly with service providers.
Buy Digital Tickets for Bone Chapel & Kutná Hora Tour