Purchases made through links earn us a small commission, at no extra cost to you.
The stone path was dim and moody. Centuries old cedar trees towered above us, shading the moss-covered tombstones below.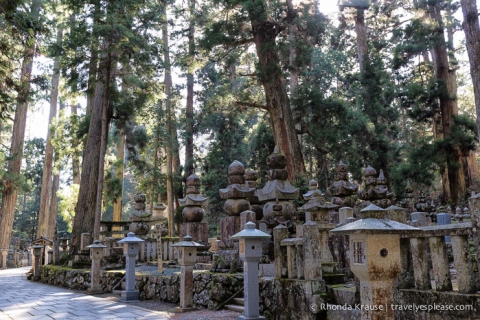 We didn't say much as we quietly wandered deep into this ancient cemetery, the largest in Japan. When we did speak, it was in whispers, as though not to wake the dead.
You see, we were in sacred territory- the Okunoin. This necropolis is the final resting place of some of Japan's most powerful and prestigious families. Perhaps none more important though than Kobo Daishi, the great Buddhist monk who founded Koyasan and brought Shingon Buddhism to Japan.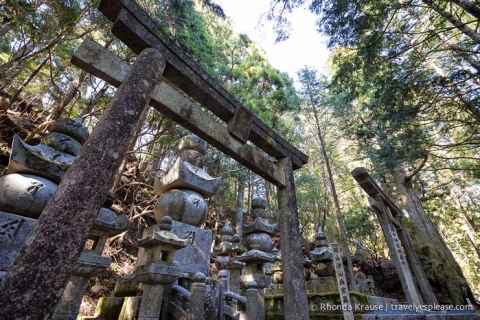 Following the path deeper into the forest, you could sense the spirituality of Koyasan. As we passed by over 200,000 timeworn tombs, I noticed I felt at peace.
I started to wonder about the people whose remains are here. What were they like? How did they die? How long ago did they die?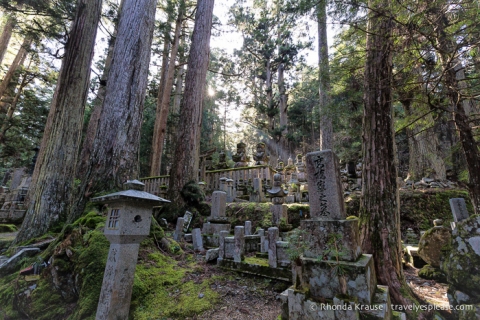 For much of our walk through Okunoin I was lost in thought. Two kilometers later, as the day was ending, we arrived at Kobo Daishi's mausoleum. Many people believe that Kobo Daishi did not die, but is instead here in eternal meditation.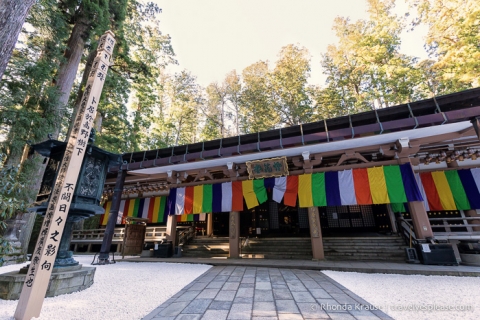 In front of Kobo Daishi's mausoleum is a lantern hall called the Torodo. This prayer chapel holds over 10,000 lanterns that have been donated over the years. The lanterns burn day and night, two which are said to have remained lit since the 11th century.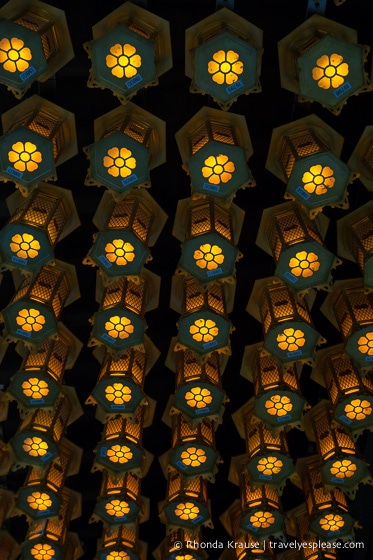 Walking through Okunoin was an interesting and enriching experience, a favourite memory from our day in Koyasan and highlight of our two week trip to Japan.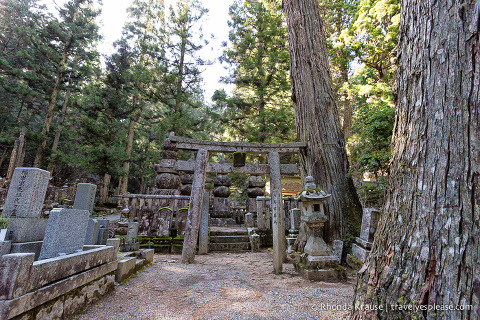 Monuments in Okunoin Cemetery
There is an incredible amount of monuments in Okunoin Cemetery so you will need a few hours to fully appreciate this special place. Here are some interesting things to see in Okunoin Cemetery:
graves marked with gorintō, a five-ringed stone tower that resembles a Buddhist pagoda.
group monuments maintained by Japanese companies as a benefit for their employees. Some companies that have corporate monuments include Ueshima Coffee Company, Komatsu, Nissan, and Sanki Group.
statues of Jizo, the guardian deity of children. These statues are often dressed in red aprons and woven hats.
a monument by a pesticide company honouring the lives of its insect victims.
the Miroku Stone housed in a small wooden cage. Visitors are challenged to reach in and lift the stone onto a shelf with one hand. It's believed to feel lighter to "good" people and heavier to the more sinful.
the Well of Reflections. Legend says that if you look into the well and see your reflection you'll live a long life, but if you don't see your reflection you'll die within three years.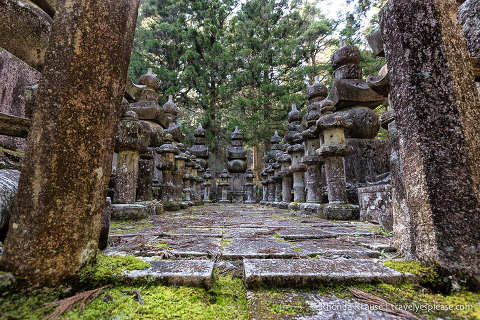 Photos of Okunoin Cemetery
Here are some more pictures from our walk through Okunoin Cemetery.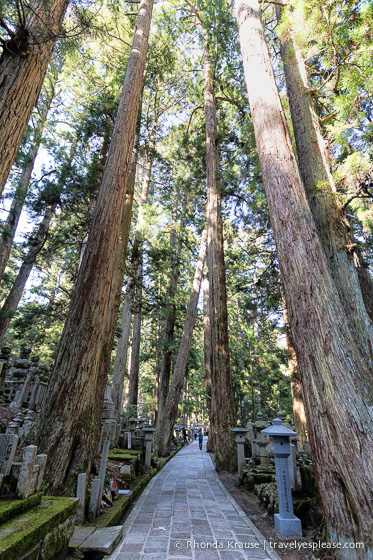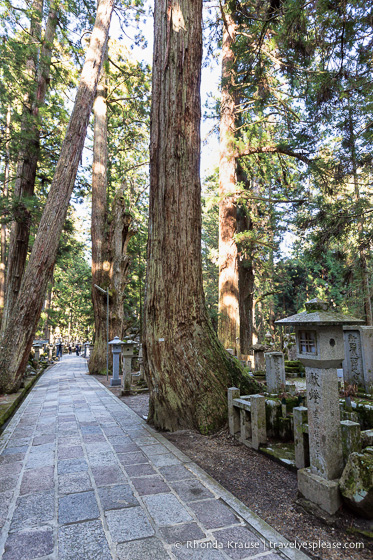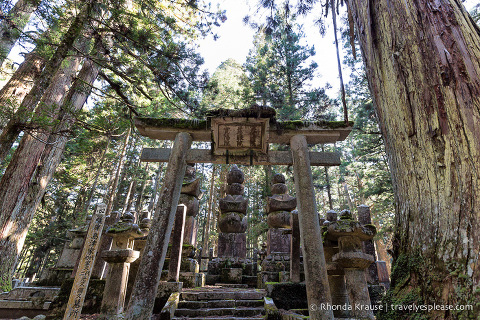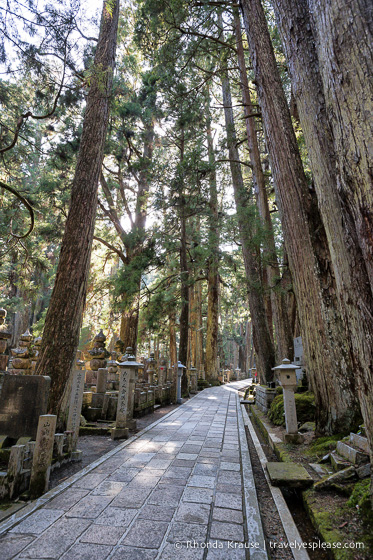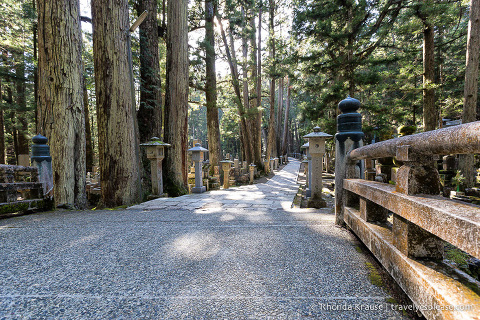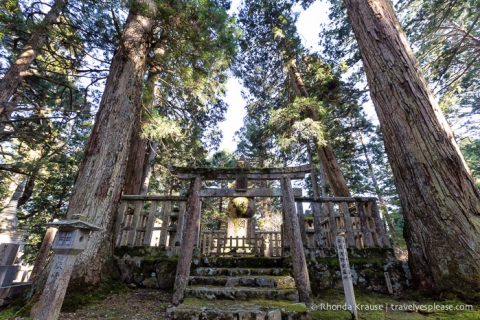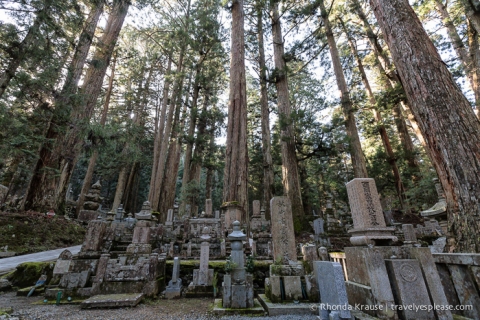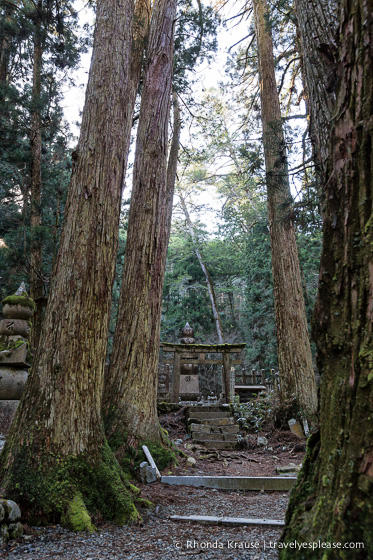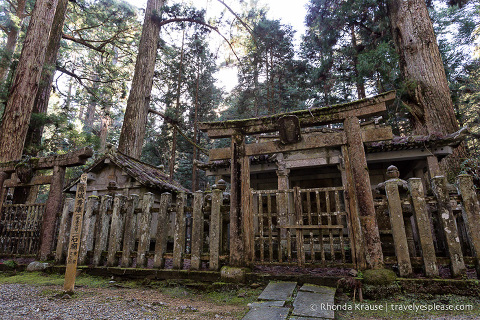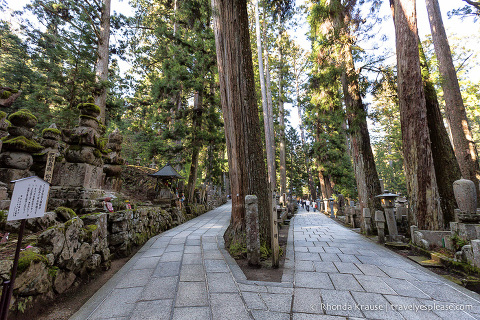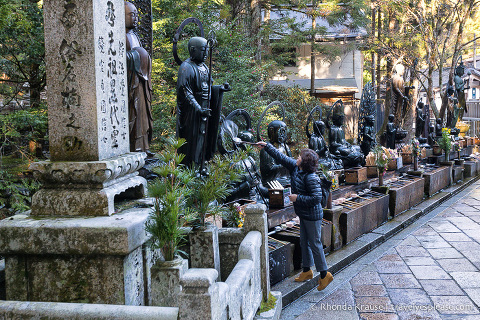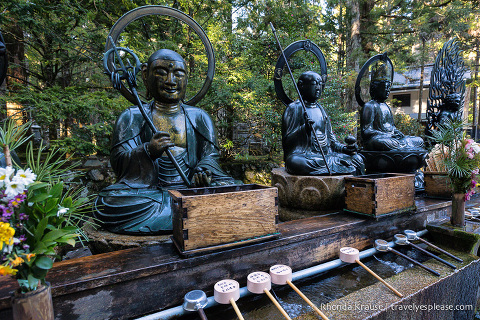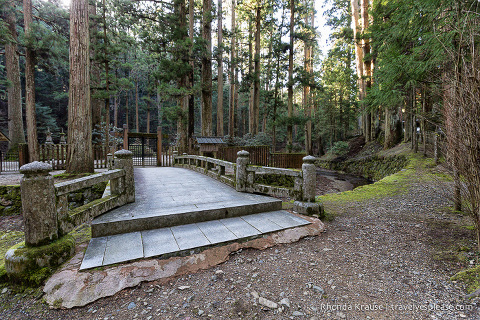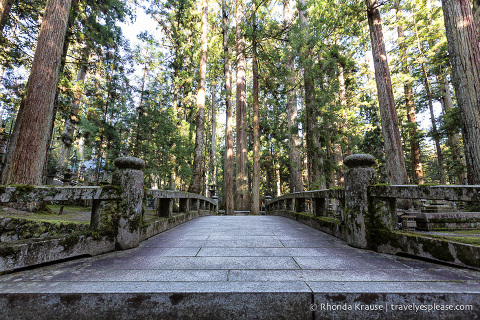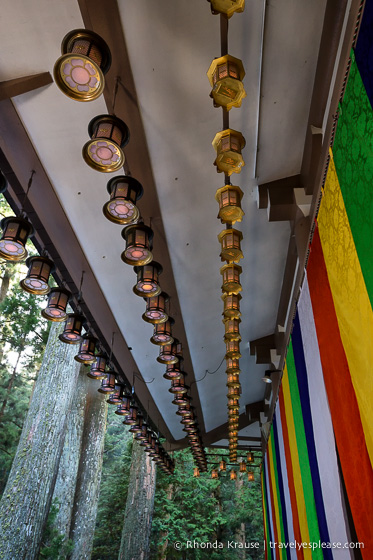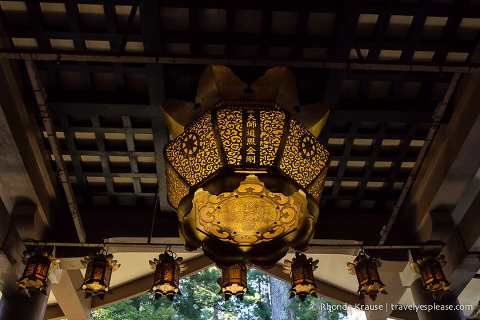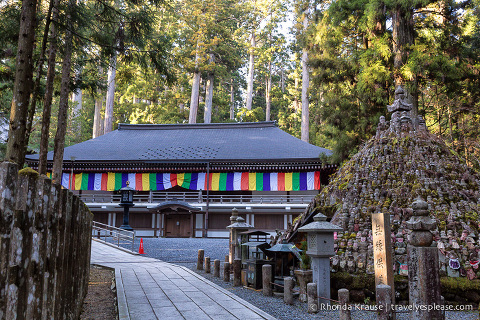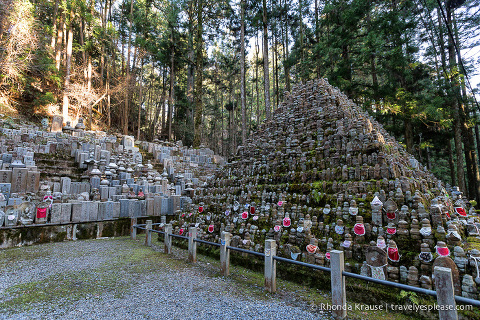 Tips for Visiting Koyasan's Okunoin Cemetery
Location: Okunoin cemetery covers 2 kilometers from Ichinohashi Bridge to Kobo Daishi's mausoleum.
Getting There: From the Senjuinbashi intersection in the town centre it's a 10-15 minute walk or short bus ride to Ichinohashi Bridge. You could also take a bus to the Okunoin-mae stop which is closer to the mausoleum.
Okunoin Cemetery Walking Route: We recommend starting your visit at Ichinohashi, the traditional main entrance to Okunoin, so that you can have the complete cemetery experience. Visitors should bow to pay respect to Kobo Daishi before crossing the bridge.
For a shorter walk into the cemetery, you can start at the Okunoin-mae bus stop. From here, the mausoleum is just under a kilometer away.
After visiting the mausoleum, we walked to the Okunoin-mae bus stop. We took a path that goes by the Gokusho Offering Hall then through a more recent addition to the cemetery. There are modern tombstones and memorials here, many by associations and companies.
Opening Hours: Okunoin Cemetery is open 24 hours every day.
The Torodo Lantern Hall is open daily from 6:00 am- 5:30 pm.
The Gokusho Offering Hall is open daily from 8:30 am- 5:00 pm.
Admission: There is no fee to visit Okunoin Cemetery and its halls.
Information was updated September 2022, but can change without notice. Please confirm directly with service providers.
Accommodations in Koyasan
There are 52 temples at Koyasan that provide traditional Japanese lodging.
Here is a small selection of temple accommodations available on Booking.com, our trusted booking site. Accommodations booked through the included link earn us a small commission, at no extra cost to you, and help support this website. Thank you!
More Japan Destinations and Travel Guides