Purchases made through links earn us a small commission, at no extra cost to you.
I must say, I was a pretty lucky girl to get to spend my 32nd birthday in Hallstatt. This little Austrian village, tightly nestled between a lake and mountain range, is a place I have wanted to visit ever since I first saw a photo of it. You know the one…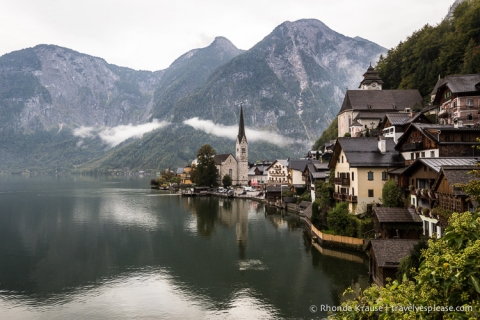 When it came time to choosing destinations for our five week honeymoon in Europe, Hallstatt was at the top of my list. When I mentioned visiting Hallstatt to Mike, his response was "Where's that? I've never heard of it." So, I showed him some photos of it and he was immediately lobbying to spend an entire week there. That's why I love photography so much- it's not only a great means of discovering new places, but it can make you fall in love with somewhere you never even knew existed!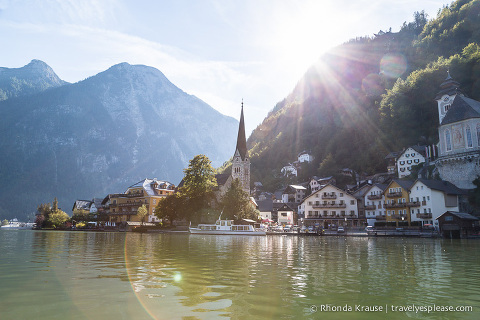 After three weeks of exploring some of Europe's bustling cities, we were definitely ready for some down time surrounded by nature.
"I can't wait to get to Hallstatt and relax by the lake," Mike would say. Even I, who am a bit of a tornado when I travel, trying to take in as much as possible, was ready for a break from all the sightseeing.
Turns out my desire for a calm, more laid back travel experience would be short lived. As our train got closer and closer to Hallstatt, I couldn't help but get excited for our arrival. I had my face pressed up against the window as we rattled past large blue lakes, grey rocky mountains and the greenest grass I had seen in a long time.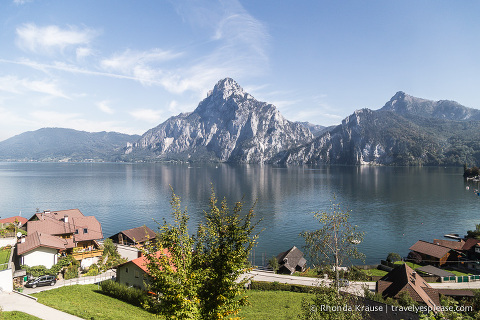 "This is exactly what I pictured Austria would be like," I exclaimed over my shoulder to Mike, who was contentedly reading a book.
"Put your book away. You're missing all the gorgeous scenery!" I blurted out.
So there we were, two excited travellers staring out the window in anticipation of arriving at a place we had admired in photographs for so long.
Arriving in Hallstatt
The train station for Hallstatt is located across the lake, so we had to take a small ferry to reach the town. It's a great way to arrive because the views you get from the lake are gorgeous!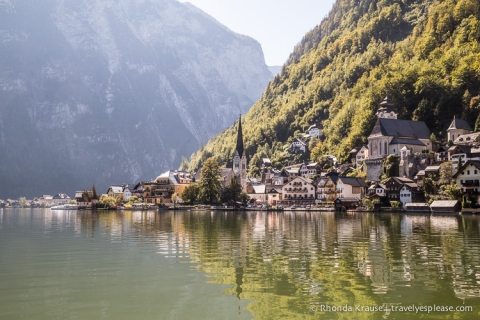 As soon as we set foot in Hallstatt we could sense the unique atmosphere of the town. We quickly walked to our hotel, which overlooked the lake on one side and historic market square on the other, and got ready to discover some of the best things to do in Hallstatt.
Things to Do in Hallstatt
You can easily explore the village of Hallstatt in less than a day, but should stay longer (if the weather is good) to fully appreciate its charms and tranquility of the surrounding nature.
We decided to spend two nights in Hallstatt. On our arrival day, we spent the afternoon enjoying the lake and some nature trails. On our second day we explored the village and did a side trip to the Dachstein Ice Cave (highly recommend this!)
Here's a look at some things to do in Hallstatt, plus thoughts on our visit to this pretty lakeside village in Austria.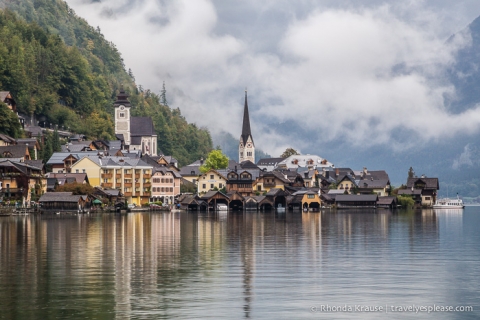 Boat Ride on Hallstatt Lake
The first thing we did after checking into our hotel was rent a small electric boat and go out on Hallstatt Lake. It was 25 degrees so we wanted to take advantage of the warm weather. It was nice to just stop the boat, soak up the sun and admire the beautiful views.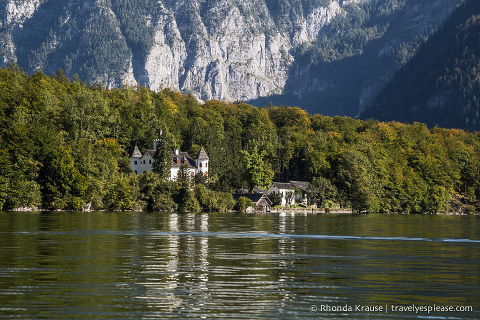 From the water we saw some pretty architecture, including great views of the historic alpine houses Hallstatt is known for. There were even swans swimming about! Although we were far from home, the peaceful lake surrounded by majestic mountains reminded us of our home province of Alberta.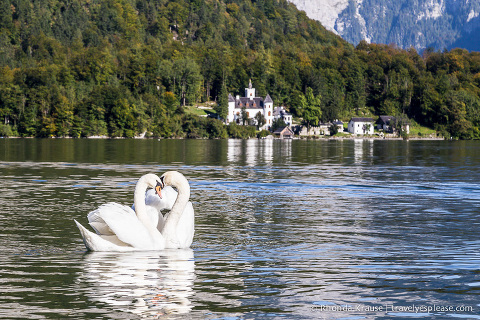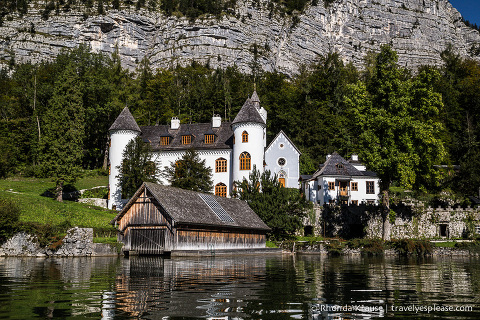 We could have stayed on the glistening lake forever, but we wanted to go hiking since it was forecasted to rain the next day (and boy did it ever!)
Hiking in Hallstatt- From the Salt Mine to the Village
There are a lot of great hiking options in and around Hallstatt and we were disappointed we couldn't do more of it because of the heavy rain.
Although we didn't do any hardcore hiking, we did take the funicular up the mountain and explore the trails above town. This is also where the salt mine is, one of Hallstatt's main tourist attractions. We couldn't visit the mine because it was already closed for the day, but did get to enjoy the viewing platform.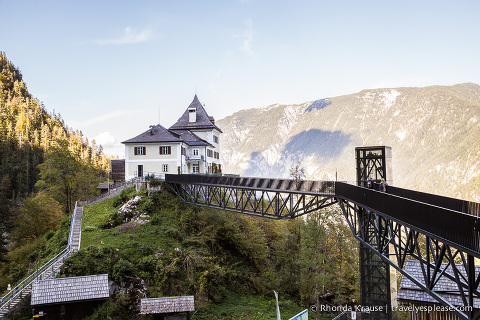 The observation deck is shaped like a triangle, the point hanging off over the edge of a cliff. It was nerve-racking to stand at the very end, but the stunning views did a great job of distracting me from my fear of falling.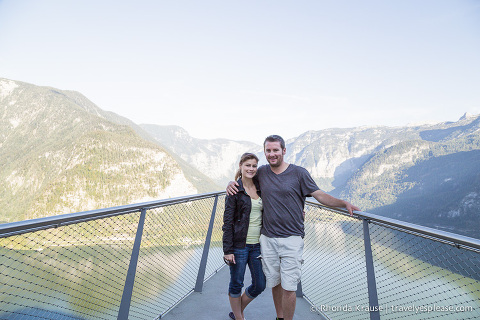 After marvelling at the views, we took a walk around the area and then hiked our way down the mountain back to town. Parts of the trail were in pretty rough shape and steep in places, so we had to be careful not to slip.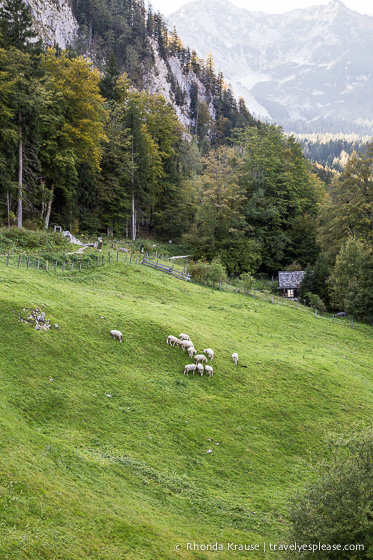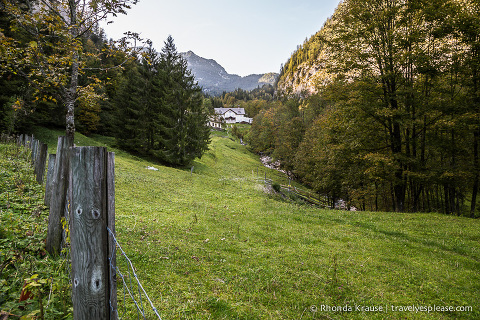 We walked past a small waterfall and a pipeline used to bring the salt down the mountain. There are a lot of signs along the trail explaining the history of Hallstatt and its salt mining industry.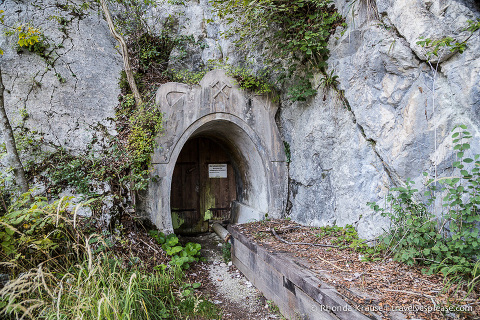 I'm glad we chose to walk down instead of taking the funicular because I was able to get some pictures of Hallstatt from above.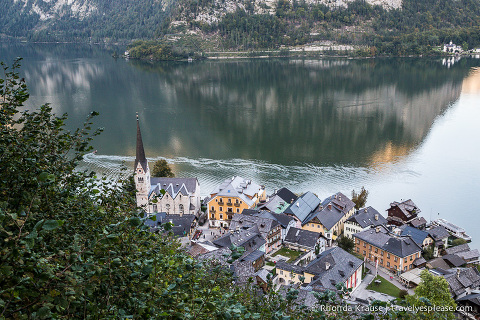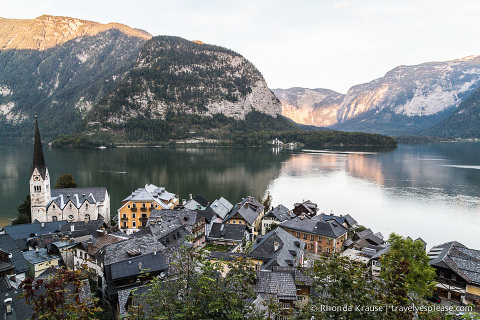 Getting to Know Hallstatt Village- History and Our Mixed Impressions
People have lived in Hallstatt for thousands of years. When Rome was just a village, Hallstatt was already a thriving community. The town's prosperity came from salt mining, which began in the middle of the Bronze Age, continued through Roman times, and was revived in the 14th century.
Hallstatt remains a living community, where history and traditions have been preserved by the locals who love their town.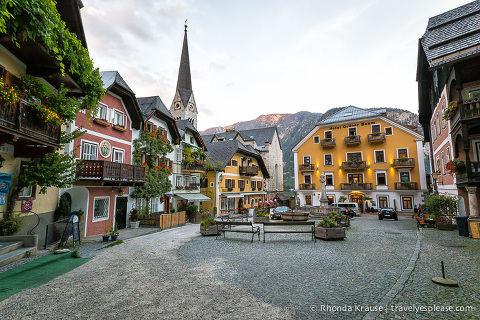 Unfortunately, it might have been the locals' love for their town contributed to us feeling unwelcome at times. I understand wanting to preserve the authenticity of a place as special as Hallstatt, not wanting it to become overrun with tourists. But at the same time, tourism now plays a major role in the local economy and visitors who contribute to that should be treated respectfully.
Instead, we were greeted by grumpy, short tempered hotel staff, and shop keepers and restaurant servers who acted like they didn't want us there. Not everyone was unfriendly of course, but there were enough encounters to make it stand out. Believe me, I really wish I didn't have to say this, but it's part of our story in Hallstatt.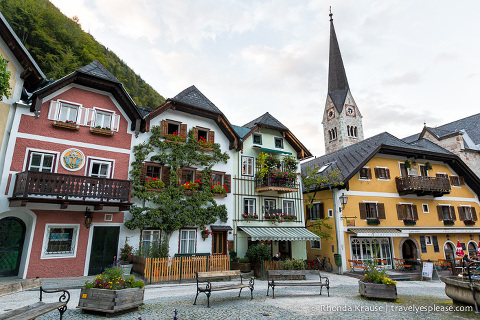 We had one instance that was really quite shocking. At Cafe Derbl (popular place, right on the main square), we sat for quite a while without being acknowledged. The menus were on a counter right beside our table so Mike took one. When the waiter finally came by he rudely grabbed the menu right out of Mike's hand! He then asked us what we wanted to drink but would not take our food order. All I wanted was a piece of cake for my birthday! So we walked out after our drinks were done and went to the Heritage Hotel for dinner instead (where the people were friendly and the food was delicious!)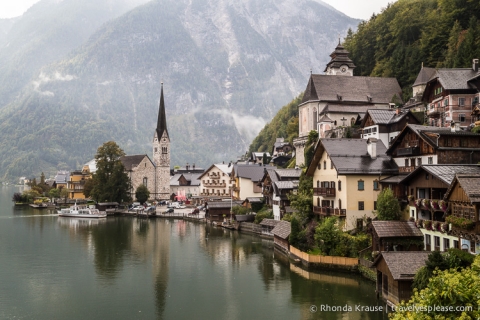 What to See in Hallstatt Village
Hallstatt is so darn cute, so we made sure to spend plenty of time wandering the narrow streets and admiring the architecture. Here are some notable places to see in Hallstatt village.
Market Square
The heart of Hallstatt is the historic Market Square. Its foundations date back to the 14th century, but most of the colourful houses were built during the 16th century. In the centre of the square is the Holy Trinity Column, erected in 1743.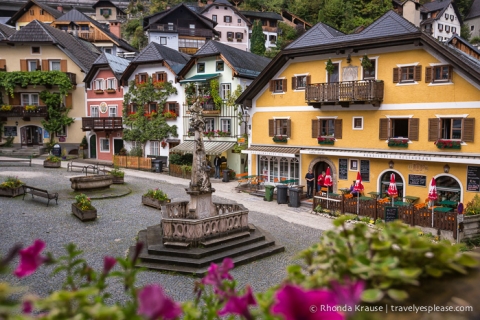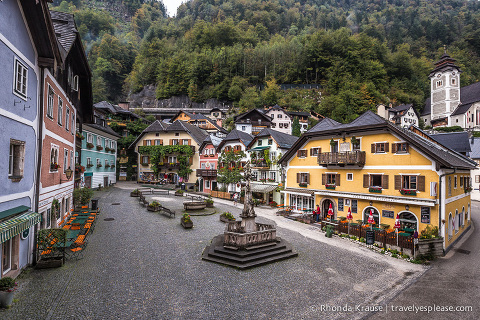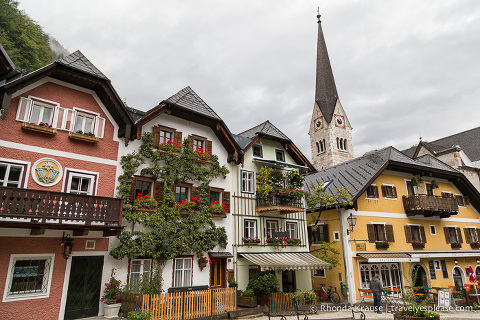 Evangelical Parish Church
This church is one of the most recognized landmarks in Hallstatt. It was constructed in the 18th century, taking five years to build.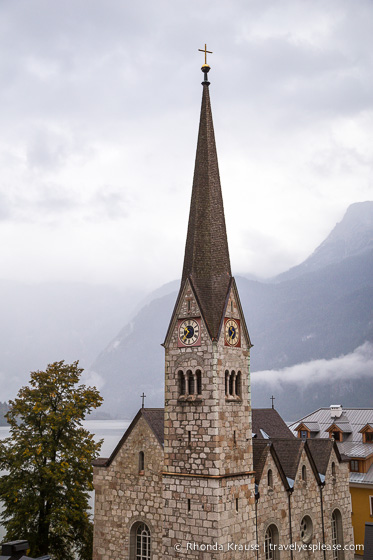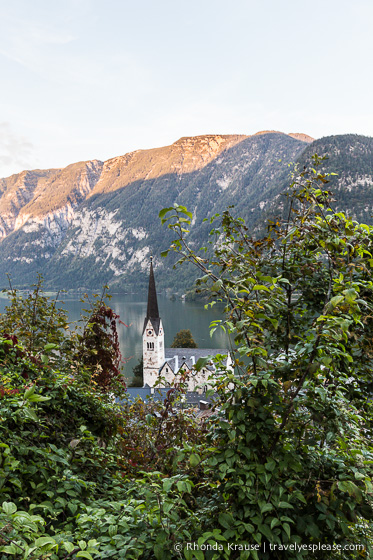 Catholic Parish Church
There was evidence of Christian worship here around 1050 but the first church on this site wasn't built until 1181. The Maria Hilf pilgrimage church was consecrated in 1320. The cemetery here is actually quite beautiful and provides some nice views of Hallstatt!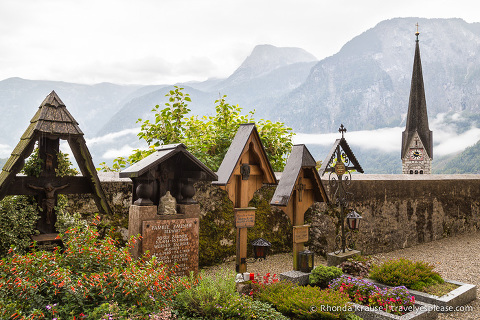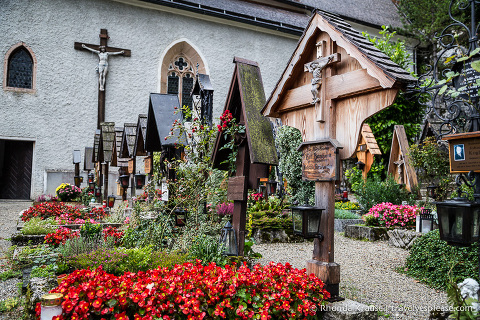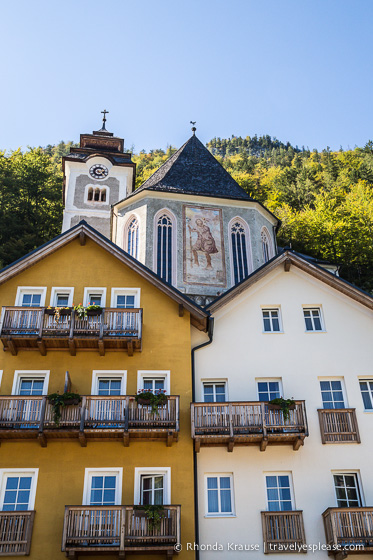 Charnel House
Charnel House, or simply Beinhaus (Bone House), is one of Hallstatt's treasures. It's among the last of such places in all of Austria and contains a remarkable collection of painted skulls. Since the graveyard is so small, skeletons are unearthed ten years after burial, and moved to the ossuary. The skulls are then decorated with symbols and the person's date of death. It's a hauntingly beautiful display worth a look.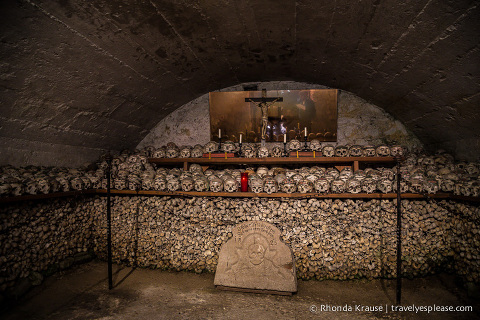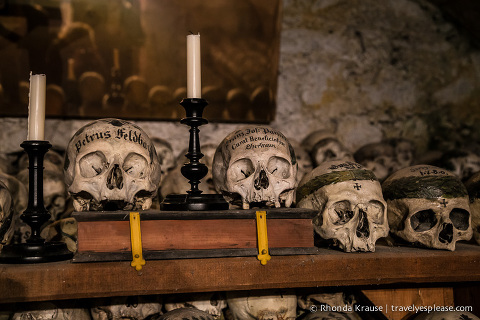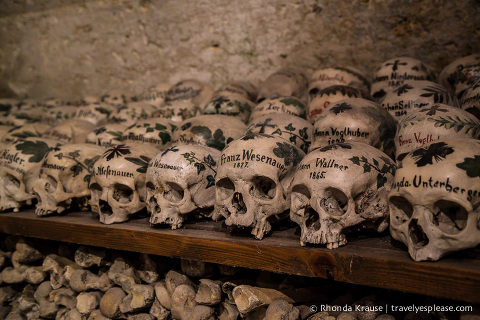 Pictures of Hallstatt
I don't want your last of impression of Hallstatt to be a room full of painted skulls, so here are some more photos of Hallstatt, a lovely alpine village!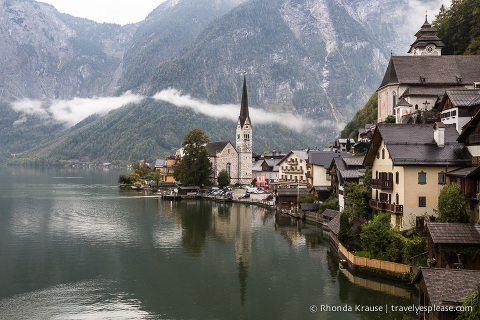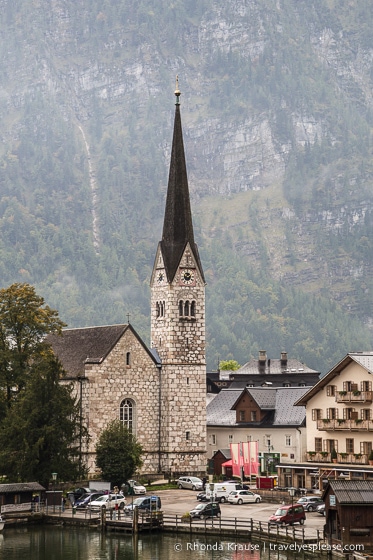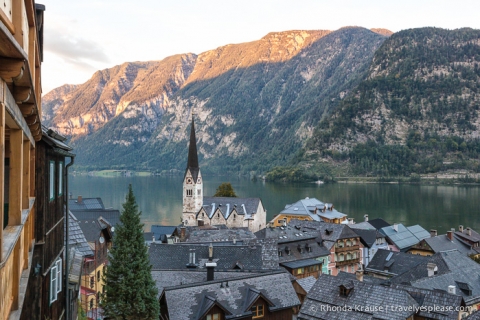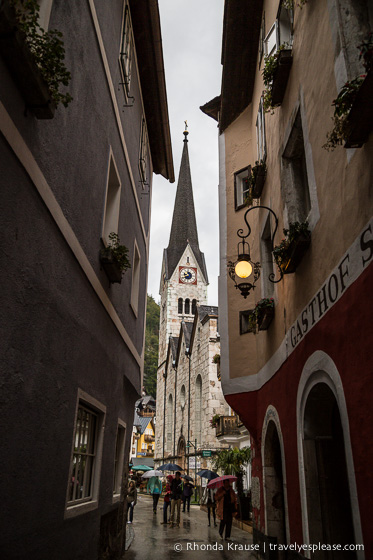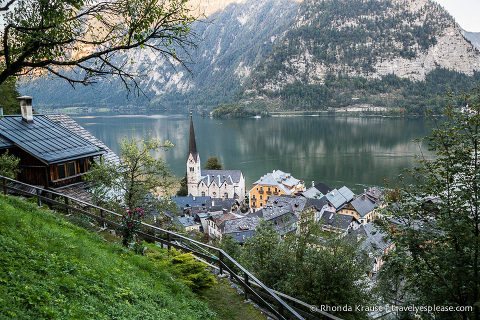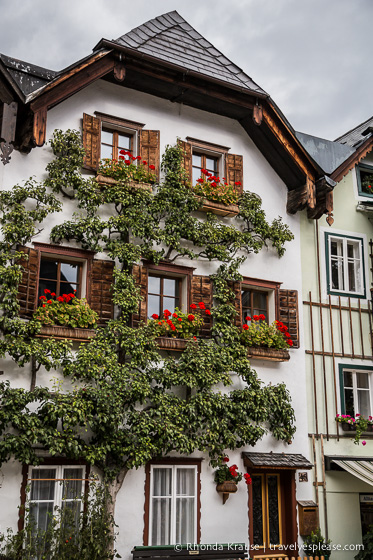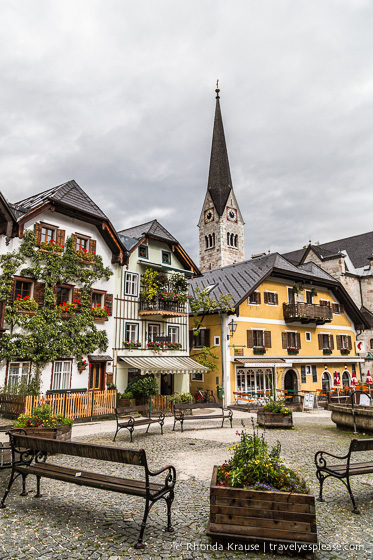 Final Thoughts About Our Trip to Hallstatt
In spite of a few unpleasant encounters with the locals, and some equally unpleasant weather, we enjoyed our trip to Hallstatt. It's a very small town with a lot of narrow, twisty streets that were fun to wander. There wasn't a whole lot for us to do here on a rainy day though. There are a few shops and a museum, neither of which are our thing. At least we had one afternoon of nice weather so we could spend some time outside.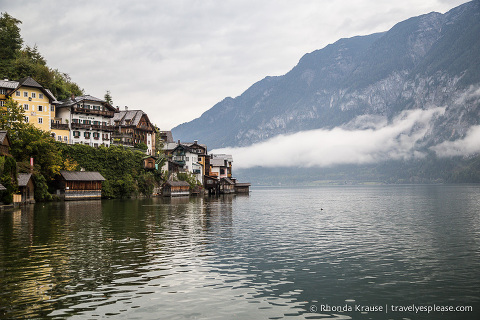 Tips for Visiting Hallstatt
Getting There: Hallstatt is easily reached by train from Vienna and Salzburg. The train station is across the lake and ferries are timed to coincide with the trains. Return ferry times are posted at the ferry station and around town.
The bus stop is located in the suburb of Lahn, a 10 minute lakeside walk south of the town centre.
Funicular and Salt Mine: The funicular to the salt mine operates from 9:00 am- 6:00 pm or 9:00 am- 4:30 pm, depending on the time of year. The salt mine opens at 9:30 am with the last tour beginning at 4:30 pm or 2:30 pm, depending on the time of year. Confirm current operating hours and prices here.
Tourist Information: The Hallstatt tourist office is at Seestraße 114 and can advise on hiking routes. Opening hours and a list of services they provide can be found here.
Side Trip from Hallstatt: We recommend a trip to the nearby Dachstein Ice Cave.
Information was updated January 2022, but can change without notice. Please confirm directly with service providers.
Tours to Hallstatt
Here is a trusted site where you can book tours to Hallstatt from Salzburg or Vienna.
Accommodations in Hallstatt
For your convenience, here is a list of hotels in Hallstatt. Please consider booking your Hallstatt accommodations through the included link. It costs you nothing extra and helps support this website. Thank you!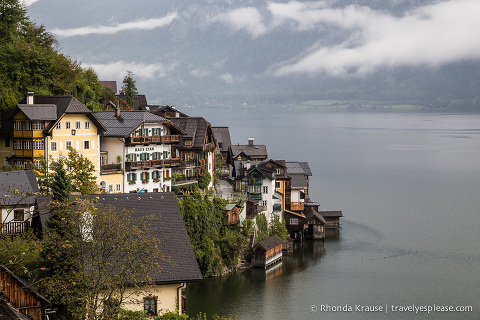 Purchases made through the included links earn us a small commission, at no extra cost to you, and help support this website. Thank you!
More Austria Destinations and Travel Guides