Purchases made through links earn us a small commission, at no extra cost to you.
Buenos Aires is a big, sprawling city and one of the best ways to see much of what it has to offer is by going on a bike tour.
During our Buenos Aires bike tour we got to actively explore the city, visiting important historic sites, noteworthy monuments, and interesting neighbourhoods, all while learning about the local culture from a professional guide.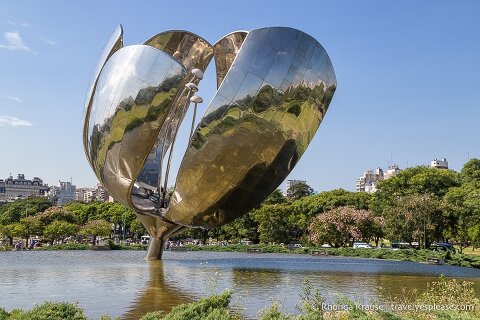 Before we share the highlights from our bike tour of Buenos Aires, here's some general information about Buenos Aires bike tours so you can choose the option that's best for you.
Buenos Aires Bike Tours
There are several bike tours in Buenos Aires that range from half-day experiences to full-day tours that include lunch. The tours visit intriguing sites in and around the city centre, where most of Buenos Aires' tourist attractions are.
Typically, Buenos Aires bike tours offer a north or south circuit for half-day excursions. The full-day tours combine both routes, exploring more neighbourhoods, historic sights, and notable attractions along the way.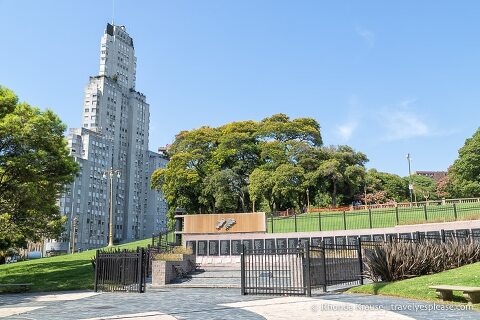 During the bike tour you'll stop at certain points of interest so the guide can share stories and tell you about the history of the area. In some instances you may even be given time to take a short walk around the vicinity.
You don't need to bring any special gear for a bike tour of Buenos Aires, since bicycles and helmets are provided. Some tours utilize city cruiser bikes and others have mountain bikes with gears, so if you have a preference for the type of bike you ride, this is something to pay attention to when choosing a Buenos Aires bike tour.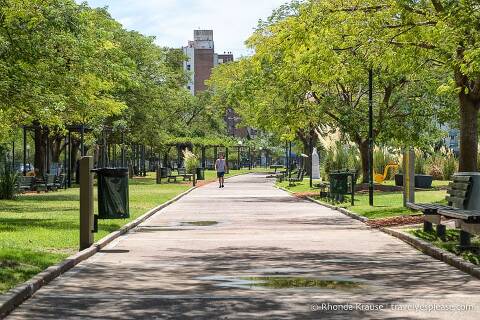 Other things that may be provided with your tour are bottled water and a traditional Argentinian snack and drink. 
For safety reasons, many tour providers limit the group size. We recommend choosing a tour with a maximum of six people for a more personal experience.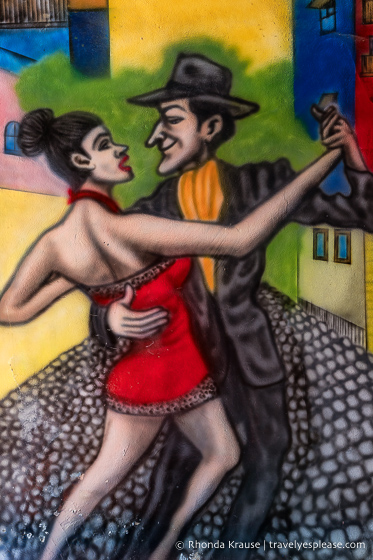 Buenos Aires Bike Tour Highlights- Our Experience Seeing Buenos Aires by Bike
We decided to do a full-day bike tour of Buenos Aires because we wanted to see and learn as much about the city as possible in one day.
After meeting our guide at the bike shop, we rode from north to south across the heart of Buenos Aires, returning to the bike shop at the end of the day. In total we rode 28.6 km in about 7.5 hours.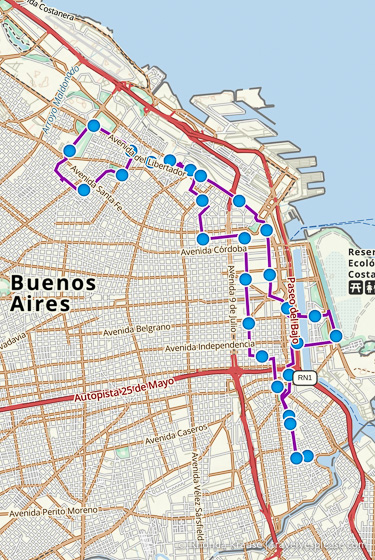 Here's a look at what we saw on our Buenos Aires bike tour and some interesting facts about each place we visited. If you decide to explore Buenos Aires by bike, keep in mind that your experience may differ from ours, depending on the tour you booked, but will likely include some of the same highlights.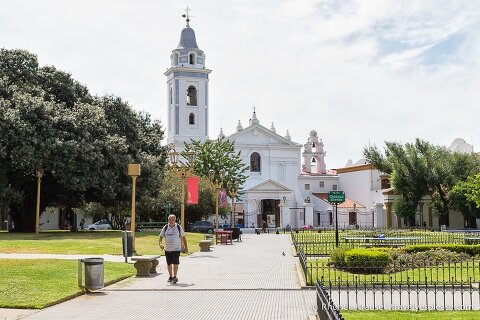 Monumento a La Carta Magna y las Cuatro Regiones Argentinas
After leaving the bike shop, we started our exploration of the Palermo area, following our guide past Plaza Italia, then along Avenida Sarmiento (which runs next to the Ecopark) to our first destination- Monumento a La Carta Magna y las Cuatro Regiones Argentinas.
As one of the most renowned monuments in Buenos Aires, the Monument to the Carta Magna and Four Regions of Argentina commemorates the centennial of the May Revolution, an event which started the process of Argentina becoming independent from Spain.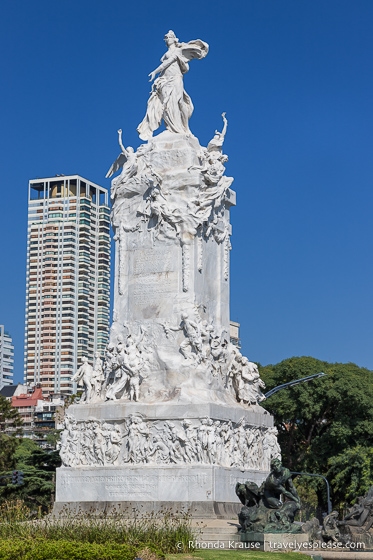 The monument was a gift from the Spanish community and was completed and inaugurated in 1927. Sculpted from Carrara marble, the column features allegorical figures and is topped by a symbolic statue of the republic. At its base are bronze statues representing the Pampas, Andes, Chaco, and Rio de la Plata regions.
Palermo Chico 
Leaving the monument, we rode along Avenida del Libertador to Palermo Chico, an upscale neighbourhood that's home to ambassadors, millionaires, and local celebrities.
Here we made a short stop at Plaza Rufino de Elizalde to admire the architecture and talk about the embassies that are located in the neighbourhood.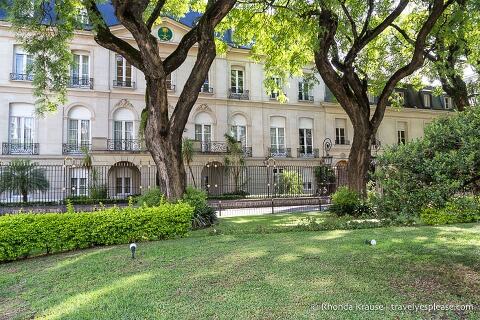 In addition to government buildings and lavish homes, Palermo Chico also has some art galleries and museums. My favourite thing about this barrio, besides the architecture, was the big trees shading the streets. I was very much in need of some relief from the hot sun that day!
Floralis Generica 
Next up, we continued to ride down Avenida del Libertador passing by several more green spaces including Plaza Republica de Chile, Plaza Republica Oriental del Uruguay, and Plaza Ruben Dario before arriving at Plaza Naciones Unidas.
In the United Nations Square we visited Floralis Generica, a striking 23 m tall stainless steel and aluminum flower sculpture.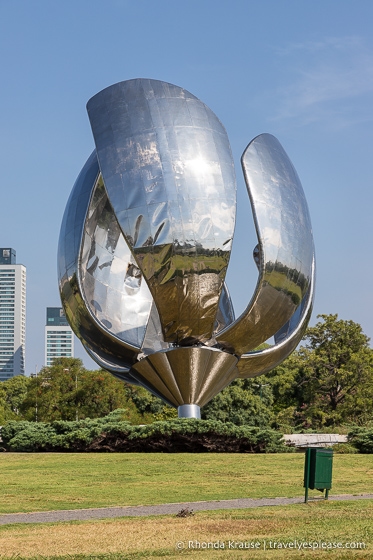 The most unique thing about Floralis Generica is that its petals start to move at sunrise, opening up throughout the day. Once the flower is fully opened it slowly begins to close, completing the cycle at sunset. All this is possible thanks to a hydraulic system and photoelectric cells. 
Mate Tasting
After some free time to wander around the sculpture, we rejoined our guide on the grass to learn about and try mate, a traditional South American infused drink.
As our guide prepared the mate tea, he told us about its history and cultural significance, what it's made from, and proper etiquette for drinking it. Mate is traditionally consumed in a social setting with everyone sharing the same gourd (the container mate is served in) and the same metal straw.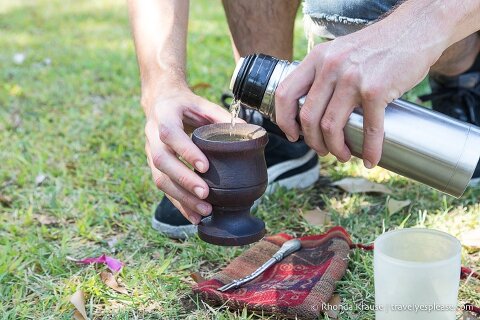 Mike really liked the mate but I found the flavour too strong. Mate is caffeine-rich and I don't drink coffee and very rarely tea, so it was a bit of a shock to my tastebuds! Still, it was enjoyable to take part in the custom.
Plaza San Martin
Next up on our Buenos Aires tour, we rode our bikes past the Faculty of Law building and Parque Thays, following Avenida del Libertador all the way to Plaza San Martin.
Named after General San Martin, this square is one of the oldest in the city. It was the site of some notable events including a battle in 1807 that resulted in a Creole victory over the English.
We stopped in front of the Monumento a los Caidos en Malvinas (Monument to the Fallen in Malvinas) which honours fallen soldiers of the Falklands War. Their names are etched on plaques mounted on the monument.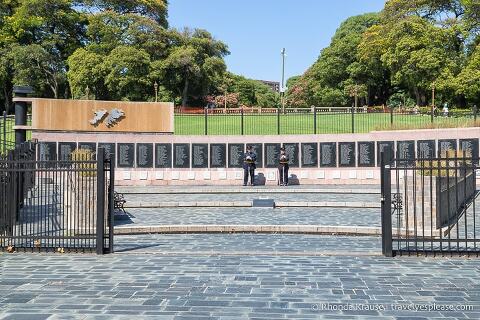 Across the street from the monument is Torre de los Ingleses (English Tower), a clock tower commemorating Argentina's independence. It was given to the city in 1916 as a gift from its British community.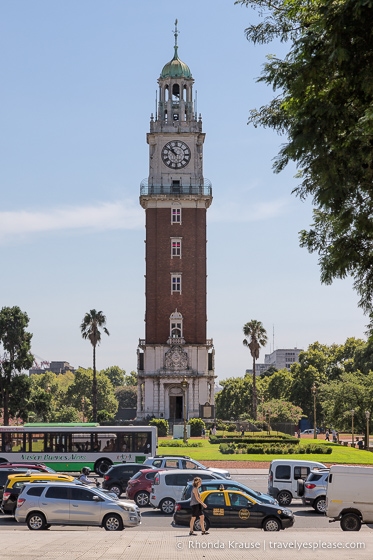 Plaza de Mayo
After riding through the city centre, the next stop on our Buenos Aires bike tour was Plaza de Mayo (May Plaza).
Plaza de Mayo is Buenos Aires oldest and most important square. It has been the site of many significant political events in Argentina's history, including the May Revolution of 1810, for which the square is named. A 19 m tall obelisk in the centre of the square was erected in 1811 to recognize the first anniversary of the revolution.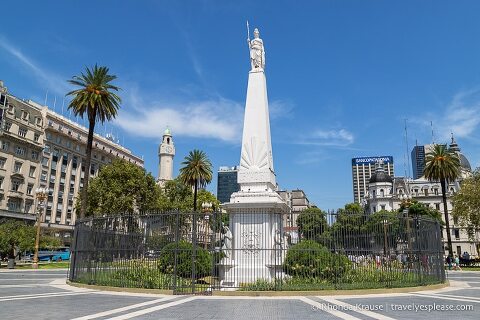 Surrounding the perimeter of Plaza de Mayo are several beautiful historic buildings including the 18th century Cabildo (colonial town hall now home to the National Historical Museum of the Cabildo and the May Revolution), the Metropolitan Cathedral (where Pope Francis officiated mass for more than 20 years), and the city legislature. Most eye-catching is Casa Rosada, the pink presidential palace that serves as the seat of the national government and office of the president.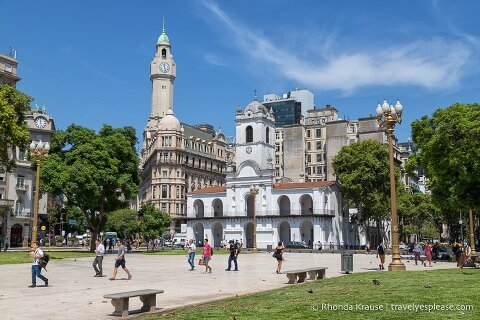 Costanera Sur
After Plaza de Mayo we rode though Puerto Madero, the newest area in Buenos Aires, to Costanera Sur, the old riverside.
Before crossing the river we stopped to admire Puente de la Mujer (Woman's Bridge), a 170 m long suspension swing bridge. This pedestrian crossing was designed by architect Santiago Calatrava and is reminiscent of the shape of a couple dancing the tango.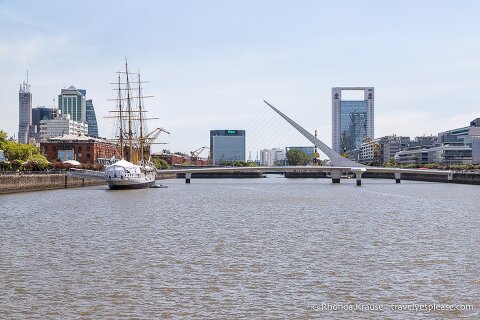 Riding a few more blocks we soon arrived at a food truck where we had lunch across from the Reserva Ecologica Costanera Sur, a nature reserve with marshlands and forests.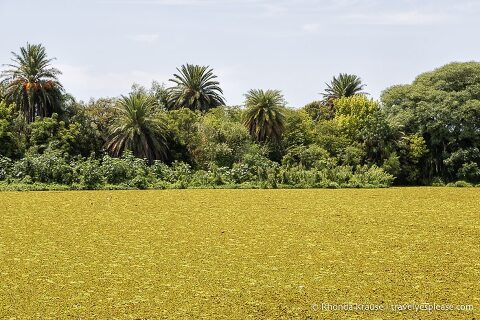 La Boca
The next destination on our Buenos Aires bicycle tour was the colourful La Boca neighbourhood, near the city's old port.
Our first stop was at the Maqueta Barrio La Boca, a life-sized model/mural of the La Boca barrio. This artistic creation captured the spirit of the neighbourhood in a fun way and was a great introduction to the barrio.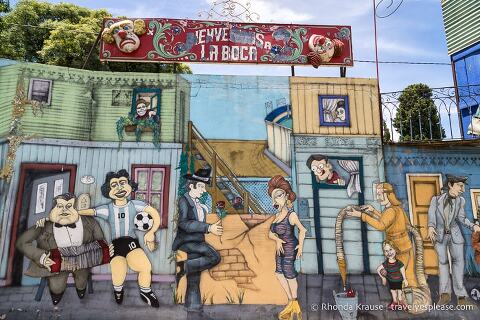 Next up we rode to La Bombonera, the stadium where the Boca Juniors football (soccer) club plays. We didn't get to go inside, but from what our guide told us it sounded like it's quite the experience to attend a game.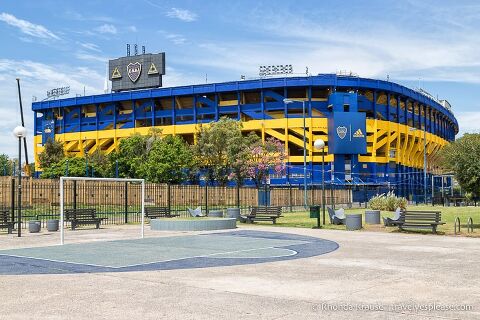 The last place we visited in La Boca was Caminito, one of the most photographed streets in Buenos Aires. The brightly painted tenement houses, murals, and other installed artworks have turned this once abandoned lane into an open-air museum bustling with tourists.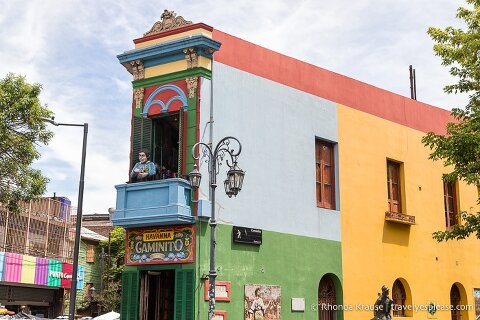 Besides the colourful buildings and art, the street is also home to cafes, souvenir shops, and tango dancers who, for a fee, will pose for photos with tourists.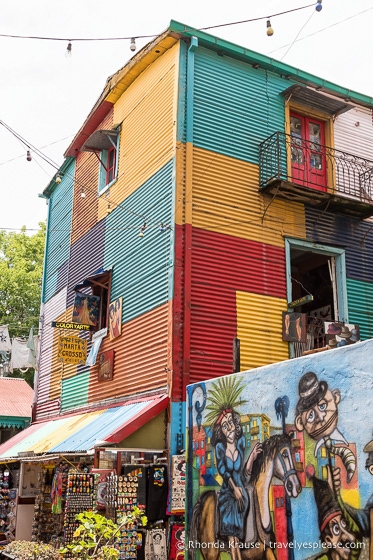 Even though the Caminito is often considered a must-see attraction in Buenos Aires, we were underwhelmed by it because it's very touristy. We were also advised by our guide not to wander away from the main streets because the surrounding area is known for crime.
Recoleta
After leaving La Boca we rode through San Telmo, one of the oldest areas in Buenos Aires, before arriving at the Recoleta neighbourhood.
Recoleta is an affluent area with beautiful Parisian style architecture, but its best known attraction is the Recoleta Cemetery. This distinguished cemetery contains elaborate mausoleums and tombs of notable individuals including several presidents of Argentina and famed First Lady Eva Peron.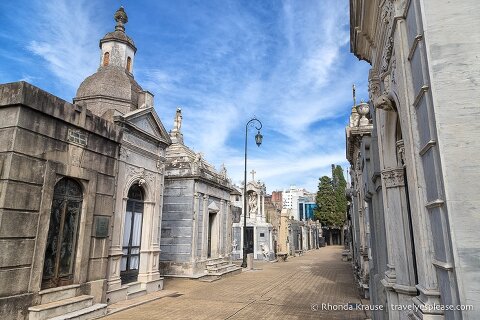 After an introduction by our guide, we were given a bit of free time to explore the cemetery. We returned later for a more in depth visit because it's such an intriguing place. 
Another interesting thing we saw near the Recoleta Cemetery was Gomero de la Recoleta, a huge 200+ year old fig tree (ficus macrophylla) that's the oldest tree in Buenos Aires. There is a statue of atlas holding up some of its sprawling branches.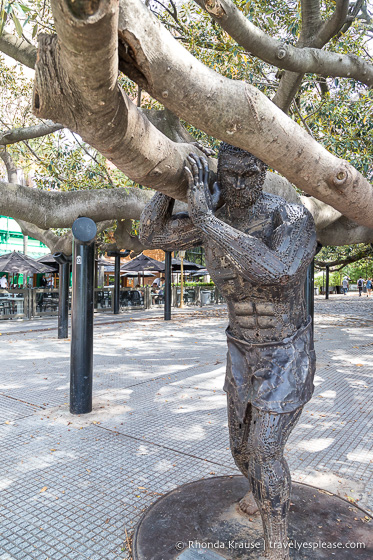 Final Thoughts About Our Bike Tour of Buenos Aires
Our bike tour of Buenos Aires was an enjoyable, stress-free, and efficient way to see many of the city's main attractions and landmarks, while also enjoying some exercise. 
It was great having a local guide who could share interesting stories and facts, as well as take us to some spots we hadn't heard of or thought to visit. Had we spent the day exploring on our own, we definitely wouldn't have got to know the city as well. It was also nice not to have to worry about transportation and navigating such a big city.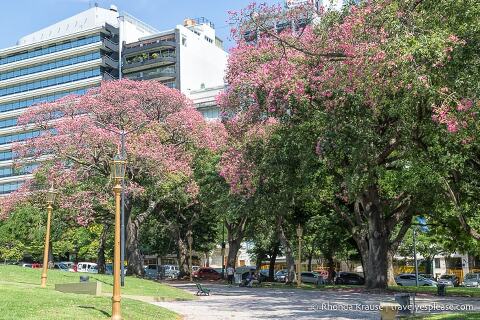 Overall, the route was easy to ride because it didn't really have many hills. My GPS recorded an ascent of 64 m, so pretty minor over the course of 28.6 km. I was thankful for that, and the relaxed pace, since it was crazy hot out!
After such a great day on our Buenos Aires bike tour, we don't hesitate to say that it's one of the best things to do in Buenos Aires. I'm glad we included a bike tour on our Buenos Aires itinerary because it was a fun introduction to a city we didn't know much about.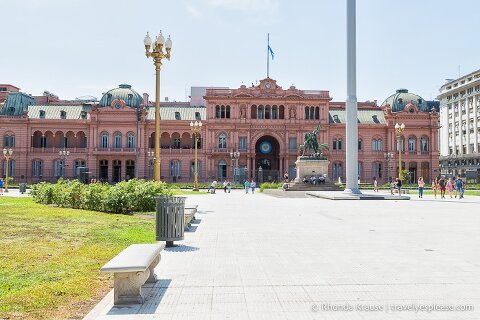 Tips for Going on a Buenos Aires Bicycle Tour
Location: Bike tours depart from different locations around the city, depending on what company you book with, but are close to the main areas of interest for tourists. When we were researching tours we found some leaving from the San Telmo, Palermo, and Monserrat neighbourhoods. 
Duration: Bike tours in Buenos Aires are half-day (4- 5 hours) or full-day (7- 8 hours). The half-day tours typically cover a north or south circuit, whereas the full-day tours will do both.
What's Included: Bikes and helmets are provided for use during tours. Sometimes bottled water and a snack is also included, but I would bring extra water, especially if it's a hot day. Full-day tours usually include lunch. 
If booking online, make sure to read the full tour description so you know what is and isn't included.
Group Size: The group size can vary, but tour providers tend to keep it small (6- 12 people) for safety reasons. We recommend a tour with six or less participants.
Biking Experience: You must be comfortable riding a bike, since tours do not include lessons.
Information was correct at the time of publishing, but can change without notice. Please confirm directly with service providers.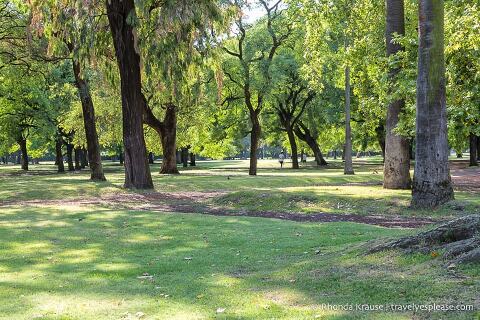 Accommodations in Buenos Aires
For your convenience, here is a list of hotels in Buenos Aires. Please consider booking your Buenos Aires accommodations through the included link. It costs you nothing extra and helps support this website. Thank you!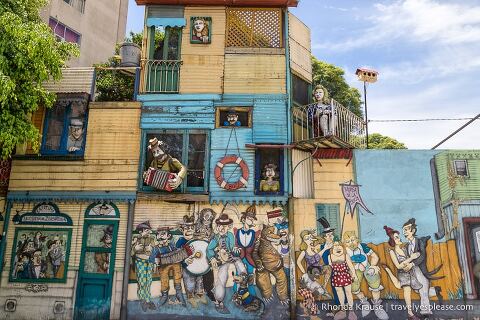 More Argentina Destinations and Travel Guides