Purchases made through links earn us a small commission, at no extra cost to you.
I've always thought of Patagonia as the quintessential destination for adventure travel. With wild, windswept landscapes of rocky mountains, sprawling ice sheets, turquoise lakes, and vast treeless plains, there's an endless amount of far-flung places to explore.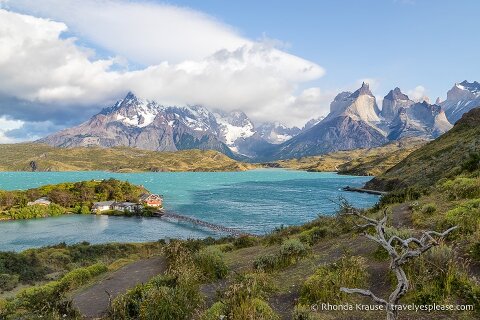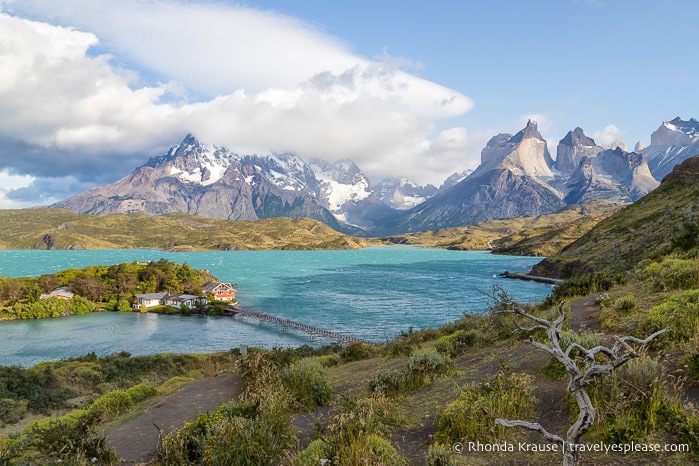 Visiting Patagonia had long been a dream of mine, and as a lover of nature and remote locations, it did not disappoint. During our two week Patagonia trip we went hiking in some incredibly scenic national parks, got up close to ancient glaciers, picnicked on the rocky shores of alpine lakes, went kayaking at sunset, and even crossed paths with a puma.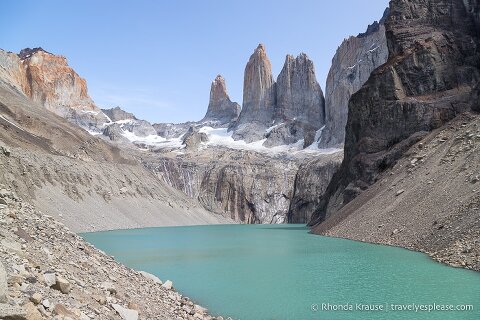 After 2 weeks in Patagonia, we can confidently say that it's a paradise for outdoor adventurers. As you'll see from our Patagonia itinerary below, we had no trouble finding exciting things to do and beautiful places to visit!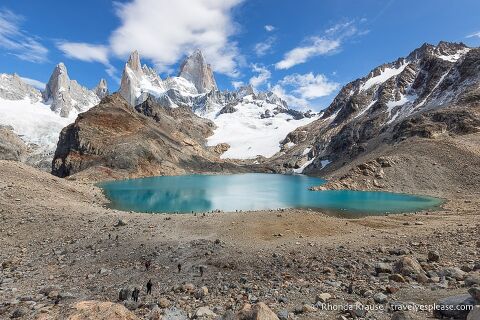 Two Weeks in Patagonia- Our Patagonia Itinerary for Argentina and Chile
As active travellers and nature lovers, we wanted our trip to Patagonia to focus primarily on hiking and visiting impressive natural wonders. 
With that in mind, I went about creating a Patagonia itinerary that included road trips through the countryside, overnights in small mountain towns, visits to glaciers, boat rides on sparkling blue lakes, and plenty of time on the trails.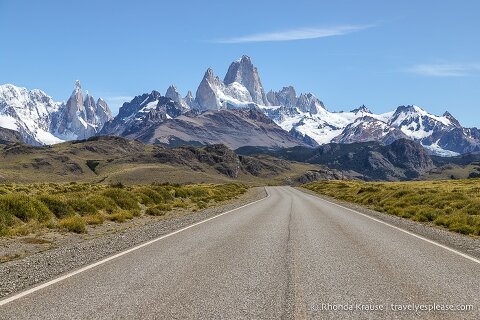 Since Patagonia encompasses such a huge area of land across two countries, far too much to explore in one trip, we decided to only visit southern Patagonia, where several of the region's iconic landmarks and most famous attractions are.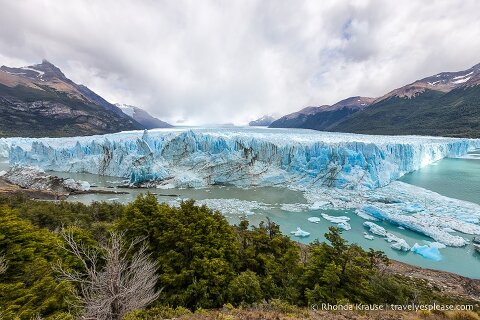 With almost 2 weeks in Patagonia, we had enough time to visit both the Chilean and Argentine sides, even making it to Argentina's most southern city. Our Patagonia trip was divided up between three main areas- Tierra del Fuego, Torres del Paine National Park, and Los Glaciares National Park.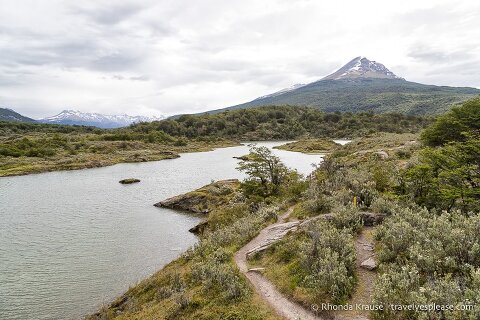 To help you with your Patagonia trip planning, here is our Patagonia itinerary packed full with outdoor adventures and some of the best places to visit in Patagonia!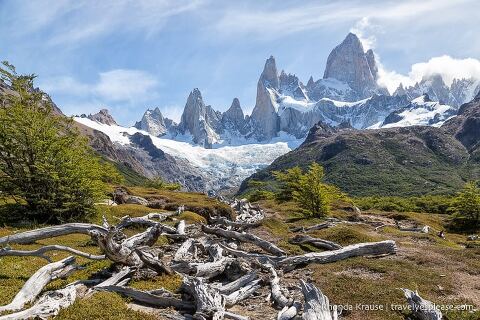 Map: Patagonia Trip
Here is a map of the places we visited on our Patagonia trip.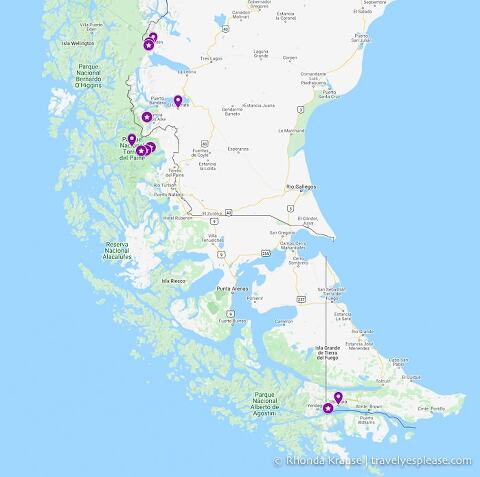 Day 1: Fly From Buenos Aires to Ushuaia
To start our trip to Patagonia we flew from Buenos Aires to Ushuaia, the southernmost destination on our Patagonia itinerary. Our flight arrived at 7:30 pm, so we didn't do much exploring until the next day. We spent 3 nights in Ushuaia.
Approximate travel time: 3 hour 35 minute flight
Days 2 & 3: Ushuaia and Surrounding Area
We initially visited Ushuaia more out of necessity than desire, since it was the departure point for our cruise to Antarctica and South Georgia Island. Once we arrived, we confirmed that while the city itself doesn't have much to offer other than a beautiful setting, it is a good base for exploring the surrounding nature.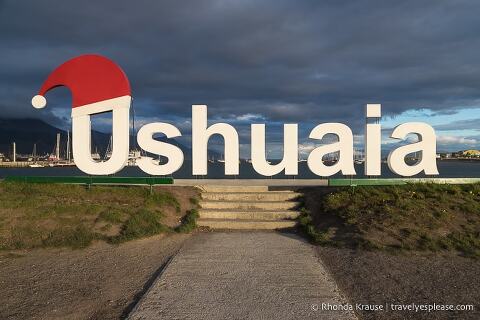 Wedged between the Beagle Channel and Martial Mountains, Ushuaia doesn't make you choose between coastal or mountain views. We got to enjoy both as we alternated between strolling along the waterfront and browsing outdoor gear shops on the central grid of streets.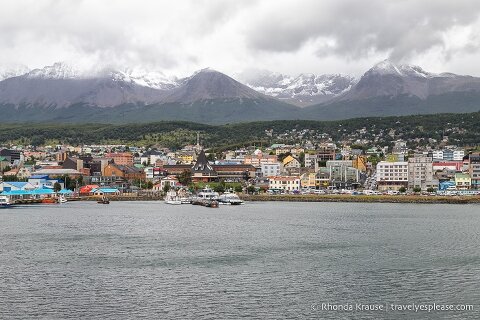 Ushuaia's claim to fame is being the world's most southern city. All around Ushuaia you'll see signs and souvenirs proudly displaying its nickname "The End of the World". This assertion and slogan is somewhat misleading because Puerto Williams in Chile is technically further south, but its population is way smaller than Ushuaia's, so I guess it depends on what your definition of city is (we would consider Puerto Williams a town because it has less than 3,000 people).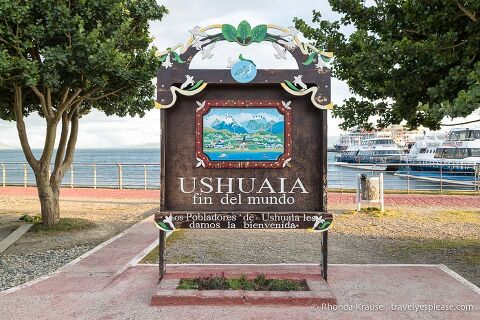 Since it didn't take us long to get a feel for Ushuaia, we spent a day and a half going on excursions outside the city. The highlight was hiking in Tierra del Fuego National Park, but we also enjoyed a sunset kayak tour on Lake Escondido.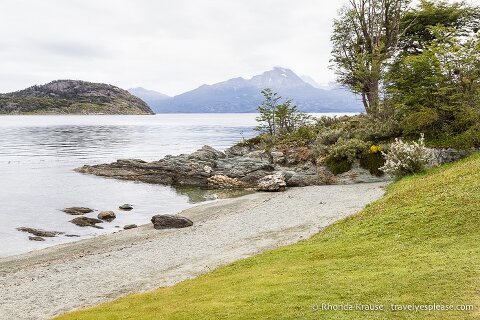 Tierra del Fuego National Park has ten marked hiking trails that showcase the park's forests, mountains, rivers, lakes, and bays. We combined a few trails to create a route that took us almost the entire way across the park, experiencing a variety of scenery along the way. Our hike concluded at the famous sign marking the end of Route 3 and the Pan-American Highway.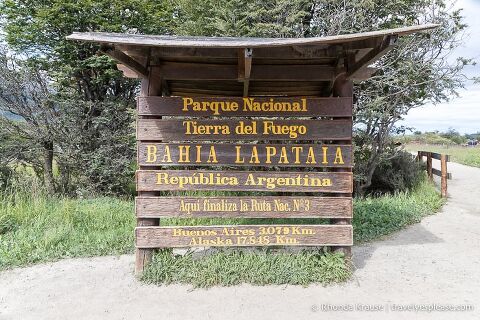 The next day we joined a tour that went kayaking on Lake Escondido. On the drive there we stopped at an observation deck at Paso Garibaldi to admire a view of the lake. Unfortunately, it was rainy and cold during our kayak trip, but the tour ended with a delicious dinner at a wooden shelter in the forest.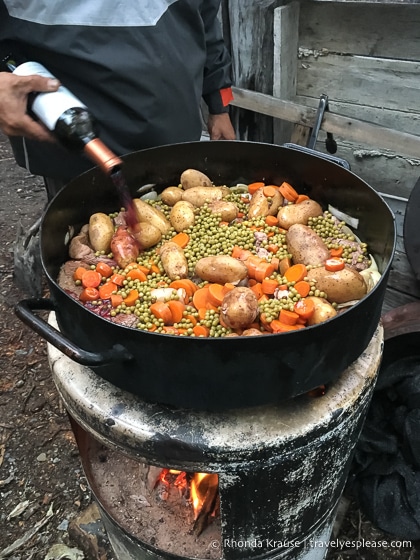 Some other things you can do in Ushuaia are go on a Beagle Channel cruise and visit the penguin colony on Martillo Island. We didn't do this since we'd be sailing to Antarctica via the Beagle Channel and seeing thousands of penguins during our expedition.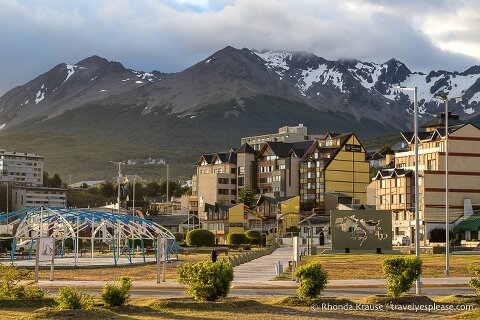 Day 4: Fly From Ushuaia to El Calafate
Since Ushuaia is so far away from the rest of the places to visit in Patagonia, we decided to fly to El Calafate then rent a car to use for the rest of our Patagonia trip. Once settled in, we explored this attractive city by foot, visiting some shops and restaurants on the main street. We spent 2 nights in El Calafate.
Approximate travel time: 1 hour 20 minute flight
Day 5: Perito Moreno Glacier
We visited Perito Moreno Glacier, in Los Glaciares National Park, as a side trip from El Calafate. We were so enamoured by the beauty of this famously huge glacier that we easily spent almost the entire day there.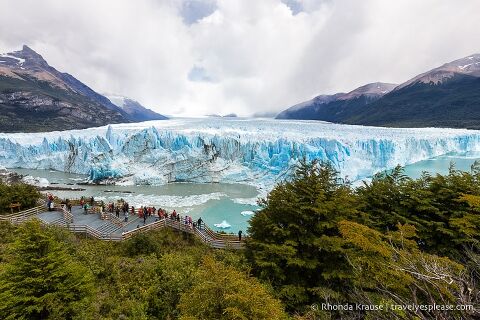 Perito Moreno Glacier is the third largest glacier in Argentina and the most accessible one in Los Glaciares National Park. This massive piece of ice can be admired from a network of paths and observation decks, from a boat, or while trekking on its surface during a guided tour.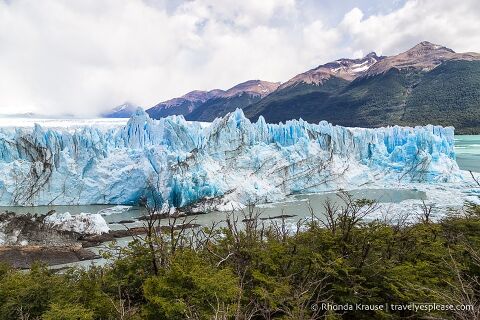 We opted to explore the paths and do the boat tour so we'd get close-up views of two different sides of the glacier. The glacier was especially active during our boat tour, calving several times to send chunks of ice splashing into the lake.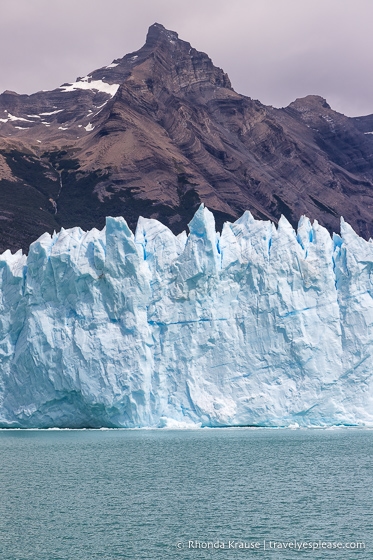 Even after all the time we spent at Perito Moreno Glacier, I still would go back for a second visit- it's that impressive. Next time I would love to try the ice trekking experience and go kayaking in front of the glacier.
Day 6: Drive from El Calafate to Torres del Paine National Park (Chile)
The next destination on our Patagonia trip itinerary was Torres del Paine National Park in Chile. After checking in at our accommodations near the park gates at Rio Serrano, we took a sightseeing drive through the park. We spent 4 nights in Torres del Paine National Park. 
Approximate travel time: 4 hour drive (allow extra for border crossing)
Days 7, 8, & 9: Hiking in Torres del Paine National Park
Our next three days in Torres del Paine National Park were spent hiking sections of the W Trek, the park's most popular trekking route. The W Trek is typically done as a series of overnight hikes, but we conquered three of the top segments as self-guided day hikes.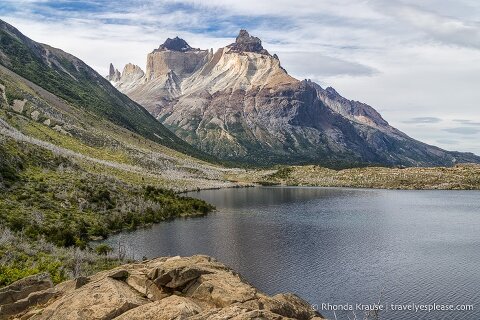 We did the park's most notable hike first- the hike to Mirador las Torres. This hike took us to the gorgeous turquoise lake at the base of Torres del Paine, the rocky towers from which the park takes its name. This hike was challenging due to a significant amount of elevation gain, its rocky terrain, and some strong winds. Still, its difficulties are worth overcoming for the view that awaits at the end of the trail.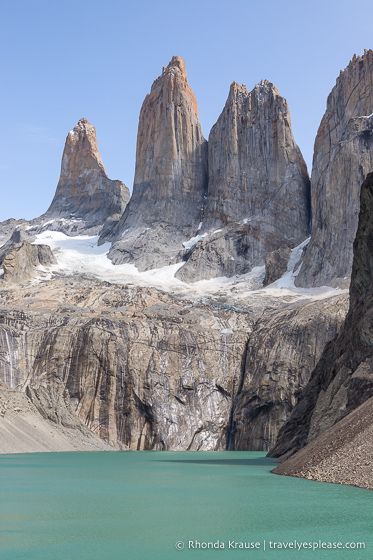 The second hike we did was the French Valley hike. Although the highlight is arriving at a viewpoint across from the French Glacier, the entire trail is a thing of beauty with vibrant lakes, rocky mountains, and picturesque grasslands. This was my favourite trail we hiked in the park.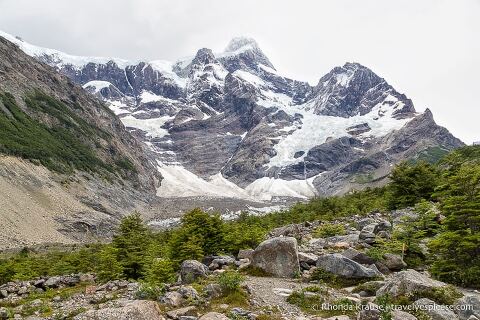 The last hike we did was the Grey Glacier hike. On this trail we visited two viewpoints that look out towards Grey Glacier and even got to see many small icebergs floating in Lago Grey.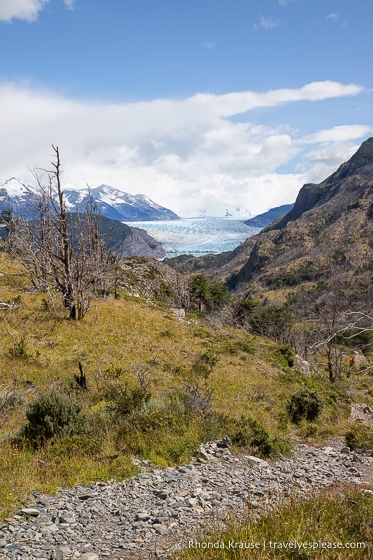 Day 10: Drive From Torres del Paine National Park to El Chalten
After hiking 62 km in three days, we welcomed the long drive to El Chalten, Argentina, the final destination on our Patagonia itinerary. Once we arrived, we stopped in at the visitor centre then wandered around this small mountain town. We spent 3 nights in El Chalten (but loved it so much we wished we stayed longer!)
Approximate travel time: 6.5 hour drive
Days 11 & 12: Hiking in El Chalten
Our time in El Chalten was spent hiking some of the nearby trails. 
On the first day we hiked to Laguna Torre, where we were hoping to see a nice view of Cerro Torre, one of El Chalten's most distinctive peaks. Unfortunately, it was very cloudy and misty from the rain, so all we could see were some small icebergs that had broken off from the glacier at the end of the lake. The trail was enjoyable though and I'd like to go back and hike it in better weather.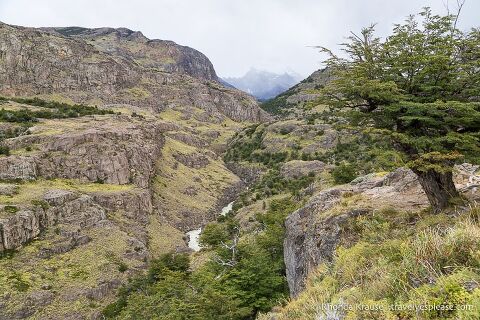 The next day conditions were perfect for our hike to Mt. Fitz Roy. This was a very long day hike, but so gratifying thanks to a parade of stunning scenery. We overlooked valleys, walked along lakeshores, passed through pretty meadows and shady forests, and gazed at glacier-covered mountains. Of course, the best part was seeing Mt. Fitz Roy looming large over the turquoise Laguna de los Tres. What an unforgettable view!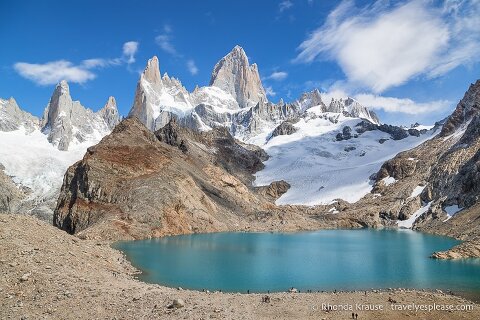 El Chalten is such a pleasant little town, and a great basecamp for both adventure and relaxation, that we couldn't think of a better place to end our trip to Patagonia. We were so sad to leave!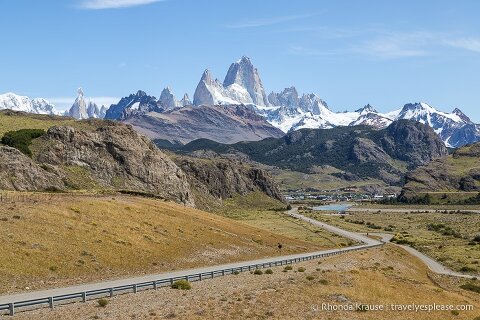 Day 13: Drive from El Chalten to El Calafate, Fly to Buenos Aires
As we said goodbye to Patagonia, we enjoyed a scenic drive back to El Calafate to return the rental car and catch our return flight to Buenos Aires. There isn't much inside the El Calafate airport, so we wished we had a nice meal in town before our flight.
Approximate travel time: 3 hour 20 minute drive, 2 hour 55 minute flight
Final Thoughts About Our Two Week Trip to Patagonia
We had so much fun during our 2 weeks in Patagonia! From the exquisite landscapes and memorable hikes to the small towns and isolated locations, there was nothing we didn't like.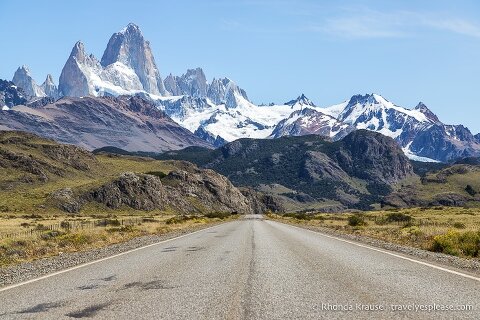 The driving wasn't stressful for us, since Argentina has good roads, but we did worry a little about getting a flat tire on the gravel roads in and around Torres del Paine National Park (and running out of fuel since there are no gas stations close to the park). Thankfully everything went smoothly!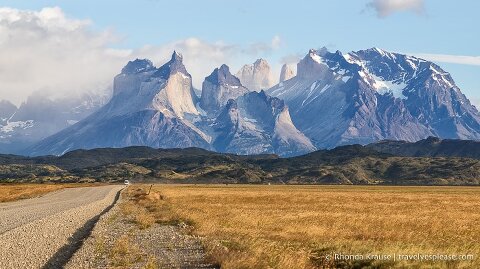 We felt like our Patagonia itinerary was loaded with must-see places and bucket list worthy hikes. There was just one destination that in hindsight seems mediocre compared to the rest- Ushuaia. 
Even though Ushuaia didn't "wow" us as much as the other places did, we still enjoyed our time there and like being able to say we visited the world's most southern city. If you can't make it all the way down to Antarctica, then Ushuaia provides a good opportunity to see penguins and a subantarctic landscape.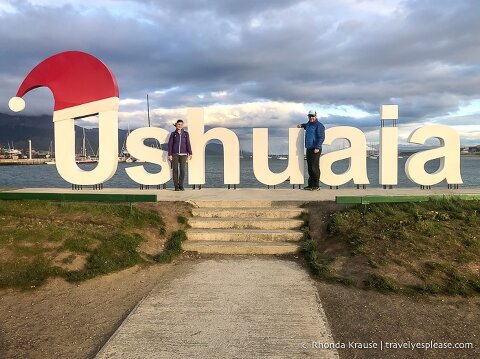 Reflecting on our Patagonia trip itinerary, there's only one thing I'd change- add another day in El Chalten to see the Viedma Glacier in Los Glaciares National Park, or do another hike (but I don't think my feet could have handled that!)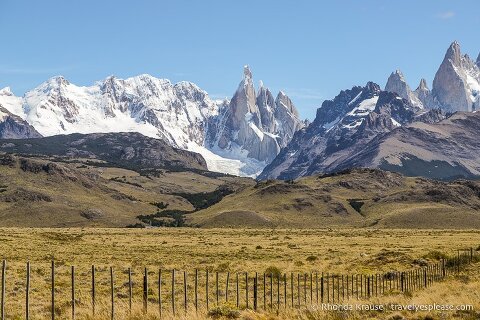 If you love nature, hiking, and experiencing small towns, then we definitely recommend travelling to Patagonia!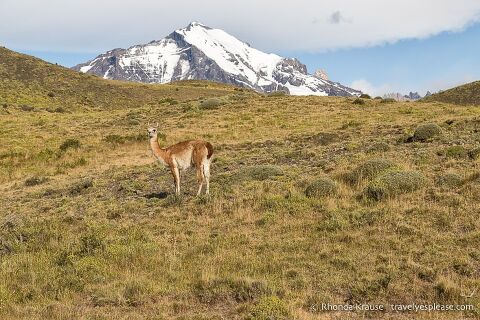 Tips for Visiting Patagonia
Best Time to Visit Patagonia: The best time to visit Patagonia is in summer (December to February) because of the warmer temperatures and long daylight hours.
Getting There: For international travellers to Argentina, you'll probably arrive in Buenos Aires at Ezeiza International Airport (officially called Aeropuerto Internacional Ministro Pistarini). Most domestic flights are handled by Aeroparque Internacional Jorge Newbery (near downtown Buenos Aires), so you'll likely have to change airports to get to Patagonia. 
We recommend scheduling your flight to Patagonia for the day after (or a few days after) you arrive in Buenos Aires in case there are travel delays or schedule changes. All our flights in Argentina had departure time changes in advance of our trip, but nothing more than 25 minutes. 
From Buenos Aires, you can fly direct to Ushuaia and El Calafate. You can also get flights to other towns in Patagonia, but for our itinerary this wasn't necessary.
Getting Around: Patagonia is a huge area so flights are good for covering long distances in a short amount of time. For our itinerary, we used flights to get from Buenos Aires to Ushuaia, Ushuaia to El Calafate, and El Calafate back to Buenos Aires. 
There are bus routes connecting towns and popular tourist destinations in Patagonia, but some places are still only accessible via private vehicle. We didn't use any buses other than the shuttle from Ushuaia to Tierra del Fuego National Park, but my guidebook said buses in Argentina are fast, frequent (less so in Patagonia), comfortable, and reasonably priced.
Renting a car is a great option for independent travellers who don't want to rely on public transportation schedules. A car was necessary in Torres del Paine National Park, since there is no park shuttle and buses from the nearest town make limited stops.
Renting a Car in Patagonia: The most convenient place to rent a car was at the El Calafate airport. There were several companies to choose from.
We recommend renting from a company that offers unlimited kilometres, since there are significant distances between towns in Patagonia. It will be more expensive, but worth it to not worry about unexpected costs. 
Confirm with the rental agency that they allow the car to be driven into Chile. If they do, this permission will come with an extra cost ($100 US in our experience) and some additional paperwork (we had to email copies of our driver's licence and passport). You will be given a border crossing permit that you have to get stamped when entering into Chile and back into Argentina. Don't forget to ask the border agent to stamp this paper for you, as it has to be returned with the rental car.
An International Driving Permit wasn't required.
Gas stations aren't common outside of towns, so fill up whenever you get a chance. On a few occasions we encountered gas stations that were either sold out of fuel or had very long lines at the pumps (especially in El Calafate). 
Driving from El Calafate to Torres del Paine National Park: Google Maps may suggest a route that takes Highway 40, but this "shortcut" turns into a bumpy dirt road that almost nobody drives (we took part of it by accident on the return trip and didn't see a soul). We suggest taking Highway 40 then Highway 5 to Esperanza because it's paved. From Esperanza, take Highway 7 west until it rejoins 40.
Make sure you fill up with gas in Esperanza (and save enough fuel to get back here), because there are no gas stations beyond this point. If you need fuel in Torres del Paine National Park, your accommodation may be able to sell you some (or direct you to a place that will), but you'll pay a premium. I wouldn't assume you'll be able to find gas in the park.
The border crossing was a different experience for us because at the gate you had to exit your car and go into a building to show your documents. Then you had to wait for someone to come out and open the gate so you could drive away. If you have a rental car, be prepared to show the paperwork and border crossing permit from the rental agency.
Information was correct at the time of publishing, but can change without notice. Please confirm directly with service providers.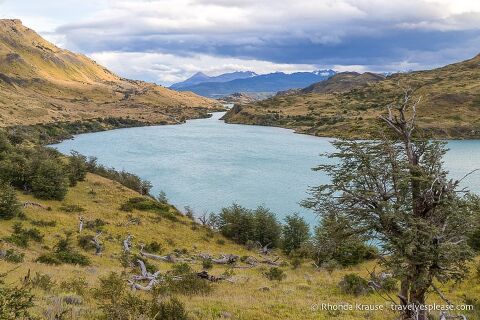 Accommodations in Patagonia
For your convenience, here is a list of hotels for the stops on this Patagonia trip itinerary. Please consider booking your accommodations through the included link. It costs nothing extra and helps support this website. Thank you!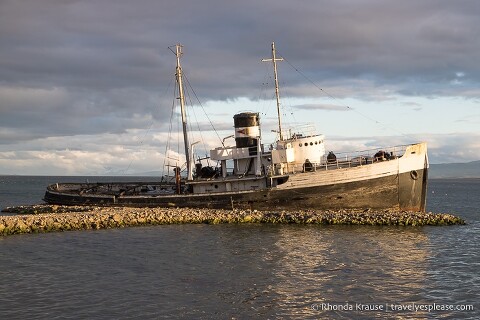 More Argentina and Chile Destinations and Travel Guides