Purchases made through links earn us a small commission, at no extra cost to you.
El Chaltén, Argentina has so many fantastic hiking routes but there's one trail that stands out above the rest- Sendero al Fitz Roy, the trail to Mount Fitz Roy and Laguna de los Tres.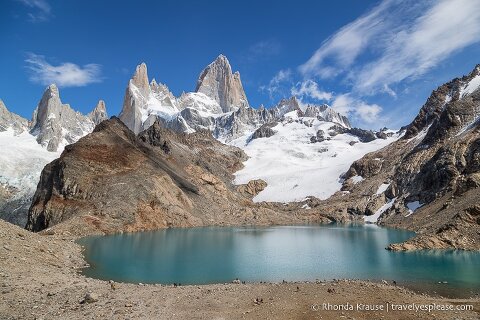 From start to finish, the Mount Fitz Roy hike is packed with incredible scenery. There are wide-ranging river valley views, mountain panoramas, shady forests, and sparkling lakes.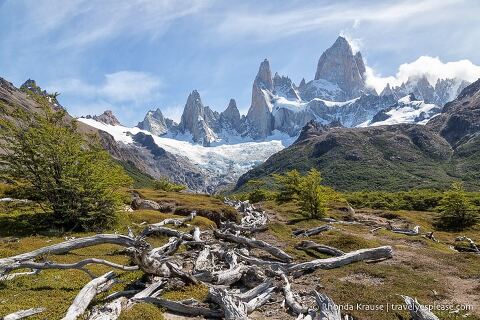 The highlight of the hike is seeing the glacier-covered Cerro Fitz Roy, one of the most recognizable mountains in Patagonia, looming large over Laguna de los Tres, the turquoise-coloured lake at its base. The vista is a stunning reward for the long, and at times challenging, Fitz Roy hike.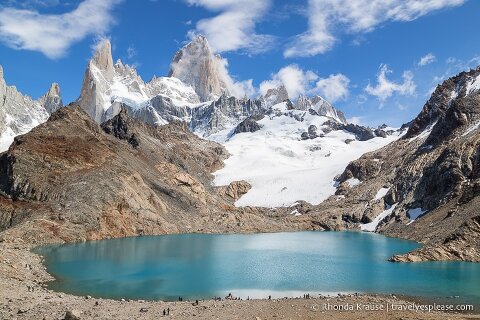 About the Mount Fitz Roy Hike in El Chaltén
The hike to Mount Fitz Roy is one of the most popular hikes in Los Glaciares National Park and the village of El Chaltén. It's most often done as a long day trip, but if you prefer to take your time there are two campgrounds along the route.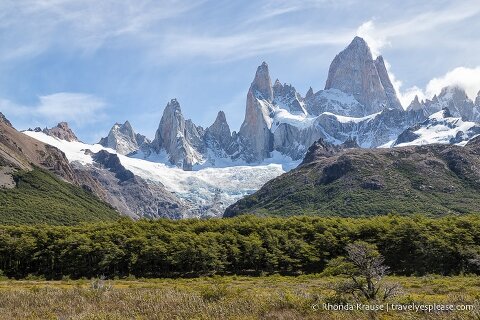 Sendero al Fitz Roy starts from the edge of El Chaltén then climbs above the Las Vueltas river valley. The trail levels out as it passes through the forest, along Laguna Capri, and then across some mountain-framed meadows. The final approach to Mount Fitz Roy is on a very steep, rock-strewn trail that guides hikers to a viewpoint overlooking Laguna de los Tres.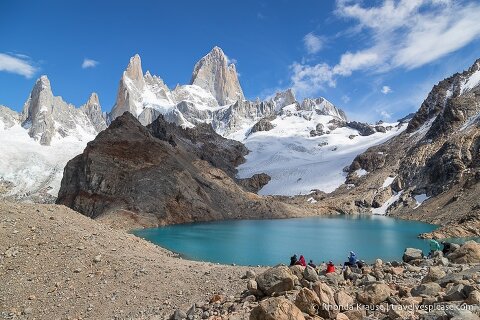 The Fitz Roy trek is about 21.4 km/13.3 mi round trip and requires 8- 10 hours to complete. It's rated moderate to hard and has an elevation gain of 864 m/2835 ft.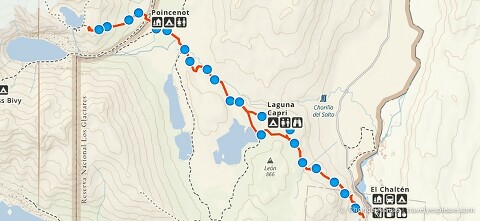 The Mount Fitz Roy Day Hike- Our Experience Hiking to Fitz Roy and Laguna de los Tres
The Mount Fitz Roy trail begins from the northwest edge of El Chaltén, at the end of San Martin street. There's a parking lot at the trailhead and a large sign welcoming hikers to Sendero al Fitz Roy.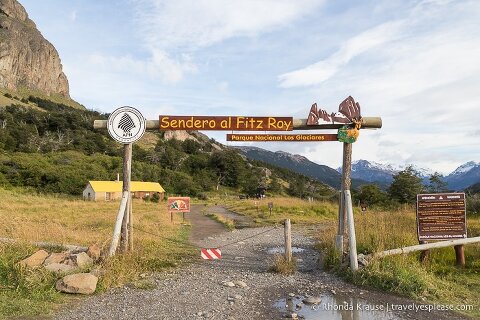 Since we knew this was going to be a long day of hiking, we started our Fitz Roy trek at 8:15 am. This would give us enough time to enjoy a leisurely lunch at Laguna de los Tres and arrive back in town around suppertime.
Excitedly we set off on Sendero al Fitz Roy, following the path towards the mountains. Soon the trail turned left and headed up a forested hill that offered pleasing views of El Chaltén and Rio de Las Vueltas.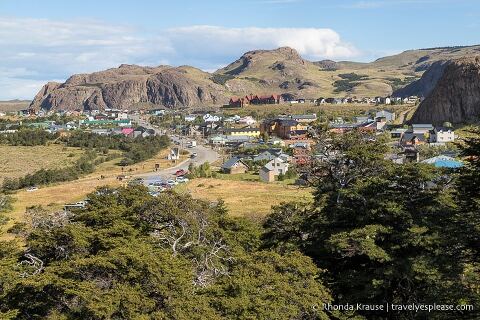 The trail continued to climb, eventually exiting the trees and arriving at Mirador Rio de las Vueltas, a viewpoint overlooking the river valley. From here we could see the river winding across the wide, flat plains of the valley.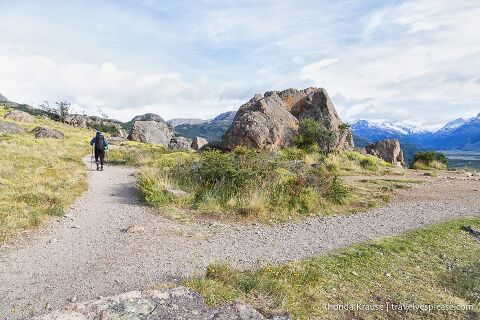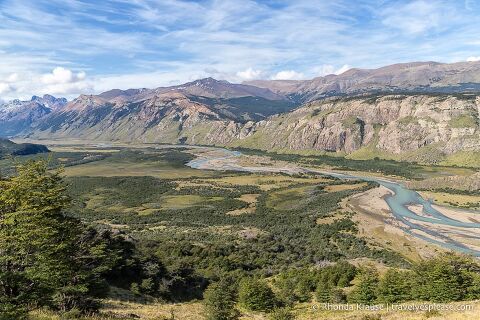 After the viewpoint the trail started making its way across a shrub-covered slope, still showing off a fantastic view of the river valley to our right. We were only a short ways into the Fitz Roy hike but were already impressed by the scenery.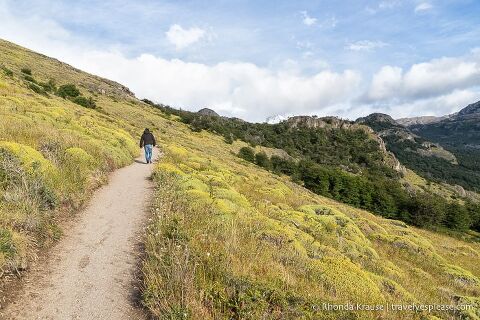 After crossing the open slope we found ourselves back in the forest. The trail continued to very gradually gain elevation as it headed northwest through the trees.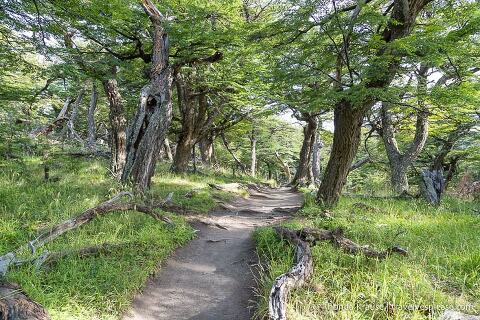 We followed the path until we came to a marked intersection where the trail split in two. There was a sign indicating that the trail going left would lead to Laguna Capri and the trail on the right would go to a viewpoint. The two paths would meet again on the north side of Laguna Capri, creating a small loop.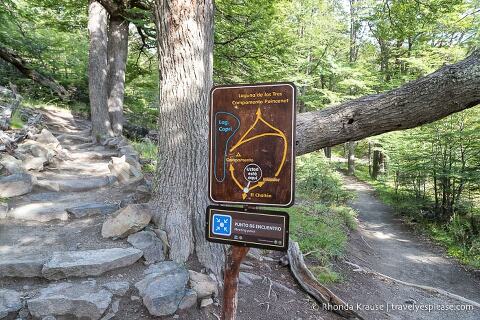 We made a plan to visit the lake first and take the other trail on our return hike in the afternoon. So, off we went up a short section of stone steps towards Laguna Capri.
The trail to the lake was forested, but once we got closer to Laguna Capri we experienced our first glimpse of Mount Fitz Roy in the distance. It was partially concealed by a hill and some clouds, but we could still see the snowy glaciers nestled on the rock.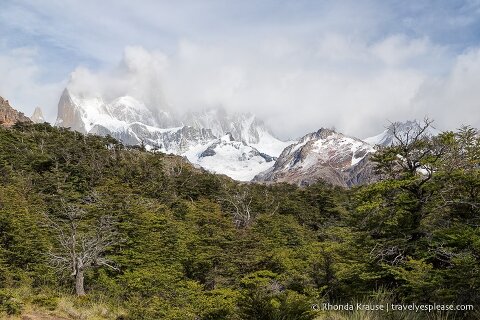 A short distance later we arrived at the Laguna Capri campground. We passed through, deciding to stop further up the trail where it got closer to the water. We spent a few moments on the lakeshore having a snack and admiring the surrounding mountains before continuing our hike to Fitz Roy.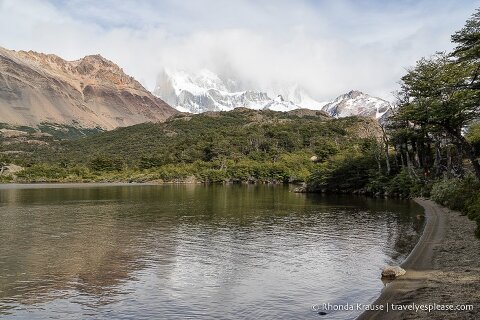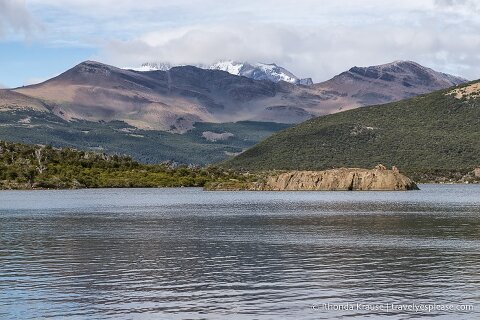 Beyond the lake we reached an open area where there was a wonderful view of Fitz Roy's neighbouring mountains. Even from far away we could see the ice blue tinge of one of the glaciers.
The trail then re-entered the forest before arriving at another open area that would have offered perfect views of Mount Fitz Roy, had it not been obstructed by clouds. However, even with a veil of cloud floating around the mountaintop, we could still tell Fitz Roy was an impressive beauty.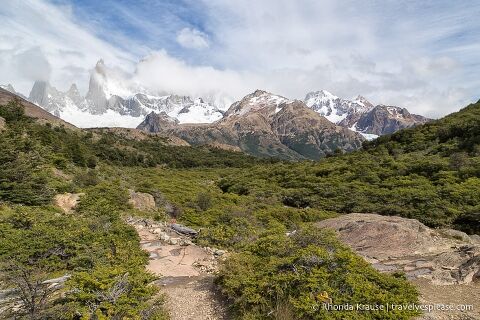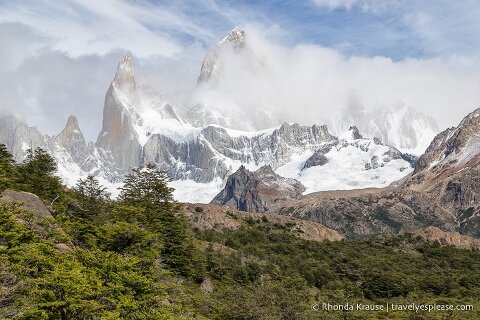 Following the path towards the mountains, I had high hopes that by the time we got to the end of the trail the clouds would part and we'd get a clear view of Mount Fitz Roy. I just had a feeling this was going to be our lucky day, so we picked up the pace, eager to get to Laguna de los Tres in case the clouds soon disappeared.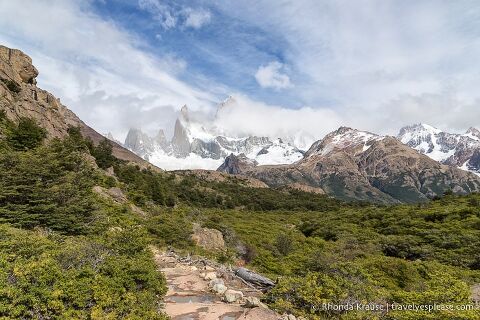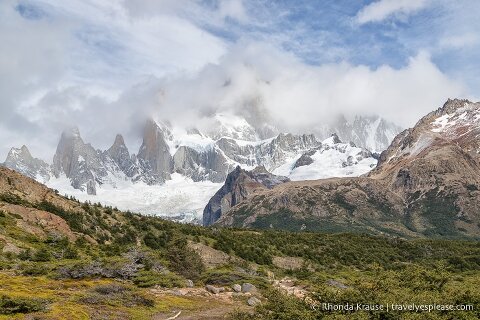 From this point on, most of the hike was out in the open so there were plenty of peaks and glaciers to admire as we hiked in front of the distant Mount Fitz Roy. There even was a section of boardwalks, just wide enough to hike single file, crossing over some scenic wetlands.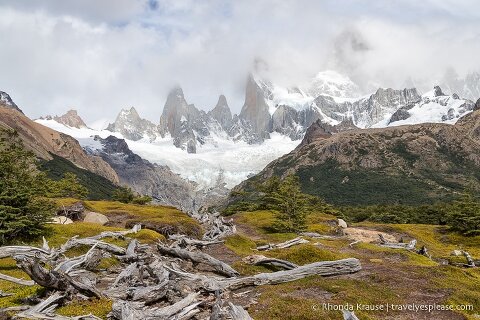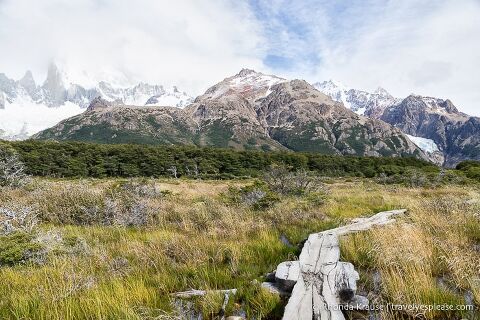 Further ahead the path briefly went into the forest and soon we arrived at the Poincenot campground. We hurried through, knowing that we were getting close to the final approach to Laguna de los Tres.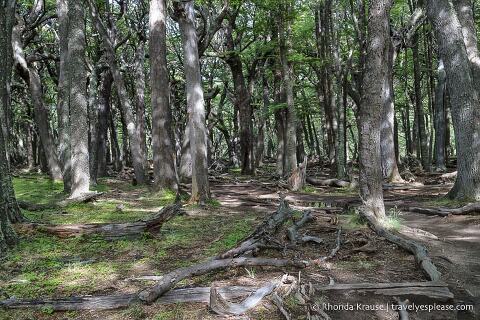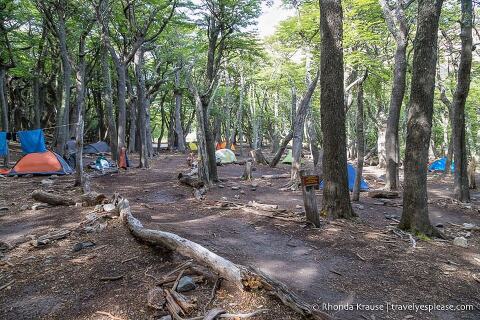 On the other side of the campground the views opened up and once again Mount Fitz Roy was in our sights. From here we got a preview of the last section of the hike to Fitz Roy, as we could see the trail zigzagging up a steep mountainside. Best of all, the clouds seemed to be thinning out.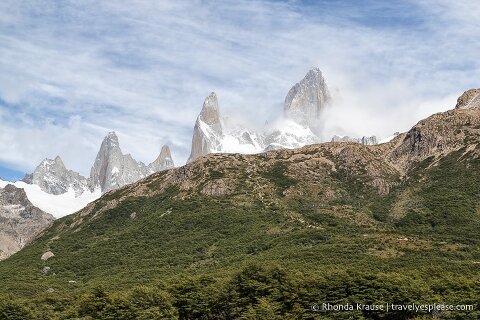 Next up the trail crossed Rio Blanco then arrived at the Rio Blanco rest area (a former campsite). Here there are some outhouses, benches, and a covered shelter where you can rest before embarking on the arduous last leg of the Mount Fitz Roy hike.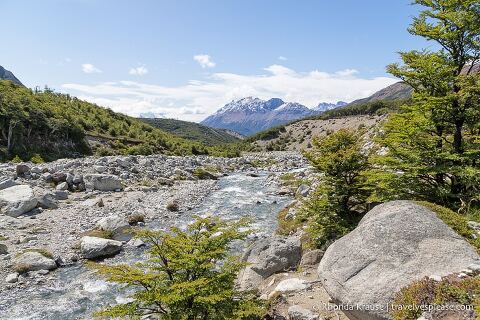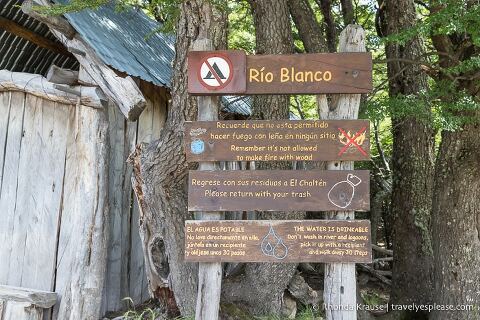 From the Rio Blanco rest area, the hike to Laguna de los Tres took us exactly one hour. It's a very steep, grueling trail that gains 400 m/1312 ft of elevation in only 1 km/0.6 mi. With almost half of the total elevation gained on this hike happening in the final kilometre, our endurance was definitely put to the test.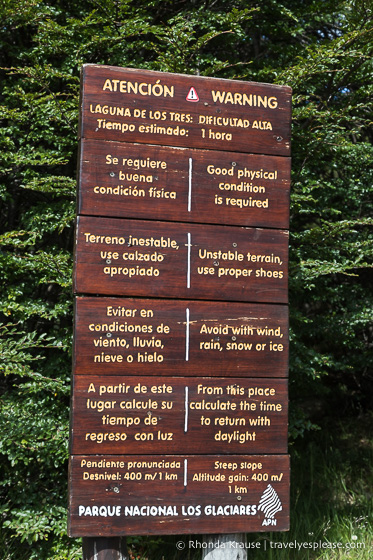 If you're not in good physical condition, the hike to Laguna de los Tres could take longer than an hour. In addition to the steepness, another challenge is the rocky, unstable terrain that can be a tripping and slipping hazard.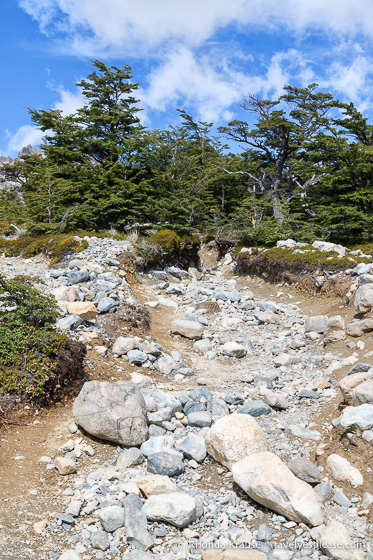 I don't always have the best endurance on steep hikes, but I really powered through this one at a quicker pace than expected. I could see that Mount Fitz Roy was now free from cloud cover, so was extremely determined to get there fast in case the conditions changed.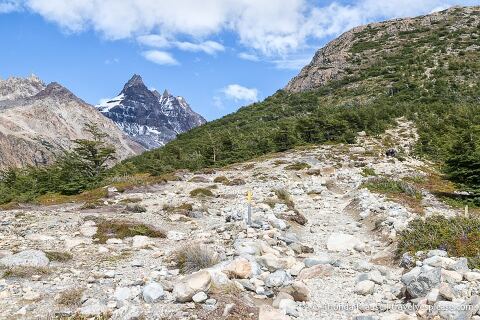 On and on we hiked up the steep, rocky slope, getting more excited the closer we got to the top. Once we reached the crest, I was disappointed to find out that we weren't at the lake yet- we still had to cross a field of rock and climb up another hill.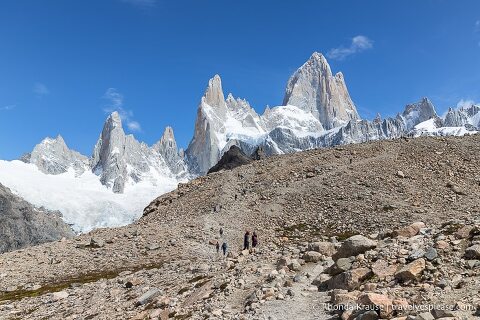 When we finally reached Laguna de los Tres we were met with one of the most beautiful views I've ever seen. There was the lofty, grey peak of Mount Fitz Roy against a brilliant blue sky. At its base was the turquoise water of Laguna de los Tres shimmering in the sun. Completing this wonderful alpine scene was Glaciar de los Tres and Glaciar Rio Blanco spilling down from the jagged wall of rock.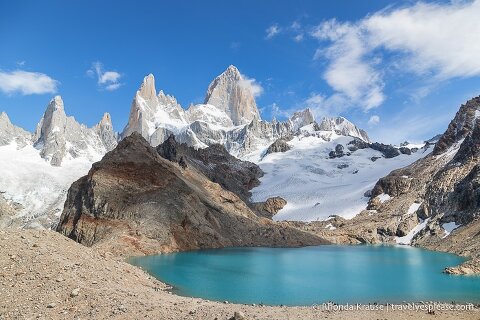 I was so enamoured with the beauty in front of me, and how it was bathed in the perfect light, that I couldn't help but take a ridiculous amount of pictures.
As I stared in wonder, I still couldn't believe how lucky we were on this trip to get a clear view of two of Patagonia's most iconic mountains- Fitz Roy and Torres del Paine in Chile- when both peaks are so often covered by cloud.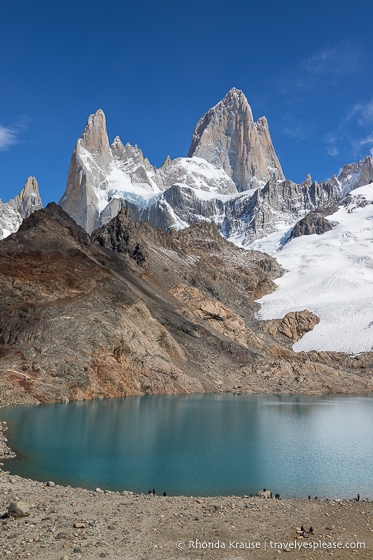 When I was done taking pictures, we found a place to sit on the hillside and enjoy our lunch as we continued to marvel at Mount Fitz Roy. We spent 1.5 hours simply sitting and taking in the moment.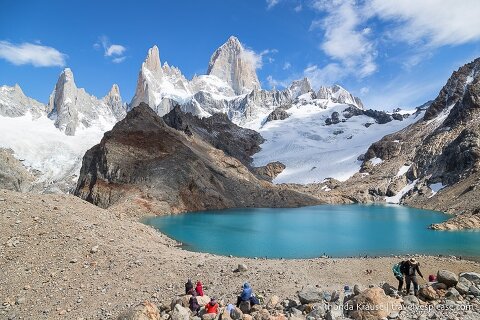 After lunch we debated walking down to the lakeshore and then over to the ridge on the left side of Laguna de los Tres, where there's another lake hidden from view of the main lookout point, but the last thing we wanted to do was hike up another hill. Seeing as this was our fifth hike in six days, where we logged over 100 km, our legs and feet were extremely tired! In hindsight, I deeply regret not walking the short distance to see the other lake.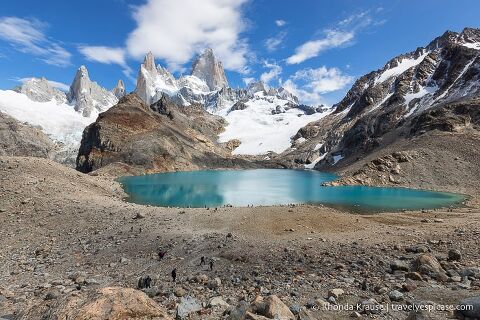 At about 2 o'clock we set off on the return hike, heading back the way we came. While it was nice to be going downhill, we still had to take our time so we didn't slip on the loose rock that covered the trail.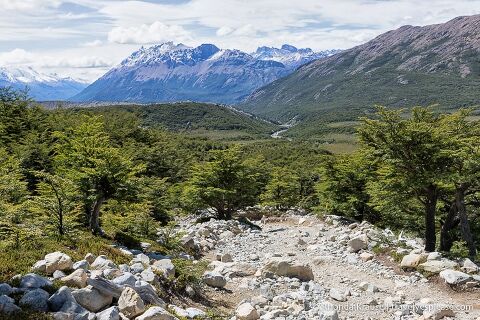 The best part of the descent was getting to see a different perspective of the landscape we had trekked through a few hours earlier. It sure was stunning from above!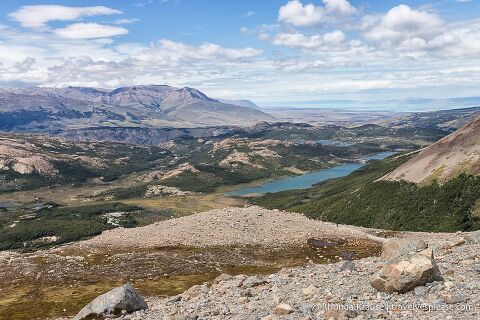 Another great thing about our hike back to El Chaltén was that now we had a clear view of Mount Fitz Roy, so we could see it from the trail. The light wasn't so good anymore, but it was still better than the mountain being covered by cloud, like it was in the morning.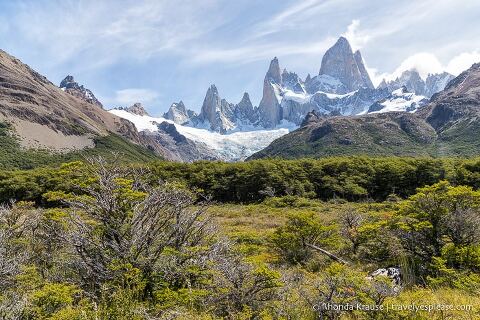 We kept on the same path until we reached that junction near Laguna Capri. This time we went on the opposite trail, keeping left to walk away from the lake and towards Mirador del Fitz Roy.
This side of the loop had some minor elevation changes and plenty of places to stop and look back at Fitz Roy. Much like other sections of the hike, there were some open areas and forested parts along the trail.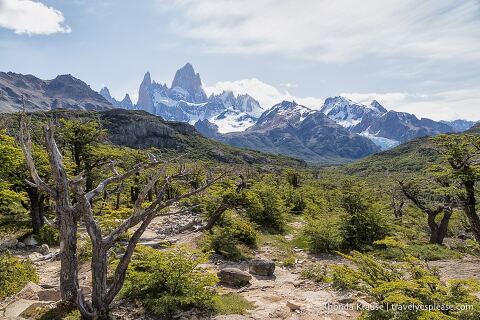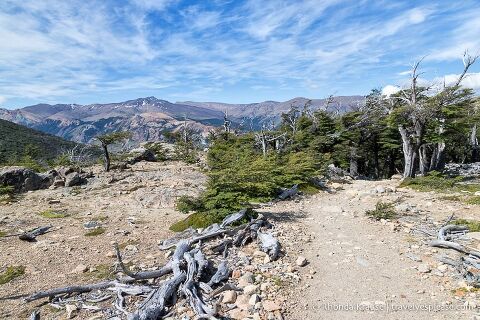 Eventually we arrived at Mirador del Fitz Roy where there was a sign labelling all the peaks you can see from this point. We enjoyed one final view of the mountain before continuing on the forested path back to the trailhead.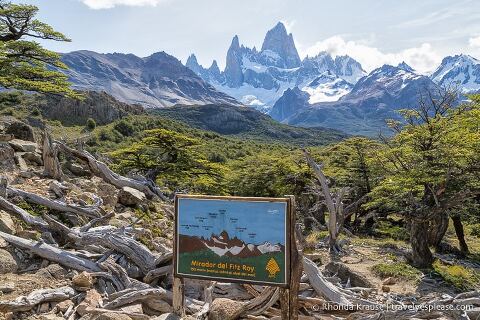 The rest of our hike on Sendero al Fitz Roy was smooth sailing, as it was a gentle downhill walk. We arrived at the parking lot around 6:15 pm, with enough time to enjoy a nice dinner on our last evening in El Chaltén.
Final Thoughts About the Mount Fitz Roy Hike
The Mount Fitz Roy hike was an incredible experience and I'm so thankful we had perfect weather for our last day of hiking in Patagonia.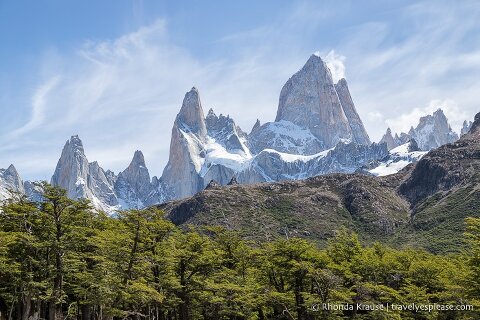 What I liked best about the Fitz Roy hike was that it had gorgeous scenery the whole way through. The alternating sections of sheltered forest and wide mountain views kept the hike interesting and engaging, which is important for such a long day.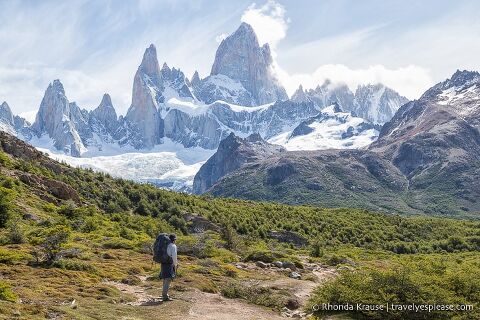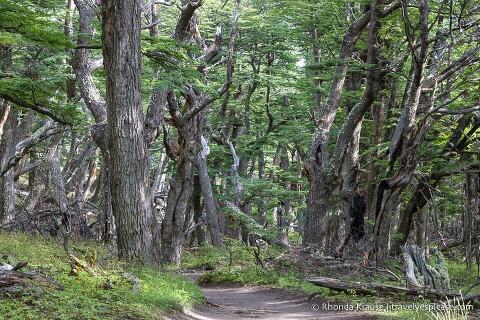 The trail was defined and well marked with signage, distance markers, and yellow arrows and stakes so it was easy to find our way.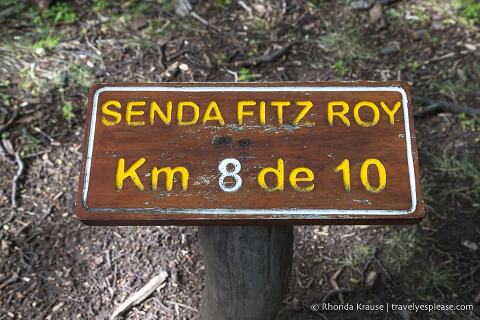 Overall we'd say the hike itself was moderate, apart from the last 1 km climb to Laguna de los Tres. That steep hill was the only difficult part for us, but the length of this hike can be challenging for some.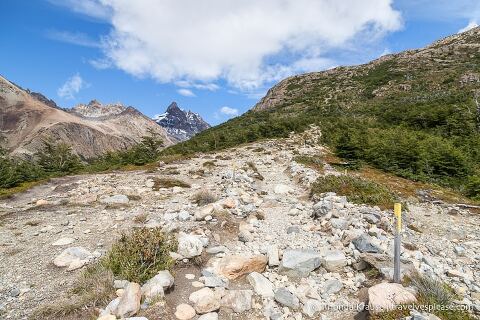 The hike to Fitz Roy and Laguna de los Tres was the highlight of our trip to El Chaltén and we're so glad we included it in our Patagonia itinerary. Not only did we love the hike, but we fell in love with the village too. We'd definitely like to return one day to do some more hiking in El Chaltén.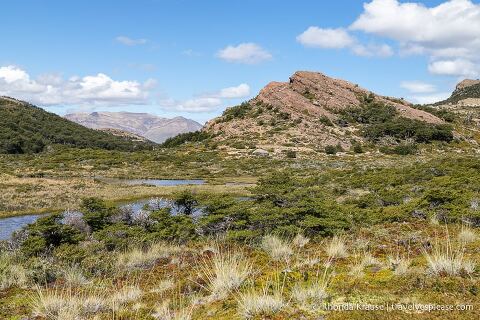 Mount Fitz Roy Hike Guide- Tips for Hiking to Fitz Roy and Laguna de los Tres
Trail Details: Here is some information about the Mount Fitz Roy trail so you can prepare for your hike.
Type of Trail- Out and back
Start and Finish Points- El Chaltén, at the north end of San Martin street
Distance- 21.4 kilometres/13.3 miles
Elevation Gain- 864 metres/2835 feet
Difficulty- Moderate/hard
Time Required- 8-10 hours
According to my GPS recording, the Fitz Roy and Laguna de los Tres hike took us 8 hours and 38 minutes (not including lunch) at an average speed of 2.5 km/hr. We walked for 7 hr 23 min and rested for 1 hr 14 minutes on route. Our average moving speed on the trail was 2.9 km/hr (max of 5.2 km/hr) and our pace was 24:14 min/km. These stats don't take into account the 1.5 hours we spent at Laguna de los Tres having lunch, when I paused the track recording. So in total, the hike to Fitz Roy took us about 10 hours.
Best Time to Hike: The best time to do the Fitz Roy and Laguna de los Tres hike is in summer (December to February) because of the warmer temperatures and long daylight hours.
Getting to the Trailhead: Sendero al Fitz Roy starts from the northwest edge of El Chaltén at the end of San Martin street. Depending on where you're staying, the trailhead could be within walking distance from town. If you prefer to drive, there's a large parking lot at the trailhead.
Facilities: There are outhouses at the Laguna Capri and Poincenot campgrounds and the Rio Blanco rest area.
Gear/What to Bring: You will need proper hiking shoes with sturdy soles because the trail is rocky and uneven in places. Hiking poles come in handy for the ascent and descent from Laguna de los Tres.
Dress in layers because the weather in the mountains can change quickly.
Bring plenty of water and some sort of filter/water treatment tablets in case you need to fill up at a lake or stream.
Bring snacks and a lunch.
Wear sun protection because there are stretches of trail without shade and no shade on the rock pile across from Mount Fitz Roy.
Safety: This hike is long and physically demanding at the end so be sure to stay hydrated and take breaks at needed.
Take your time navigating up and down the rock-covered trail to Laguna de los Tres. The loose rock can be a slipping and tripping hazard.
Information was correct at the time of publishing, but can change without notice.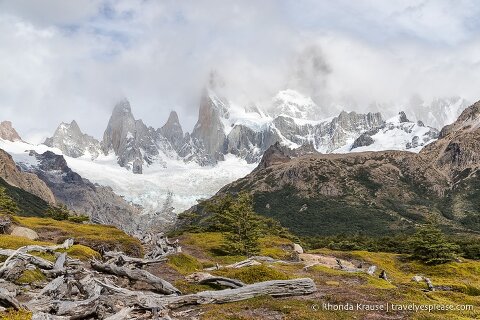 Accommodations in El Chaltén
For your convenience, here is a list of hotels in El Chaltén. Please consider booking your El Chaltén accommodations through the included link. It costs nothing extra and helps support this website. Thank you!
More Argentina Destinations and Travel Guides