Purchases made through links earn us a small commission, at no extra cost to you.
My canoe trip on the Yukon River, from Whitehorse to the Takhini River bridge, took only 3 hours but left me with a wealth of lasting emotions.
It was an experience that I can only describe as perfect.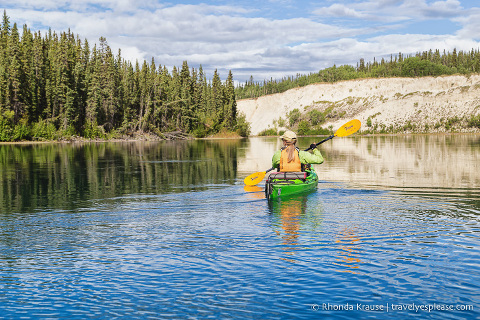 The weather couldn't have been better for canoeing- not too hot or too cold, with a partially sunny sky creating eye-catching reflections in the blue water.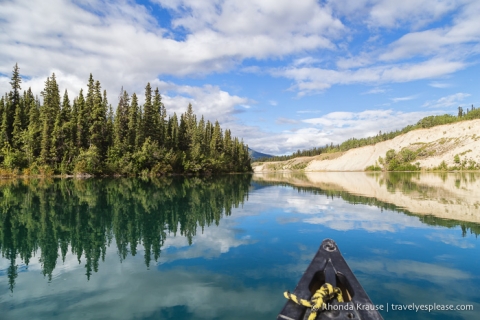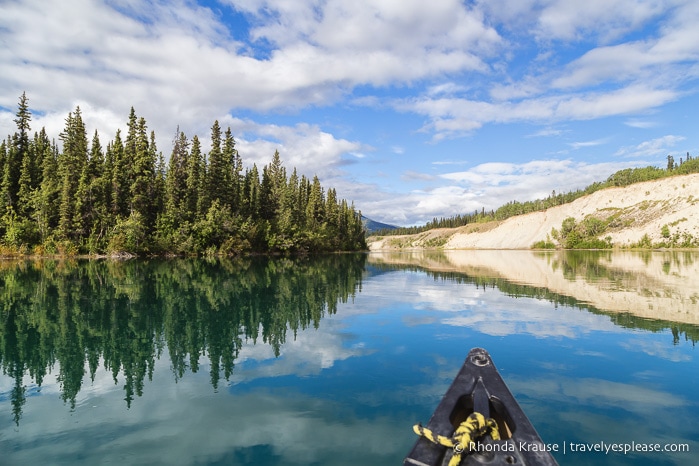 Tall, clay cliffs formed one side of the riverbank, while coniferous trees densely hugged the other. The scenery simultaneously drew me into the moment, while inviting me to get lost in thought.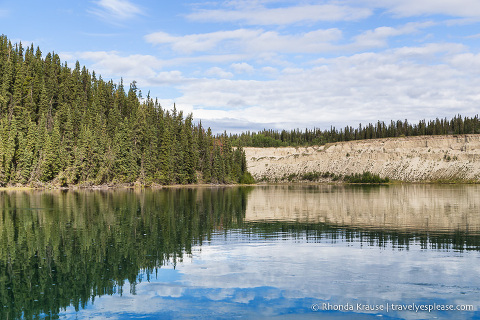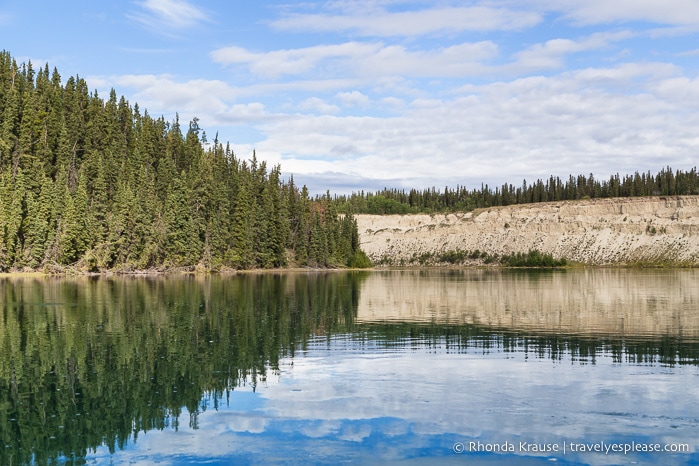 I thought about how serene it was to be floating in peace, only one other person paddling by over the course of 3 hours. I imagined all the wild adventures had on this river by early traders en route to Fort Selkirk, then gold-hungry prospectors rushing to Dawson City to stake their claim along Bonanza Creek.
I wasn't just floating down the longest river in the Yukon, I was retracing history.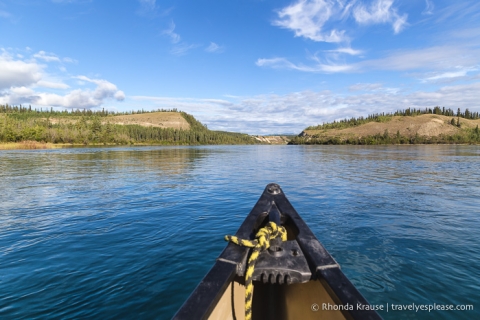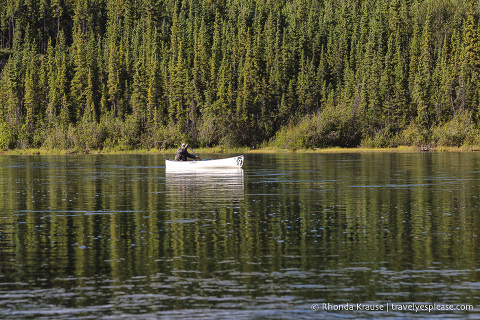 Plied by hundreds of paddle wheelers during the Klondike Gold Rush of 1896-1899, the Yukon River was a highway of sorts. It continued to be a main source of transportation until the 1950's when the Klondike Highway was completed.
Now it's a peaceful slice of northern paradise.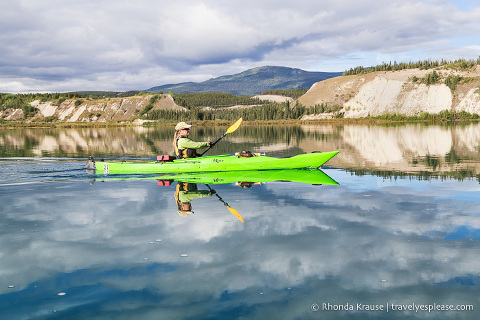 Not long into my canoe trip the Yukon River widened, the right bank curving out to create a body of water that resembled more of a lake. The current slowed so I laid my paddle across the top of the canoe and drifted towards the eroded cliffs.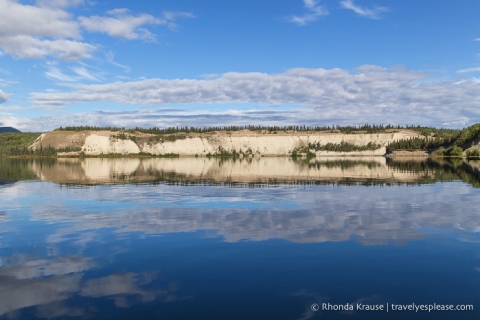 Looking up to the treetops I could see eagles, both bald and golden, gazing over the river. Hearing the rapid-fire clicks of my camera, they would curiously turn their head, giving a quick glance in my direction.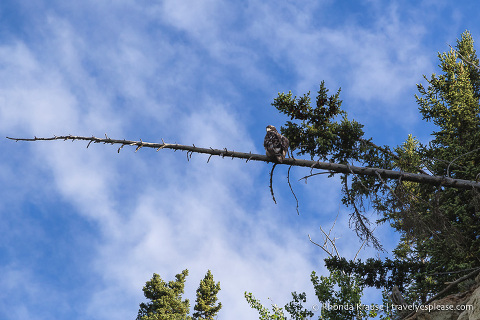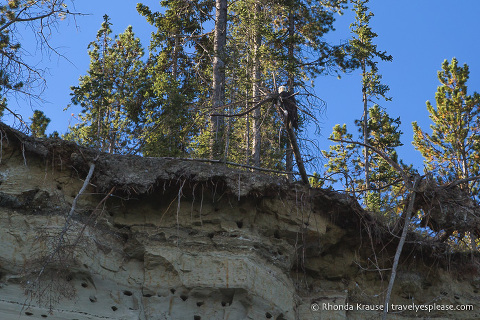 I sat for a long time quietly watching the birds, soaking up the sun, and admiring the glistening reflections.
As content as I was in that moment, I knew I had to make it to the Takhini River bridge in time for my 12:30 pickup. Paddle back in hand, I pushed my way through the sparkling waters on to my final destination.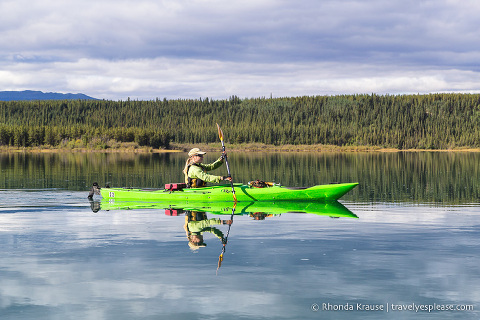 As I continued canoeing the Yukon River, I passed by treed slopes, small islands, and more eagles, so many that I lost count.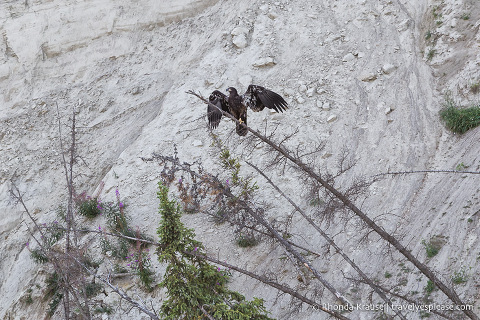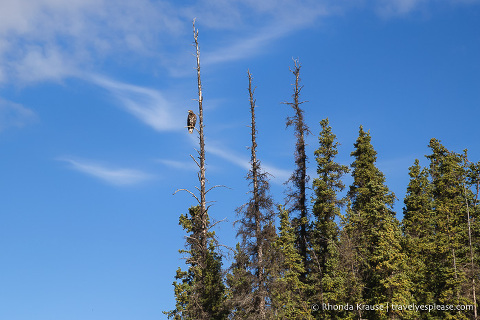 Knowing my short adventure was coming to an end, I made sure to fully absorb those final moments.
Calm, relaxed, and in awe of the sights and stories of the Yukon River, I knew this canoe trip was going to be a highlight of my week in the Yukon.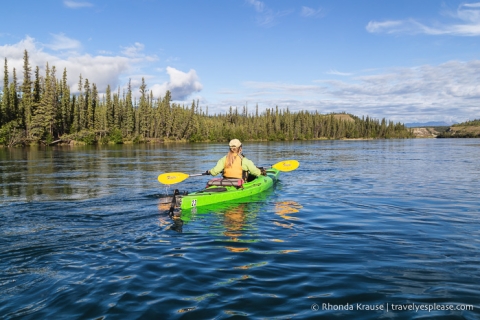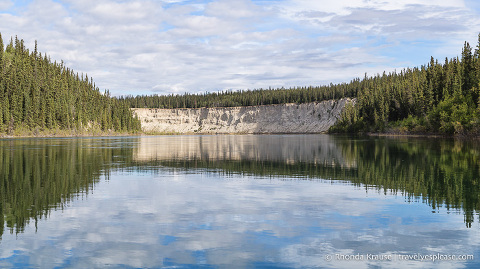 Coming around the final bend, at the confluence of the Takhini and Yukon Rivers, I was hit with disappointment than my canoe trip was already over, but a little relieved that I could get out and stretch my back.
A wonderful morning, and great introduction to the Yukon River, this 3-hour canoe trip was hopefully just an appetizer for a longer adventure to come in the future!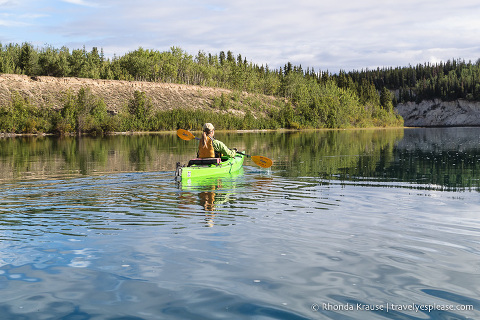 More Photos of the Yukon River, Whitehorse to Takhini River
Here are some more photos from my short canoe trip on the Yukon River.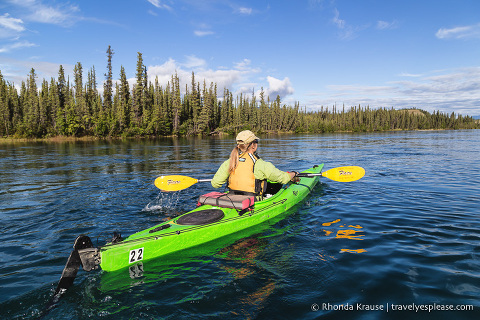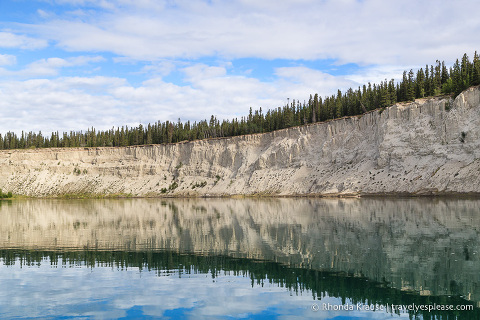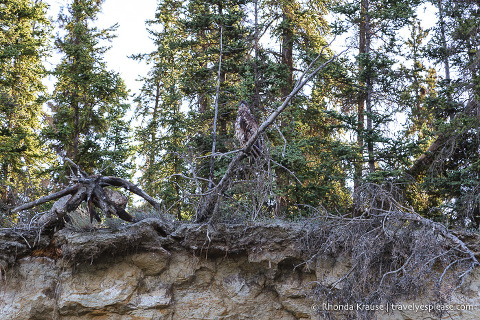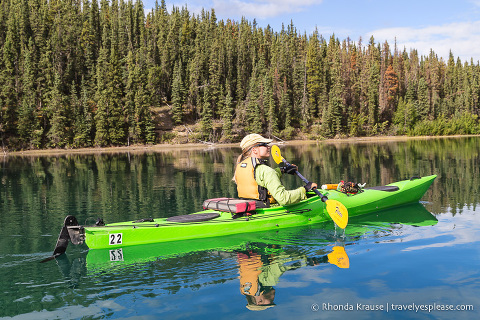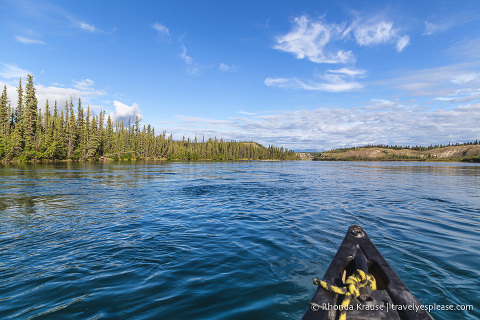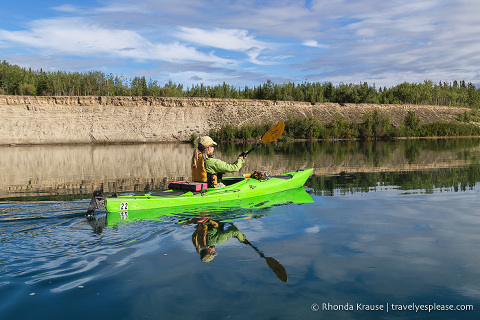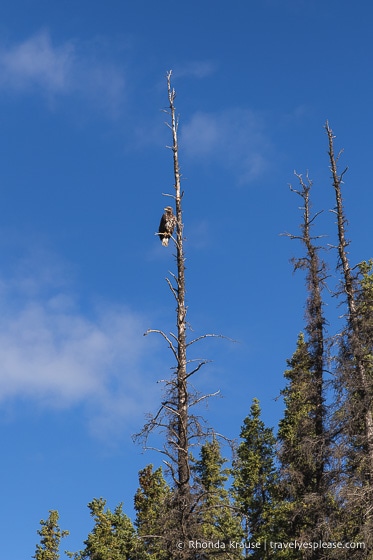 Tips for Canoeing the Yukon River- Whitehorse to Takhini River Bridge
My day trip canoeing the Yukon River was a guided excursion with Kanoe People, based in downtown Whitehorse. They provided all the equipment, including a large dry bag for my camera gear. The only thing I needed to bring was snacks and water. Reservations for guided Yukon River canoe trips must be made in advance. Yukon River canoe trips with a Japanese speaking guide can also be arranged.
The canoe trip from Whitehorse to the Takhini River bridge was 24 km and takes 3-4 hrs.
The Yukon River is the third longest river in North America.  It flows across northwest Canada, from British Columbia through the Yukon Territory, then into Alaska before meeting the Bering Sea.
Information can change without notice. Please confirm directly with service providers.
Accommodations in Whitehorse
For your convenience, here is a list of hotels in Whitehorse. Please consider booking your Whitehorse accommodations through the included link. It costs nothing extra and helps support this website. Thank you!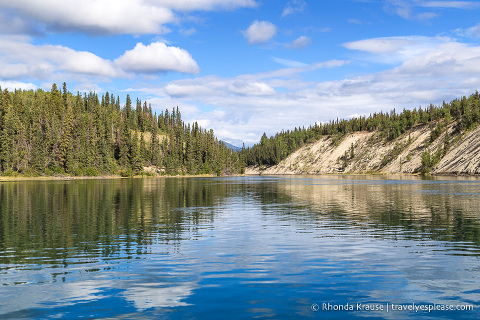 I visited the Yukon as a guest of Tourism Yukon. As always, I speak only the truth and hosts have no editorial influence on articles.
More Yukon Destinations and Travel Guides