There's no place in Canada quite like Dawson City.
This quirky northern town in the Yukon will transport you back to a time when the streets were dirt, sidewalks made of wood, piano music spilled out of saloons, and striking it rich was everyone's ambition.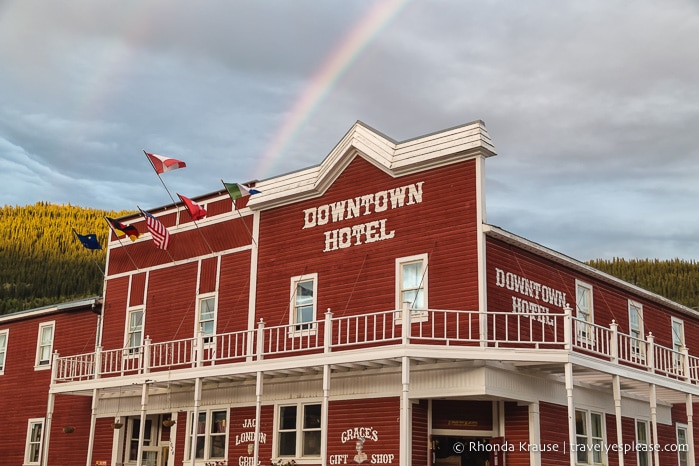 The Klondike Gold Rush established and shaped Dawson City. Its influence can easily be seen in Dawson's vintage false-front buildings and distinctly felt during a night on the town.
Whether you're panning for gold in Bonanza Creek, cruising the river on a paddlewheeler, trying your luck at the gambling hall, being entertained by cancan dancers, or exploring new frontiers, there's no escaping the nostalgia of the gold rush days.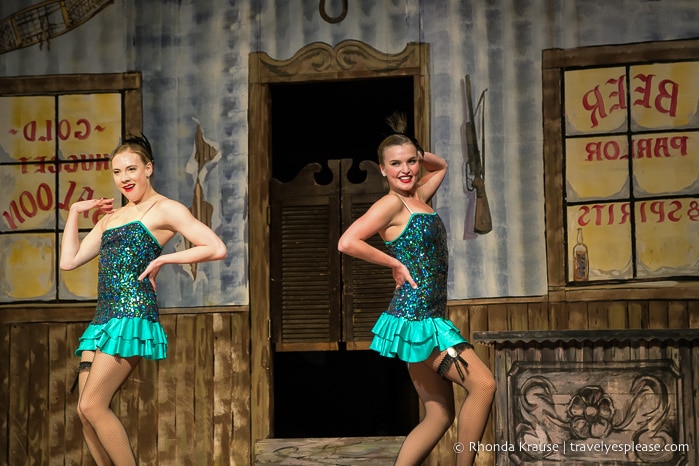 Dawson City and the Klondike Gold Rush (1896-1899)
When George Carmack, Dawson Charlie, and Skookum Jim found gold in Rabbit Creek (now Bonanza Creek) in 1896, it triggered the greatest gold rush in history. A stampede of thousands arrived in Dawson City hoping to make a claim along the gold filled creeks.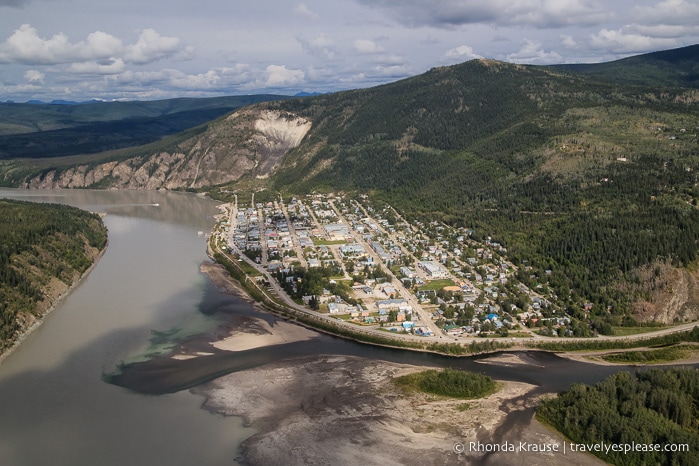 Dawson quickly grew from a small settlement to a booming gold rush city of over 30,000, making it the largest Canadian city west of Winnipeg.
By 1898, Dawson City had not only been taken over by prospectors and miners, but also by bankers, gamblers, saloon owners, and prostitutes, all capturing their share of the Klondike fortune.
Just 3 years after gold was discovered, $29 million had been mined from the ground near Dawson City.
Although many of those determined gold-seekers abandoned Dawson in 1899 to search for gold in Alaska, they left behind an adventurous, uninhibited spirit that the town retains to this day.
2 Days in Dawson City- Things to Do
My visit to Dawson City coincided with Discovery Days, a long weekend event in August celebrating the day gold was discovered (Discovery Day is a public holiday in the Yukon).
With 2 days in Dawson City, I had enough time to take in some festival events, discover the town's intriguing history, and explore some of the surrounding wilderness.
Here's a look at my gold rush good time in Dawson City!
Parks Canada Walking Tour- Dawson Then and Now
The best way to get to know Dawson City is by joining the fantastic Parks Canada "Then and Now" walking tour.
The tour began at the Visitor Centre with a Parks Canada guide, but soon we were crossing paths with a costumed character who would share what Dawson City was like in 1898.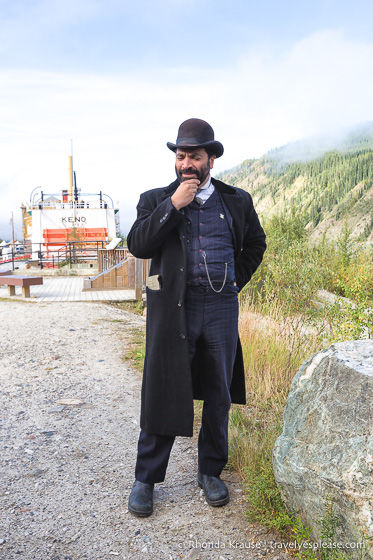 During the tour we got to go inside some of Dawson's meticulously restored historic buildings including the BNA Bank, Red Feather Saloon, and Old Post Office.
I sometimes get overwhelmed with the amount of information given on tours, but this one kept me engaged by switching between the two guides. It was the perfect balance of informative and entertaining. Plus, getting to go inside the buildings was an added bonus that you don't usually get on a walking tour.
Klondike Spirit Paddlewheeler and the Paddlewheel Graveyard
Paddlewheelers became the primary mode of transportation in the Yukon during the Klondike Gold Rush, but there's only one still operating today- the Klondike Spirit.
Beginning in Dawson City, the Klondike Spirit paddlewheeler sails downriver on the Yukon to Moosehide, a small settlement of the Tr'ondëk Hwëch'in First Nation. It then turns around, passing by Dawson City and continuing on to the confluence of the Yukon and Klondike Rivers. Here you can see a distinct separation between the waters of the two rivers- the gray, silt-filled Yukon and clear blue Klondike.
For me, the highlight of the riverboat trip was getting to see the Paddlewheel Graveyard on the west bank of the Yukon River. These abandoned paddlewheelers sit collapsed and rotting, the debris a gloomy reminder of how quick the gold rush came and went.
The trip on the Klondike Spirit Paddlewheeler is narrated live, so it's a relaxing way to learn about Dawson City and its surrounding area.
Robert Service Cabin
At the edge of Dawson City on Eighth Avenue, you'll find a small cabin that once was the home of famous British-Canadian poet Robert W. Service.
Service arrived in the Yukon in 1904 as a banker, but soon established himself as a poet with a knack for capturing the essence of the Yukon and its local characters, as seen in his ballads The Cremation of Sam McGee and The Spell of the Yukon.
After being transferred from Whitehorse to Dawson City in 1908, Service resigned from the bank to concentrate on his writing full-time. Taking inspiration from stories he heard from veterans of the gold rush, Service penned his second book of poetry, Ballads of a Cheechako, followed by his first novel The Trail of '98, which he wrote in this rented cabin.
Ninth Avenue Trail and Crocus Bluff Lookout
Beside Robert Service Cabin you'll find a hiking trail that leads to some good lookout points and historic sites.
The Crocus Bluff Connector splits off from the Ninth Ave. Trail (behind the cabin) and continues up to the Crocus Bluff Loop. The first uphill section took some effort but the rest of the trail was pretty easy. About halfway around Crocus Bluff Loop I came to a viewing deck where I could gaze across the Klondike River.
Emerging from the Crocus Bluff Loop I found myself on Mary McLeod Road. The road passes by Dawson City's historic cemeteries before connecting with Dome Road, which goes to the Midnight Dome Viewpoint.
Dawson City Cemeteries
The cemeteries on Mary McLeod Road are some of the most interesting places in Dawson City. I spent a good chunk of time exploring the Yukon Order of Pioneers (Y.O.O.P) Cemetery and the Hillside Cemetery.
The Y.O.O.P Cemetery was a good place to start because there is a directory that lists the burials from 1897. It was oddly fascinating to flip through the book and see how old people were when they died and what their cause of death was (so much for privacy!)
The most intriguing listing I found was for the Vaglios, a family of four who all died on the same day in 1912. Cause of death- murder! It really was the wild west back then!
Moving on to the Hillside Cemetery, I immediately noticed that the years have taken a toll on this graveyard, but that's what made it so engrossing.
Long grass was growing over tilting, timeworn wooden grave markers, many of their inscriptions weathered away.
The inscriptions that I could faintly see showed that people came from all over the world (even as far as Japan) looking for riches and adventure in Dawson City.
Midnight Dome
The Midnight Dome is a favourite place to enjoy panoramic views of the region while experiencing the "midnight sun", or long daylight hours of summer.
Unfortunately, there was some thick, low-hanging cloud when I was there and I couldn't see any scenery whatsoever. I will definitely come back to this spot on a future trip to Dawson City because from what I've seen in photos the view is wonderful.
You can get to the Midnight Dome by driving up Dome Road or by hiking up the mountain. If you decide to hike, ask at the Visitor Centre which route is best to take.
Sourtoe Cocktail
To really experience the quirky side of Dawson City head to the Downtown Hotel for a Sourtoe Cocktail.
There are only two ingredients in a Sourtoe Cocktail- a shot of alcohol and a shriveled up human toe.
I kid you not- this drink is for real!
Since 1973, patrons have been lining up to try the Sourtoe Cocktail and become a member of the Sourtoe Cocktail Club.
The tradition was started by riverboat captain Dick Stevenson, after he found an amputated toe preserved in alcohol while cleaning out an abandoned cabin. Over 40 years later, about 100,000 people have joined the Sourtoe Cocktail Club.
This is how it works: After buying an 80-proof shot of alcohol (Yukon Jack whisky is most popular), you pay a $5 toe-tax then pledge the "Sourtoe Oath". The Toe Captain will then drop the toe into your drink and tell you, "You can drink it fast, you can drink it slow, but your lips have gotta touch the toe."
The only other rule is to not swallow the toe, which a few people have disgustingly done (there's a $2500 fine if you do).
I wasn't intrepid (crazy?) enough to try a Sourtoe Cocktail myself, but it sure was fun watching others do it!
Diamond Tooth Gerties Gambling Hall
It wouldn't be a trip to Dawson City without a night on the town at Diamond Tooth Gerties, Canada's oldest gambling hall.
The casino is decked out in Klondike style with table games, slot machines and nightly shows in the summer.
I'm not a gambler but I really enjoyed the cancan/cabaret inspired shows at Diamond Tooth Gerties. I loved the vibrant costumes and old-timey music, plus was really impressed with the talent of the Gold Rush Gals.
I watched two of the three nightly shows, the 10:00 pm one being my favourite. Each show is unique and gets a little more risqué as the night goes on. The midnight show moved away from the Klondike theme a bit (both in music and dance) but the aerial acrobatics was a fun addition.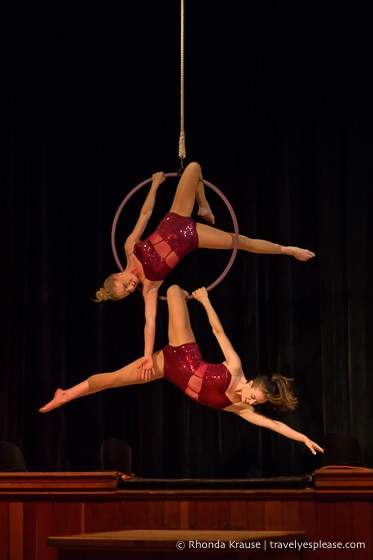 Klondike Goldfields

To really get a feel for Dawson City's gold rush past, take a drive through the goldfields on Bonanza Creek Road. The road is lined with tailings piles, large mounds of gravel displaced by dredges used to mine for gold.
Dredge #4 can be visited as can Discovery Claim, the place that kick-started one of the most exciting times in Canadian History. You can also learn how to pan for gold at Claim 33 then try out your new skills at Claim #6.
Claim 33
You won't get an authentic gold panning experience at Claim 33 (since you'll be panning in troughs), but it is a good place to learn and rent equipment for use at Claim #6, further up the road.
After a quick lesson and demonstration, I tried my hand at gold panning. It was trickier than it looked, mostly because I was hesitant to dip the pan far into the water. I was so worried I'd wash away my gold!
Eventually I got the hang of it, cleaning away the silt and pebbles to reveal a few flakes of shining gold. Bonanza!
Dredge #4 National Historic Site
Dredge #4 is one of two dozen dredges that worked the Dawson goldfields. It is the largest wooden hull, bucket-line dredge in North America and was in operation from 1913-1959.
You can visit the inside of the dredge as part of a guided tour, but if you're short on time you can still learn how dredges work from the signs on display outside.
Discovery Claim National Historic Site
The name says it all- Discovery Claim is the spot where Skookum Jim, Dawson Charlie and George Carmack first found gold on August 17, 1896.
This is a good place to go for a walk, with signs along the trail to Bonanza Creek telling the story of this exciting discovery and the men who started the great Klondike stampede.
Free Claim #6
With my gold pan and newly acquired panning skills, I headed to Claim #6, a site where the public can pan for free using hand tools only.
Any gold you find in Bonanza Creek at Claim #6 is yours to keep, but I wouldn't get too excited about finding your fortune. I'm pretty sure all the good stuff was mined from here years ago and that's why it's a free claim.
Still, it's fun to play the role of prospector and imagine uncovering a giant nugget of gold!
Tombstone Territorial Park
The grand-finale of my visit to Dawson City was a helicopter flight and landing in Tombstone Territorial Park.
Thrilling and spectacular, the pilot circled us around jagged mountain peaks and pristine lakes before setting us down in a remote valley that was the picture of perfection.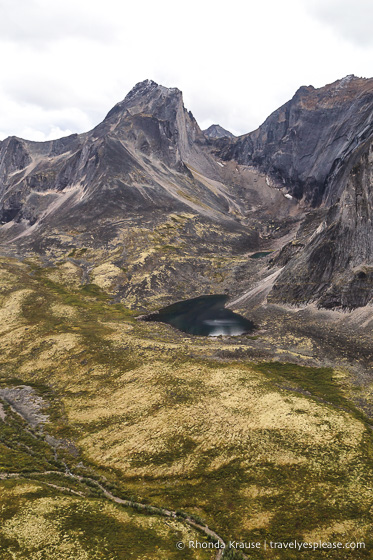 Every time I think about this experience it puts a smile on my face. I'm eager to go back and explore more of this scenic park!
Final Thoughts About My 2 Days in Dawson City
Dawson City was exactly as I remembered it from my first visit in the 1990s. An intriguing mix of restored and abandoned buildings, it captured my imagination then as kid, and once again as an adult.
In a world where things change so fast, it was refreshing to find that Dawson City has kept a firm hold on the character and history that makes it such a special place. Because of that, Dawson City is not only a must-visit on a trip to the Yukon, but worth including as part of a larger trip to western Canada or Alaska.
Tips for Visiting Dawson City
Best Time to Visit: Summer is the best time to visit Dawson City because the weather is comfortable and daylight hours are long. Most of the attractions and tours operate from mid-May to mid-September.
Dawson City Walking Tours: The Parks Canada walking tours start at the Visitor Centre (Front and King St.) They have three different themed tours you can choose from. A small fee applies.
Diamond Tooth Gerties: You have to be 19 years of age to enter Diamond Tooth Gerties. It's open 7 days a week from mid-May to mid-September, with nightly shows at 8:30 pm, 10:00 pm and midnight.
Helicopter Tours: Trans North Helicopters offers flights over Tombstone Territorial Park and the goldfields.
Dredge #4 Tours: Guided tours of Dredge #4 are conducted by Gold Bottom Mine Tours. They run at the top of every hour from 10:00 am- 4:00 pm (May to September). Tickets can be purchased in advance in Dawson City or at the dredge with cash only.
Accommodations in Dawson City
For your convenience, here is a list of hotels in Dawson City. I stayed at Bombay Peggy's, a cute boutique inn with antique furniture and Victorian decor.
Please consider booking your Dawson City accommodations through the included link. It costs nothing extra and helps support this website. Thank you!
I visited the Yukon as a guest of Tourism Yukon. As always, I speak only the truth and hosts have no editorial influence on articles.