Purchases made through links earn us a small commission, at no extra cost to you.
The Call of the North. It's not some cute marketing slogan but rather a true, deep-rooted feeling that's impossible to shake after visiting the Yukon.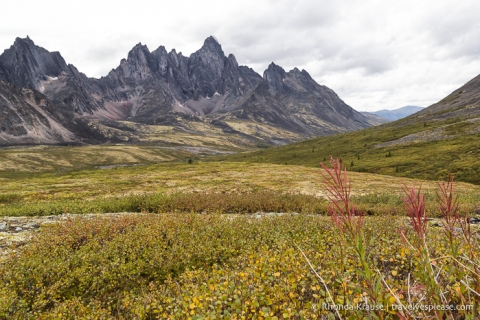 The Yukon's had a hold on me since my first visit in the 1990's. It was one of my favourite family summer road trips and even now, in my mid-thirties, I vividly remember how intrigued I was by this northern territory of Canada and its gold rush past.
I recall learning how to pan for gold, excitedly anticipating what would be revealed beneath the silt and sediment of Bonanza Creek. I can still hear the thumping of feet and dragging of heels across the boardwalks of Dawson City, and see the bright colours of ruffled skirts as cancan dancers high-kicked their way to enthusiastic applause.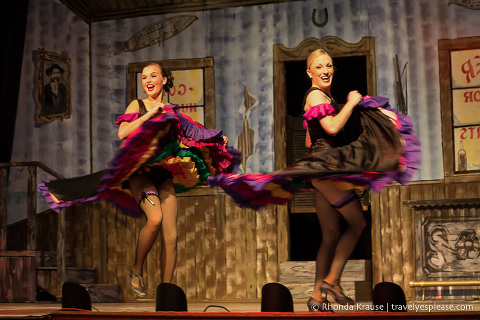 I remember never wanting to sleep because the long summer daylight hours kept me primed for adventure. Not once was I bored, even during lengthy drives, because my eyes were fixed on the window and the boundless scenery around me.
Returning as an adult to spend a week in the Yukon, I was happy to find that not much has changed. On this visit to the Yukon, I still felt the youthful thrill and wonderment I experienced in my childhood.
And just as before, I was already dreaming about a return trip to the Yukon before my week-long visit had even ended.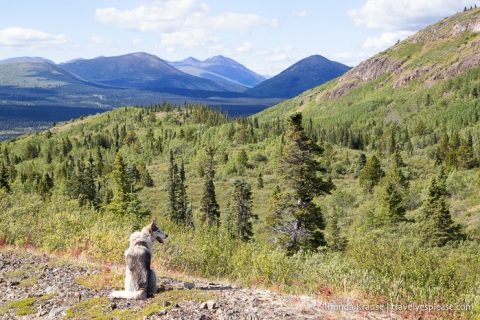 How to Spend a Week in the Yukon- My Itinerary and Yukon Travel Guide
It's not hard to find ways to fill a week in the Yukon. There's adventure in every direction! Whether it's in the air, on the water, riding the rails, or out on the open road, there's always a memorable experience to be had.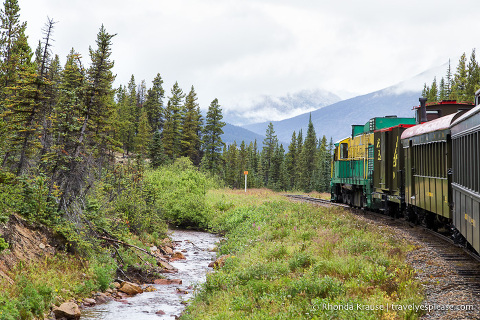 My week in the Yukon started and ended in the capital city of Whitehorse, with a visit to Dawson City sandwiched in between.
During my time here I learned about Yukon culture from the friendly locals who were always willing to share their stories and love for their home. I discovered a fascinating past in Dawson City, a town with a unique flavour and character preserved from the gold rush days. And of course, there were plenty of outdoor adventures and scenic views to enjoy.
Here's a look at how I spent an unforgettable week in the Yukon!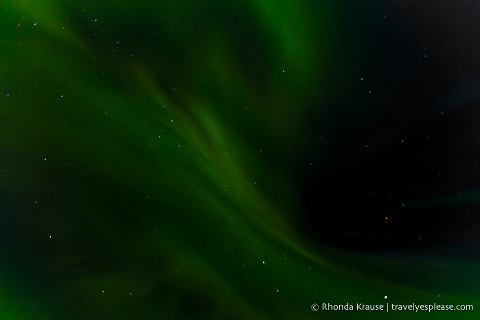 Day 1: Whitehorse
Morning- Explore Downtown Whitehorse
I spent my first day in the Yukon getting to know Whitehorse, the capital city. The downtown area is small, with the main tourist attractions within easy walking distance. Known as "The Wilderness City", Whitehorse is surrounded by nature so outdoor activities are very accessible.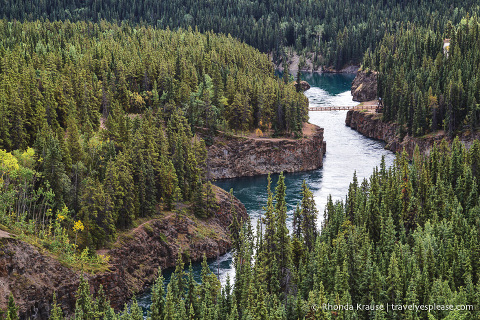 My first stop on my morning walk was the MacBride Museum of Yukon History. This small but comprehensive museum offered great insight into the territory's history. My personal favourite was the ALCAN Special Exhibit, which chronicles the building of the Alaska Highway. Having driven that route, it was especially interesting to see old photos of the construction process. It was amazing the hardships that were overcome to build that road!
Other highlights of the museum were the display of gold found in different creeks and rivers in the Yukon, and the gallery of local mammals and birds.
Continuing my walk in downtown Whitehorse I came to the Old Log Church Museum. It's one of the oldest buildings in Whitehorse, dating back to 1900. It was designed and built by Reverend Richard Bowen and took only two months to construct. The church held services until 1960 and in 1962 it was converted into a museum. I chose not to go inside as the architecture is what I was most interested in seeing.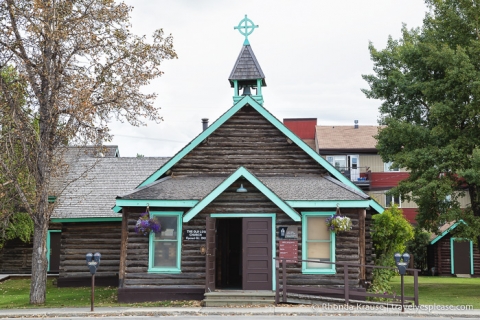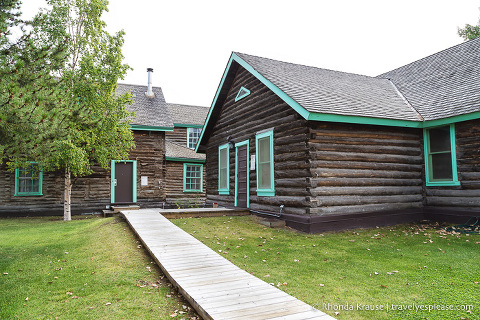 The last place I visited was the S.S. Klondike National Historic Site on the shore of the Yukon River. The S.S. Klondike had the largest cargo capacity of the 250+ sternwheelers that travelled Yukon waters from 1896 to the mid 1950's. The ship has been carefully restored to how it looked in the 1940's. It didn't take me long to do a self-guided tour, but I enjoyed getting a peek inside and learning about transportation in the Yukon before the era of roads.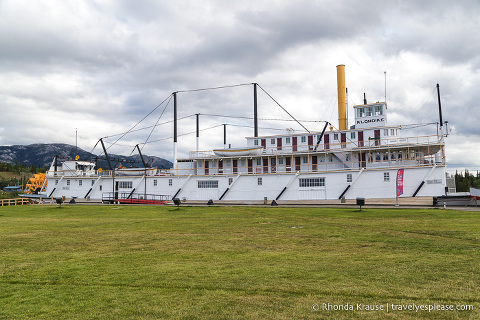 Afternoon- Horseback Ride to Fish Lake
In the afternoon I made my way 30 minutes out of town to Sky High Wilderness Ranch where I went on a guided horseback ride. Perched on top of a tall, strong, but gentle horse named Kluane, I followed behind my guide Jenna as she told me a bit about the area.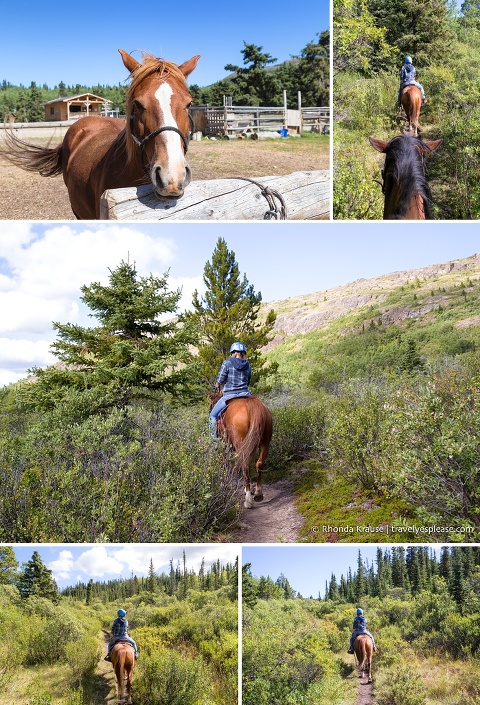 Along the way we stopped to watch a golden eagle circling above its huge cliff-side nest and even sampled some wild berries.
I loved the peacefulness as we followed a trail though the trees and up to a ridge overlooking Fish Lake Valley. The vista was gorgeous- just the start of more incredible views to come during my week in the Yukon!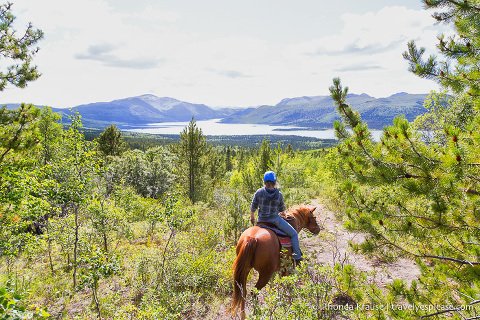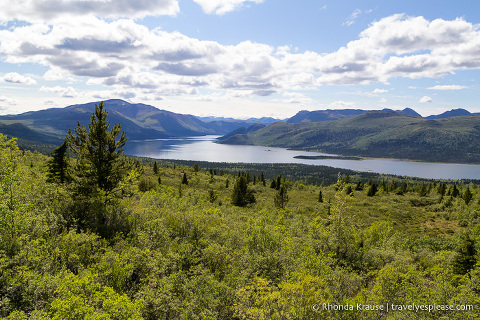 Day 2: White Pass and Yukon Route Train (Fraser to Carcross)
Morning- Ride the White Pass and Yukon Route Train
On my second day I drove the South Klondike Highway to Fraser, British Columbia where I embarked on the Canadian portion of the White Pass and Yukon Route railway. It's no secret that I love travelling by train, so I knew I was going to be enchanted by the "Scenic Railway of the World".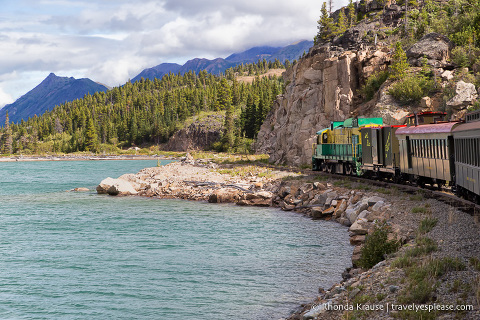 The railroad was built during the Klondike Gold Rush as an alternative to hiking the harrowing Chilkoot and White Pass trails, easily getting prospectors and supplies from Skagway, Alaska to Lake Bennett. Once at Bennett, the gold-crazed crowds built boats and sailed the Yukon River to the gold fields near Dawson City.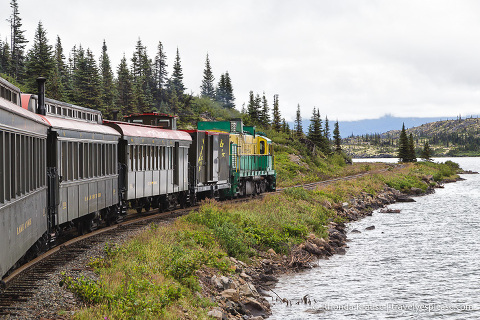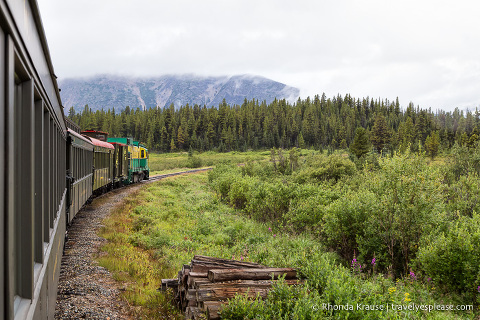 Although the gold rush is long over, a ride on the White Pass and Yukon Route still gives a glimpse into the area's exciting past, especially when the train stops in historic Bennett, at the end of the Chilkoot Trail.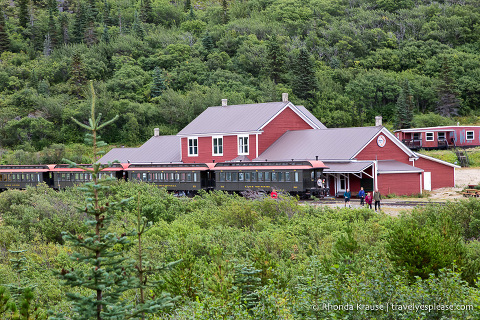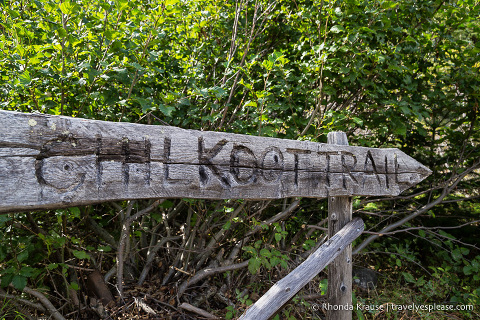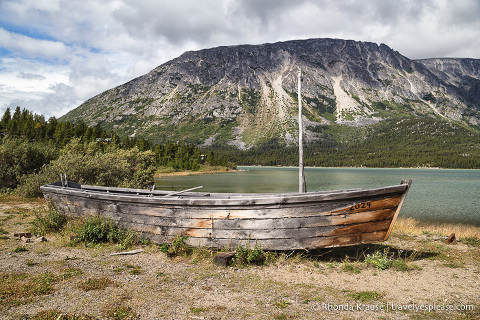 Not much remains from Bennett's heyday as a gold rush tent city, just a church, some rusty pots, cans and other artifacts scattered about, but it's still a fascinating place to roam and imagine what life was like for those determined gold seekers.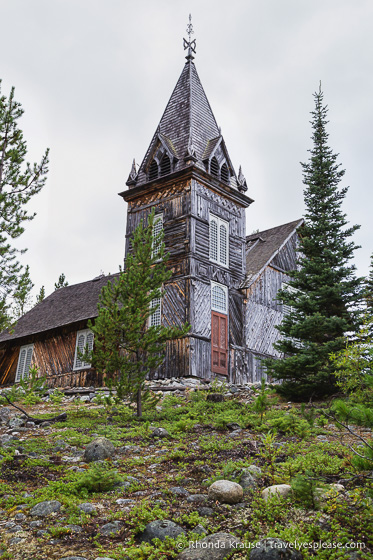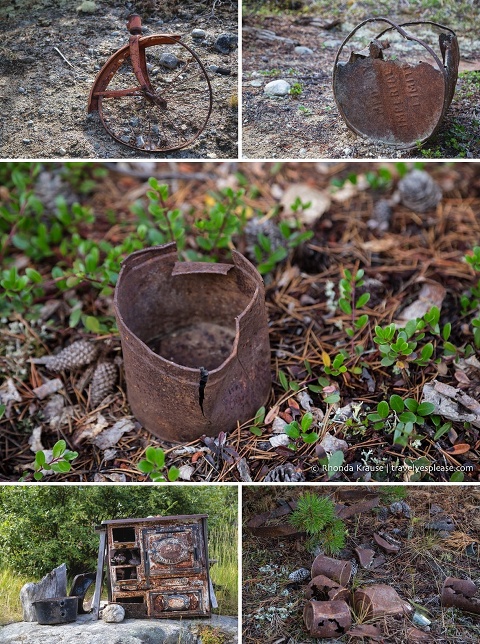 While the stop at Bennett was definitely my highlight of the train trip, chugging along the shores of Bennett Lake also ranked as one of my favourite moments. The greenish-blue hue of the water is dazzling, best seen to be believed!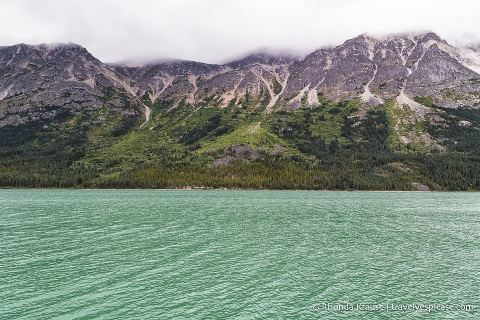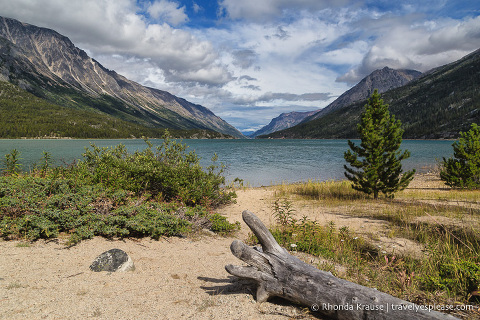 Afternoon- Explore Carcross
The train ride ended in the small village of Carcross, a community rich with historic buildings, most which remain private residences. Across from the train station you can do some shopping at Matthew Watson's General Store, the oldest operating store in the Yukon. Up the street at Carcross Commons you can have a bite to eat and learn about First Nations art and culture.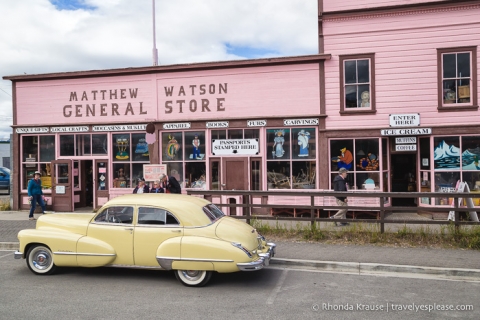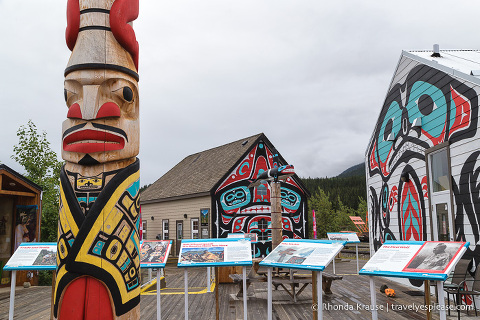 Just outside of Carcross is the Carcross Desert, my favourite spot in the area. Affectionately called 'The World's Smallest Desert", it's not a real desert but rather sand dunes that once formed the bottom of a glacial lake.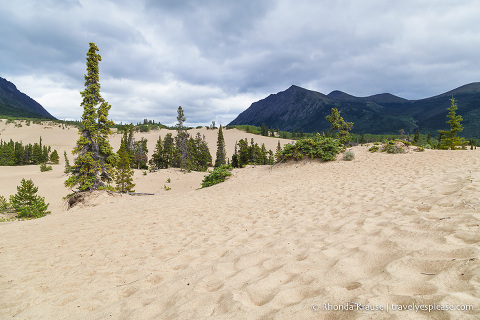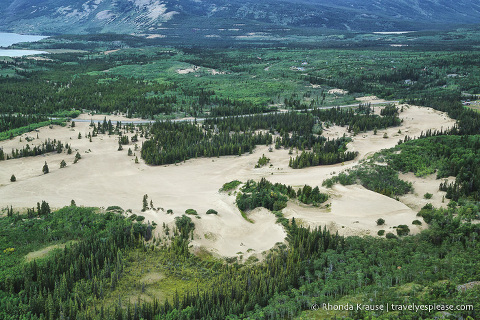 After Carcross desert, I made one last stop before settling in for the drive back to Whitehorse. Emerald Lake is a fine example of the colourful waters you'll see in the Yukon. Its turquoise colour is the result of light reflecting off layers of marl (a mixture of calcium carbonate and clay) at the bottom of the lake.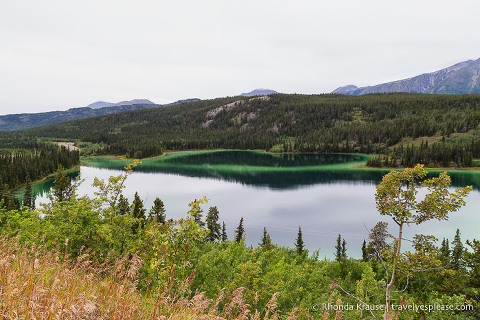 Day 3: The Yukon River and Fort Selkirk

Morning- Canoe the Yukon River
A morning canoe ride down the Yukon River was my favourite outdoor activity in Whitehorse. Beginning at the Kanoe People shop in downtown Whitehorse, I met my guide Kate and got set up with everything I needed for a 3 hour paddle down the Yukon River.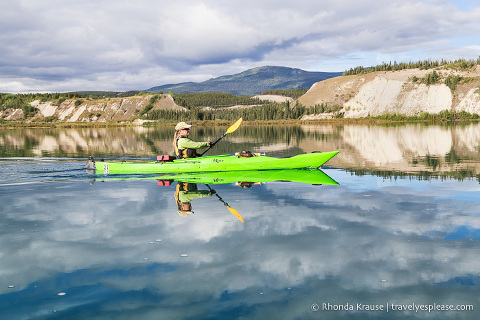 The weather was ideal for canoeing- cool but not cold, with a partially cloudy sky reflecting beautifully in the water.
Along the way we floated past tall cliffs and coniferous trees of the boreal forest. We easily spotted bald and golden eagles, so many that we lost count.
The current was moving at a comfortable pace, quick enough that I could take some breaks from paddling and not worry about making it to our final destination, the Takhini River Bridge, in time for our 12:30 pickup back to Whitehorse.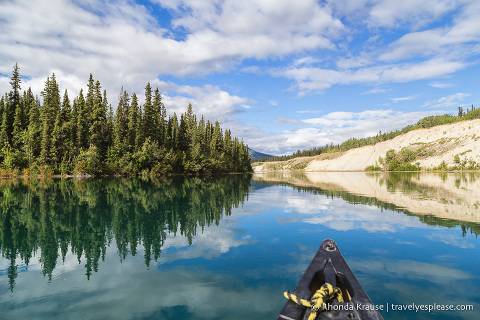 Canoeing the Yukon River, even only a short distance, created so many lovely memories that I would highly recommend you do it when in Whitehorse. Next time I'd even like to try a short, multi-day canoe camping trip on the river.
Read more: Canoeing the Yukon River- Whitehorse to Takhini River Bridge
Afternoon- Fly to Fort Selkirk
As a First Nation Settlement and former trading post, Fort Selkirk was one of the most interesting places I visited during my week in the Yukon.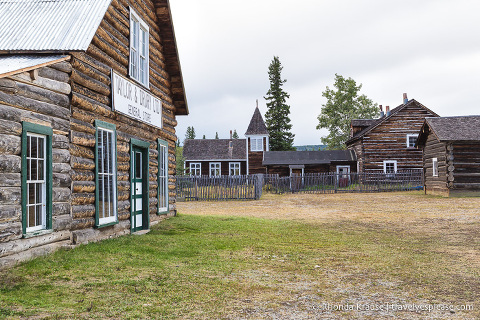 Much of the site's intrigue comes from its isolated location along the Yukon River. The only way to get to Fort Selkirk is by small plane (which I did) or boat, so most visitors to the Yukon don't make the time or effort to get here.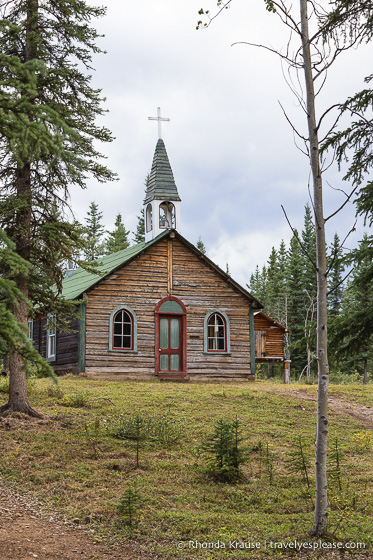 I was so surprised by how many buildings were still standing and even more impressed at what good condition they were in. I spent a lot of time exploring the historic site and its structures, but I still didn't want to leave when it was time to go. Instead I wished I was part of the canoe group that was setting up camp for the evening. What a fabulous place to spend the night!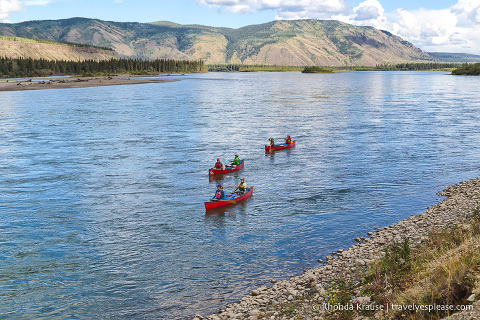 Day 4: Flightseeing Over the Chilkoot Range, Travel to Dawson City
Morning- Flightseeing Tour
I ended my time in Whitehorse with a dramatic flightseeing tour of the Chilkoot Range and Icefields with Alpine Aviation. Skimming across the waters of Schwatka Lake, our float plane lifted off for a jaw-dropping 2.5 hour adventure.
My pilot Andrew flew us over green river valleys, little mountain top lakes, high plateaus with caribou herds roaming across, and small glaciers as we approached the heart of the icefields.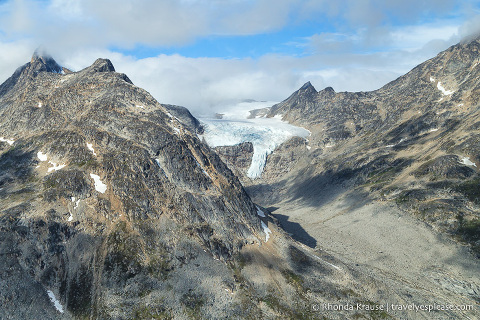 Andrew did some great flying, circling around so everyone could get pictures of the rivers of ice. It was astounding! Even though I managed to get some nice pictures, they don't do the scenery justice. Again, it's one of those places best seen to be believed!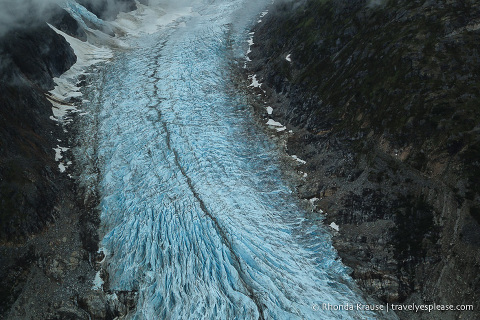 From the icefields we flew over the famous Chilkoot Trail then landed on Lake Bennett for a short visit to the historic site. I enjoyed Bennett even more the second time around because the White Pass and Yukon Route train wasn't in, giving us the site all to ourselves.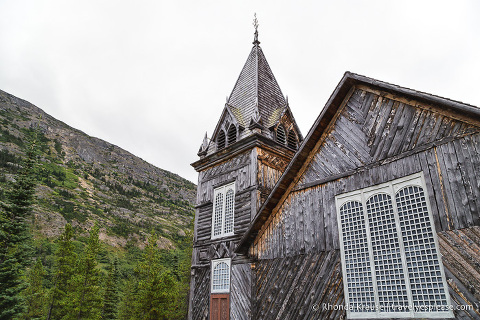 Afternoon- Travel to Dawson City
After flightseeing, the rest of my day was spent travelling to Dawson City in northwest Yukon. From Whitehorse, Dawson City is about a 5-6 hour drive (525 km) along the North Klondike Highway. There aren't a lot of services along the way, but plenty of gorgeous scenery!
As an alternative to driving, you can also fly from Whitehorse to Dawson City via Air North. Flight time is 1 hr 10 min and the small airport is about 10-15 minutes from downtown Dawson.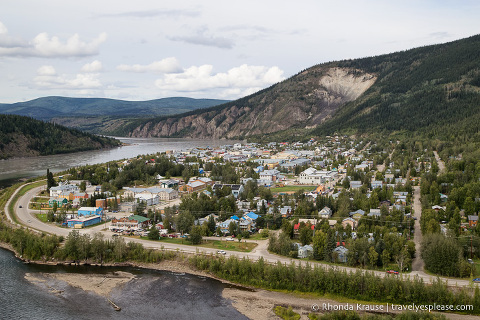 Days 5 & 6: Dawson City
Dawson City is the most unique town I've visited in Canada. It is the place to go to re-live the Klondike Gold Rush, the most exciting time in Canadian history.
The city still looks much as it did in the late 1800's/early 1900's with vintage false-front buildings, wooden boardwalks, and dirt streets. It's not for appearances though, Dawson City is authentic- a living town that retains a bit of the wild-west feel from its days as a booming gold rush city.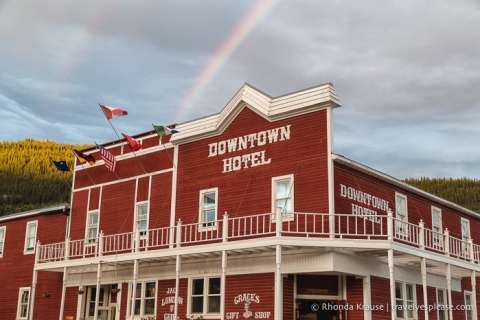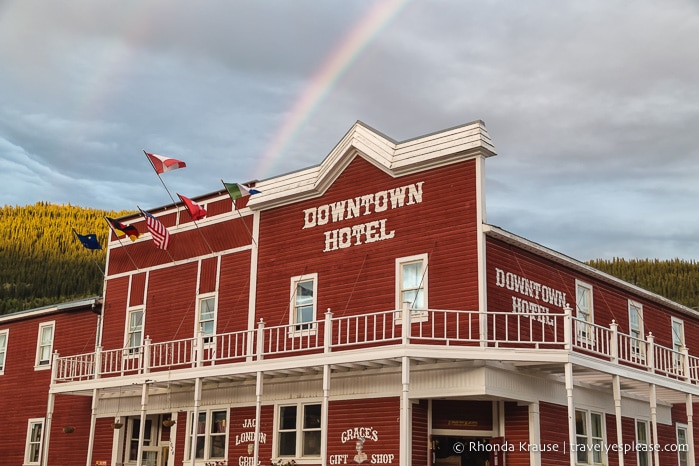 I visited Dawson City for Discovery Days, a multi-day event celebrating the day gold was discovered (Discovery Day is a statutory holiday in the Yukon). Aside from taking part in the festivities, I also had plenty of time to enjoy the town and surrounding area.
I did a fantastic Parks Canada tour of downtown Dawson, cruised on the Klondike Spirit paddlewheeler, visited the Discovery Claim and Dredge No. 4 National Historic Sites, and even learned how to pan for gold. I passed on trying the Sourtoe Cocktail (it's a real toe in your drink!), but did end every night watching the Gold Rush Gals put on a show at Diamond Tooth Gerties Gambling Hall.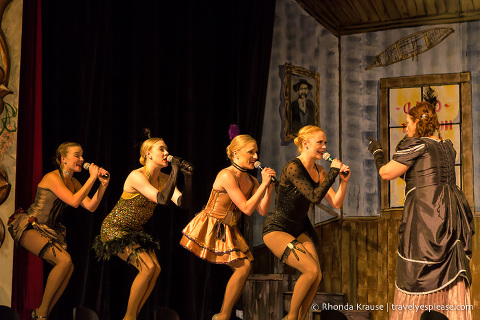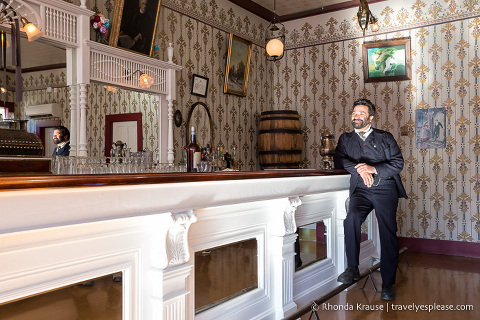 As much fun as it is was to feel like I was in the gold rush era, my favourite experience in Dawson City (and my trip to the Yukon) was doing a helicopter flight and landing in Tombstone Territorial Park. The jagged mountain peaks were spectacular and the Tombstone Valley, where we landed, looked so perfect I felt like I had walked onto a movie set! It was definitely an experience I'll never forget.
Read more: Dawson City- A Gold Rush Good Time in the Yukon, Tombstone Territorial Park Flightseeing Tour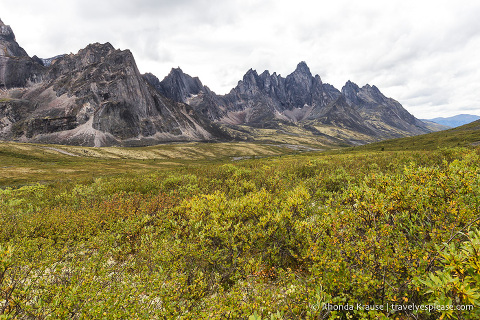 Day 7: Drive to Whitehorse, Miles Canyon
After 2 days and 3 nights in Dawson City, it was time to head back to Whitehorse via the Klondike Highway. Most of the scenery was enjoyed in passing, but I did make a short stop at Five Finger Rapids. It's a beautiful lookout spot and energized me for the rest of the long drive.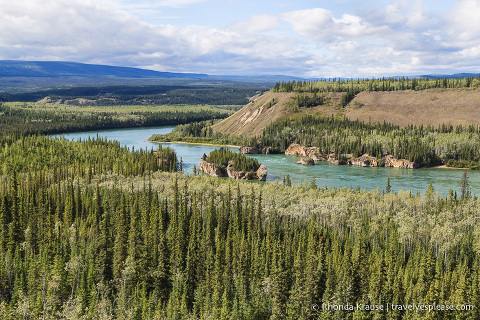 Arriving in Whitehorse mid-afternoon, there was plenty of time to head out to Miles Canyon for a short hike. I could not get over how blue the water was! I could have stood on the suspension bridge and watched the water flow for hours, but that would have meant missing out on the area's walking trails. Miles Canyon is a lovely place to end a memorable week in the Yukon!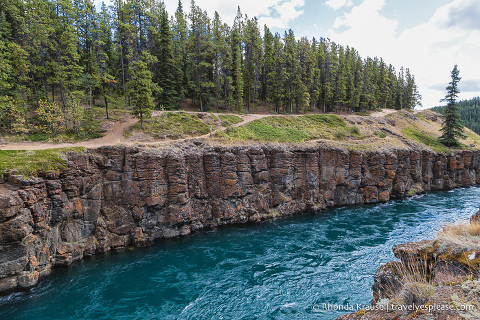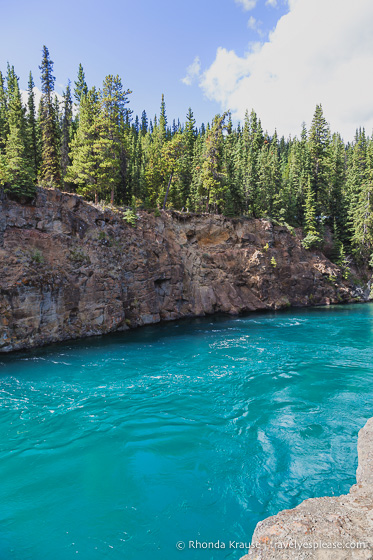 My Next Trip to the Yukon
As remarkable as this trip was (it ranks as one of my all time favourite trips in Canada), there's something big missing- Kluane National Park.
I had plans to go to Kluane, a UNESCO World Heritage Site, to do a glacier flightseeing tour and landing on the world's largest non-polar icefields. I made two attempts, and both times my flight was cancelled because of bad weather. Ugh, just writing about it now I feel a pit in my stomach about missing out on the excursion that topped my Yukon bucketlist. It was out of my control, and of course best to keep safety in mind, but I haven't been able to shake my disappointment, even though I did some other fantastic flightseeing tours in the Yukon.
Final Thoughts About my Week in the Yukon
The Yukon has a way of getting in you. That was more obvious than ever during this trip. I talked to so many people of different generations who came to the Yukon with no plans, just curiosity, and ended up never leaving. That speaks to how special the Yukon is.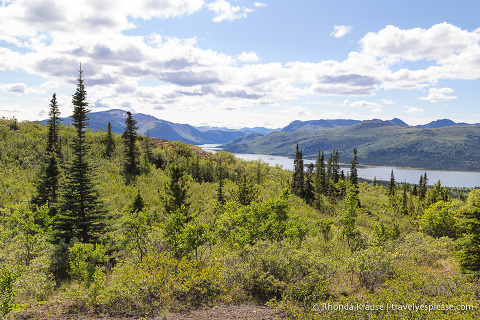 The Yukon remains a land of hopes and dreams. Instead of expecting to strike gold, people now arrive hoping for an untamed, life-changing adventure in an untouched wilderness. And that is exactly what you'll get.
My favourite Yukon moments were the ones where I was miles away from civilization. To be alone in a vast, alluring landscape, the only person looking at that scenery at that moment in time, is an incredible feeling and one that is harder and harder to come by in this age of mass tourism.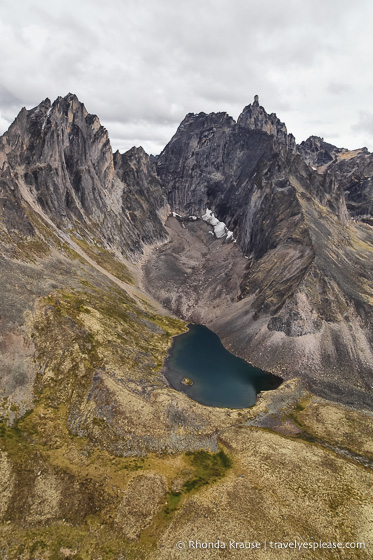 The Yukon is by no means undiscovered, but it remains wild and unspoiled. A trip here will leave you feeling connected and disconnected all at the same time. There was no urge to check my phone or browse the internet when I was deep in nature, history and culture. The Yukon had my full, undivided attention.
The next time I feel the Call of the North, you can bet I'm heading back to the Yukon!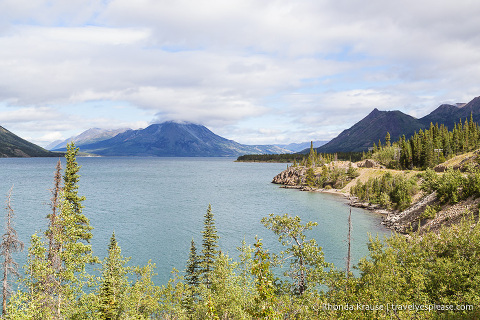 Photos of the Yukon
Here are some more photos from my week in the Yukon!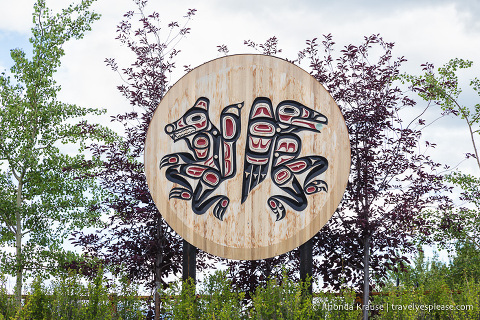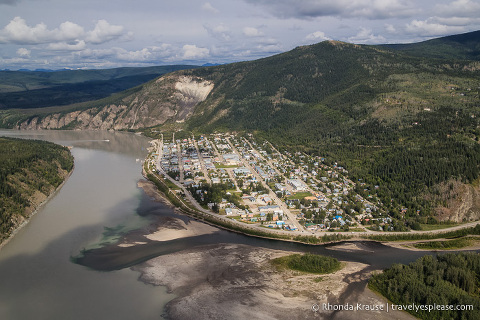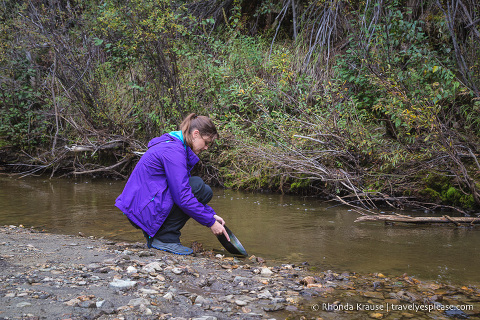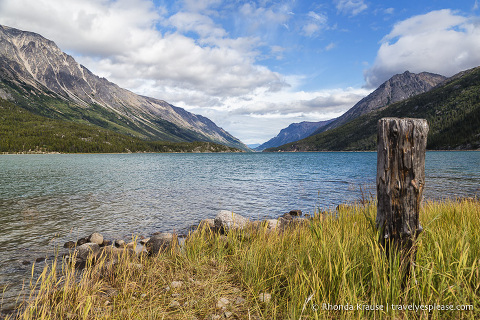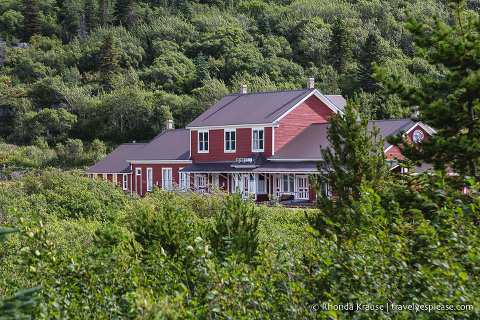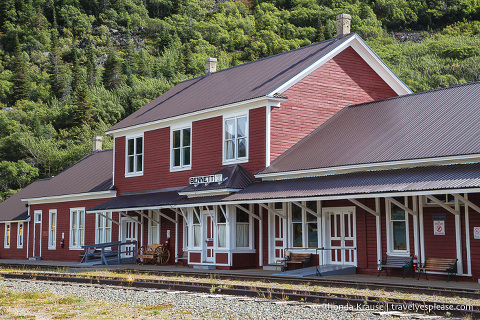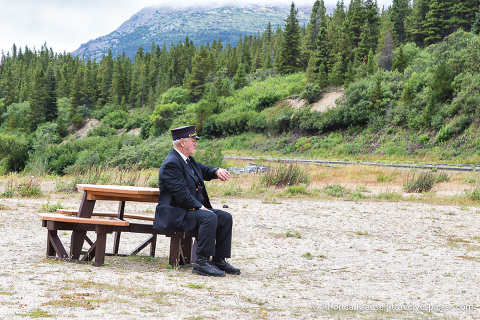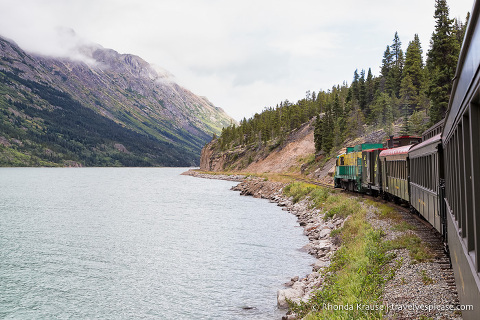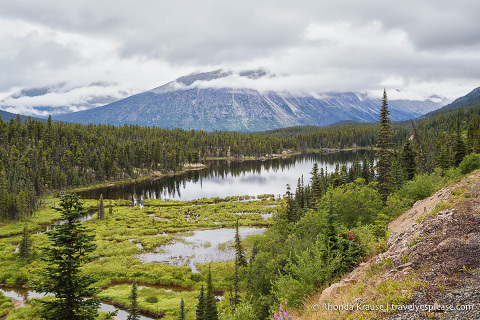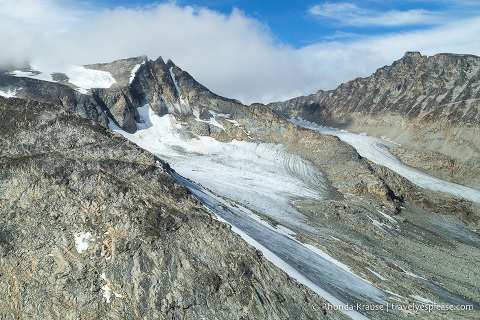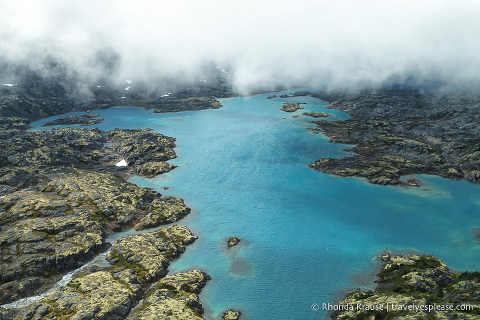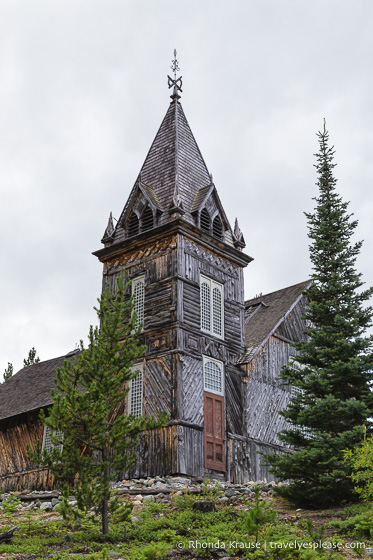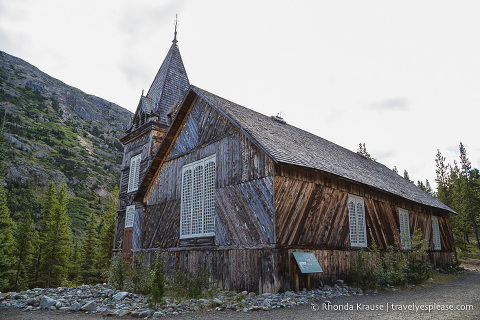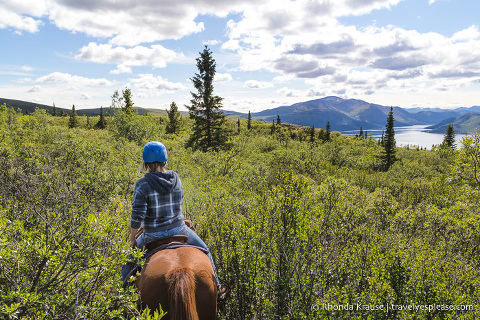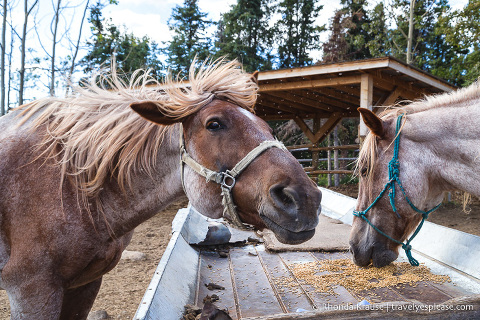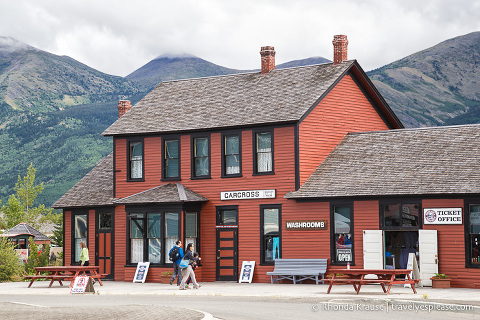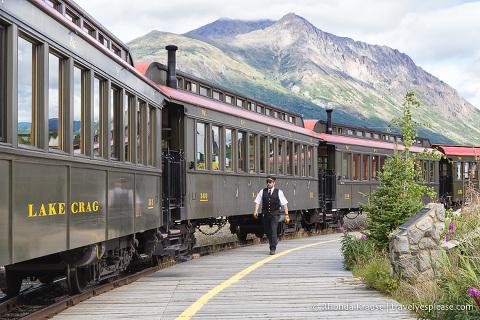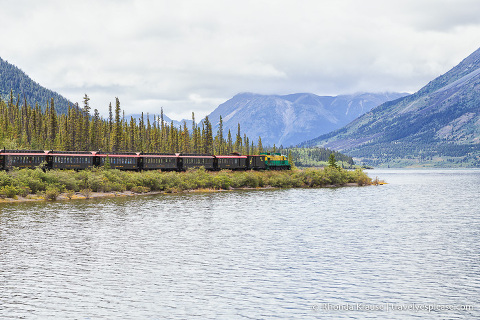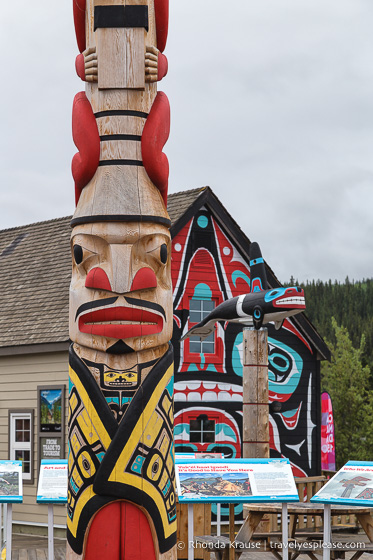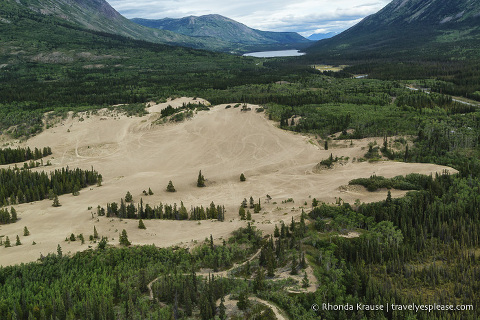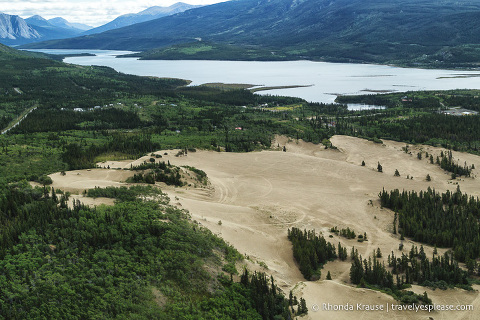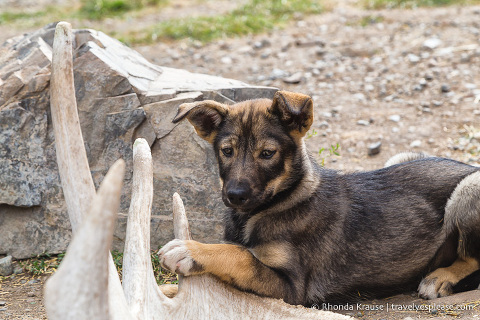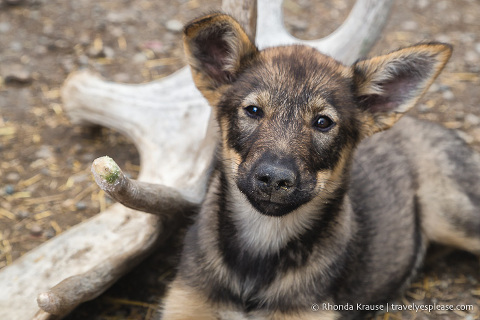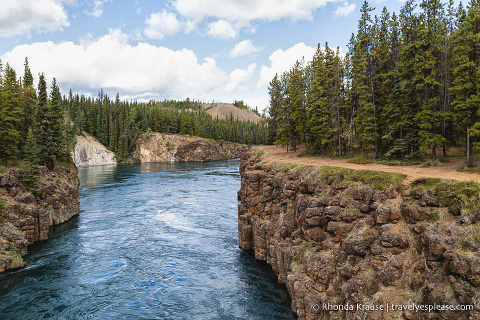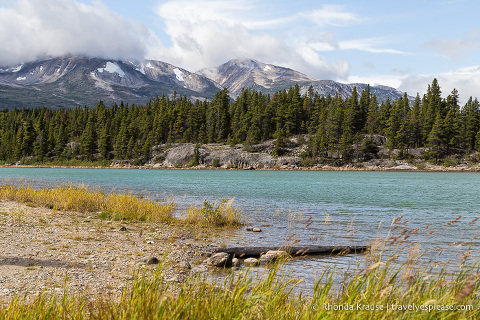 Video of the Yukon
Here's a short video I made of my week in the Yukon. I forgot to film some things (I'm a photographer first and foremost) but this will still give you an idea of what a trip to the Yukon is like!
Tips for Visiting the Yukon
Getting to the Yukon: You can get to the Yukon by road from Alaska (including Skagway) and British Columbia (via the Alaska Highway or Stewart-Cassiar Highway). If you want to fly to the Yukon, Air North has flights from many Canadian destinations. Air Canada and West Jet also fly to Whitehorse, but I highly recommend Air North, Yukon's airline. The service was so good that it will always be my first choice when flying to the Yukon.
Getting Around: The easiest way to get around the Yukon is by car or camper van/RV. At 483,450 square kilometres, the Yukon is big and communities are far from one another. As drives are long and services can be few and far between (including cell service), make sure you come prepared with food, water and other emergency supplies.
When to Visit: Summer is the best time to visit the Yukon because the weather is comfortable, daylight hours are long, and there's a large selection of outdoor activities. Winters are cold and dark, especially up north in Dawson city, but it's a good time to see aurora.
What to Pack: Bring clothes you can layer because the weather is varied and can change fast. I was there in mid-August and the mornings were cold, days warm and evenings chilly.
Information can change without notice. Please confirm directly with service providers.
Accommodations in the Yukon
For your convenience, here is a list of hotels in Whitehorse and Dawson City. Please consider booking your Yukon accommodations through the included link. It costs nothing extra and helps support this website. Thank you!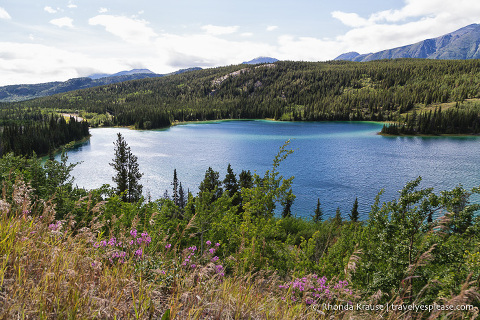 I visited the Yukon as a guest of Tourism Yukon. As always, I speak only the truth and hosts have no editorial influence on articles.
More Western Canada Destinations and Travel Guides