Purchases made through links earn us a small commission, at no extra cost to you.
There's no better way to experience the boundless beauty of Canada's north than to go flightseeing in the Yukon.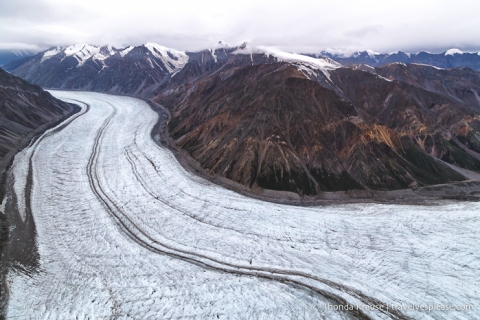 Witnessing the monumental glaciers, rocky mountain peaks, emerald lakes, winding rivers, alpine meadows, and roaming herds of wildlife from above, further ingrained my love for the Yukon.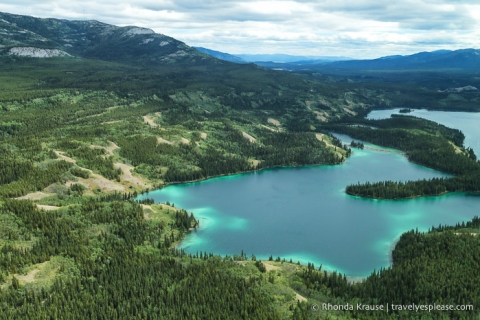 Flightseeing tours are my favourite thing to do during a trip to the Yukon. They are exciting, inspiring, and memorable. No matter how many times I've flown above the Yukon's impressive landscapes, it's always a special experience.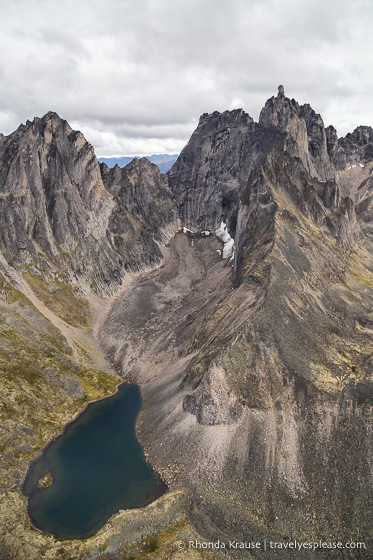 Flightseeing in the Yukon
There are plenty of options for flightseeing in the Yukon, whether you find yourself in Whitehorse, Dawson City, or Kluane National Park.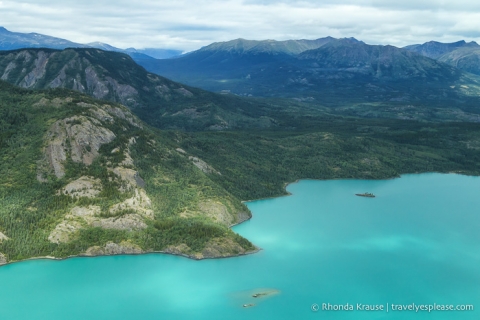 The most well known flightseeing tour in the Yukon is the Icefield Discovery that flies passengers over the Kaskawulsh Glacier and lands beside Mt. Logan (in Kluane). Unfortunately, as I've learned first hand three times, it also is the tour that gets cancelled the most because of poor weather and high winds.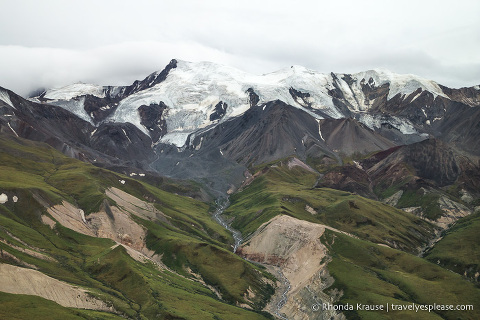 There was no need to be disappointed though, because there were plenty of other fantastic flightseeing tours in the Yukon. They even were available on short notice, which really saved the day!
Here's a look at four incredible flightseeing tours I did in the Yukon!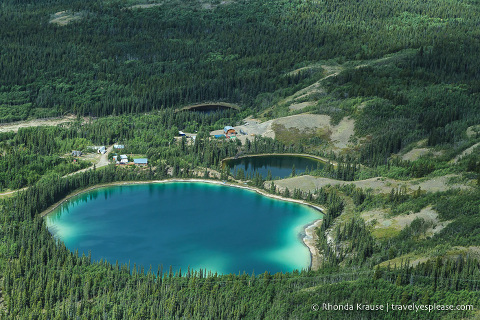 Flightseeing in Whitehorse
There are a lot of air tours available in Whitehorse, the Yukon's largest city. You can choose from short flights above the city and surrounding area, or opt for longer trips to more remote regions of the Yukon and nearby British Columbia.
I did two flightseeing trips departing from Whitehorse, both with Alpine Aviation. Their flights are in floatplanes and take off from Schwatka Lake, on Miles Canyon Road.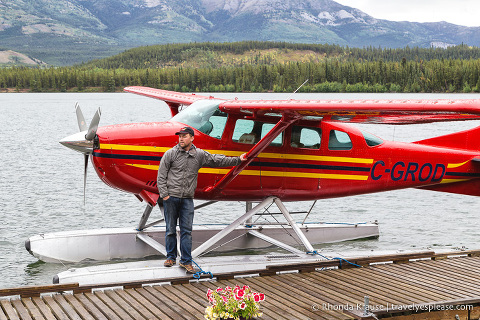 Southern Lakes Tour (3 hours)
The Southern Lakes flightseeing tour flies over a spectacular lake system in the Yukon and British Columbia, climaxing with a trip over one of the largest glaciers in B.C.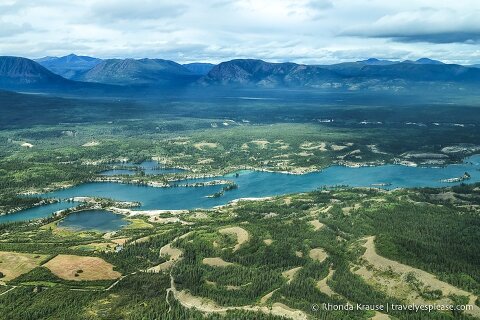 After leaving Whitehorse, we flew along the Klondike Highway, passing over Emerald Lake and the Carcross Desert before reaching the heart of the Southern Lakes.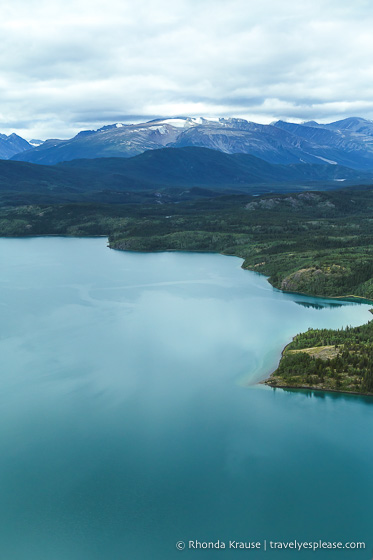 As we soared above Windy Arm, Tutshi, Tagish, and Atlin lakes, I couldn't get over how vivid the colour of the water was. In some places the water looked like what you'd see in the Caribbean, except surrounded by mountains.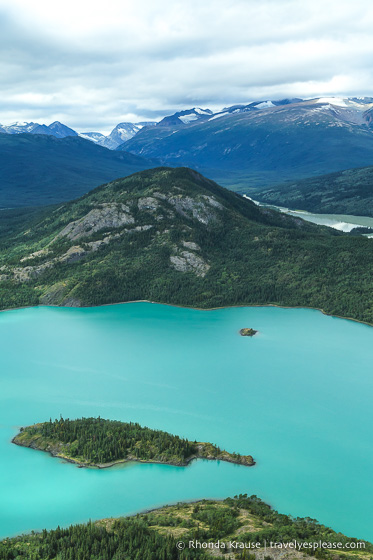 It was a drastic change of scenery when we arrived at Llewellyn Glacier, the calm lakes replaced by a sprawling field of ice.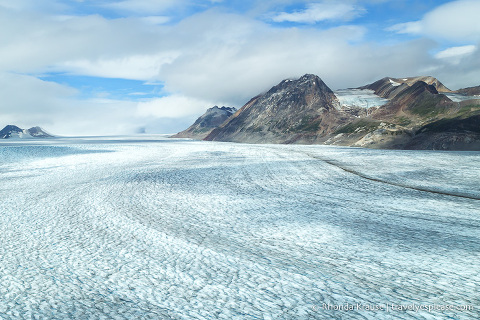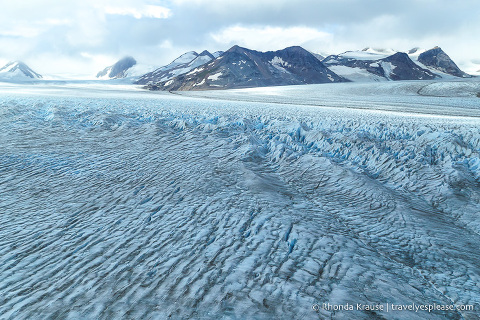 Seeing Llewellyn Glacier sweeping down from the Juneau Icefield was astounding- definitely the most remarkable sight on this tour. I'm still thrilled just thinking about how huge and dramatic it was!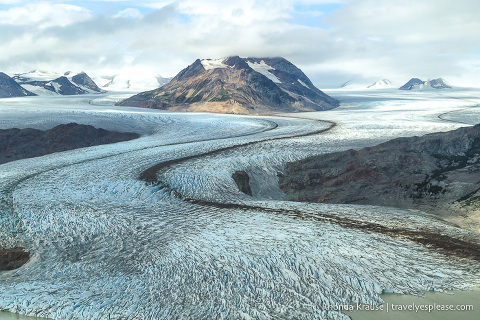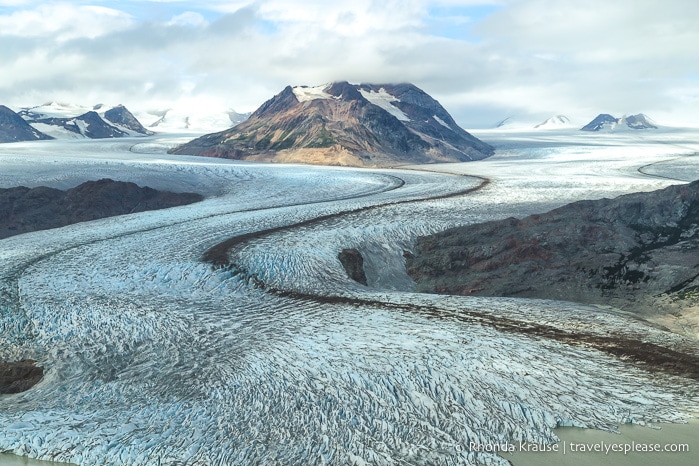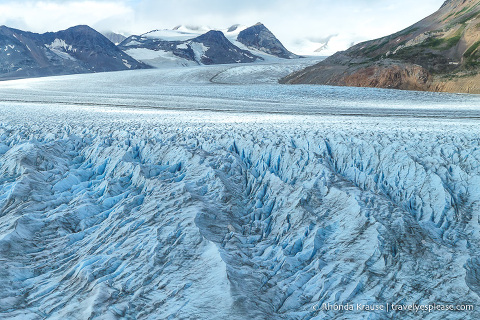 I wanted to circle above the glacier all day, but we continued our tour by travelling to the Southern Lakes Resort, where we enjoyed a delicious lunch in the restaurant before flying back to Whitehorse.
The Southern Lakes flightseeing tour was the best way to get a sense of just how many lakes there are in this part of Canada. And oh, those colours! Having driven alongside some of these lakes before, I can attest that from the air, the water colour is far more rich than what you see from the ground.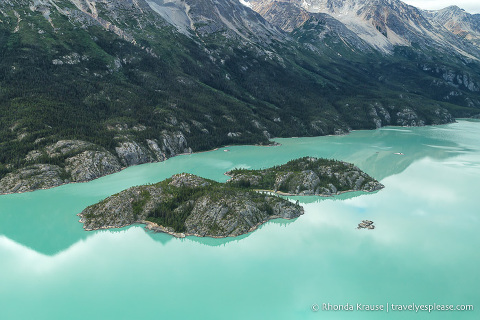 Chilkoot Pass Tour (2.5 hours)
The Chilkoot Pass flightseeing tour flies south from Whitehorse to the Chilkoot Range and Icefields, making a stop in the ghost town of Bennett (in British Columbia).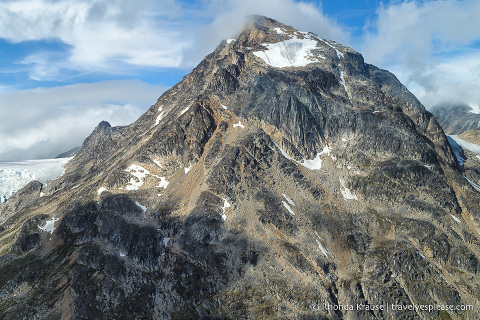 Soon after leaving, we flew over a green river valley then spotted a herd of caribou roaming on a grassy plateau. As we got closer to the Chilkoot Range, the mountains became more rocky and rugged, their peaks nestling small glaciers.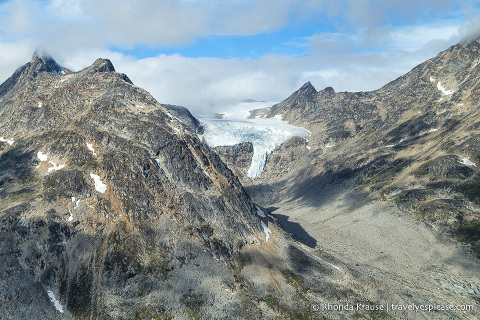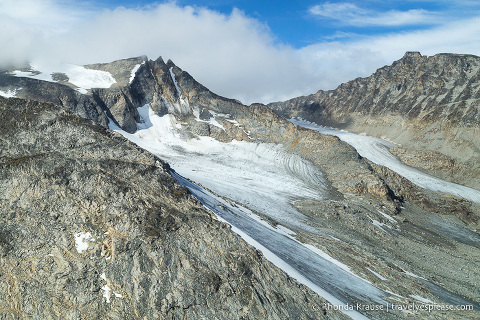 Flying over the icefields, our pilot circled around so both sides of the plane got a good look at the glaciers. These blue rivers of ice were mesmerizing, especially when the plane banked giving me an unobstructed view of the crevasses.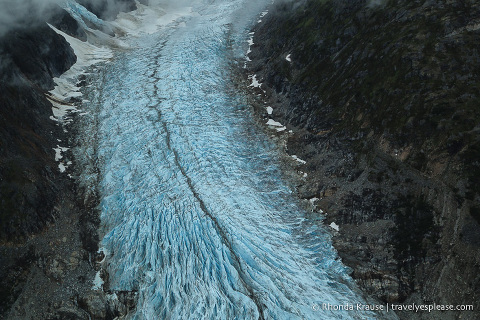 After the icefields, we flew above some small turquoise lakes and the Chilkoot Pass, then landed on Bennett Lake at the end of the Chilkoot Trail.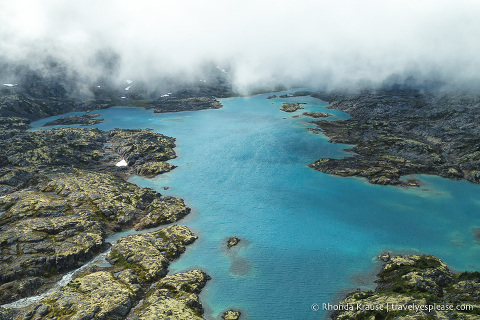 We were given some time to explore the historic site of Bennett, finding many objects left behind from its days as a gold rush tent city.
On our way back to Whitehorse, we flew along the shores of Bennett Lake (where the White Pass railway runs), over the Carcross Desert, then above the vibrant Emerald Lake.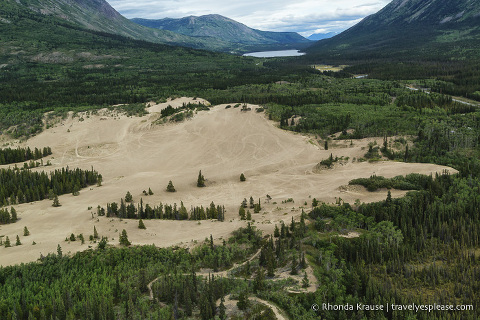 The Chilkoot Pass flightseeing tour was a great way to sample many things the Yukon has to offer, from its beautiful lakes, mountains, glaciers, and wildlife, to its fascinating gold rush past.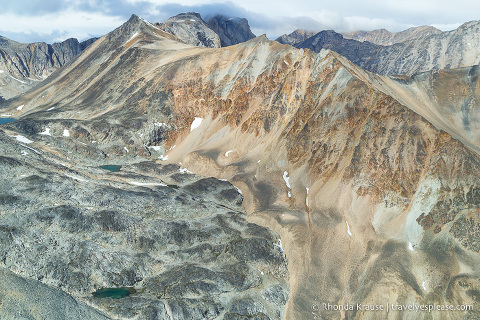 Flightseeing in Dawson City
Dawson City is a fun place to go flightseeing because you can choose from options that focus on natural scenery or historic sites, like the Klondike goldfields.
A must-do flightseeing tour in Dawson City is a helicopter trip to Tombstone Territorial Park with Trans North Helicopters.
For a real unique experience, soon you will be able to "see history in history" by flying over the goldfields in a 1942 biplane. I tested out the plane in Whitehorse and it was so relaxing to feel the wind breezing past me in the open cockpit.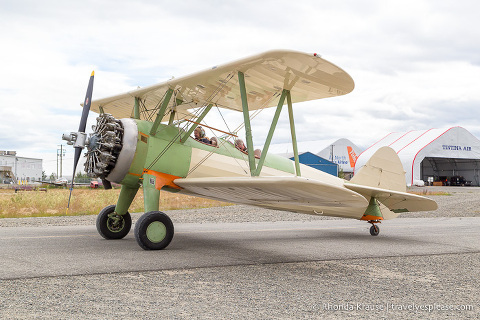 Tombstone Mountain Helicopter Tour (1 hour)
My helicopter tour of Tombstone Territorial Park was my favourite flightseeing trip in the Yukon.
We flew up close to jagged mountain peaks, including the stunning Mount Monolith, before flying past Talus Lake and landing in the Tombstone Valley.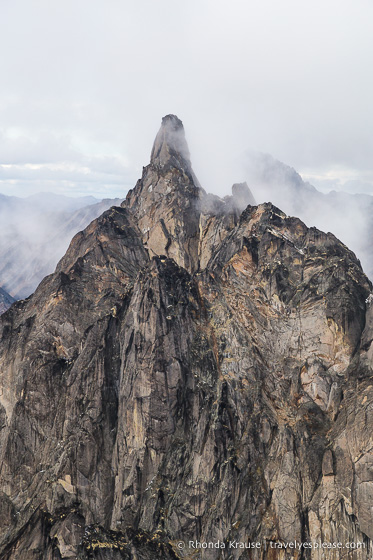 My pilot gave me 20 minutes to explore the valley, but I wanted to stay there forever admiring the perfect views of Tombstone Mountain.
The Tombstone flightseeing tour put me in the heart of the most beautiful place in the Yukon and is an ideal excursion for those who love mountains and alpine valleys.
Read more: Tombstone Territorial Park Flightseeing Tour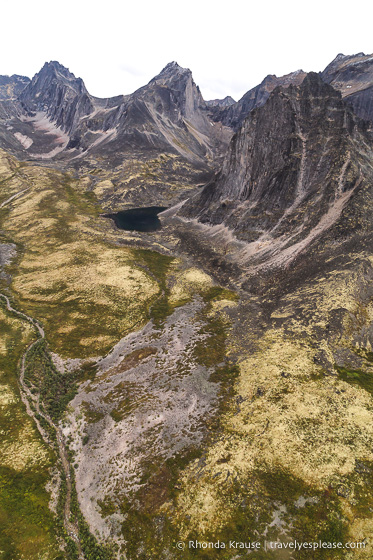 Flightseeing in Kluane National Park
Kluane National Park is an exciting place for flightseeing because glaciers and mountains cover 83% of the park. It contains the world's largest non-polar icefield, and is also home to Canada's highest peak, Mount Logan.
There are a couple different options for flightseeing in Kluane National Park, most notably the Icefield Discovery Tour, but weather often grounds these flights.
When my glacier landing tour in Kluane National Park got cancelled, I found a good alternative departing from Burwash Landing with Rocking Star Adventures. The weather was different here, so we were still able to fly above part of the Kluane Icefield.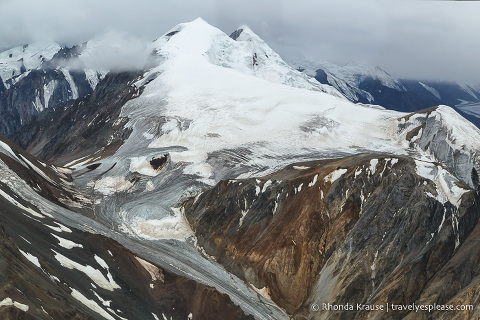 Donjek and Kluane Glacier Tour (45 minutes)
My flightseeing tour from Burwash Landing was a terrific introduction to the Kluane Icefield.
Flying above the Saint Elias Mountains, we passed plateaus dotted with herds of sheep before the mesmerizing white glaciers of Kluane National Park came into view.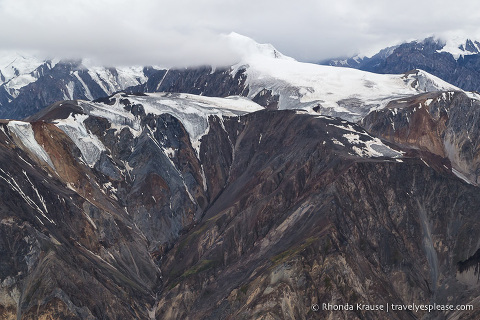 A long trail of ice flowed down the valley, the glacier's true size hidden around a bend. I imagined how much ice must be out view, in the untouched interior of Kluane National Park.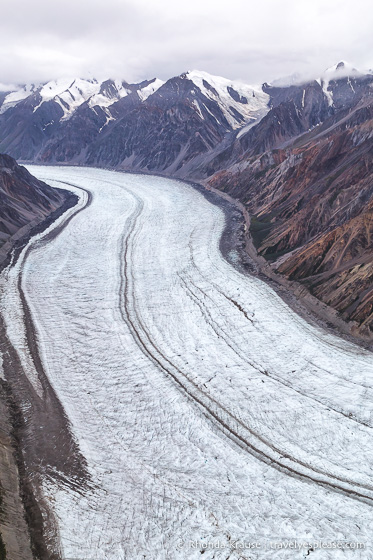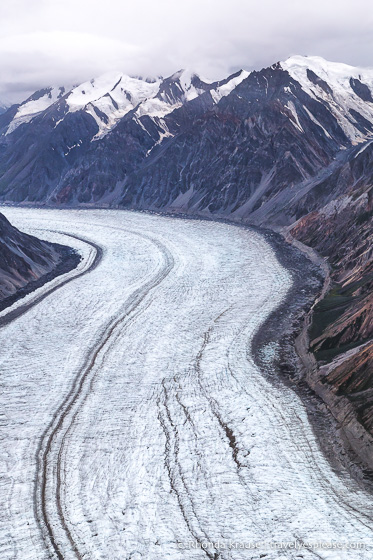 My pilot flew us along the Donjek River giving us views of Spring and Steele glaciers, then lowered us into the valley for a closer look at the tongues of Kluane Glacier and Donjek Glacier.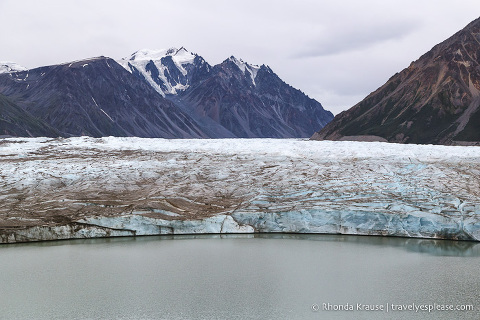 My favourite part of the flight was getting to see how thick the ice sheets were, as well as the patterns and cracks in their surface.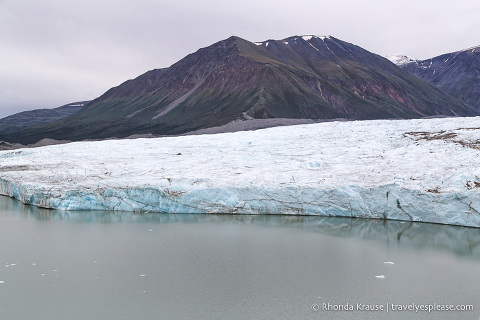 The Donjek and Kluane Glacier tour was a great way to see numerous glaciers of different sizes, plus get a feel for how vast the wilderness of the Yukon is.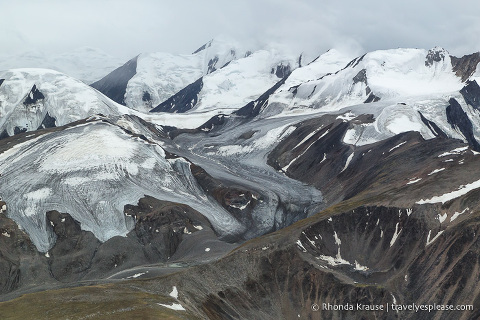 Final Thoughts About Flightseeing in the Yukon
Some of my fondest memories from the Yukon are of the air tours and glacier flights I did.
Sure, flightseeing tours can be expensive, but I think it's money well spent since these experiences are always the highlight of my trip. If you're planning to visit the Yukon, make sure you budget for at least one flightseeing tour- you won't regret it!
Tips for Flightseeing in the Yukon
For flightseeing in the Yukon, you can choose from pre-designed tours or charter a plane to do a custom trip.
I've used many different flightseeing companies in the Yukon and felt safe flying with them all. I can recommend from experience Alpine Aviation, Rocking Star Adventures, Trans North Helicopters, and Tintina Air (for charters).
Information can change without notice. Please confirm directly with service providers.
Accommodations in the Yukon
For your convenience, here is a list of hotels in Whitehorse and Dawson City. Please consider booking your Yukon accommodations through the included link. It costs nothing extra and helps support this website. Thank you!
I was hosted by Tourism Yukon in order to bring you this story. As always, I speak only the truth and hosts have no editorial influence on articles.
More Yukon Destinations and Travel Guides