Purchases made through links earn us a small commission, at no extra cost to you.
All it takes is a day trip from Buenos Aires to Uruguay to be charmed by Colonia del Sacramento, one of Uruguay's original towns.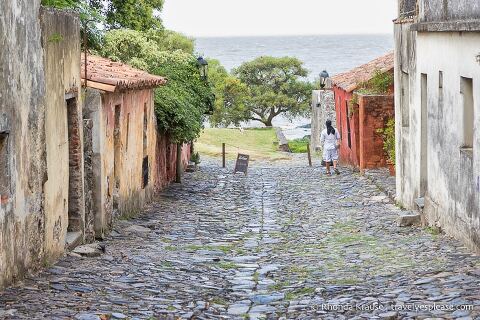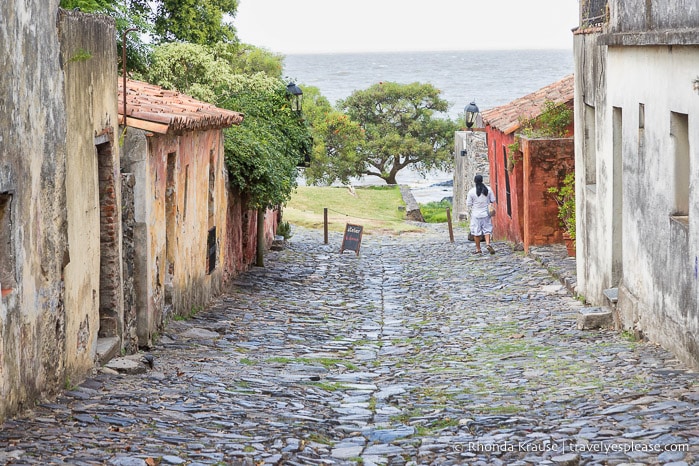 With cobblestone streets, plenty of colonial-era architecture, a riverside location, and an interesting history of Portuguese and Spanish influences, a day trip to Colonia del Sacramento is easily enjoyed.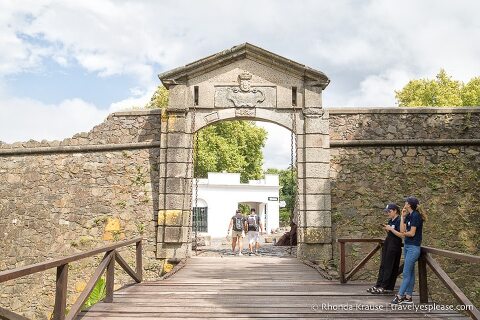 Here's everything you need to know about a day trip to Colonia, including how to get to Colonia del Sacramento from Buenos Aires, places to see and things to do in Colonia, plus some helpful tips for visiting Uruguay from Buenos Aires. But first, here's a brief history of Colonia del Sacramento to enhance your visit.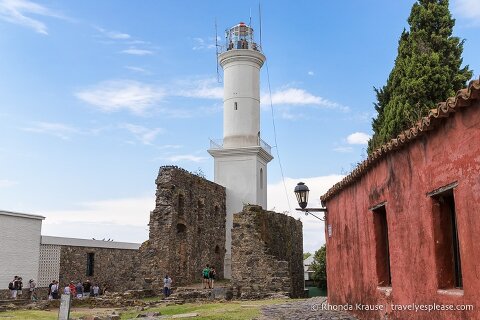 About Colonia del Sacramento, Uruguay
Colonia del Sacramento was founded by the Portuguese in 1680, making it one of the oldest towns in Uruguay. Its location on the north shore of Rio de le Plata, where the Uruguay and Paraná rivers meet, made it a strategic location for defending against the Spanish, who had competing claims over the region that is now Uruguay.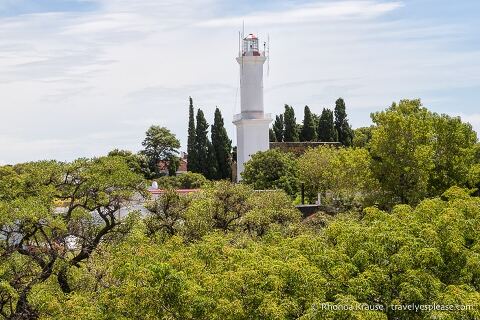 Over the next century, control of Colonia del Sacramento would bounce back and forth between Portugal and Spain in a cycle of conquests and treaties. Later the town was incorporated into Brazil after the United Kingdom of Portugal, Brazil and the Algarves annexed the region. Eventually Brazil gained independence from Portugal and then Uruguay became an independent state, freeing Colonia del Sacramento from foreign control.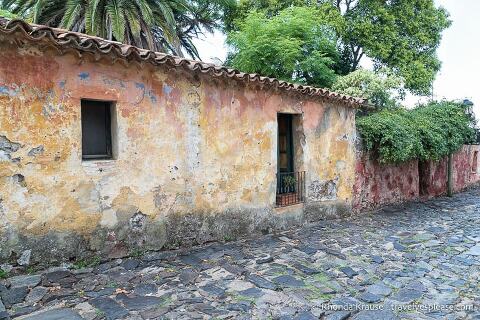 To this day, Portuguese and Spanish influences are still evident, especially in the style of architecture and street plans. In the Historic Quarter of Colonia you can see the terrain-fitting, irregular street network developed by the Portuguese, whereas the newer Spanish areas have a grid system of wide streets and large squares.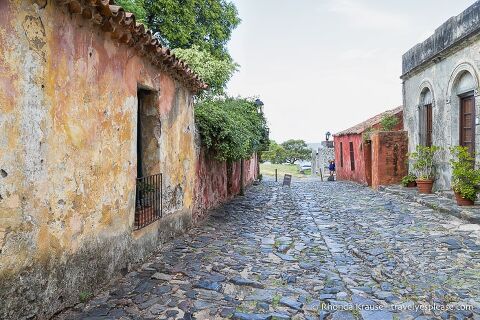 As a result of having preserved its original structure and urban scale, the Historic Quarter of Colonia del Sacramento was designated a UNESCO World Heritage Site in 1995. 
Colonia del Sacramento's fusion of cultures, historical significance, and attractive location have made it one of the top tourist destinations in Uruguay.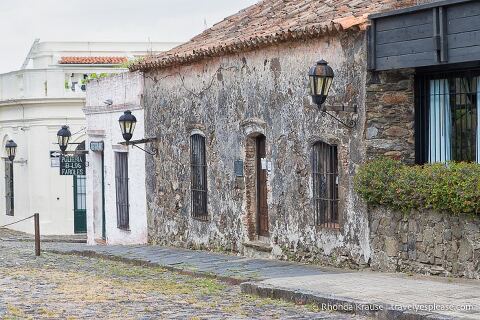 How to Get to Colonia del Sacramento from Buenos Aires- The Colonia Ferry
To visit Colonia del Sacramento on a day trip from Buenos Aires you will need to take a ferry across the Rio de la Plata. 
There are two ferry companies to choose from to get to Colonia from Buenos Aires- Buquebus and Colonia Express. Both ferries have a sailing time of about 1 hr 15 min and offer an early morning and early afternoon departure from Buenos Aires. For the return trip, ferries usually depart Colonia in late afternoon and evening.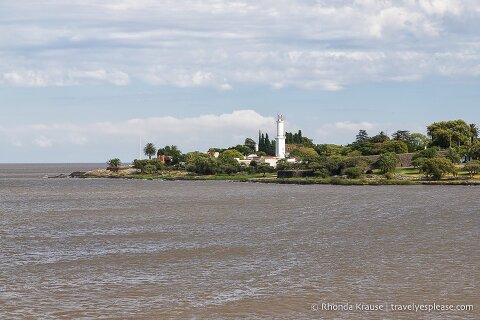 We decided to book with Colonia Express because they were less expensive (in our experience) and offered a ticket that included a guided walking tour of Colonia del Sacramento for only a few extra dollars. 
After booking our ferry tickets on-line here, we were emailed a confirmation with our reservation code, walking tour vouchers, and instructions for the day of our trip.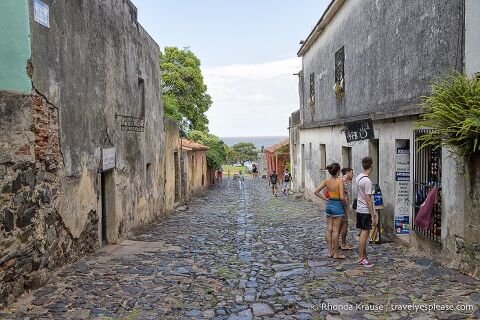 The check-in and boarding process (in both directions) took longer than the ferry ride since we had to arrive 90 minutes before departure. There were big lines to check-in and get our boarding pass printed, then to go through customs. You will need to have your passport and any applicable visas to enter Uruguay.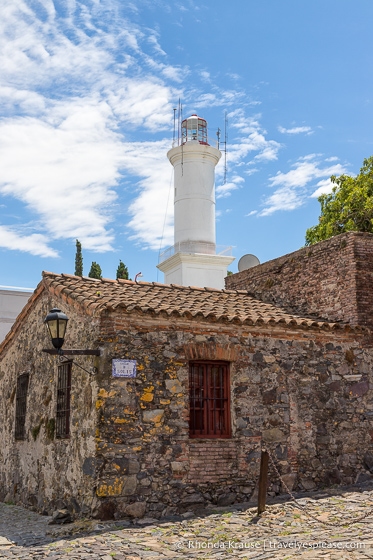 Day Trip to Colonia del Sacramento From Buenos Aires- Our Experience
We arrived in Colonia del Sacramento around 10:00 am so had almost a full morning and part of the afternoon to explore, since we were scheduled to depart at 4:30 pm.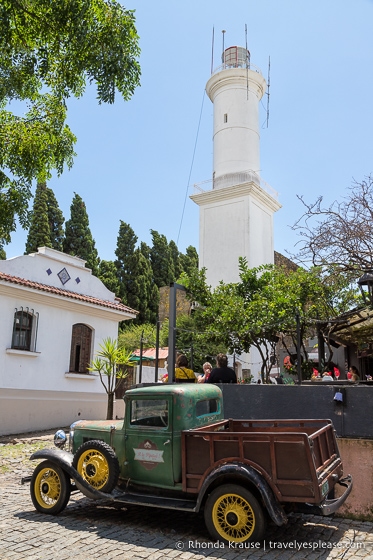 On our day trip to Colonia del Sacramento we spent all our time exploring Colonia's historic quarter.
First we went on a guided walking tour of Colonia del Sacramento to get acquainted with the town and its history. After a leisurely lunch waiting for a heavy rain storm to pass, we spent the afternoon wandering the cobblestone streets and simply taking in the atmosphere.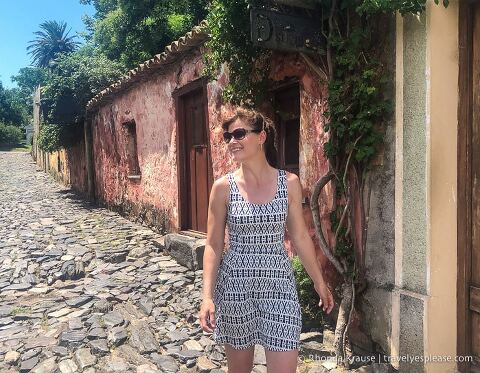 Had the weather been better, we might have had time to visit one of the nearby beaches, but the water was pretty brown and silty, so not appealing for swimming anyways.
Colonia del Sacramento Tour- Places to See in Colonia's Historic Quarter
Colonia del Sacramento's historic quarter (Barrio Histórico) is within walking distance from the ferry terminal. There's also an information centre nearby if you want to get a map before venturing into town.
Here's a look at some places to see in Colonia del Sacramento on a day trip.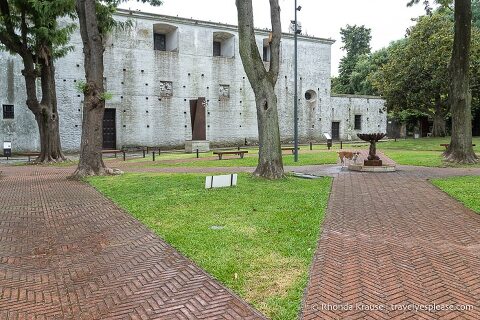 City Gate and Wall (Portón de Campo)
Marking the entrance to the Historic Quarter of Colonia del Sacramento is the city gate, wooden drawbridge, and defensive wall.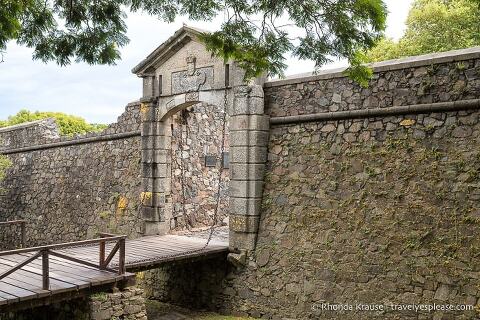 The fortifications were built in the 1700s but were later damaged and torn down by the Spanish. Most of what you see today has been reconstructed on top of the rampart's original base, which exists below the bronze nails in the wall.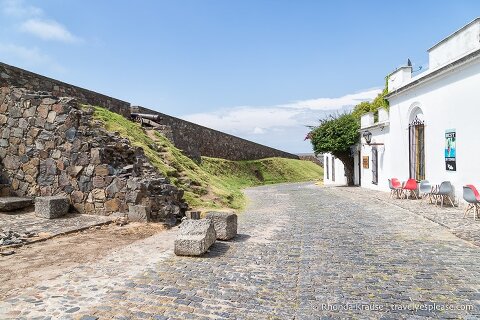 Even though the main gate was rebuilt from 1968 to 1971, it still has its original carved stone portico from 1745. The Portuguese coat of arms crowning the portico is a copy (the original can be seen in the Portuguese Museum).
After passing through the gate you'll see an old canon positioned for battle at the top of the wall. You can climb up there for a closer look then walk along the wall towards the ruins of San Miguel bastion for a nice view of the waterfront.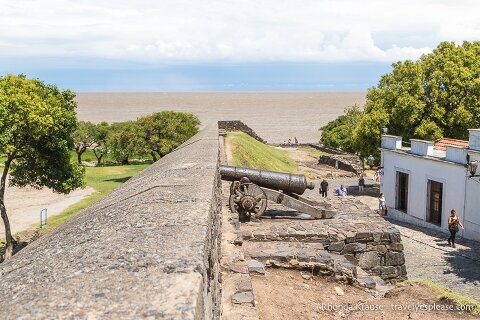 Street of Sighs (Calle de los Suspiros)
One block over from the city wall is the Street of Sighs, one of Colonia del Sacramento's most interesting streets.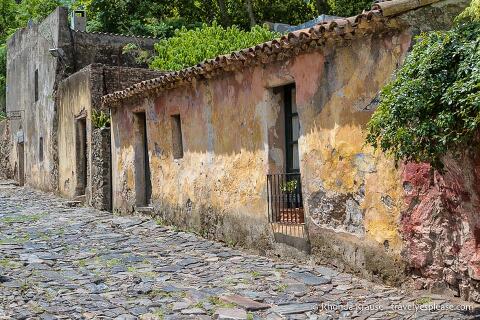 Framing this Portuguese street is a collection of houses from the first colonial period. Some have painted facades of mud and clay while others are more plain. The buildings definitely show their age, but that's part of what makes the Street of Sighs so enchanting.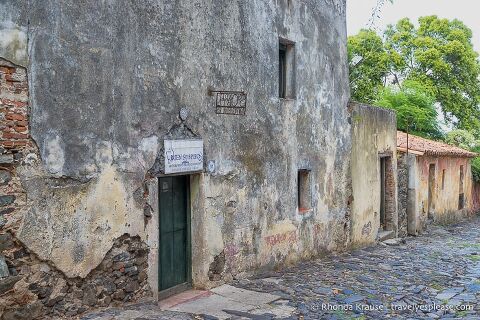 Another notable feature of this street is that it still has its original cobblestone layout, complete with a water drain down the middle of it. Adding to the historic charm are distinctive old street lamps mounted to the sides of the buildings.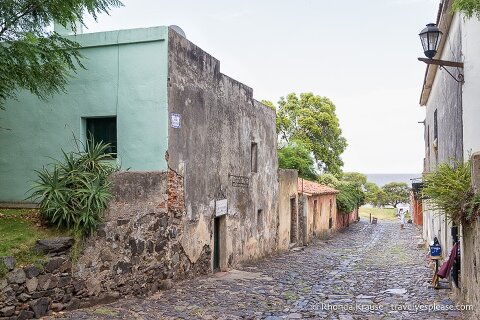 As for the street's unusual name, there are a few different legends about where it came from. Perhaps the sighs were the last breaths of criminals who were hung at the end of the street. Or maybe the sighs were those of sailors who had been tempted into a good time by prostitutes who lined the streets. If you're a sucker for tragic romances, you might believe the theory that a woman was killed here and sighed her lover's name as she died. No one knows for sure where the name Street of Sighs came from, but each legend adds to the street's intrigue.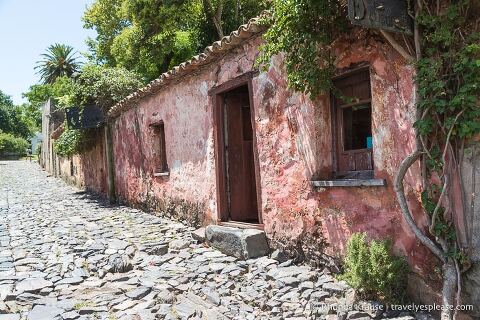 Lighthouse and Convent Ruins
Colonia del Sacramento's lighthouse has been guiding sailors to safety since 1857, after being built on part of the ruins of the 17th century Convent of San Francisco Xavier.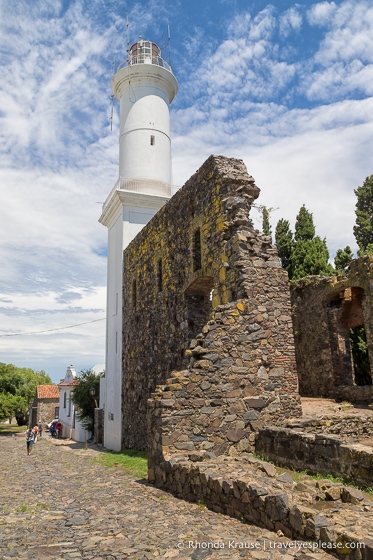 Before the lighthouse was constructed, stormy seas and dark, moonless nights caused many shipwrecks on the Rio de la Plata. To try and solve this problem, a tax to fund the building of a lighthouse was levied on ships arriving in Colonia.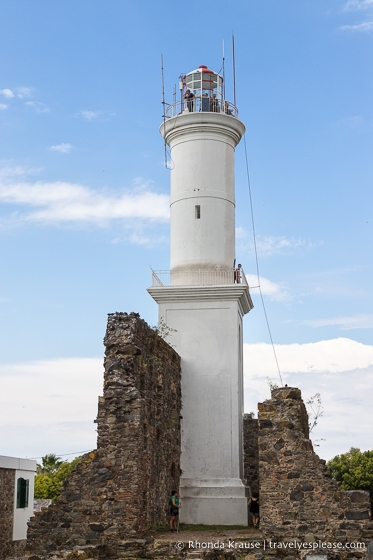 Well over a century after it was built, the Colonia del Sacramento lighthouse is still in operation. For a fee, you can climb 118 steps to the top. We decided not to go up, so can't comment on if the views are worth it or not.
Archaeological Remains of the Governor's House
Continuing our Colonia del Sacramento tour, we headed to Plaza de Armas Manuel Lobo where we got to see the ruins of the Portuguese governor's house (Casa de los Gobernadores).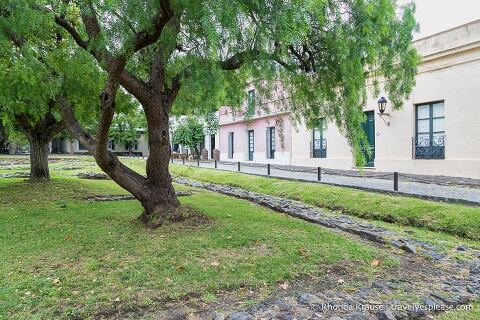 As you'd expect, the governor's house was the most prominent house in Colonia at the time of its construction. It had strong stone walls, wooden beams, and stone carvings framing the windows and doors. The house even had its own water supply system.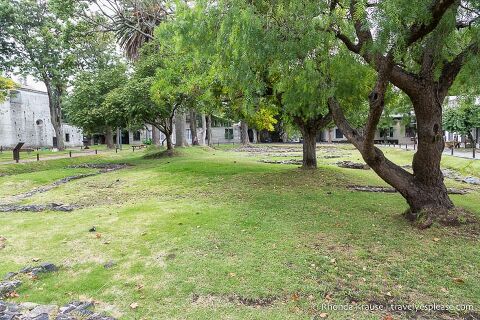 Unfortunately, we had to imagine what the house looked like because it was destroyed in 1777 by the Spanish when they took control of Colonia. All that exists today are some remains of the foundation and water supply system.
Basilica of the Holy Sacrament
The final highlight of our Colonia del Sacramento tour was the Basilica of the Holy Sacrament.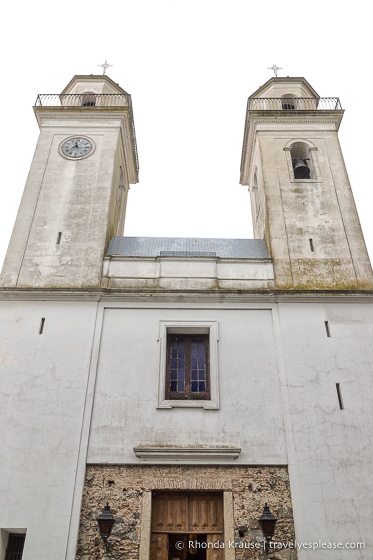 The church was built by the Portuguese from 1808-1810 and still maintains its original one nave design, despite undergoing several renovations over the years. Extensive work had to take place after an explosion collapsed a large part of the building in 1823. This was followed by more interventions to strengthen the building, then another restoration in the mid-1900s that respected the building's history and artistic values.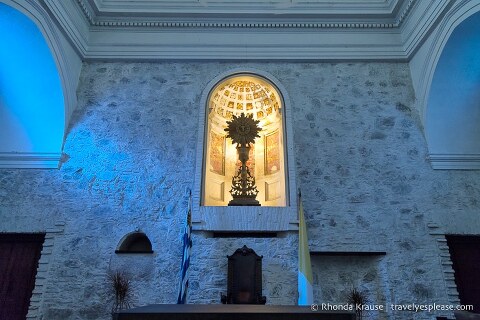 More Things to Do in Colonia del Sacramento
Since we only did a day trip to Colonia del Sacramento, we didn't have time to see and do everything. 
There are several museums we could have visited including the Portuguese Museum (exhibits furniture replicas and uniforms), the Spanish Museum (contains items relating to the colonial history), the Municipal Museum (exhibits artifacts from different periods and cultures of Colonia), and the Tile Museum (displays a collection of tiles made from 1849-1900).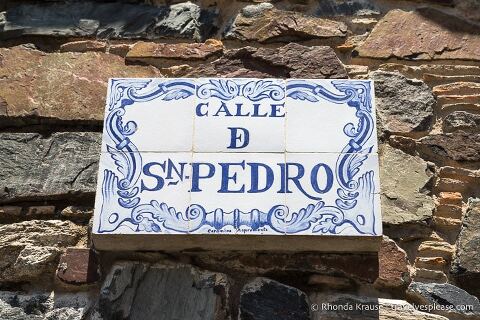 If you have a strong interest in history you could probably spend your entire day trip to Colonia just checking out museums.
Final Thoughts About Our Day Trip to Colonia del Sacramento
We enjoyed visiting Colonia del Sacramento and had a lovely time wandering the streets and learning a bit about the town's history during our tour. I especially appreciated the colonial architecture and big trees throughout town.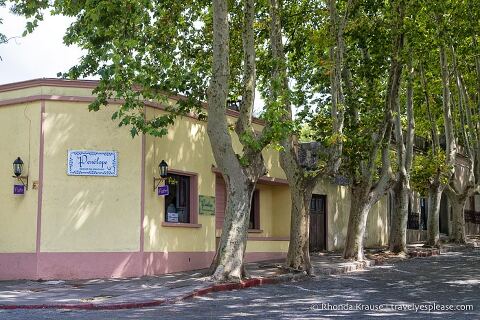 However, this day trip from Buenos Aires to Uruguay was more tiring than we expected.
First off, we spent a lot of time waiting in lines at the ferry terminals. Going through customs in Colonia was especially slow so there was a huge backlog of people waiting to board the ferry to Buenos Aires. Our boat departed later than scheduled on both trips.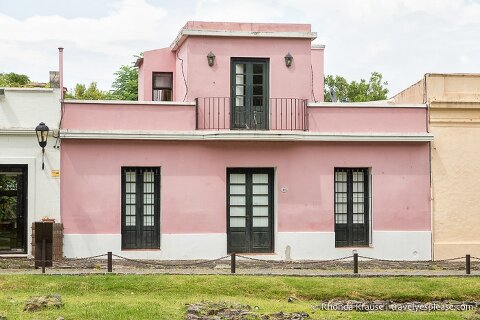 The second downside we experienced was that it was hard to get a taxi from the ferry terminal in Buenos Aires back to our hotel. There were a lot of taxis waiting, but they were either already spoken for or told us they weren't allowed to leave yet. So we decided to start walking in hopes of flagging one down on the street, but even that took forever and didn't happen until we had already walked a considerable distance.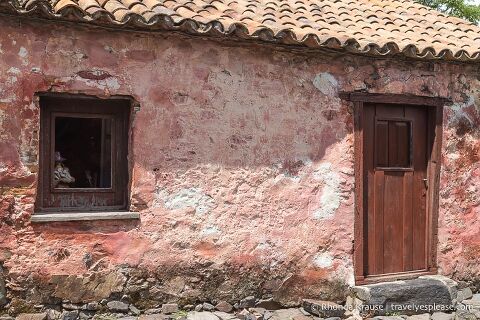 After taking all these logistics into consideration, we're still glad we went on a day trip to Colonia del Sacramento, but probably wouldn't do it again. Spending the night would have made our excursion to Uruguay more relaxing, even though the historic quarter of Colonia can easily be seen in a day.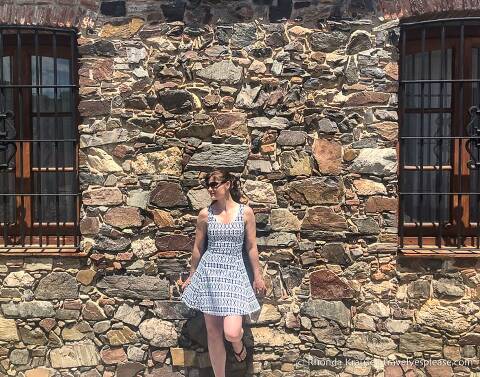 Tips for Visiting Colonia del Sacramento
Getting to Colonia from Buenos Aires: Colonia del Sacramento is about a 1 hour 15 min ferry ride from Buenos Aires. The two companies offering sailings are Buquebus and Colonia Express (who we used). Each company typically offers 2- 3 sailings per day from Buenos Aires to Colonia and back again.
Colonia Ferry Tickets: Here is the trusted site we used to book ferry tickets to Colonia del Sacramento. We chose the ticket option that included a walking tour.
Getting Around: Colonia's historic quarter can easily be explored by foot and is within walking distance from the ferry terminal. If you want to travel to the beaches there are places you can rent a golf cart or bike for the day.
Money/Currency: In our experience, there was no need to exchange some money into Uruguayan pesos for a day trip to Colonia del Sacramento. We were able to use our Visa card at the restaurant and Argentine pesos for other snacks we bought throughout the day. The restaurant we chose had a note on the menu that they accept Argentine pesos, US dollars, Brazilian reals, and Euros.
Since we didn't visit any shops, museums, or places with an admission fee, we're not sure if cash would have been needed or what currency is accepted.
There are ATMs if you need to withdraw money.
Tourist Information: The BIT Welcome Centre (glass-walled building opposite the port) is the main tourist information centre in Colonia. There's also a tourist office just outside the city gate that organizes walking tours with local guides.
Information can change without notice. Please confirm directly with service providers.
Accommodations in Colonia del Sacramento
For your convenience, here is a list of hotels in Colonia del Sacramento. Please consider booking your Colonia accommodations through the included link. It costs you nothing extra and helps support this website. Thank you!
More South America Destinations and Travel Guides