Purchases made through links earn us a small commission, at no extra cost to you.
When I was researching possible destinations to visit in Bolivia, I stumbled across Sucre. Over and over again I read how Sucre was "The Most Beautiful City in Bolivia".
Intrigued, I did a quick image search on Google and was instantly sold on visiting once I saw the photos that showed up.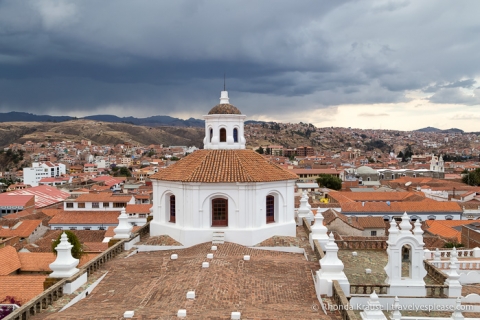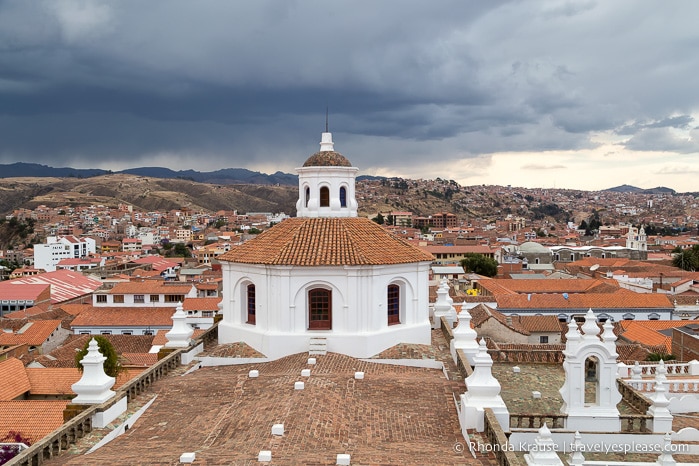 White washed colonial buildings, bell towers and rooftop terraces filled my computer screen.
The photographer in me started drooling.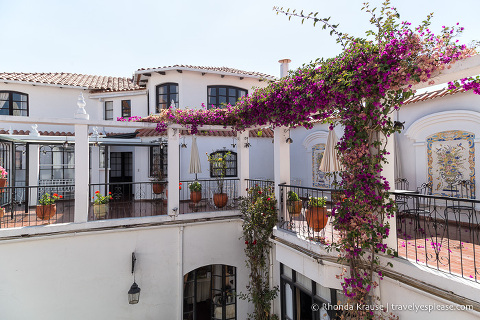 What was there to do in Sucre? I didn't know and didn't really care. I just knew that I wanted to stand on a rooftop and gaze over La Ciudad Blanca, the White City. So, I added one day in Sucre to our South America itinerary.
I may have been drawn to Sucre by its outward appearance, but during our time there we discovered a relaxed and proud city that was integral to the formation of Bolivia.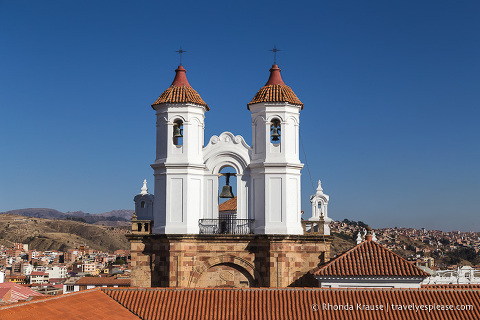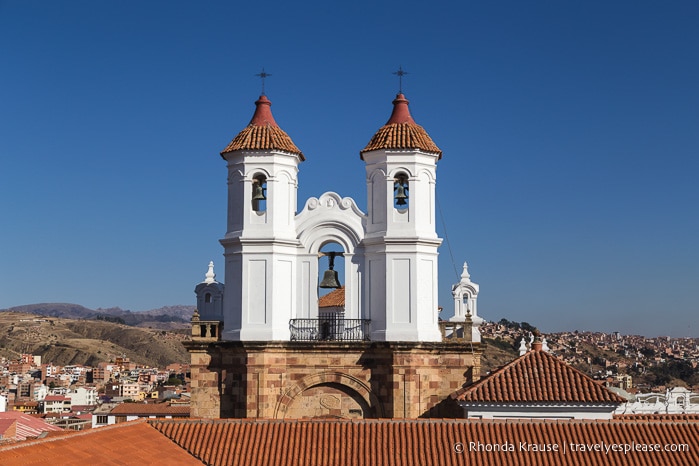 About Sucre
Sucre is located in the southern part of Bolivia's Central Highlands, set in a valley surrounded by low mountains.
The city was established in 1538, during the Spanish colonial era, as Ciudad de la Plata de la Nueva Toledo (City of Silver of New Toledo).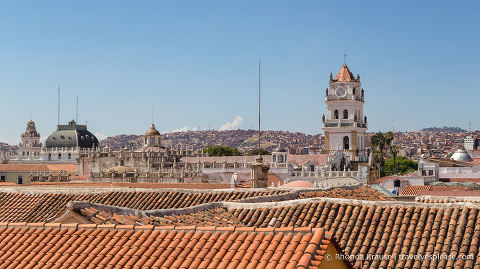 After many years of discontent under Spanish rule, a push for independence began in Sucre in 1809. It would take 16 years of struggle and war before the republic of Bolivia was declared in Sucre on August 6, 1825.
On July 12, 1839 the city was renamed Sucre, in honour of revolutionary leader Antonio José de Sucre, and proclaimed in the constitution to be the capital city of Bolivia.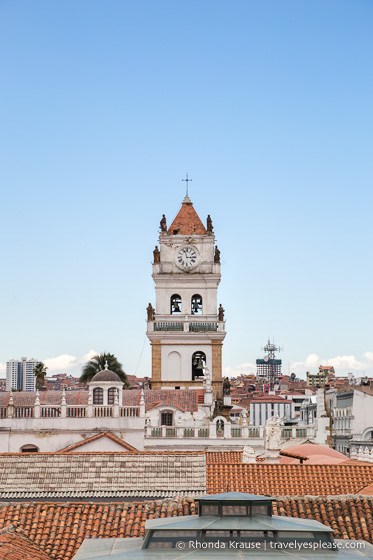 UNESCO inscribed Sucre on its World Heritage list in 1991 because the city's well-preserved architecture illustrates the blending of local traditions with European styles.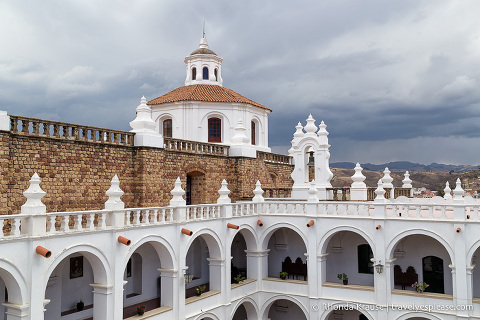 Our One Day in Sucre- Things to See and Do
Unlike most places we visit, we arrived without a plan of what to see in Sucre. Instead we were looking forward to a relaxing day in a scenic city.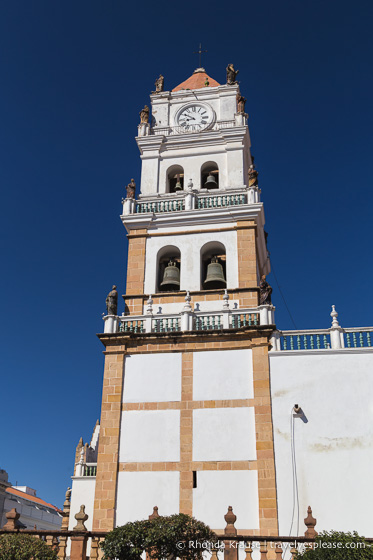 Our one day in Sucre was enjoyable, and we did end up visiting some attractions, but overall felt that Sucre didn't have any "must-see" sites. The city's draw is definitely more in its history, Spanish colonial architecture and pleasant atmosphere, than in any specific tourist attractions.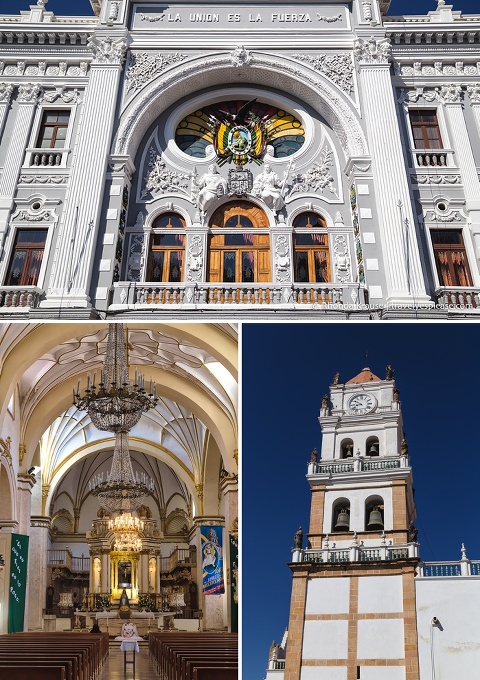 Although there wasn't one main site or any particular things to do in Sucre that drew us here, there were plenty of smaller discoveries that made our trip to Sucre a satisfying one. Here's a look at how we spent one day in Sucre!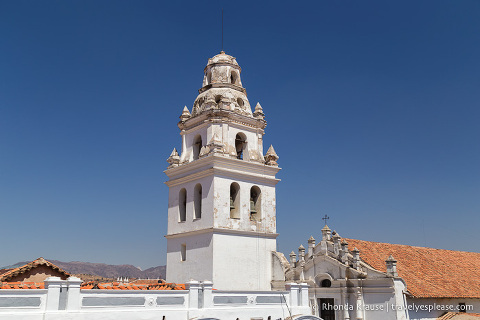 Plaza 25 de Mayo
Plaza 25 de Mayo is the city's main square and gathering place. It is surrounded by some of the city's most important buildings including the Cathedral, Liberty House and State Government Building.
The square is nicely broken up with sections of grass and gardens creating a park-like feel. Big trees shade the walkways and some statues are on display, making it a nice place to sit and rest.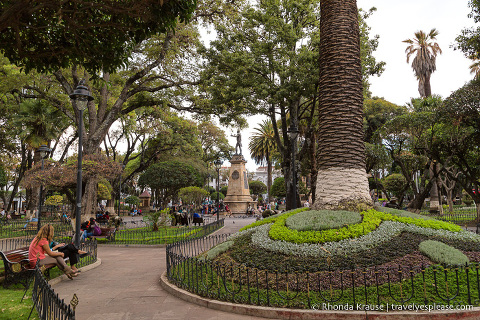 Casa de la Libertad (Liberty House)
You could easily fill a day in Sucre visiting museums but if you only want to check out one, it should be the Liberty House museum.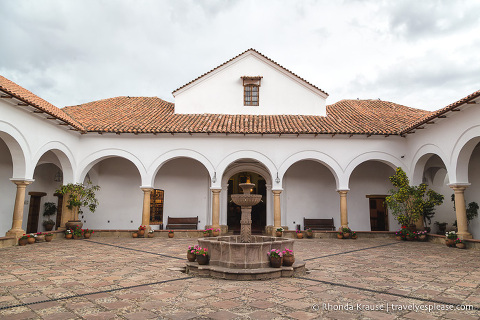 Casa de la Libertad is considered the birthplace of Bolivia because the Declaration of Independence was signed here in 1825.
Liberty House is now a museum chronicling the turbulent history of Bolivia, which is actually quite fascinating. You can even see the Charter of Independence proudly on display in the Salon de la Independencia.
We had to wait in the courtyard for about 30 minutes for an English tour to start but it was definitely worth our time. Without a guide we would have missed out on some great stories and had no idea what we were looking at since the signs were in Spanish.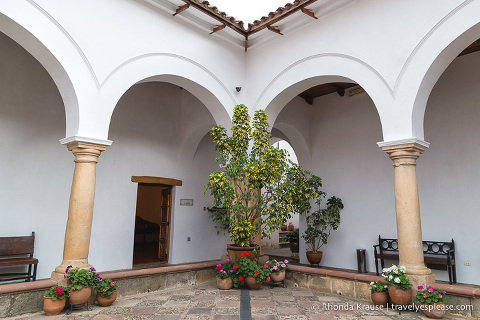 Parque Simon Bolivar
Parque Bolivar is a long, tree-lined park across from the Supreme Court and is a quiet place to enjoy a walk just outside the heart of the city.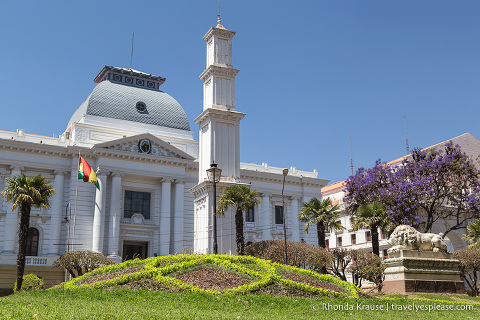 The park feels somewhat European, in part because of the archway that greets you at the entrance. There's also a miniature Eiffel Tower. Although it may not look like the original in Paris, it too was designed by Gustav Eiffel.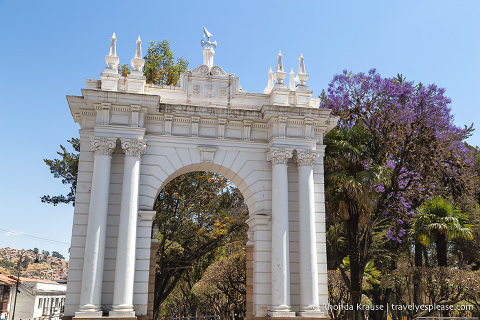 Convento de San Felipe de Neri
The convent of San Felipe de Neri was my favourite place in Sucre. This former monastery turned school is an exquisite piece of architecture and one of the best places to admire views of the city.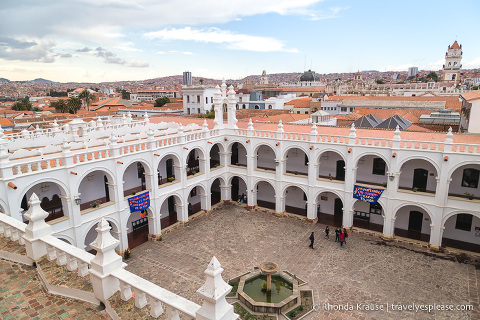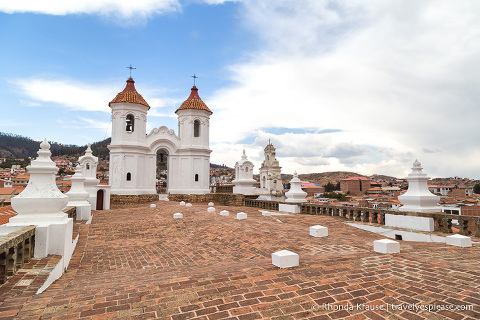 Inside you can see an interesting rendition of the Last Supper painted to include elements of the local culture. However, it was the inner courtyard surrounded by graceful arches that commanded my attention. I could have sat there for hours had I not known what was awaiting us on the rooftop.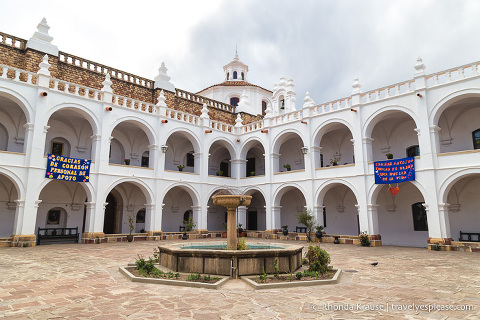 At the top of the staircase we were greeted with a 360° panorama of Sucre so gorgeous I wanted to spend the rest of the day on the roof! From this elevated perspective we could really see why Sucre is nicknamed the "White City of the Americas". I loved looking out over the tiled rooftops, enjoying an eye-level view of the city's bell towers.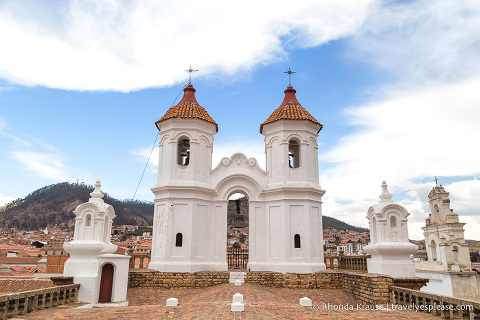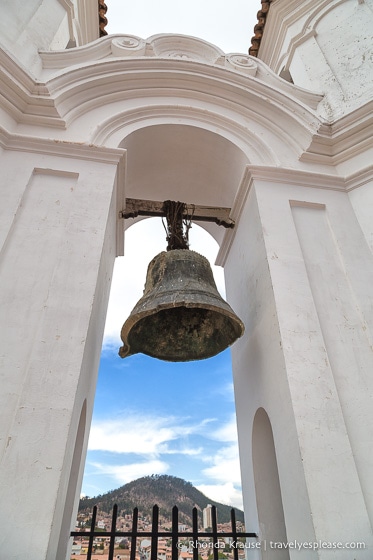 If you're not claustrophobic, you can even climb up inside the convent's bell tower for a slightly higher view of the city.
Plaza Anzurez
Walking uphill from the centre of town we arrived at Plaza Anzurez, another popular gathering place and lookout point in Sucre.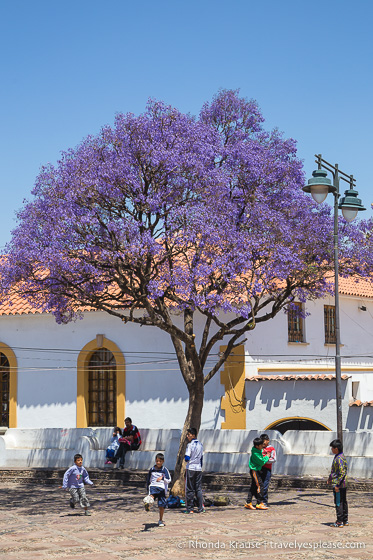 The plaza is bordered by La Recoleta Monastery on one end and a gorgeous colonnade on the other. And of course, we couldn't help but notice the unique purple flowered tree in the corner.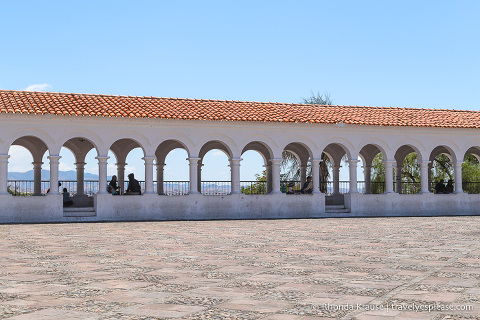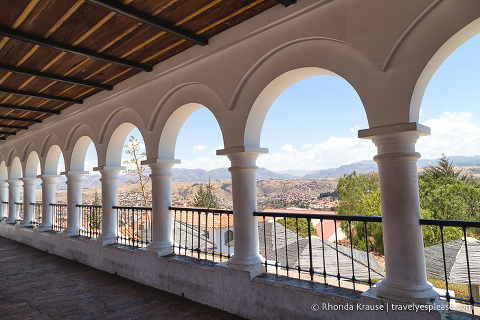 On the hilltop just below the colonnade is Café Gourmet Mirador, a great place to enjoy a light meal. The outdoor seating area was perfect for lounging and taking in views of Sucre and the surrounding hills.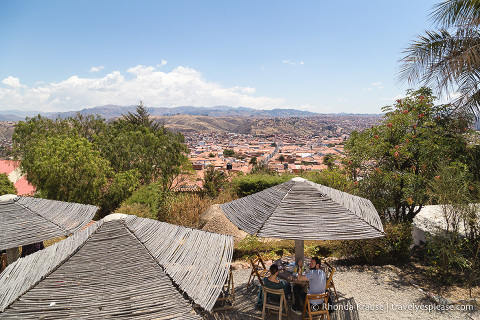 In a way I'm glad there wasn't a whole lot of things to do in Sucre because that meant we could linger here without feeling the need to rush off to the next site.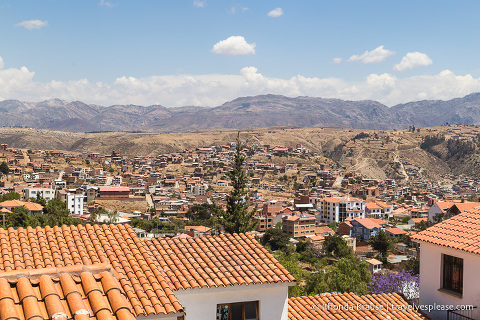 Final Thoughts About Our Visit to Sucre
Although Sucre is not what we'd consider a bucket list destination, it was a nice place to recharge after a busy visit to La Paz and long day on the Uyuni Salt Flats.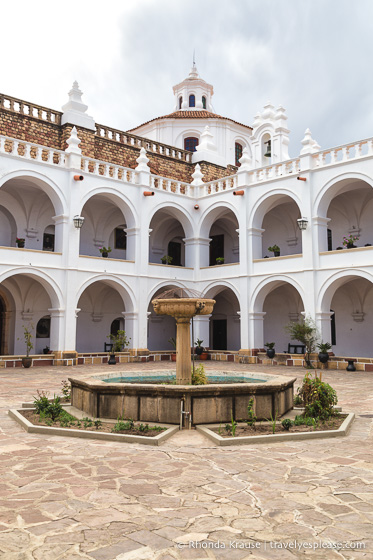 Sucre was certainly the most attractive city we visited in Bolivia but it was more than just a "pretty face", offering plenty of opportunities to learn about Bolivia's history. Since this was our first time visiting Bolivia, we were happy to spend some of our day in Sucre getting to know more about the country.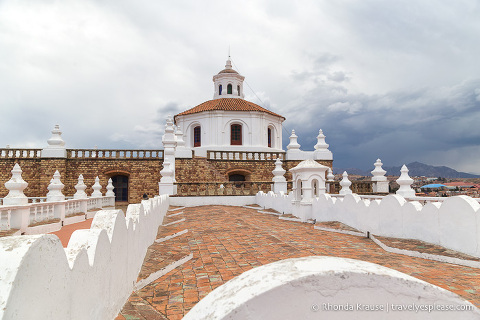 One of the best things about Sucre was that we could get 4 or 5 star accommodations for less than $100 CAD/night. Most hotels we saw were smaller properties with courtyards and terraces, in true Spanish style. It was a pleasure to wake up in the morning and have breakfast on the rooftop patio!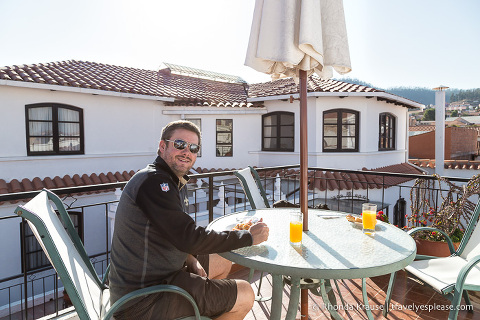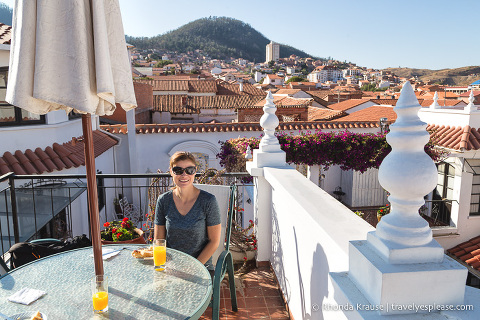 While I enjoyed our day in Sucre, I'm surprised I didn't fall in love with the city like I thought I would. Still, I'm glad we went because part of travel is learning about the countries you visit, and there was no better place to learn about Bolivia than in Sucre, the birthplace of the nation.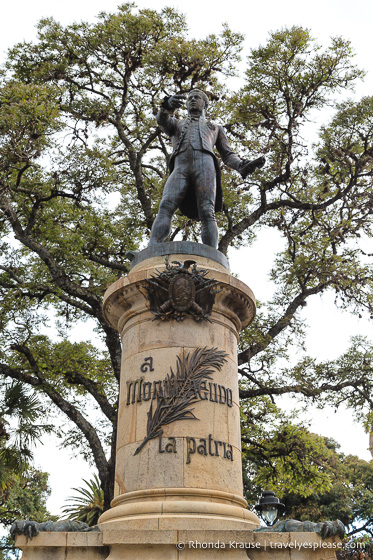 Tips for Visiting Sucre
Getting There: Alcantarí International Airport is about 30 km from central Sucre. You can get there by minibus or taxi and should allow 40- 60 minutes. The bus terminal is a 15 minute uphill walk from the town centre.
Getting Around: We were able to walk everywhere we wanted to go, but there are inexpensive buses and micros and can use. Taxis are also inexpensive if you want to venture out of the city centre.
Casa de la Libertad: The Liberty House Museum is open Monday- Friday from 9:00 am- 4:00 pm and on Sunday from 8:00 am- 12:00 pm. Admission is B$15 and includes an optional guided tour, though you may have to wait around for an English one to start. For up to date hours and admission fees visit the museum's website (scroll to the bottom for times and prices).
Convento de San Felipe de Neri: Entry to the convent is via the school and costs B$15. It is open Monday- Friday from 2:30 pm- 6:00 pm and Saturday from 9:00 am- 6:00 pm.
Information was updated November 2021, but can change without notice. Please confirm directly with service providers.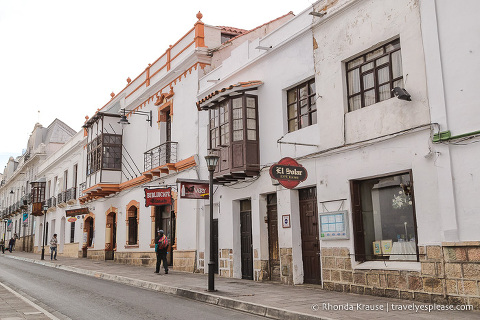 Accommodations in Sucre
For your convenience, here is a list of hotels in Sucre. Please consider booking your accommodations through the included link. It costs nothing extra and helps support this website. Thank you!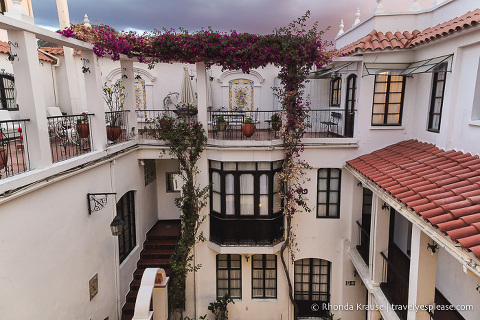 More Bolivia Destinations and Travel Guides