Purchases made through links earn us a small commission, at no extra cost to you.
Nestled in a scenic corner of southwest Alberta, between Montana's Glacier National Park to the south and British Columbia to the west, is Waterton Lakes National Park.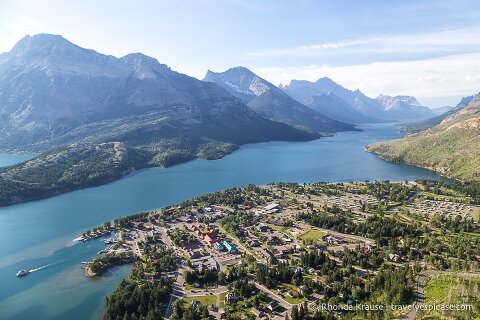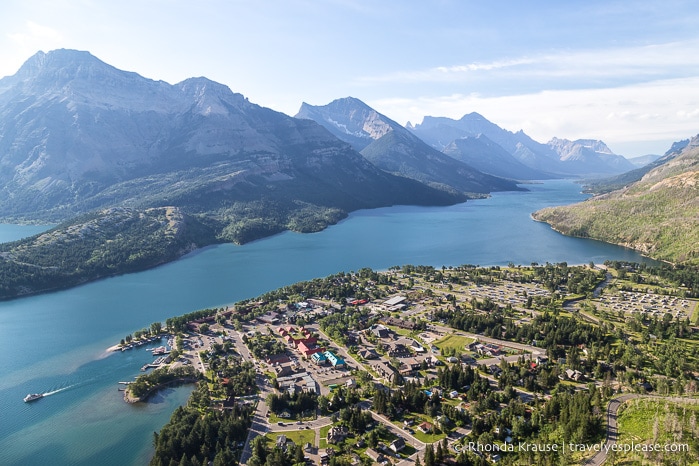 Here the prairies abruptly meet the Rocky Mountains, creating one of the most beautiful settings our home province has to offer. Just mere minutes after crossing over the park's boundary we were in love, excited to discover all the incredible things to do in Waterton Lakes National Park.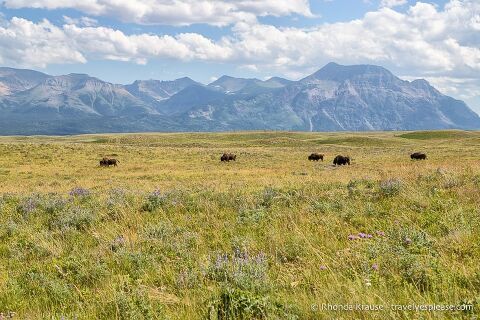 Before we share our Waterton itinerary, here's a brief introduction to Waterton Lakes National Park and some of the things that make it such an interesting place to visit.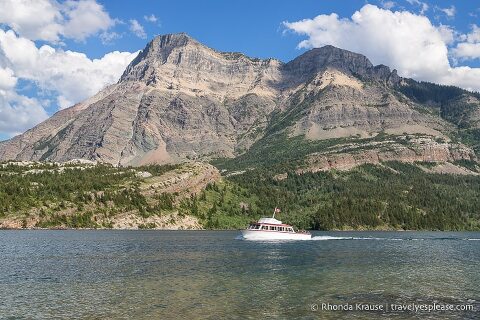 About Waterton Lakes National Park
Waterton Lakes National Park was established in 1895 to become Canada's 4th national park.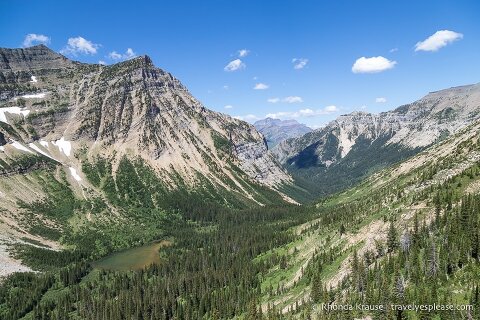 Known for its pristine wild spaces and ecological diversity, the park encompasses four ecoregions (foothills parkland, montane, subalpine, and alpine) that support an abundance of wildlife. There are over 60 mammals including bears, deer, bighorn sheep, elk, and lynx. The park's unique ecosystem led to Waterton becoming a UNESCO Biosphere Reserve in 1979.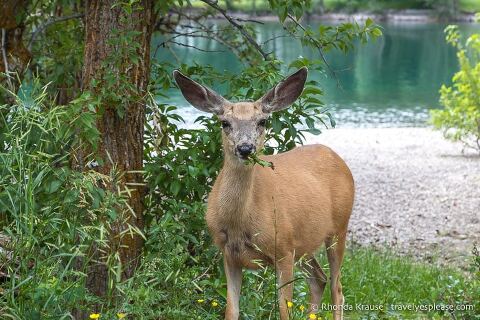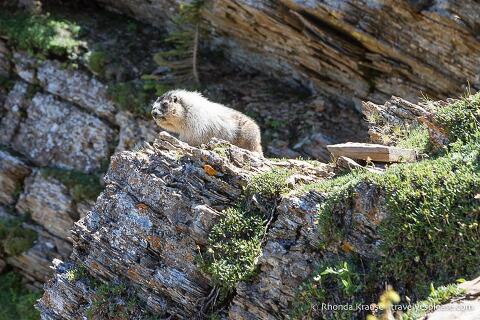 Waterton Lakes National Park is also recognized for its model of goodwill and cooperation with Glacier National Park in the United States. Sharing a border and values for wilderness protection, the two parks partnered in 1932 to create the world's first International Peace Park. The Waterton-Glacier International Peace Park was designated a UNESCO World Heritage Site in 1995.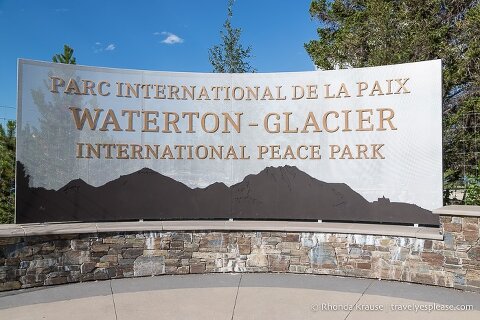 The special designations don't stop there. In 2017 Waterton was certified by the International Dark Sky Association as an International Dark Sky Park. The lack of light pollution makes Waterton a great destination for stargazing.
The international acclaim bestowed on Waterton is only part of what makes Waterton Lakes National Park so exceptional. As you'll see from our Waterton itinerary below, it's really the gorgeous scenery and exciting things to do in Waterton that make the park such a joy to visit.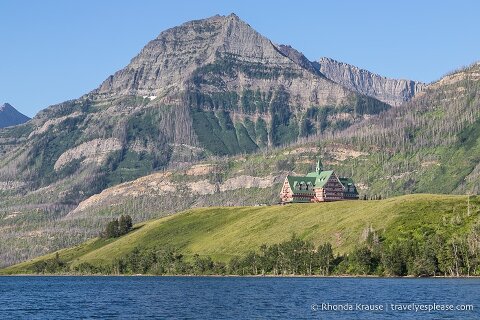 Our 7 Day Waterton Itinerary- Things to Do in Waterton Lakes National Park
Our week in Waterton Lakes National Park was mostly focused on outdoor adventures and experiencing the park's stunning natural features, from lofty mountains, glacier-carved valleys and colourful canyons, to raging waterfalls, vibrant lakes and pretty wildflowers.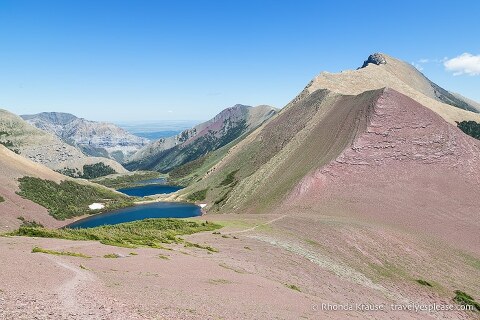 Even though it's one of Alberta's smallest national parks, at only 505 square kilometres, there still was plenty of things to do in Waterton, especially for nature lovers. We embarked on some of the best hikes the Canadian Rockies have to offer, went kayaking, watched wildlife, took a boat trip, did some golfing and so much more.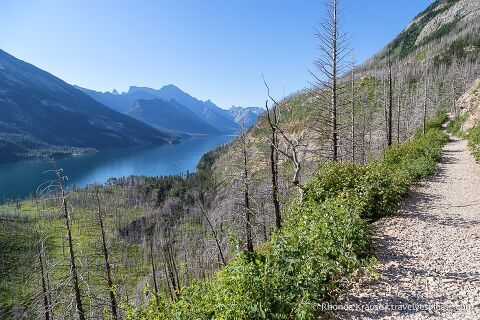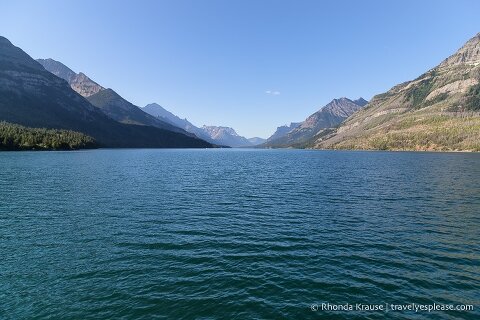 On days when we wanted to be a little less active, we set out on scenic drives, rode bikes around the townsite, relaxed on the beach, strolled along the lakeshore, and visited some historic sites.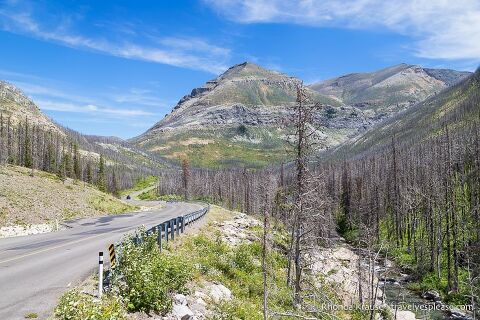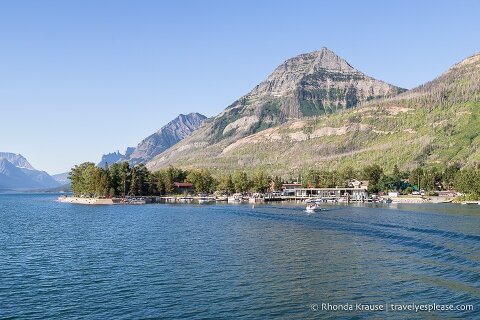 To help you plan your own trip to Waterton, here's our Waterton Lakes National Park itinerary packed with all the best places to see and things to do in Waterton. We hope it inspires you to visit this special place and gives you many ideas for what to do in Waterton Lakes National Park during your trip.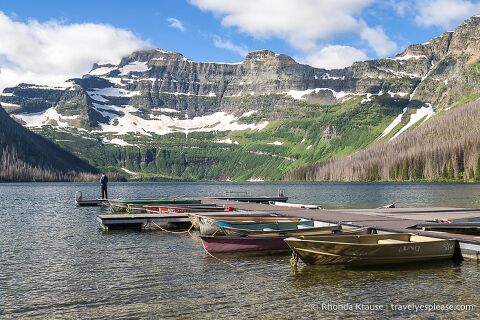 Day 1 (Arrival, Late Afternoon): Bison Paddock, Cameron Falls, Explore the Town
Our arrival day in Waterton Lakes National Park was spent exploring the small village of Waterton, our home for the next week, and visiting some attractions along the entrance road into the park.
Bison Paddock
Our first stop was the Bison Paddock, just inside the park's north border before you reach the park gates. The Bison Paddock is a large, fenced parcel of grassland habitat where a herd of plains bison roam. Since 1952 Parks Canada has cared for a herd of bison here.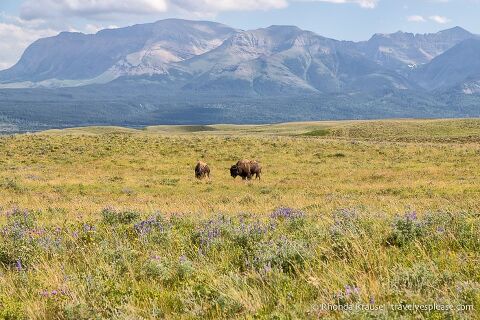 As we drove the gravel road that loops around the paddock, inside the fenced area, we soon spotted the bison herd grazing on rough fescue grass. We've seen bison many times before, but never with a backdrop of mountains so this experience was extra special. We couldn't have asked for a more beautiful, unique scene to welcome us to Waterton!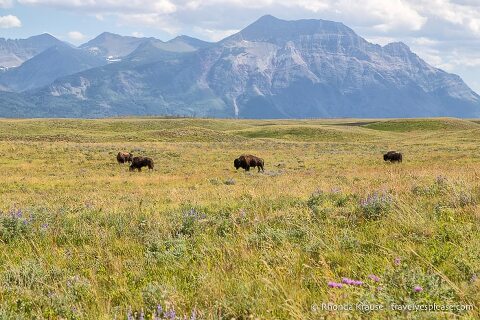 Drive the Entrance Parkway
After passing through the park gate, we made our way towards the townsite driving along the Entrance Parkway (Highway 5). 
During this short drive we had great views of the Waterton Valley as the land transitioned from prairie to mountains.
Soon after passing by Lower Waterton Lake, Middle Waterton Lake and the iconic Prince of Wales Hotel came into view. This postcard-perfect scene was as beautiful as I expected it to be and one that we would happily admire several times during our 7 days in Waterton.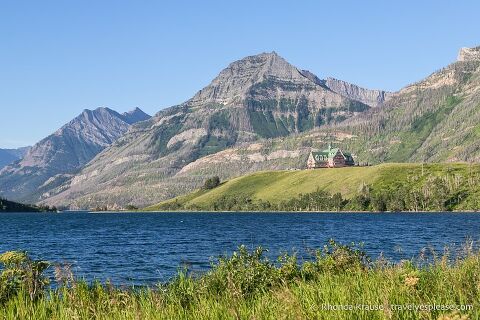 Waterton Lakes Visitor Centre
Our first stop in the village was at the Waterton Lakes Visitor Centre. Here we picked up some brochures, maps, and talked to a staff member about things to do in Waterton Lakes National Park.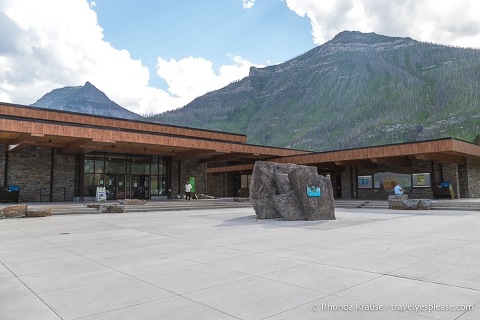 In addition to discovering more activities for our Waterton itinerary, we also spent some time interacting with the displays that showcase the park's places, wildlife, and Indigenous history and culture (the park is within traditional Blackfoot territory). Some of my favourite exhibits were the Night Life Theatre and the model that lights up to show the elevations of the landscape.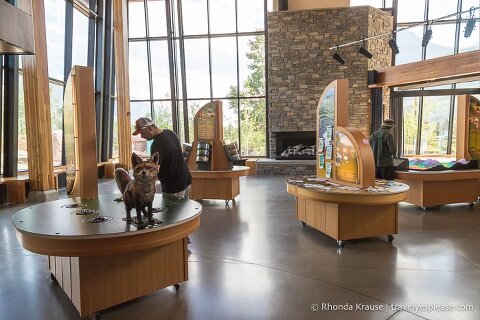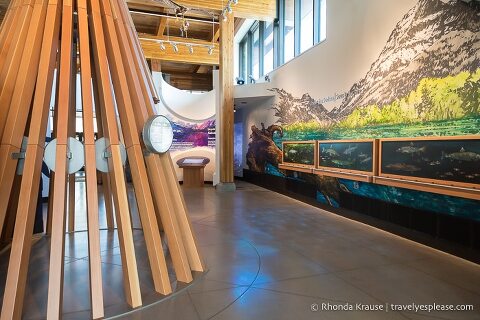 Lakeshore Trail
A walk along the lakeshore was a relaxing way to see more of the village and the natural beauty that surrounds it.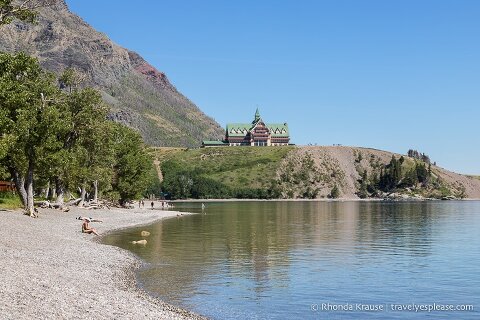 Starting at the marina, we followed the paved path beside Upper Waterton Lake to Cameron Bay at the other end of the village.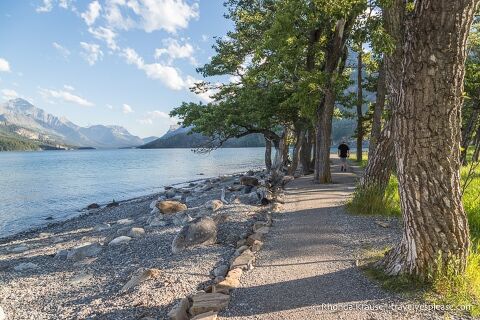 On route we saw the Prince of Wales Hotel across Emerald Bay, visited Peace Park Plaza, and enjoyed views of Vimy Peak and all the other mountains that frame Upper Waterton Lake. We even saw several deer hanging out on the beach, in the water, and in backyards.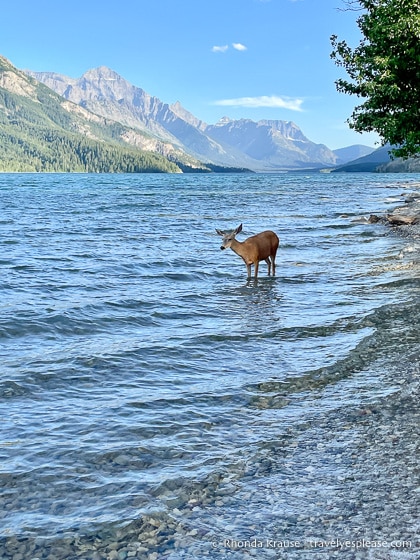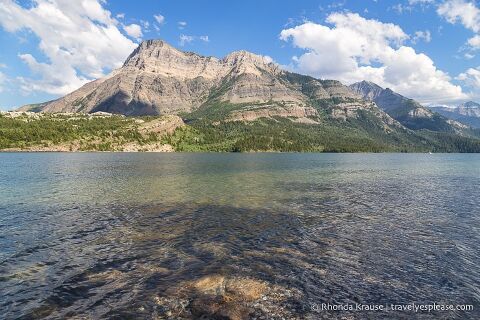 When you walk along the lakeshore we recommend stopping to admire the colourful rocks under the lake's sparkling clear water. The red and green rocks you'll see are called argillite and contain iron (oxidized iron in the red rocks and unoxidized in the green ones).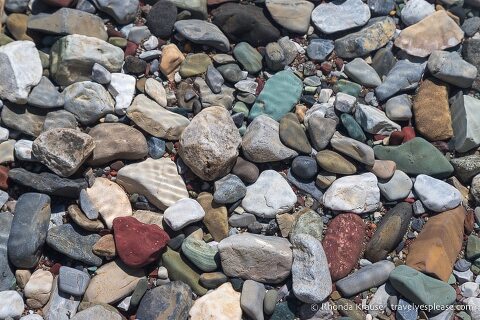 Cameron Falls
From Cameron Bay, we continued our walk through the campground and along a creek until we reached Cameron Falls at the west edge of town. 
It's not a very tall waterfall at about 20 m, but its beautiful cascades flowing over billion year old Precambrian rock makes it one of the top places to visit in Waterton.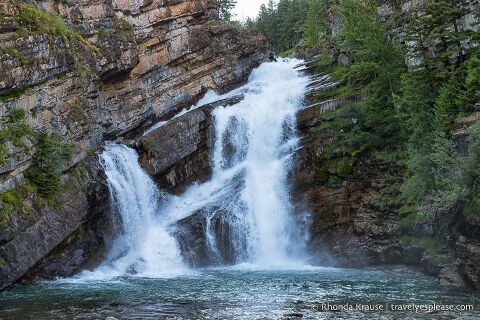 The falls can be admired from a bridge and viewing area beside the basin or from a viewpoint at the top of the falls. It was quite nice to visit at the end of the day when there were fewer people around.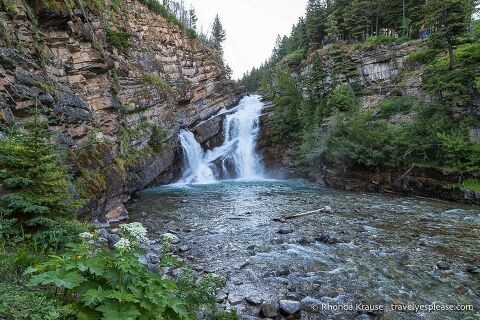 Day 2: Sightseeing and Short Hikes Along Red Rock Parkway and Akamina Parkway
On our second day in Waterton Lakes National Park we drove the scenic Red Rock and Akamina parkways. We spent some time at the main attractions and did short hikes to Blakiston Falls and Crandell Lake.
Red Rock Canyon
The colourful Red Rock Canyon, at the end of Red Rock Parkway, is one of the most popular places to visit in Waterton Lakes National Park, so of course we had to include it in our Waterton itinerary.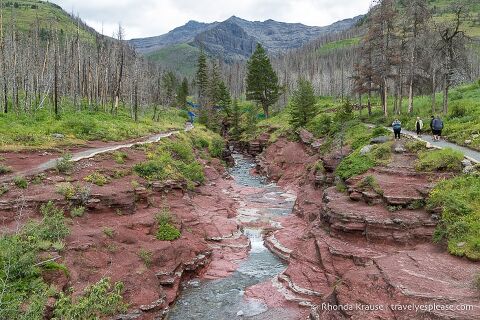 As the name suggests, Red Rock Canyon is composed primarily of red rock, but you'll also see prominent bands of white layered in the canyon walls. This striking combination is not only geologically interesting, but photogenic too!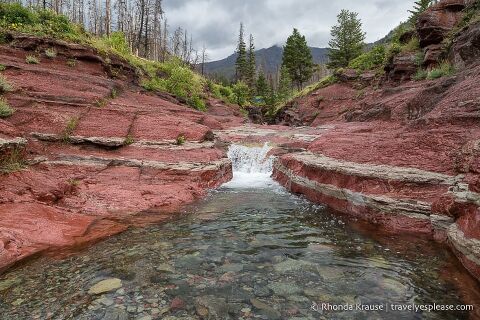 There's a 700 m paved trail that loops around and across the canyon so you can view it from many different vantage points. There are also interpretive panels with information about the area's geology.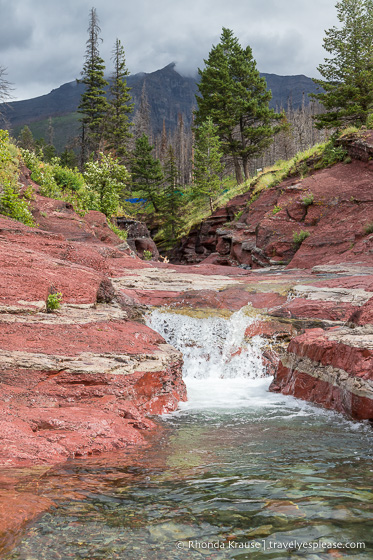 If you want, you can climb down into the canyon (where it's not steep) to get close to the creek flowing along the bottom.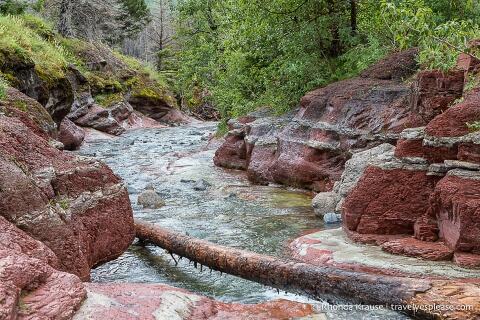 Blakiston Falls Hike
There are several destinations you can hike to from Red Rock Canyon, but our choice was the short, easy hike to Blakiston Falls.
The trail starts off alongside Red Rock Canyon, crosses a bridge over Bauerman Creek, then heads into the forest.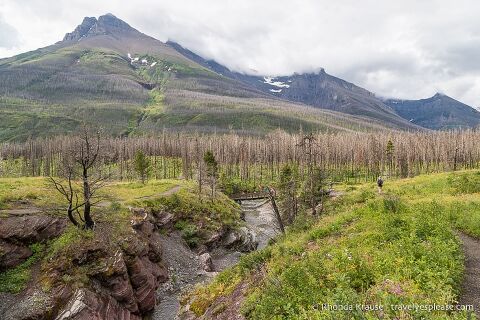 Like many of Waterton's hiking routes, this area was affected by the 2017 Kenow Wildfire that burned 38% of the park. It was interesting to see how the forest is regenerating with all the new shrubs and small trees that have sprung to life.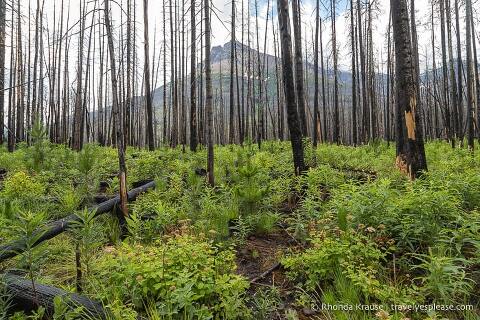 After walking a little over 1 km we arrived at Blakiston Falls. The waterfall has a main cascade plus some smaller, sloping cascades further upstream. Metal platforms have been built for easy viewing at two different areas- one that offers a distant view of the front of the waterfall and one at the brink of the falls.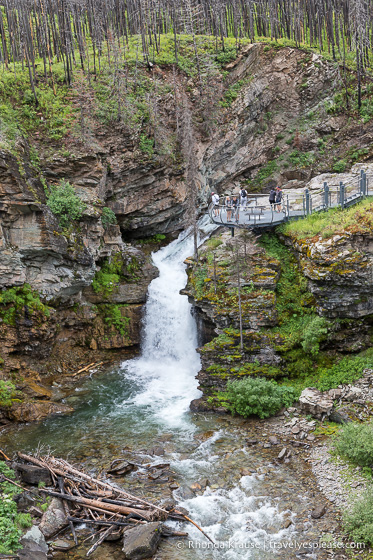 Enhancing the beauty of the waterfall is a backdrop of Mount Hawkins and Mount Blakiston, the highest mountain in Waterton Lakes National Park, as well as the valley the waterfall drops into. The entire scene was gorgeous- a big payoff for a hike that takes an hour or less.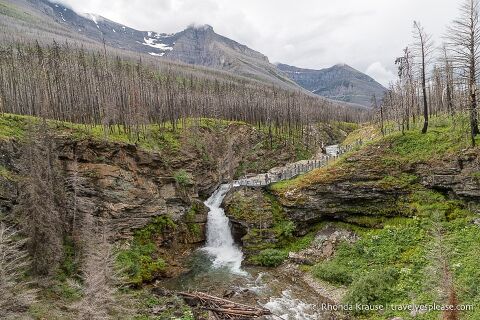 Cameron Lake
We couldn't make a trip to Waterton without visiting Cameron Lake, one of the park's scenic gems. In fact we came to Cameron Lake more than once during our week in Waterton because there are several activities to do in the area (plus it's pretty enough to deserve multiple visits!)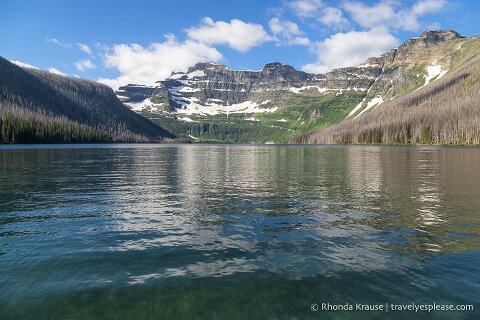 For our first time at the lake we had a picnic lunch near the shore. There are a few tables, but you could also set up some lawn chairs or lay out a blanket closer to the water.
Had we not had an afternoon hike planned at a different location on the Akamina Parkway, we would have gone for a walk on the Cameron Lakeshore trail, so that might be something you consider adding to your Waterton itinerary.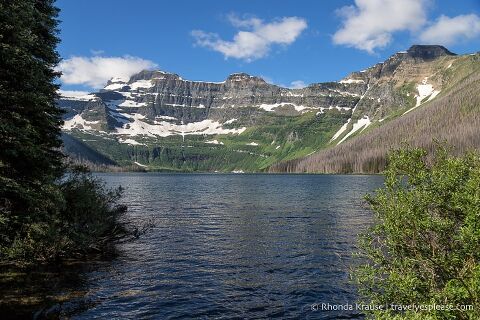 First Oil Well in Western Canada National Historic Site
An interesting stopping point on the Akamina Parkway is the First Oil Well in Western Canada National Historic Site.
Before our trip we had no idea that Waterton Lakes National Park was the site of a short-lived oil boom that saw approximately 25 wells drilled in the region after settlers discovered natural oil seeps near Cameron Creek.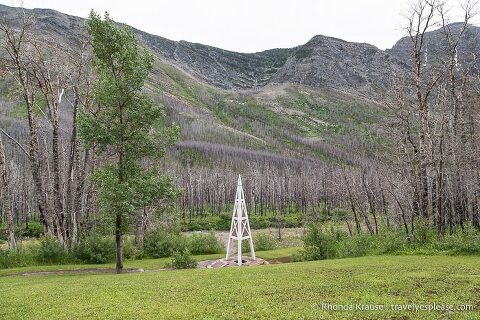 Early attempts to drill for oil had all failed until the Rocky Mountain Development Company struck a strong flow in 1902, making the Lineham Discovery Well the first to become commercially viable in western Canada. This success, albeit brief, started Alberta's first speculative oil boom.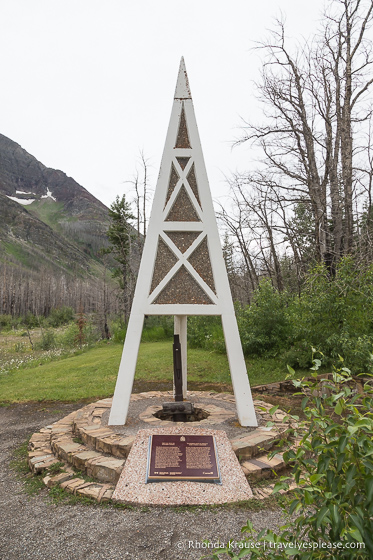 The discovery well only produced oil for about a year because drilling tools got stuck and blocked the flow. In 1965 the well was declared a national historic site and three years later a monument was erected above the old well casing and embedded drilling tools.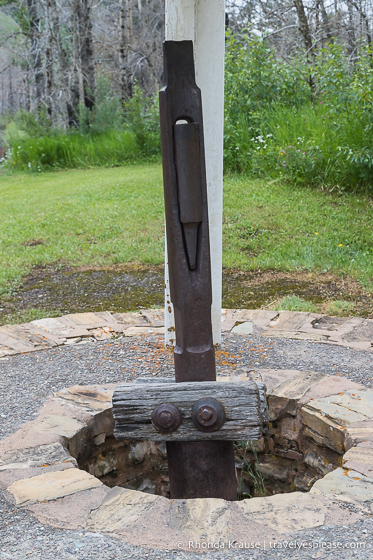 Although we weren't impressed with the monument itself, we did enjoy learning about this part of Alberta's history from the interpretive panels and plaques on display.
Crandell Lake Hike
Our last activity for the day was hiking to Crandell Lake, starting from the Akamina Parkway. 
The trail goes uphill through the forest, offering views of the surrounding mountains, then makes a long descent towards Crandell Lake and the backcountry campground.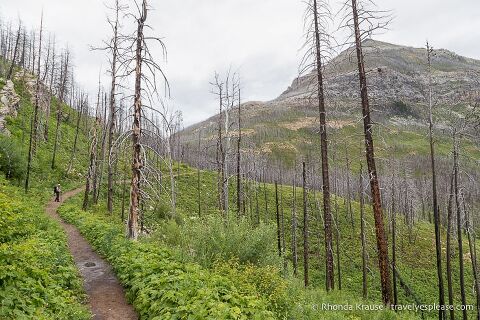 The lake is small and surrounded by mountains and forest. There's even a pebble beach where you can sit and relax. We thought it would be a nice place to camp, especially since you wouldn't have to hike very far with all your gear.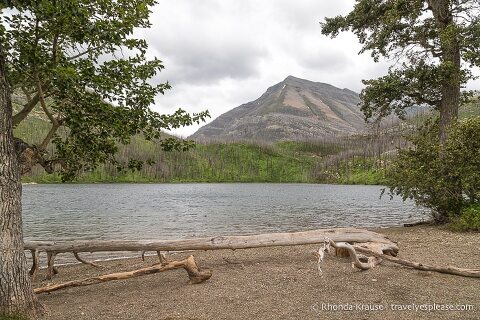 While Crandell wasn't the prettiest lake we hiked to during our trip to Waterton, we still enjoyed the trail and thought it was an excellent option for a short hike. In total, we recorded a distance of 4.6 km and a time of 1 hour 25 minutes.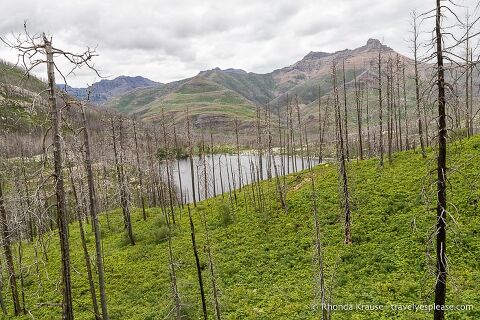 Day 3: Hike Carthew-Alderson Trail
On day 3 we set out on the Carthew-Alderson hike, which is widely considered to be the most beautiful hike in Waterton Lakes National Park. After 7 days in Waterton and several gorgeous hikes, we absolutely agree!
Carthew-Alderson Hike
The Carthew-Alderson hike was a 19.5 km journey that took us from Cameron Lake back to the Waterton townsite. Since this is a one-way hike, we took the local hiker shuttle operated by Tamarack Outdoors to the trailhead.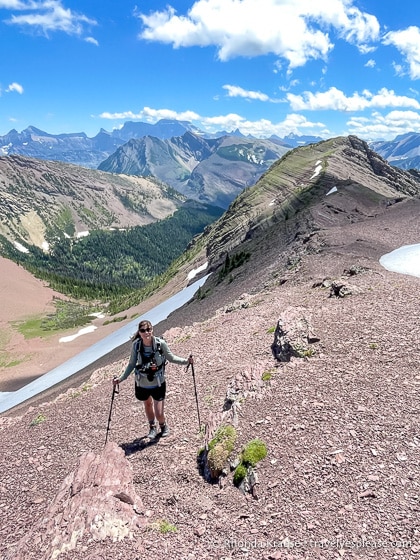 Upon leaving Cameron Lake, the trail makes a gradual ascent through the forest to Summit Lake, then climbs up a scree-covered slope to Carthew Ridge where there are spectacular mountain views in every direction.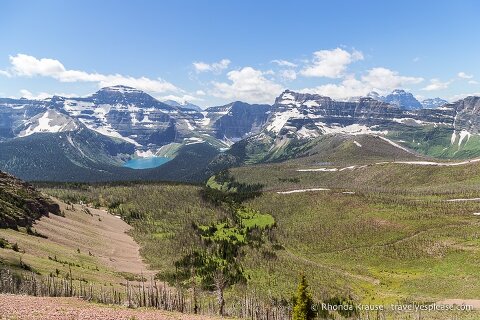 From the ridge we could see the peaks of Glacier National Park, as well as the Carthew Lakes nestled between Mt. Carthew and Mt. Alderson. It was without a doubt the view that wowed us the most during our week in Waterton.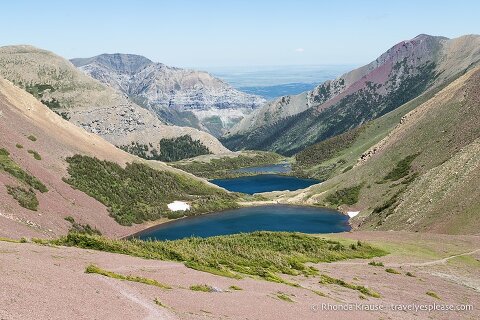 After the ridge the trail descends to the Carthew Lakes where we stopped for lunch. The rest of the hike was all downhill, taking us past a tall waterfall, Alderson Lake, and then through the forested Carthew Valley to Cameron Falls back at the townsite. 
Even though this was a long hike (took us 8 hours with breaks), we were kept engaged by the scenic variety. The only downside was the lengthy forest walk at the end, especially since there were so many bushes encroaching on the trail that we felt like we were bushwacking at times! Still, we thought this hike was one of the best things to do in Waterton Lakes National Park.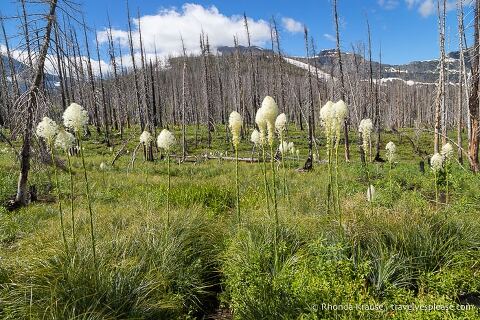 Day 4: Kayaking on Cameron Lake, Golfing at Waterton Lakes Golf Course
After a big day on the Carthew-Alderson Trail, we opted for some activities that didn't involve much walking. In the morning we went paddling on Cameron Lake and in the afternoon played a round of golf at the Waterton Lakes Golf Course.
Kayaking on Cameron Lake
There are several lakes you can go paddling in Waterton Lakes National Park but Cameron Lake is a popular choice because it's typically not as windy as the chain of Waterton Lakes, plus there are rentals available (kayaks, canoes, paddle boards, even fishing gear).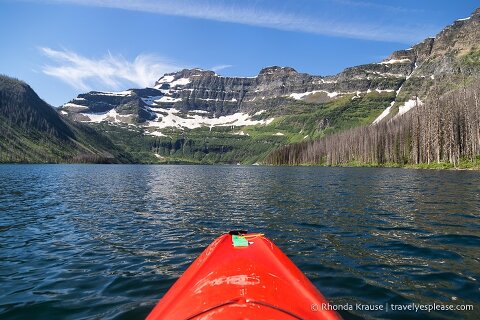 I really enjoyed kayaking here since the lake was small enough to go all the way around, but large enough to spend 2- 3 hours on it. 
The far end of the lake, a small portion which is in Glacier National Park, is stunning with Mount Custer and Forum Peak looming above. My favourite part was the waterfalls flowing down from melting snow on Mount Custer. With all the waterfalls and lush greenery, I felt like I was on a tropical island!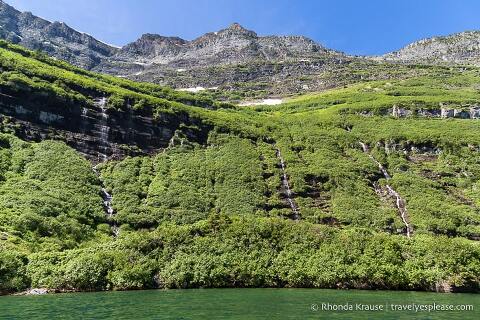 While I was exploring in my kayak, Mike went fishing in a canoe. He caught three brook trout in less than an hour. Later he fished from the dock but wasn't as lucky.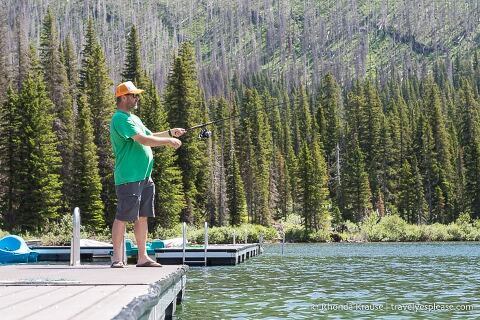 Waterton Lakes Golf Course
Golfing usually isn't top of mind when thinking about things to do in Waterton, even though the park has had a golf course since 1922.
The beautiful and challenging Waterton Lakes Golf Course features 18 holes that perfectly incorporate the prairie and mountain scenery the park is known for.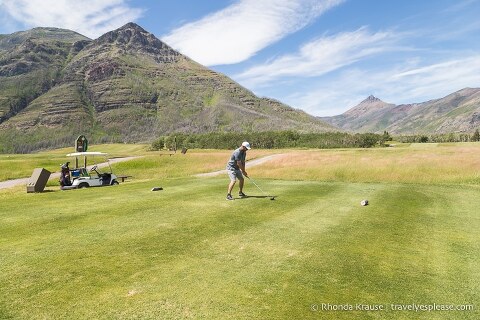 If the lovely views don't distract you from your game, the wildlife that sometimes wander through the course just might. Staff told us that earlier in the day there was a bear on one of the fairways. I wish we would have seen that!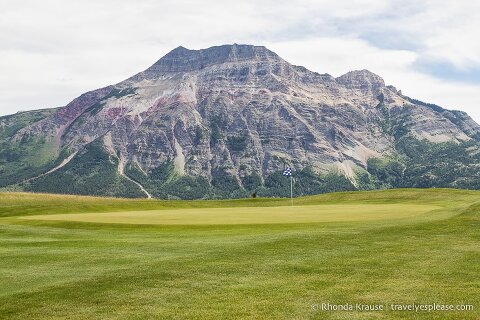 Day 5: Hike Crypt Lake Trail
The next activity on our Waterton Lakes National Park itinerary was the famous Crypt Lake hike, rated one of the "World's 20 Most Thrilling Trails" by National Geographic in 2014. 
Crypt Lake Hike
The Crypt Lake hike is one of the most unique (and popular) trails in Waterton Lakes National Park thanks to some novel features like a ladder leading up to a natural tunnel and a narrow cliff traverse.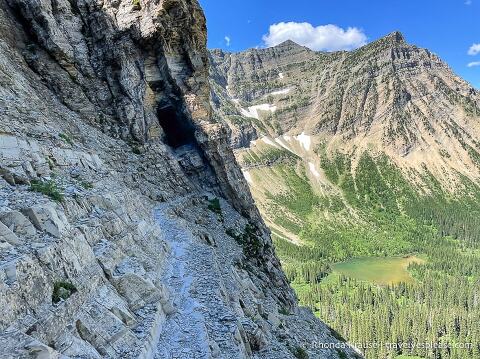 To reach the trailhead you have to take a 15 minute ferry ride across Upper Waterton Lake to Crypt Landing. From there the journey to Crypt Lake begins with a long walk in the forest, then a well graded climb through a mountain framed valley.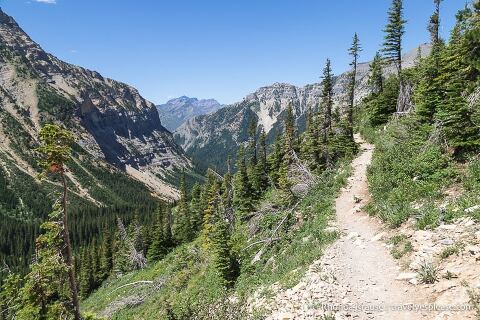 Near the end of the hike is the most adventurous section of trail. We walked a narrow path near a cliff edge, climbed a ladder, maneuvered through a tunnel, then used a cable for support during the final ascent along the rocky mountainside.
In our opinion this part wasn't as thrilling (or scary) as people make it out to be, especially when we compared it to the Angels Landing hike in Zion National Park and some via ferrata routes we've done. However, if you have a lower tolerance for risk and heights, then this section may be challenging.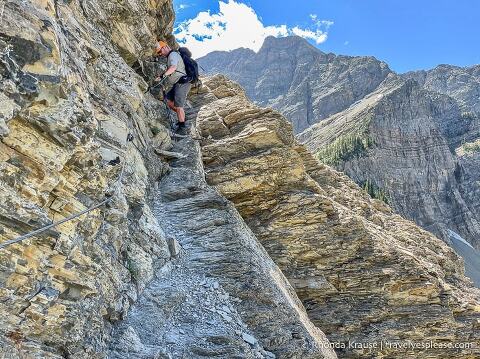 After conquering that interesting segment of trail, we soon arrived at Crypt Lake. It was a wonderful place to relax before our return trip back to the ferry dock. In total, we recorded a distance of 18.3 km for this hike.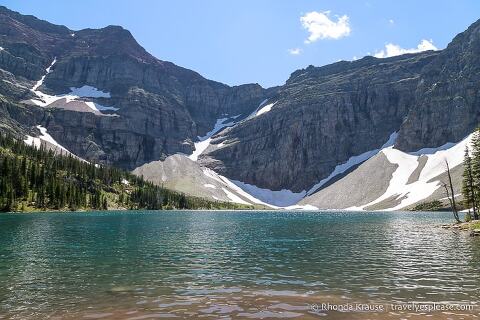 Day 6: Bear's Hump, Bike Ride, Relax at the Lake, Waterton Valley Viewpoint
Today was somewhat of a rest day, as we only did a short hike and bike ride around town, then hung out at a few different beach areas. We ended the day with a scenic drive along Highway 6 to the Waterton Valley Viewpoint.
Bear's Hump Hike
A great way to begin a morning in Waterton is by doing the short hike up Bear's Hump Trail.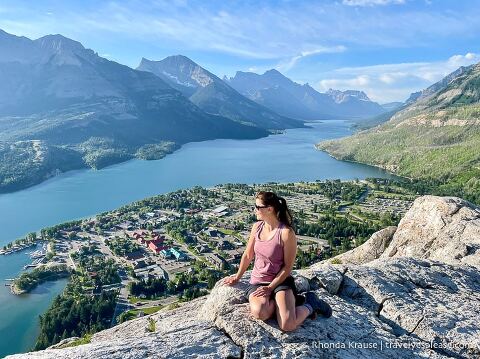 Starting from the parking lot across from the Prince of Wales Hotel, the trail zigzags steeply to a flat part of Crandell Mountain (also known as Bear Mountain). From Bear's Hump there are amazing views of the Waterton townsite, Upper Waterton Lake, and the Rocky Mountains.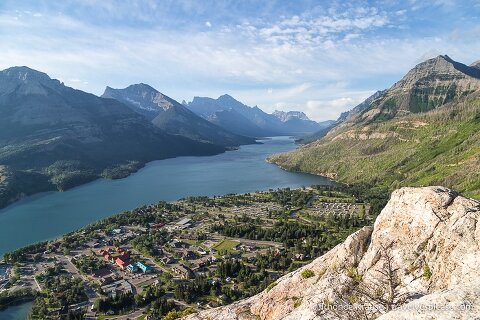 At only 2.4 km round trip, with one of the finest views in Waterton Lakes National Park, it's easy to see why this hike is a favourite of both locals and visitors.
Bike Around Waterton
During a summer trip to Waterton you'll see people riding around town on Surrey bikes, a four wheeled bike with a canopy. Even though it's definitely a "touristy" activity, it still looked like fun so we decided to rent one for an hour.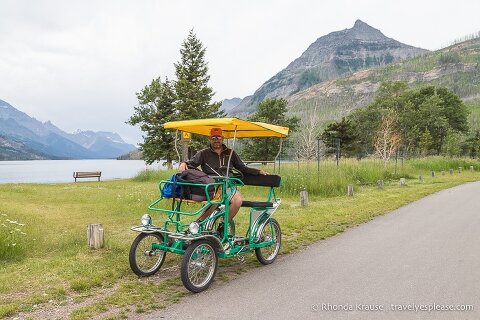 Since they're single-speed bikes, and take more effort to pedal than we expected, we were limited to riding on the roads in town where it's nice and flat. We pedalled through the campground, then along pedestrian-friendly Waterton Avenue, and before we knew it the hour was up!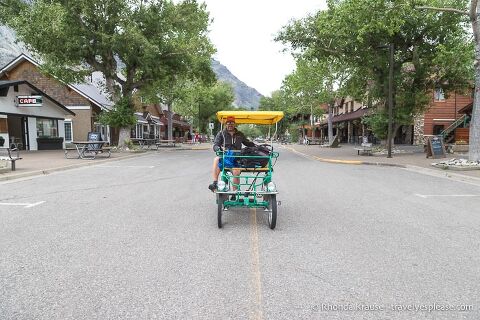 Emerald Bay and Driftwood Beach
Our next activity was to have lunch at the Emerald Bay Picnic Area. While here we watched kayakers paddle on the water and boats come and go from the marina. We were even visited by a cute deer!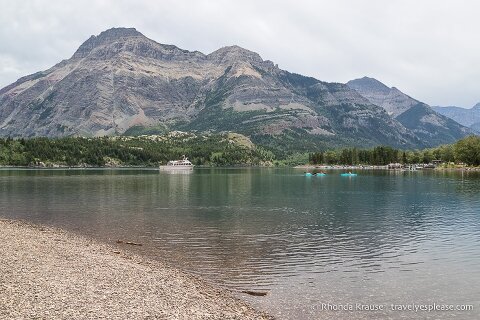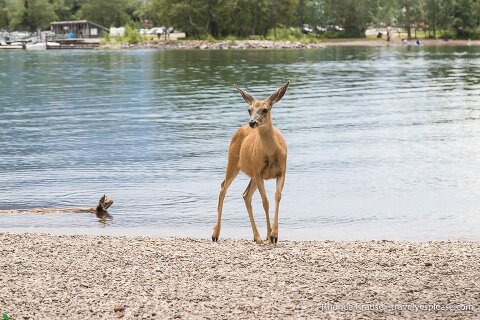 For a change of scenery we later moved to Driftwood Beach beside Middle Waterton Lake. This beach had fewer people and, unsurprisingly, a lot of driftwood on shore.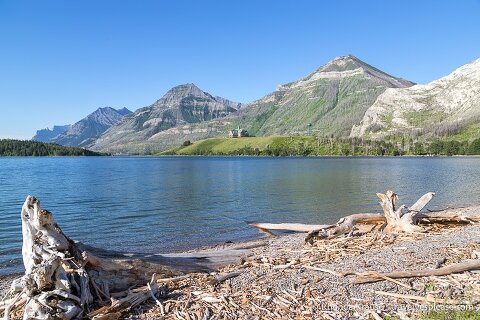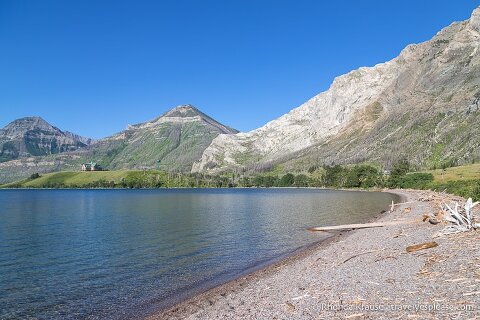 My favourite part of Driftwood Beach was that it was such a beautiful vantage point for photographing the Prince of Wales Hotel. I loved seeing this historic building perched on a bluff between Middle and Upper Waterton Lakes with a chain of mountains in the background. Perfection!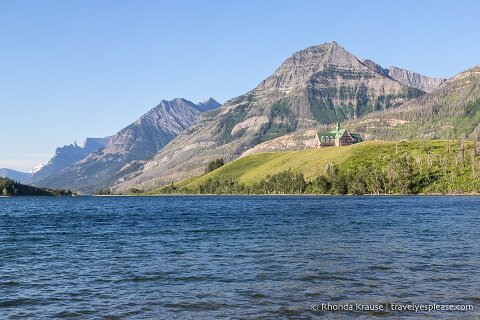 Scenic Drive to Waterton Valley Viewpoint
Looking to explore beyond the typical tourist zones, we set out on a drive along Highway 6, going as far as the Canada/U.S. Chief Mountain border crossing station.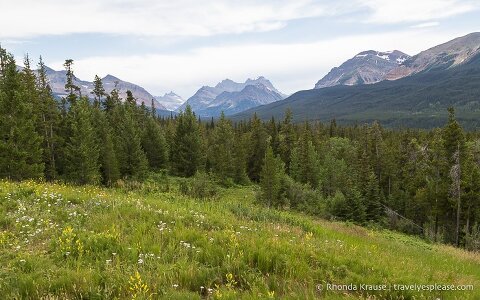 On route there are several pullouts you can stop at to admire the scenery, but the main one is the Waterton Valley Viewpoint. Here there are some signs with information about the park and a wide view of mountains bordering the valley.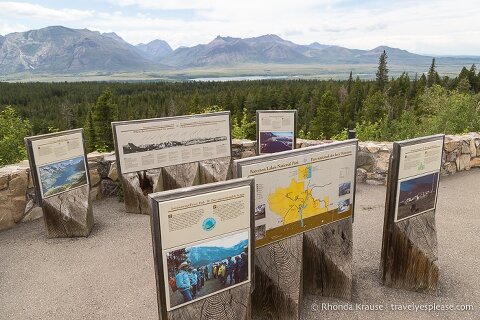 Day 7: Hike Bertha Lake Trail, Watch a Movie at Waterton Lakes Opera House
We spent our last full day in Waterton Lakes National Park hiking to Bertha Falls and then Bertha Lake. Afterwards we enjoyed an ice cream cone on the beach and caught an evening movie at the town's small theatre.
Bertha Lake Hike
Bertha Falls and Bertha Lake are two more wonderful places to visit in Waterton Lakes National Park and both can be reached on the same hike (11 km round trip). 
The trail first makes a moderate ascent near the western shore of Upper Waterton Lake then arrives at a lovely viewpoint where you can look south down the lake.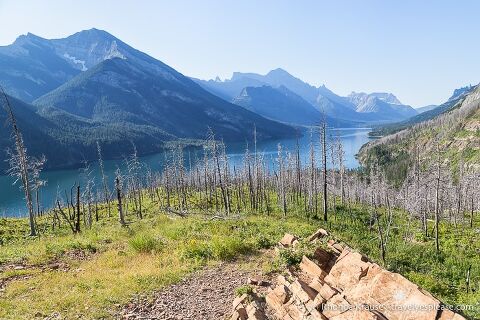 After the viewpoint, the trail continues through an open forest then arrives at Lower Bertha Falls. Many people end their hike here, but we continued onwards and upwards to Bertha Lake.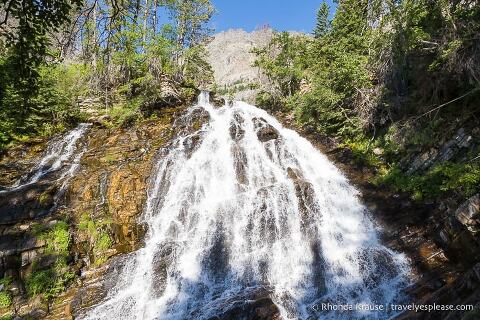 The hike to Bertha Lake is a steady climb, but not too steep because of the switchbacks. It's worth persevering because the lake is superb with clear water, a mountain-framed shoreline, and a waterfall nearby. There's even a backcountry campground if you want to stay the night.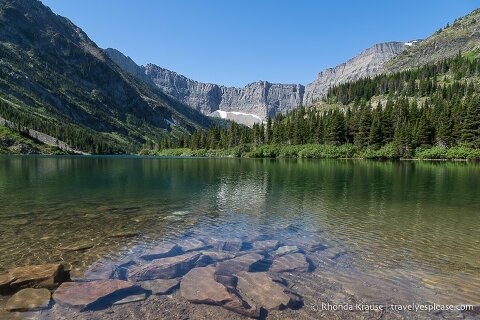 Waterton Lakes Opera House
On the last night of our Waterton trip we decided to go watch a movie at the Waterton Lakes Opera House, one of the oldest buildings in town. Part of the theatre's charm is the vintage interior, but unfortunately the old seats weren't very comfortable. Still, seeing a movie was a nice way to relax after a busy week in Waterton.
Day 8 (Departure, Afternoon): Afternoon Tea at Prince of Wales Hotel
The final activity on our Waterton itinerary was to indulge in afternoon tea at the historic Prince of Wales Hotel.
Afternoon Tea
I didn't want to leave Waterton without taking part in the time honoured tradition of afternoon tea at the Prince of Wales Hotel.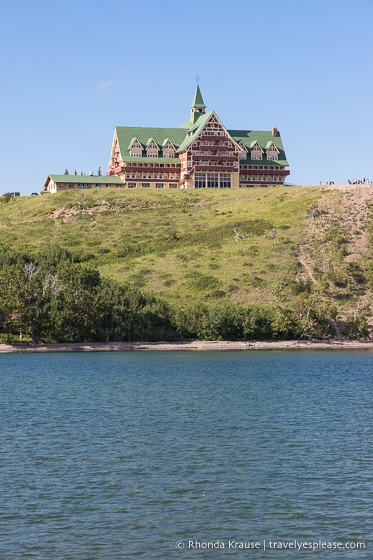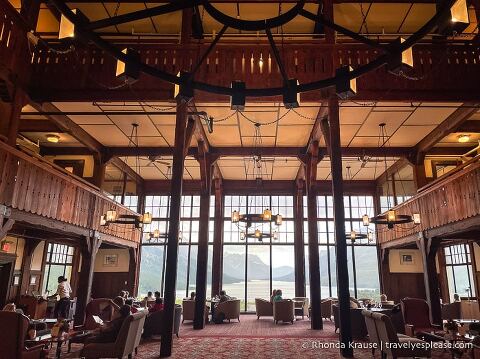 Served in the Royal Stewart Dining Room looking out onto Upper Waterton Lake, our afternoon tea consisted of a delicious selection of sweet and savoury items alongside a variety of quality teas. We enjoyed small sandwiches, scones, tarts, and cookies. I wasn't expecting to be so full afterwards!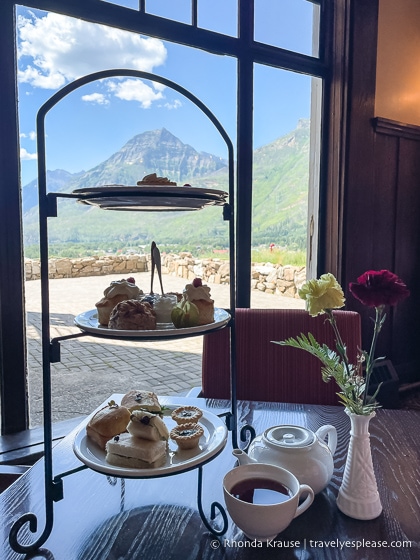 This experience is one of the top things to do in Waterton so we recommend making reservations in advance.
More Things to Do in Waterton Lakes National Park
Even after spending a week in Waterton, we still didn't have time to do all the activities we were interested in. Here are a few more things to do in Waterton that we're planning for our next trip:
Boat tour on Upper Waterton Lake to Goat Haunt in Glacier National Park, Montana. 
The interpretive, ranger led International Peace Park hike from Waterton to Goat Haunt. 
Hike to Upper Rowe Lake and Lineham Ridge
Hike to Lineham Falls
Kayak on Upper Waterton Lake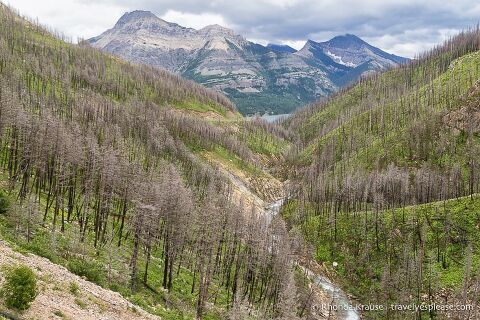 Final Thoughts About Our One Week Waterton Trip
We absolutely loved visiting Waterton Lakes National Park! From the stunning hikes and gorgeous lakes, to the laid back vibes of the small town that made me feel at home, Waterton had everything we look for in a summer vacation destination.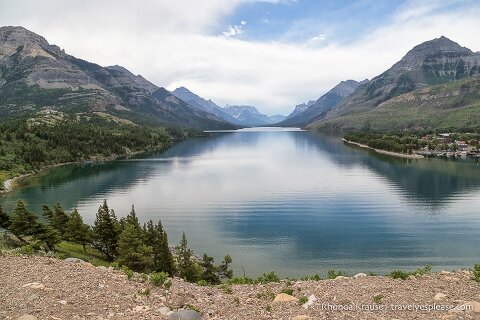 We really appreciated that Waterton is less crowded than Banff and Jasper, the other Rocky Mountain national parks in Alberta. This is mainly due to Waterton not having enough accommodations to support a huge amount of visitors, so we had to book our hotel months in advance (and even then there was only one option left).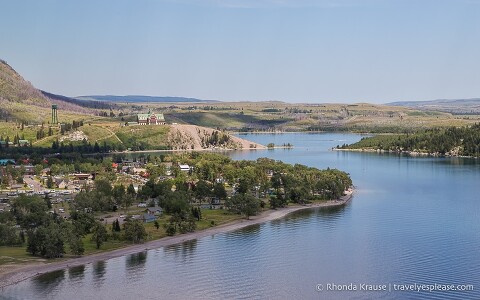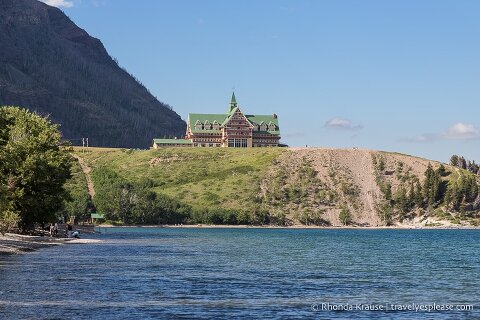 It was so refreshing, especially after visiting Banff, to not have to deal with traffic congestion, search for a parking spot, or share the trails with scores of people. Weekdays in Waterton were very relaxing, and even when more people arrived on Friday and Saturday, it wasn't overwhelming and the crowds could be avoided with an early start hiking/sightseeing. By Sunday morning the town was quiet again.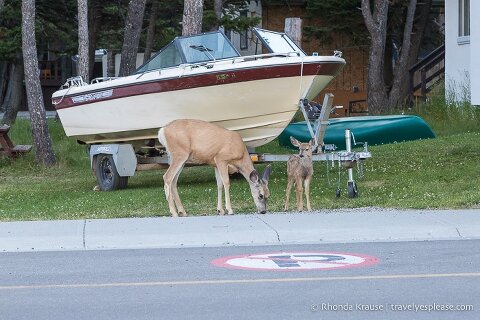 Another thing we liked about Waterton is that almost all the businesses are family owned and have been for generations. We felt good knowing that our tourism dollars were staying local and not going to a big corporation based elsewhere.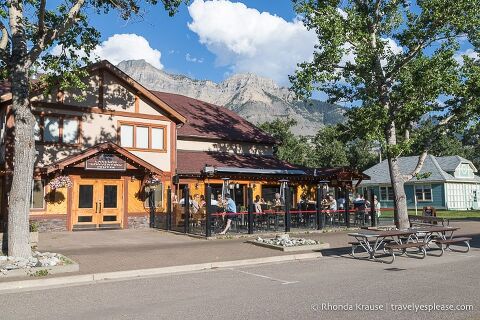 I could go on about all the fantastic experiences we had, but the fact that we didn't want to leave after 7 days in Waterton says it all about how incredible this park is. Waterton may be small in size, but it's big on adventure and well worth including as part of an extended Canadian Rockies road trip.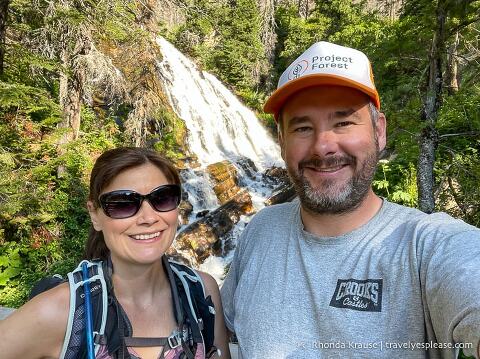 Tips for Visiting Waterton Lakes National Park
Location: Waterton Lakes National Park is located in the southwest corner of Alberta and shares borders with British Columbia to the west and Montana to the south. The park is approximately 270 km south of downtown Calgary.
Getting There: The closest international airport to Waterton is in Calgary. From there you have to drive 3 hours to Waterton via Highways 2, 3, and 6. 
Getting Around: The village of Waterton is small and walkable, but to visit other attractions in Waterton Lakes National Park you will have to drive. There is no shuttle service in the park other than the hiker shuttle by Tamarack Outdoors that goes to the Carthew-Alderson and Tamarack trailheads.
Park Pass: Visitors are required to buy a park pass at the entrance gate. A daily fee is charged per person or per family/group (up to 7 people arriving in a single vehicle). You can also buy an annual pass.
If you will be staying in Waterton (or other national parks) for at least 7 days, it is cheaper to buy the annual Parks Canada Discovery Pass.
Best Time to Visit Waterton: Summer is peak season for visiting Waterton, especially in July and August. This is when the weather is best for outdoor activities and all services are open. Weekends, especially holiday long weekends, are the busiest, notably between 10:00 am and 4:00 pm.
Most accommodations and businesses are closed from mid-October to early spring, so there's only a few choices for lodging and restaurants during the winter. Some hotels and businesses even close as early as the third week of September.   
Camping: Waterton Lakes National Park has three front country campgrounds and ten backcountry campgrounds. The Townsite Campground is in high demand and reservations are accepted/recommended for dates from early May to early September.
Kayaking: Waterton has implemented a mandatory watercraft inspection to protect the park from aquatic invasive species. If you're bringing a non-motorized boat, you will have to visit the inspection station before the park gate. Once it's determined that your boat is clean (free from mud, plants, and standing water), you will be given a permit and a waterproof tag will be attached to your boat. If you don't get a permit your boat can't enter any body of water in the park.
Parking at the Prince of Wales Hotel- There is a fee to park at the Prince of Wales Hotel for overnight and day guests. However, if you'll be visiting for less than 30 minutes, perhaps to check out the view from the bluff, you can get free parking. Just let the lot attendant know your plans and they will direct you to a free 30 minute parking spot if there's room.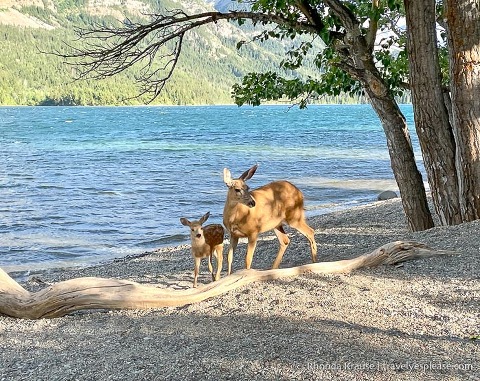 Accommodations in Waterton Lakes National Park
For your convenience, here is a list of hotels in Waterton Lakes National Park. Please consider booking your Waterton accommodations through the included link. It costs nothing extra and helps support this website. Thank you!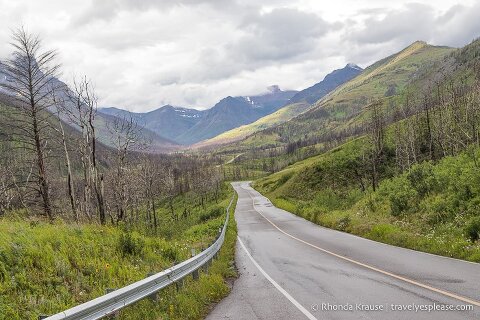 More Alberta Destinations and Travel Guides