Purchases made through links earn us a small commission, at no extra cost to you.
We've been exploring a lot of our home province of Alberta lately, branching out from our go-to vacation spots in the Canadian Rockies in favour of lesser-known destinations. On one of our weekend getaways we discovered Sundre, a small town in the foothills of central Alberta.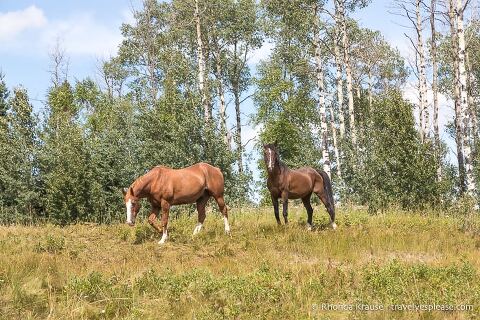 Things to Do in Sundre and Surrounding Area
Before our trip we weren't sure what sort of attractions in Sundre there were, or if there'd be enough things to do in Sundre for a 3 day trip. Well, there was no need to worry- we found a perfect mix of adventure, nature, relaxation, and culture.
Here are some fun things to do in Sundre and the surrounding area on a weekend getaway!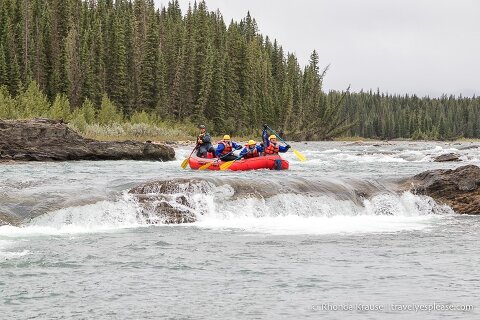 Play a Round of Golf
Golfers will appreciate that Sundre has a beautiful 18 hole golf course conveniently located just minutes from the centre of town. The Sundre Golf Club prides itself on being in top condition throughout the season, with impeccably manicured fairways, tall mature trees, and water features with fountains.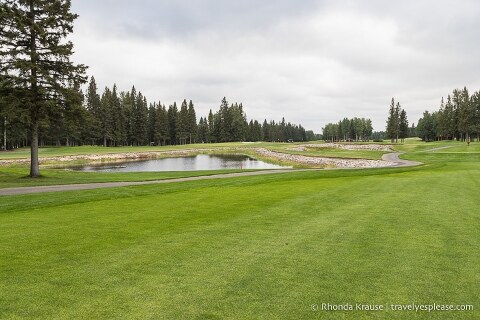 The course features a par 72, 6778 yard design with large, fast greens and tree-framed fairways. Being in the foothills, we were surprised that the course was on fairly flat land with only small undulations, but loved that it had a countryside feel without actually being far from town.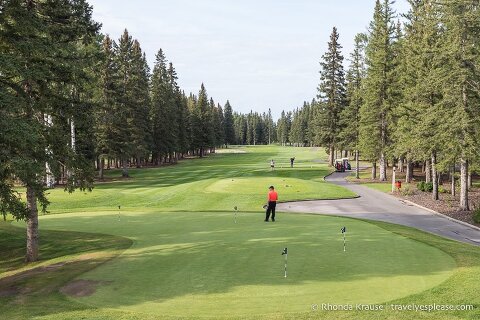 As a beginner, and sometimes reluctant golfer, I found the course to be challenging but not frustrating, and pretty enough to hold my interest. Aside from the typical obstacles of sand traps and water hazards, the main challenges were the subtle contours on and around the greens and the narrow fairways. Being able to consistently hit straight is an asset here!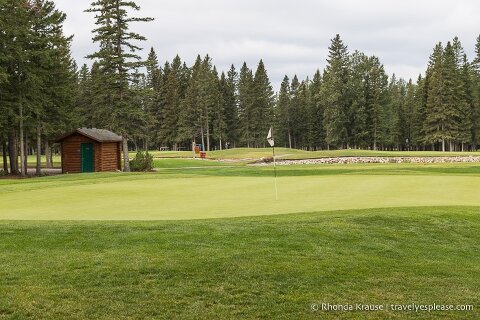 The Sundre Golf Club also has a driving range, practice green, and a renovated clubhouse with a pro shop and restaurant. We recommend having a meal here after your golf game because the food was delicious! 
Even though Mike and I have different skill levels when it comes to golf, we both thought that golfing at the Sundre Golf Club was one of the best things to do in Sundre. It's a high quality course at a fair price, the atmosphere was friendly and down to earth, and the course was so picturesque that even if I had got frustrated playing, I would have been content to ride around and enjoy the gorgeous scenery.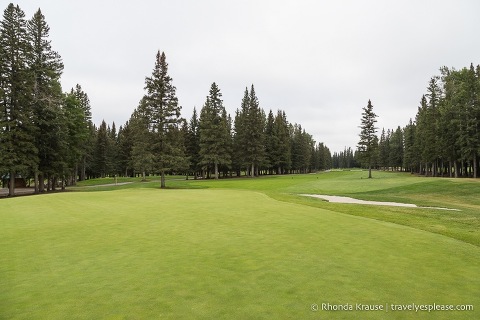 Hike or Bike at Snake Hill Recreation Area
Snake Hill Recreation Area is situated on a wide hill near the centre of town and features 17 km of unpaved paths for hiking and mountain biking (or cross country skiing in the winter).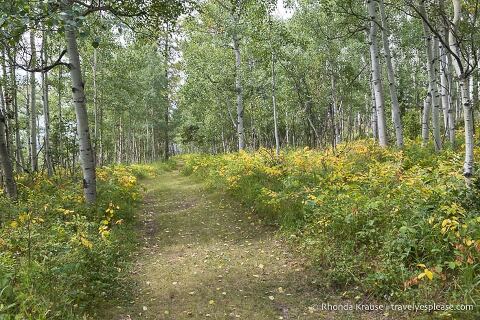 The forested trails are perfect for a quiet nature walk among towering aspen and spruce trees. There's even a viewpoint with a bench overlooking the rodeo and school grounds.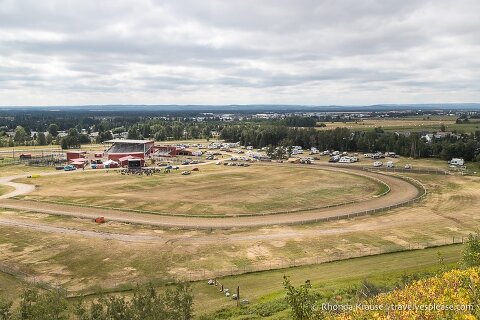 Snake Hill is fun to explore because there are many different trails that intersect with each other to form a variety of routes. We mostly kept to the perimeter during our walk so we could visit the lookout point, but the connected loops deeper in the forest looked enjoyable as well.
We would rate the trails at Snake Hill Recreation Area as easy, but there are some small hills. We recommend bringing a copy of the trail map with you (download it here) because we only came across one "You Are Here" map/sign during our walk. With so many loops it can be a little confusing for first time visitors, but all those route options allow for a unique experience if you visit multiple times during your trip to Sundre.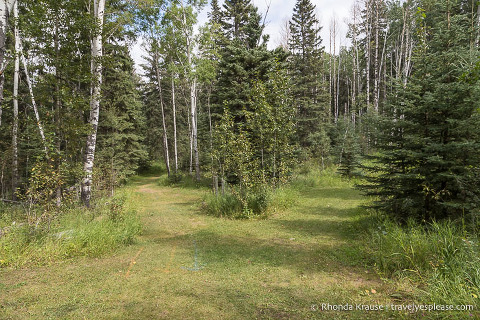 Walk the Riverside Trails
Sundre has more great walking trails along the banks of the Red Deer River, which flows through town.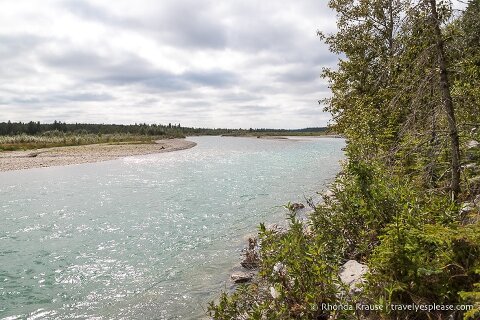 A great place to start your walk is at the Greenwood Community Gazebo in the Greenwood Campground (just follow the road into the campground and it will take you right to it). From the gazebo you can follow the riverside path to take in views of the Red Deer River. There are even some benches to rest along the way.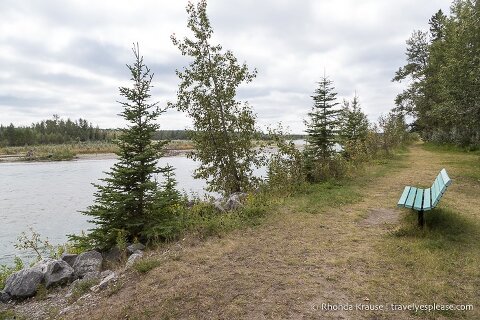 Other trailheads for walking along the river can be found in the residential area east of Centre Street.
Sip Some Locally Made Gin 
If you're feeling thirsty after walking the nature trails, stop by Greenwood Distillers to pick up some locally made craft liquors. 
This micro-distillery is a small operation run by four friends who specialize in making gin and wassail. Self-taught distillers, they went on to create their award winning Roundabout Gin, which won Judges Selection at the 2021 Alberta Beverage Awards.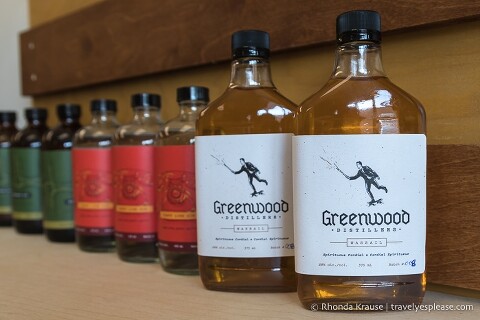 During our visit to the distillery we got to sample their drinks and learn how they're made. Interestingly, many of the botanicals used in their products, like yarrow, fireweed and juniper, are foraged from around the Sundre area. Other ingredients, like honey, are also locally sourced. 
The local flavours in the bottle and small town stories on some of the labels were probably our favourite thing about Greenwood Distillers.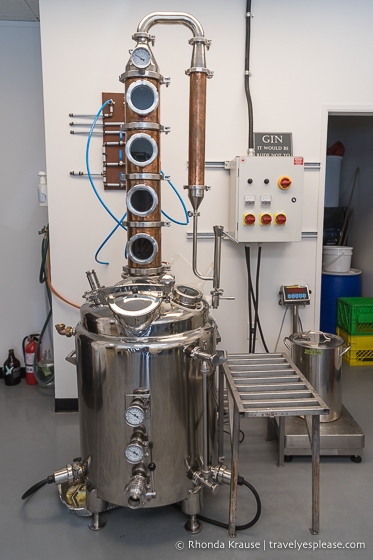 If you want to visit the distillery, they are open on Saturday afternoons. Just call ahead if you want to book a tour. 
As for what drink Mike recommends, his favourite was the Party Line Gin. 
Admire Art at the Bergen Rocks International Sculpture Park
Another one of our favourite Sundre attractions is the Bergen Rocks International Sculpture Park, located in a rural area just 10 minutes outside of town. 
The name really says it all- it's a park with sculptures made by artists from all over the world. What makes it really special though, is that the sculptures were made on site at the acreage of local sculptor Morton Burke, during symposia he organized, hosted, and funded.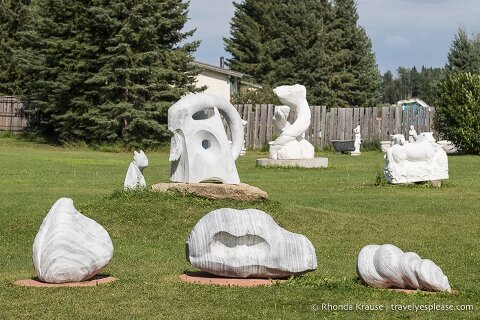 This isn't your typical sculpture museum and a lot of its charm comes from the fact that it's outdoors, laid-back, and free of pretension. Oh, and totally unexpected. We had no idea that so many artists travelled thousands of miles to small-town, central Alberta simply to create at a grassroots symposium. Such a cool concept!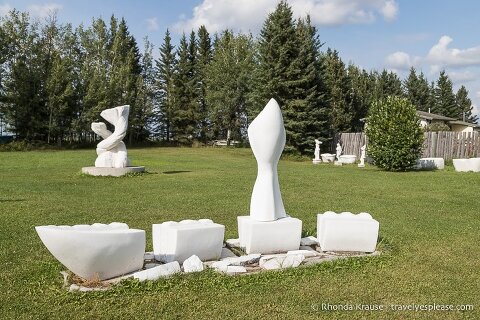 At the Bergen Rocks International Sculpture Park you can see works by sculptors from Ukraine, Turkey, Korea, Mongolia, Iran, Armenia, Thailand, Germany, India, and Ireland. Each piece on display at Morton's property is accompanied by a sign with information about the artist and a description of their piece. It was interesting to learn the artist's inspiration and interpretation of their work.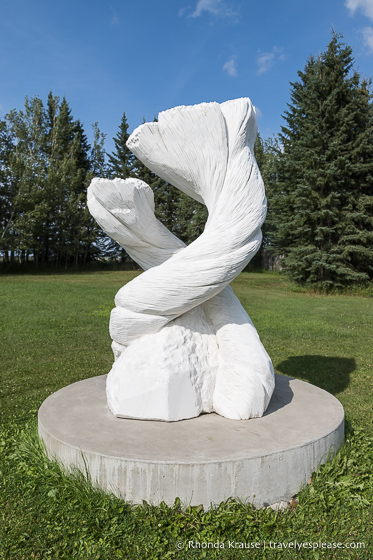 Bergen Rocks is open to visitors daily from spring through fall. You can just drop by for a self-guided tour or call ahead to reserve a tour with Morton. Admission is free but donations are appreciated.
Discover Indigenous Culture on a Medicine Walk 
Perhaps one of the most interesting things to do in Sundre is to go on a medicine walk with an interpretive guide from Mahikan Trails, an Indigenous tour company that specializes in facilitating connections to and understandings of the traditional lands.
During our walk with Mahikan Trails, we developed a new appreciation for the richness of the forest, its healing properties, and its longstanding importance in Indigenous culture. 
After being guided to take notice of certain plants, we learned about their traditional uses for healing and survival. We discovered that spruce sap can be used to help start a fire and make waterproof glue, yarrow can be used to pack wounds and soothe toothaches, and aspen bark can be used for pain relief, just to name a few. While it's truly amazing what the forest can do for us, it's just as impressive how many generations this knowledge has been passed down.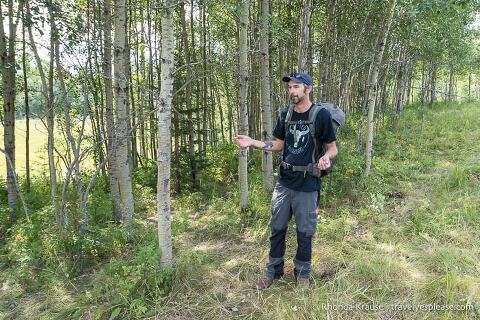 Part way through our walk we stopped to enjoy some berry tea while our guide shared more stories about the forest and his culture, including a humorous tale about a bear encounter.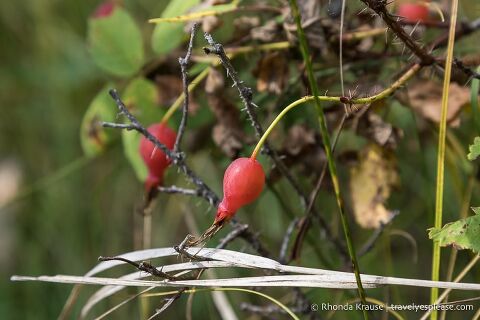 Mahikan Trails offers walks in Sundre and at their property about 30 minutes north of town. They also offer a variety of workshops including Make Your Own Medicine and Plant First Aid. We think it would be fun to go back and do a medicine workshop to make some useful products with our new knowledge!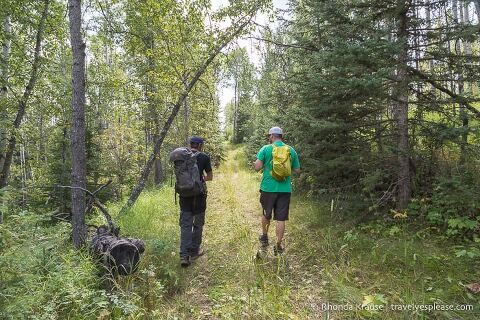 Go Back in Time at the Sundre and District Museum
One of the main Sundre attractions is the Sundre and District Museum. It consists of three parts- an outdoors Pioneer Village, the World of Wildlife taxidermy exhibit, and the Reception Centre Gallery which has displays about the settlement and development of the Sundre area.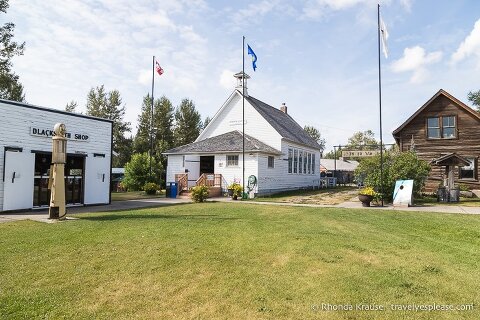 I've always enjoyed open-air museums, so I spent most of my time in the pioneer village. It's a small space with several historic buildings you can go inside/look inside including the Bergen School built in 1908, the pioneer cabin of a Norwegian immigrant, and a ferryman's house. Our favourite building was the Alberta Forest Service Ranger Station, since Mike is a forester.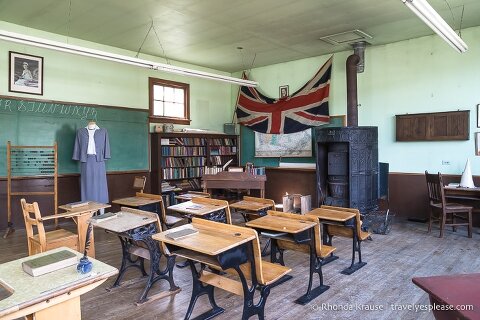 Visit a Refuge Ranch for Wild Horses
One thing you might notice when visiting the foothills of central Alberta are the wild horses that roam the landscape. While nothing beats seeing wild horses in their natural habitat, you can also visit and learn more about them at the Wild Horses of Alberta Society's refuge ranch.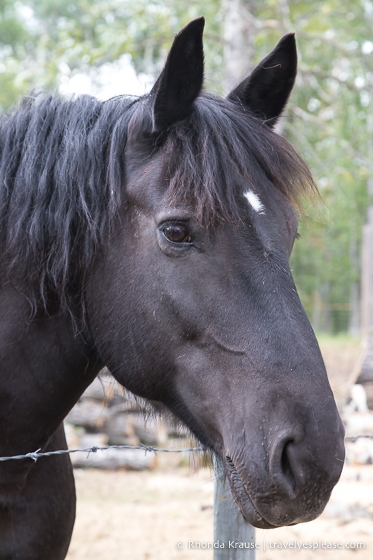 The Wild Horses of Alberta Society (WHOAS) is a non-profit that began in response to the destruction of wild horses in Alberta. They've been working to create more humane solutions for wild horse population management and advocating for their protection.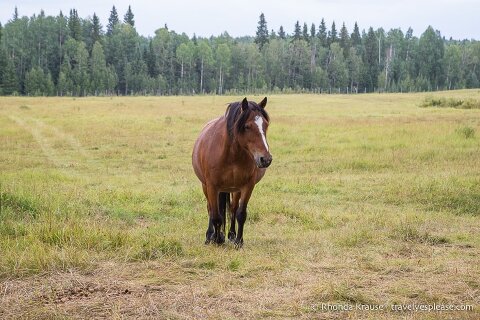 When we visited the ranch we got to learn more about the plight of Alberta's wild horses, the society's mission, and their scientific research. The highlight of our visit was getting to witness their rescue and rehabilitation work while meeting a few of the horses they've given a second chance at life. The horses that end up at WHOAS are typically ones that have caused trouble on private land or have been injured or abandoned.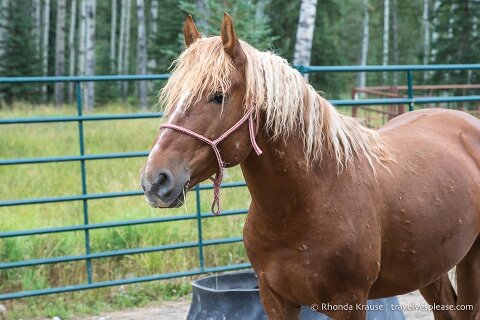 When we visited the ranch, we went on a tour of the barn then got to meet the horses who are currently awaiting adoption to a forever home. We met a feisty little foal who was rescued after being found beside his dead mother. The society's volunteers were providing the young horse with food, medicine, and gentling so that it will become healthy and adoptable. At the time of this writing, 130 horses have been adopted by WHOAS and saved from destruction.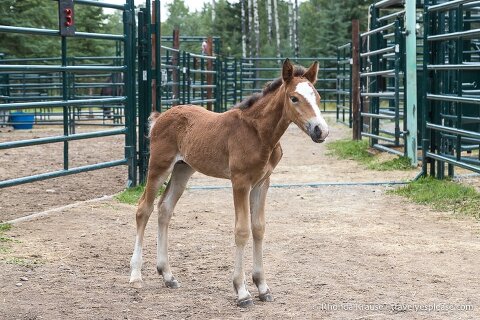 After visiting the corrals, a volunteer took us out to the field to see the resident herd of wild horses. It was quite the scene to see these strong, magnificent animals galloping over to visit us!
If you want to visit the ranch, email ahead of time to arrange a tour. There is no fee to visit, but donations are encouraged to support the work of this volunteer run, charitable organization.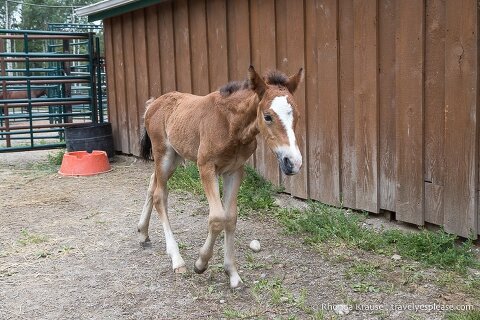 Go Horseback Riding and Spend the Night in a Rustic Cabin
For more time with horses and a relaxing night in the country, head west along Coal Camp Road for a scenic, hour-long drive to Sunset Guiding and Outfitters.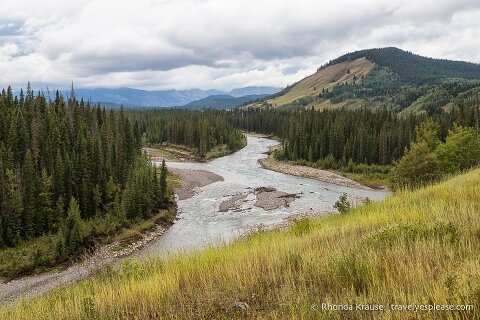 At this backcountry retreat next to the Panther River, you can spend the night in a cute and cozy mini cabin then head out the next morning on a guided trail ride. The home cooked meals at the cafe are pretty darn good too!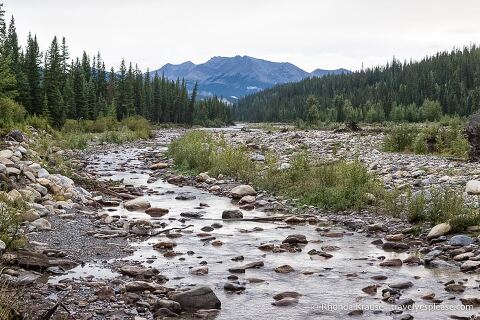 After checking into the "Mustang" cabin, we enjoyed a sunset walk along the river then a quiet campfire before settling into our warm cabin for the night. It had comfy beds, a mini fridge, dresser stocked with extra blankets, and a small table. Toilets and showers were located in a separate building nearby.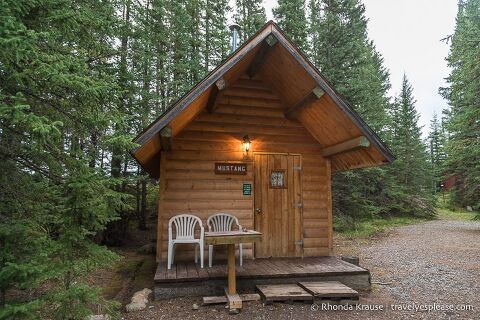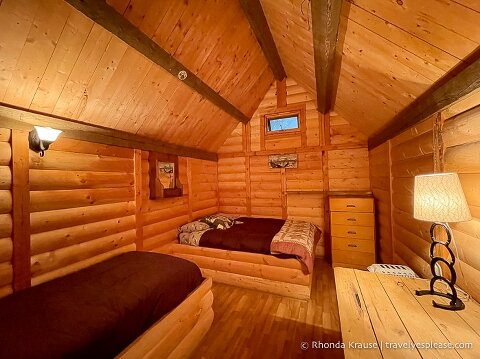 In the morning we were supposed to go horseback riding, but it got cancelled because of the rain and slippery conditions. While it's always disappointing to have plans change because of weather, I'm glad that the staff make the welfare of their horses a priority. At least we still got to visit the horses, meeting Snip, Beauty, and Cash.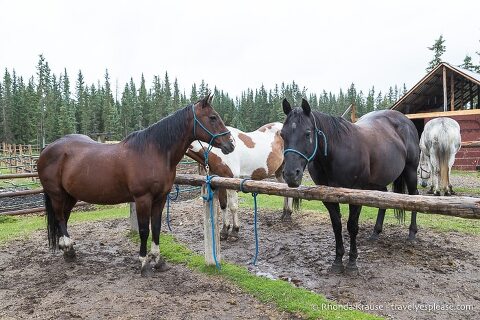 Go Whitewater Rafting on the Red Deer River
We ended our trip to Sundre with a rousing whitewater rafting trip on the Upper Red Deer River with Mukwah Rafting Tours.
After getting geared up with a wetsuit, splash jacket, warm fleece, booties, gloves, life jacket and helmet, one of the guides gave the group a safety talk. We learned how to paddle and sit in the raft, then how to react in different scenarios, like if you get bounced out of the boat, for example.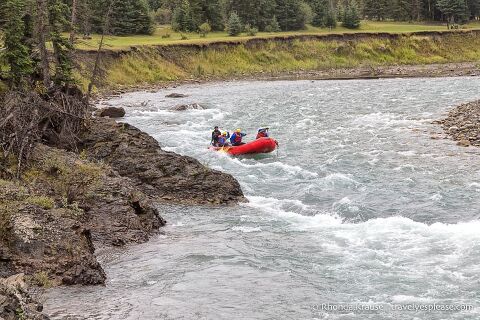 Once on the water, we floated for about 24 km down the Red Deer River, racing through rapids and over small falls. In between the thrills we enjoyed scenic, winding floats between the forested river banks.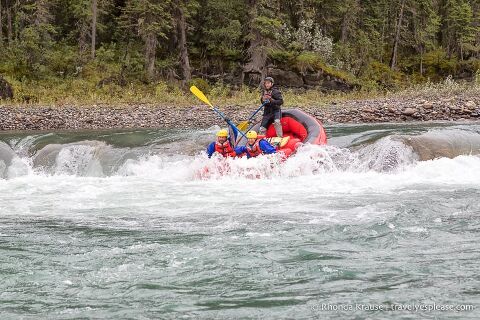 Mike has gone on three guided whitewater rafting trips and he said this was his favourite because it was the most exciting experience. We had no idea the Red Deer River was so great for whitewater rafting! We definitely recommend it if you're looking for some adventurous things to do near Sundre.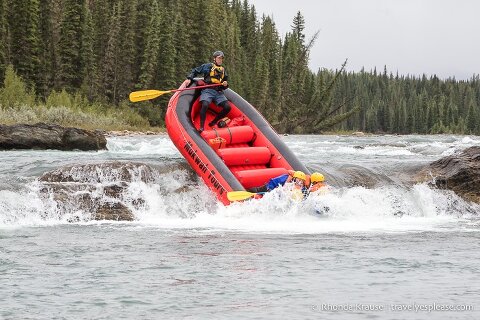 Final Thoughts About Our Trip to Sundre
We really enjoyed our weekend in Sundre and were pleasantly surprised with how much there was to do in the area and how beautiful it was. It was nice not to have to travel all the way into the mountain parks to find adventurous activities like horseback riding and whitewater rafting. Best of all, everything was so much more affordable, there were no crowds of tourists, and we felt good supporting family run businesses. 
Sundre may be a small town, but we didn't think it was lacking anything. We ate delicious food, had comfortable accommodations, and experienced great hospitality. Sundre was a great choice for a laid-back, budget friendly trip that didn't require having to make reservations months in advance.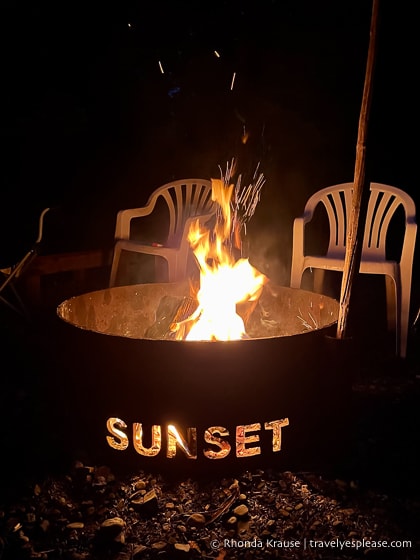 A lot of people (us included) tend to overlook central Alberta as a vacation destination, but it's definitely an area we'll be exploring more in the future.
Tips for Visiting Sundre
Location: Sundre is located in the foothills of Central Alberta on Highway 27. It's about a 2.5 hour drive from Edmonton, 1 hour 20 minutes from Calgary, and 1 hour from Red Deer.
Sundre is part of Alberta's "Cowboy Trail", a scenic north-south route through the province that showcases Alberta's western heritage.
Where to Eat: Sundre has a few restaurants to choose from but we would recommend Tasty Thai for dinner (we both loved the stir frys), the Sundre Golf Club for lunch (delicious house-made salad dressings and a patio overlooking the course), and the Sundre Hotel Restaurant for breakfast (a friendly small town diner with simple food but generous portions).
Mukwah Rafting Tours and Sunset Guiding: The rafting, horseback riding, and mini cabins are located in a rural area about a 1 hour drive from Sundre. There's a long stretch of gravel road to get there, but it's in fairly good shape. Both businesses are just a few minutes apart.
Events in Sundre: Here is a list of annual events in Sundre to help you decide when to visit. There's a music festival, classic car show, winter festival and more.
Sundre Tourism and Travel Information: For more information about visiting Sundre and things to do in Sundre, check out the official Explore Sundre website.
Information was updated January 2022, but can change without notice. Please confirm directly with service providers.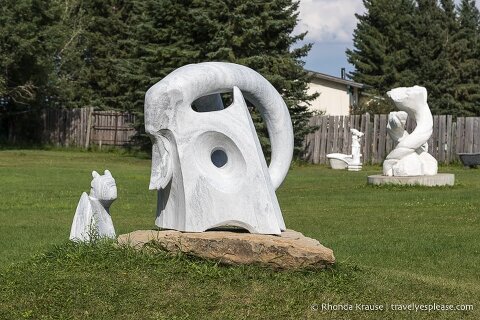 Accommodations in Sundre
For your convenience, here is a list of hotels in Sundre. Please consider booking your Sundre accommodations through the included link. It costs nothing extra and helps support this website. Thank you!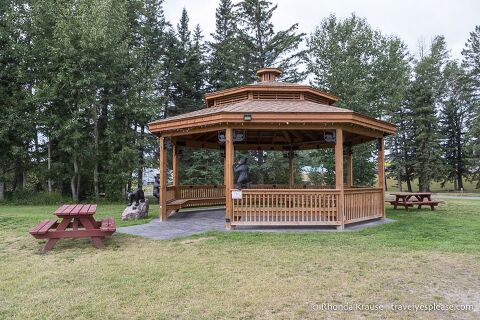 We were hosted by Sundre Tourism and Travel in order to bring you this story. As always, I speak only the truth and hosts have no editorial influence on articles.
More Alberta Destinations and Travel Guides