Purchases made through links earn us a small commission, at no extra cost to you.
Jasper National Park has long been a favourite place of mine. Ever since I was a little kid, I've been fascinated by Jasper's rocky mountains, pristine lakes, icy glaciers, roaring waterfalls, and abundant wildlife.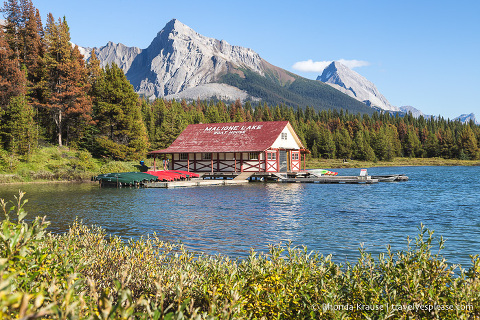 It wasn't hard for Jasper to capture my heart, but even after countless trips, I'm still head over heels in love with this special place in the Canadian Rockies.
Even though I've experienced so much of what there is to see and do in Jasper National Park, I still try to make at least one trip to Jasper every year. Whether I'm re-visiting old favourites or discovering new hikes, I've never been bored on a trip to Jasper National Park.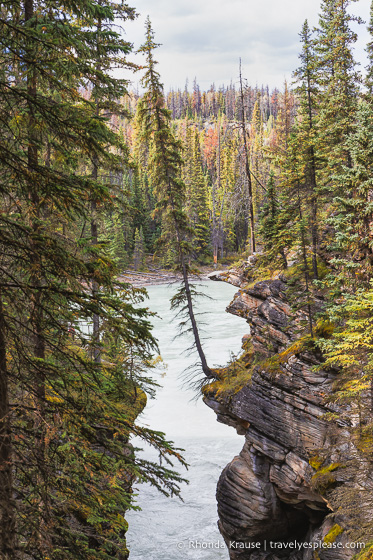 So, if you're visiting Jasper as part of a longer road trip in the Canadian Rockies, or it's your primary destination, rest assured you'll find plenty of exciting activities and beautiful places to see in Jasper National Park!
Things to Do in Jasper National Park
No matter the season, there's a wealth of incredible places to visit in Jasper National Park.
Here are 17 fun things to do in Jasper that are worthy of your Jasper National Park bucket list.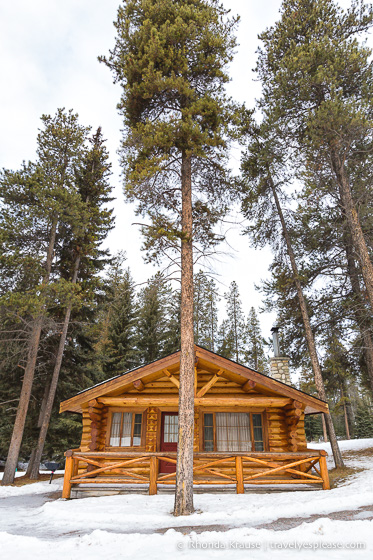 Take a Boat Cruise on Maligne Lake
One of the most enjoyable things to do in Jasper National Park is take a boat tour on Maligne Lake.
As the largest natural lake in the Canadian Rockies, Maligne Lake has plenty of exquisite views to show off along its 22 km shoreline. From glacier-capped mountains to quiet conifer forests, it's easy to see why a cruise on this vivid blue lake is such a classic Jasper experience.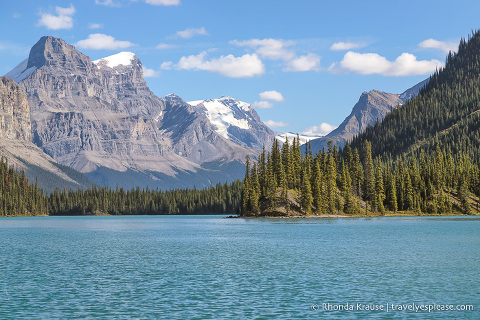 The highlight of this tour is undoubtedly the short stop at Spirit Island, subject of one of the most popular pictures of the Canadian Rockies. A walk on the nature trail across from the island provides plenty of great opportunities to capture your own version of this famous scene!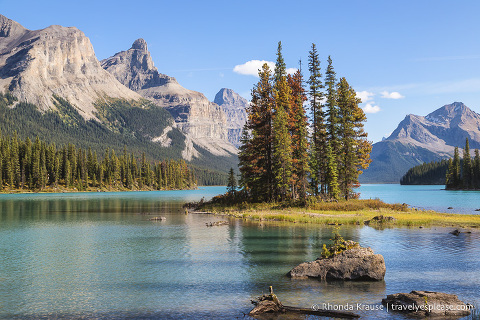 Best time to enjoy this activity: June to early October.
Read more: Maligne Lake Cruise to Spirit Island
Go Hiking in the Valley of the Five Lakes
The Valley of the Five Lakes trail is a great choice for casual hikers who want to experience beautiful scenery without having to go on a long, challenging hike.
During the 4.5 km loop (or 9 km if you choose the longer option), you'll pass by five richly coloured lakes nestled in a tree-framed valley. Each of the lakes differ in colour from blue to green, or are a stunning mix of both. There are even fantastic reflections of the surrounding mountains and forest in the calm, clear water.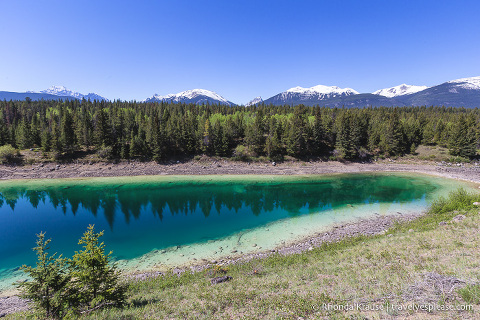 At an especially scenic point on the trail, there's a set of Parks Canada's red Adirondack chairs to comfortably enjoy the view from. There's no doubt that these vibrant lakes are a must-see in Jasper National Park!
Best time to enjoy this activity: Late spring to early fall.
Read more: Hiking the Valley of the Five Lakes
Go Hiking in Cavell Meadows
The Cavell Meadows trail is a satisfying, moderate day hike that showcases the variety and beauty of Jasper's alpine scenery.
During the 6-7 km hike, you'll pass by Angel Glacier, Cavell Pond, and large piles of moraine, before continuing through a forest and up to a pretty alpine meadow with colourful wildflowers.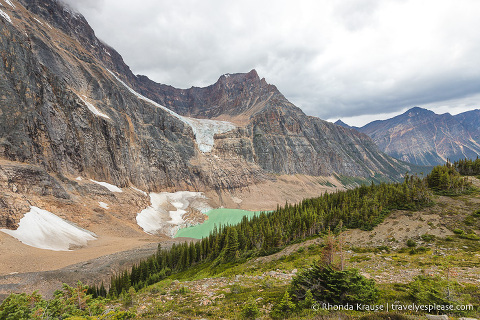 In addition to the brilliant views of Mt. Edith Cavell and its surroundings, you may even spot some little pikas or chubby marmots hanging out on the rocky terrain.
The ever-changing views, diversity of scenery, and potential for spotting wildlife made hiking Cavell Meadows one of our favourite things to do in Jasper National Park.
Best time to enjoy this activity: Mid-July to September
Read more: Hiking Cavell Meadows Trail
Watch the Wildlife
Another of our favourite activities in Jasper is to go wildlife watching.
The park has an ample amount of animals, but the most common ones you'll see during a trip to Jasper are elk, deer, bighorn sheep, mountain goats, and bears. Most of the time you don't even have to venture off the main roads, or even out of town, to see some of them.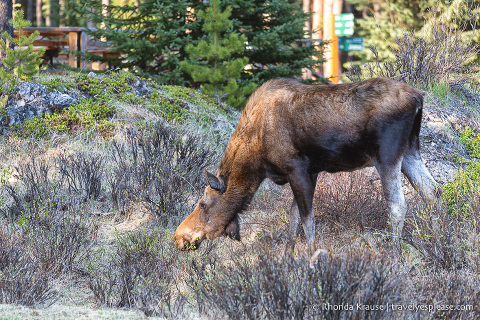 In fact, there are so many animals I don't think we've ever gone to Jasper and not seen wildlife!
Best time to enjoy this activity: Spring is a particularly good time, but wildlife can be seen year round.
Read more: Wildlife in Jasper National Park
Walk Along Maligne Canyon
One of the top places to see in Jasper National Park is Maligne Canyon, an impressive natural wonder and Jasper's deepest canyon.
The narrow gorge is over 50 metres (160 ft) deep in places, its limestone walls shaped and eroded by churning, rushing water from the Maligne River and underground streams.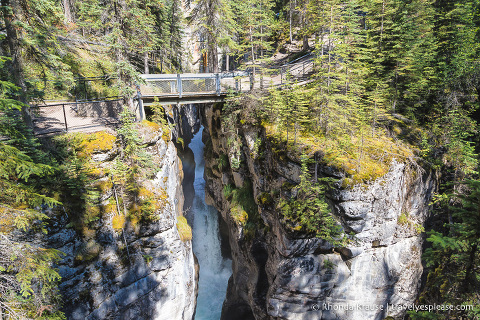 Maligne Canyon is not only a scenic place to go walking, it's educational too thanks to an interpretive trail describing the area's geological history.
The path crosses over the canyon in several places making it possible to walk a short, medium, or long loop. From the fenced path and its bridges, you can look down into the canyon and see fast-flowing, falling water and evidence of erosion on the rocks, from rounded edges to deep lines.
Maligne Canyon is especially scenic in winter, when the water freezes and drapes the gorge in ice. Don't miss out on the Maligne Canyon Ice Walk, when you can stroll the canyon floor and get a close-up look at frozen waterfalls and fossils embedded in the rocks.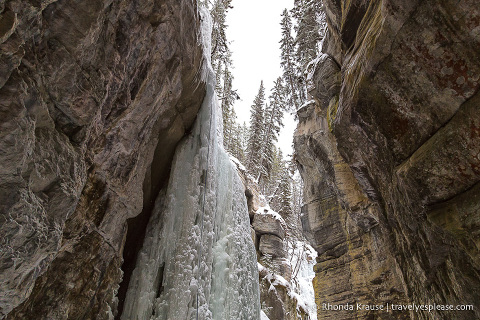 Best time to enjoy this activity: Year round
Read more: The Maligne Canyon Ice Walk
Admire Medicine Lake
Medicine Lake is another one of Jasper's magnificent glacial-fed lakes and is a popular stopping point on Maligne Lake Road.
The most unique thing about Medicine Lake is something you can't see- its underground drainage system. The lake's water drains out through sinkholes in the bottom, sometimes emptying completely, then travels through a cave system before resurfacing 16 km (10 mi) downstream. This phenomenon is why Medicine Lake is sometimes referred to as the "disappearing lake".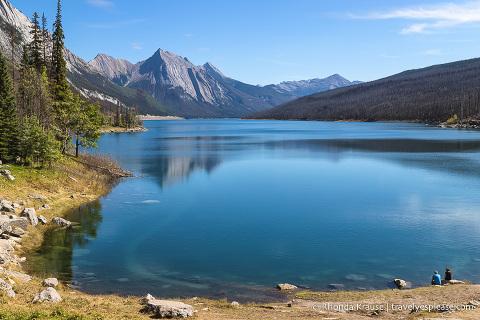 Apart from its obvious beauty, another reason I like to visit Medicine Lake is because it can be a great place to see wildlife.
Best time to visit: Spring to fall
Soak in the Miette Hot Springs
After a day of exploring Jasper National Park, a great way to relax is with a dip at Miette Hot Springs.
Located high in the Fiddle Valley, these outdoor pools are surrounded by a panorama of mountain peaks and filled with water from the hottest natural hot springs in the Canadian Rockies. Flowing from the mountain at 54°C (129°F), the water is then cooled to 40°C (104°F) before entering the pool.
Miette Hot Springs' gorgeous location and soothing mineral water makes it one of the top places to visit in Jasper National Park.
Best time to enjoy this activity: The hot springs are typically open from May to mid-October.
Marvel at the Athabasca Falls
Athabasca Falls is one of the most powerful waterfalls in Jasper and no matter how many times I see it, it always impresses.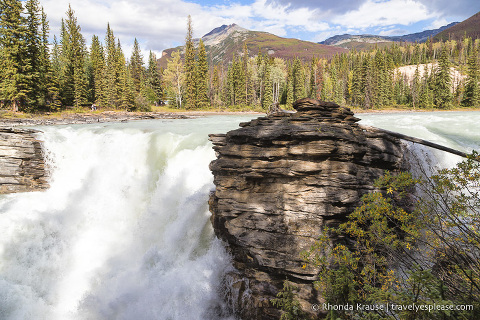 While not as high as other falls in the Rockies, the sheer volume and force of water plunging over its 23 m drop is a sight to behold. The momentum of water from the Athabasca River is so strong that it has cut a small canyon, its limestone walls shaped into potholes and other interesting formations.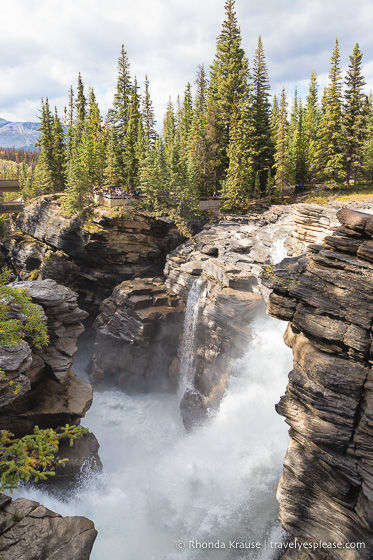 There is a fenced path that has several viewpoints and a bridge from which to admire the falls and canyon. Along the path are interpretive panels explaining the geology and flora and fauna in the area.
Best time to visit: Spring to fall, but it's stunning in the winter too.
Go on a Nature Walk at Sunwapta Falls
Another gorgeous waterfall in Jasper is Sunwapta Falls.
Sunwapta Falls is an example of a waterfall created by a hanging valley, the place where a large deep valley meets a smaller one. Here the Athabasca Valley and smaller Chaba Valley join to form a picturesque stepping waterfall.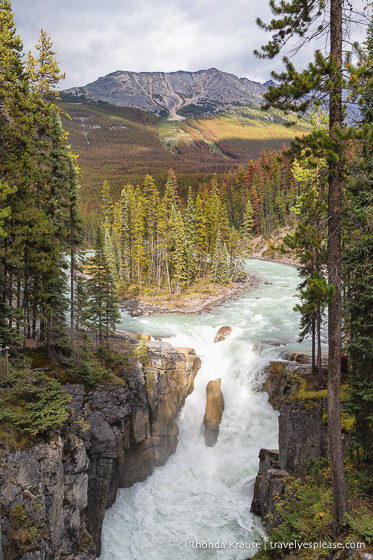 There are some trails in the area, including the trailhead for a backcountry hike. For a shorter nature walk, do the 1 hour hike from the upper falls to the lesser visited Lower Sunwapta Falls.
Best time to visit: Spring to fall, but it's refreshing and peaceful in the winter.
Drive the Icefields Parkway to Athabasca Glacier and Columbia Icefield Skywalk
A drive on the Icefields Parkway is a must-do in Jasper National Park. This route connects Jasper to Lake Louise (in Banff National Park) and passes by several ancient glaciers in the Columbia Icefield, including the most visited glacier in North America- the Athabasca Glacier.
The Athabasca Glacier flows down a rocky valley from the Columbia Icefield and can be viewed for free from the Columbia Icefield Discovery Centre or closer up from the Toe of the Glacier trail. Another free place to enjoy views of Athabasca Glacier is from the Wilcox Viewpoint, which can be reached via a scenic hike on the Wilcox Pass trail.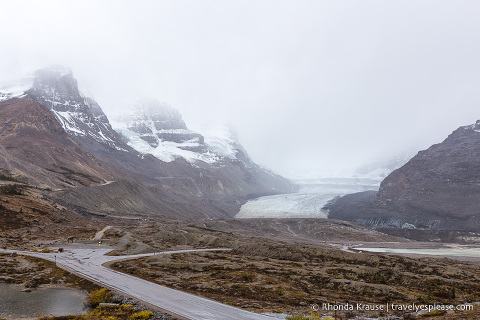 A more expensive way to view the glacier is by boarding a big "Ice Explorer" all-terrain vehicle that drives onto the glacier. I personally am not a fan of this because I think we should be doing more to protect this rapidly receding, shrinking glacier (it recedes 5 m/16.4 ft per year and has lost half its volume in 125 years), so driving on it with heavy, fuel powered vehicles isn't exactly environmentally friendly.
Another attraction in the area is the Columbia Icefield Skywalk. This glass-floored lookout allows visitors to walk high above the Sunwapta Valley to enjoy views of the mountains and distant glaciers. Again, this activity is expensive for what it offers (I think there are better views in Jasper and you can see similar scenery from the road), but it's still of interest to many people.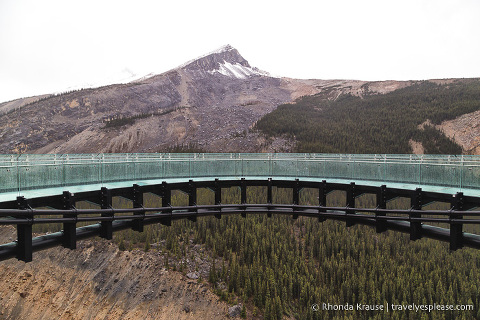 Even though the area around Athabasca Glacier is busy and touristic, the glacier itself, and Icefields Parkway leading to it, is worth seeing and can be enjoyed without spending a lot of money (despite how it appears at the Icefield Centre).
Best time to enjoy this activity: May to October
Visit Pyramid Island
Pyramid Island is one of our favourite places to visit in Jasper National Park. This little island in Pyramid Lake is a pleasant place to enjoy a picnic and short walk thanks to the lovely views of Pyramid Mountain.
The island is also a great subject for photography because of the wooden bridge leading across the water to it. No matter the season, it always makes a pretty picture!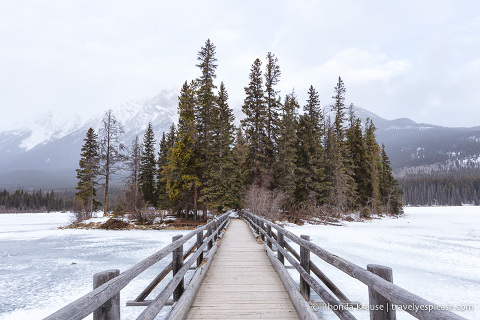 On your way to Pyramid Island, make sure you stop for some photos at Patricia Lake as well. I never get enough of that beautiful reflection of Pyramid Mountain!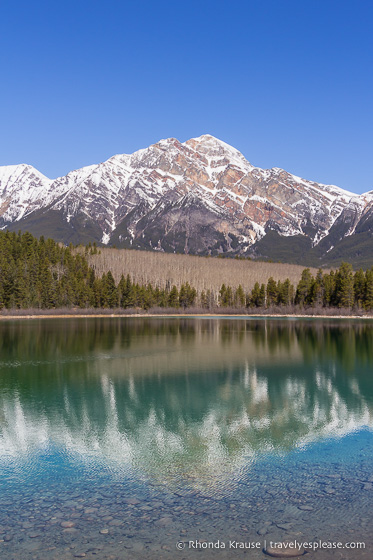 Best time to visit: Late spring to fall if you want to picnic, but winter if you want to skate on Pyramid Lake.
Read more: Pyramid and Patricia Lakes
Enjoy a Relaxing Paddle or Walk at Lac Beauvert
Speaking of charming lakes, Lac Beauvert is not to be missed.
Beauvert Lake is conveniently located next to the Jasper Park Lodge, Jasper's iconic luxury mountain resort.
At the resort you can rent a canoe, kayak, paddle board, or pedal boat to enjoy the striking blue lake. You can also embark on a relaxing nature walk on the Lac Beauvert Trail, a 3.9 km forested path that completely circles the lake.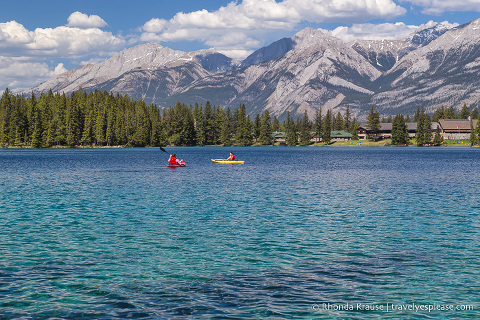 No matter what activity you choose, you'll be dazzled by this scenic spot in Jasper National Park!
Best time to visit: Spring to fall
Tee off at the Jasper Park Lodge Golf Club
While at Lac Beauvert, you may want to take in a round of golf at the Jasper Park Lodge Golf Club.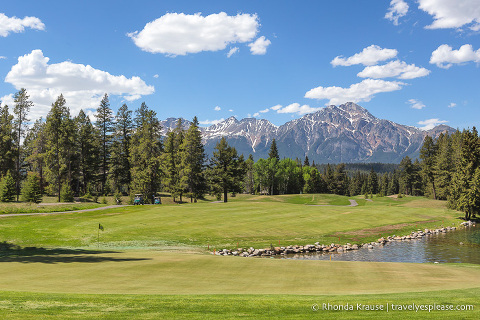 This 18 hole, 71 par course borders part of the lake and has fairways aligned with distant mountain vistas. Its challenging layout and spectacular natural setting have made this historic, award-winning course one of the top golf resorts in Canada.
Best time to enjoy this activity: May to late September
Ascend Whistlers Mountain on the Jasper Skytram
If you want to enjoy some panoramic views of the Rockies but don't want to hike, then board the Jasper Skytram for a fun ride up Whistlers Mountain.
This cable car whisks visitors up to 2,263 m (7,424 feet) where you can enjoy unobstructed views of the Jasper townsite, Athabasca River, and surrounding mountain ranges.
At the top of the tram, there is a full-service restaurant and short boardwalk with viewpoints. The tram also provides access to a hiking trail that leads to the summit of Whistlers Mountain (2,463 m/8,081 ft).
Best time to enjoy this activity: The tram typically operates from late March to late October.
Hike to Old Fort Point
Another great way to enjoy views of the town of Jasper and its encompassing mountain ranges is by hiking to Old Fort Point.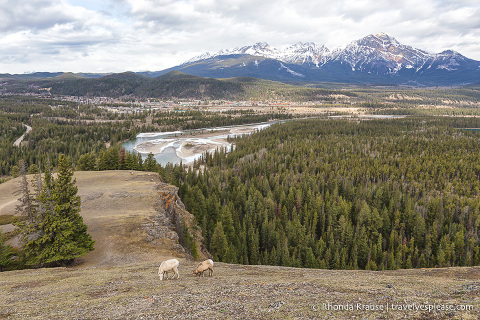 Old Fort Point Trail is a 3.8 km loop that passes through a forested area and up to the top of a flat hill offering 360 degree views of the area. You can see the Athabasca River, Lac Beauvert, Mt. Edith Cavell, Whistlers Mountain, and the town of Jasper. There might even be bighorn sheep at the top to greet you.
The trail has a few steep sections, but overall isn't very difficult.
Best time to enjoy this activity: Spring to fall
Gaze at the Stars
Once the sun sets and darkness has settled in, you can still continue sightseeing in Jasper- just look up!
The night sky over Jasper is a paradise for stargazers because the park has made commitments to reduce or eliminate light pollution. In fact, Jasper National Park is the second largest Dark Sky Preserve in the world, meaning there are plenty of places to marvel at the stars without interference from artificial light.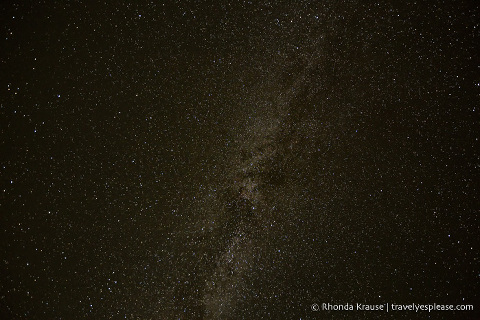 Every October, Jasper even holds a special festival dedicated to learning about and celebrating the night sky and our larger universe.
Other ways you can enjoy astronomy in Jasper is by visiting the Jasper Planetarium. Take in a live virtual tour with an astronomy expert inside the dome theatre, then gaze through the most powerful telescope in the Rockies!
Best time to enjoy this activity: Fall and winter when daylight hours are shorter, but you can view the stars and visit the planetarium year round.
Read more: Stargazing at the Jasper Dark Sky Festival
Hit the Slopes at Marmot Basin
Marmot Basin is Jasper National Park's only ski hill and the northern most ski area in the Rocky Mountains.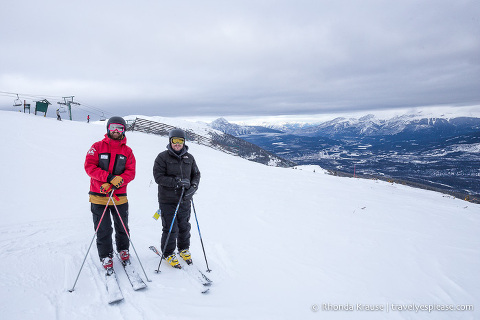 With 696 hectares (1,720 acres) of terrain and 91 runs, there's something for everyone from beginners to expert skiers. The varied terrain means you can choose from groomed runs, alpine bowls, moguls, or routes through the trees.
Being at the highest base elevation of all Canadian ski areas means that Marmot Basin has a long season with plenty of natural snow. Skiing at Marmot is definitely one of the top winter activities in Jasper National Park.
Best time to enjoy this activity: November to May
Final Thoughts About Exploring Jasper National Park
It was nice to reminisce about all my trips to Jasper National Park and choose my favourite Jasper activities to share with you. I'm sure that as I continue to visit Jasper National Park, this list will grow even longer.
I hope this gave you some of ideas for what to do in Jasper on your next trip!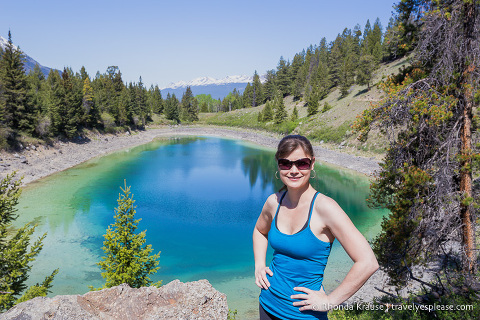 Tips for Visiting Jasper National Park
Location: Jasper National Park is located in western Alberta and is the largest national park in the Canadian Rockies. The south end connects to Banff National Park.
Jasper National Park is 370 km (192 mi) west of Edmonton and 404 km (256 mi) northwest of Calgary.
Getting There: The closest international airports to Jasper are in Edmonton and Calgary. From there you can drive or take a bus/shuttle to Jasper. There is also train service to Jasper from Edmonton.
If driving from Edmonton, take Highway 16 (the Yellowhead Highway) direct to Jasper. Drive time from Edmonton to Jasper is 4 hours.
If driving from Calgary, take Highway 1 to Lake Louise then continue straight onto Highway 93 (the Icefields Parkway) to Jasper. Drive time from Calgary to Jasper is almost 5 hours.
Getting Around: The most convenient way to get around Jasper is by vehicle. All the major roads are paved. Some of the mountain roads have tight bends that can be difficult to navigate with large RVs.
There are a few car rental agencies in town. There are also guided tours you can join.
Park Pass: Visitors are required to buy a park pass at one of the entrance gates. The daily fee is charged per person or per family/group (up to 7 people arriving in a single vehicle).
If you will be staying in Jasper (or other national parks) for at least 7 days, it is cheaper to buy an annual pass (Parks Canada Discovery Pass).
Camping in Jasper: Jasper has several camping options including frontcountry sites, backcountry sites, group sites, winter camping, and oTENTiks (canvas walled tents).
Some campgrounds take reservations, others are first come first served. If planning a summer camping trip, it's best to make reservations as early as possible. Demand for camping is highest in July and August, but June and September can be busy too. The online reservation system usually opens in early January.
Information was correct at the time of publishing, but can change without notice. Please confirm directly with service providers.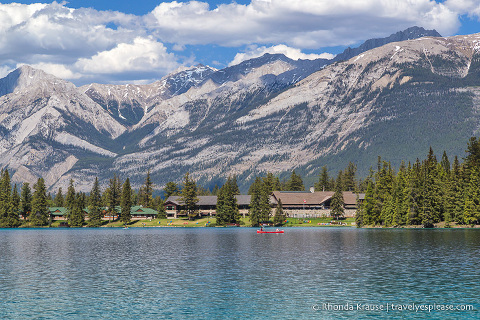 Accommodations in Jasper
For your convenience, here is a list of HOTELS IN JASPER. Please consider booking your Jasper accommodations through the included link. It costs nothing extra and helps support this website.
More Jasper Attractions and Travel Guides