Purchases made through links earn us a small commission, at no extra cost to you.
Budapest's most recognizable building (and Hungary's largest), sits majestically along the east bank of the Danube. The Hungarian Parliament building is unmissable during a trip to Budapest– its buttresses, towers and mighty dome are dazzling from near and far. It is especially impressive at night, brightly illuminated in a golden glow.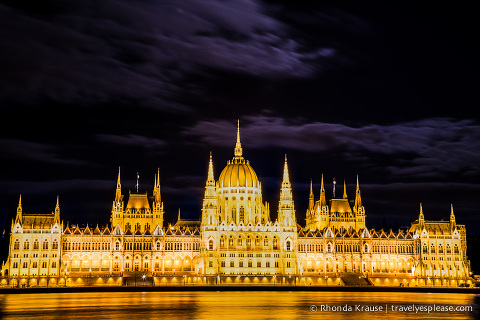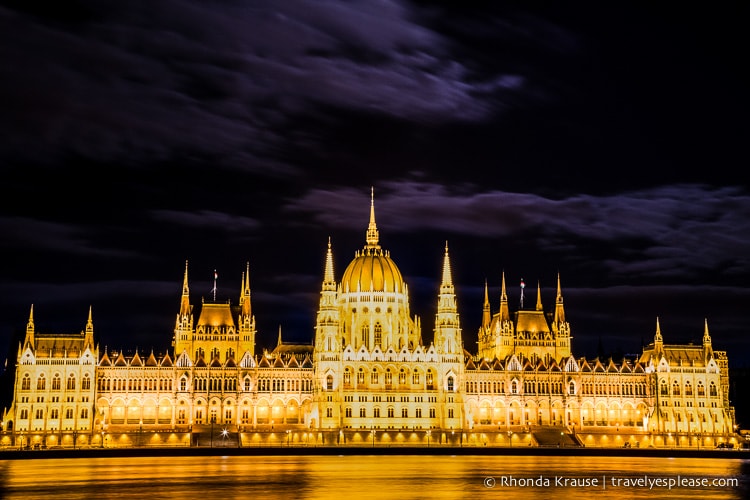 The marble-clad interior is just as striking. Sweeping staircases and intricate ceiling designs are all accented with a large amount of gold- 40 kilograms! In fact, the Parliament building was so expensive, the money used to build it would have been enough to construct a small city!
Even though our guided tour of the Hungarian Parliament building was relatively short, we got to admire the Main Staircase, the Dome Hall and the Session Hall of the Upper House. The most important attraction though, is the Crown of St. Stephen. The crown is protected by two guards who ceremoniously change their sword position every five minutes (so don't stand too close!)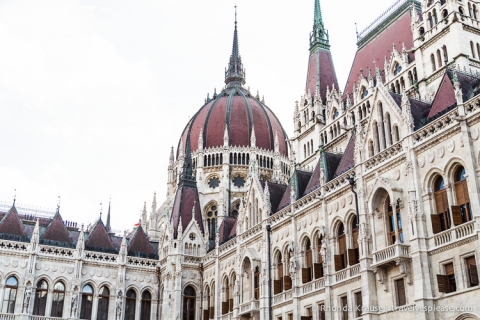 A Photo Tour of the Hungarian Parliament Building
Here are some pictures I took from inside the Hungarian Parliament Building during our tour.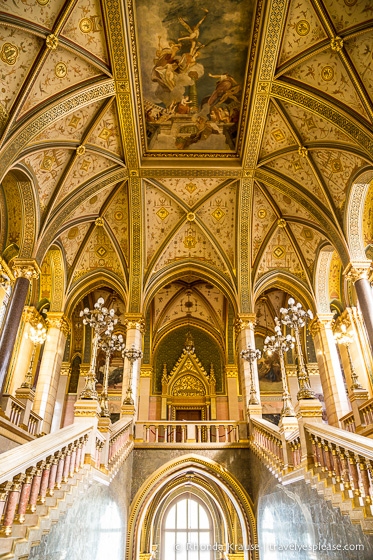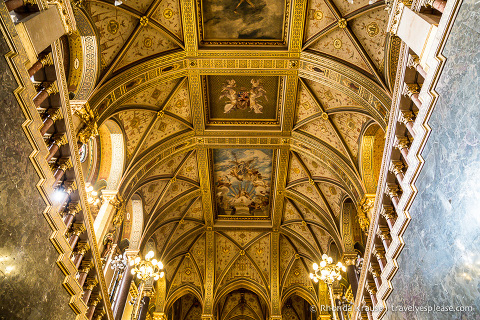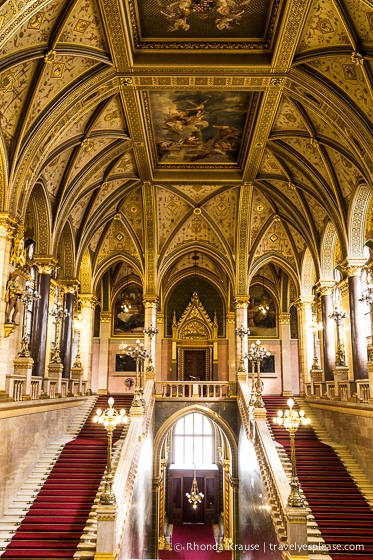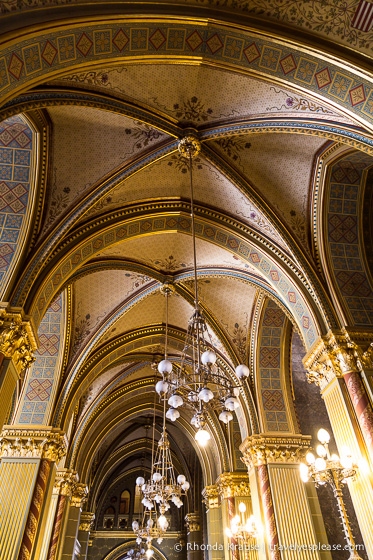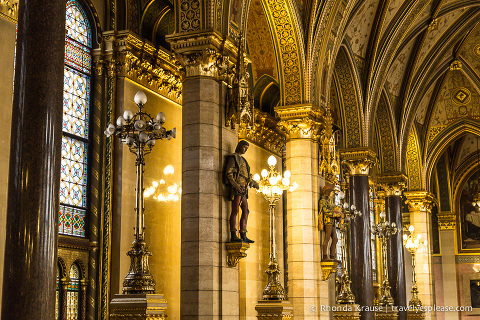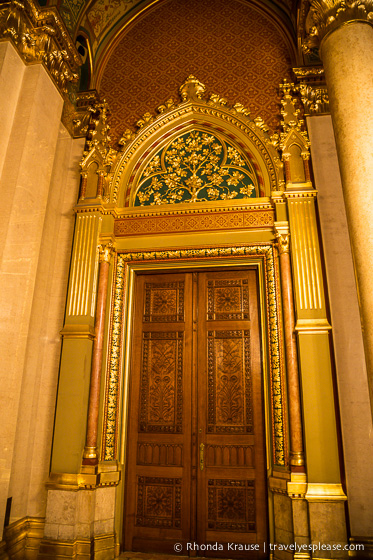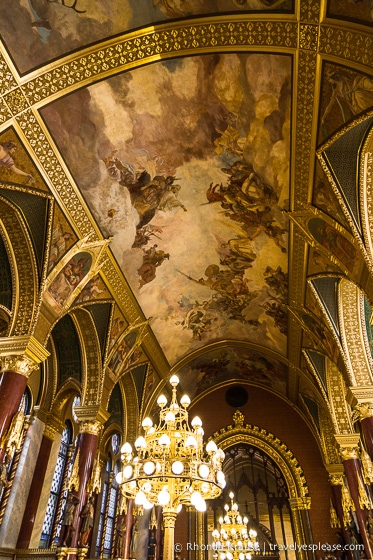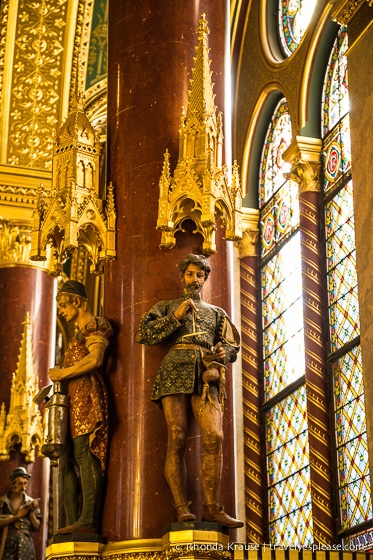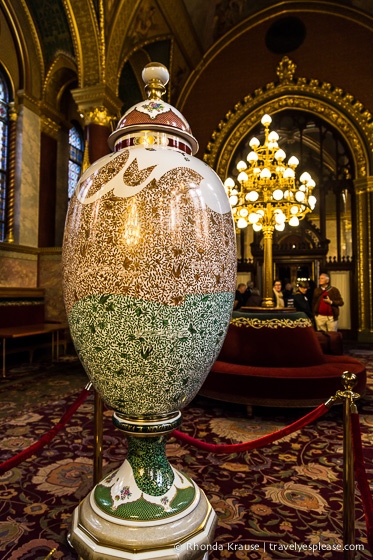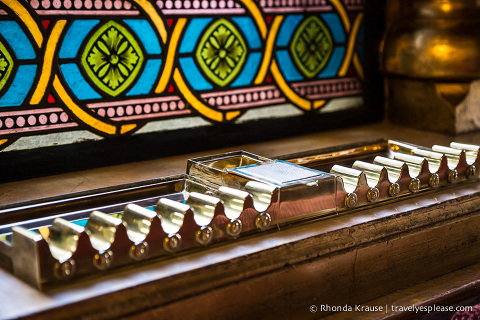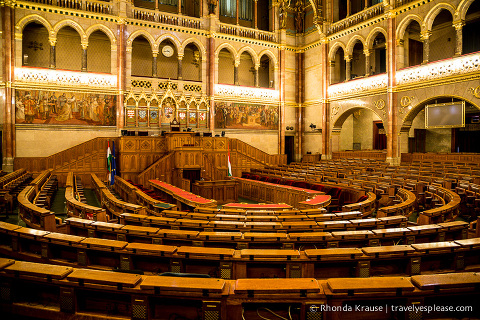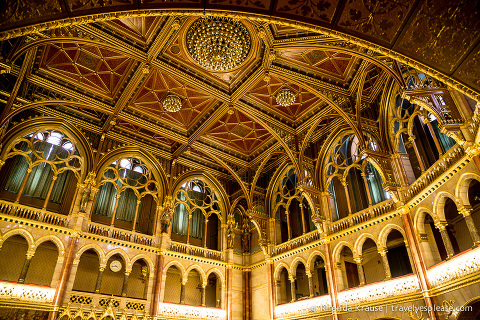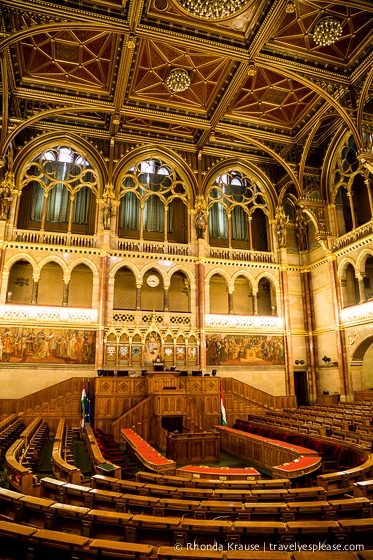 Interesting Facts About the Hungarian Parliament Building
Construction began in 1885, taking 1,000 workers 17 years to build the Parliament.
It was scheduled to be finished by 1896 to celebrate the 1,000th anniversary of Hungary's foundation, but was not completed in time.
The inspiration for its neo-Gothic design was London's Houses of Parliament.
The building is 268 m long and 123 m wide. The dome is 96 m high. There are 691 rooms and 29 staircases.
40 million bricks were used in its construction.
Nearly 40 kg of 22-23 karat gold was used for decorations.
Just 23 years after completion, renovations had to begin because the stone chosen by the architect was too soft.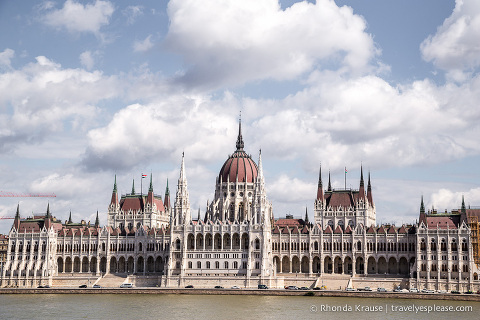 Tips for Visiting the Hungarian Parliament Building
Tours: Guided tours are held in English, Hungarian, French, German, Italian, Spanish, Hebrew, and Russian. Specific times are allotted for each language.
A tour takes approximately 45 minutes, including the security check. It's worth noting that there are no restrooms or bathrooms available to visitors during the tour.
Taking pictures in the Dome Hall is strictly forbidden.
Closing Days: There are no guided tours on national/bank holidays (March 15, August 20, October 23). The Parliament building is also closed January 1, Easter Sunday and Monday, May 1, November 1, and December 24-26.
Buying Tickets: Same-day tickets can be purchased in limited numbers at the ticket office in the Visitor Center. The ticket office is open from 8:00 am-6:00 pm (April 1- October 31) and 8:00 am-4:00 pm (November 1- March 31). Be prepared for a long lineup.
Information was correct at the time of publishing but can change without notice. Please confirm directly with the venue.
Accommodations in Budapest
For your convenience, here is a list of hotels in Budapest. Please consider booking your Budapest accommodations through the included link. It costs nothing extra and helps support this website. Thank you!
More Budapest Attractions and Travel Guides