Purchases made through links earn us a small commission, at no extra cost to you.
Budapest is not just the capital of Hungary; this exciting European city also carries another official title- Spa City.
Budapest Spas- The Thermal Baths in Budapest
The thermal spas in Budapest are some of the grandest baths in Europe and are renowned throughout the world for their therapeutic effects. Popular with tourists who come to ease the aches and pains from walking the city streets, the baths in Budapest are also extremely popular with the locals who love to wallow in the thermal waters.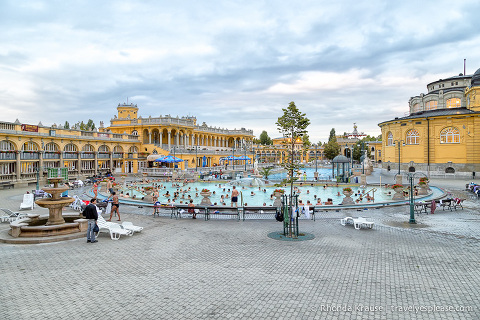 Walking around during our 3 days in Budapest, it was easy to tell that Hungarians love their pools. They seemed to be everywhere! Not small pools either, massive complexes built around multiple pools featuring water slides, fountains, wave pools and snack bars. We came across one pool on Margaret Island, the Palatinus Baths, that was designed to accommodate over 20,000 people! Had we visited in the summer, we definitely would have enjoyed hanging out there.
After 17 days travelling across Europe, we were very much looking forward to soothing our sore muscles at the thermal baths in Budapest. With so many spas to choose from (there are nearly 50 spas, baths and public pools around the city) we chose to visit two of the most popular Budapest spas- Gellért and Széchenyi.
Gellért Spa
Gellért Spa and Hotel first opened in 1918, the most grandiose of all the baths in Budapest. Built in secessionist style, the spa complex features colourful tiles, Roman-style columns and a glass roof. The pools are fed from the thermal springs inside Gellért Hill.
Besides the four thermal-medicinal pools, there are six other indoor pools, plus two outdoor pools. The water temperature at Gellért Spa ranges from 19-38 degrees Celsius and is medically recommended for treating inflammation and degenerative diseases of the joints, circulatory diseases and asthmatic disorders.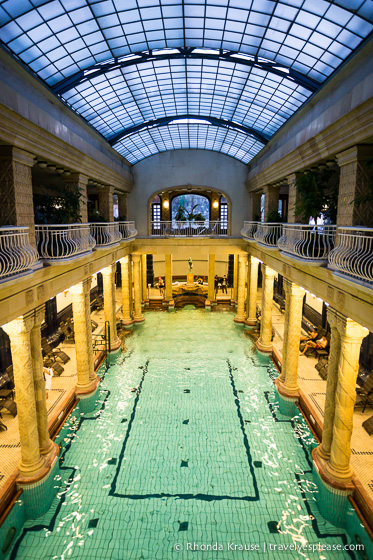 Our Review of Gellért Spa
The first thing that struck me about Gellért Spa, is that it's a very complicated place. We were stumped at the entrance, not sure what type of ticket we needed to buy. There were so many different options. Once we purchased our very expensive tickets, we were not directed by the attendant on where to go or how to use the wristbands we were given.
Once we did find the entrance, we couldn't get through the turnstiles. There were no signs or staff members around to tell us we had to scan our wristbands to get in. The only reason I knew to do this, was because I had done my research before hand. Mike scanned his wristband and got in just fine, mine did not work. Finally a staff member came by and reluctantly helped me, acting like I was more of an annoyance than anything.
Once we got through the gate, we found ourselves in a confusing labyrinth. Signage was hard to find and the signs we did find, really didn't make any sense. I was so afraid of accidentally walking into an area full of naked old men!
Luckily, an American couple came up and showed us where to scan our wristband to get a cabin number assigned to us. They then pointed us in the right direction, down a long, curving hallway to where the changing cabins were.
Finally in the baths, I couldn't shake the feeling of mild disappointment. While the architecture was beautiful, I think I was expecting something a little more polished and elegant. Parts of the facility have been renovated, but other parts are surviving in their original condition, and it definitely shows.
The water however, was great! We left the spa feeling relaxed, our tired, sore bodies de-stressed. We had a great sleep that night!
I wish I had more photos to show, but photography was not allowed in most areas. Some people were still taking pictures, but I didn't for a few reasons. One, I was scared of being yelled at by the grumpy staff. And two, I kind of felt like a creep taking pictures with a bunch of people in their bathing suits staring back at me.
Overall, I think our experience at Gellért Spa was just okay. Better signage, friendlier staff and a lower entrance fee would have made the experience a little better. A little scrubbing of the tiles plus some nice lighting, and this place would be spectacular.
It should be noted that since the spa is adjoined to the Gellért Hotel, it is frequented mostly by tourists rather than the locals. This probably explains why the price is so high.
Széchenyi Spa
Széchenyi Spa was the first spa to be built on the left bank of the Danube, in Pest. The neo-baroque style building opened in 1913 to be one of the largest spa complexes in Europe, boasting 11 medicinal pools and eight other swimming pools.
The medicinal waters of Széchenyi Spa come from the second deepest well in Budapest, 1,246 metres deep! The temperature of the water in the well is 76 degrees Celsius, but the top temperature at the spa is 40 degrees Celsius. The water contains minerals that are recommended for treating degenerative joint diseases and chronic articular inflammation.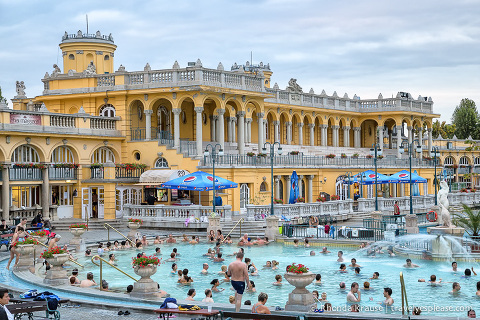 Our Review of Széchenyi Spa
In the spirit of honesty, I am just going to say it- I did not enjoy our visit here. I really hate to have to say that because I was very much hoping for a good experience, knowing how famous Budapest is for its spas.
The experience was tainted the moment we entered through the turnstiles. Unlike at Gellért Spa, there was a staff member present to assist with scanning the wrist bands (that have a tendency not to work), but she was the most irritated person I have come across in a long time. She actually shouted at a lady who was trying to figure out how to exit (you have to drop your wrist band into the turnstile machine). The staff member very impatiently, with a dramatic roll of the eyes, actually grabbed the wristband out of the lady's hand while shouting, "No, like this! Like this!" Thankfully our wrist bands worked, so we didn't have to bear the brunt of her crabbiness.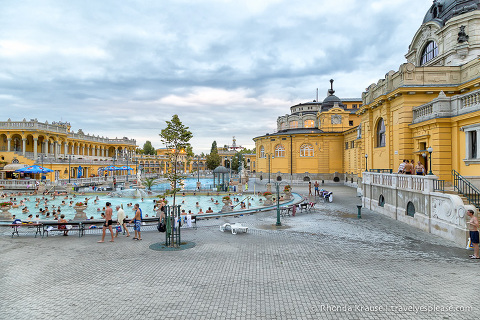 We did, however, get yelled at by a different staff member. A portion of the pool area was closing early for some reason, and instead of politely being told we had to leave, the man working started yelling at people. He looked at us, aggressively pointed his finger and yelled for us to get out of the pool. So we got out, unsure where we were allowed to be. We followed the crowd to the next room over and then all squished into a teeny-tiny pool, where I sat hoping that cantankerous man wouldn't come back and wave his accusing finger at me again.
Just when I thought things couldn't get worse, the water in this new pool caused some sort of reaction with Mike's wedding band, turning it an ugly, rust colour. It really was our fault for not taking the ring off, but it didn't tarnish at any other hot spring we've been to, so we didn't think twice about wearing it.
At this point, I was as grumpy as the people working there and ready to pack it in, but Mike didn't want to leave just yet. So we made our way to the large outdoor pool. The atmosphere at the outdoor pool was much nicer than on the inside. There was more space, it was quieter, and by this time it was dark out so we got to bathe under the stars. It would have been very romantic had I not been so upset about the wedding ring getting "ruined" on our honeymoon (the rust colour did go away on its own, a few days later).
Overall, I was disappointed by our visit to Széchenyi Spa. The pool complex was a little bit easier to get around than at Gellért, but it was in far worse shape. The building is beautiful on the outside, but the interior could use some restoration and a major scrub-down. In one section the bathroom stall doors were hanging off the hinges, unable to close. It also was not the cleanliest of places. I found that sad because you really can tell that at one point, this was a very elegant and luxurious place.
I think I would have enjoyed the outdoor pool a lot, had I not been upset about the ring. It looked to be a favourite of the locals and I loved the yellow building surrounding it. The price was also better than at Gellért, which helped Széchenyi redeem itself a bit. Once again, friendlier staff would have made our visit more pleasant. A thorough cleaning, paint job and some repairs would go a long way too.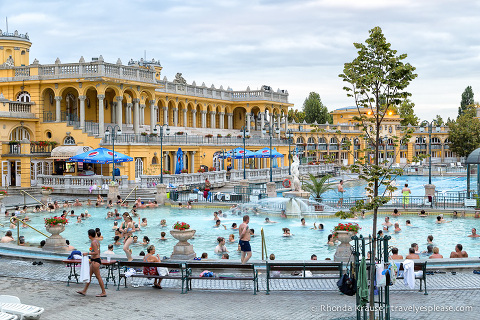 Final Thoughts About Budapest Spas
Even though our experience was not what I had hoped it would be, I'm still glad we spent some time at the thermal spas in Budapest. Not only are they one of Budapest's most popular attractions, they are a big part of the local culture. If we ever returned to Budapest, I think we would visit these spas again, to give them a second chance.
I told these stories not to discourage you from visiting, but to give you a realistic idea of what to expect at the baths in Budapest. I went into the spas with very high expectations, which is probably why I felt so let down. High expectations can be a double edged sword. Keep in mind though, each person's travel experience is different, so if you visit the thermal baths in Budapest, I hope you'll have a much better time!
Interesting Facts About Budapest's Thermal Baths
70 million litres of thermal waters are delivered to Budapest's spas every day. The water ranges in temperature from 21-78 degrees Celsius and gushes out of 123 natural springs and drilled wells.
The Turkish Baths (Király, Rudas and Veli Bej) date back to the 16th century.
The Gellért, Széchenyi and Lukács Baths were built in the beginning of the 20th century.
The thermal baths are located mainly within the city centre. The open air pools can be found largely on the outskirts of the city.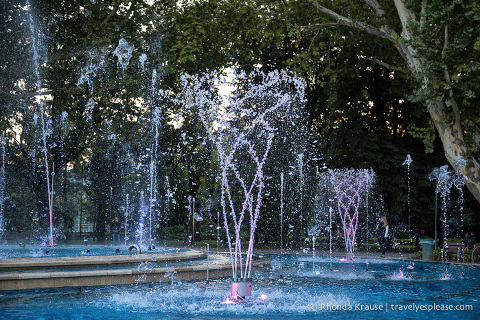 Tips for Visiting Thermal Baths in Budapest
The spas have more to offer than just thermal waters. Treatments such as massages, aroma baths and pedicures are available for an additional charge.
To enter the pools, you need to scan your wristband at the turnstiles. Don't be surprised if your wristband doesn't work; we had some problems with them.
When buying your ticket, you will be given a choice to get a cabin (small change room) or a locker. Cabins cost more, but couples can share one.
If you opt for a cabin, to be assigned a room you will need to scan your wristband at the scanner on the wall after you enter. Check to make sure the cabin door locks before you leave for the pool and keep your wristband on because this will unlock your cabin when you return.
To exit the baths, deposit your wristband into the slot at the turnstiles.
As of January 2013, the Gellért is a fully co-ed bath. Nudity is not allowed and swim caps are mandatory in the swimming pool. Children under the age of 14 are not allowed to use the hot pools.
Gellért Spa is on the Buda side of the Danube, close to the Liberty bridge. It is open daily from 9:00 am- 7:00 pm. The ticket desk closes one hour before the pools close. Confirm current hours of operation here.
Széchenyi Spa is located at the edge of the Budapest's largest park, the Városliget, and is easily reachable by metro. It is open daily from 7:00 am- 8:00 pm. The ticket desk closes one hour before the pools close. Confirm current hours of operation here.
Information was updated March 2022, but can change without notice. Please confirm directly with service providers.
Buy Digital Tickets to Budapest Spas & Skip the Line
For quick and convenient access to the Budapest spas here are some trusted links where you can buy advance, mobile tickets to the ones mentioned in this post. Digital ticket delivery is instant and you can show your phone at the ticket holders entrance- no need to print your tickets.
Accommodations in Budapest
For your convenience, here is a list of HOTELS IN BUDAPEST. Please consider booking your Budapest accommodations through the included link. It costs nothing extra and helps support this website. Thank you!
More Budapest Attractions and Travel Guides