Purchases made through links earn us a small commission, at no extra cost to you.
Jasper National Park is a great place to visit all year round, but is especially enjoyable in October when the sky takes centre stage for Dark Sky Month.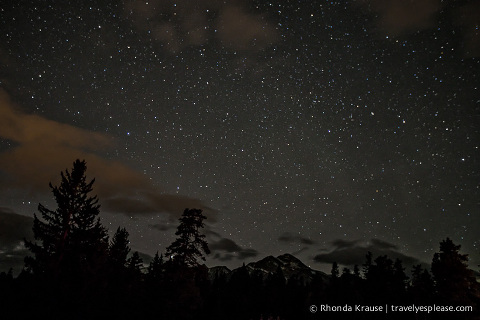 What is the Jasper Dark Sky Festival?
In 2011, Jasper National Park was officially designated as a Dark Sky Preserve by the Royal Astronomical Society of Canada. To celebrate being named one of the world's largest dark sky preserves, Jasper hosts the Dark Sky Festival. It's a unique event which gives attendees a chance to not only learn about the wonders of the night sky, but to sit back and enjoy Jasper's spectacular views after dark.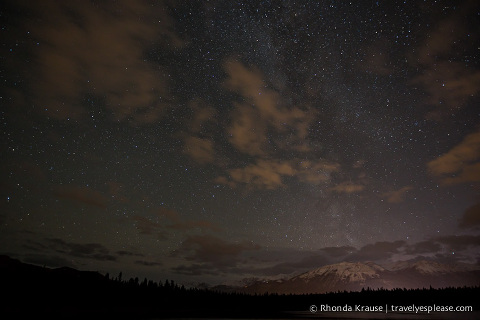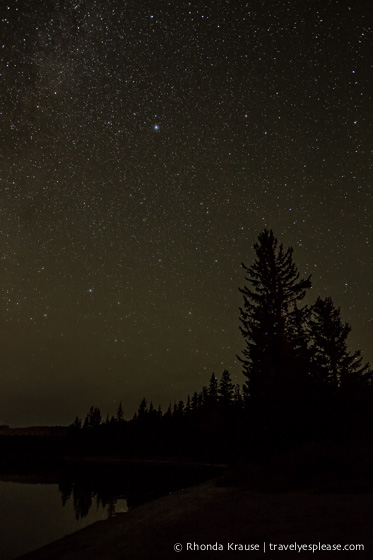 Events at the Jasper Dark Sky Festival
The Jasper Dark Sky Festival has many different activities and events ranging from stargazing tours, photography workshops, a symphony under the stars, and a guest speaker series featuring experts in astronomy.
Some of the events are staples of the festival, taking place each year, while others are new activities to make each festival unique. In addition to the classic events I mentioned above, you may also get to experience guided night hikes, geocaching, fireside chats, and a meal under the stars.
When we went to the Jasper Dark Sky Festival we attended "Beyond the Stars", a free and interactive event located at Lake Annette.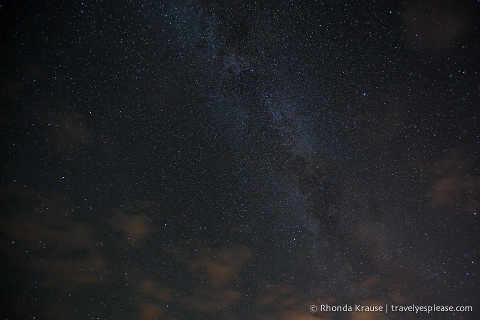 Our Experience at the Jasper Dark Sky Festival
This year (2014) was the first time Mike and I attended this festival, but it most definitely will not be our last. We were blown away by what we saw as we gazed up into the darkness- millions of twinkling stars, the Milky Way stretching across the sky, and the odd shooting star flashing past just long enough to make a wish.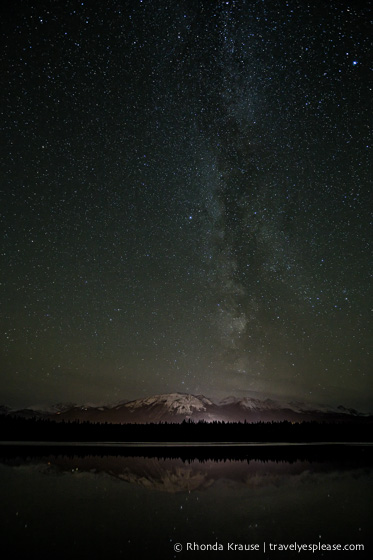 As we arrived at Lake Annette, we were shocked by how dark it was! Living in the city, this was something we definitely were not used to! Once we got closer to the lake we saw many different paths, all lit in different coloured rope lights, leading the way to the activity stations.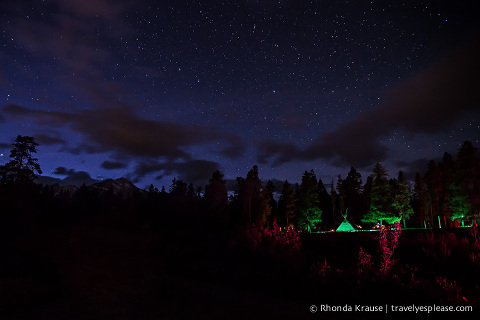 Being a photographer, I headed directly to the Dark Sky photography area. I've long admired star photography, but had yet to try it for myself. Luckily, there were photographers from Parks Canada on hand to show me the tricks of the trade (thanks Rogier)!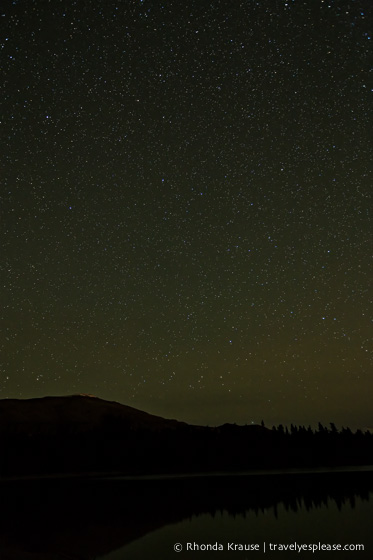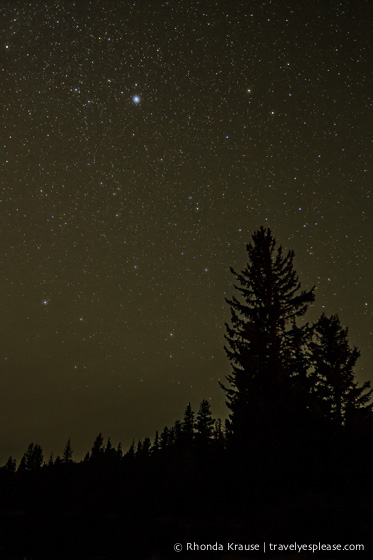 After a short one-on-one tutorial and a few test shots, I got down to business. I waited in anticipation as my camera was taking a long exposure, 20 seconds feeling like an eternity. Once the shutter slapped shut, I hurried to the display to see the final result. Each and every time I was amazed- the camera captured so many more stars and colours in the sky than my eyes could see! I was content to take pictures for the next hour and a half, stopping only once my fingers and toes started to get cold.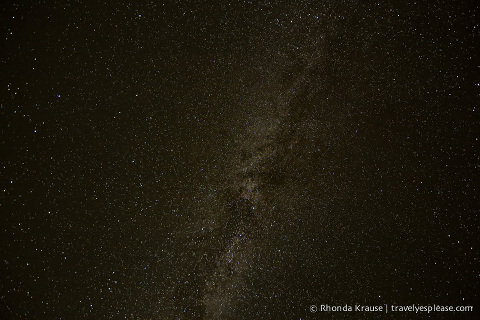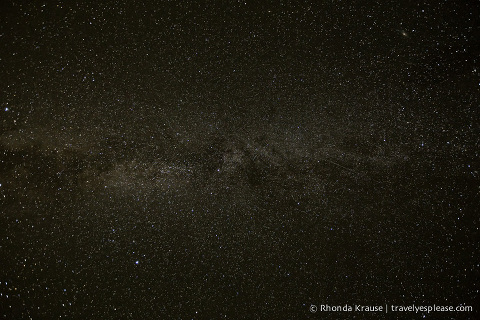 After packing up the camera, we headed to the bonfire to warm up. There were some First Nations singers and drummers entertaining people as they warmed their hands over the fire.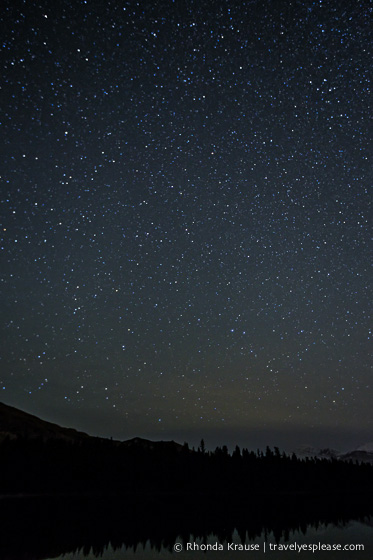 Next, we followed the path to the telescope area where we got to chat with members of the Royal Astronomical Society of Canada and get a closer look at the stars. I'm not sure which was more fascinating- the stars or the telescopes themselves. I couldn't believe how big they were!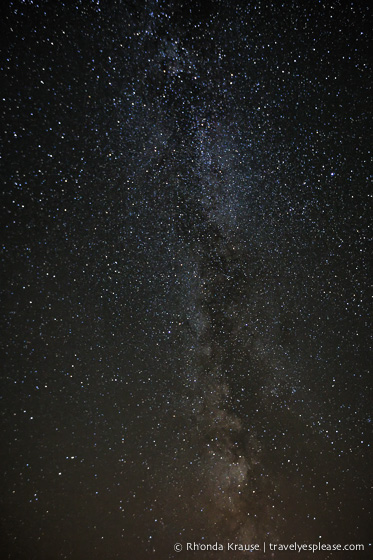 Since I spent so much time taking pictures, we didn't get to attend any of the interpretive talks. We were kind of disappointed we missed out on learning about the constellations, but I guess that just gives us something to look forward to next year!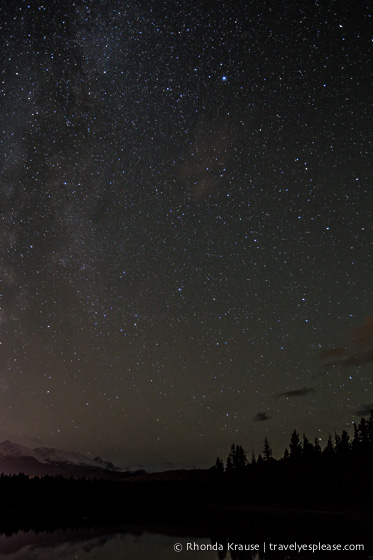 Tips for Attending the Jasper Dark Sky Festival
Jasper's Dark Sky Festival takes place in October. Fall and winter are the best seasons for stargazing in Jasper because of the longer nights.
Many of the events are free to attend, but some require tickets to be purchased in advance.
For best the results when photographing the stars, you will need a camera that is able to do long exposures, such as a DSLR. You will also need a sturdy tripod.
Please do not use a flashlight or take flash photography, since this interferes with the Dark Sky experience.
For more information visit the Jasper Dark Sky website.
Accommodations in Jasper
For your convenience, here is a list of hotels in Jasper. Please consider booking your Jasper accommodations through the included link. It costs nothing extra and helps support this website.
More Jasper Attractions and Travel Guides