Purchases made through links earn us a small commission, at no extra cost to you.
Whenever I'm in the mood to see cute wildlife, Mike and I make a trip to Jasper National Park. Well, not every time because then we'd never be home!
Jasper is, by far, the best place in the Canadian Rocky Mountains to see wildlife. In one weekend alone we saw nine bears, three moose, and more elk and deer than I could keep track of!
Even in the winter, we always see wildlife in Jasper. No bears of course, but it's common to see bighorn sheep and mountain goats, plus deer and elk.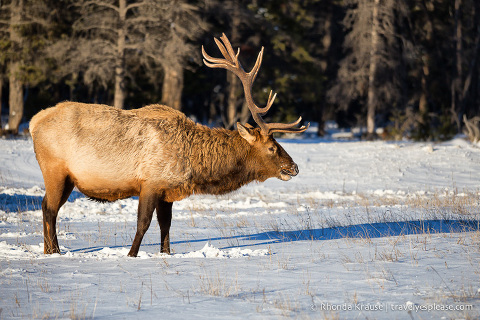 The wildlife in Jasper is abundant thanks to the town's location in the largest inhabitable valley in the Canadian Rockies. A lot of the time you don't have to venture far beyond town, or even leave town (elk are known to hang out on main street), to see some wildlife.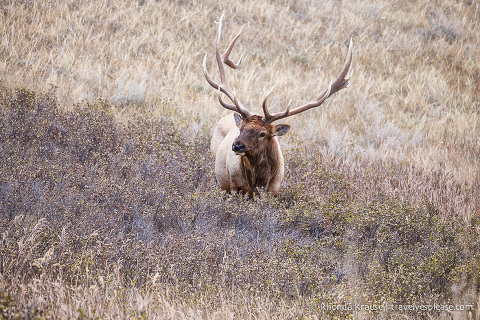 Wildlife in Jasper- What You'll See and Where to Find Them

Over the years, we've been lucky to see a lot of wildlife in Jasper, but of course we haven't seen everything. According to Parks Canada, over 53 species of mammals make Jasper National Park their home.
Some of the small mammals found in Jasper include squirrels, marmots, beavers, weasels, pika and porcupines. The larger mammals in Jasper are moose, deer (white-tailed and mule), caribou, elk, bighorn sheep, mountain goats, coyotes, wolves, cougars and bears (black and grizzly).
Whenever we see wildlife, we always make sure to keep a safe distance. Most of the time I take photos from inside our truck, using my telephoto lens. One day I'll invest in one with more reach than my 120-400mm Sigma, but for now it does the trick.
I may not have the best pictures (I'm not a wildlife photographer…yet), but I still wanted to share with you some photos of the beautiful animals that we've seen in Jasper. Here's our wildlife viewing guide for Jasper National Park, including tips for animal identification and where to find wildlife in the park.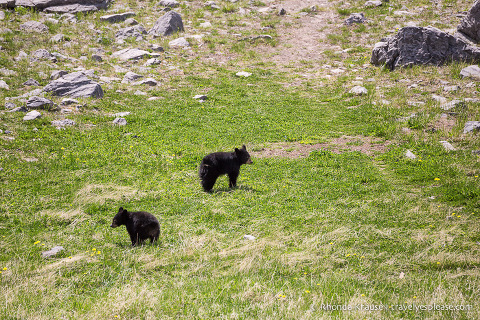 Elk (Wapiti)
It would be very odd if you made a trip to Jasper and didn't see any elk. With over 1300 in the park, elk are the most commonly seen animal in Jasper. They can be seen in fields along the roadways (especially on Highway 16), and in the townsite.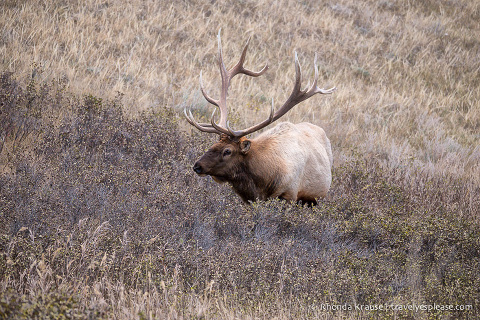 Elk can be very dangerous, so Parks Canada recommends staying at least 30 metres away from them. In the spring, females will fiercely protect their young, while in the fall, male elk will aggressively display their dominance.
If you see an elk with raised ears, or one that is snorting and stamping its feet, stay away.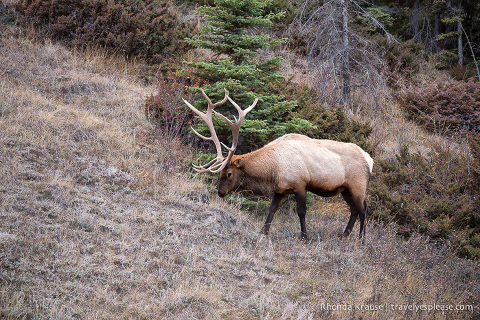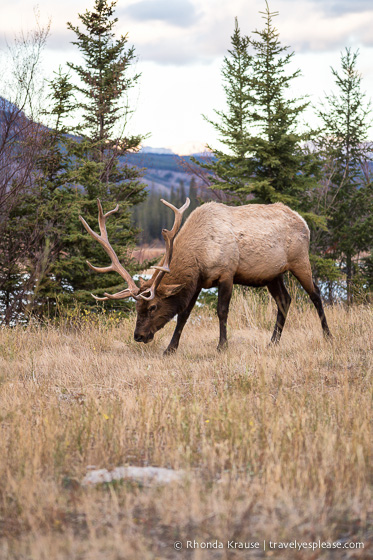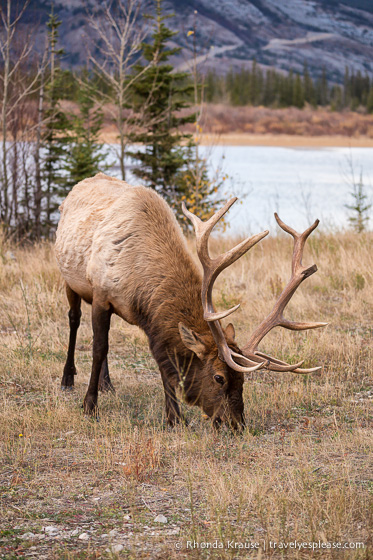 Moose
We don't always see moose on our trips to Jasper because there are only about 150 in the entire park.
Once you do see them, it's hard not to be amazed at how big they are! Moose have very long legs, which can make them look a little clumsy. They are also known for the flap of skin hanging from their throat and their horse-like nose.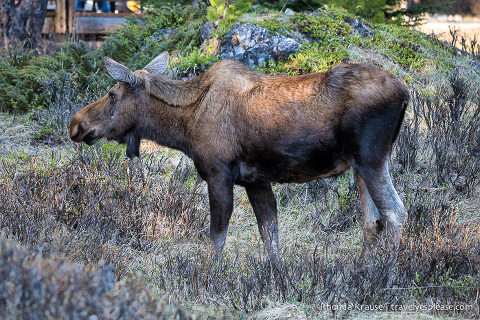 Every time I've seen a moose outside a national park, they are quick to get out of view if they sense you watching them. Yet in Jasper, the animals are so used to seeing people, plus they know they are safe from hunters, that they tend to carry on as if you weren't there.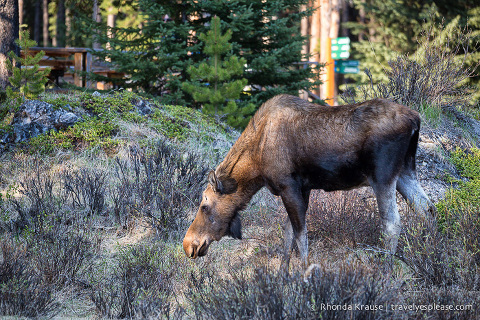 The moose in these photos was just hanging out in the open at Maligne Lake, unconcerned that the 20 people on our wildlife tour were intently watching him eat. Still, we all kept our distance knowing full well that moose will charge humans who come too close.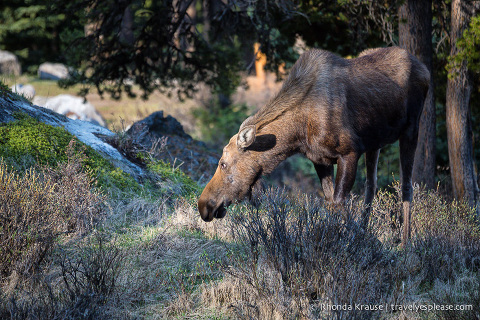 Mule Deer
Mule deer are my favourite type of deer. They are so darn cute with their big ears and black-tipped tails!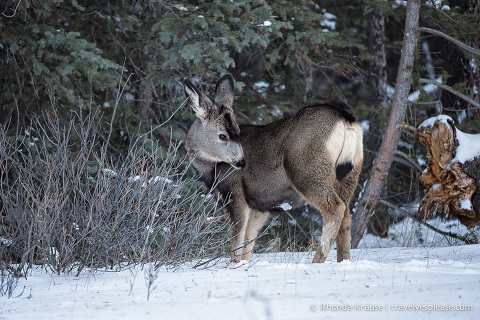 Mule deer are usually found in drier, open areas and can frequently be seen along the roadsides in the park. If you see one, you'll likely find more close by, as mule deer like to hang out in small groups. The ones in these photos were all seen on Maligne Lake Road.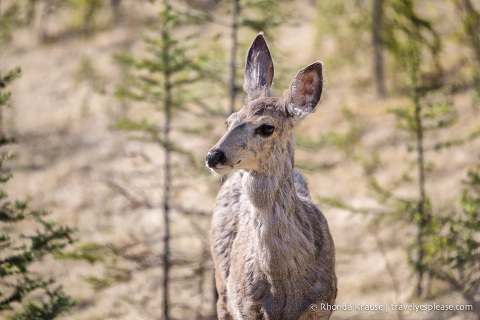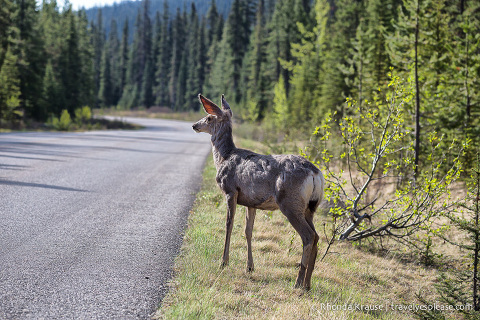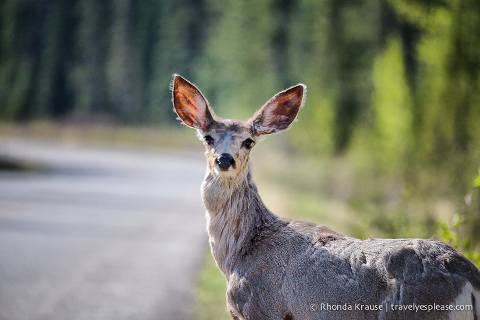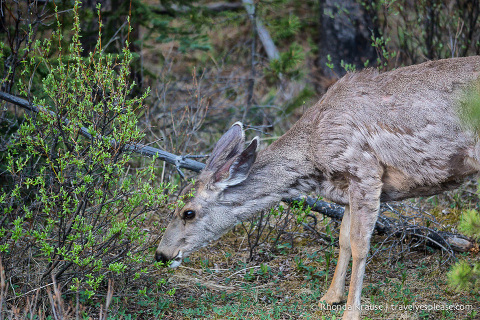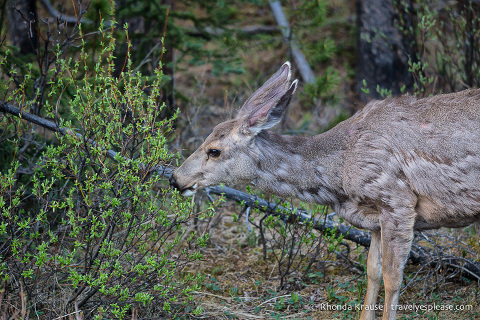 My favourite mule deer sighting was during a January trip to Jasper when we saw a mama deer cleaning her baby's fur. Talk about adorable!
Bighorn Sheep
If you visit Jasper in the winter, there's a good chance you'll see a group of bighorn sheep grazing alongside the highways (Highway 16, is a great spot to see this!)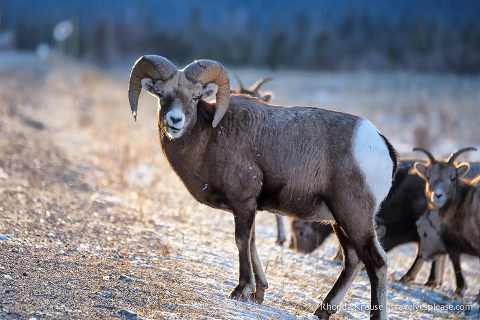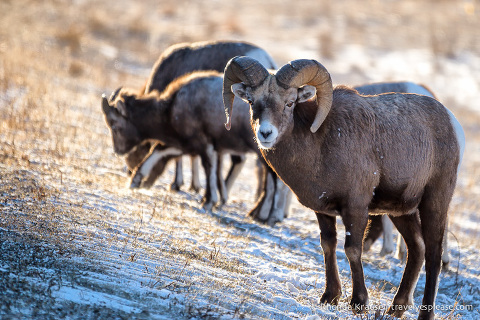 Bighorn sheep migrate between alpine meadows in the summer and low grassy slopes in the winter. They are easily identified by their tan coloured coat and white rump. Rams (male bighorn sheep) have curved horns but ewes (female sheep) have shorter, straighter horns.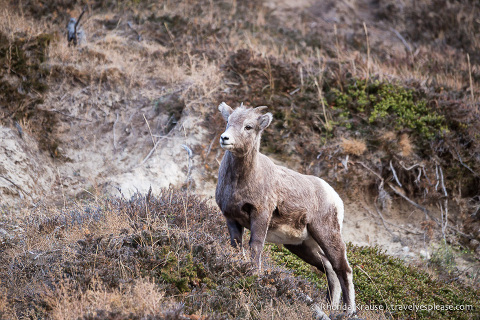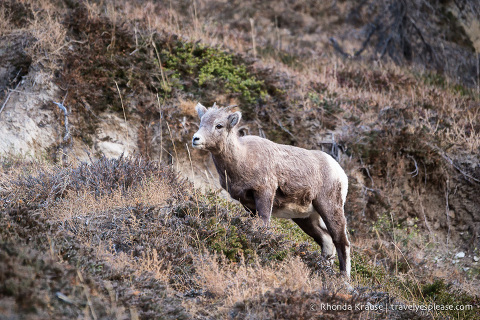 Other great places to see bighorn sheep are up at Old Fort Point, a lookout and hiking trail not far from the town of Jasper, around the Miette Hot Springs (they often wander through the parking lot), and on the Wilcox Pass hike.
Grizzly Bear
Grizzly bears are easy to identify because they have a pronounced nose and a large, muscular hump on their shoulders. Their fur is usually light brown but can vary in colour. You should never be close enough to notice this, but grizzlies have huge claws- averaging 15 centimetres in length!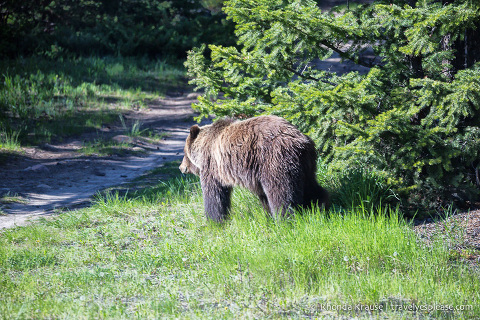 Grizzly bears have large territories and they will move to where the best food source is. In the spring and fall, grizzlies will descend from alpine areas into valleys where food is more readily available.
The first time I saw a grizzly bear in the wild was early spring in Jasper National Park. I wasn't expecting to see one, since there are only about 100-120 grizzlies in the park, but I sure was excited when I did!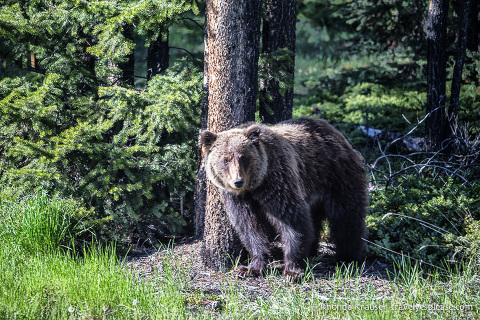 This young grizzly, who I later went on to name Gus (short for Gustafson), was wandering beside the road at the turnoff to Jasper Park Lodge. The park wardens were keeping a close eye on him, and shooing away tourists, because grizzlies can be very dangerous.
I only had a few moments to snap a picture and unfortunately it was through the tinted glass of a tour bus, from the side furthest from the bear, so my pictures are not as sharp as I would have liked. But, at least I captured the moment and preserved the memory from a safe place- that's what's most important!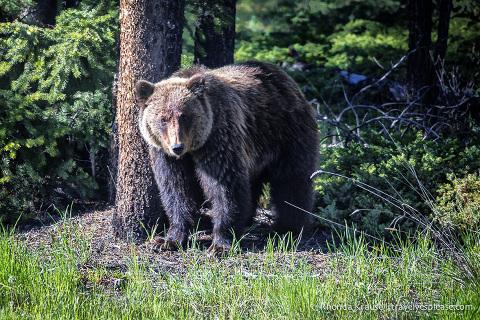 Black Bears
Spring and fall are prime time for seeing black bears. They are more comfortable around humans than grizzlies, so you are more likely to cross paths with them. Black bears are usually seen in forested areas, in berry patches, along roadsides and even in campgrounds.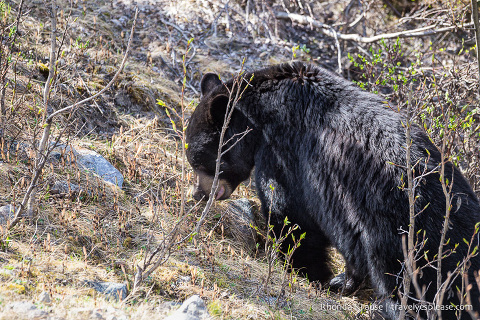 Black bears are smaller than grizzlies and have a straight, tan-coloured nose. They do not have a hump on their back, like the grizzly bear.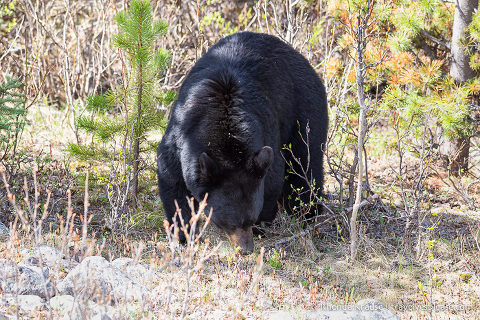 I have always wanted to see bear cubs and my wish came true in Jasper! At Medicine Lake, we were lucky enough to see a mama black bear and her two cubs grazing in a field near the lakeshore. We sat and safely watched them from high up on a hill (mama bears do not like people coming near their cubs!)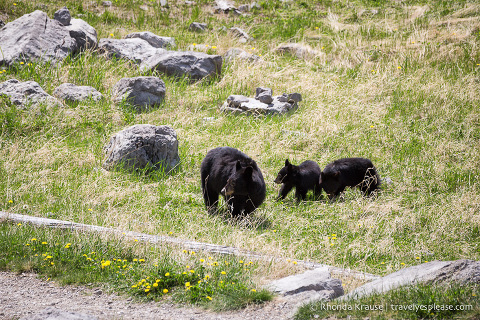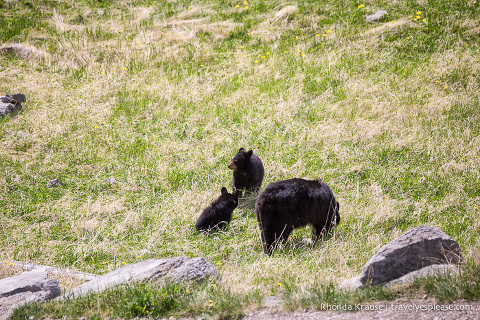 It was wonderful to be able to sit and watch bears in their natural habitat. Rarely did they look up at us, as they were so focused on eating.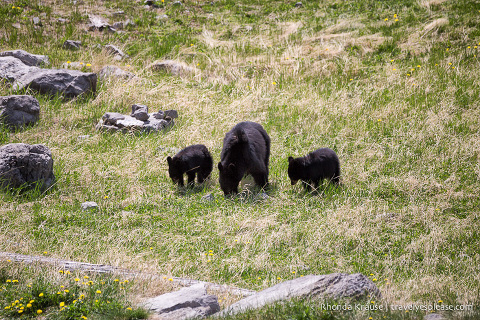 Once in a while, the bigger cub would get adventurous and explore on its own, away from mom. It was fun to watch him (or her) playfully run across the grass. So cute! The smaller cub, however always stuck close to mom or sibling's side.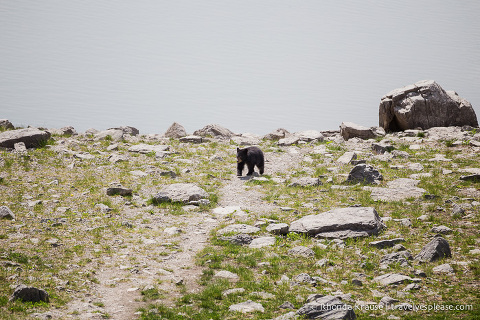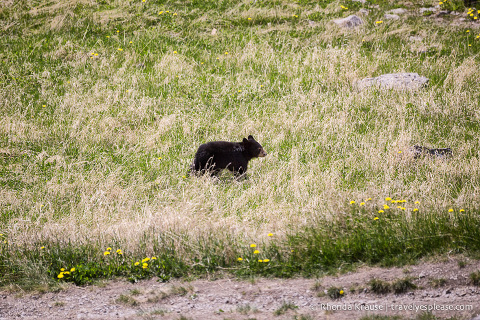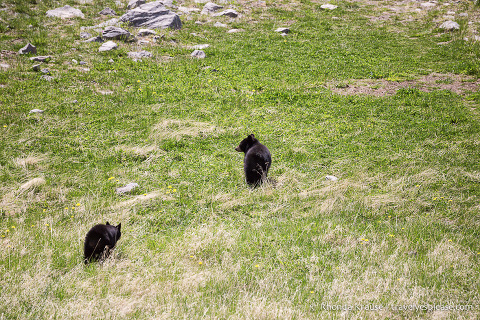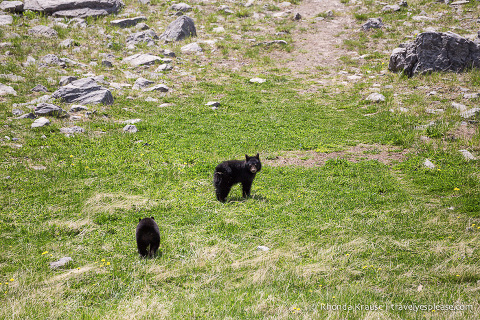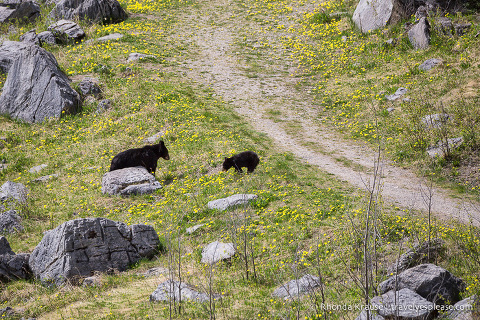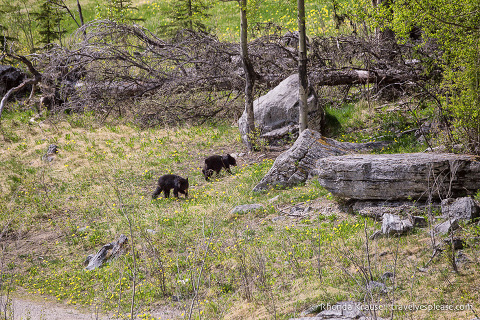 Apart from seeing a black bear eating fish in Alaska, watching these cubs has been my favourite wildlife viewing experience so far!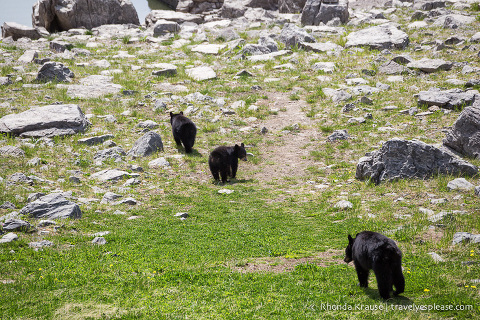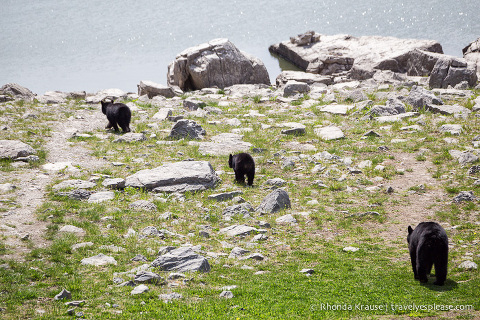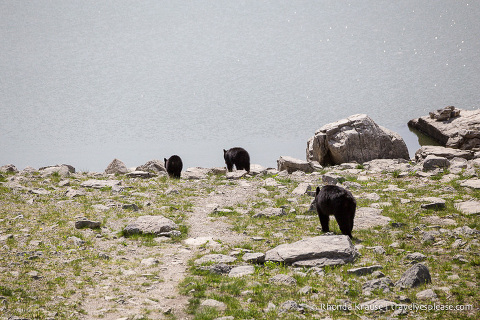 Marmots
If you're out hiking above the tree line and hear a high-pitched whistling sound, that's a marmot. Marmots will "whistle" when they're alarmed and to warn other marmots of a possible threat.
Hoary marmots are one of the largest rodents in Jasper, reaching up to 12 kg/26 lbs. They have grizzled black and/or brown fur on their bodies, a white patch on the muzzle, white fur around the lips and on the chin, and black paws.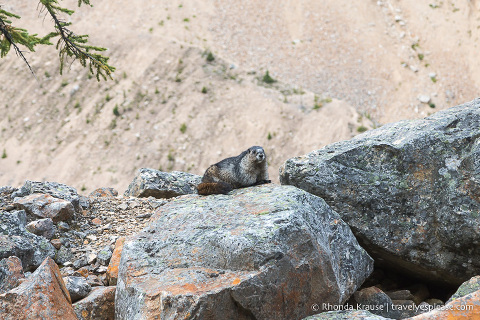 Marmots can be found in high alpine regions, often in rocky areas where they make their dens below large boulders. We enjoyed seeing marmots chatting back and forth from the rock piles while hiking to Cavell Meadows. Another place you're likely to see marmots in Jasper is on Whistlers Mountain. Don't expect to see marmots in the winter though because they hibernate for 7- 8 months.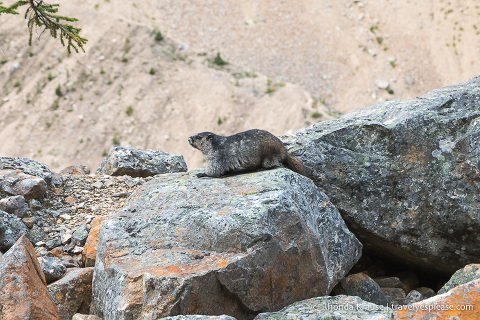 Tips for Seeing Wildlife in Jasper
Best Time to See Wildlife in Jasper: Animals in Jasper can be seen all year round, but spring is an especially good time.
Early mornings and early evenings are the best times of day to spot wildlife, while Maligne Lake Road is one of the best places to see wildlife in Jasper.
Jasper Wildlife Tours: Wildlife tours are available and are a good option for people who are not familiar with the park, or who do not have a vehicle. We did the Wildlife Discovery Tour with Sundog Tours. It was a great way to learn a little bit about the animals while viewing them from a safe location. Plus, we noticed things we probably wouldn't have on our own, like an osprey in her nest. The tour wasn't the best for photography, since the bus windows were tinted and didn't open, but it was helpful to find out where certain animals can be found. Once we got that information, we headed out on our own the next day to see some more!
Here are some wildlife tours you can book:
Wildlife Safety: Even though the wildlife in Jasper are used to seeing people, it's important to remember that they are still wild animals and can be unpredictable, even dangerous. Always keep a safe distance. Parks Canada recommends staying at least 30 metres away from elk and 100 metres (or 10 bus lengths) away from bears.
Never, ever feed the wildlife. Not only is this against the law and unsafe, but it teaches wildlife to rely on humans for food.
If you see wildlife on the side of the road, remain in your vehicle, take your picture out the window, then continue on your way. This ensures the safety of both you and the animals.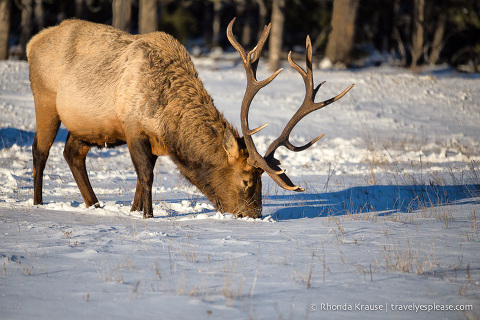 Accommodations in Jasper
For your convenience, here is a list of hotels in Jasper. Please consider booking your Jasper accommodations through the included link. It costs nothing extra and helps support this website.
More Jasper Attractions and Travel Guides