Purchases made through links earn us a small commission, at no extra cost to you.
I've been visiting Jasper National Park ever since I was a kid, but had never got around to enjoying one of the park's most iconic experiences- the Maligne Lake cruise to Spirit Island.
I can honestly say, I saved the best for last!
The scenery I saw during the Maligne Lake cruise epitomized everything I love about Jasper- rocky mountain peaks, hanging glaciers, peaceful forests, and azure coloured lakes. The views got better and better the further along we cruised, climaxing with a stop at the famous Spirit Island.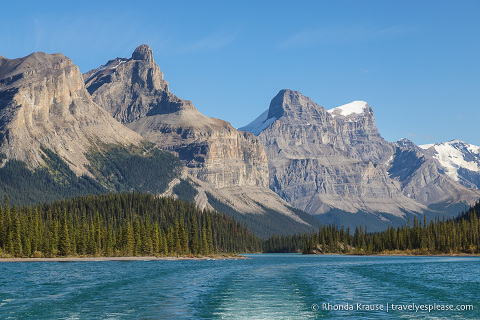 Toss in a warm, sunny day in early September, and it made for a perfect, unforgettable boat cruise in Jasper National Park. Here's a look at our afternoon on Maligne Lake and enjoyable cruise to Spirit Island!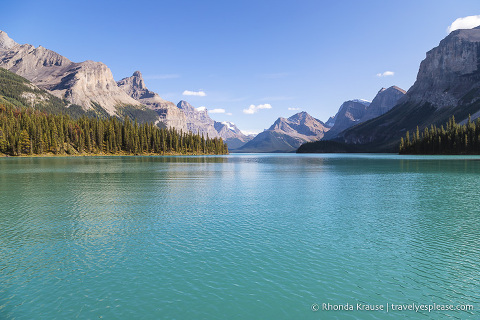 Maligne Lake Cruise to Spirit Island
After a nice picnic on the shore of Maligne Lake, we lined up at the dock near the Maligne Lake boathouse, excited to board the day's last cruise to Spirit Island.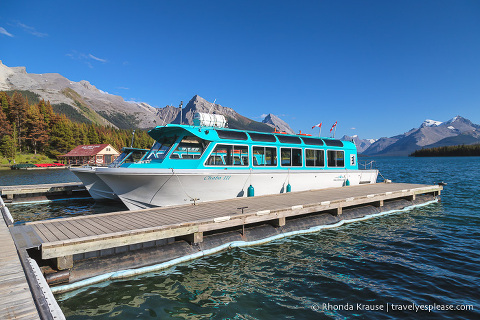 Even though we bought our tickets in advance, I wanted to get there early so I could secure a window seat on the small boat. I wasn't the only one who had that idea though, and people started lining up as soon as the previous boat departed.
Lucky for me, I got the last window seat and as we sailed away from Home Bay, I readied my camera for all the beautiful alpine scenery we'd see during our boat tour of Maligne Lake.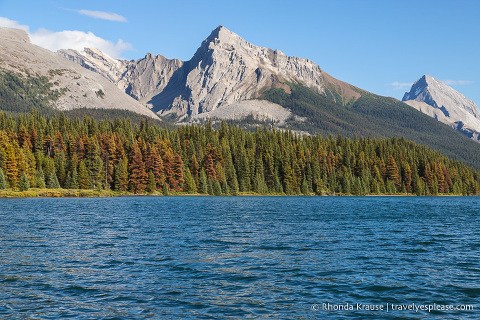 Soon into our journey, the view opened up to a part of the lake I hadn't seen before. Since Maligne Lake is so long and narrow, it's hard to perceive the magnitude of its beauty from the boathouse. As I was quickly finding out, a boat is the best way to see Maligne Lake.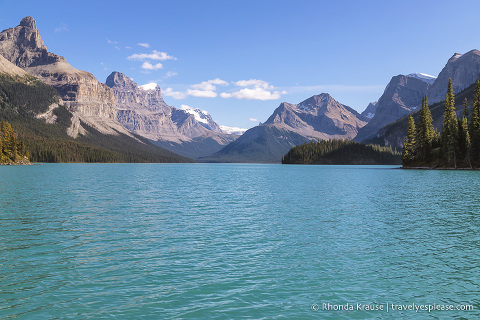 As our cruise on Maligne Lake continued on, our guide pointed out notable landmarks, all the while sharing interesting facts and stories about Maligne Lake.
We learned about the explorations of Mary Schäffer, who "discovered" the lake after following a map drawn for her by Stoney tribesman Samson Beaver. We heard anecdotes about climbers summiting Leah Peak and even got to see some fossilized coral reef that was brought down from the mountain. I also learned that the mountains running alongside Maligne Lake were called the Queen Elizabeth Ranges, named in honour of the coronation of Queen Elizabeth II in 1953.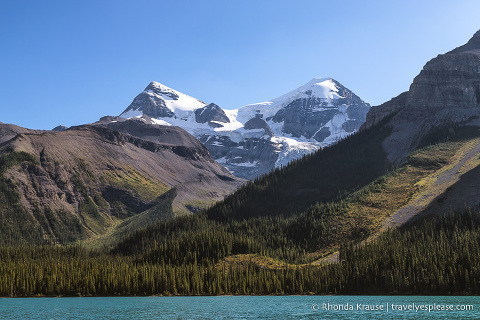 Before I knew it, our little blue boat was gliding into the Samson Narrows, one of the prettiest sections of Maligne Lake. There were a few small islands, a quiet bay, and backcountry campground, but Spirit Island was still out of view.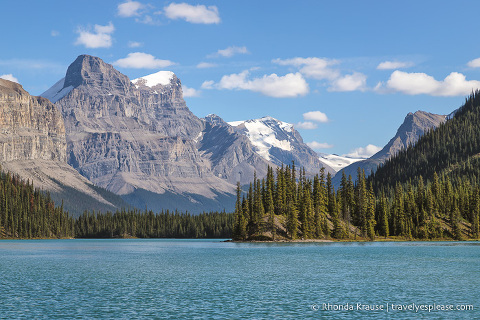 As gorgeous as the scenery along Maligne Lake was, it didn't distract me from my excitement to get to Spirit Island. I had long admired photographs of this renowned spot and desperately hoped it lived up to my high expectations.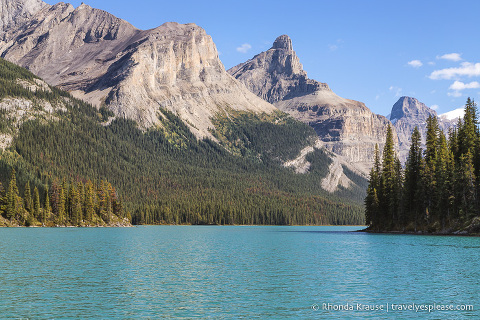 As soon as we docked beside Spirit Island, I eagerly made my way down the short nature trail.
I was awestruck by the landscape surrounding me. Rocky mountains framed the lakeside, while Spirit Island and its distinctive sole cluster of trees pointed towards the far end of Maligne Lake.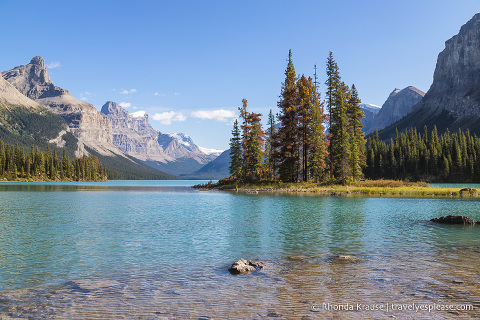 It was a work of art incomparable to any painting or photograph. I felt my breath quicken, then calm, as I gazed at Spirit Island, fully absorbing the moment.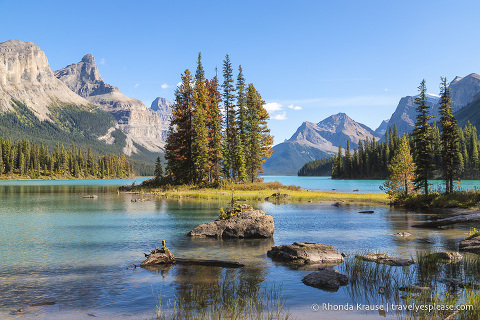 I didn't want to look away or turn my back, but was motivated to continue up the trail knowing that a different vantage point awaited me.
Once I arrived at the viewing platform, which was higher than the shore below, I re-experienced the wonder I felt just a few short moments ago. This slightly different perspective brought on a new wave of emotions and I stood there silently thanking Mother Nature for the perfect light and weather conditions for viewing Spirit Island.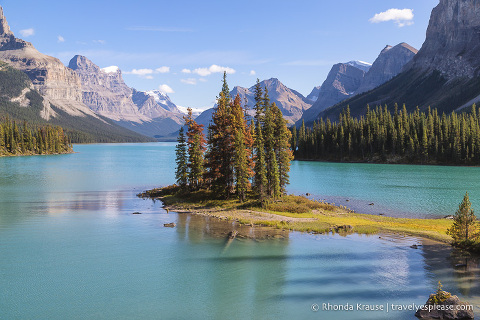 Sadly, our time at Spirit Island was way too short, just 15 minutes, and soon we were being called back to the boat. It would have been nice to sit longer with the view, considering Spirit Island is the gem of Maligne Lake.
Back on the boat, I was disappointed to be leaving so soon, but didn't let that taint the experience I had looked forward to for so long. Instead, we stood smiling on the back of the boat, bathed in warm sunlight, and watched one of the best views in the Canadian Rockies disappear from sight.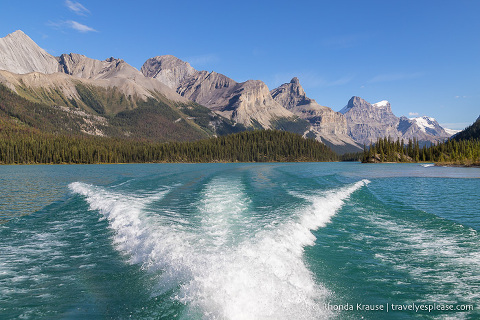 Final Thoughts About the Maligne Lake Cruise to Spirit Island
I've travelled to many far-off places but the view of Spirit Island and Maligne Lake is truly one of the most beautiful sights I've ever seen. How lucky that it's only a 4 hour drive from my home!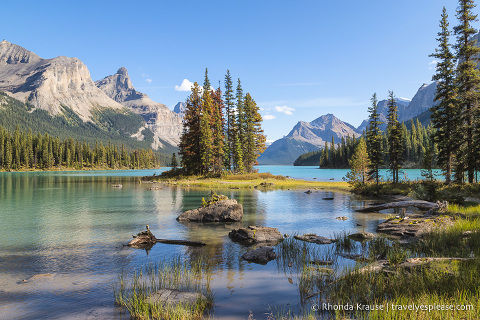 Although the highlight of our afternoon was seeing Spirit Island, the cruise on Maligne Lake was just as enjoyable, being both informative and scenic.
I especially loved the glaciers and seeing the water change colour from blue to turquoise the further down the lake we got. It was also interesting to see how one side of the lake had rugged, rocky mountains, while the other side had mountains that were more rolling and smooth.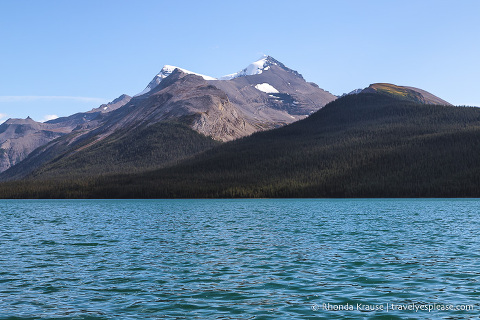 One downside of the Maligne Lake cruise is that the time at Spirit Island is way too rushed. With only 15 minutes, it was just enough time to walk to the Spirit Island viewpoint, take some photos, then rush down the rest of the trail back to the boat. At least the boat was small, so the island wasn't being bombarded with people.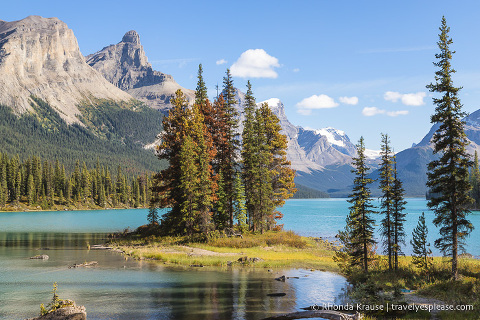 I think if we had the time and desire, it would have been more rewarding to canoe or kayak to Spirit Island, but at 28 km round trip, that's a pretty ambitious paddle for one day!
Overall, I'm very happy with our cruise on Maligne Lake and Spirit Island was just as perfect as I hoped it would be. This experience is not only a must-do in Jasper National Park, it should be included as part of larger road trip in the Canadian Rockies.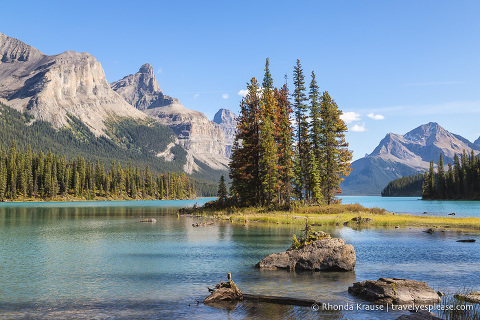 Answers to Frequently Asked Questions About the Maligne Lake Cruise and Spirit Island
How long is the Maligne Lake cruise?
The classic sightseeing cruise on Maligne Lake is 90 minutes long. Specialty cruises are 2 hours.
How far is Spirit Island from the Maligne Lake boathouse?
Spirit Island is 14 km (9 mi) from the boathouse.
Can you walk on Spirit Island?
No, you can't set foot on Spirit Island because it's considered a sacred place. The island can be viewed from a nature trail on the shoreline across from it.
Can you hike to Spirit Island?
No, Spirit Island can only be reached by boat. To get to Spirit Island, you can take the sightseeing cruise on Maligne Lake or rent a canoe. Parks Canada does not allow private motorized boats on Maligne Lake.
Why is it named Spirit Island?
First off, the name is a bit of a misnomer because it's not actually an island, but rather a peninsula. It only appears to be an island when the water levels of the lake are high. Our guide told us that no one knows for sure where the name came from.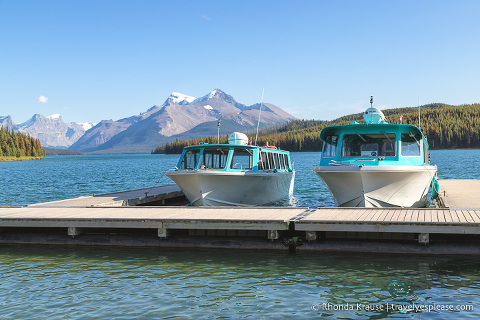 Tips for the Maligne Lake Cruise to Spirit Island
Location: Maligne Lake is located in Jasper National Park at the end of Maligne Lake Road. It's about a 50 minute drive from the Jasper townsite. You may want to give yourself more time though since Maligne Lake Road has some scenic viewpoints and is one of the best places to see wildlife in Jasper.
The boats to Spirit Island leave from the docks across from the Maligne Lake boathouse.
Dates of Operation: The Maligne Lake boat tours usually start near the end of May or early June, depending on when the lake thaws, and run into the first week of October.
Maligne Lake Cruise Options: There are a few different cruise options for Maligne Lake ranging from 1.5- 2 hours.
We did the 1.5 hour Classic Cruise that includes a boat ride to Spirit Island and back, on-board commentary from a guide, and 15 minutes free time at Spirit Island.
The 2 hour option is the Premium Cruise which is basically just an extended version of the classic tour (includes more time on the lake and at Spirit Island).
I personally don't think the 2 hour option would be worth the added expense (which is why I didn't book it), even though I wanted more time at the island. It's quite the jump in price for only a few extra minutes at the island and more time on the lake isn't really needed.
Best Time to Photograph Spirit Island: Of course there's no guarantee of good light (or weather) at certain times of day, but generally in late afternoon/early evening the sun shines softly on Spirit Island.
We did the 4:00 pm cruise in early September and had gorgeous light at Spirit Island. I simply looked at what time the photography tour leaves on days it runs, since that should be scheduled at the optimal time for taking pictures, and booked the Classic Cruise that departed at the same time. It worked out wonderfully for us!
Boats and the On-Board Experience: The boats that go to Spirit Island are on the smaller side (not big catamarans). There is bench seating for 3-4 people on each side, so not everyone will be able to sit near a window. For that reason, I recommend lining up as early as possible so you can get a window seat.
There is an area at the back of the boat where you can stand outside, but it is very small and only a few people are allowed out there at a time. You also can't hear the commentary outside.
Maligne Lake Cruise Tickets: I recommend booking tickets in advance, especially in high-season of July and August. You can buy your tickets direct with the tour operator (online or at their ticket office), or book online through a trusted third party here.
At the time of publishing, Alberta residents get a cheaper rate when booking direct.
Services at Maligne Lake: At Maligne Lake there is a cafe, restaurant, gift shop, and place to rent canoes and kayaks.
Information was updated January 2022, but can change without notice. Please confirm directly with service providers.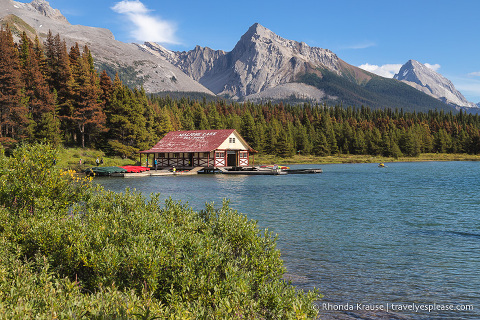 Tours of Maligne Lake and Maligne Valley
Here are some trusted sites where you can book a day tour that includes the boat trip to Spirit Island: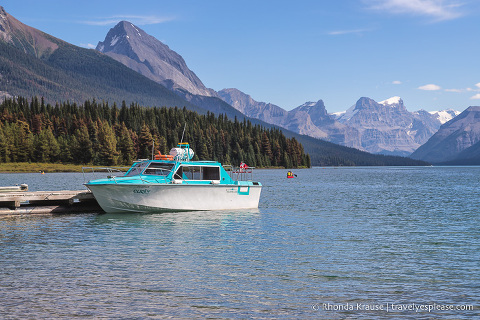 Accommodations in Jasper National Park
For your convenience, here is a list of hotels in Jasper National Park. Please consider booking your Jasper accommodations through the included link. It costs nothing extra and helps support this website. Thank you!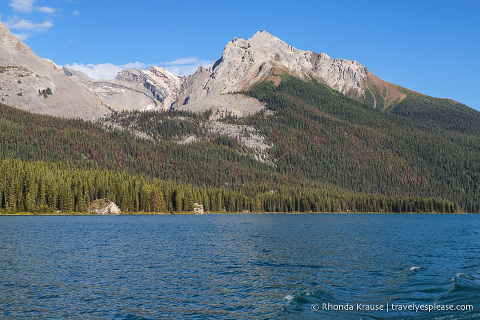 More Jasper Attractions and Travel Guides