Take a name like Moon Valley, combine it with a penchant for unique landscapes, and you can bet I was intrigued to visit Valle de la Luna in La Paz, Bolivia.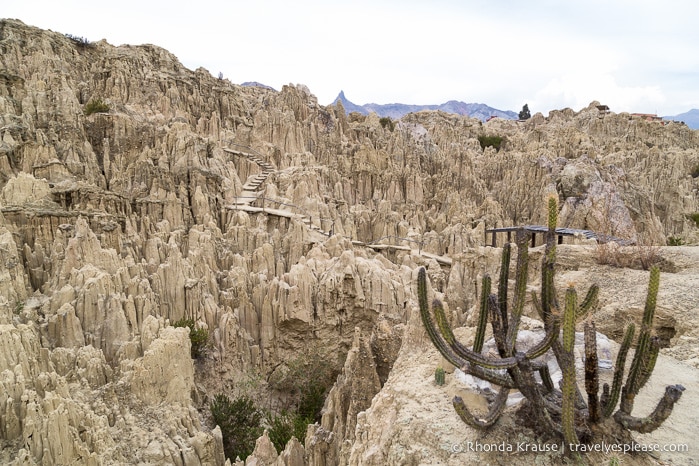 In a city surrounded by dramatic terrain, Moon Valley is a showpiece of the region. Tall, tan-coloured pinnacles rise up from the eroded hillside, creating a maze of otherworldly geological formations.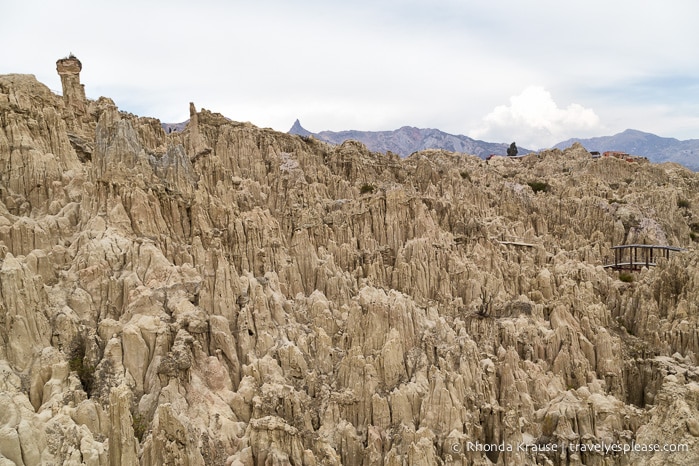 These clay and sandstone figures took shape over thousands of years, as heavy winds and rains eroded the mountains.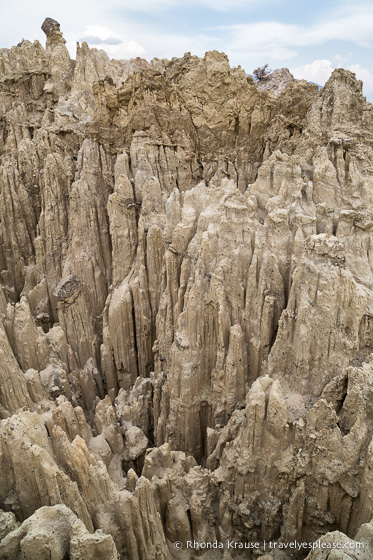 The forces of nature sculpted a strange scene, making Valle de la Luna a fascinating place to go for a walk, especially if you have an interest in geology.
Our Walk in Moon Valley, La Paz

There are two walking trails to choose from in Moon Valley, each offering different views of the badlands.
We decided to do the longest route, which at 45 minutes to complete, wasn't that long at all.
We followed the meandering trail past giant spires, some towering above us, others sharply reaching up from below.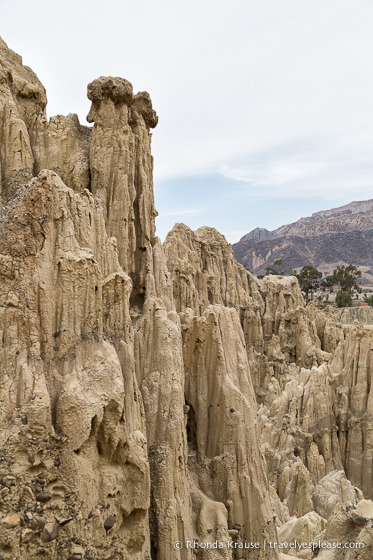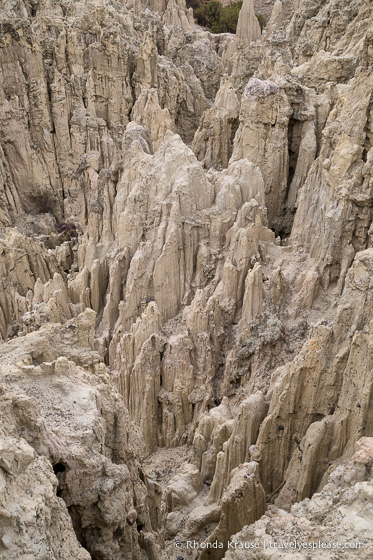 In a way, I was reminded of the badlands back home in Alberta (Canada), but the formations here were far more numerous and closer together.
As we slowly explored this extreme landscape, I was struck by the uniqueness of each rock formation. No two were the same.
The most unique one of all was named El Buen Abuelo, the Nice Grandfather. Look closely and you'll see the profile of an old man naturally chiseled in the stone.
Nearing the end of the trail, we climbed up to a viewpoint that overlooked Moon Valley. The land was carpeted with pinnacles, densely packed into a relatively small area, much smaller than I expected to see. Unfortunately, urban development is encroaching on this impressive space, slightly changing the feel of the place.
I hope for the sake of everyone who appreciates Earth's natural wonders, that this portion of Moon Valley remains protected from further urban sprawl. It would be a shame to see this remarkable location, a work of art by Mother Nature, disappear for future generations.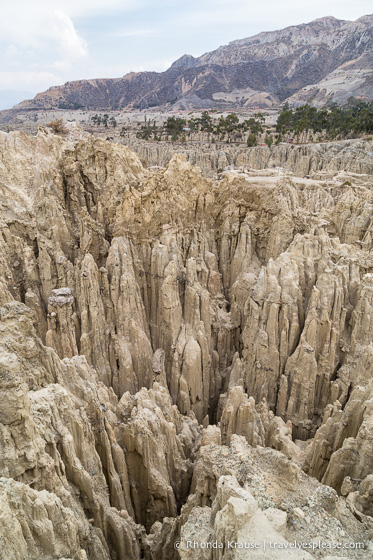 More Photos of Moon Valley
Don't forget your camera because Valle de la Luna is fun to photograph!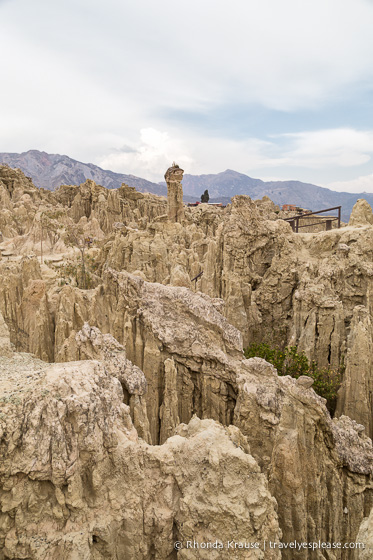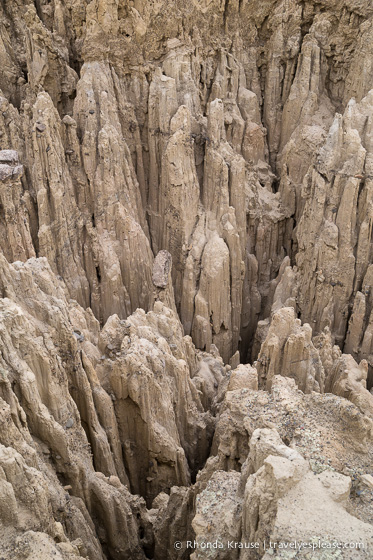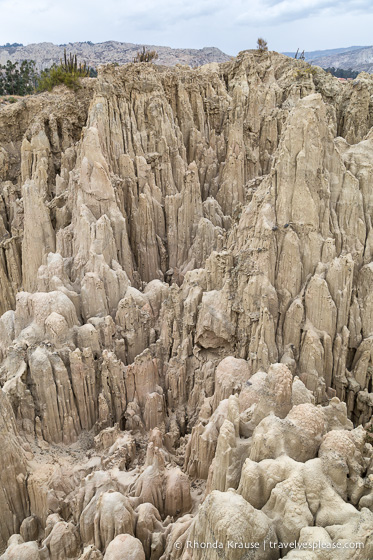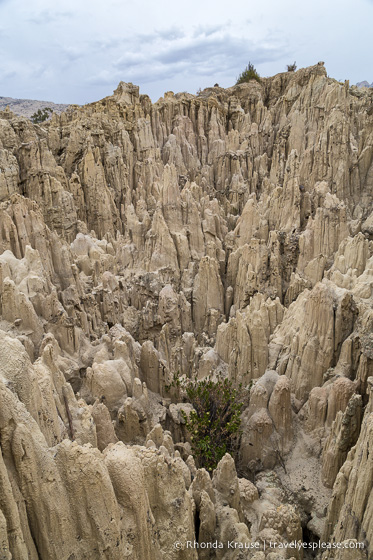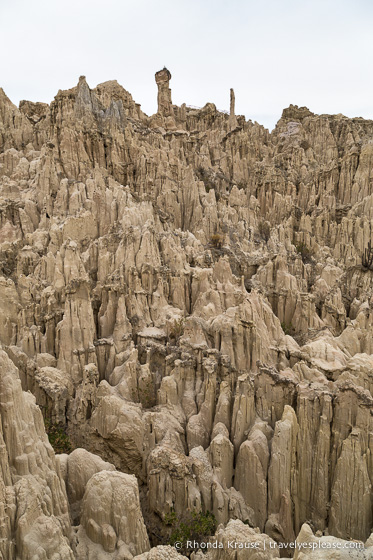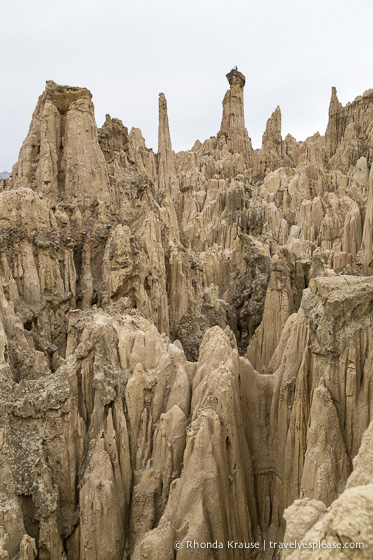 Tips for Visiting Moon Valley
Moon Valley is about 10 km from downtown La Paz. Minibuses bound for Mallasa (a village near Moon Valley) will drop you off at the entrance to the site.
There are many agencies in La Paz that offer organized tours to Moon Valley. We visited with a private guide that we hired for the day.
Entrance to Valle de la Luna cost 15 Bolivianos when we visited in 2016.
There is a small information centre and toilets available for public use.
Accommodations in La Paz
For your convenience, here is a list of hotels in La Paz. Please consider booking your La Paz accommodations through the included link. It costs nothing extra and helps support this website. Thank you!