Purchases made through links earn us a small commission, at no extra cost to you.
Bolivia was never on our radar as a place to visit until I started seeing photos of the Uyuni Salt Flats (Salar de Uyuni). I was drawn to its simplistic beauty- crusty white salt covering miles and miles of land so flat there was no end in sight.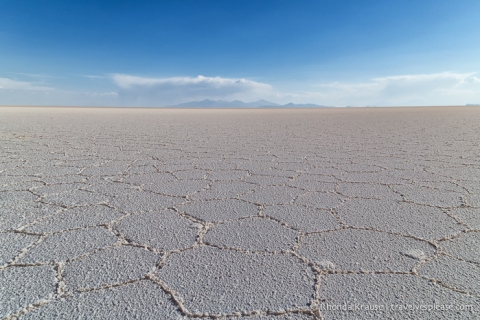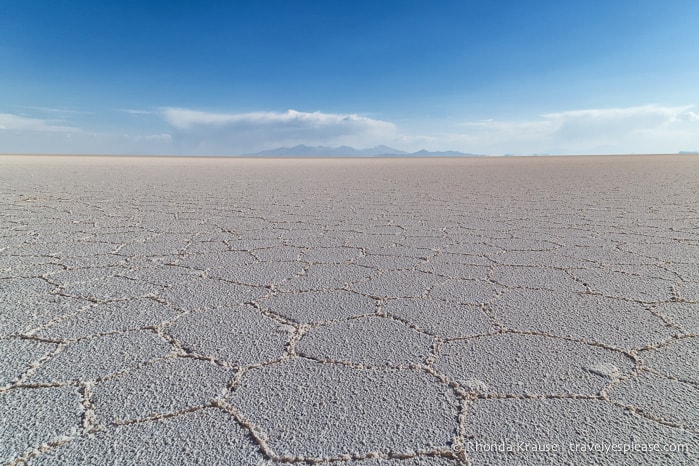 Then of course there were those funny, forced perspective photos where people and objects look larger or smaller than they actually are. We really wanted to get some photos like that!
So, off we went on a day tour of the Uyuni Salt Flats anticipating it to be one of the highlights of our first trip to Bolivia.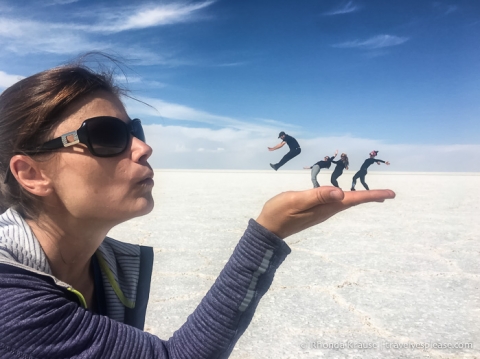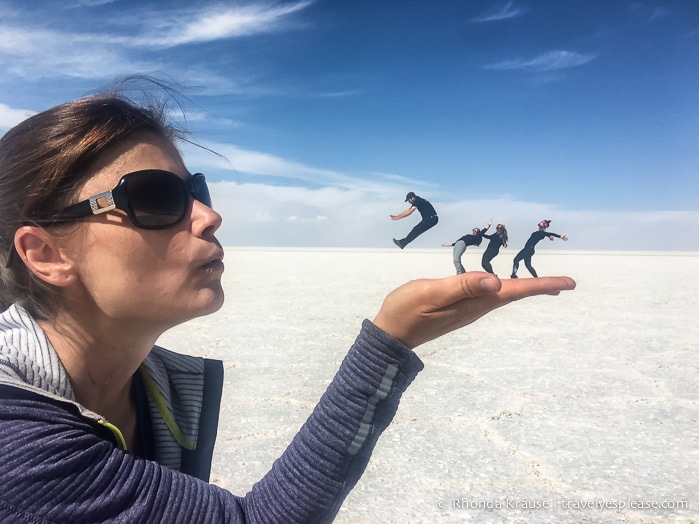 About the Uyuni Salt Flats in Bolivia
As the world's largest salt flat, Salar de Uyuni covers 10,582 square kilometers (4,086 sq mi) in southwest Bolivia.
The Uyuni Salt Flats used to be the site of several prehistoric lakes that dried up, leaving behind a landscape covered with salt crust.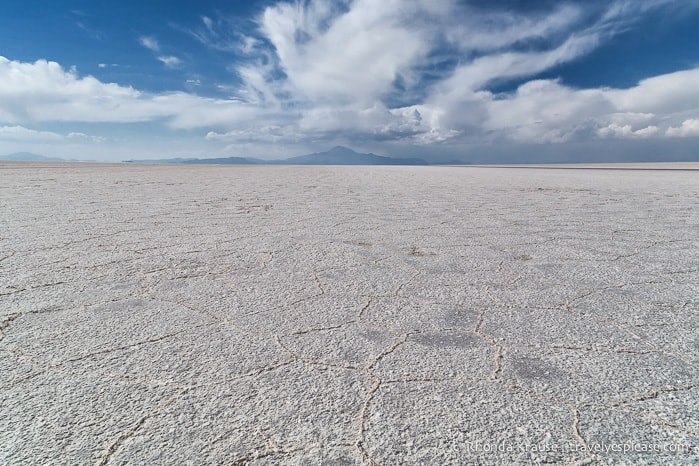 Underneath the solid top layer of salt is a pool of brine, exceptionally rich in lithium. The Uyuni Salt Flats are estimated to contain 50-70% of the world's lithium reserves.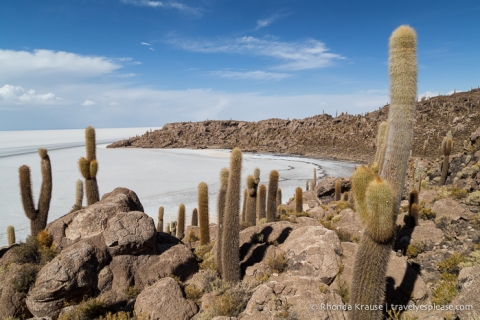 Touring the Uyuni Salt Flats
There are dozens of agencies in Uyuni offering almost identical tours of the Uyuni Salt Flats. The most popular options are a three-day circuit or a one-day tour of Salar de Uyuni.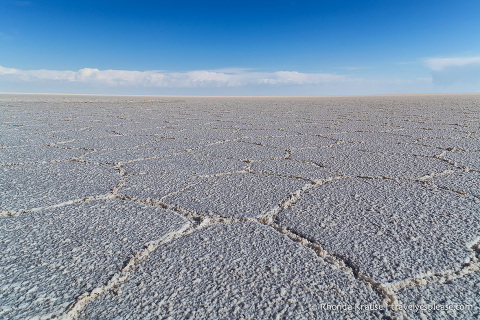 We decided to do the Uyuni Salt Flats as a day trip because we only had 3 weeks in South America, and there were plenty of other places we wanted to see. Plus, I heard that the conditions on the three-day tour can be challenging with vehicle breakdowns, basic food, and accommodations without heat. After roughing it for 4 days on the Inca Trail, we wanted to be a little more comfortable!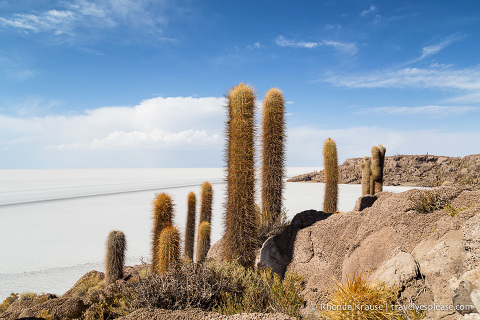 Our 1-Day Tour of the Uyuni Salt Flats
It was about 10:30 am when five of us piled into the back of a Toyota Landcruiser, excited to head out on a day trip to the Uyuni Salt Flats.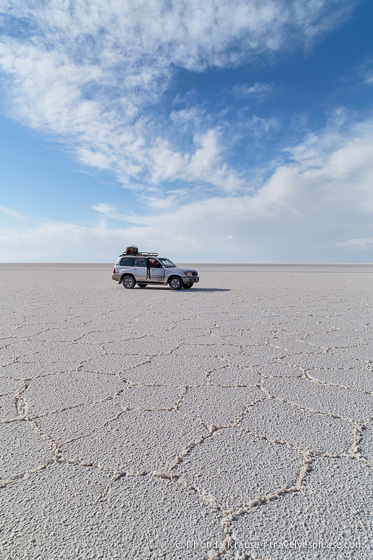 In the front seat was our English speaking guide and Spanish speaking driver. I made a mental note to keep an eye on him, since I had read so much about drunk drivers being a problem on salar tours.
Before getting out to the salt flats, there were a few routine stops we made along the way.
The first place we visited was a "train cemetery" just outside of Uyuni. Abandoned, rust-covered locomotives and hollowed out rail cars were lined up end-to-end making for a somewhat eerie tourist attraction.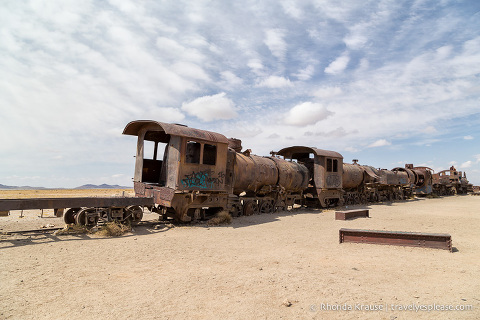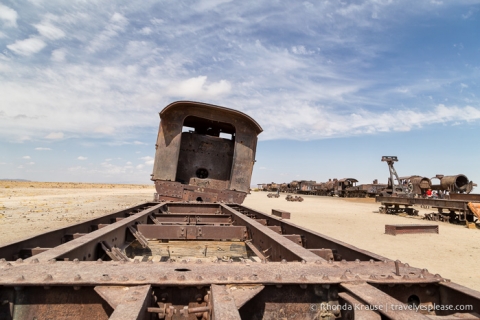 The trains were left to erode when the mining industry collapsed in the 1940's. With the minerals depleted, trains stopped running to Pacific Ocean ports and were deserted in the once important distribution hub of Uyuni.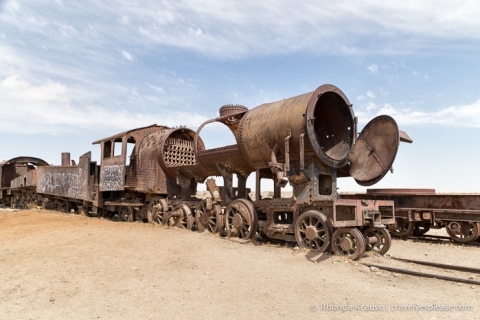 It's a bit of an unusual attraction but for train lovers it's kind of fun to see, at least for a few minutes (not the 45 we were given to spend there).
Our second stop was at Colchani, a one-road town on the edge of Salar de Uyuni. Colchani wasn't interesting to us as it's not much more than a place they bring tourists in hopes they'll spend money at the market that lines both sides of the street.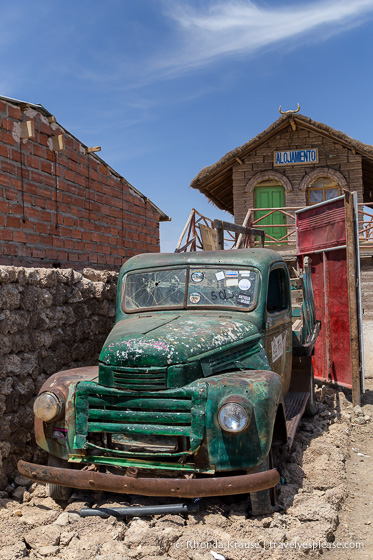 We briefly visited a salt processing facility where they dry the salt, add iodine and then package in 1 kilogram sacks. We watched an over-hyped demonstration which was just a woman scooping salt into a bag and sealing it over a flame. Then of course, we were expected to give a donation to the salt cooperative.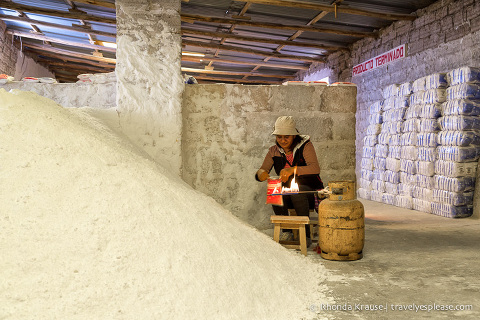 By this point I was pretty anxious to get onto the salt flats, as that is what we came here to see. When we finally hit the road, I hoped there weren't going to be anymore unnecessary stops.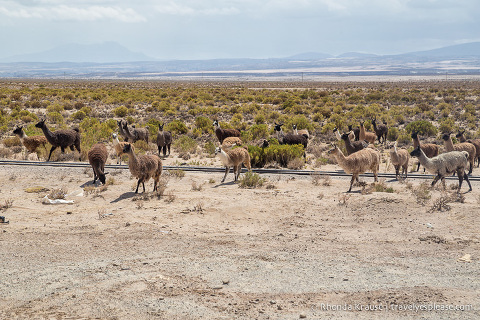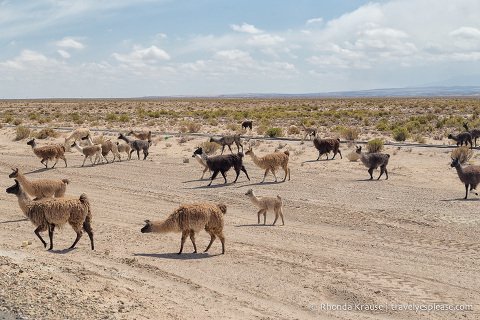 Driving into the heart of the Uyuni Salt Flats, I quickly was impressed by the blinding white landscape around us. It was amazing how huge an area the salt covers and how incredibly flat the land is. We lost all sense of where the salt flats begin or end. We even witnessed mirages as we drove across the salty plain.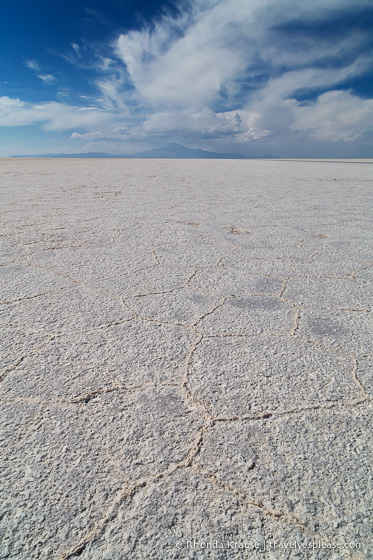 We stopped near Tunupa volcano for lunch, served picnic style from the back of the 4×4. The meal was a pasta dish, steak, pop and crepes for dessert. As we ate lunch we watched a group of flamingos grazing nearby. I couldn't get a very good picture because they kept running away the closer I got!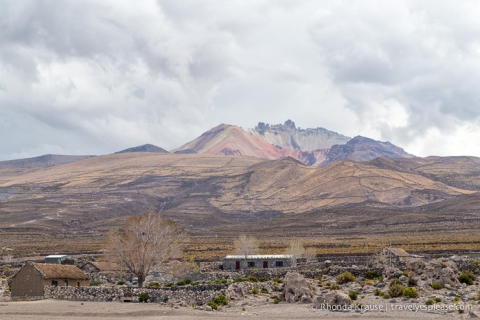 After lunch we drove back across the salt flats towards Isla Incahuasi. This cactus-covered island seemed so out of place, yet was a welcome change in scenery.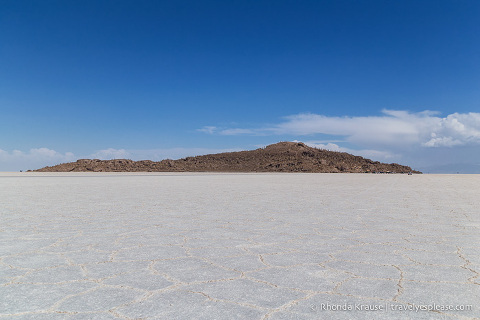 Before visiting the island we took some of those funny perspective/optical illusion pictures the Uyuni Salt Flats are famous for. Our guide came up with most of the photo ideas and even made a video of us all dancing out of a Pringles can and then running back into it to get away from a "giant" llama.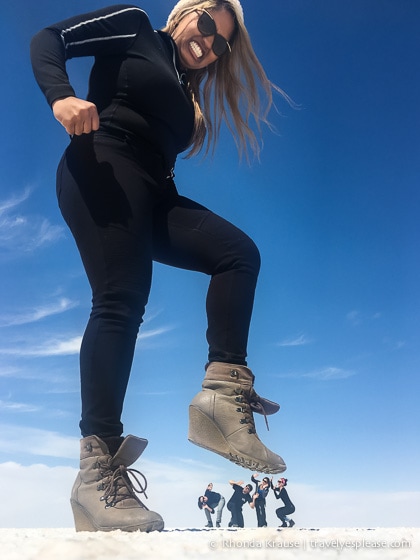 It was fun taking the silly pictures but our guide rushed through them, only wanting to do a few quick poses and not giving us any time to experiment on our own. We wanted to try a larger variety of poses and get more photos just of Mike and I together, but he was most interested in doing group photos.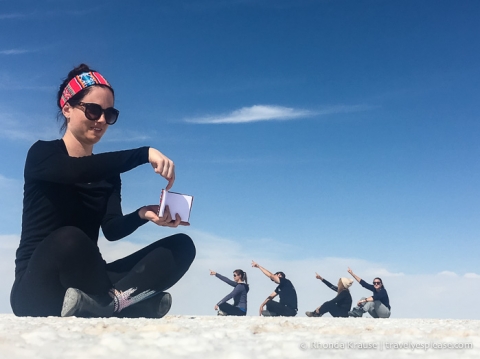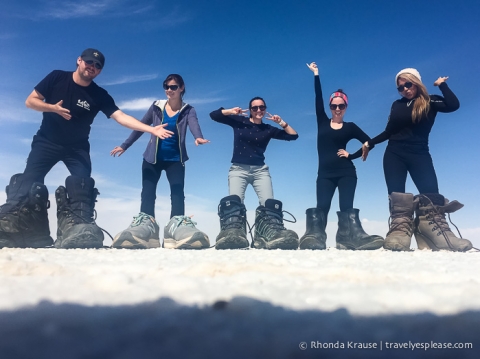 Also, our guide was only up for using an iPhone, not my big DSLR. He said the photos turn out the best with a cell phone because the lens can get so close to the ground (he took all these photos laying on the salt).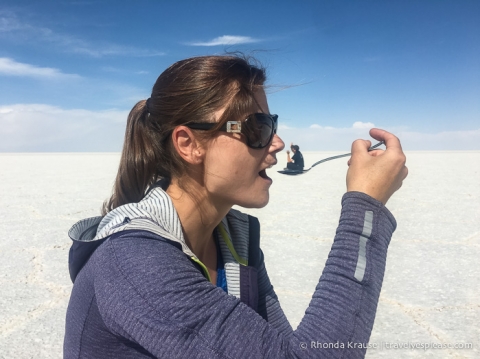 After a few minutes of taking photos we moved to Isla Incahuasi. This piece of land is actually the top of an ancient volcano that was submerged about 40,000 years ago when the area was part of a prehistoric lake called Lake Minchin.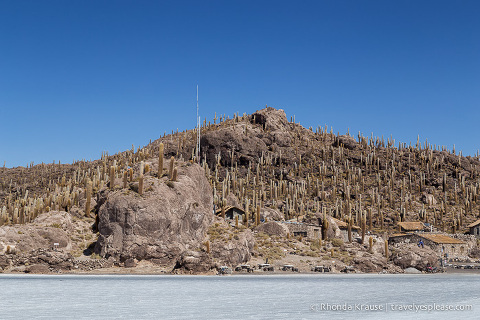 Walking around the island we saw a lot of cacti and coral-like structures. It also was neat to get an elevated view of the salt flats.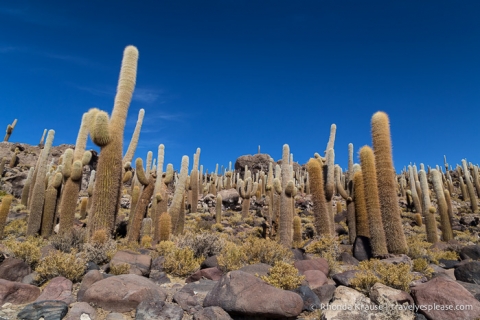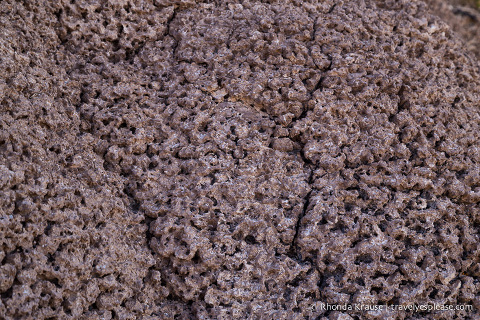 We completed the walking route on the island quite fast because it was very hot out and we wanted to make sure we had enough time to stop and get more landscape photos of the Uyuni Salt Flats.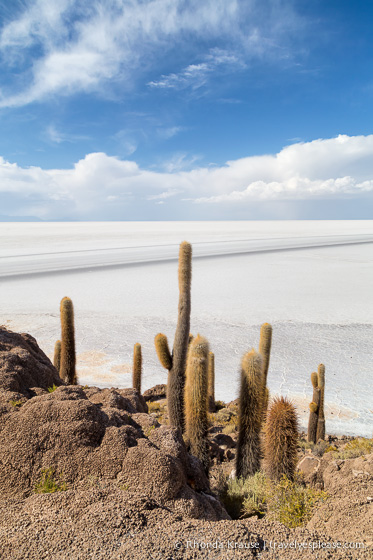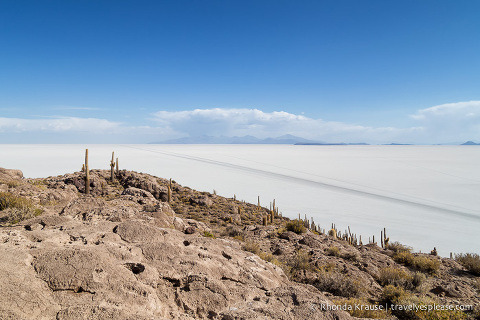 Thankfully, our guide did stop on the way back to Uyuni so I could take some scenery photos. I had my heart set on capturing the geometric patterns formed by the salt. These shapes are quite striking and were my favourite thing about the Uyuni Salt Flats!
The last place we visited on our tour of Salar de Uyuni was the salt hotel. It's not an operating hotel anymore due to environmental concerns, so now it's just a building made out of blocks of salt. We walked a lap around it, peeked inside and then headed back to the vehicle.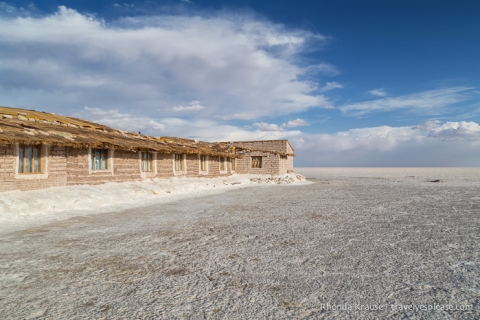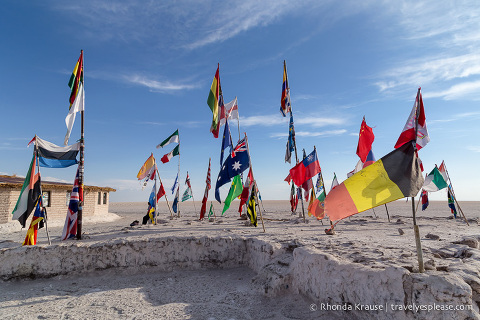 I was hoping to see the sunset on the salt flats (as advertised in the tour description) but our driver was already heading back to Uyuni, much earlier than expected. Disappointingly, we arrived back in Uyuni 1-1.5 hours earlier than the tour was supposed to end. All afternoon I got a sense that our guide and driver were in a hurry to end the tour- turns out I was right.
Final Thoughts About Our Uyuni Salt Flats Tour
The salt flats are an incredible place and I'm really glad we made the trip to Bolivia to see them. It truly is a beautiful landscape.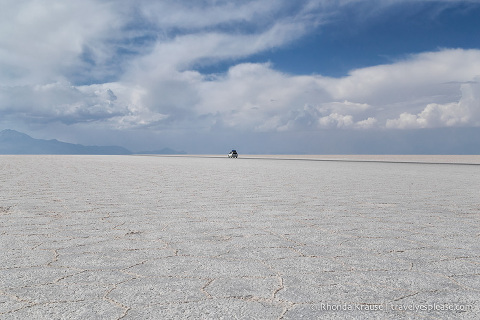 As much as we loved the salt flats themselves, we weren't completely satisfied with our tour. I thought we were going to having most of the afternoon to take funny pictures (since that is what our guide told us) but that's not what happened. I even had to ask our guide to stop for scenery photos because it was clear this wasn't in his plan. It's not like there wasn't enough time to take more photos, considering we arrived back in Uyuni way ahead of schedule.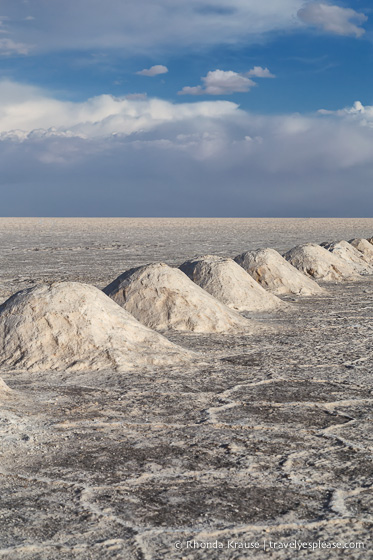 We also would have preferred to spend less time at the train cemetery and skipped Colchani altogether in order to have more time on the salt flats.
On a positive note, I liked that our guide and driver chose to do the route opposite of what other groups do. Instead of having lunch at Isla Incahuasi like most tours do, we ate at Tunupa volcano. This meant we avoided most of the crowds.
Although our day tour of the Uyuni Salt Flats wasn't quite what we expected, we still had a really fun day. The Uyuni Salt Flats were the most unique place we visited in Bolivia and well worth taking an overnight bus from Uyuni to see.
Tips for Visiting the Uyuni Salt Flats
Getting There: Uyuni can be reached by bus or plane from La Paz.
We took an overnight bus to Uyuni (was about a 10.5 hr ride). The road was newly paved, so wasn't the bumpy ride I was expecting after reading other blogs. Buses usually arrive around 8:00 am and tours typically start at 10:30 or 11:00 am.
We flew back to La Paz the morning after our tour (50 min flight).
What to Bring: You will need to bring 30 bolivianos to pay for entrance to Isla Incahuasi, as that is not included in the tour price. Also have some change on hand for using washrooms at the rest stops. Other items you'll want to bring are props for photos, sunglasses, sunscreen, extra snacks and water, clothes that can be layered, toilet paper, Imodium and any other medication you may need.
Choosing & Booking a Uyuni Salt Flats Tour: For the amount of tour operators there are in Uyuni, very few have websites. This makes it hard to find an agency, read reviews, and book direct in advance, if you wish. Your best resource for finding tours and reviews is an online marketplace, like this trusted site where you can book a Uyuni Salt Flat tour.
While most Salar de Uyuni day tours offer practically the same itinerary, keep in mind that the standard of service and quality of transportation can vary.
Not all tours come with an English speaking guide, so read the tour description carefully.
You'll also want to take notice of the maximum amount of passengers per vehicle on your tour. There were 5 of us in our 4×4 (not including driver and guide) and it was pretty cramped. I'm glad it wasn't full to the maximum of six customers!
Information was updated January 2022, but can change without notice. Please confirm directly with service providers.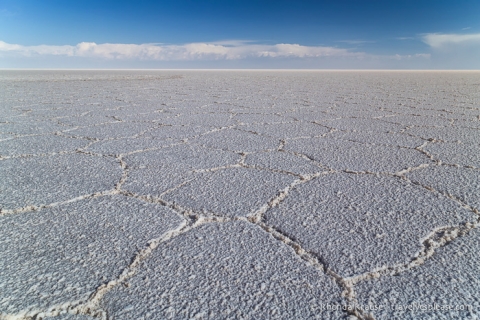 Accommodations in Uyuni
For your convenience, here is a list of places to stay in Uyuni. Please consider booking your Uyuni accommodations through the included link. It costs nothing extra and helps support this website. Thank you!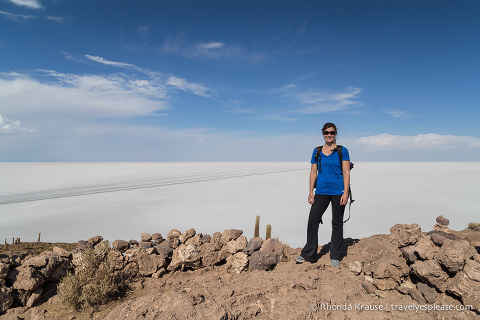 More Bolivia Destinations and Travel Guides