Purchases made through links earn us a small commission, at no extra cost to you.
Of the three countries we visited during our 3 week trip to South America, I was most nervous about visiting Bolivia. People either seemed to love it or hate it, so we had no idea what to expect on our first trip to Bolivia.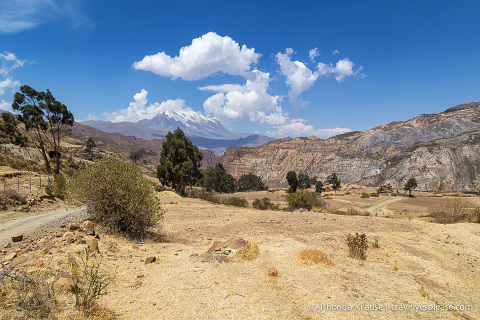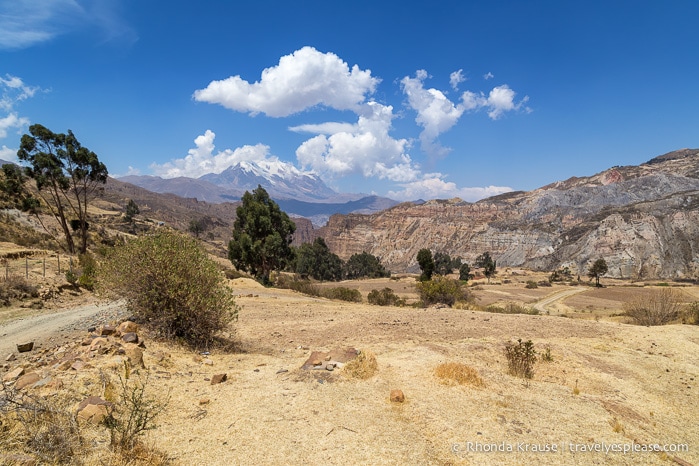 We spent 5 days travelling in Bolivia visiting La Paz, Sucre and the Uyuni Salt Flats, and were very impressed by what we saw. The landscapes were diverse and dramatic, the culture was interesting and proudly on display, and the people were friendly and welcoming.
Bolivia is a country that has plenty of opportunities for bold adventures and deep cultural connections. Bolivia is fascinating because it's simple, yet perplexing, with a natural beauty that will excite any nature lover.
We left Bolivia amazed at its potential to become the next big tourism hot-spot. The country has so much to offer travellers who are intrepid enough to visit.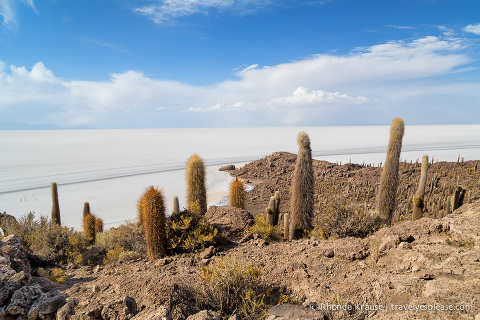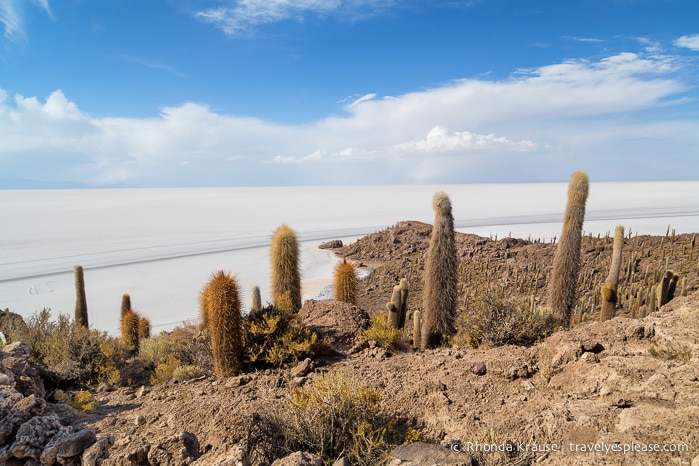 What to Expect on Your First Trip to Bolivia– Travel Tips for Visiting Bolivia for the First Time
It's fair to say we were pleasantly surprised while travelling in Bolivia. We experienced a wide range of places from dusty rural towns to congested big cities. We saw polished colonial architecture, important archaeological sites and landscapes so striking we felt like we were on another planet.
Bolivia wasn't as primitive (or as scary) as some people had made it out to be. Sure, it was rough around the edges, some places still wild and untouched by modern day luxuries. But that's part of Bolivia's charm. If you travel to Bolivia and expect it to be like North America, you'll be disappointed, but if you are open to accepting Bolivia for what it is, you'll have an enjoyable visit.
Truth is, you can experience both sides of the spectrum when visiting Bolivia- the very basic to the higher end comforts. Like any other place in the world, your experience is somewhat dependent on how much money you are willing to spend. But don't worry, a dollar can go a long way in Bolivia. A small increase in price can mean a big gain in comfort.
If you decide to make a visit (and we highly recommend that you do), here are a few things you can expect on your first trip to Bolivia, along with some first-hand Bolivia travel tips.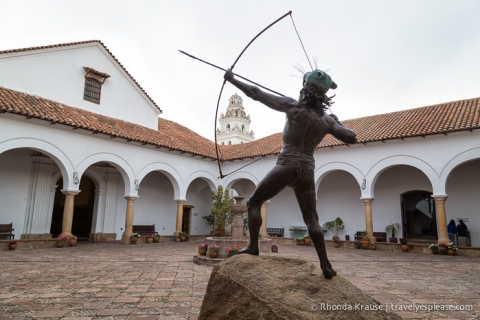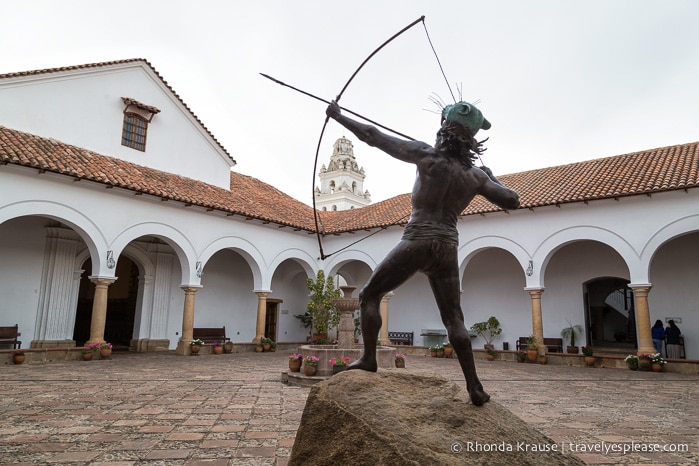 Language
The main language spoken in Bolivia is Spanish. Quechua and Aymara are also spoken.
In our experience, a sufficient amount of basic English was spoken for us to get by. Hotel staff and tour guides spoke good enough English that we could have short conversations with them.
Survival Tips:
Try to use smaller phrases and common vocabulary when conversing in English.
Attempts at Spanish are appreciated. Make an effort to use polite greetings and other basic phrases.
We recommend you download the Google Translate app on your phone, as it was quite helpful.
Going Through Customs, Visas
Passports must be valid for 6-months after date of entry.
Visa requirements can frequently change so it's best to check with the Bolivian embassy before travelling. As Canadians, and because we were staying less than 30 days, we were not required to apply for a tourist visa. We were given a temporary tourist card upon arrival. Put this in a safe place because you will need to hand it in at customs when departing the country.
We didn't experience any difficulties going through customs in Bolivia upon arrival. Our passport was stamped and then we were on our way. Leaving the country was a bit more of a hassle as we had to empty our carry-on bags for a thorough inspection. Once we got to our next destination, we noticed that our checked luggage had also been opened and inspected.
At the Airport
There was no reason to arrive at the airport way in advance of our flight because security was only opened closer to departure (about an hour before). On our boarding pass there was a time indicated when we could go through security. We tried to go earlier once and got denied. We actually really liked this process because it prevented long, slow moving lineups.
Going through security was a breeze compared to North America. If there were restrictions regarding liquids, they weren't being enforced. My bottled water was never confiscated!
Domestic departure taxes are B$15 and the international departure tax is $25 US. You can pay these in cash at the airport. Most international airlines include it in the ticket price, but you should confirm this with your airline at check in.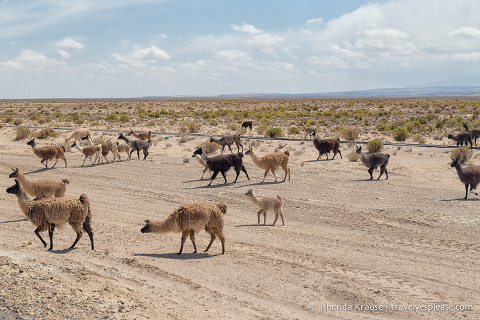 Currency, Credit Cards, ATMs
The currency in Bolivia is the boliviano (B$).
The easiest currency to convert is US dollars and we did all of our exchanges at our hotels. You can also change money at exchange offices (casas de cambio) and some banks in the bigger cities. In our experience, the exchange rate didn't vary much from place to place.
Popular brand-name credit cards (Visa, Mastercard) are accepted in Bolivia. We were able to use Visa at hotels and restaurants in the larger cities. Our accommodations in smaller towns took cash only.
ATMs are available in Bolivia and we had no trouble withdrawing money with our Plus debit card. It's best to carry some cash if heading into rural areas.
Transportation in Bolivia
We decided to fly to most of our destinations because air travel is the quickest and most reliable way to get around Bolivia. Our flights were short and inexpensive, but more costly than taking the bus. However, we will gladly pay more to have a one-hour flight instead of a 10-hour bus ride!
Buses are a popular, inexpensive way of getting around Bolivia but can also be quite uncomfortable. We only took one bus, an overnight one to Uyuni. It was geared towards tourists so was well maintained, safely operated and comfortable. The seats reclined very far and had a foot rest so you could stretch out. Pillows and blankets were provided, as were small meals, and there was a clean bathroom on board. We paid a bit more for this type of service, but it was worth it to arrive at our destination rested and happy!
In the cities, micro and minibuses are popular among the locals but almost every bus we saw was overflowing with people and not in the best condition. Didn't look pleasant at all!
Taxis are relatively cheap in Bolivia. Few have meters but there are usually standard per-person fares. Radio taxis (ones that are booked by phone) charge a set rate for up to four people. They also are the safest taxi option so ask your hotel or restaurant to call one for you. Always confirm the price before starting your journey.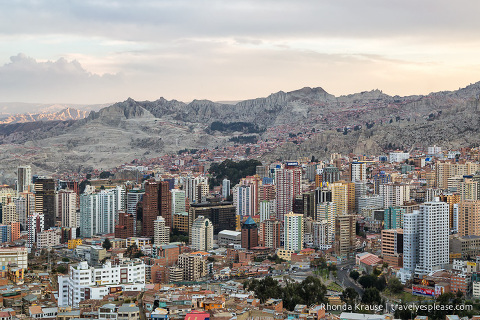 Safety in Bolivia
Just like any country, if you exercise common sense you should have no troubles in Bolivia. Thefts and scams against tourists do occur, especially in the big cities, so exercise caution and don't flash around money or other valuables. I honestly was nervous about going to Bolivia since I had read some horror stories about robberies, fake police and cab kidnappings, but once we got there we never felt unsafe.
Okay, we lied. The only time we felt unsafe was when we were in a vehicle. The driving in Bolivia (especially La Paz) is chaotic! Lots of cars, lots of honking and road rules that aren't always followed. Still, we felt safer in a cab than we would have if we rented a car and tried to navigate the congested city streets on our own.
Drunk driving and bus accidents have been far too common in Bolivia. Choose your transportation company wisely and keep an eye on your driver. The night bus we took to Uyuni had a breathalyzer on board so people could request to test the driver if they were suspicious. It's probably safest to drive during the day.
Safety standards are somewhat lax compared to what we're used to in Canada. It's important to do your research before choosing a tour operator since some agencies are willing to forgo safety to make a quick buck.
Safety Tips:
We recommend avoiding taxis that don't have a bubble on the roof advertising their phone number (they'll just have a taxi sign in the window). These types of cabs have been involved in kidnappings. Always take a radio taxi.
Hiring an English speaking, private guide really helped us feel safe in La Paz. We didn't have to stress about transportation or worry about accidentally wandering into a bad part of town. When choosing a guide (or tour operator), make sure to do your research and choose someone who is experienced, educated, licensed and has good reviews from past customers.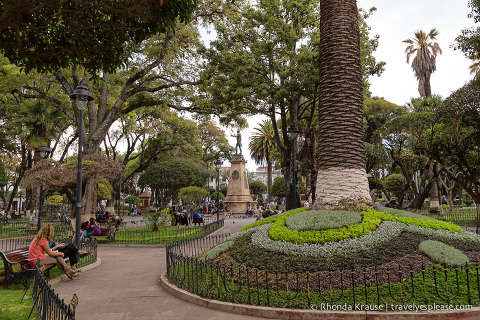 Health Concerns, Vaccinations
There is potential for yellow fever transmission in parts of Bolivia. The government of Bolivia requires proof of yellow fever vaccination if you are traveling from a country with risk of yellow fever. The Ministry of Health of Bolivia has also indicated that people visiting yellow fever risk areas in the country should carry a yellow fever vaccination card. We flew to La Paz from Cusco, Peru and were not asked to show our International Certificate of Vaccination once we arrived. It's best to have proof of vaccination though, just in case.

Due to a medical condition, I cannot get the yellow fever vaccine. I was told by the Bolivian embassy that a letter/medical certificate from my doctor stating contraindication would be accepted by officials if asked to show proof of vaccination.

We experienced a few cases of traveller's diarrhea, likely from eating contaminated food. The standards of hygiene, sanitation and food handling practices are lower than what we're used to.
Altitude sickness can occur in La Paz because it's located at about 3650m (the airport in Al Alto is even higher at 4000m). We were taking acetazolamide (Diamox) which helped ward off any symptoms. It's best to consult with your doctor and get a prescription filled before leaving home.
Food and Water
Tap water in Bolivia is not safe to drink without being boiled. Do not eat unpeeled fruits and vegetables.
A typical meal in Bolivia consists of a soup, meat dish (beef and chicken are common) and a starch (rice or potato). Breakfast can range from not much more than coffee and a bread roll, to a larger morning meal of cereals, cakes, pastries and hot dishes. Lunch is the main meal of the day.
We thought food prices were quite cheap in Bolivia. On average, we were spending about $10-15 Canadian for both of us to eat a big, hearty meal in a restaurant. If you are on a budget, you can likely eat cheaper than this but considering how far you can stretch a dollar in Bolivia, we didn't hesitate to order large, multi-course meals.
Plan to experience some stomach discomfort/diarrhea because the food in Bolivia may not be prepared as cleanly as what you are used to at home.
Beware when eating chicken because each time I ordered it, it was served very undercooked. The outside was pan-fried but the inside was still almost raw. Each time I sent it back and it was returned properly cooked.
Accommodations in Bolivia
We stayed at mid-range hotels in Bolivia and found them to be comfortable and clean with standard amenities like hot water, towels, private bathroom, Wi-Fi, television and included breakfast. Most of our hotels had toiletries provided, but not all.
In larger urban centres like La Paz and Sucre, the mid to high end hotels were pretty equal in quality to mid-range hotels in North America, except way cheaper (think half-price). In smaller towns like Uyuni, hotels were more basic but still had all the amenities we needed.
The very cheapest accommodations may not have heat, hot water or private bathrooms.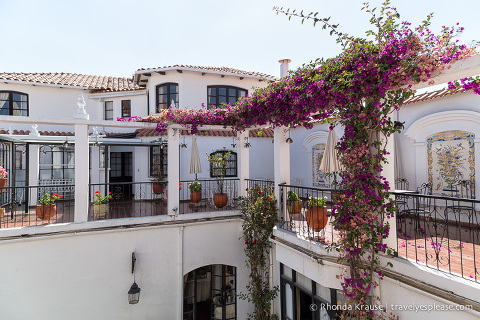 Electricity
Electricity in Bolivia is 220V AC.
We encountered two types of electrical sockets in Bolivia- ones that accept two round prongs and ones that take two-flat prongs. Bring an adapter to be sure you can use your electrical devices.
Public Toilets
Public toilets cost between B$1-B$5 to use. If you will be going to the Uyuni Salt Flats,  expect to pay 5 bolivianos.
Public toilets don't always have a seat on them.
Always carry toilet paper with you, as it's not usually provided. Toilet paper is not flushed in Bolivia so you'll have to use the wastebaskets.
Tourist Information
Tourist information offices are not very common as the tourism industry is still developing. We only found one info booth in Sucre but it was closed. Your best bet for travel information is to bring a guidebook (you can purchase one at the end of this post), or hire a private guide.

We were very glad we hired a guide for our few days in La Paz. We learned so much about the city, country and culture and didn't have to worry about arranging transportation to sites that were outside the city. This helped us make the most of our limited time and allowed for a stress-free visit.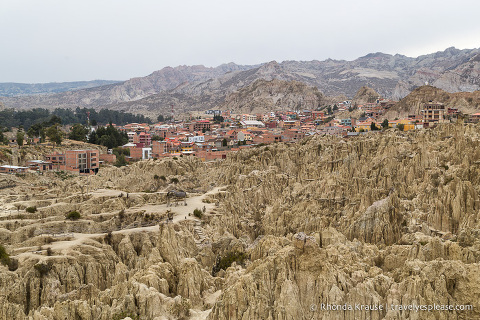 Other Observations on Our First Trip to Bolivia
A funny thing we noticed in La Paz and Sucre were people dressed like Zebras dancing in the crosswalks. Our guide told us that this is part of an education/awareness program to help pedestrians cross the road safely.
Once we got outside of the cities, we noticed a lot of garbage on the sides of the road. It wasn't just litter thrown from a car window, but piles of garbage bags. It looked as though people were choosing to dump their household garbage here. I don't know enough about Bolivian society to say why people would do this, but either way it was disappointing to see.
We were surprised at how interesting Bolivia was and the more we saw, the more questions we had about the economy, government and society. Bolivia has an abundance of natural resources but for some reason economic growth is slow and over half of the people are still living in poverty.
Economic disparities and inequalities are easy to notice in Bolivia. In La Paz we saw neighbourhoods with big, fancy homes as well as neighbourhoods with small, very basic shelter.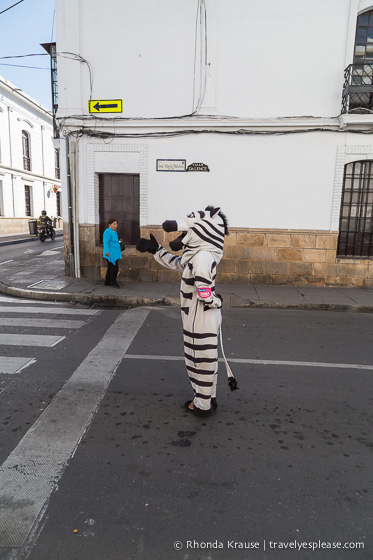 One Last Piece of Advice for Travelling in Bolivia
After our first trip to Bolivia, our best advice would be this: Don't be afraid to loosen up the purse strings.
If you try and do Bolivia on the cheap, you might not enjoy it as much. Buses can be uncomfortable with long rides between destinations and accommodations can be very basic. Bolivia is already an inexpensive country to visit, so your dollar can go a long way. We didn't see any need to be frugal and in turn compromise our comfort while travelling in Bolivia.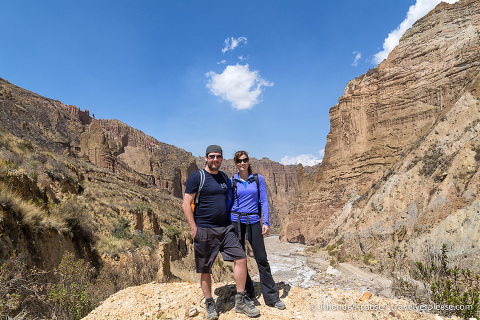 So there you have it, a few things to expect on your first trip to Bolivia. We hope this guide has been helpful and cleared up any doubts you might have about visiting Bolivia for the first time. It truly is an interesting country with so much to offer in terms of outdoor adventures and cultural experiences. Just be open and understanding and you will surely have an incredible trip!
Information was updated January 2022, but can change without notice. Please confirm directly with service providers.
Resources to Help Plan Your First Trip to Bolivia
Here are some guidebooks to help you plan your first trip to Bolivia.
Click here if shopping from Canada.
Tours in Bolivia
Here is a trusted site where you can book tours and activities in Bolivia.
Accommodations in Bolivia
For your convenience, here is a list of hotels in Bolivia. Please consider booking your Bolivia accommodations through the included link. It costs you nothing extra and helps support this website. Thank you!