Purchases made through links earn us a small commission, at no extra cost to you.
La Habana Vieja, or Old Havana, is the historic heart of Cuba's capital city and the largest colonial centre in Latin America. Full of colour and personality, it's a mix of historic buildings, museums, galleries, churches and lively plazas.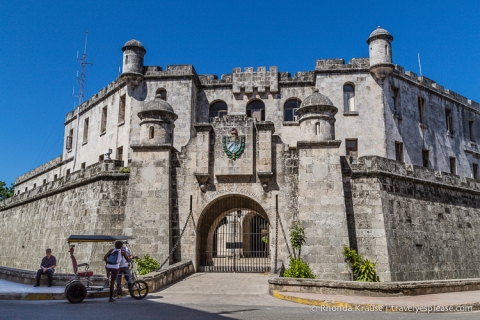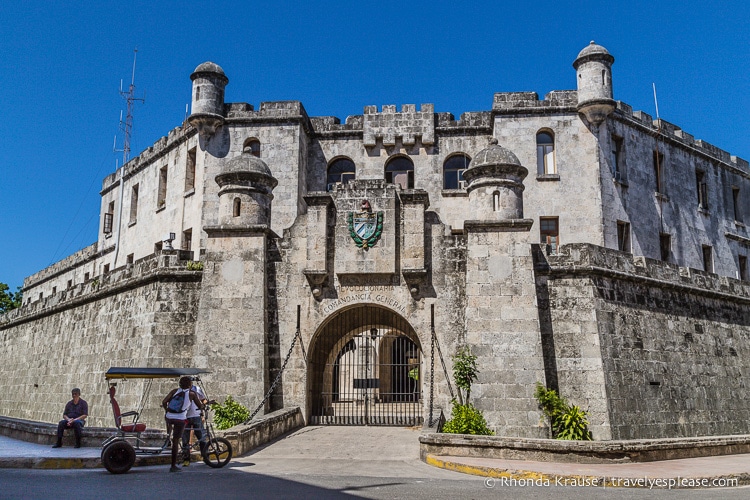 Old Havana is where most of the tourists to Havana spend their time. It's full of interesting architecture and easily walkable, with most of the main attractions concentrated around four plazas. While the main plazas in Old Havana have been restored to their former splendor, wander just a few blocks away and you will see the crumbling colonial charm Havana is known for.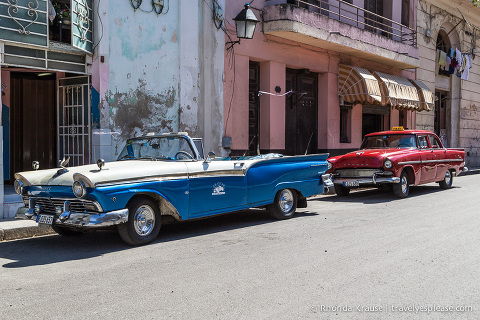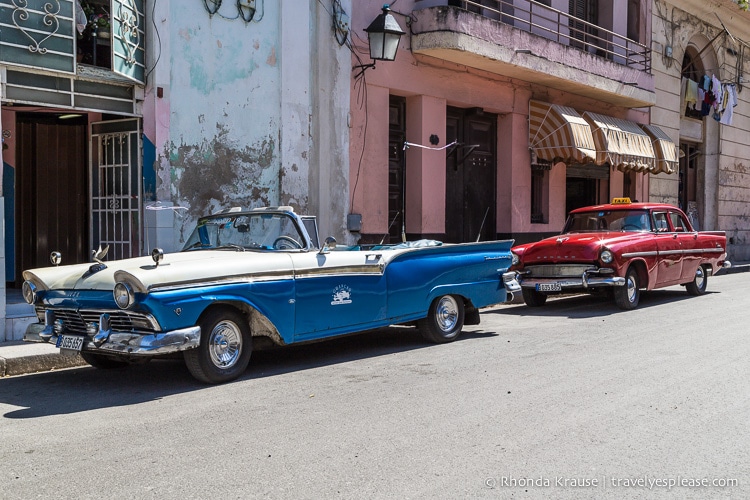 Exploring Old Havana- Our Self-Guided Walking Tour
As an architecture lover, I was content to simply walk up and down the streets of Old Havana and admire the buildings. There's a lot of beauty and character to be discovered here. Even in the crumbling, dilapidated buildings you can still see the artistry from a bygone era.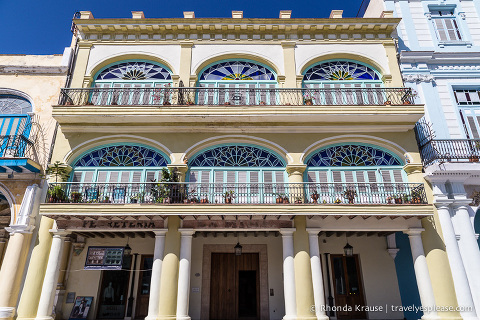 The weather was hot and sunny, and since we came to Cuba to escape the long, cold Canadian winter, we didn't want to spend much time indoors at museums and churches. In fact, we only briefly visited one museum. We wanted to linger in the plazas, amble down the streets and experience the pulse of Havana.
Here's a look at the four plazas we discovered during our self-guided walking tour of Old Havana.
Plaza de la Catedral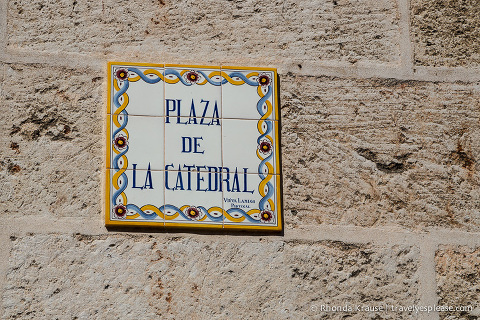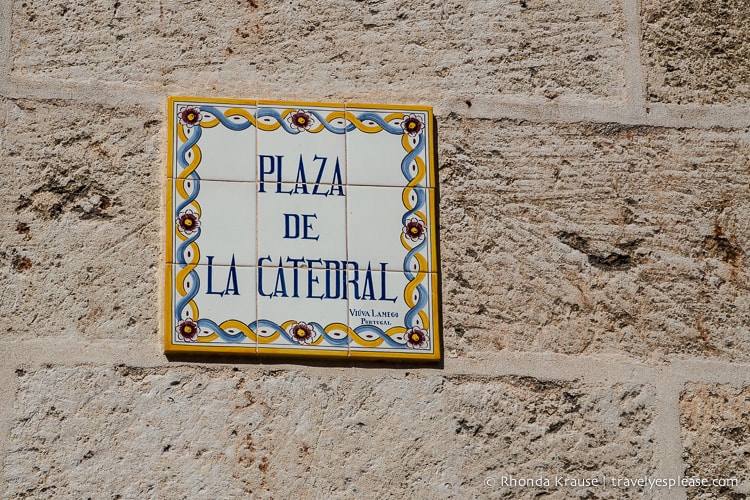 Plaza de la Catedral is the place many people choose to visit first in Havana. The plaza, along with its crowning glory, the elegant Catedral de San Cristóbal, have become a symbol of La Habana Vieja.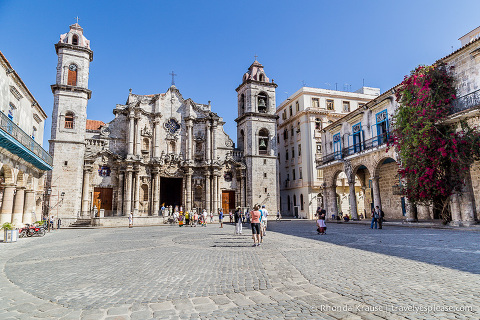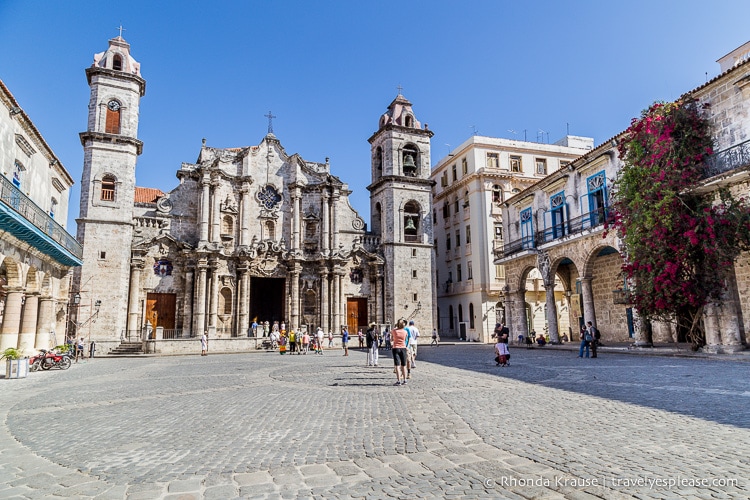 Most of the buildings surrounding the square, including the Cathedral, date back to the 18th century. The blue accents and arched, stained glass windows breathe life into the weathered, stone buildings.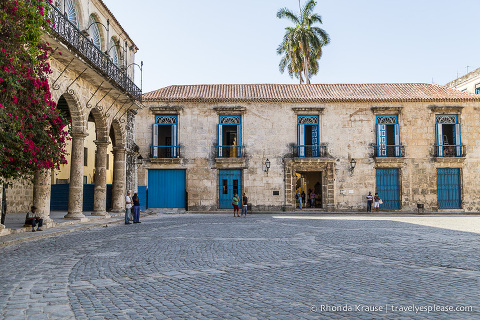 Going back even further to 1592, the plaza was where Havana's first aqueduct (and the first Spanish aqueduct in the New World), the Zanja Real, was located. It was built to channel water from the Alemendares river, providing water to local residents and ships docking in the harbour.
Just a few steps away from Catedral de San Cristóbal, on Calle Empedrado, is the legendary bar La Bodeguita del Medio. This small place is packed with tourists following in the footsteps of writer Ernest Hemingway, who came here to drink mojitos. I couldn't get a decent picture of it, because it was swarmed with people, but you'll see its image in many paintings for sale around the city.
Catedral de San Cristóbal
The baroque façade of Catedral de San Cristóbal (Cathedral of St. Christopher) is instantly recognizable. Two large, asymmetrical bell towers frame the grandiose stone exterior, considered one of the most beautiful in the Americas.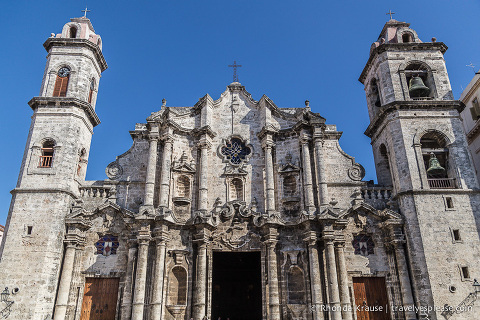 In contrast, the Neo-Classical interior is much more understated. It was hard not to feel underwhelmed after visiting so many ornate churches in Europe, but that didn't mean we still didn't appreciate the simplicity of the Cathedral's beauty.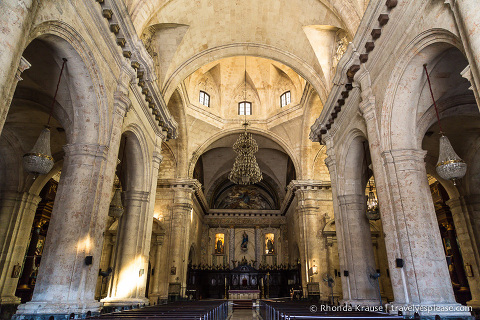 The Cathedral was not originally called Catedral de San Cristóbal. It was renamed this in 1796, when it began housing relics of Christopher Columbus. Well, at least that's the popular belief, but there are no official records to prove that.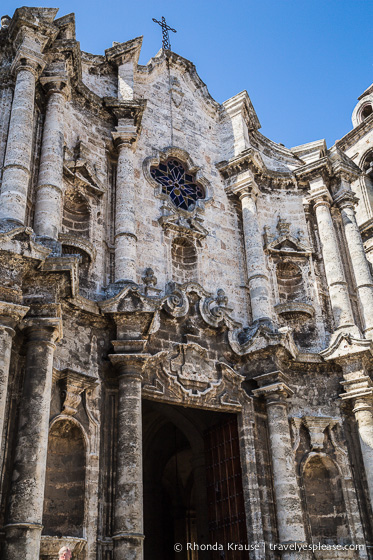 Palacio de los Marqueses
Built in the 1700's, this building was once Havana's main post office. You can still see the original letter box on the exterior wall. Now it serves as an art gallery where you can buy prints and handicrafts.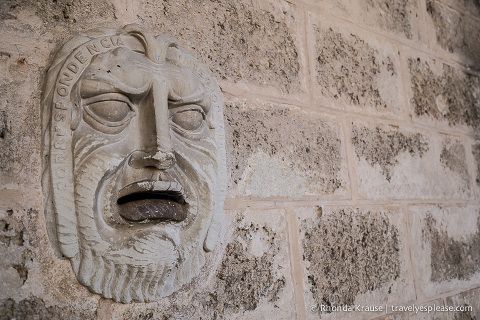 Museo de Arte Colonial
As the name suggests, this building is home to a colonial art museum. The mansion dates back to 1720 when it was built by Don Luis Chacón, governor of Cuba. The home is constructed around an elegant courtyard and is one of Havana's outstanding examples of early Colonial domestic architecture.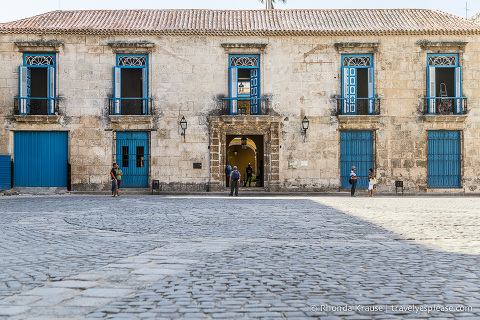 Plaza Vieja- The Old Square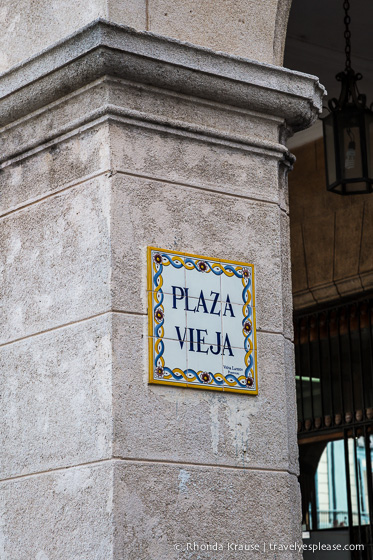 Once upon a time, Plaza Vieja was known as Plaza Nueva, or "New Square". The plaza, laid out in 1559, lost its name and role as the main public gathering place after Plaza de Armas was widened in the 19th century.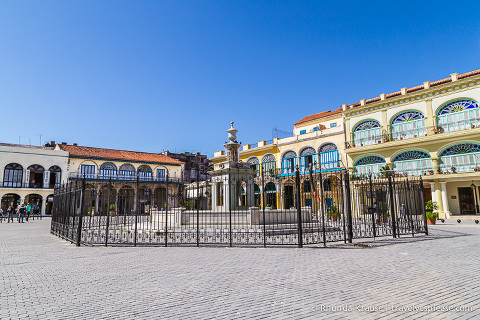 The plaza has been restored to its original elegant appearance and is surrounded by colourful, historic buildings from four different centuries.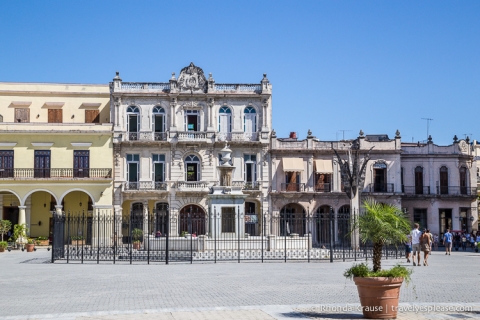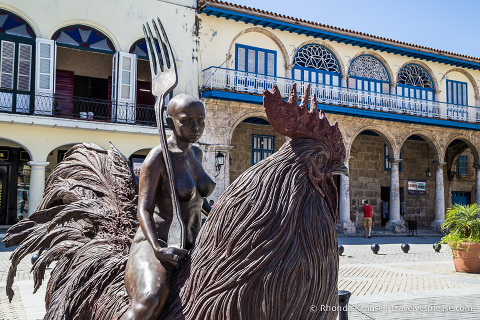 The most beautiful home in Plaza Vieja, and probably my favourite building in all of Havana, is Casa del Conde Jaruco.
Casa del Conde Jaruco
Casa del Conde Jaruco was completed in 1737 to become the home of the Countess de Merlin, a Cuban novelist. The house features gorgeous mediopuntos, half-moon stained glass windows, above the ground floor arcade. It is now used for art exhibits. This also just happens to be where we met the man who ended up taking us to a black market cigar shop.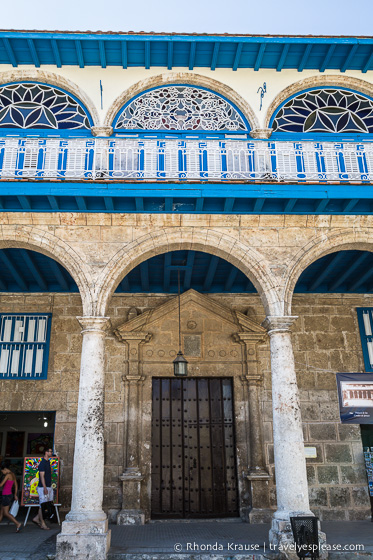 Plaza de San Francisco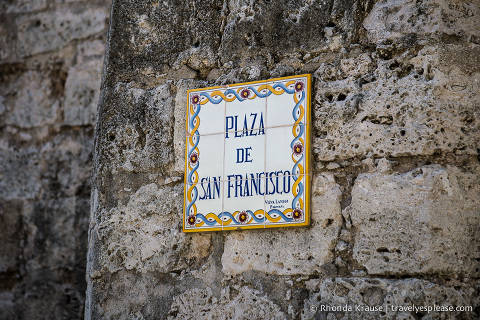 The picturesque Plaza de San Francisco is directly across from the port. It appears more commercial in nature than the other plazas since the old customs house and former stock exchange were here.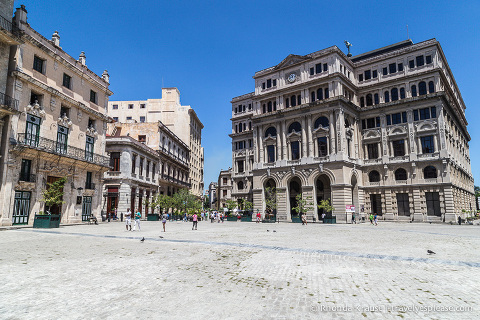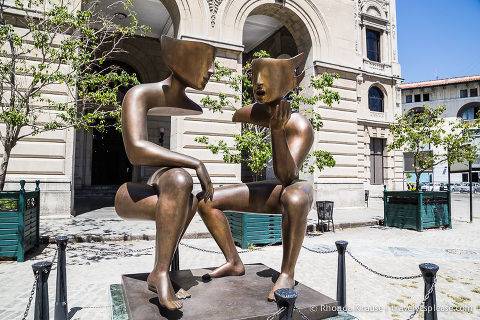 The most important building in the square though, is the Basilica Menor de San Francisco de Asis. Built from 1580-1591, it features a 42 metre high bell tower and contains the remains of influential Havana citizens.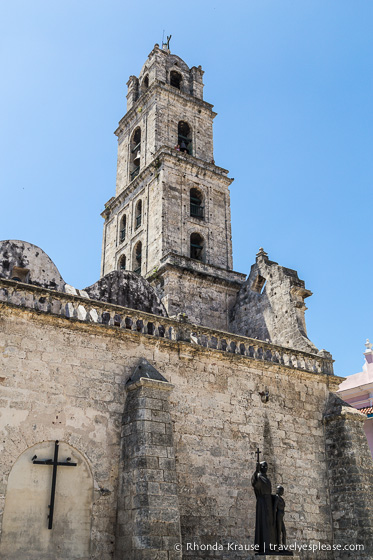 In the square you'll likely find groups of people relaxing on the steps of the Fuente de los Leones, a fountain modeled after the famous one in the Alahambra.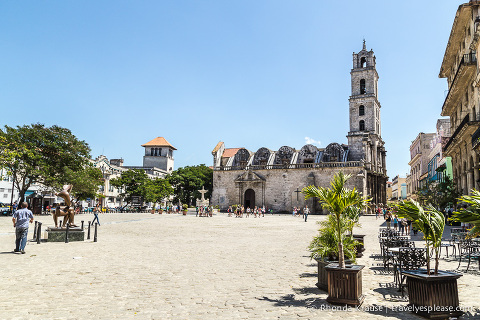 Plaza de Armas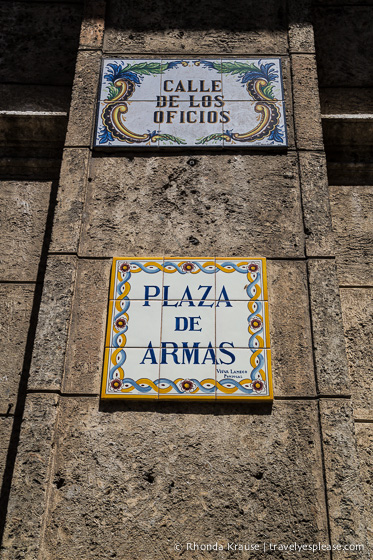 Plaza de Armas was our favourite plaza to people watch while we sat in the shade, resting our tired feet. The centre of the square is lush with palm trees and other tropical plants, while the perimeter is lined with elegant Baroque buildings.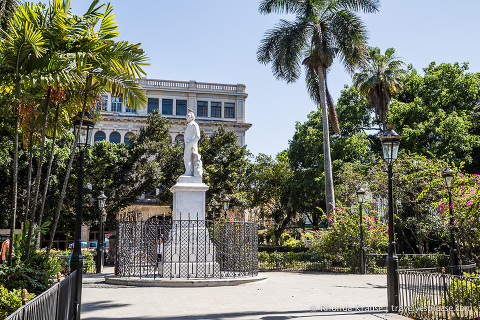 Plaza de Armas was built in the 1600s and was used for military exercises up until the mid-1700s. After undergoing a transformation, it became popular among rich Havana citizens and attracted people who wanted to enjoy carriage rides around the area.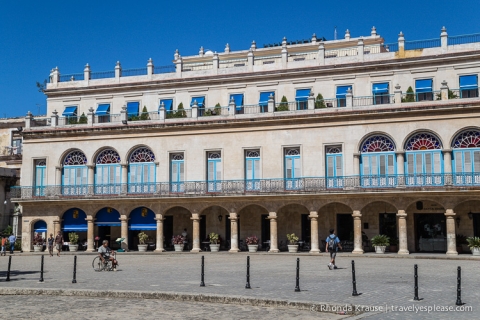 Book Market
(Update: The book market has been relocated from Plaza de Armas to the open air ruins of Antigua Casa de Justiz y Santa Ana. The new location is a block away from Plaza de Armas, at the corner of Baratillo and Justiz.)
Plaza de Armas is invigorated by the second-hand book market that operates there. Here you can browse Cuban classic books (now out of print), magazines dating back to 1940's and 50's, and newspapers from during the revolution.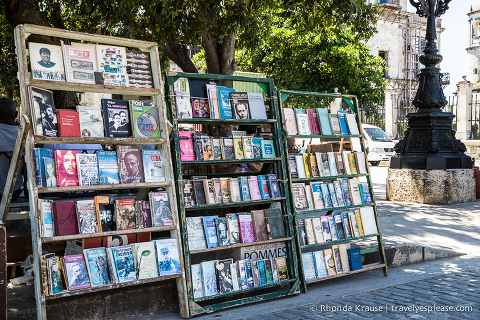 Castillo de la Real Fuerza
On the seaward side of Plaza de Armas is Castillo de la Real Fuerza, one of the oldest existing stone forts in the Americas.
After Havana was raided in 1555 by French buccaneer Jacques de Sores, destroying the original fortress, it was necessary to build a new fort to protect the city from further pirate attacks. Castillo de la Real Fuerza was completed in 1577 to serve this purpose, but soon proved to be ineffective because of its poor position too far inside the bay.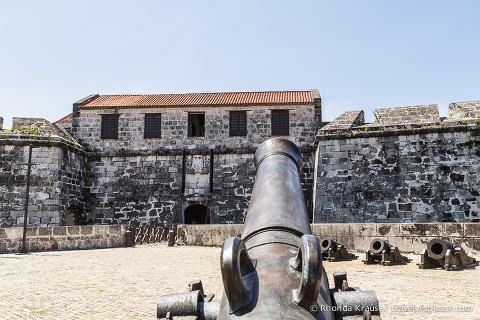 No longer useful for defense, military commanders and governors moved in to make the castle their residence. It also was used as a place to safely store treasures brought from America.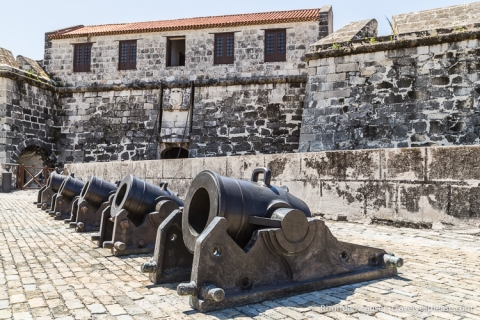 In 1634, the lookout tower was crowned with a bronze weather vane known as La Giraldilla. It soon became a symbol of Havana, even though there is disagreement about what it represents. Theories range from it being a symbol of victory, a representation of Seville, and a likeness of Ines de Bobadilla, the wife of Spanish governor Hernando de Soto.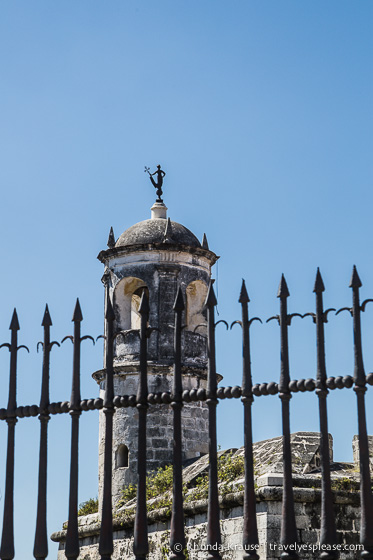 Today the fortress is a shipwreck museum, displaying jewels, artifacts and a huge model of a naval ship.
While the model ship was impressive, the rest of the museum was rather boring. Everything was labeled in Spanish, so we were unsure of the significance of what we were looking at. Our visit was also tarnished by the staff members who persistently hassled us for handouts.
Final Thoughts About the Plazas of Old Havana
When I think back on our visit to Havana, the plazas are what stand out the most. I loved admiring the architecture and experiencing the different personalities of each square. It was easy to see why Old Havana is such a popular tourist spot!
Tips for Visiting Old Havana
Since Plaza de la Cathedral is one of the most popular tourist spots in Havana, be prepared to be approached by people offering tours and carriage rides. Near the steps of the Cathedral are women in colonial dress who will want to pose for a picture in exchange for a tip. They came up along side Mike and pretty much demanded I take a picture!
Castillo de la Real Fuerza is open Tuesday-Sunday, 9:30 am- 5:00 pm.
If you are spending a couple of days in Havana, you may find our 3 day Havana itinerary helpful for planning your visit.
Information was updated January 2022, but can change without notice. Please confirm directly with service providers.
More Havana Attractions and Travel Guides