Purchases made through links earn us a small commission, at no extra cost to you.
Since 1939, the Tropicana has been Cuba's defining cabaret show. At this famous open-air nightclub in a lush tropical garden estate, guests are entertained by a colourful medley of song and dance reflecting elements of Cuban culture.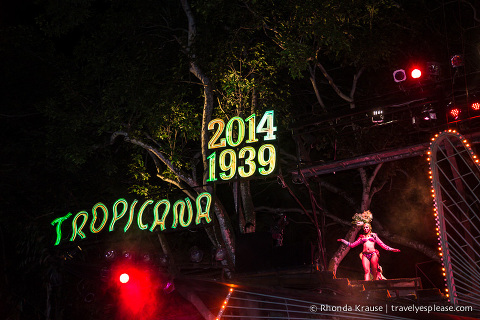 The Tropicana Havana Cabaret- Our Experience
Our cab heads down a broad, tree lined avenue into Miramar, Havana's most elegant district. We zip past stately villas, housing embassies and institutions, on our way to Cuba's, maybe even the world's, most famous nightclub- the Tropicana Havana.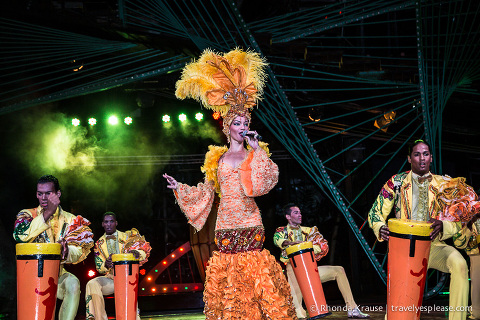 Turning off the main road, our taxi slowly pulls into a lush tropical forest. The fluorescent light sign arching over the road lets us know we have arrived at the Tropicana. Our excitement builds as we circle around the sculpted Fountain of Muses, the club's symbol, festively lit by a rainbow of light.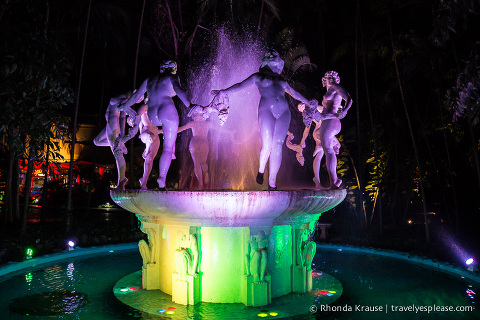 Our driver comes to a stop in front of a line of people waiting outside the club. As we step out of the cab, we wish we were arriving in nicer car. After all, this is the club that hosted legendary performers such as Nat King Cole and Josephine Baker.
After checking in at the desk, we are led inside the open-air theatre to our seats, which are almost front and centre of the stage. The moon shines down on us as we glance about the stunningly beautiful venue. We are surrounded by palm trees, gently illuminated and partially hidden by a thin covering of artificial fog. It's a mystical forest that will soon awaken into a spectacle of music, dance and acrobatics.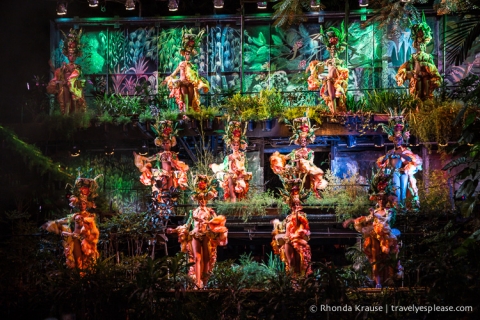 The orchestra begins to play and the stage is filled with scores of showgirls, scantily clad in colourful, spectacular costumes. For the next two hours we are entertained by a tapestry of cultural music and dance- from salsa, to bolero, even a bit of Afro-Cuban.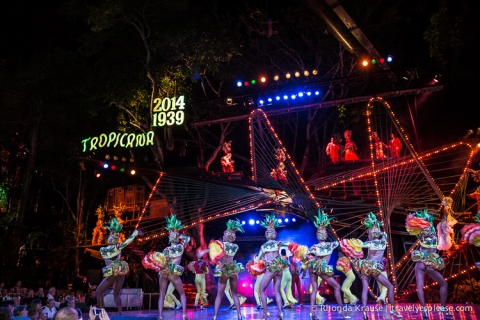 The Tropicana Havana Show- In Photos
Here are some pictures of the show at the Tropicana, followed by our review of the Tropicana Havana.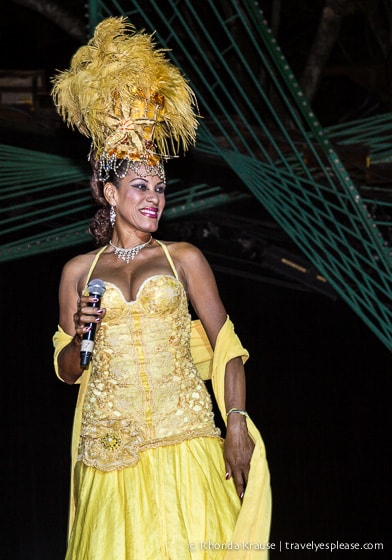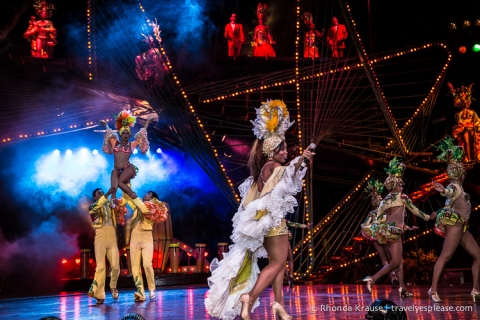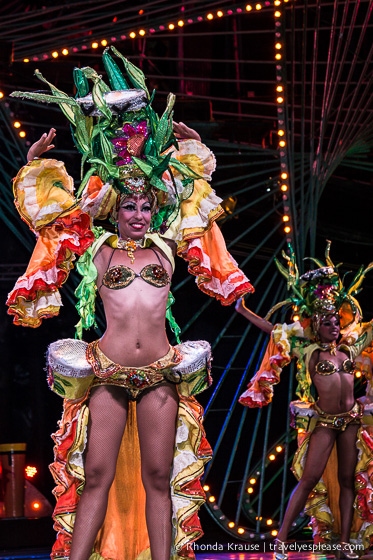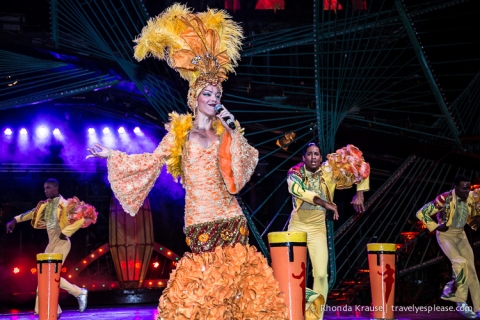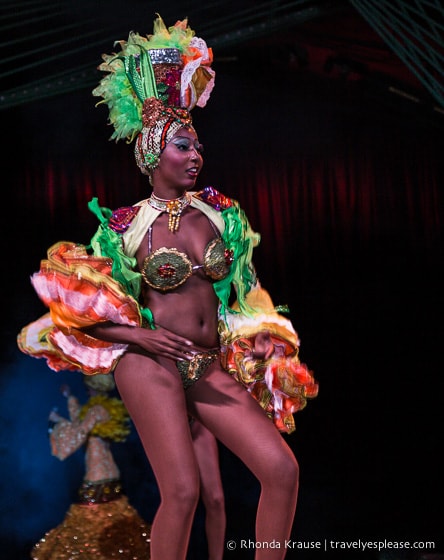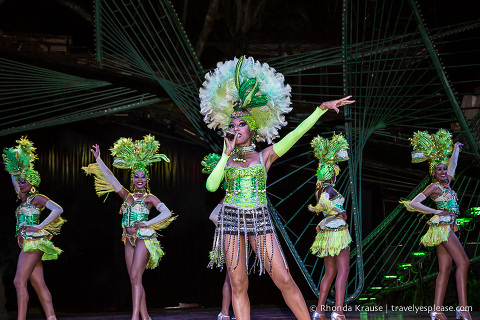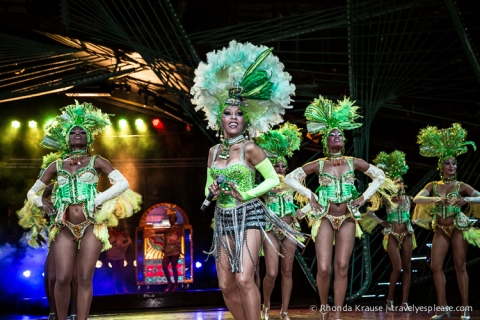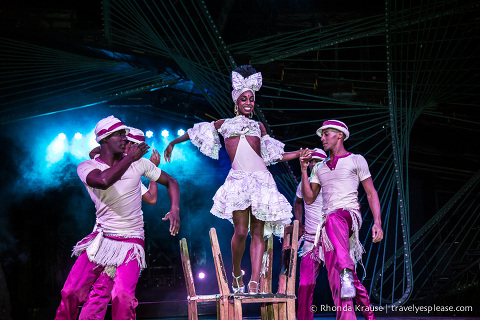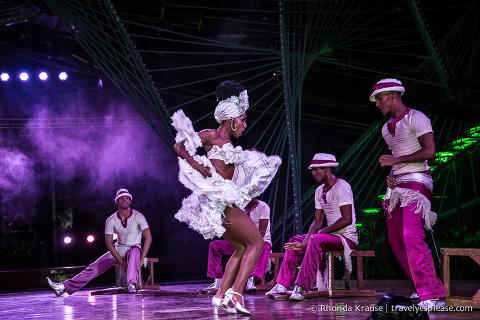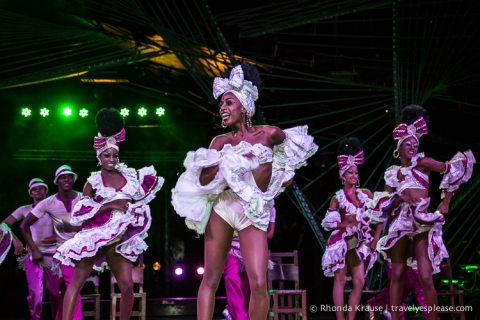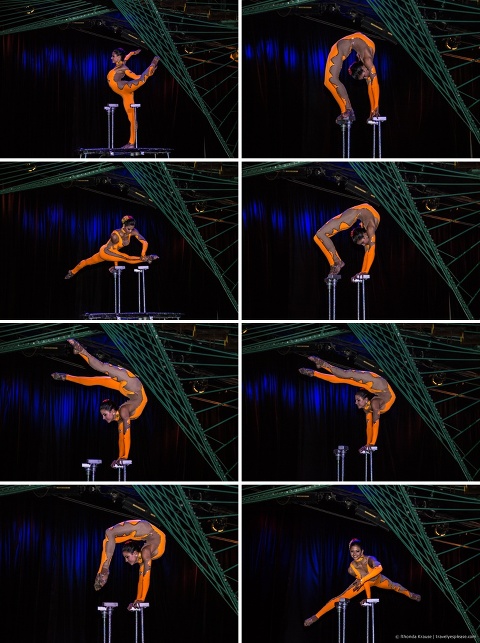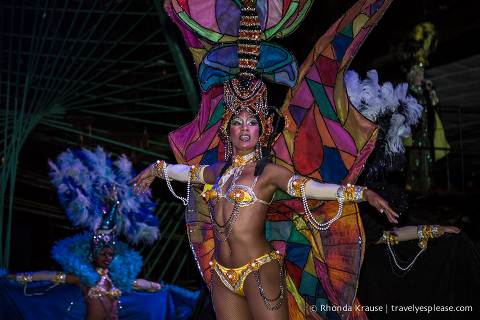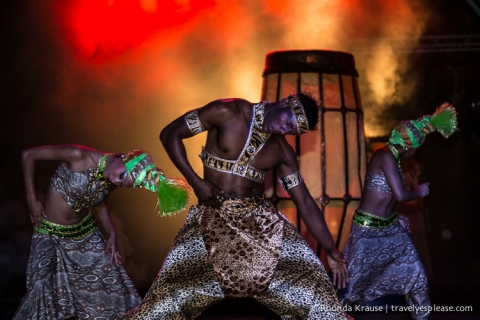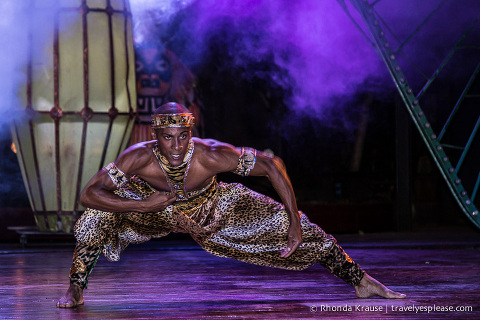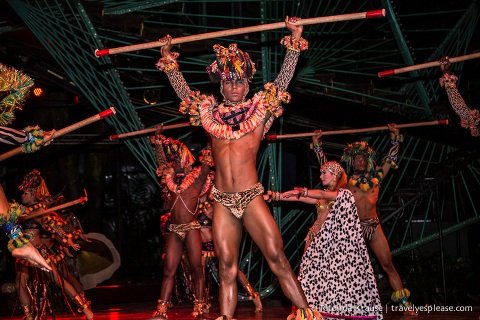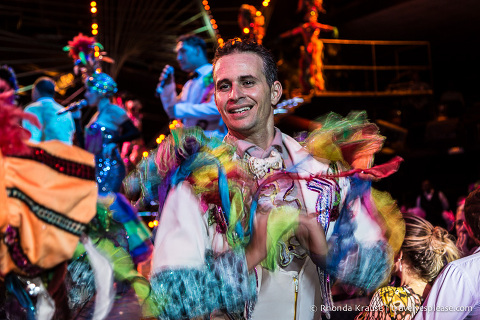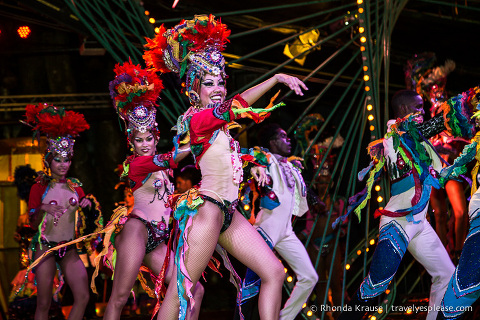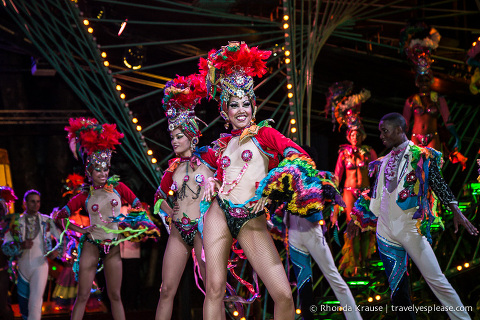 Review of the Tropicana Havana Cabaret Show
Even though the majority of patrons to the Tropicana these days are tour groups, and the price is quite steep, it still is a fun night out during a trip to Havana.
We really enjoyed the ambiance of the outdoor setting, plus the music, lights and costumes were great!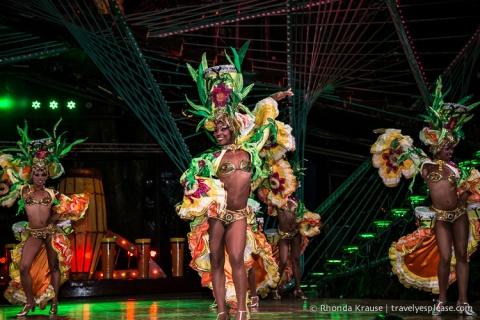 The performers really gave it their all, even though their skill level was mixed. Some were amazing, of a professional calibre, while others were not as polished. The show stealer was definitely the contortionist. I thought I was going to have nightmares about all the crazy things she did!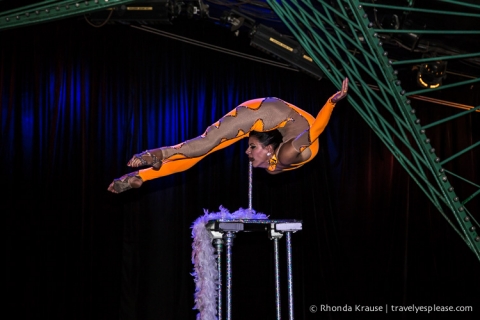 At two hours, the show is a bit too long. I could see the dancers starting to get tired, and as a result, they sometimes got out of sync and made some small mistakes. For me, the choreography started to get a little repetitive and the dance numbers started to all look the same. I think if it was 30 minutes shorter, that would have been perfect.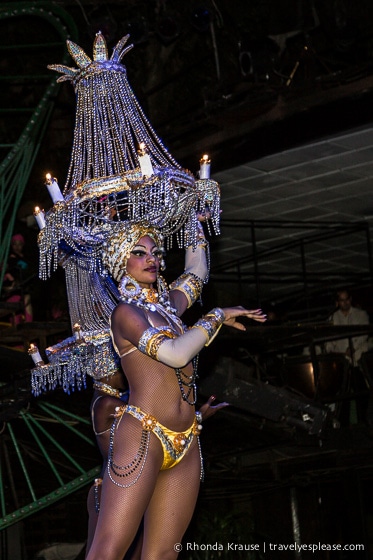 Overall, we had a great night and really enjoyed the show at the Tropicana. However, it's one of those things you only do once, just to say you did it. The Tropicana is heavily geared towards tourists and the price reflects this. So, if you're looking to experience the true Havana spirit, you'll have to go elsewhere.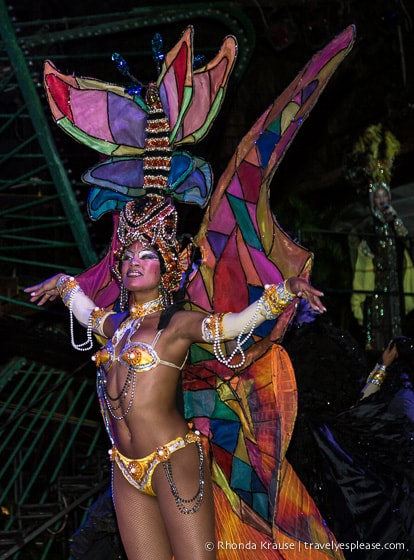 Tips for Visiting the Tropicana Havana
Tickets and Fees: Tickets to the Tropicana can be purchased at hotels and tour agencies in Havana. You can also purchase tickets online from the venue (Cabaret Tropicana). There are many different price levels and options when it comes to tickets- some include dinner, others are show only. We opted for the most expensive show ticket. We were given a glass of champagne, small bottle of rum, can of coke and a bowl of nuts during the show.
At the entrance you will be charged a small fee if you bring in a camera. They give you a ticket and say you can walk around anywhere to take photos. Nobody ever checked my ticket once we were seated.
Time: The show starts at 10:00 pm. If you have a ticket that includes dinner, that is served at 8:00 pm.
Transportation: After the show there are plenty of cabs at the entrance waiting for customers. In our experience, we were charged more for the taxi ride back to our hotel than we paid to get to the Tropicana.
Information was updated January 2022, but can change without notice. Please confirm directly with the venue.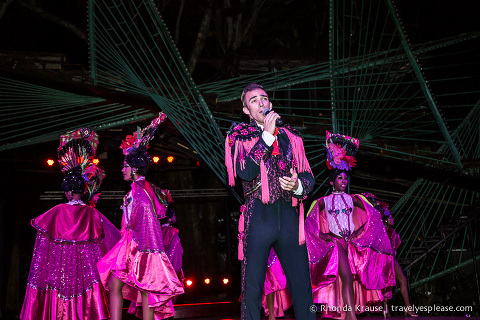 More Havana Attractions and Travel Guides