Purchases made through links earn us a small commission, at no extra cost to you.
Cusco is the point of arrival for people wanting to visit Machu Picchu, the most famous Inca ruin in Peru, but there are many fantastic, lesser known ruins near Cusco that are also worth exploring.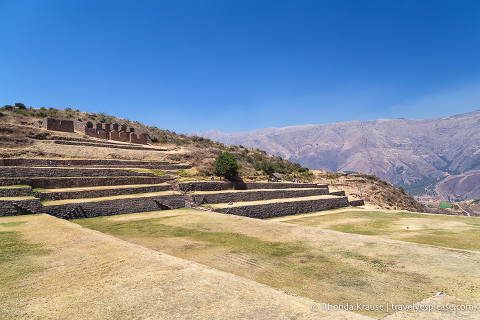 As one of the oldest continuously inhabited cities in South America, and capital of the Inca Empire, Cusco is rich with archaeological sites. Just beyond the city limits you'll find remains of a strategic fortress and sacred temples. Travel a little further and you'll discover ancient cities and important agricultural sites.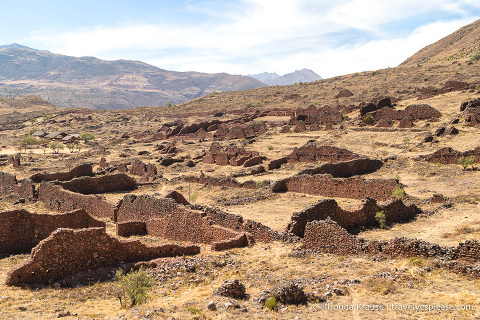 Visiting the Ruins Near Cusco
We decided to hire a private guide to show us around the ruins near Cusco. It was a convenient way to see the sites because we didn't need to worry about transportation. Plus, having an experienced guide with a background in history meant we learned far more about the sites had if we visited independently.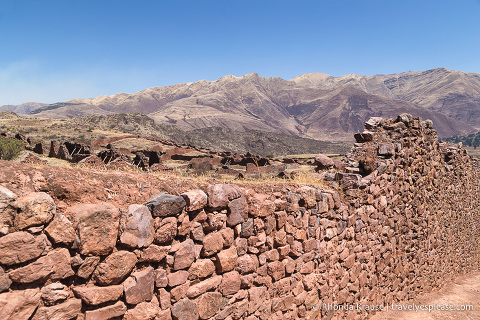 We dedicated 2 days to visiting the ruins around Cusco. On the first day we explored 5 ruins northeast of Cusco, and the second day we visited 2 ruins in the South Valley.
Some of the archaeological sites in the Sacred Valley we wanted to see were inaccessible because of a strike, but our guide was able to make the most of an unfortunate situation, taking us to many fantastic places we originally had not thought to visit.
Here's a look at the archaeological sites we visited on our day trips from Cusco!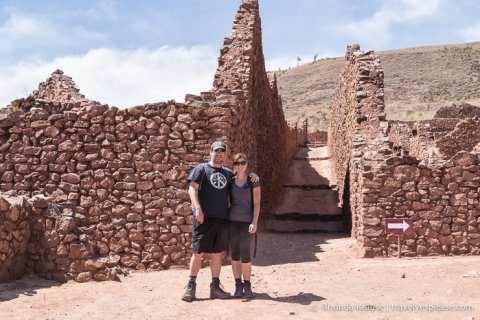 Sacsayhuaman
Sacsayhuaman is the most impressive ruin in the immediate Cusco area and can be walked to from the city centre. This Inca fortress and religious centre is known for its tiered, zigzag fortifications, the large stones fitting tightly together without the use of mortar.
Besides being a fine example of Inca stonework, Sacsayhuaman also offers up fantastic views of Cusco and Plaza de Armas. If you only have time to visit one archaeological site near Cusco, it should definitely be Sacsayhuaman.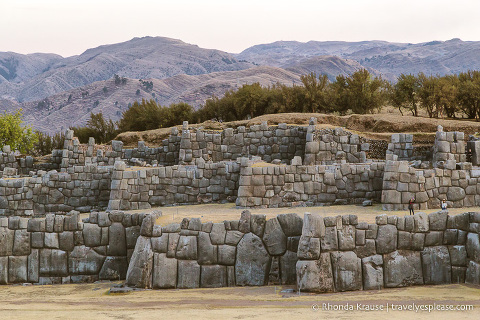 Read my full post about Sacsayhuaman.
Location: Sacsayhuaman is a 30-50 minute uphill walk from Plaza de Armas, heading north.
Q'enqo
Q'enqo is very different from other ruins near Cusco, as it's more interesting than beautiful. You won't find many carved blocks and walls here. This Inca temple is a limestone rock with both natural chambers and man-made tunnels.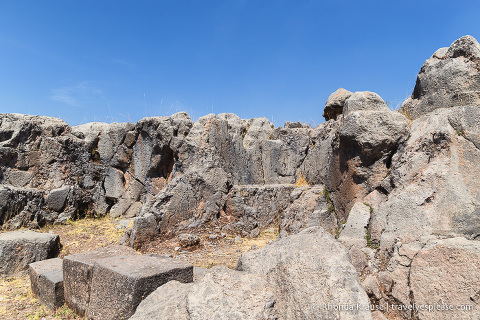 Inside one of the chambers you can see carved niches and an altar. While there is a lot of mystery surrounding Q'enqo, it's believed that death rituals and embalming took place here, possibly also blood sacrifices.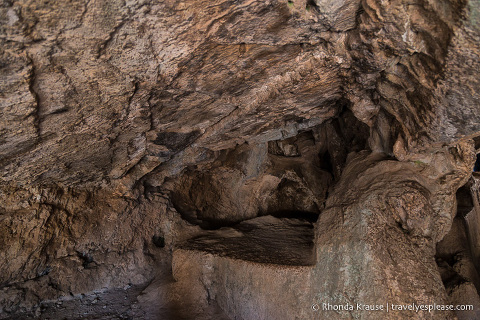 In addition to death rituals, Q'enqo could also have been used for worshipping the sun, moon, and star gods. There is a monolith in front of the temple that supposedly makes a shadow in the shape of a puma when the sun shines on it during the winter solstice.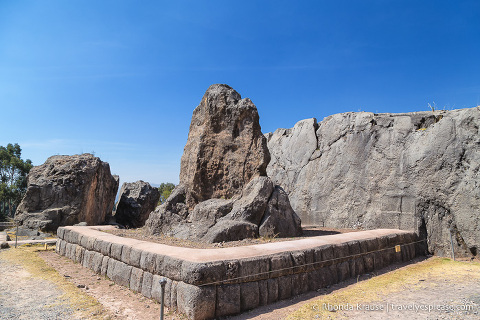 Q'enqo stood out from other archaeological sites near Cusco because of its unique construction and opportunity to explore the inner chambers.
Location: Q'enqo is about 4 km northeast of Cusco, on the road to Pisac.
Puka Pukara
Puka Pukara by name means "Red Fort", but this structure was more likely a guard post or lodge for travellers.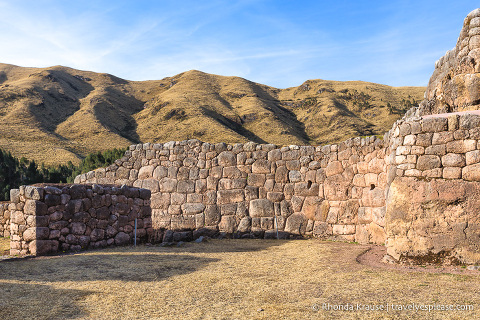 The site consists of a lower area where you can see remains of houses and storerooms, and an upper area that offers views of the Cusco Valley.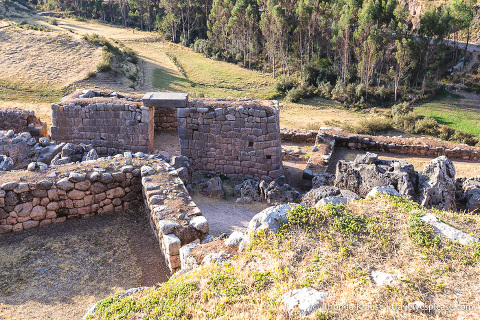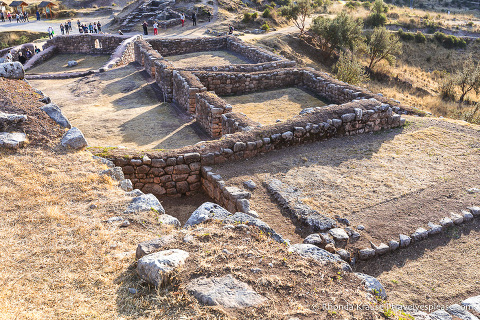 Of all the ruins near Cusco, I'd say this was the least interesting one we visited, however the panoramic views made it worth the stop.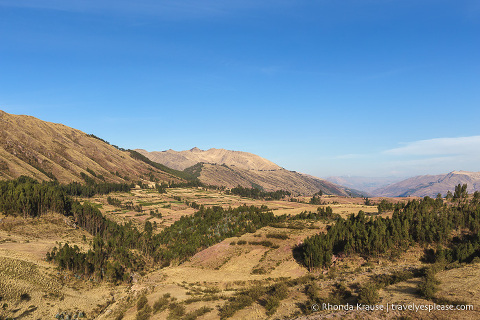 Location: Puka Pukara is 7 km northeast from Cusco, on the road to Pisac.
Tambomachay
Tambomachay is a water temple, believed to be sacred by the Incas because the spring water that flows out of the mountain is always the same volume and purity no matter the season.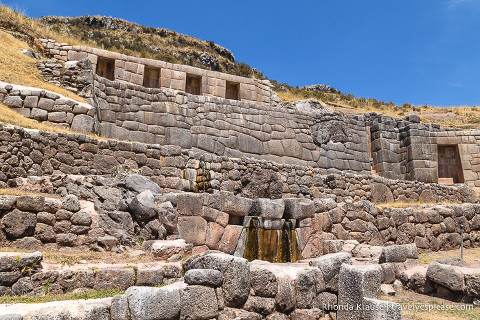 A ritual site for bathing, the ruins consist of tiered platforms through which a series of canals and waterfalls run. At the top there are four niches, believed to represent the four provinces of Peru at the time. One level down are two niches where the King and Queen would sit during the winter solstice celebrations.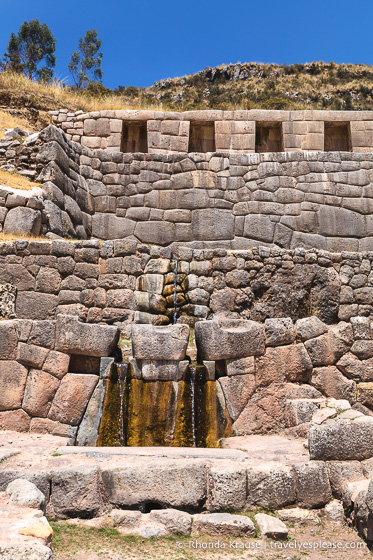 The high-quality stonework suggests that Tambomachay was reserved for nobility, who perhaps only used the baths on ceremonial occasions.
Even though there wasn't much to explore at Tambomachay, I really enjoyed visiting the site and seeing the beautiful hillside construction of the stone baths.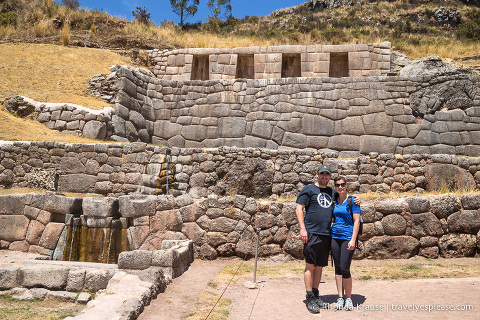 Location: Tambomachay is 8 km northeast of Cusco, on the road to Pisac.
Pisac
Pisac has the most spectacular location of the ruins near Cusco, perched above a steep hillside of agricultural terraces.
The Inca ruins at Pisac are well preserved and vast, stretching across a mountain ridge. There's a military sector, urban quarters, ceremonial centre, agricultural zone, and a cemetery.
Pisac was one of my favourite archaeological sites in Peru and I would love to go back to explore it further.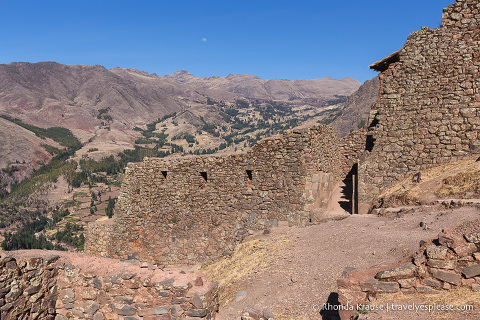 Read my full post about Pisac.
Location: Pisac is 33 km northeast of Cusco.
Tipon
Tipon is an archaeological site near Cusco that showcases the Inca's ingenious irrigation systems. The complex consists of wide agricultural terraces, an irrigation canal, and network of water channels fed by a natural spring.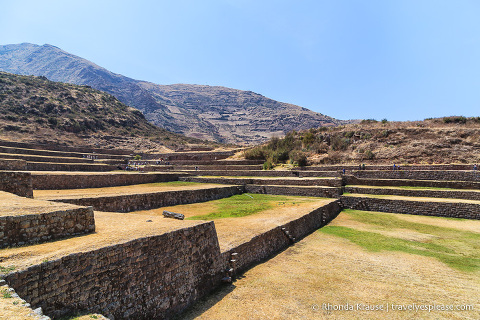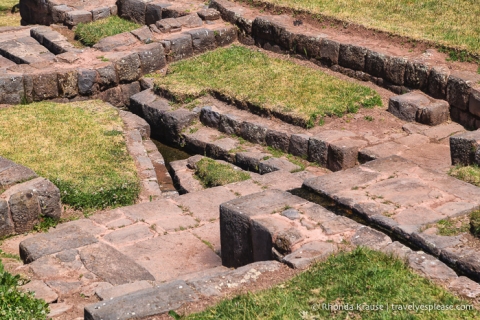 Tipon was used as an experimental farm because various micro-climates can be found within the site. The Inca would grow the same type of vegetable at different elevations, over consecutive years, to see where they grew the best. They would then pass on this knowledge to other Inca farmers.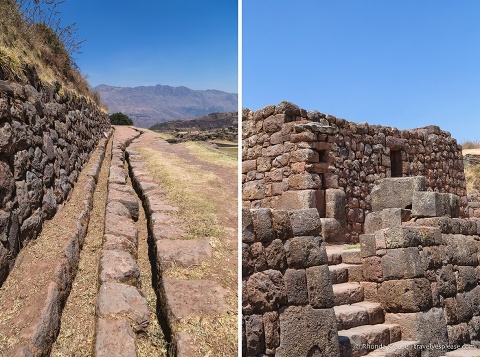 Not only is Tipon interesting from an agricultural and engineering perspective (it's on the List of Historic Civil Engineering Landmarks by the American Society of Civil Engineers), it sits at the head of a small valley so offers outstanding views as well.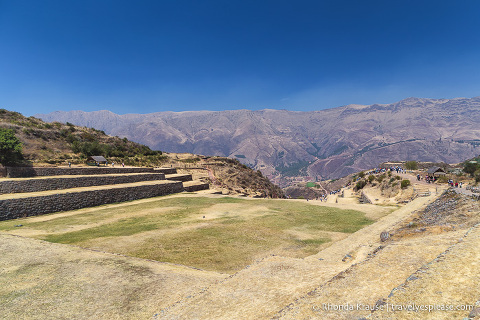 Location: Tipon is 25 km southeast of Cusco.
Pikillaqta
Pikillaqta is a special archaeological site because it's the only major pre-Inca ruin near Cusco.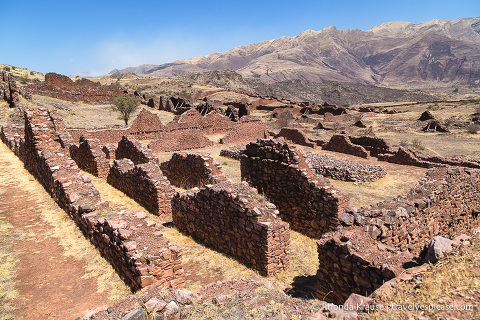 Established by the Wari people, the city of Pikillaqta was possibly occupied from about 550 to 1100 AD. It's believed to be one of the most important administrative and ceremonial centres for the Wari culture.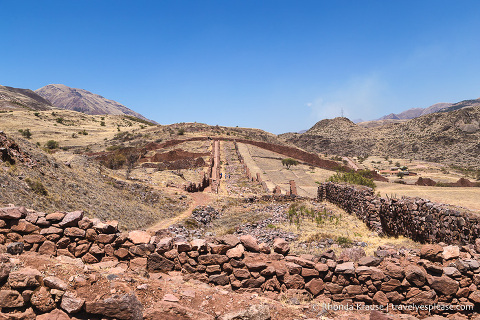 Although Pikillaqta was discovered in 1927, serious excavations didn't begin until 1978. An impressive amount of Pikillaqta's 50 hectares have been excavated, but there are still plenty of ruins yet to be uncovered.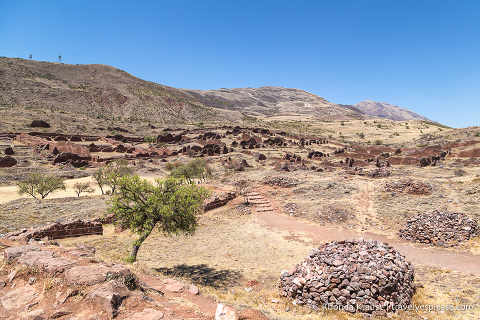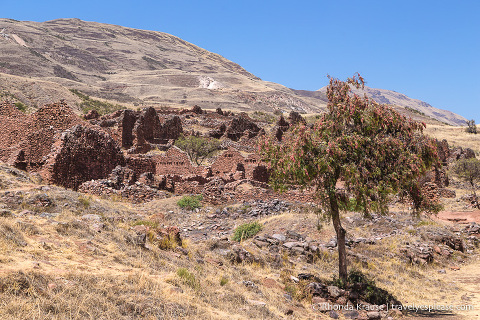 During our visit we saw remains of a palace and some government buildings, but my favourite was walking on the defensive wall surrounding the city. It was fascinating to see the sprawling site from higher ground and think about what might still be buried beneath our feet.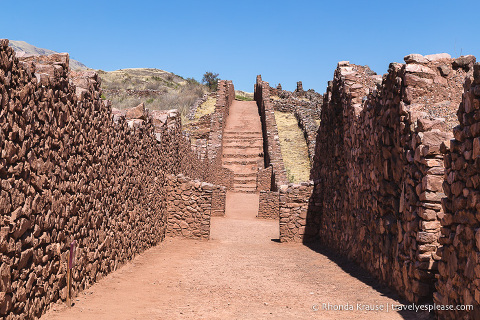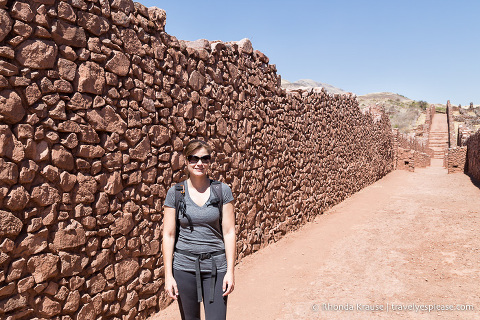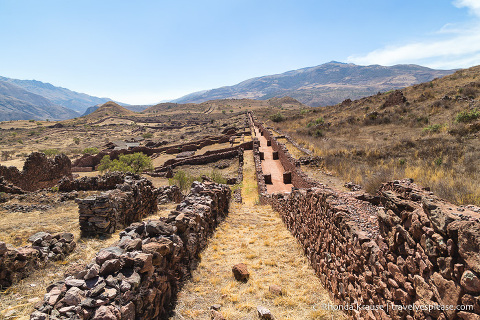 Pikillaqta is not on the typical tourist trail so it was a pleasure to have the ruins almost all to our ourselves.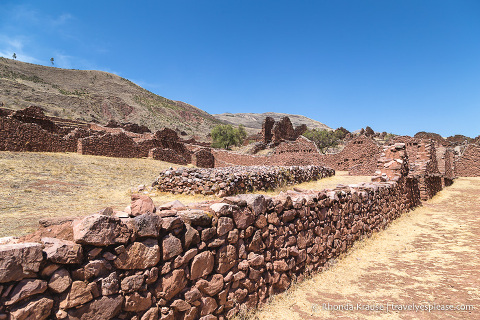 Location: Pikillaqta is 32 km southeast of Cusco.            
Final Thoughts About Visiting the Ruins Near Cusco
While we enjoyed Cusco, it was our day trips to the surrounding archaeological sites that were the highlight of our visit.
Each of the ruins were in beautiful, often stunning locations, and it was thought-provoking to notice the differences in architecture and function between the sites.
We are glad we decided to spend some time exploring ruins in the Cusco area before setting out on the Inca Trail Hike. It was a good reminder that Machu Picchu is not the only ruin worth seeing in Peru. Just because other sites are not as famous, doesn't mean they aren't interesting to visit.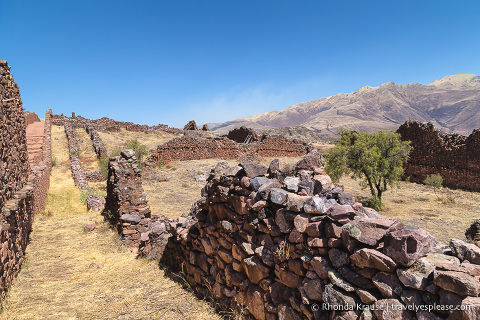 Tips for Visiting the Ruins Near Cusco
We recommend hiring a private guide so you can customize your tour of the ruins near Cusco and take your time visiting them. Another way to see the sites outside Cusco is to take a taxi tour. Your hotel should be able to help you arrange this.
To visit all the sites mentioned in this post you will need a Boleto Turistico (tourist ticket). It can be bought at the entrances and used to visit most archaeological sites in the Cusco region.
Tours of Archaeological Sites Near Cusco
Here is a reputable site where you can book tours of Cusco and surrounding area. I've gone through and picked out a few that visit the ruins I've mentioned in this post.
Accommodations in Cusco
For your convenience, here is a list of hotels in Cusco. Please consider booking your Cusco accommodations through the included link. It costs nothing extra and helps support this website. Thank you!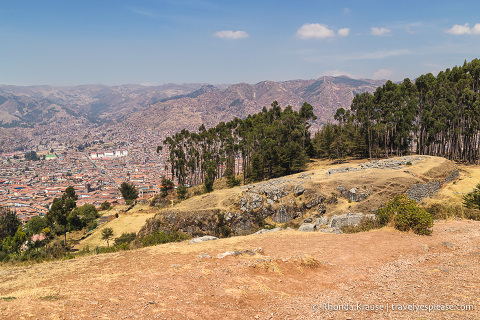 More Peru Destinations and Travel Guides
Flying Over the Nazca Lines- Peru's Mysterious Geoglyphs
Learning How to Sandboard in Huacachina, Peru
SAN PEDRO APOSTOL CHURCH IN ANDAHUAYLILLAS, PERU
Visiting the Magic Water Circuit in Lima- A Night of Fountains, Colour and Light