Purchases made through links earn us a small commission, at no extra cost to you.
St. Gallen, a city in northeastern Switzerland, was a place I didn't know much about until I arrived.
What I discovered was an elegant city with a long and interesting history, growing from a small hermitage into an influential urban centre.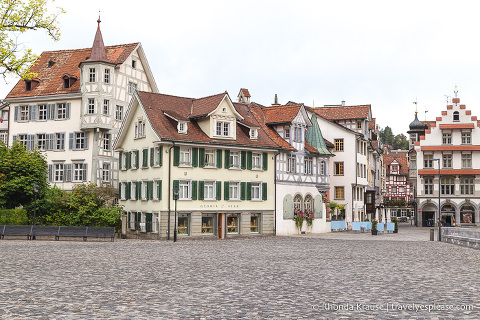 With only one evening and a morning to explore, I decided to join a walking tour of St. Gallen to maximize my time and make sure I visited all the best places to see in St. Gallen. My sightseeing tour of St. Gallen focused on the Old Town and St. Gallen Abbey Precinct, a UNESCO World Heritage Site since 1983.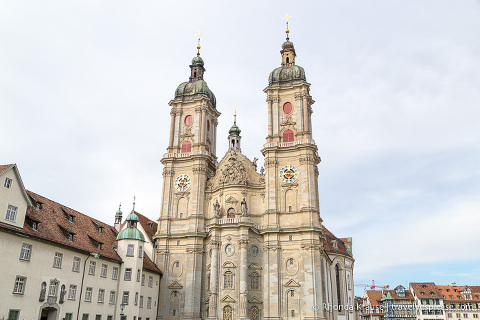 Before I share highlights from my tour of St. Gallen's Old Town, here's a brief history of the city.
Getting to Know St. Gallen- A Brief History
The history of St. Gallen dates back to 612 when Gallus, an Irish missionary monk, established a hermitage here. After his death, priest Otmar (Saint Othmar) founded an abbey on the same site in 719. As the monastic community grew, an adjoining settlement was established that would later evolve into the city of St. Gallen.
St. Gallen continued to grow thanks to a thriving textile industry that specialized in linen, embroideries and lace. Today, St. Gallen is a compact urban area and cultural, educational, and economic centre of eastern Switzerland.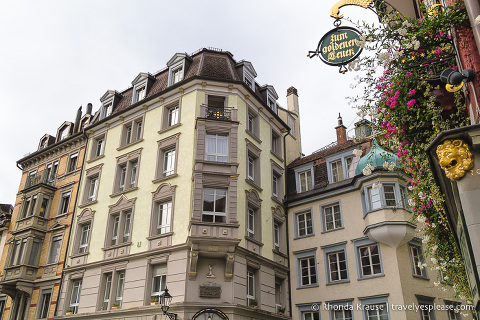 Things to See and Do in St. Gallen- Tour of St. Gallen's Old Town
Since the Old Town of St. Gallen is compact and easily walkable, you can see all the main attractions in just half a day. Here are my recommendations for things to see and do in St. Gallen's Old Town!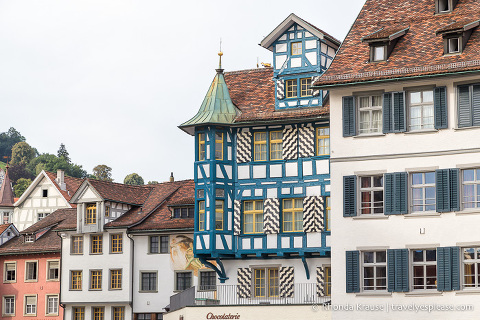 Abbey of St. Gall
The Abbey of St. Gall has stood in the heart of St. Gallen's Old Town for over 1200 years. This Carolingian era, Benedictine monastery was one of Europe's most important spiritual and intellectual centres from the 8th century to 1805 (when it was secularized) and is still attracting admirers today.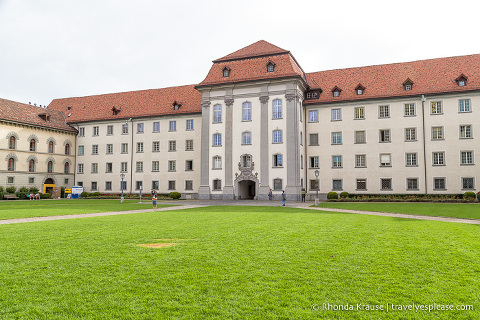 The St. Gallen Abbey precinct is a large ensemble of buildings reflecting numerous architectural periods. Its main features are the Baroque cathedral and Abbey Library, both which are top attractions in St. Gallen.
St. Gallen Cathedral (Abbey Cathedral of St. Gall)
The St. Gallen Cathedral is not only a symbol of the city, but it's one of the last great churches of the Baroque era.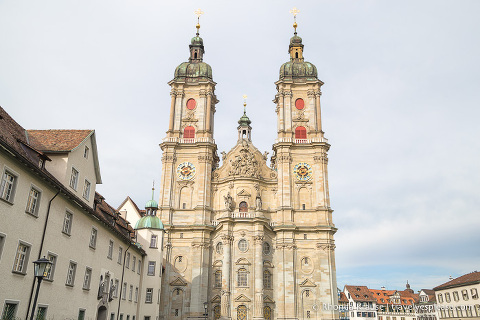 What I liked best about the inside of St. Gallen Cathedral was how open and bright it was, with a pastel colour scheme I hadn't seen in a church before.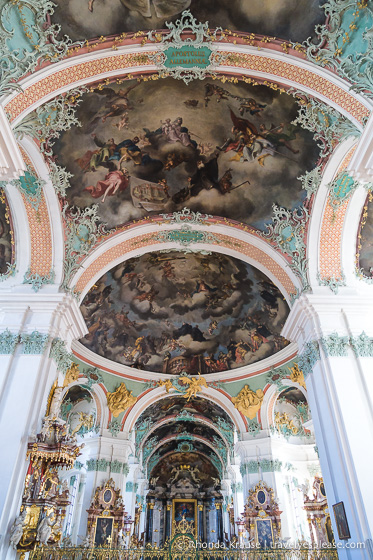 Tall white pillars were embellished with lacy-looking decorations and golden sculpted angels, highlighted by natural light shining through the large side windows. I thought the delicate, lace-like appearance of the ornaments was a nice incorporation of St. Gallen's textile industry, as the city is known for its embroidery.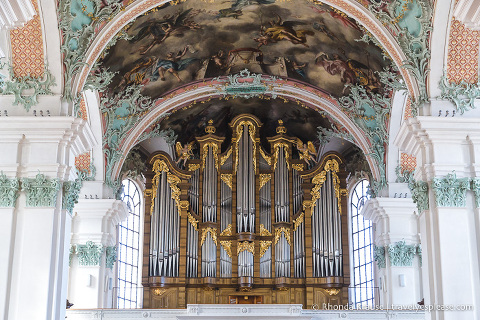 In contrast to the colourful, frilly adornments, the ceiling was covered in dark paintings of religious scenes. It added the dramatic intensity one expects from a Baroque style church.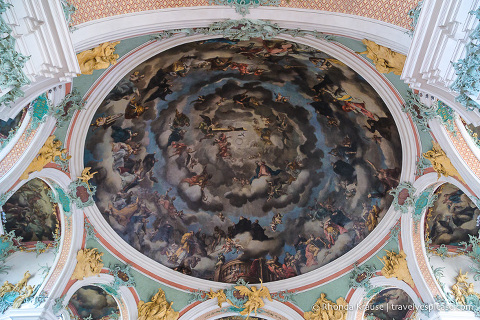 Abbey Library of St. Gall
The Abbey Library of St. Gall is known for being one of the oldest, most important, and beautiful libraries in the world.
Since its founding in 719, the library has amassed about 170,000 works including handwritten manuscripts, early prints, and books that date back to the 8th century. Some notable pieces in the collection are illuminated manuscripts by Irish and St. Gall monks, and the Plan of St. Gall (830 AD), an architectural drawing of the monastery believed to be the only remaining major architectural plan from that time. The collection also includes works on literary and musical history, the Old High German language, and the history of medicine and law.
Unfortunately, I can't show you just how pretty the library's Rococo hall was because pictures weren't allowed. It felt warm and inviting with exquisite woodwork, stucco moldings, and ceiling frescoes. I was especially fond of the large globe and was surprised to see a 2,700 year old Egyptian mummy on display.
The library also features special exhibitions of historic works displayed in glass cases. During my visit I got to see some ancient texts from Ireland.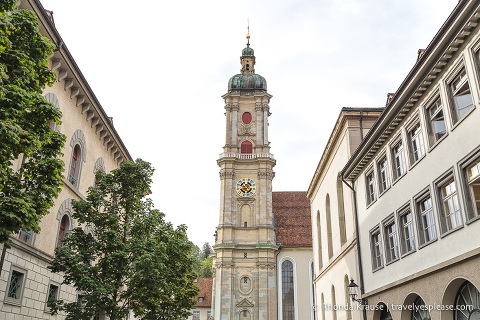 Gallusplatz
My favourite part of St. Gallen's Old Town was Gallusplatz and vicinity. This picturesque square features a fountain with a statue of Gallus (St. Gall), the patron saint of the city.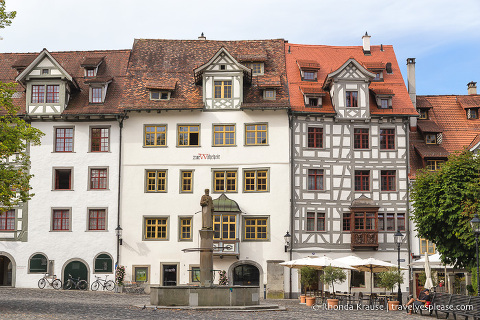 Surrounding the square and along Gallusstrasse are brightly painted timber-framed homes from the 16th century. This type of architecture always captivates me, making me feel like I was dropped into a whimsical fairy tale!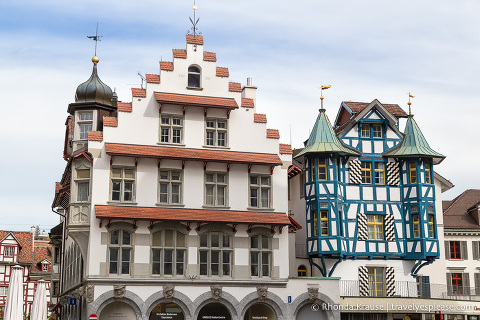 Oriel Windows 
At the start of my two week trip to Switzerland, I fell in love with the bay windows in Schaffhausen, so was happy to discover that St. Gallen also has many beautiful oriel windows decorating the buildings.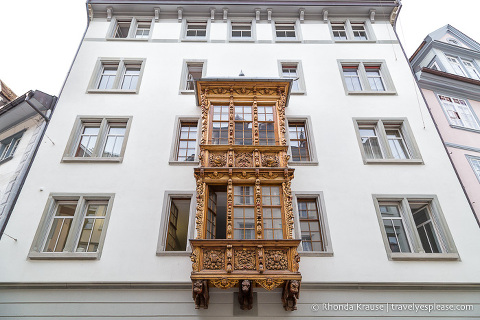 There are 111 oriel windows in St. Gallen's Old Town, each one a work of art. Intricately carved and lavishly decorated, these windows were a sign of worldliness and wealth, adorning burgher houses in the 17th and 18th centuries.
St. Gallen's oriel windows often tell a story, representing legends and mythical figures, historic events, and tales of riches. My favourite windows were travel and geography themed (of course), depicting adventures to exotic lands and beliefs about the continents.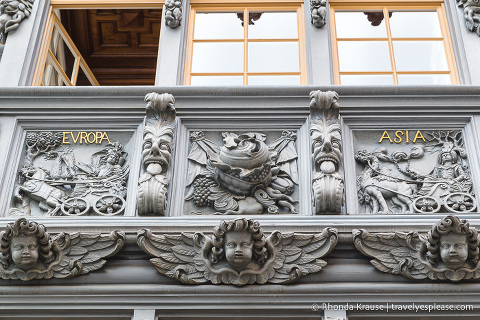 Some of St. Gallen's most magnificent oriel windows can be found on Spisergasse and Kugelgasse, so be sure to visit these alleys during your walking tour of St. Gallen's Old Town.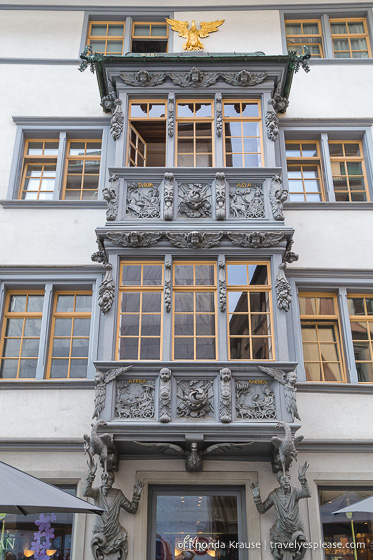 Dinner at Gaststuben zum Schlössli
A wonderful way to end a trip to St. Gallen is with dinner in the Schlössli, a 16th century small castle.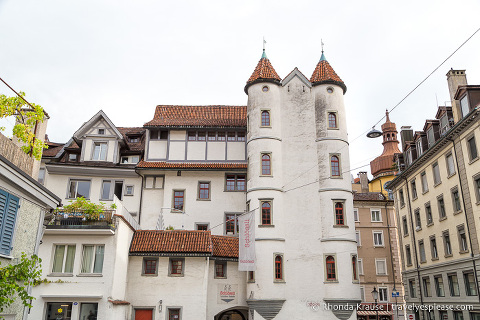 Gourmet meals made from regional ingredients can be enjoyed in different rooms in the mansion, combining history and cuisine with a lovely ambiance. The house specialty is blue potato soup, made from the blue St. Gallen potato. I almost let the unique, purple hue turn me off of trying it, but it was very delicious!
Final Thoughts About My Visit to St. Gallen
I'm not much of a city person, but historic districts always charm me and St. Gallen's Old Town was no different.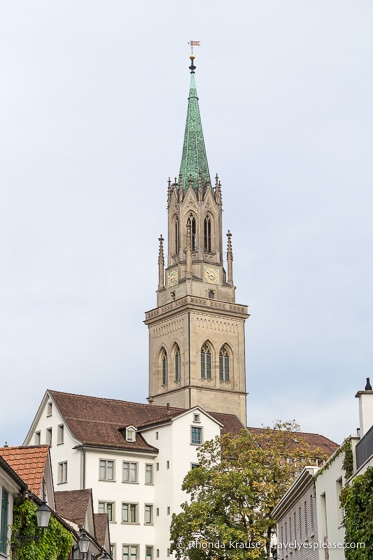 I loved the half-timbered buildings and the burgher houses with their oriels. Between the elevated oriel windows, soaring towers of St. Gallen Cathedral, and other decorative touches, much of my sightseeing in St. Gallen was spent looking up!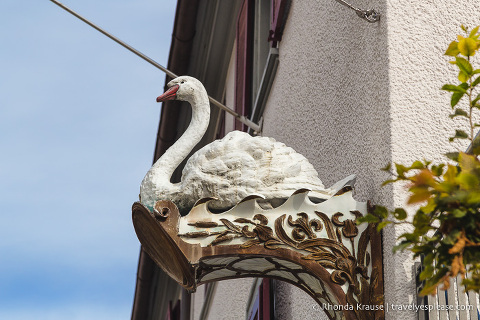 Although my trip to St. Gallen was brief, the guided walking tour of St. Gallen's Old Town showed me all the main sights, giving me a great introduction to city's history, culture, and traditions.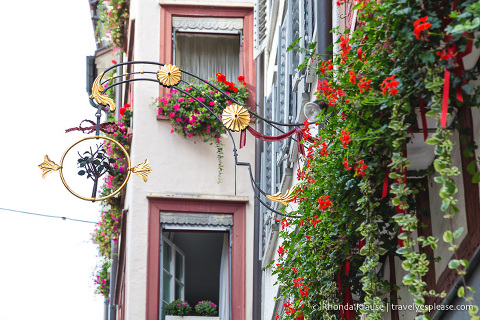 Tips for Visiting St. Gallen
Location: St. Gallen is located in northeastern Switzerland between Lake Constance and Appenzellerland in the canton of St. Gallen.
Getting There: St. Gallen is about 1 hr 15 min train ride from Zurich.
City Tours: Guided tours of St. Gallen's Old Town, including the Abbey Library, start from the St. Gallen Tourist Information Office on Bankgasse (across from the cathedral). Tours are 90 minutes long and are available in English and German. The schedule is as follows:
January to April: Saturdays from 11.30 am to 1:00 pm
May to October: Mondays, Thursdays and Fridays from 11.30 am to 1:00 pm
December: Saturdays from 11.30 am to 1:00 pm
Abbey Library: The Abbey Library of St. Gall is open from 10:00 am -5:00 pm, Monday- Sunday. Audio guides are available for an extra fee or you can buy a ticket that includes a guided tour (in German only and operating on a limited schedule). Visitors are prohibited from bringing in bags and cameras. There are lockers where you can store your belongings during your visit.
Abbey Cathedral: The St. Gallen Cathedral is closed to visitors on Sunday mornings and during services. Audio guides are available for a fee at the Abbey Library counter.
Information was correct at the time of publishing but can change without notice. Please confirm directly with service providers.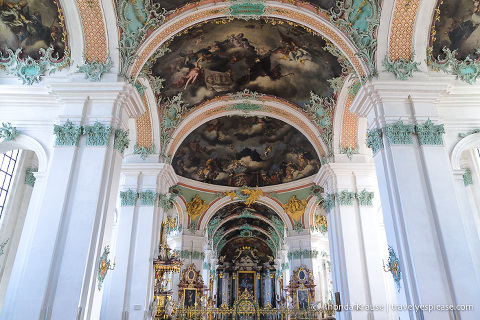 Accommodations in St. Gallen
For your convenience, here is a list of hotels in St. Gallen. Please consider booking your Switzerland accommodations through the included link. It costs nothing extra and helps support this website. Thank you!
I had a lovely stay at Einstein St. Gallen and definitely recommend it if you want a modern, first-class hotel close to the Abbey District.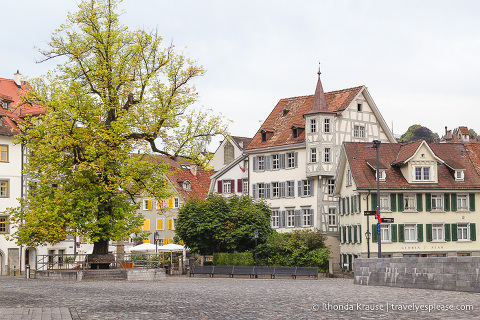 I was hosted by Switzerland Tourism in order to bring you this story. As always, I speak only the truth and hosts have no editorial influence on articles.
More Switzerland Destinations and Travel Guides