Purchases made through links earn us a small commission, at no extra cost to you.
My first trip to Switzerland was a long time coming- it was a place I'd dreamed about visiting for many years before I finally went. I'd spent hours admiring photos, building Switzerland up in my mind so much that I arrived expecting near perfection.
Luckily, it was even better than I'd imagined and all the great things I'd heard about travelling in Switzerland were true. The landscapes were gorgeous, the towns were cute, and it was easy to navigate by public transportation.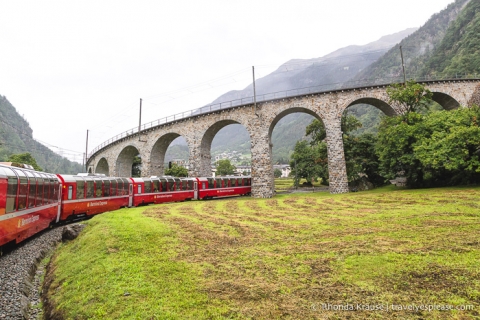 Even though Switzerland lived up to my expectations, there were a few pleasant discoveries along the way that helped make my first trip to Switzerland interesting and unforgettable.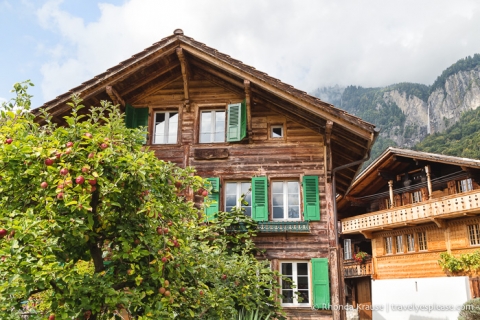 What to Expect on Your First Trip to Switzerland
After my first trip to Switzerland, I can tell you to expect a country that's stunningly beautiful the whole way through. From unbelievably blue lakes, dramatic alpine valleys, and charming architecture, the beauty of Switzerland is sure to impress.
Switzerland is also far more diverse in terms of language, landscape, and culture than you might expect. From glaciers to palm trees, and cultural influences from surrounding countries, variety is definitely the spice of life in Switzerland. During my two weeks in Switzerland I felt like a visited many different countries in one!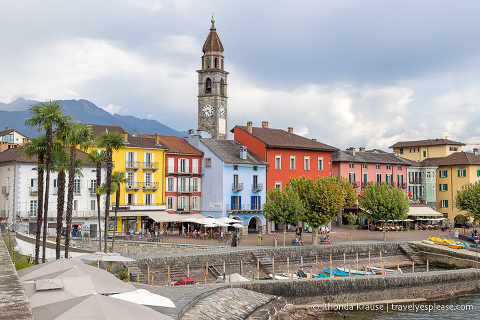 It's really hard to sum up Switzerland because there are so many regional differences, but one thing that's always consistent is accessibility to nature. There's no doubt that Switzerland is a great choice for active travellers and those who love the outdoors.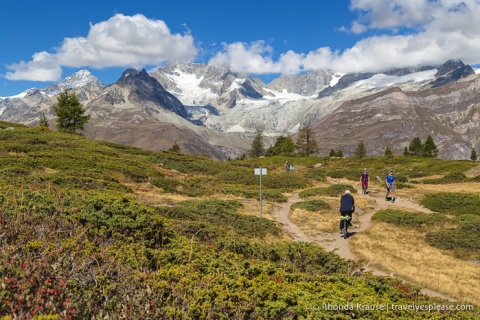 Even though Switzerland isn't drastically different from other countries in Europe, there are a few things to know that will help make your first trip to Switzerland a smooth one. I hope this guide, based on my personal experience and observations, answers any questions you may have about travelling to Switzerland for the first time.
Language
Switzerland has 4 official languages- German, French, Italian, and Romansh- and numerous regional dialects.
The most widely spoken language is Swiss German. French is primarily spoken in western Switzerland, and Italian is mainly spoken in the canton of Ticino and some southern areas of Graubünden canton. Romansh is spoken by only 0.5% of the population.
Most people working in tourism and service industries spoke English, either fluently or well enough that there were no misunderstandings.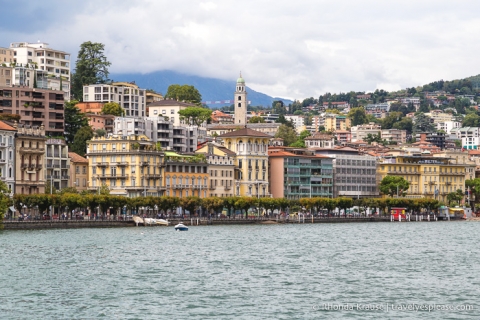 Public Transportation in Switzerland
Getting around Switzerland was easy and stress-free because the country has an extensive, well-coordinated network of trains, buses, and boats. Even mountaintops were easily accessible because of the numerous funiculars, cable cars, and cog railways. I never felt like I was missing out by not renting a car.
The SBB Mobile app made it convenient to view timetables and plan my route using all modes of public transportation. No matter which method of transport I chose, the service was frequent, comfortable, and safe, with well-timed connections.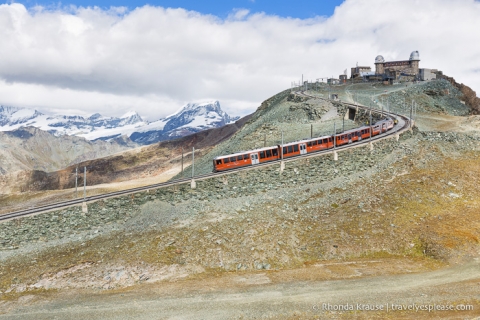 Swiss Travel Pass
The Swiss Travel Pass is a straightforward, all encompassing pass that can be used for free travel on trains, boats, and buses in Switzerland. It also includes some mountain excursions (with a 50% discount on many mountain railways that aren't covered), trips on premium panoramic trains, public transportation in 90 urban areas, and admission to over 500 museums. I loved how comprehensive it was and never having to worry about buying individual tickets. For more information, read my Swiss Travel Pass Guide and review.
You can choose a Swiss Travel Pass that is valid for 3, 4, 8, or 15 consecutive days.
The Swiss Travel Pass can be purchased online from various websites or at a service desk in Swiss rail stations. To save time, I recommend buying a pass in advance. Here is a trusted, leading retailer where you can buy a Swiss Travel Pass and have it sent to you ready to use.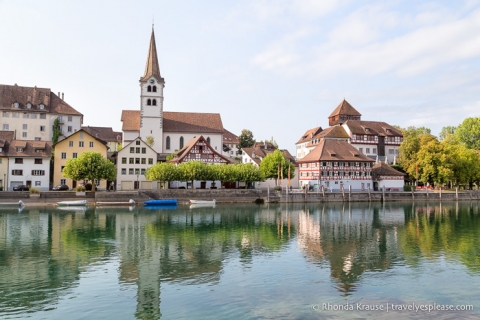 Travelling by Train in Switzerland
There are many railway companies in Switzerland but they work together to form Switzerland's rail network. The main company is Swiss Federal Railways, referred to by its initials SBB in German, CFF in French, and FFS in Italian.
Announcements in stations and onboard trains are made in the local language. Long-distance trains at major stations in popular tourist areas also have announcements in English.
The trains were always clean, but not as timely as I was expecting. On more than a few occasions, trains were 5-10 minutes late arriving at the station. One time a train I was on was late enough to make me miss my connection. I even had a train cancelled completely for track maintenance. Luckily trains are frequent so disruptions to my travel schedule were minimal.
Tickets and Reservations
Train tickets can be purchased at machines or ticket counters in railway stations, online, or in the SBB Mobile app. Rail passes can be purchased online or at Swiss railway stations.
It's not necessary to make reservations for most trains in Switzerland. Simply board the train with your rail pass or ticket and choose an open seat. Exceptions are international trains and scenic trains, like the Glacier Express and Bernina Express, which require seat reservations for an extra fee.
Seat Types- First and Second Class
Trains in Switzerland have first and second class cars. First class cars are marked with a 1 and yellow stripe on the outside of the car. Signs above the station platform indicate which sector the cars will stop at (first class were usually at the front and back of the train). Sometimes first class seats are in the same car as second class, but in their own section.
Most people travel in second class, so those cars were noticeably more crowded and noisy. First class seats are a bit roomier. Apart from that, there wasn't much difference in comfort between first and second class. I travelled with a first class Swiss Travel Pass and loved having space to spread out and keep my luggage close.
On-Board Services
InterCity and EuroCity trains have a restaurant serving snacks, meals, and drinks. Some other trains have a mini bar/catering cart that comes around selling snacks and drinks.
Some trains have electrical outlets, but not all.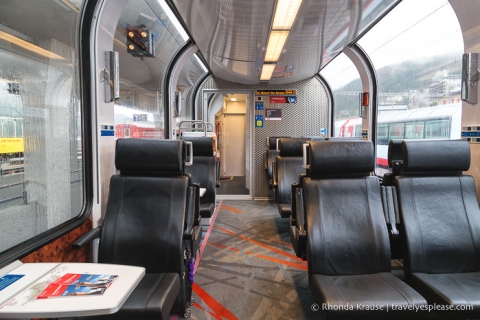 Using Buses in Switzerland
Depending on what city you're in, sometimes you can buy tickets from a machine on board, sometimes from a machine at the bus stop.
Currency, Credit Cards, ATMs
Currency in Switzerland is the Swiss Franc (CHF).
Credit cards are widely accepted in Switzerland.
ATMs are common in Switzerland. Even though I didn't have to use one, I noticed that not all were connected to the Plus System (interbank network).
Costs in Switzerland
I thought Switzerland was an expensive country to visit, in comparison to other places I've travelled to in Europe. The costs of food, transportation, accommodations, and activities can make it hard to stretch your budget.
Dining out in Switzerland is quite pricey. Main courses usually cost between 20 and 50 francs. On average, I was spending between 30 and 40 francs (roughly $40-$50 CAD) for a meal of just a main course and non-alcoholic drink.
Like anywhere, accommodation prices in Switzerland depend on the destination and time of year. In general, you can find a good selection of 3 and 4 star hotels for $150-300 CAD/night, but there are also many that run over $300 CAD/night.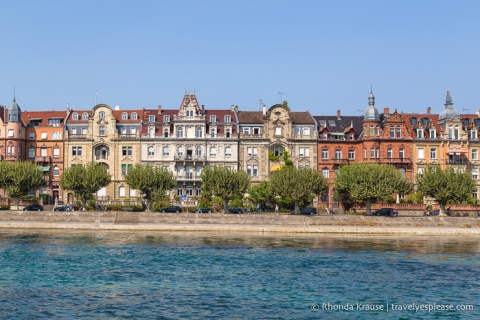 Accommodations
I stayed in 3 and 4 star hotels and they were always clean, comfortable, and included WiFi and a delicious breakfast.
The sizes of the hotel rooms were similar to what you get in North America.
Some hotels provided small washcloths, some did not. I always bring my own when travelling to Europe, just in case.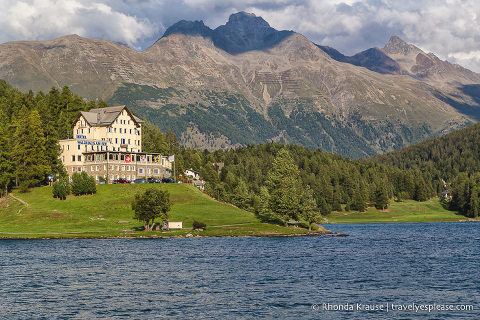 Restaurants and Food
I thought the food was very good in Switzerland and as a picky eater, I had no trouble finding meals I could enjoy.
Traditional cuisine varies between regions and dishes are influenced by neighbouring countries (Italian restaurants are plenty). Some of my favourite traditional Swiss dishes were the capuns I tried in the canton of Graubünden, and the cheese fondue and rösti I ate in Zermatt (canton of Valais).
As is common in Europe, you have to pay for water in restaurants and have a choice between still or sparkling bottled water. Even if you ask for tap water, you may still have to pay for it.
You don't need to tip in Switzerland, as service is included in the meal price. However, if you would like to show appreciation for exceptional service, round up the bill to the nearest whole number.
Lunch is usually served from 12:00 pm to 2:00 pm and dinner from 6:00 pm- 9:30 pm. It's easier to find places that serve hot meals all day long (11:00 am- 10:00 pm) in cities than in smaller towns.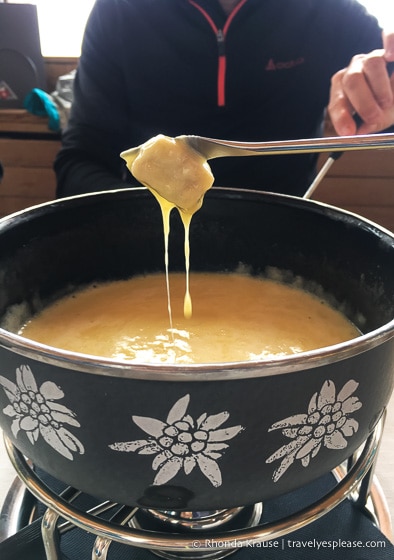 Electricity
The voltage in Switzerland is 230 V.
I came across a variety of electrical sockets in Switzerland, sometimes even in one hotel room! Type J (3-pin) sockets (both recessed and flat) were most common, but I also saw types C and F (2-pin).
I had to buy a type J adapter in Switzerland because my 2-pin one with the rectangular casing wouldn't fit into most of the 3-pin sockets, since they were hexagonal and recessed into the wall. Some bad advice on the Internet said these 2-pin plugs would work in Switzerland, but they don't fit into the sunken outlets.
I was able to borrow an adapter for Swiss sockets from my hotel until I found one to buy at the post office, of all places.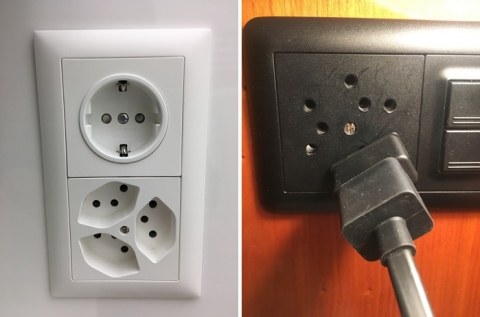 Weather
Overall, Switzerland has a mild climate, but it varies a lot between regions. In September, I experienced snow and 0 °C high in the mountains, then saw palm trees and 25 °C in Ticino. I made use of all the clothing layers I brought!
Switzerland has four distinct seasons. In the winter, temperatures can range from -2 to 7 °C. Spring and autumn temperatures are usually 8 to 15 °C. Summer sees temperatures of 18 to 28 °C, but it can get hotter than that.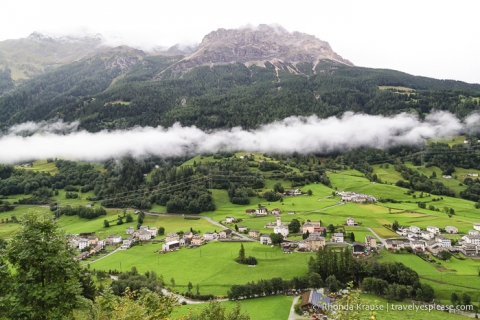 Safety
I always felt safe travelling in Switzerland, even as a female solo traveller. Switzerland has one of the lowest crime rates of industrialized countries, but thefts can still occur so don't leave your belongings unattended.
Public Restrooms
I saw a mixture of paid public toilets and free ones.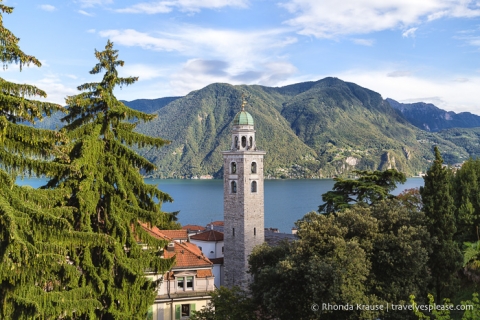 Walking and Hiking in Switzerland
There are many well-maintained foot paths in Switzerland. They are waymarked with yellow signs, often with an estimated time to the next destination.
Hiking routes on mountain paths are indicated by a red stripe on a white background. The waymark is usually included on the yellow signs, but I also saw it painted on rocks, trees, and buildings.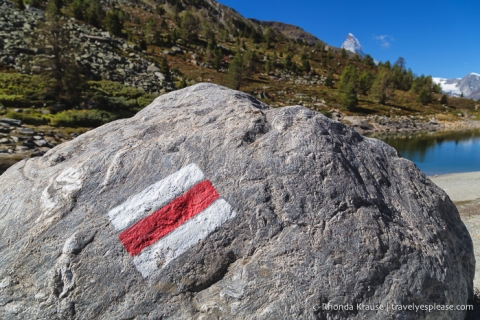 Cycling and Mountain Biking in Switzerland
Bike routes in Switzerland are marked with red signposts telling the distance to the next destination. National routes have a single digit number, regional routes have a double digit number, and local routes have triple digits.
Cycling routes are often on paved paths or roads, but sometimes have sections that aren't paved. Mountain bike routes have more natural surface and single tracks.
Bicycles (standard, mountain, and e-bikes) can be rented at many railway stations or from rental shops. I used Rent-a-Bike because they have about 200 locations, 80 which are at railway stations. The amount of rental points meant I could often (not always) pick up a bike in one town and return it in another. The bikes were very good quality and well maintained.
Bicycles can be taken on most SBB trains, private railways, and PostBuses as long as you buy a separate bike ticket or Day Bike Pass. They can even be taken on some boats. Train cars that you can bring bikes on are marked with a bike on the door. Space for bikes is limited on PostBuses and some routes require a reservation. As an alternative, you can also have your bike shipped as luggage from the train station. It will arrive 2 days later.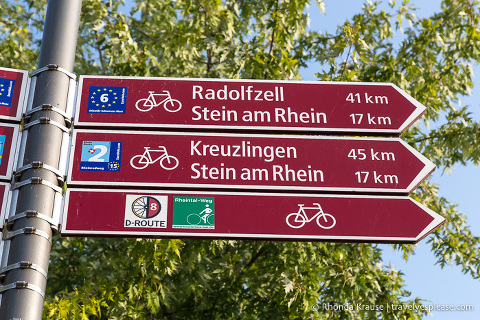 Other Tips and Observations on my First Trip to Switzerland
The public water fountains in town squares have safe drinking water. Bring a reusable water bottle and fill up at the fountains to save money and avoid waste.
Some destinations issue a guest card to anyone spending a night (or two) in the city/region. These cards give free use of local public transportation and often discounts on attractions.
There are many helpful apps for travelling in Switzerland. My favourites were SBB Mobile for transportation planning, Switzerland Mobility for hiking and biking routes, and Swiss Travel Guide for attraction highlights.
Final Thoughts About my First Trip to Switzerland
I can sum up my first trip to Switzerland by saying I hope it won't be my last.
Besides it being one of the most beautiful countries I've ever visited, there are many reasons why I'd go back to Switzerland. For one, I felt 100% comfortable travelling there. Secondly, I loved the convenient access to nature and outdoor activities. Switzerland is definitely a leader in this department! And of course, there are so many more hikes, bike trips, and mountain excursions I'd love to do!
What to See on Your First Trip to Switzerland
It can be hard to decide where to go and what to do on your first trip to Switzerland because there are so many fantastic options. For some suggestions and a sample itinerary, read my post 2 Weeks in Switzerland- An Itinerary for Active Travellers.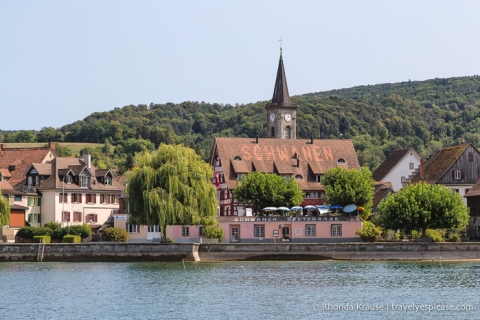 Accommodations in Switzerland
For your convenience, here is a list of hotels in Switzerland. Please consider booking your Switzerland accommodations through the included link. It costs nothing extra and helps support this website. Thank you!
Tours in Switzerland
Here is a trusted site that has a large selection of tours and tickets for activities in Switzerland. You can book everything from day trips, city walking tours, mountain excursions, boat cruises, and more.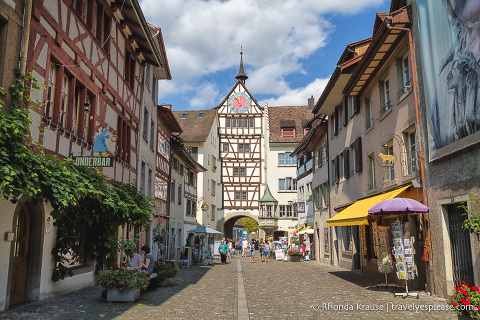 I was hosted by Switzerland Tourism in order to bring you this story. As always, I speak only the truth and hosts have no editorial influence on articles.
More Europe Travel Guides