Purchases made through links earn us a small commission, at no extra cost to you.
Thun is known as the gateway to the Bernese Oberland, but not just because of its geographical location. The city and its surrounding landscape serve as a wonderful introduction to the history, culture, and natural beauty of this region in Switzerland.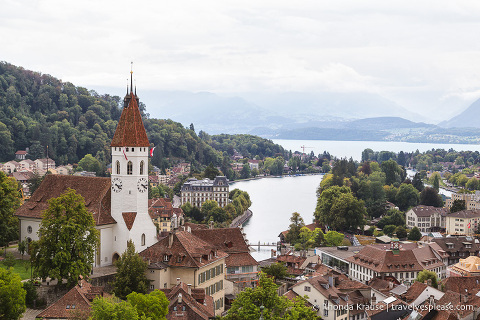 With several Swiss heritage sites of national significance, an enviable alpine backdrop, and riverside location just downstream from a lake, both history and nature lovers will find things to see and do in Thun.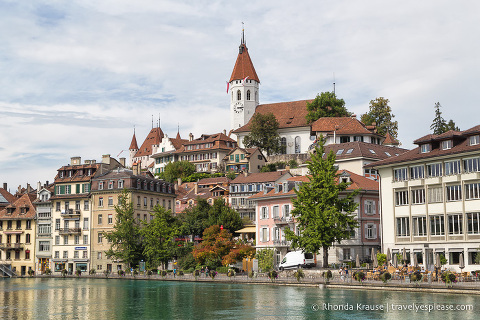 How to Spend One Day Thun- Things to See and Do
My main motivation for visiting Thun was to see the area's lakes, castles, and other historic architecture. In my Switzerland itinerary, I set aside one day for exploring Thun and a second day for venturing out on a side trip.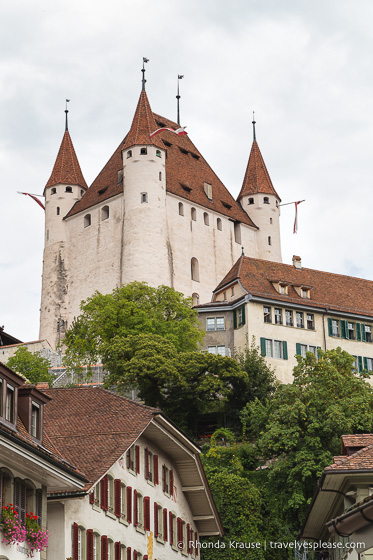 By the time my train arrived and I got settled into my hotel, I only had half a day to get to know the city (which turned out to be sufficient). I started my visit with a guided walking tour that showed me the main attractions in Thun's Old Town, then ended my day with a boat cruise to experience Thun's beautiful natural surroundings.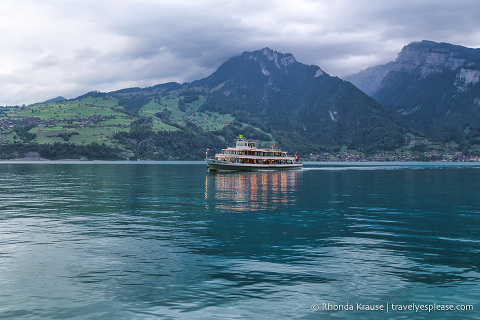 Here are some things to see and do in Thun to make the most of a short visit.
Explore Thun's Old Town
I started my afternoon in Thun by taking a guided tour of Thun's medieval Old Town. The historic centre of Thun is scenically located along the Aare river, with cobblestone streets, preserved old buildings, and cheerful public squares.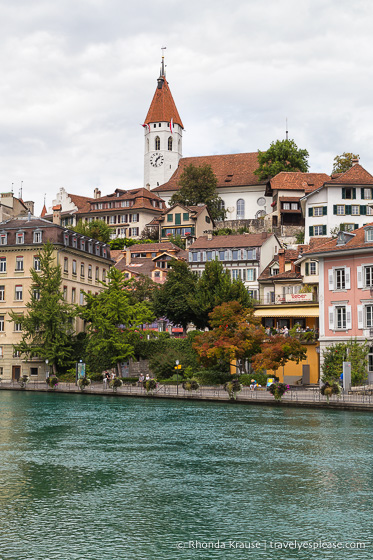 The best way to access Thun's Old Town is by crossing over one of the covered wooden bridges. Obere Schleuse (the upper lock) connects the south side of Thun with Bälliz Island, while Untere Schleuse (the lower lock) connects the island with the historic heart of Thun on the north side of the river.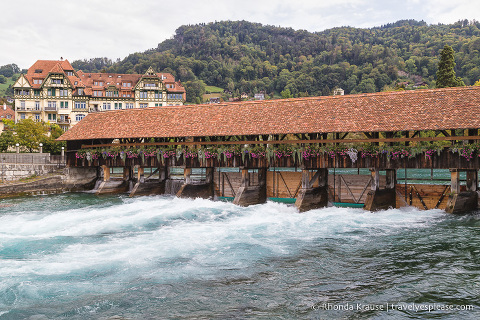 The wooden locks were built to regulate the flow of the Aare. On one side there is fast flowing water that people like to surf on, while the other side is much calmer. It was fun to see people surfing, but my favourite thing about the bridges was how they were decorated with bright pink flowers, making them one of the prettiest things to see in Thun.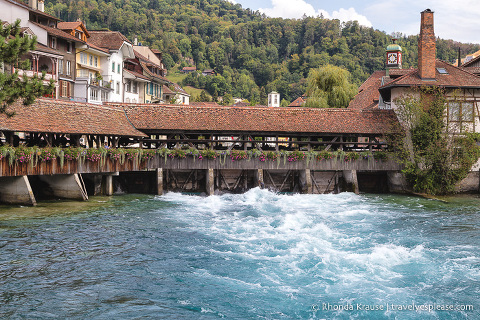 After crossing over Obere Schleuse, my tour continued to Obere Hauptgasse, one of the main shopping streets in Thun. What makes this old, narrow street unique is that there is a raised promenade above the street level stores, creating access to two levels of shops and restaurants.
Near the east end of Obere Hauptgasse is an almost hidden stairway, called Kirchtreppe, leading up to the city church (Stadkirche Thun) and Thun Castle. There are some nice views of Lake Thun and the mountains from here, but it's really just a teaser for the even more impressive views you can see from inside Thun Castle.
If you were to continue straight on Obere Hauptgasse, instead of taking the stairs up to Thun Castle, you'll come to Rathausplatz, the Town Hall Square. Constructed around 1500, the square is surrounded by traditional buildings, the centerpiece of which is the Town Hall.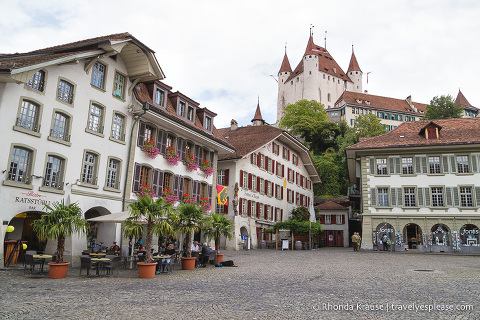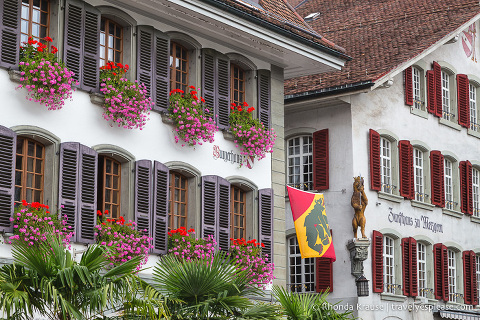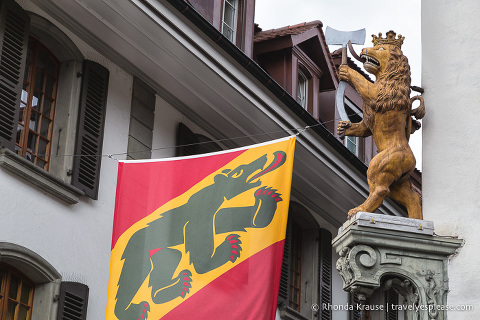 Rathausplatz was another of my favourite places to see in Thun because of the wonderful view of Thun Castle towering above the square. It was a noble scene that brought together Thun's long history with its preserved beauty.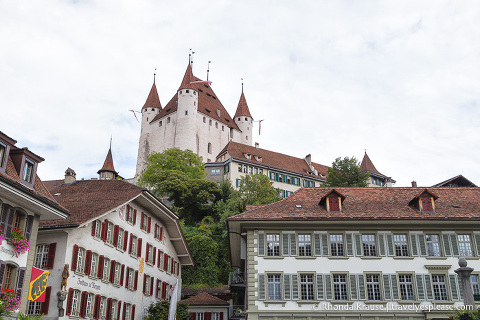 The final highlight of my tour of Thun's Old Town was Mühleplatz, or the Mühli, as locals call it. Located at the end of the Untere Schleuse, this bustling square features numerous riverside cafes and restaurants to relax at before continuing down Aarequai for a stroll along River Aare.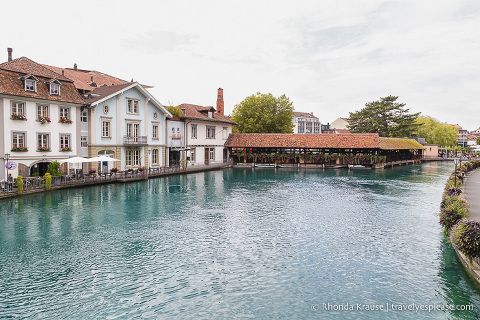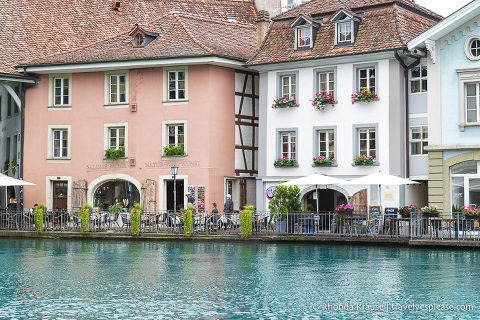 Visit Thun Castle (Schlossberg)
Thun Castle has been a symbol of the city ever since it was completed in 1190 by the Dukes of Zähringen.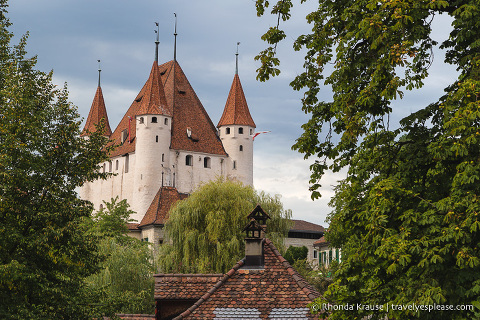 During my visit to Thun Castle, I learned about its construction and history, the development of Thun, and most interestingly, a quarrel between brothers that ended in murder at the castle.
Besides the museum displays, other highlights of Thun Castle are the Knights' Hall, the small prison, and the panoramic view from the corner towers. The sky wasn't clear enough for me to see the surrounding mountains, but the view of Lake Thun and the city did not disappoint!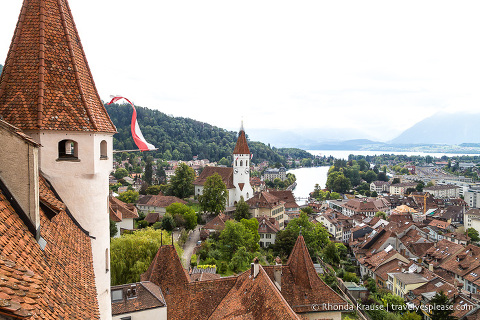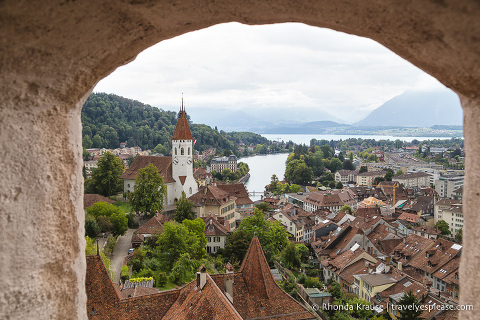 Take a Boat Cruise on Lake Thun
I think one of the best things to do in Thun is go on a boat cruise on Lake Thun, the largest lake in the Bernese Oberland.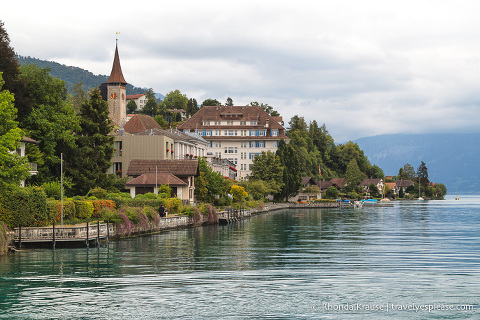 There are several cruises you can choose from, but I decided to do the "after-work cruise" on the historic Blümlisalp paddle steamer, built in 1906.
Gliding across glistening blue-green waters, we passed by mountains, forested hills, castles, and several small villages as the sun began to set. We made brief stops at the villages between Thun and Beatenbucht, but most people chose to stay on board for the round trip while enjoying dinner and drinks.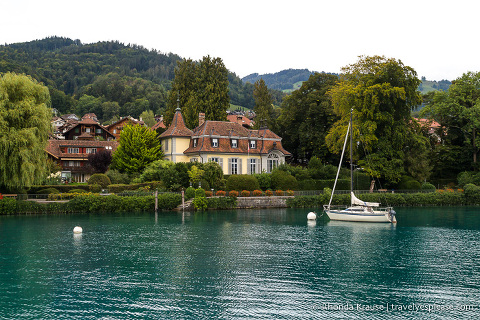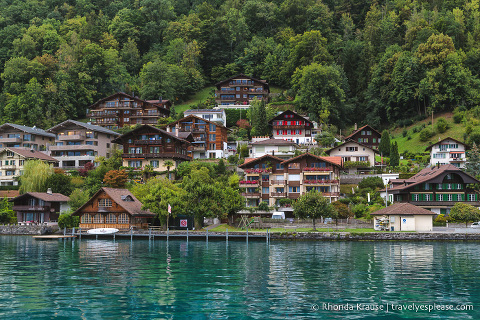 My favourite sight during the cruise on Lake Thun was of Oberhofen Castle. It was so beautiful with its little tower extending over the lake. In fact, it was a picture of this castle that first introduced me to Lake Thun and inspired me to visit. I can attest that the scene was just as pretty in real life as it was in that photo!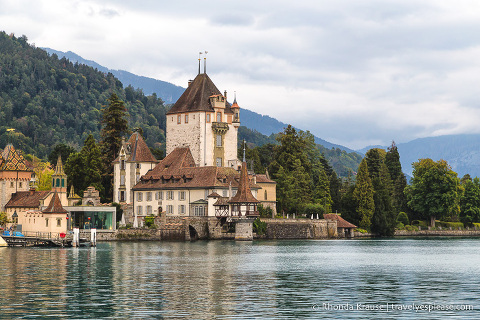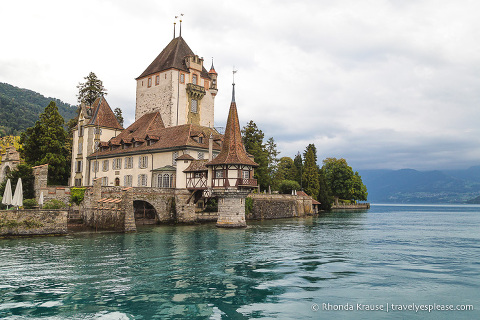 A cruise on Lake Thun was the perfect way to unwind after an afternoon of sightseeing in Thun. It reinforced just how beautiful the landscape around Thun is and made me thankful for choosing it as the final destination on my two week trip to Switzerland.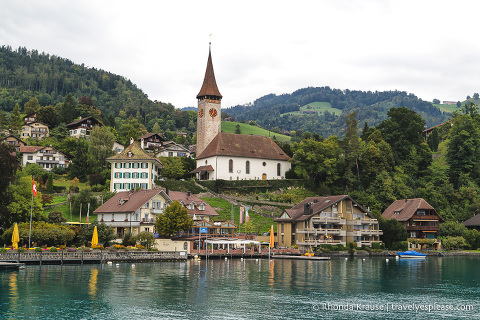 More Things to Do in Thun
Since I only had half a day in Thun, there are some things I missed out on that I would have liked to see.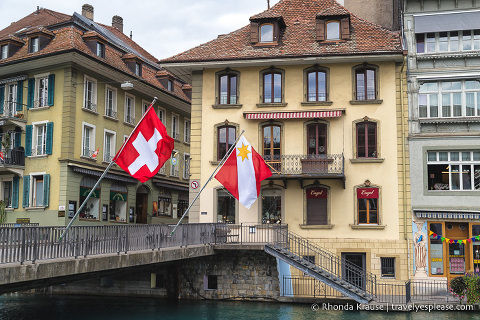 The Thun-Panorama, in Schadaupark, sounded interesting because it's the world's oldest surviving circular painting. The 38 metre image depicts the small town of Thun and was painted over 200 years ago.
Schadau Castle, built between 1846 and 1854 in Gothic Revival style, looked pretty as I was passing by on the boat, so it would have been interesting to take a look inside. If anything, it's probably a nice place to have a picnic, being so close to both the Aare river and Lake Thun.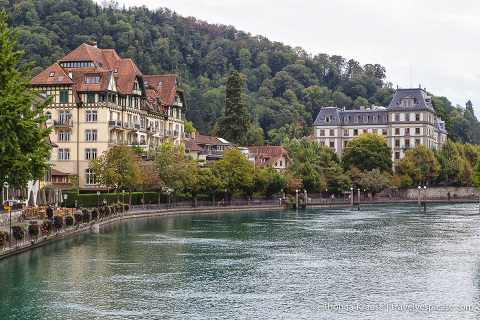 Final Thoughts About My Trip to Thun
Even though my time in Thun was short, I still got to learn about the city's history and experience both its man-made and natural beauty. I especially loved the views from the castle and scenery along river Aare and Lake Thun. The colour of the water was gorgeous!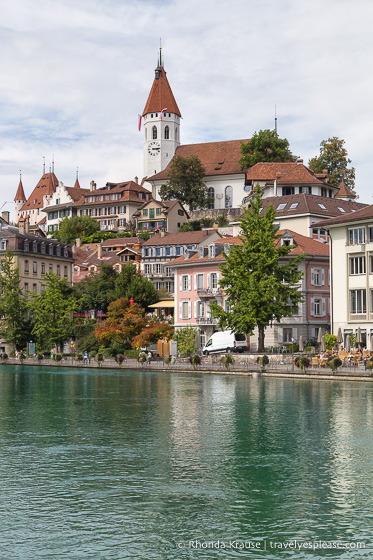 Thun was also a lovely base for exploring Lake Brienz, the Bernese Highlands' other major lake. On my second day in Thun, I did a side trip that included a boat cruise on Lake Brienz, visit to the Giessbach Falls, and walk around the town of Brienz.
Even though Thun is not as centrally located as the more popular Interlaken, with a few short train trips I was still able to experience the region's lakeside attractions without feeling like I was based in a "touristy" town.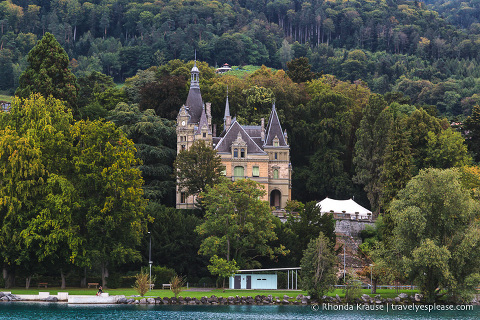 Tips for Visiting Thun
Location: Thun is located at the lower end of Lake Thun in the canton of Bern, Switzerland.
Getting There: Thun is well connected to Switzerland's rail network. It can be reached by train from Bern in about 20 minutes or Zurich in about 90 minutes.
Getting Around: Thun is very easy to get around because the trains, local buses, and boats all depart from the same area. The Old Town is walking distance from the train station.
PanoramaCard Thunersee: If you stay overnight at a hotel or pension in Thun, you will be given a PanoramaCard that allows for free travel on the STI bus network and PostBuses throughout the region. This guest card provides additional discounts and benefits including a free public guided tour of Thun's Old Town.
Guided Tours: Guided tours of Thun and Thun Castle are provided (for a fee) by the local tourist office. Public tours are available in English and German. You can sign up at the Thun-Thunersee Tourismus Welcome Centre in the train station.
Lake Thun Sightseeing Cruises: Boat cruises on Lake Thun and Lake Brienz are operated by BLS. Visit their website for more information about cruise types, prices, and to see timetables and maps. I recommend downloading the printed timetable to help plan your lake cruise(s).
You can buy tickets from the BLS station across from the train station.
If you have a Swiss Travel Pass, you can travel on the boats for free. Here is a trusted, leading retailer where you can BUY A SWISS TRAVEL PASS.
Information was correct at the time of publishing, but can change without notice.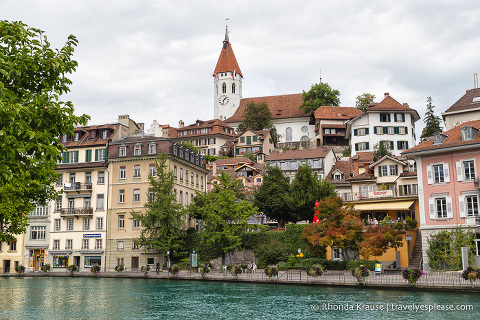 Accommodations in Thun
For your convenience, here is a list of hotels in Thun. Please consider booking your Switzerland accommodations through the included link. It costs nothing extra and helps support this website. Thank you!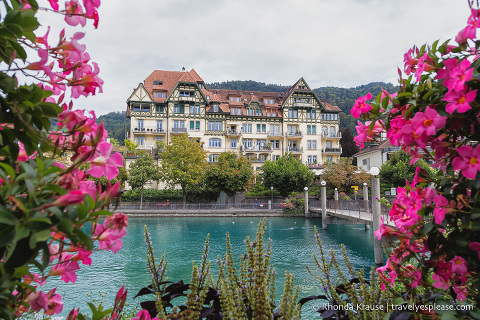 I was hosted by Switzerland Tourism in order to bring you this story. As always, I speak only the truth and hosts have no editorial influence on articles.
More Switzerland Destinations and Travel Guides