Purchases made through links earn us a small commission, at no extra cost to you.
I LOVE the Okanagan! It's a place that I enjoyed visiting as a kid on summer vacation and a place that I still love escaping to as an adult. Mike and I love the Okanagan so much, that we chose to have our wedding there in the summer of 2013. Okanagan Lake made a stunning backdrop for an amazing (very hot) day!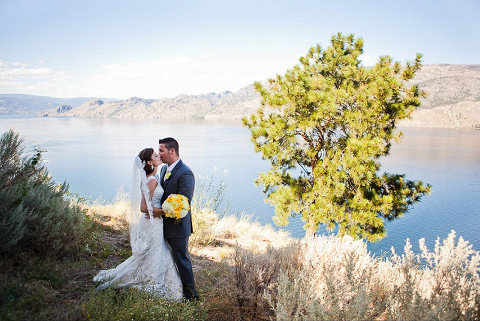 About the Okanagan
The Okanagan Valley is one of the warmest regions in all of Canada, making it a popular destination for Albertans like us, who are subjected to what seems like never ending winters. An arid climate, the Okanagan gets less than 30 mm a year of precipitation and features Canada's only desert, an extension of the Sonoran continuing up from Mexico.
Visitors to the Okanagan region enjoy sandy beaches, water sports, golf courses, fruit stands stocked fresh from nearby orchards and locally produced wines.
Stretching 160 km north from the Washington state border, the Okanagan Valley is the second largest Canadian wine region and is responsible for over 90% of all wine produced in British Columbia. Vineyards line both sides of the 135 km long Okanagan Lake, as well as the neighbouring lakes of Osoyoos and Skaha.
Over 60 varieties of grapes are grown in the Okanagan including Chardonnay, Merlot, Pinot Noir, Pinot Gris and Cabernet Sauvignon. Whether you prefer sparkling wine, still wine or even ice wine, every style and sweetness level is produced in the Okanagan.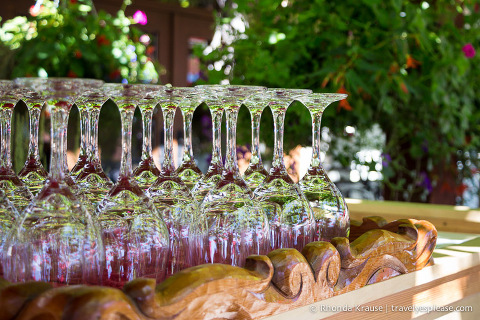 Our Trip to the Okanagan- Things to Do and Places to Visit
There are many different towns to visit in the Okanagan- Kelowna, Penticton, Vernon and Osoyoos just to name a few. The last two times Mike and I visited we chose to stay in Penticton. It's close to a lot of wineries and smaller surrounding towns, plus there are a lot of outdoor activities available. We spent our time enjoying water sports in Penticton, visiting some wineries along the Naramata Bench and exploring nearby Summerland (with a perfect name like that, how could you not go check it out!)
Penticton
Situated between Okanagan Lake and Skaha Lake, Penticton is the perfect place for beach lovers! The city maintains several beaches for visitors and residents to enjoy. The most popular beach is Okanagan Lake Beach, located in the central tourist area of Penticton. One night we enjoyed a romantic sunset walk along its nearly kilometre long sandy shore.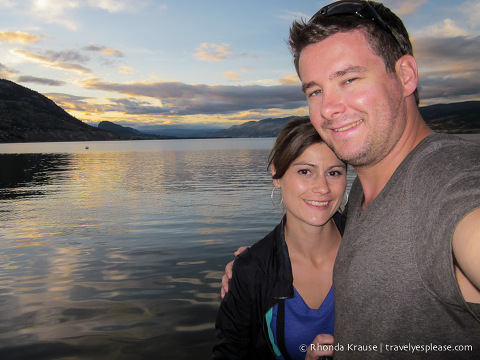 Other beaches in Penticton on Okanagan Lake are Marina Way Beach, Okanagan Lake Park Beach, and Three Mile Beach. On the opposite side of Penticton, along Skaha lake, you can find Sudbury Beach, Airport Beach and Skaha Lake Beach.
One of Penticton's most popular activities is to float down the Okanagan River Channel, joining the two lakes. Groups of friends and families find this a fun and relaxing way to beat the summertime heat. You can choose to float the whole 7 kilometres, like we did, or get off at the halfway point. You can bring your own floaty or rent one from the launch site on Riverside Drive. You can also pay for a shuttle ride back to the starting point.
I love being out on the lake, so one afternoon we rented a boat in Penticton and did some wakeboarding. You can also rent jet skis, paddle boards and even go parasailing.
Naramata Bench
A trip along the scenic Naramata Road awarded us with captivating views of Okanagan Lake and the surrounding vineyards. There are over 20 wineries in this area, making it easy to spend the day hopping from one to another. We visited quite a few wineries, did some tasting and had a delicious light lunch at Red Rooster Winery. The made to order bread from the wood oven stove was so tasty!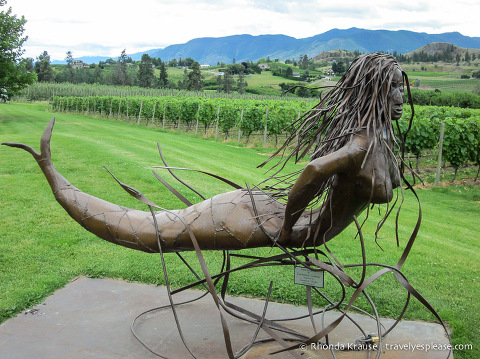 Summerland
In Summerland we visited another winery, a little different from the ones over on Naramata Bench. This place had a lot personality! Called Dirty Laundry Vineyards, its decor features sexy pink and red lingerie hanging from clotheslines. The gift shop also had some fun and unique items.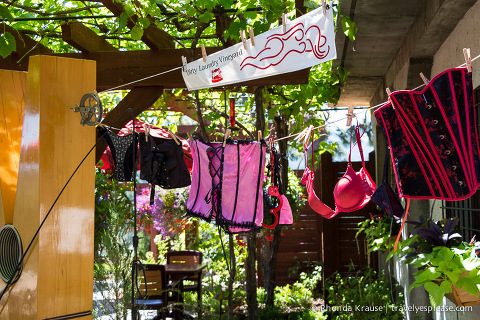 I really enjoyed the lunch we had there. You simply grab a cute little picnic basket and fill it with a selection of breads and cheeses (or prepackaged sandwiches) and head out onto the patio. We were lucky enough to be there when they had live music playing on the patio. The musician was singing the oldies, my favourite!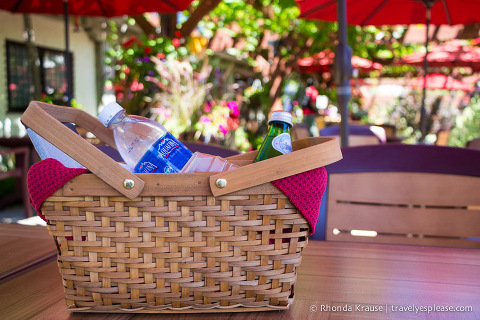 Kettle Valley Railway
To experience a bit of the area's history, we decided to visit the Kettle Valley Railway, built between 1910 and 1915. We went for a ride on this historic steam train, which took us on a 90 minute return trip along six miles of preserved track. The century old "3716" locomotive steams along the track past orchards and vineyards, through the valley to Trout Creek Bridge, which was built in 1913. At 619 ft long and 238 ft high, Trout Creek Bridge is the the third largest steel girder bridge in North America.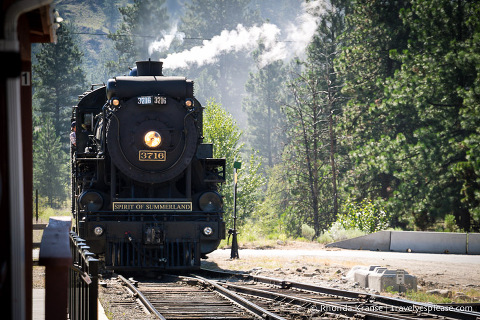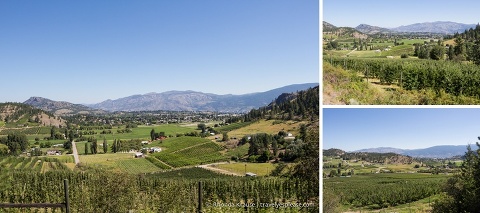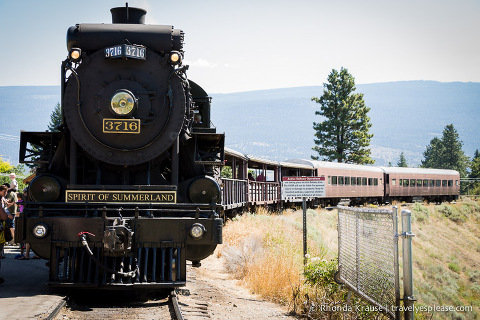 Where We Stayed
Every time we visit Penticton we stay at the Ramada Penticton Hotel and Suites. The rooms are always very nice, the food good, staff welcoming and helpful. Yet what keeps me coming back are the hotel grounds! I love how the rooms circle around a central garden area, each with their own private patio looking out onto the pool. There is a relaxing and friendly vibe to the place. Each time I am there I feel like I am at a resort.  Maybe it's the immaculate lawns and beautiful flowers or the fact that I can have dinner served to me poolside. Either way, I feel like I am someplace tropical.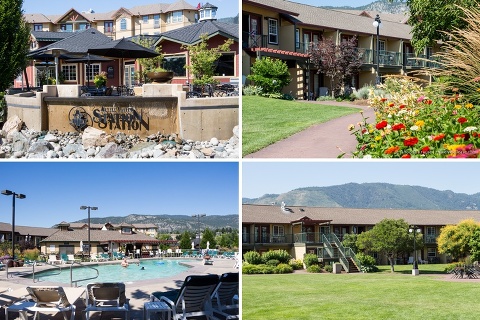 Not only a beautiful hotel, the location is very convenient as well. The Ramada is right next door and overlooking the Penticton Golf and Country Club, is only two blocks away from the Okanagan River Channel and three blocks away from Lake Okanagan Beach. You can even bring your dog on vacation because the Ramada has designated pet friendly rooms.
Tips for Visiting the Okanagan
The Okanagan is a popular summer destination, so reserve your accommodations in advance.
The Penticton Wine and Country Visitor Centre can provide details about area wineries, information on available tours and helpful maps.
Information was correct at the time of publishing, but can change without notice. Please confirm directly with the service providers.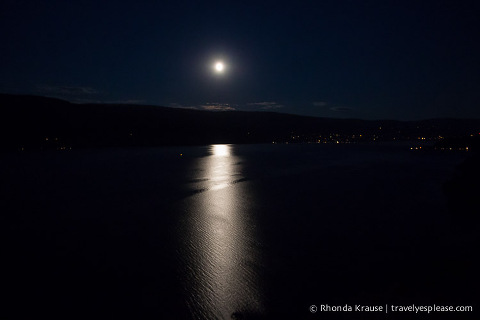 More Western Canada Destinations and Travel Guides