Purchases made through links earn us a small commission, at no extra cost to you.
One summer Mike and I set out on 15 day road trip from Edmonton to Vancouver Island and back.  We spent a lot of our time on "The Island" (as us Western Canadians call it) since it has a little bit of everything- great beaches, whimsical towns, gorgeous provincial parks, and romantic gardens.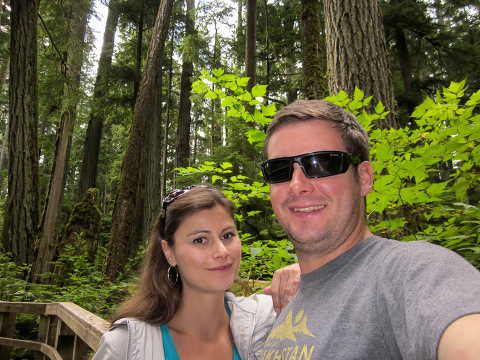 There's no better way to get to know someone than going on a massive road trip together.  A trip like this definitely has the potential to make or break you as a couple.  For one, it was a long time to be together.  Secondly, it was a long time to be camping!  Even though we were constantly on the go, re-setting up camp in a different place almost every night, we got along great and worked well as a team during our Vancouver Island road trip.  It helped that Vancouver Island is such a romantic and relaxing place to be.
7 Day Vancouver Island Road Trip Itinerary
To help you plan a trip to Vancouver Island, we decided to share our road trip itinerary (it's quite ambitious). We've included some thoughts about each place we stopped at on our 7 day road trip around Vancouver Island, hopefully making it easier for you to decide where to visit on your own Vancouver Island road trip.
DAY 1: Early morning ferry from Vancouver (Tsawwassen) to Nanaimo (Duke Point)
Ferry ride time: 2 hours. Drive from Nanaimo to Tofino: 3 hours 13 mins without stops (207 km).

Qualicum Beach
Our first stop was Qualicum Beach.  It was just a quick visit where we enjoyed a simple morning walk along the beach. The beach's perfect sand stretches over four kilometers along the Strait of Georgia.  We would have loved to stayed longer, but the weather was not really beach worthy.

Coombs
About 10 kilometers west of Qualicum Beach, on Highway 4A, is the small community of Coombs. We stopped in specifically to check out the Old Country Market and the Goats on the Roof.  Yes, you read that right, there are goats on the roof!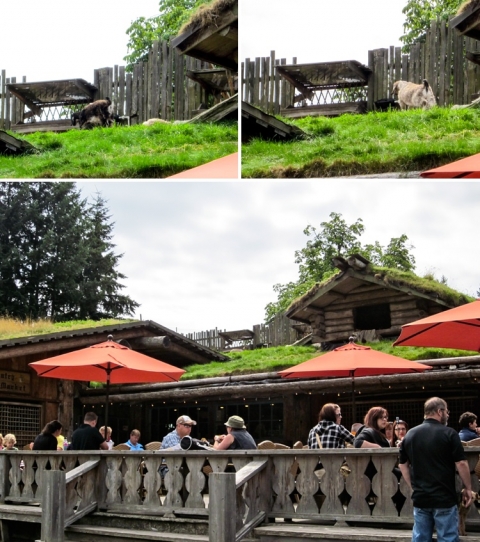 The market has a "green roof", an environmentally friendly method of building that provides warmth in the winter and a cooling effect in the summer.  In the spring, the roof becomes home to a family of goats who help keep the grass nice and trim.  They also do a great job of keeping the market's visitors curious and entertained.
Although the main attraction is on the outside of the market, it's worth your time to go inside.  The market has a wide selection of baked goods (all made in store), imported gifts, and international foods.  My favourite treat was the Root Beer ice cream!  Back behind the market is the "Big Villa", a trattoria and pizzeria selling entrees and desserts.

Cathedral Grove: MacMillan Provincial Park
Our next stop was MacMillan Provincial Park.  Here we walked under towering ancient Douglas-fir trees, some over 800 years old, at Cathedral Grove.
Douglas-fir is one of Canada's oldest living tree species and can live to be over 1000 years old.  A lot of them are so tall that you can't even see the tops of them no matter how much you crane your neck.  The "Big Tree" is the park's largest at 76 metres tall and 9 metres around.  There is a sign at the park comparing it to the Leaning Tower of Pisa- the tree dwarfs it!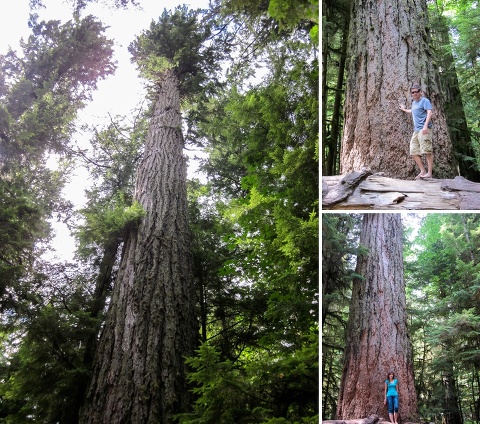 Mike is a forester so he taught me all about the different things we were seeing as we wandered the tree shaded paths. A neat thing we saw was a nurse log, which is a fallen tree that provides nutrients to other seedlings as it decomposes. Eventually, the seedlings grow and there will be a tree growing on a tree!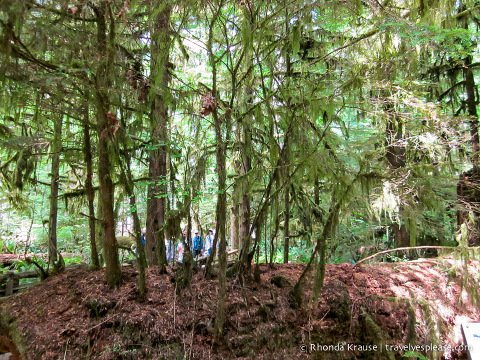 Although it doesn't take long to walk the short loop through the forest, Cathedral Grove delivers a sense of calm.  Mike described it as feeling like an old spirit was present.  There are not too many places in the world that have trees as tall and as old as the ones here.  Cathedral Grove is most definitely a special place.
Tofino: Bella Pacifica Campground on MacKenzie Beach
Bella Pacifica is probably one of the best located campgrounds we have ever been to!  It's surrounded by trees, right on the ocean with direct access to gorgeous MacKenzie Beach.  It's wonderful to walk out of your tent in the morning and have the beach just steps away.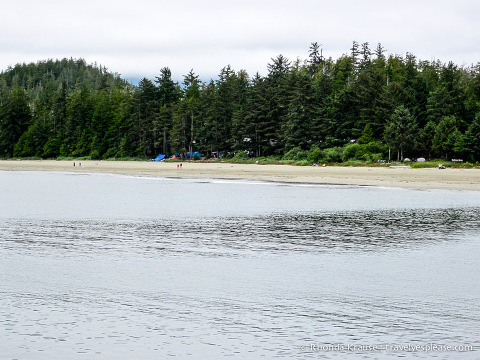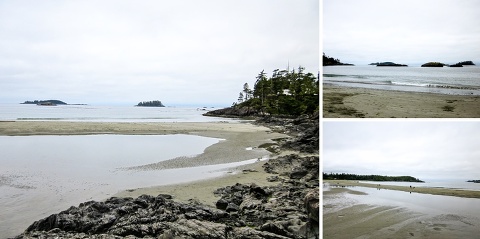 We spent a lot of time just walking down the long sandy beach and hiking up onto the bluffs overlooking the Pacific Ocean.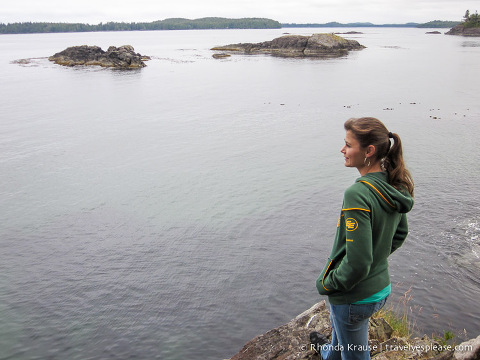 Unfortunately, being on the coast, the weather was overcast and chilly so there was no sun tanning for me.  A shame really, because the beach was so nice!  At night, a lot of people head out onto the sand to build a campfire.  It's quite the sight to look down the beach and see all these campfires scattered along.  A campfire on the beach is so romantic but technically there is a municipal by-law prohibiting fires, so don't say we didn't warn you!
We made our reservation well in advance because Bella Pacifica is a really popular camping spot, for good reason.  If you want to be one of the lucky ones who get a beach front site, avoid disappointment by booking months in advance. Oh, and be prepared to pay a premium during the peak summer season.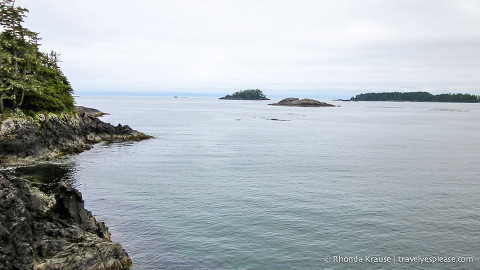 DAY 2 & 3- Explore Tofino and Pacific Rim National Park
There are a lot of great places to go exploring in the Tofino area.  Surfing, seafood, wildlife viewing tours, hiking and more is all at your fingertips!
Village of Tofino
Literally at the end of the Pacific Rim Highway, you will find the small village of Tofino.  A timber and fishing a town, Tofino is now a popular spot for visitors wishing to take in the beauty and adventure of Clayoquot Sound.  Tofino offers a world class local food scene, thrilling physical adventures, stunning natural beauty and a rich community heritage.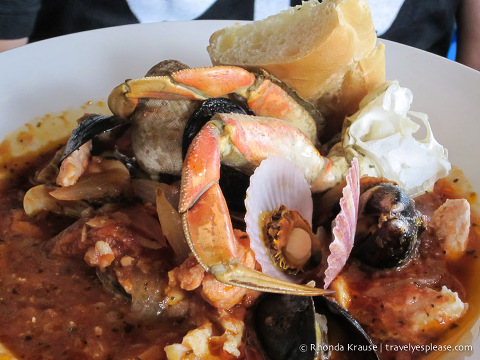 Our time in Tofino was spent enjoying a waterside fresh seafood lunch, browsing art galleries and works by First Nations artisans, and watching sea planes take off from the harbour.  We looked into going on a wildlife viewing tour (I really wanted to see some bears), but they were already full.
Next time we return, we plan on going kayaking and exploring the islands and mountains of Clayoquot Sound.  The most rare kind of rainforest in the world, covering less than 0.2% of the Earth's land surface, is found in Clayoquot Sound. UNESCO designated Clayoquot Sound a Biosphere Reserve because of the area's commitment to conservation, sustainable development, and support for research, education, and training.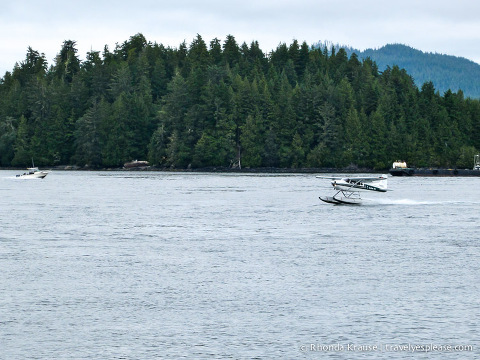 Long Beach
Named after it's 12 km of white sand, Long Beach is popular spot for surfers who brave the chilly ocean waters (the temperature hovers at 6-7 degrees Celsius year-round) to ride the breaking waves.  If you are new to surfing, there are surf shops that can provide you with lessons and the necessary gear.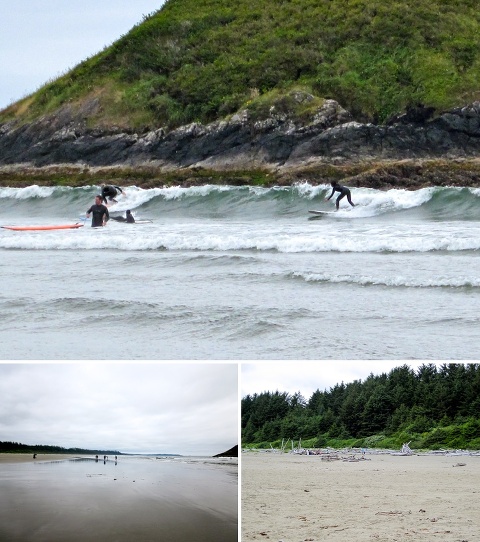 Since I am not a fan of being cold (and a little bit scared of the ocean), we opted to walk some of the short trails that meander through the forest and down along the beaches of Pacific Rim National Park.
Schooner Cove Trail
Mike and I really enjoyed wandering down Schooner Cove Trail!  A fairly easy hike, the boardwalk winds up, down and around the lush coastal rainforest, bringing you to a secluded beach at Schooner Cove.  From there you can walk for miles down Long Beach, or if the tide is out, explore the rocks for sea life including starfish, mussels, anemones, crabs and many other creatures.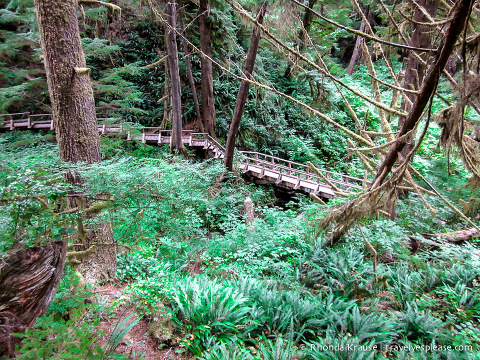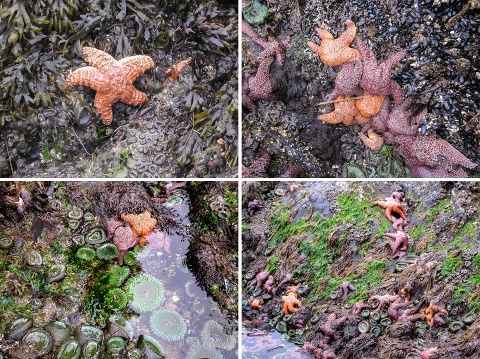 Radar Hill
Not much remains of the old WWII radar station that was installed here, but the short climb up Radar Hill rewards you with sweeping views of the ocean, inlet and mountains.  There is also a memorial that commemorates the involvement of the 2nd Battalion Princess Patricia's Canadian Light Infantry during the Korean War.

DAY 4: Drive from Tofino to Cowichan Lake
Trip Time: 4.5 hrs without stops (300 km).
Little Qualicum Falls
Our first stop of the day was at Little Qualicum Falls.  We walked around for a bit then jumped in the river and went for a swim- so refreshing after a long drive on a hot day!  Make sure you choose your swimming spot wisely- 75 metres above the Middle Falls Bridge to the downstream park boundary below the Lower Falls Bridge has a strong current and is closed to swimming.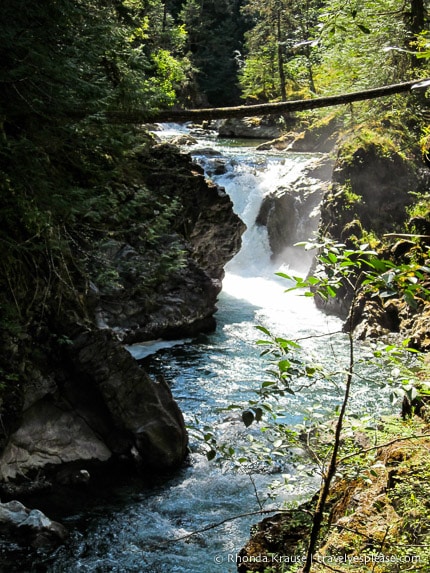 Chemainus
Chemainus is a work of art-literally!  There are over 40 professionally painted outdoor murals around the town that display the small community's pride and history.  Drive around and see how many you can find!
After our mural scavenger hunt we stopped downtown to browse the shops and enjoy an ice cream.  I loved the historical looking buildings and the character they bring to the main street.

Cowichan Lake
Cowichan Lake is located in one of Vancouver Island's sunniest valleys and is known for its fantastic fresh water fishing. You can try your hand at catching rainbow, cutthroat and Dolly Varden trout.
We arrived at Gordon Bay Provincial Park just in time to set up camp and watch the sunset on the beach.  We would have had more time to explore the area, but setting up the tent was a nightmare!  The ground was so hard and full of rocks, destroying most of our tent pegs.  At least we had a gorgeous sunset to ease the frustration!

DAY 5: Drive from Cowichan Lake to Victoria
Trip time: 1 hr 45 mins (111 km)
Butchart Gardens (23 km north of Victoria)
This was my favourite place out of our whole entire road trip!  With stunning floral blooms, vibrant colours, trickling streams and fountains, it was the perfect place to have a romantic date.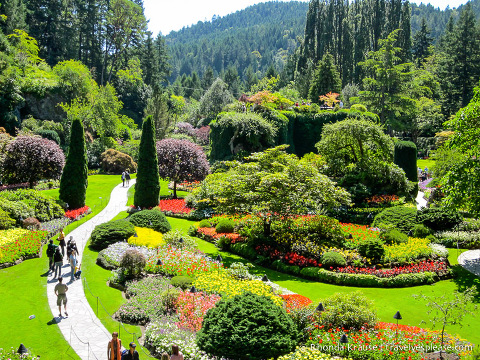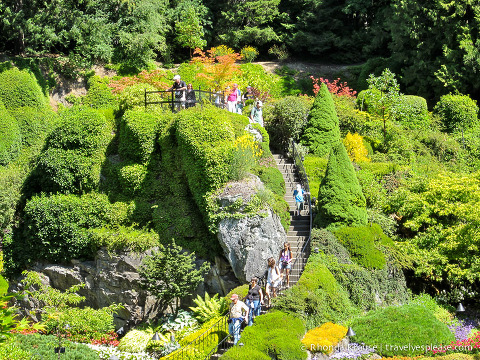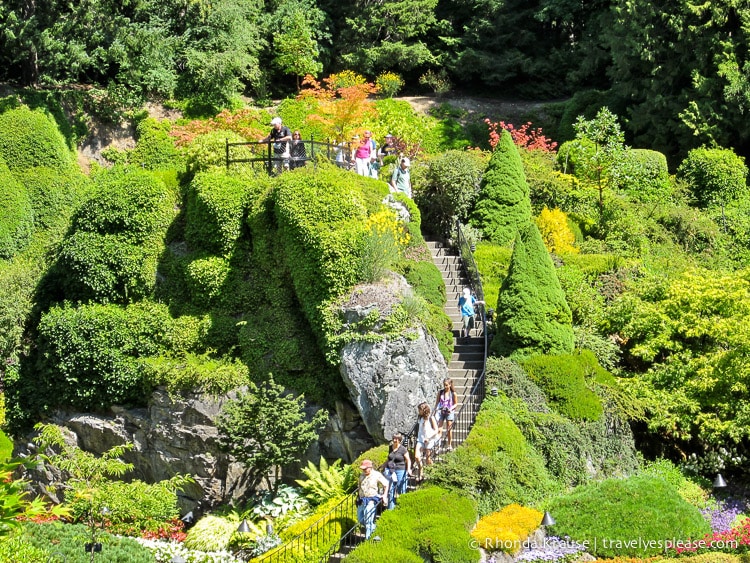 There are five unique gardens you can visit- the Japanese Garden, the Italian Garden, the Rose Garden, the Bog Garden and (our personal favourite) the Sunken Garden.  There is so much to do here besides admire nature's beauty. You can pick up a gourmet picnic to enjoy on the one of the impeccably manicured lawns, delight in some live musical entertainment, ride the Rose Carousel, and take an electric boat tour of Brentwood Bay and Tod Inlet.  We were at the gardens from almost open to close and didn't once get bored.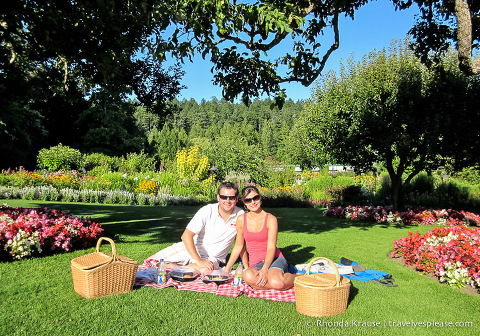 If you are visiting in the summer, you must try and come to the gardens on a Saturday.  There is a jaw dropping firework show combining pyrotechnics, animation and music.  This spectacle was the most unique firework show we have ever seen!  Just make sure you lay down your blanket early in the evening so you get a good view of the show.
DAY 6 & 7: Explore Victoria
Everyone we know who has gone to Victoria just loves it! Commonly called the "City of Gardens", Victoria is an attractive city with a relaxed pace, mild climate and year round golf season (not many places you can do that in Canada!)  For these reasons, it's a popular destination for tourists and retirees.
Victoria is one of the oldest cities in the Pacific Northwest and has preserved many of it's historical buildings such as the Empress Hotel, the Parliament Buildings and Craigdarroch Castle.  The Empress and the Parliament are conveniently located around the perimeter of the downtown harbour and Craigdarroch Castle is just a leisurely walk or short drive away.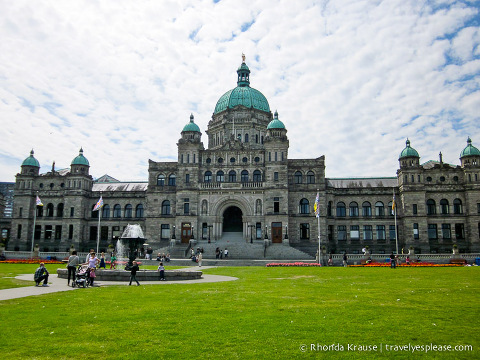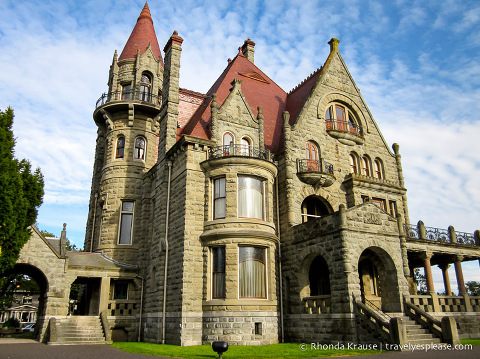 We spent one day relaxing and walking around the harbour area and our second day we went on a Whale Watching tour.  It was really exciting to see a pod of killer whales working together to hunt a school of fish. It was quite intense with all the jumping and slapping of tails!  We also were lucky enough to see sea lions, seals and some marine birds.
Goldstream Provincial Park
While in the Victoria area, we camped at Goldstream Provincial Park.  It's only 16 km away from downtown Victoria and is surrounded by temperate rainforest.  Head out on the many hiking trails and you will find waterfalls, colourful wildflowers and 600 year old Douglas fir trees.
Mike would like to come back here during the annual Chum Salmon spawning run in October.  The riverside trails and observation platforms allow great opportunities to view this phenomenon.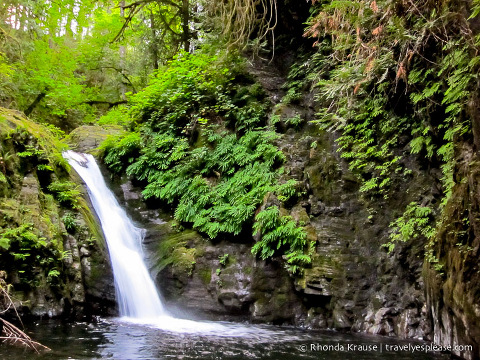 Savouring the calm, natural beauty of this picturesque park was the perfect way to end our memorable 7 day Vancouver Island road trip.
Tips For Visiting Vancouver Island
Camping: Campsites can be booked on-line using the Discover Camping reservation system.  If you know your itinerary, it's a good idea to make your reservations in advance since campsites fill up in the busy summer months.
Ferries: BC Ferries transports vehicles and passengers from mainland Vancouver to Vancouver Island. We arrived very early to catch our desired ferries since without an advance booking, vehicles are loaded in order of arrival at the terminal. Not arriving early enough can leave you waiting in line only to have the ferry sail off without you.  You do have the option of making a vehicle reservation, which will guarantee a spot on your desired ferry.  Even with a reservation, you still need to check in at least 30 minutes before sailing or the reservation will not be valid.  For more information on reservations and ferry sailing times, visit bcferries.com.
Information was correct at the time of publishing, but can change without notice. Please confirm directly with service providers.
Vancouver Island Tours
Here is a trusted site where you can book tours and tickets for activities in Victoria and the surrounding area. You can choose from city tours, whale watching adventures, excursions to Butchart Gardens, and day-trips from Vancouver.
Accommodations on Vancouver Island
For your convenience, here is a list of hotels on Vancouver Island. Please consider booking your Vancouver Island accommodations through the included link. It costs nothing extra and helps support this website. Thank you!
More British Columbia Destinations and Travel Guides