Purchases made through links earn us a small commission, at no extra cost to you.
I like to travel locally in the winter, so this year decided to hop one province over to Saskatchewan, to see what the city of Saskatoon had to offer winter adventurers.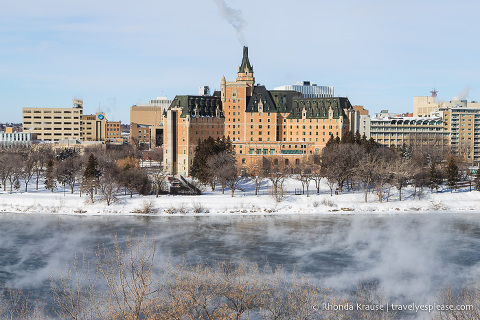 During my winter trip to Saskatoon, I discovered that Saskatoon is the "cool kid" of the prairies. I don't call it that since it was cold outside, but rather because Saskatoon has a unique, contemporary vibe I don't usually see in small prairie cities.
Saskatoon has a young population, a vibrant arts community, and a prospering local food and drink scene that even a non-foodie, like myself, will appreciate.
But most importantly, Saskatoon stays alive and active during winter, with plenty of ways to make the most of a snowy day!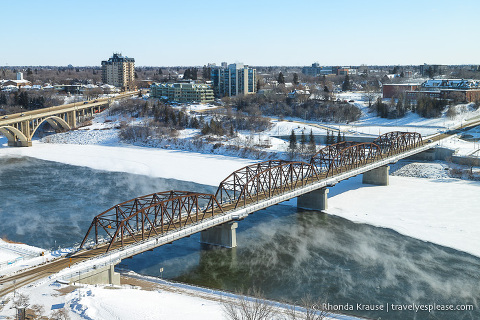 Winter Trip to Saskatoon- Fun Things to Do in Saskatoon in Winter
Saskatoon makes it easy to enjoy winter with numerous outdoor activities, soft adventures, sporting events, and funky little shops and restaurants to warm up in.
Whether you choose to stay in the city, or venture a short ways out of town to more natural settings, you'll find plenty of winter fun in Saskatoon.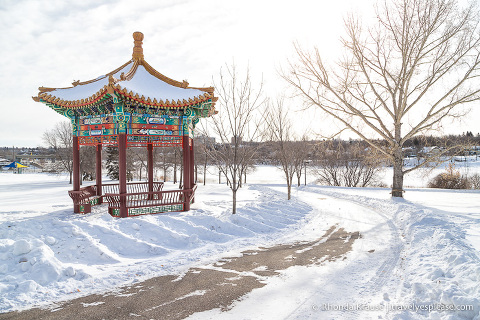 Winter Activities in Saskatoon
Here's a look at some of my favourite things to do in Saskatoon during winter!
Skating at Meewasin Skating Rink
My first night in Saskatoon I went skating at the outdoor Meewasin Skating Rink. Even though the rink is in the heart of downtown, its location beside the river valley brings you closer to nature.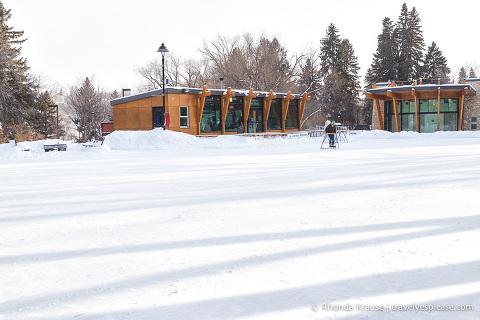 The large trees in the middle of the rink were festively decorated with lights and there was both an outdoor fire pit and indoor shelter for warming up.
Besides the relaxing ambiance, my favourite thing about the Meewasin Rink is that skate rentals are free!
Snowshoeing at Wanuskewin Heritage Park
A short 15 minute drive from downtown Saskatoon brought me to Wanuskewin Heritage Park, a natural, cultural, and archaeological site.
The land at Wanuskewin has been an important gathering place for 6,000+ years. Nomadic tribes roaming the northern Great Plains came here to hunt bison, gather food and herbs, and find shelter from the cold winter wind.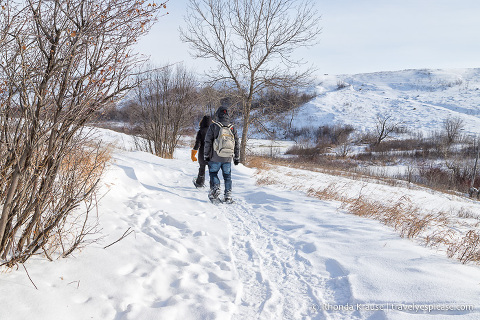 After viewing the exhibits and art gallery, I borrowed some snowshoes from the visitor centre and headed down to the Opimihaw Valley. There are four interpretive trails that tell the history of the park and Indigenous people who lived here.
During my guided snowshoeing tour, I learned about medicinal plants and hunting techniques, even getting to see two buffalo jumps. We also passed by a few archaeological dig sites that were used as camps and bison preparation sites.
Admittedly, the dig sites weren't much to see since they were covered with snow, but I still enjoyed learning about the artifacts that have been uncovered and what they tell us about the tribes who camped here. Archaeologists have found tipi rings, arrowheads, stone tools, game pieces, pottery fragments, and animal bones, proving that Wanuskewin was home to thriving communities.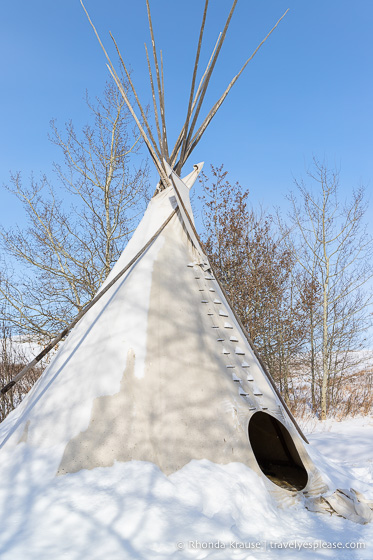 After my snowshoeing tour, I visited the tipi village and learned about how each pole of the tipi represents a virtue important to different stages of life. I even got to cook some bannock over the fire, a delicious snack before heading back to Saskatoon for more winter adventures!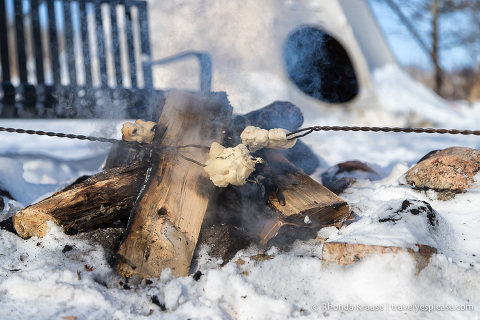 Feed the Chickadees at Beaver Creek Conservation Area
Beaver Creek Conservation Area is only 13 km south of Saskatoon, but will make you feel far away from city life.
This nature park provides a protected habitat for grassland birds, wildflowers, and beavers, plus has four year-round walking trails offering opportunities for wildlife viewing.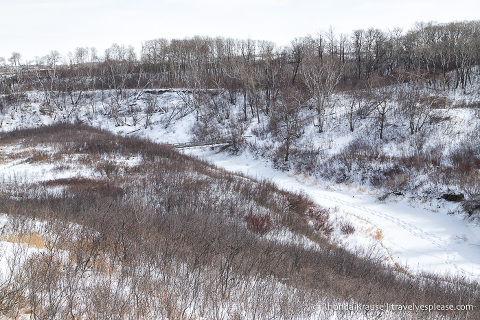 Winter is a great time to see chickadees at Beaver Creek Conservation Area. Since food is scarce this time of year, the birds are not shy about taking seeds right from your hand.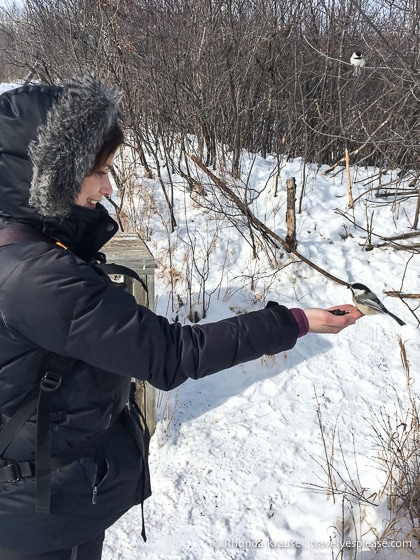 With a fistful of seeds I got from the interpretive centre, I walked a short ways on the Discovery Trail until I saw a group of chickadees fluttering about. I held my palm out and soon these little cuties were flying and back and forth from the trees to my hand, nibbling away on the seeds.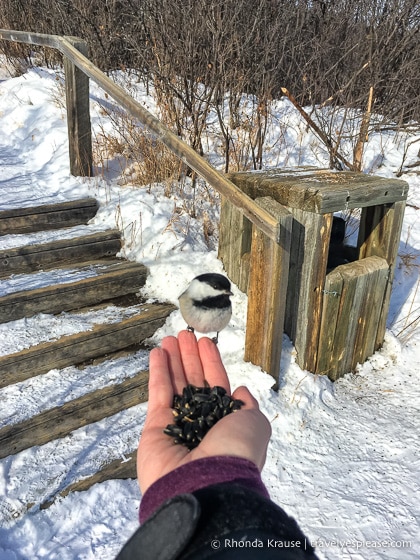 It was so fun to watch the birds, especially the picky ones that would toss away certain seeds they didn't want, for whatever reason. I had to laugh because they reminded me of my own eating habits!
Walk or Kicksled Along the South Saskatchewan River Valley
Another way to embrace winter in Saskatoon is by going for a walk in the river valley on the Meewasin Trail. The trail runs for 80 km along both sides of the South Saskatchewan River in Saskatoon, passing by landscaped parks, natural areas, and bridges.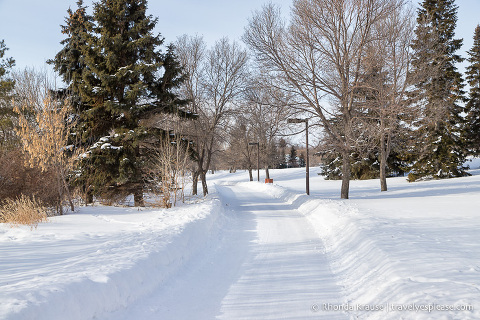 One of the most scenic sections of the Meewasin Trail in Saskatoon is River Landing and Victoria Park. I especially liked the colourful pagoda and The Coming Spring art installation, which commemorates the spirit of reconciliation.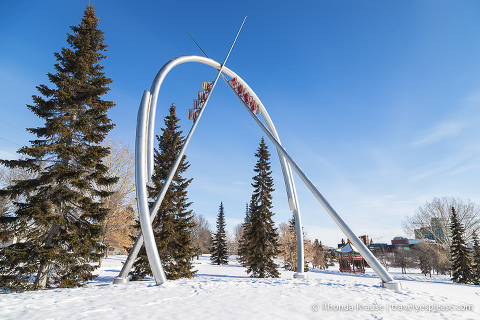 For a more unique way of exploring the river valley, rent a kicksled at Escape Sports (nearby in the Riversdale district), and glide along the Meewasin Trail. This was my first time kicksledding and it reminded me of skateboarding, in that you have to push with one leg to get moving, then coast with your feet on the skis until you lose momentum.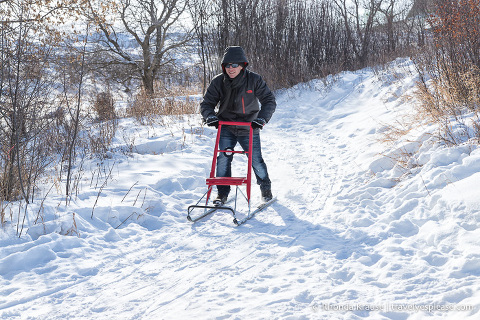 Cheer on the Saskatchewan Rush Lacrosse Team
Saskatoon is home to a championship, professional box lacrosse team, and if there's one thing you need to know about sports fans in Saskatchewan, it's that they passionately and unwaveringly support their local teams.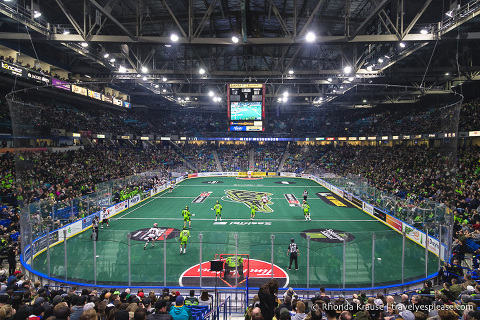 The high-energy crowd at SaskTel Centre helped make my first lacrosse game so much fun. Even though lacrosse is one of Canada's national sports, I had no idea what to expect. It was fast-paced and physical, with plenty of scoring.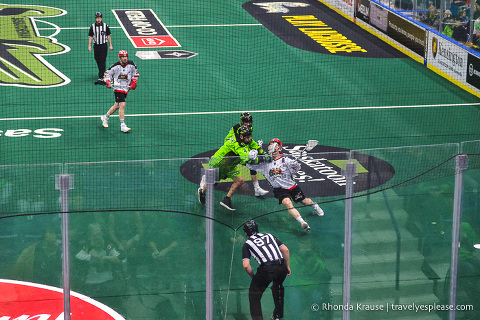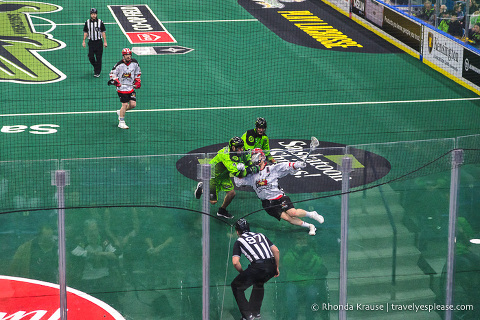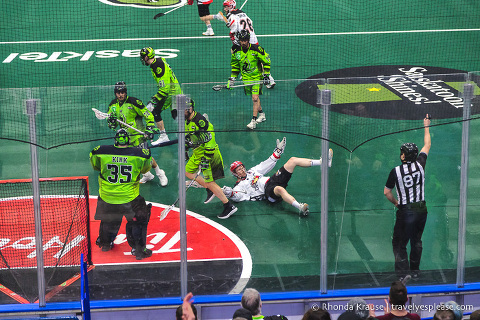 What impressed me the most was the hand-eye coordination of the players. I could never catch a speeding, tiny white ball, with a small pocket on top of a stick!
The regular season for the National Lacrosse League runs from December to April, so chances of catching a home game during a winter trip to Saskatoon are pretty good.
Ways to Warm Up During A Winter Trip to Saskatoon
Winter and cold weather go hand-in-hand, so if you need somewhere to warm up in between outdoor adventures in Saskatoon, here are some ideas.
Darkside Donuts- If you're out for a walk in the river valley, pop into Darkside Donuts for a tasty treat. All the donuts are handcrafted from scratch and their display cards share fun facts about Saskatoon's history.
Location: 631 Avenue H South, near the west end of Victoria Park.
Hardpressed Print Studio- For a trendy souvenir of your trip to Saskatoon, head to Hardpressed for some custom Saskatchewan inspired clothing. I saw people wearing Hardpressed apparel all over Saskatchewan, so it's safe to say it's a local favourite.
Location: 224 20th St West, in the Riversdale district.
The Stoked Centre at Wilson's- Wilson's is a large lifestyle centre with a rather odd combination of shops, attractions, and services. The Stoked Centre offers up the most fun with an indoor go-kart track, small ropes course and zipline, and bouncy castles for the kids. I only did the go-karting but had a blast!
Location: 303 Owen Manor at the corner of Highway 5 and McOrmond Drive, in the Brighton Community.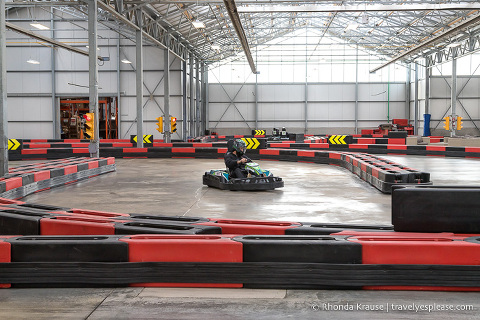 Final Thoughts About My Winter Getaway to Saskatoon
Even though it was unusually cold during my trip, by dressing for the weather, I still was able to get outside and enjoy some winter activities in Saskatoon.
I always like skating and nature walks, but experiencing some new things, like kicksledding and a lacrosse game, helped make my winter trip to Saskatoon even more memorable. The city was a great place to spend a few days before heading north to Prince Albert National Park for more winter adventures in Saskatchewan!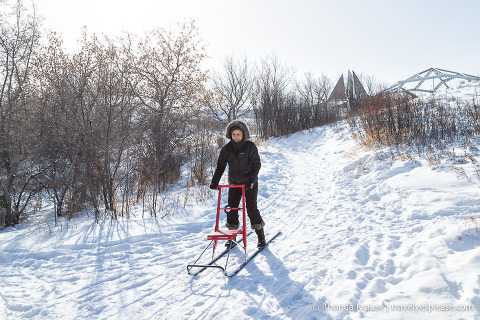 Tips for Visiting Saskatoon in Winter
Getting There: Saskatoon is in the province of Saskatchewan and can be reached with a direct flight from many major destinations in Canada. The international airport is a ten minute drive from downtown.
Saskatoon can also be accessed by major highways, including the TransCanada Highway 16, and is home to a VIA Rail station.
Getting Around: The best way to get around Saskatoon is by car. Certain neighbourhoods, like downtown, can be explored on foot, but you'll need a car to reach places outside the city, since they're not served by the public bus system.
Weather and What to Wear: Saskatoon is one of the sunniest cities in Canada with winter temperatures that typically range from +5°C to -30°C. Pack clothes that are warm and can be easily layered.
Meewasin Skating Rink: The Meewasin Skating Rink is located next to the Delta Bessborough hotel, near the edge of the South Saskatchewan River. The rink will close if temperatures reach -31°C.
Wanuskewin Heritage Park: Wanuskewin is located at RR #4 Penner Road, about 16 km from downtown Saskatoon.
An admission fee is charged.
Guided walks and cultural programs are available or you can do a self-guided tour.
Beaver Creek Conservation Area: The Beaver Creek Conservation Area is located 13 km south of Saskatoon. To get there, take Highway 219 and follow the signs reading Beaver Creek Conservation Area.
Information was updated January 2022, but can change without notice.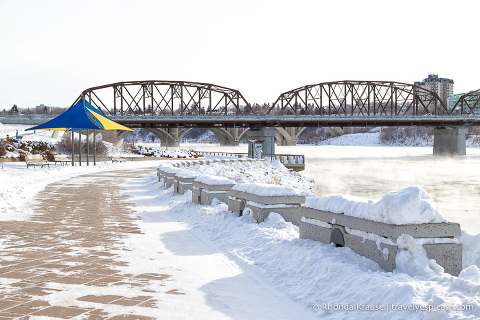 Accommodations in Saskatoon
For your convenience, here is a list of hotels in Saskatoon. Please consider booking your Saskatoon accommodations through the included link. It costs nothing extra and helps support this website. Thank you!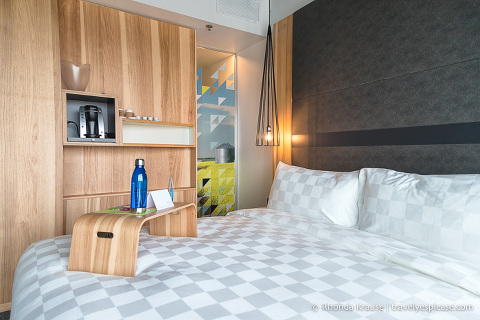 I was hosted by Tourism Saskatoon in order to bring you this story. As always, I speak only the truth and hosts have no editorial influence on articles. 
More Canada Winter Travel Guides