Purchases made through links earn us a small commission, at no extra cost to you.
Jasper National Park is a great place to visit year round, but it can be especially fun in the winter. Active travellers and outdoor adventurers will find plenty of activities to enjoy during a winter trip to Jasper.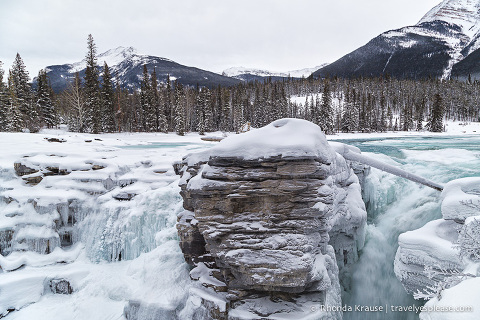 Things to Do in Jasper in Winter- Our Favourite Winter Activities in Jasper National Park
We've made frequent visits to Jasper in the winter over the last few years and have always had a wonderful time. Here are our six favourite ways to have some fun during a winter trip to Jasper National Park!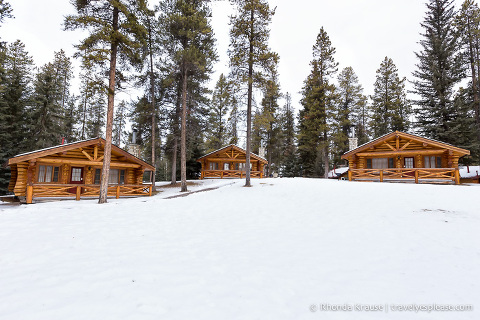 Snowshoeing
Jasper was the first place we tried snowshoeing, and although we were skeptical at first, it turned out to be a great deal of fun!
For our first experience, we went on a guided snowshoe trip with Canadian Skyline Adventures. We trekked across Medicine Lake and into Watchtower Canyon for some backcountry snowshoeing. The highlight of our adventure was when we reached a beautiful frozen waterfall partway up the canyon. A perfect winter scene!
Read more: Snowshoeing in Jasper- Our First Experience and Why You Should Try it Too!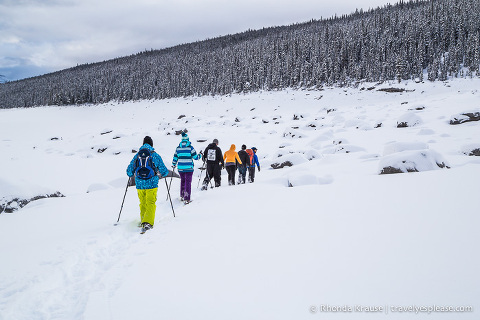 On our next visit we went snowshoeing again, this time as part of a Parks Canada program. We snowshoed around Marmot Meadows while our guide pointed out animal tracks and taught us how to identify them. This trip was definitely more low key and perfect for families.
Cross Country Skiing
Since we go to Jasper quite often, on our most recent trip we wanted to try something new and explore a place we haven't been before. That is what led us to cross country skiing!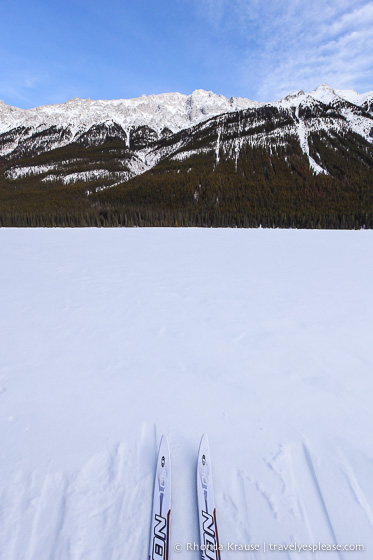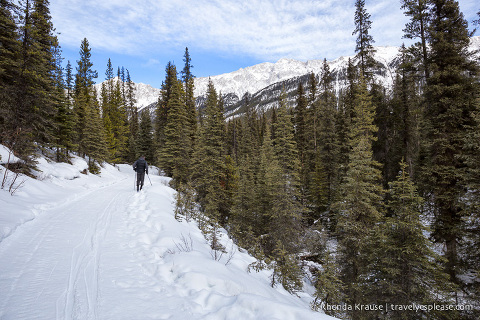 To be fair, what we did was more like walking with big planks of wood tied to our feet, rather than actual skiing. We were not good at it at all (it's harder than it looks!)
Awkwardness aside, we still had a fun morning full of laughs when we skied to Beaver Lake. Not only did we have the trail all to ourselves, but the beautiful views made us forget just how bad we were at cross county skiing!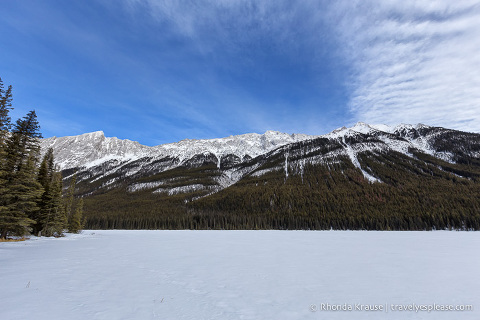 Maligne Canyon Ice Walk
For first time winter visitors to Jasper, we definitely recommend doing the Maligne Canyon Ice Walk. It's quite spectacular to wander through a frozen canyon, its deep walls draped in a curtain of ice.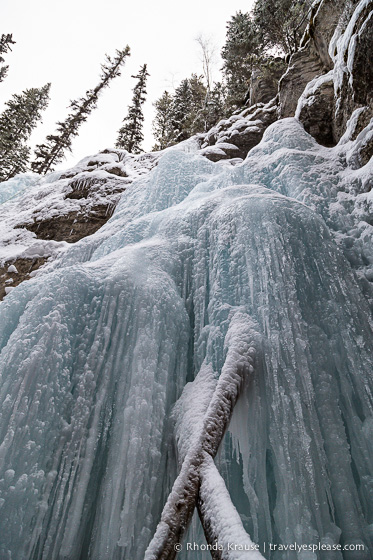 We had viewed the canyon from above many times, but one year we finally decided to go on a guided ice walk with Maligne Adventures. Let's just say that all those years of viewing the canyon from above, didn't compare to seeing the larger-than-life icicles from the canyon floor!
Read more: Maligne Canyon Ice Walk
Reserve your spot on the Maligne Canyon Ice Walk
Downhill Skiing at Marmot Basin
Marmot Basin was the first mountain I ever skied, but I hadn't been back since I was a kid. So, on this trip we decided to make it a priority to hit the slopes at Marmot.
After I got outfitted with a pair of high performance skis especially designed for women, we headed out with Dex, our guide and instructor for the morning. Mike and I both know how to ski but since we are only intermediate, we were looking for some tips on how to improve. Dex taught us some new skills, showed us around the mountain and by afternoon we were set to explore on our own!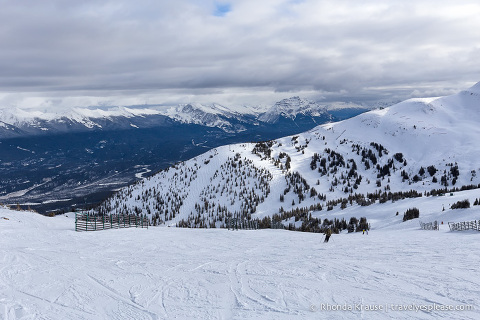 Our favourite thing about Marmot Basin was that there were no lift lines (on a Sunday) and plenty of room to ski. With 91 runs, skiers could spread out and easily find something suited to their ability level. We prefer to ski blue runs but found the greens at Marmot to be quite enjoyable. They weren't just a "cat-track" like many other ski hills we've visited and were a great place to practice our new technique.
Of course, I have to mention the scenery. It's always a pleasure to ski when you've got spectacular views of Jasper National Park and the Rocky Mountains!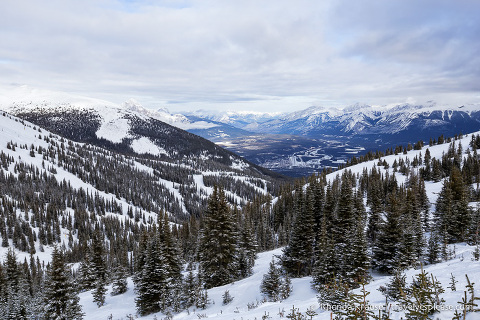 Admire the Snowy Scenery
After all the skiing, snowshoeing and ice walking, it's nice just to take a break and admire the scenery. Jasper is extremely beautiful in the winter, not to mention incredibly peaceful.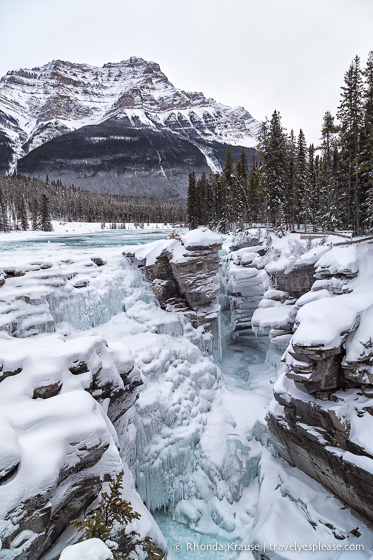 The two places we return to again and again are Pyramid Island and Athabasca Falls. Both are gorgeous places to enjoy a short winter walk. The best part though, is that you'll likely have them all to yourself, something that definitely does not happen in the summer time!
For more winter photos of Jasper, visit Winter in Jasper- A Frosty Photo Series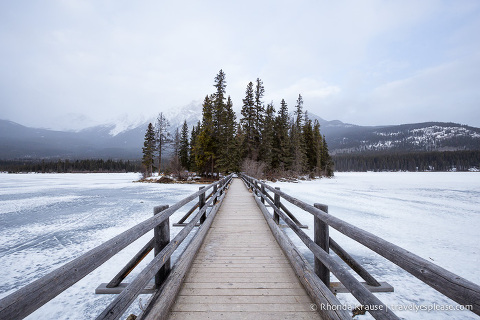 Ice Skating
There's nothing more Canadian than skating or playing hockey on a frozen lake. Jasper has several scenic skating rinks, including two at the Jasper Park Lodge (on Lac Beauvert and Lake Mildred). However, our favourite rink is on Pyramid Lake.
The skating rink at Pyramid Lake consists of a large oval for skating laps and an inner rectangle for playing hockey. The best part is that the rink overlooked by Pyramid Mountain, creating the perfect snowy backdrop. Skating outdoors in the Rockies beats skating indoors at an arena every time!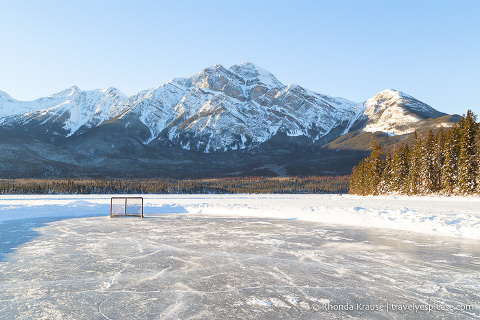 More Things to Do in Jasper in Winter
So, there you have it- our favourite winter activities in Jasper! Of course, this is not all there is to do during a winter getaway in Jasper. There are opportunities to go on wildlife tours, sleigh rides, fat biking, and ice climbing.
Even though we make annual trips to Jasper in the winter, we still have only scratched the surface of all there is to do here!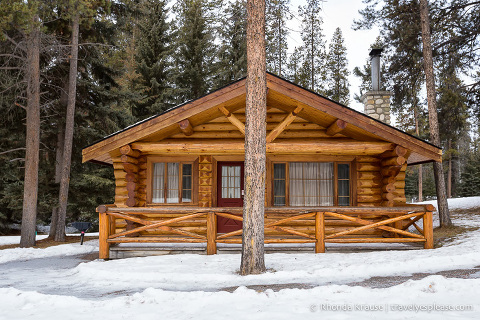 Tips for Visiting Jasper in Winter
The winter weather in Jasper can range from quite mild (by Canadian standards) to very cold. Come prepared with warm clothing and a lot of layers.
Road conditions can also vary in the wintertime. Make sure your vehicle is equipped with good tires and a winter survival kit, just in case.
Winter sports equipment can be rented in town at one of the sport/outdoor shops.
The Parks Canada Visitor Information Centre can give you some great suggestions on where to go snowshoeing, cross country skiing, or winter hiking. They also can provide you with trail maps and road reports.
Marmot Basin is only 20 kms from the town of Jasper. There are 91 runs (30% novice, 30% intermediate, 20% advanced, 20% expert) on four mountain faces. Check the Marmot Basin website for information on mid-week ski deals and discounts during the Jasper in January festival.
Sun Dog Tours offer guided winter activities in Jasper.
The Maligne Canyon Ice Walk tours typically operate from December to March, if conditions allow. Here is where you can book the Maligne Canyon Ice Walk.
January is a great time to visit Jasper. Not only are there great deals on accommodations and skiing at Marmot Basin, there's a lot of fun to be had at the Jasper in January festival. To learn more about why we think January is a great time to visit Jasper, read our post 8 Reasons to Visit Jasper in January.
Information was updated January 2022, but can change without notice. Please confirm directly with service providers.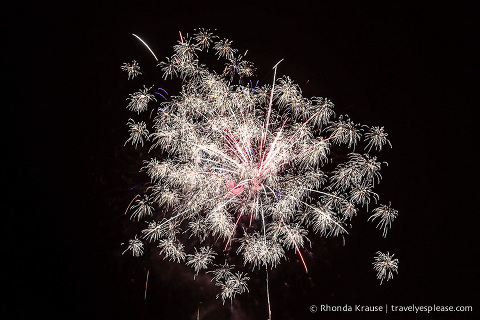 Accommodations in Jasper
For your convenience, here is a list of hotels in Jasper. Please consider booking your Jasper accommodations through the included link. It costs nothing extra and helps support this website.
We've stayed at both the Fairmont Jasper Park Lodge and the Sawridge and have no hesitations recommending both of them.
We'd like to thank Tourism Jasper for hosting us in order to bring you this story. As always, we speak the whole truth and nothing but the truth.
More Jasper Travel Guides