Purchases made through links earn us a small commission, at no extra cost to you.
What makes a city truly great?
Is it the food? The culture? Maybe the architecture? Or its natural beauty?
Its place in history? Its innovations for the future? The arts scene? The sports teams?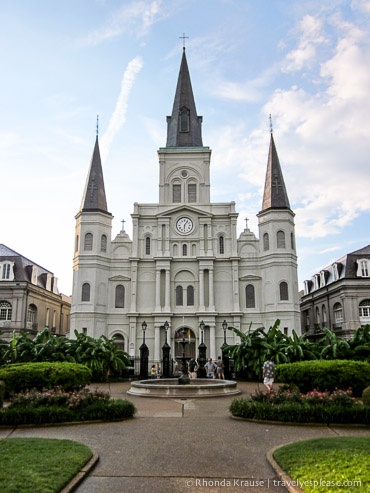 No doubt, these qualities contribute to making a city a good place visit and an even better place to live.  But these things alone, as delicious, interesting, eye catching, beautiful, and exciting as they may be, don't give a city HEART.
The heart of a city is its PEOPLE.
The citizens of New Orleans are some of the kindest, most welcoming people I ever have met in the United States. Vibrant and bold, they are ready to welcome you in, lend a helping hand and show you a great time.
An Old Friend
Mike and I visited New Orleans specifically to attend the first game of the 2010 NFL season.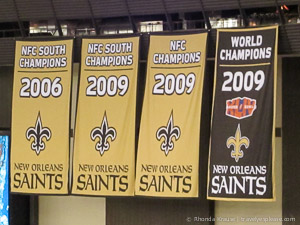 On our way to the game we got caught in the daily downpour and sought shelter under an overhang. Another couple who were waiting out the storm soon engaged us in a lively conversation, like we were old friends who just happened to run into each other. When the rain stopped, we went our separate ways to the game, but that short conversation left me smiling and excited for what the city had to offer.
Open Arms
New Orleans was the first place I ever attended a tailgate party and it completely blew my mind.  The people welcomed us with open arms, offering us jambalaya, cake, and drinks.  This might not seem like a big deal to some, but to me it was a small shock.
You see, I was wearing the opposing team's shirt (and in some cities, that can lead to a little taunting).  Even though I was the ONLY person wearing a Vikings shirt (they lost by the way), they never pointed that out and still treated me like I was part of the Who Dat Nation.

Charisma on the Streets
"I bet I can tell you where you got your shoes," a guy walking along the river said to Mike.
"No way, you don't know where I got them."
"Sure I do," the man replies.
"How could you possibly know that?"
After a little back and forth between Mike and this character, the guy finally says, "You got them on your feet."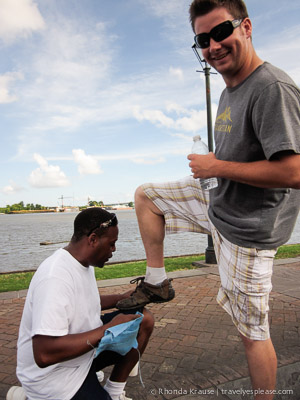 Ha…good one!  For being so witty, we gave in and let him "shine" Mike's shoes for a tip.  (Although in hindsight, I would take away originality points because later in our trip a different guy used that exact same line on us!)  Yes, we got hustled, but it was so funny we didn't mind. Plus, now we have a good story to tell.
Going the Extra Mile
The heat and humidity in New Orleans really did a number on me.  Day three I got heat exhaustion and was violently ill.  Worried and thinking I might have to go to the hospital, the maintenance staff at our hotel quickly brought me ice packs so that I could cool down.  They also came to check on me later that night and made a point to ask how I was doing whenever they saw me out and about.  It was a bad situation and without them helping me out like that, this article might have been a review of the American Health Care system instead.
A Winning Combination  
To a first time visitor, New Orleans seems like a curious mishmash of people and cultures.  It's a city whose denizens are not afraid to absorb new influences.  The people of New Orleans have come together and evolved into their own unique culture that is unlike anywhere else in the United States.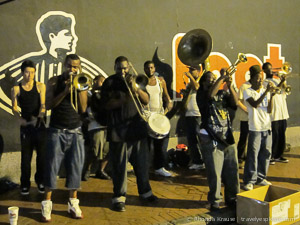 There's no doubt that New Orleans has great food, interesting architecture, a fascinating history, beautiful natural spaces, a spirited arts scene, and a beloved football team.
But so do a lot of other cities.
I left those cities thinking, "That was nice."
I left New Orleans thinking, "Now that was fun!"
And that is why New Orleans is a great city I will keep returning to.
More New Orleans Attractions and Travel Guides