Purchases made through links earn us a small commission, at no extra cost to you.
Across from the mighty Mississippi, in the community of Vacherie, Louisiana, is the historic plantation of Oak Alley. A long, graceful path, canopied by a double row of live oaks, leads 800 feet up to the Greek Revival plantation house. The sturdy oaks were planted in the early 18th century, long before the house was completed in 1839 using slave labour.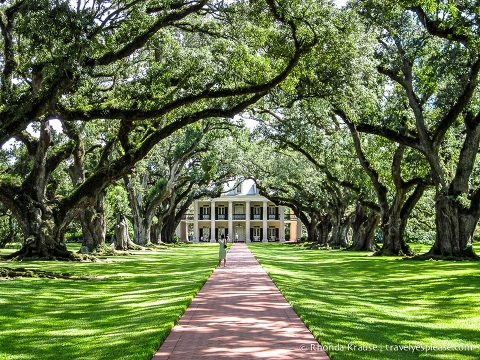 The plantation grew sugar cane until the economic troubles caused by the civil war, along with the end of slavery, made it no longer economically feasible. As a result, the plantation was sold at auction in 1866 for $32,800. The property fell into the hands of many owners over the years, and gradually into a state of disrepair. The last private owners of the house had it restored around 1925.
Today the property is listed on the National Register of Historic Places and is open to visitors who can tour the plantation house, as well as reconstructions of six of the original slave quarters.
Tips for Visiting Oak Alley Plantation
Oak Alley is located at 3645 Highway 18 (Great River Road), in Vacherie, Louisiana.
An admission fee is charged.
The plantation is open daily 8:30 am- 5:00 pm. Tours run from 9:00 am – 4:30 pm. Confirm current hours here.
Oak Alley Plantation can easily be visited on a day trip from New Orleans.
Information was updated January 2022, but can change without notice. Please confirm directly with the venue.
More United States Destinations and Travel Guides