Purchases made through links earn us a small commission, at no extra cost to you.
Romantic New Orleans is a great place to spend a few days with your sweetheart.  Live music, charming cafes and a relaxed atmosphere makes the Big Easy the perfect place to celebrate your love.
10 Romantic Things to Do in New Orleans
New Orleans was the first place Mike and I visited as a couple. We knew it was a great place to party, but were surprised to find out New Orleans is also quite romantic.  These are our favourite romantic things to do in New Orleans.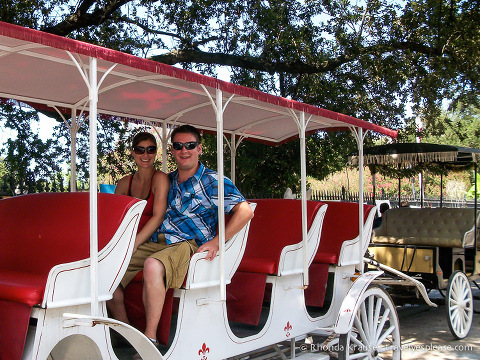 Enjoy a Carriage Ride Through the French Quarter
A mule drawn carriage ride is a rustic and romantic way to tour the French Quarter.  The leisurely ride will help acquaint you with the French Quarter as your guide narrates stories about this historic and picturesque neighbourhood.
You can board the carriages on the Decatur Street side of Jackson Square.
Satisfy Your Sweet Tooth
After your carriage ride, walk across the street to the original 1862 Cafe Du Monde for a taste of the famous beignets.  These square pieces of dough are fried and then covered in a mountain of powdered sugar.  Served in threes, they are a perfect snack for sharing.  Once you get a taste, you will probably be back many times during your stay in New Orleans.  I think we visited almost every day!
You can satisfy your craving for these delicious French-style doughnuts any time day or night since the French Market location is open 24 hrs, closing only on Christmas Day.
Take in a Live Jazz Show
Spend some time together tucked away in candle lit corner, listening to the jazz music that New Orleans is renowned for.  We went to the Ritz-Carlton on Canal Street and spent one evening listening to Jeremy Davenport play in the Davenport Lounge.  It's a classy venue with rich drink prices to match, but for one night it was fun to pretend we could afford it!
Ride the St. Charles Street Car Line
The street cars are a charming way to get around New Orleans.  The brass fittings and mahogany seats will remind you of days gone by.  The St. Charles Line is the oldest continuously operating street car in the world, in service for over 150 years!  This street car will take you down the beautiful oak-shaded St. Charles Avenue past historic monuments, antebellum mansions, Tulane University and Audubon Park.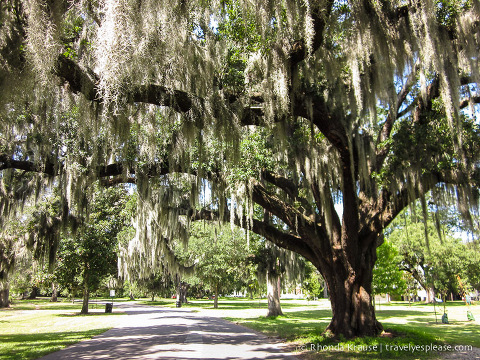 Disembark the street car every so often to walk around the neighbourhoods.  The Garden District is gorgeous with it's mid-19th century Greek Revival and Italianate homes.  The exclusive cul-de-sac of Rosa Park was also one of our favourites for viewing historical homes.
Makes sure you hop off at Audubon Park as well and enjoy a picnic under a "bearded" Oak tree.
Indulge in a French Dinner at La Crepe Nanou
La Crepe Nanou is a cozy, neighbourhood French bistro in the Uptown/Garden District of New Orleans. The quaint red building, being very Parisian looking, caught my eye and drew us in. The interior was unique, romantically lit with strings of lights, and kind of reminded me of a train car. We enjoyed delicious crepes for dinner and then indulged in an almond and chocolate dessert crepe. It was to die for! For many weeks I tried replicating this crepe at home, but it never tasted as good as the one at La Crepe Nanou.
La Crepe Nanou is easy to get to on the St. Charles streetcar.  Get off at stop #27 and then it's only a 1.5 block walk to 1410 Robert St.

Cruise the Mississippi on a Steamboat
The dinner cruise on Steamboat Natchez is a great way to experience the best of New Orleans all in one place. Delicious food, served buffet style, a jazz concert by the Dukes of Dixieland, and breathtaking views of New Orleans illuminated at night make for a perfectly romantic evening in the Crescent City.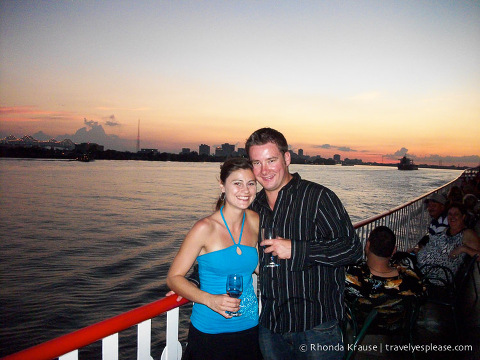 More Ways to Enjoy a Romantic Trip to New Orleans
Watch the sun set on the Mississippi at Woldenberg Park.
Enjoy a cocktail at the revolving Carousel Bar at Hotel Monteleone.
Share a kiss on a rooftop patio in the French Quarter.
Enjoy a care free day acting like kids again at the Audubon Zoo.
Accommodations in New Orleans
For your convenience, here is a list of hotels in New Orleans. Please consider booking your New Orleans accommodations through the included link. It costs nothing extra and helps support this website. Thank you!
More United States Destinations and Travel Guides